This post is also available in:

Português
Ljubljana is quite small and it is possible to see everything just in one day in Ljubljana. In fact, there is one statistic that says the average time of a tourist in the city is about 1.8 days. So, if you don't have enough time to visit the Slovenian capital throughout, don't worry, as we will tell you now all the best things to do and see in Ljubljana in one day!
We actually stayed in Ljubljana for two nights. And yes, it was indeed enough to visit most of Ljubljana's tourist attractions as well as enjoy a bit of the bohemian bars and restaurants of Ljubljana by the Ljubljanica River. However, if you decided to stay longer than that, you won't regret it either as there are endless cool things to do in Ljubljana.
One day in Ljubljana index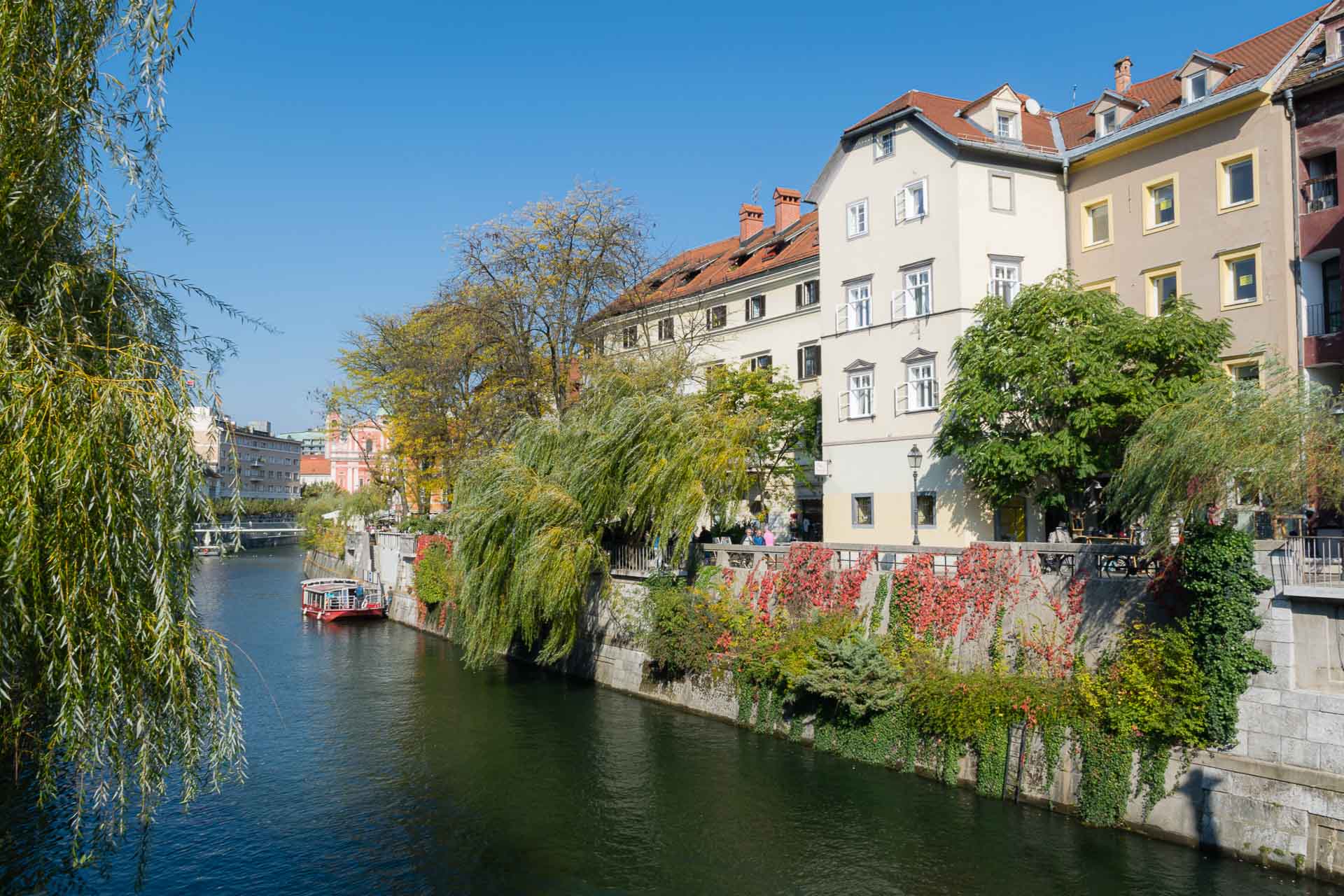 Ljubljana, Europe's most beloved city
So, where is Ljubljana really? Ljubljana is the capital of Slovenia and it is almost in the middle of the country. By the way, don't get put off by its name. It looks like a lot of consonants are together, but in fact, the "j" has the sound of "ee". Therefore, you pronounce Ljubljana as in "Lu-blee-ana". Better, right?
Actually, Ljubljana means beloved in Slovenian ("ljubljeni", you can google translate!) and there is no other word to best describe the city than this one. With a population of about 200 thousand people, Ljubljana was awarded the most sustainable capital of Europe.
Ljubljana breathes art! We absolutely loved that it has a statue of its famous poet in the main square instead of a general of the army as commonly seen. On top of that, has banned cars from its city centre for over 10 years! How can anyone not fall in love with a city like this? For you planning your trip to Ljubljana, don't forget to read our complete guide on what to do in Slovenia, with all the tips, itineraries and recommendations to make the most of your travel in this beloved country.
Ljubljana was awarded the green capital of Europe in 2016. It is impressive how clean the city is. They also developed one of the most advanced systems of waste collection and separation. Furthermore, Ljubljana forbade auto vehicles in its historical city centre and should be a reference for the world with regard to sustainability
.
What to do in one day in Ljubljana
Ok, let's list here all the things to see in Ljubljana and the best of Ljubljana attractions. They are not in any order at all, so don't hang up on them. But before, take the opportunity to follow us on Instagram and Facebook as well, where we share our current adventures!
Prešeren Square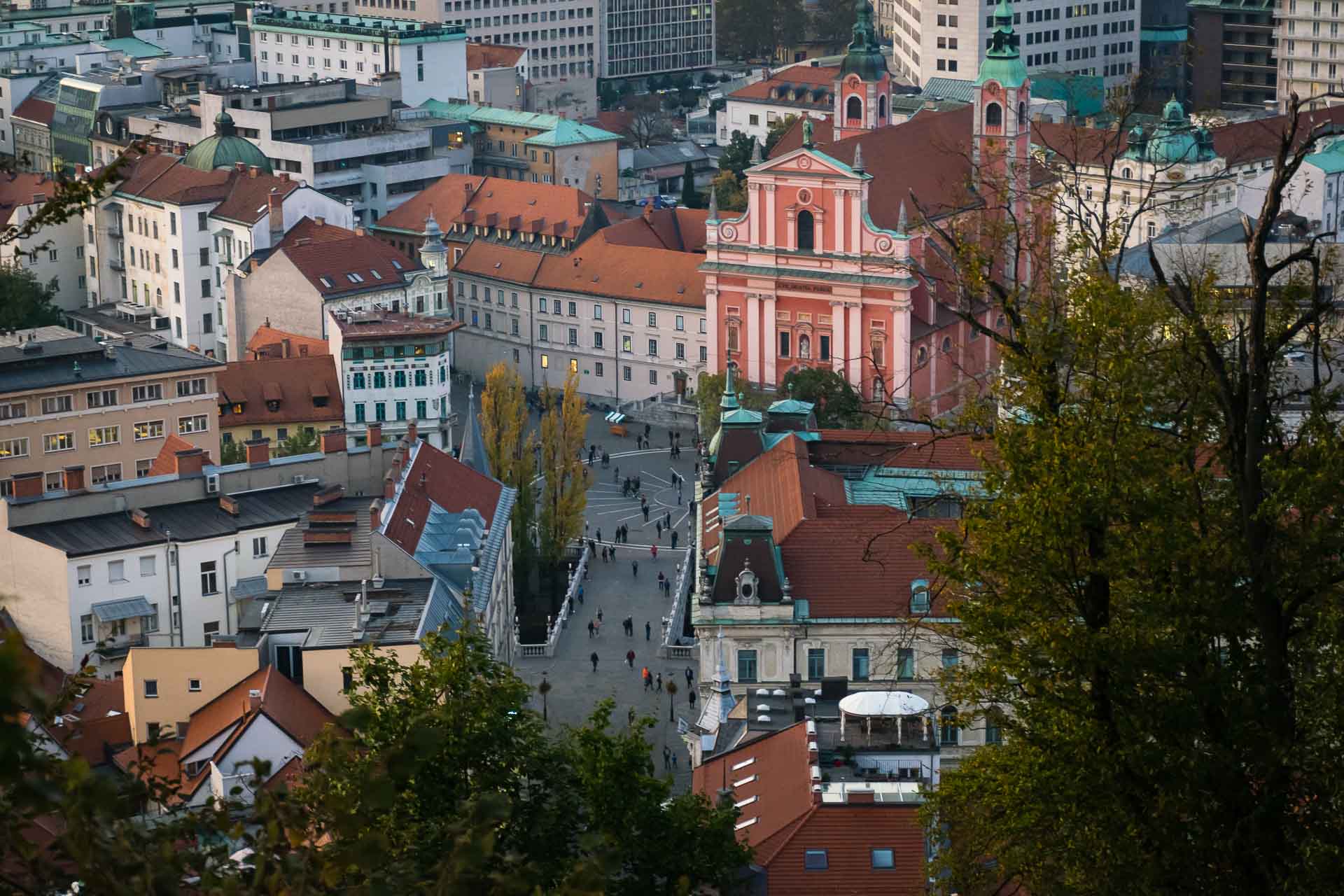 We are so used to Admirals, Generals and military images in general around the historical city centres that it was difficult to hold our sigh when seeing Ljubljana praising their favourite poet, France Prešeren, with a statue in its main square.
The Prešeren Square is right in front of the famous Triple Bridge and it is a meeting point amongst locals, thus always busy. In addition to the famous poet statue, it is worth paying attention to the charming Franciscan little church of the Annunciation.
Who was Prešeren, the poet
Prešeren is the most famous poet in the country and the writer of the Zdravljica, a poem which became the national anthem of Slovenia. Born in the 19th century, he mostly wrote about love (obviously, sLOVEnia, ljubljeni, what else to write about!). However, his true love, Juliet, – which has a historically interesting name for a love story, by the way -, never reciprocated his love. I know it sounds like a romance, but it was true. So, if you follow the gaze of the Prešeren statue, you will meet Juliet at the corner of the square. That was, in truth, the house in which Juliet, the love of Prešeren, used to live, and is another tribute to the poet who, at least today, has the love of his muse reciprocated.
A stop by Preseren Square is a must for anyone visiting Ljubljana in one day!
Metelkova, the borough of art in Ljubljana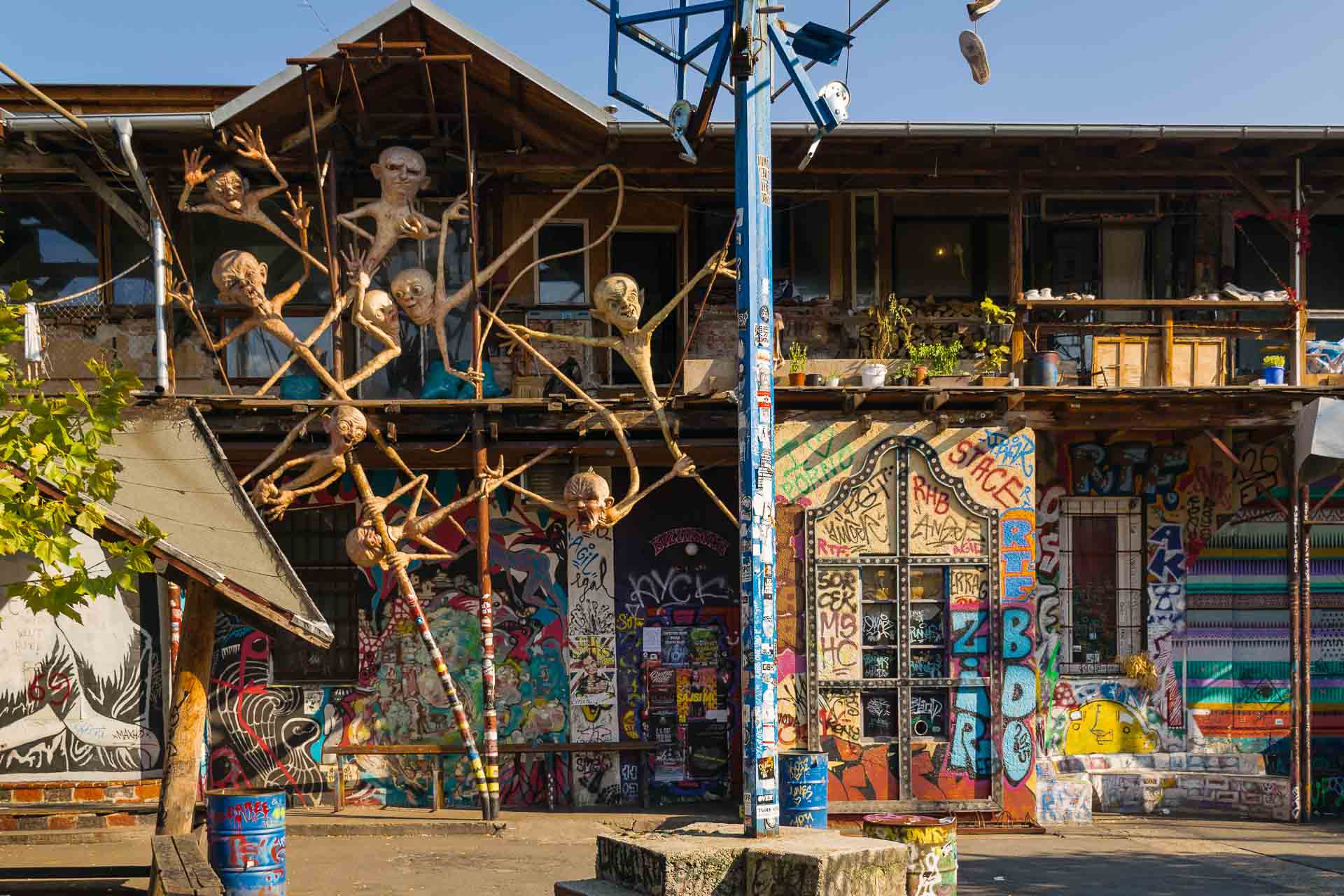 If you only have 1 day in Ljubljana, make sure to visit Metelkova! This is an old Yugoslavian military development, occupied by artists and activists after the country's independence during the 90s. The place is awesome and full of art galleries, graffiti, art installations and squats. As it is not in the historical city centre and is managed by its own laws, many see it as an autonomous region. If you are familiar with Christiania, in Copenhagen, you will understand better this assimilation.
Not every local appreciates this region. The police, with the support of many Slovenians, tried to put an end to this area a few times. The artists got together, forming basically a human chain, and won the battle. Metelkova, at least for now, resists.
Over the weekend, the bars and clubs from Metelkova are busy and you should pop in there to check it out. Also, you find the most creative hostel in Ljubljana over there too. The Celica Hostel Ljubljana is an old military prison turned into a hostel (we spent a couple of nights there and tell all the details in this post here). Each cell of the old prison was restored by either a local or an international artist, allowing you to sleep in a room, not as comfortable, but full of stories.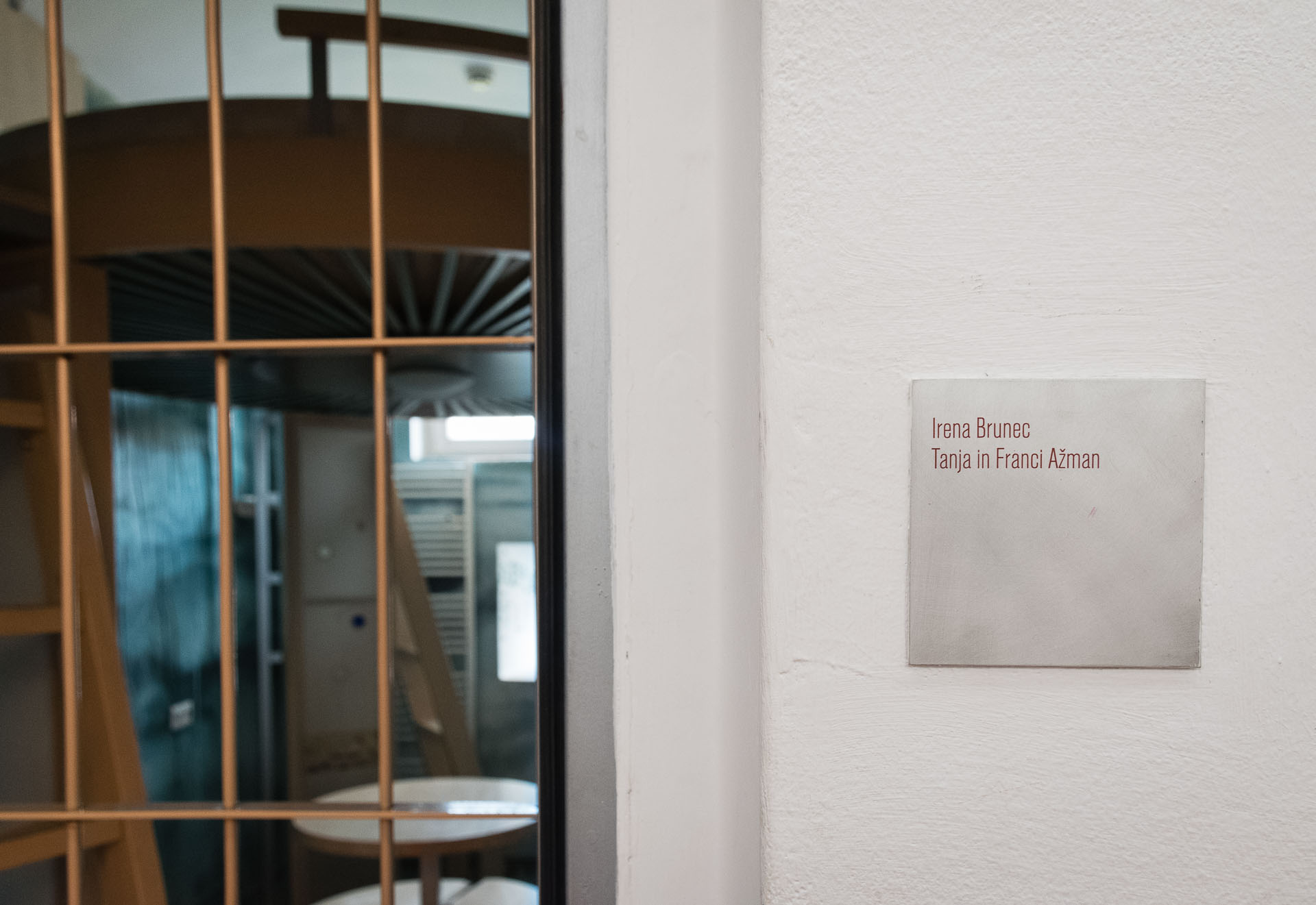 We loved the Celica Hostel team. They were all super kind and nice and also very aware of the history of Metelkova. Even if you don't want to stay in a cell – or have another arrangement – do pay them a visit. You are welcome in the hostel to enjoy its bar, with live music every Tuesday or have breakfast every morning for just €4. If you do, check their availability in here!!
Go to the Ljubljana Church
Ljubljana's main catholic church is very beautiful from the inside, but what we want you to pay attention to is its door! Its artwork tells the history of the city through the catholic point of view, obviously. Amongst the figures represented there, there is the former Pope John Paul II, the first pope of Slav origin, as well as the priest Irenaeus Frederic Baraga, holding an image of a book with a native Indian from the USA. Baraga was a Slovenian missionary who lived for many years in North America and who actually wrote the story of Princess Pocahontas!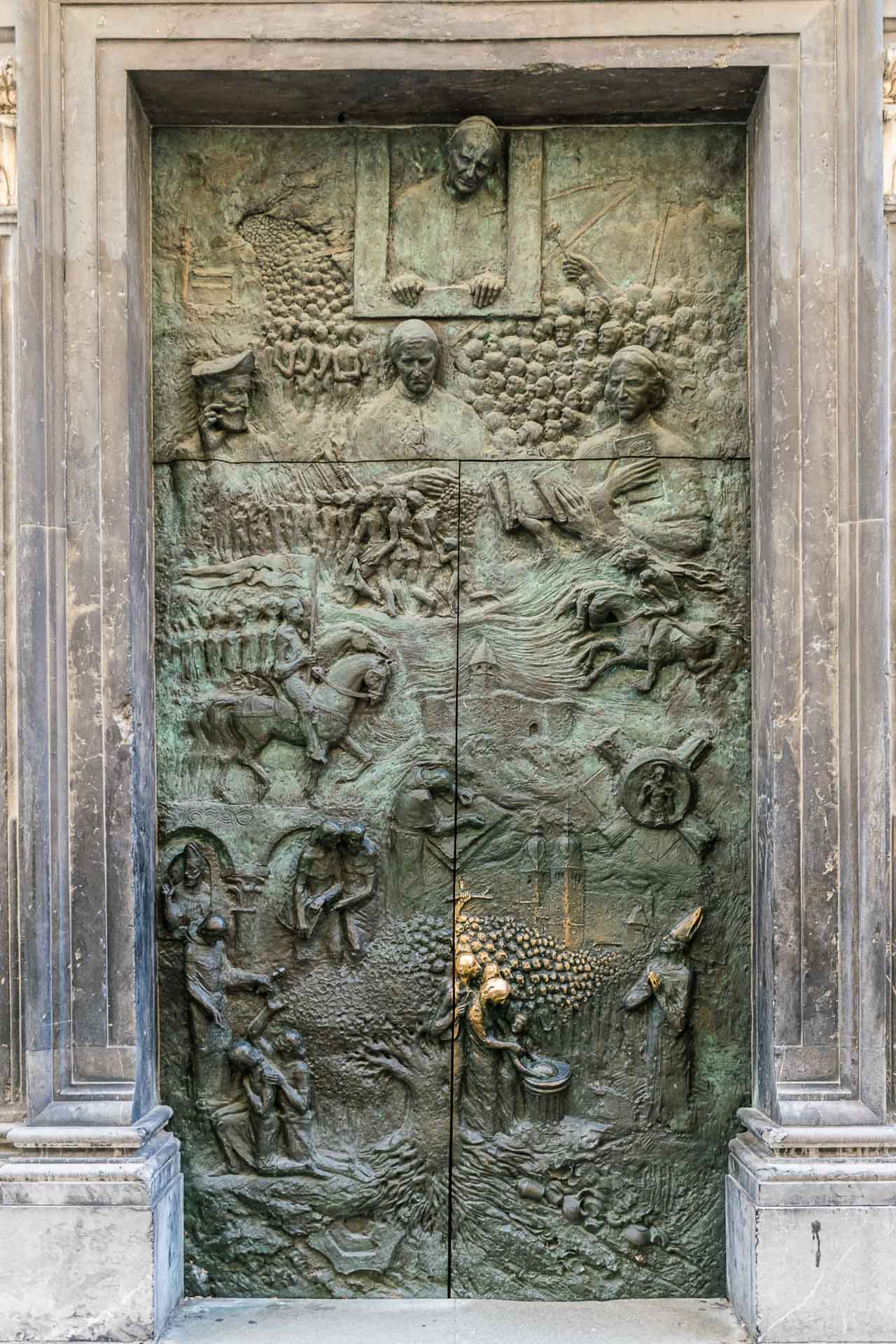 Free Walking Tour in Ljubljana
We still don't know why the Free Walking Tours are not part of many travellers' to-do list. It's a shame as it is a brilliant way to know better the history of the city. Every time we do it, we love it!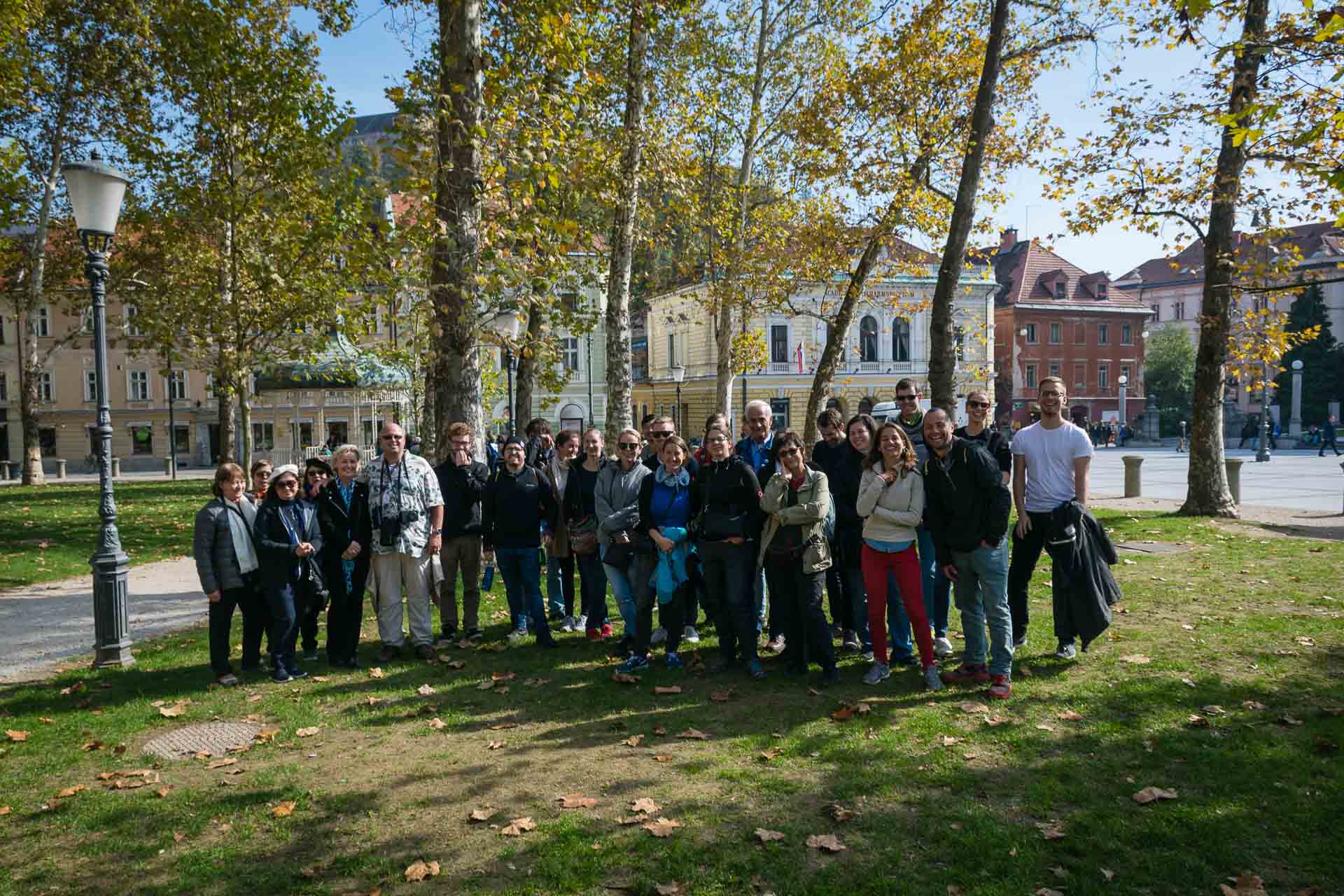 The one in the Slovenian capital could not be different. It was about two hours of walking in the morning around most of Ljubljana's sightseeing. We learnt a great deal about the history and culture of a city. We cannot emphasize more how much we recommend doing the Free Walking Tour in the city, particularly if you only have one day in Ljubljana. You can learn a lot, in a very short time.
The Free Walking tour of Ljubljana goes every day from Prešeren Square at 11 am. The guides have no salary and even though the name says free, you are expected to tip.
A walk through the Main Street Market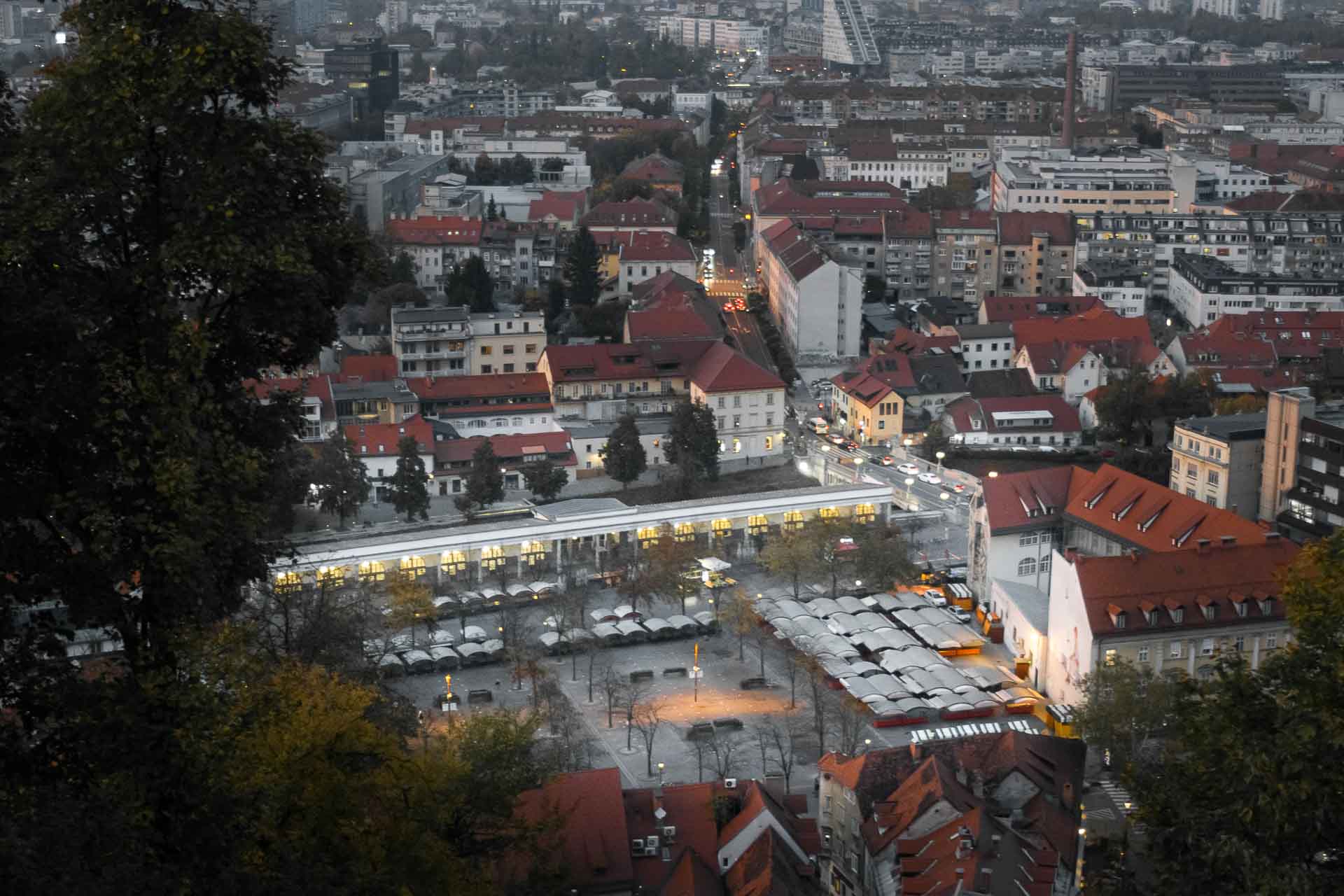 Until WWI, the majority of the population of Slovenia were countrymen. Therefore, farming is still, up to date, very active over there. It is in the main street market, which happens from Monday to Saturday, where you have the opportunity to check and taste some of the local products as well as understand more about Slovenian gastronomy and flavours.
Saturday is the busiest and most popular day when Slovenians also go to the market. By the way, if you bump into the mayor of Ljubljana in the market, don't feel surprised. He is normally around on Saturday asking tourists which is the most lovable city in Europe (don't you dare say anything other than Ljubljana).
Surely, tourism in Ljubljana wouldn't be the same without a visit to its main food market! Oh, by the way, we have the need to always travel connected, because of the nature of our work. If you also need to be connected at all times, have a look at Travelers Wifi! It's a device that provides wifi in many countries without the need to make chip contracts everywhere. We tried and really recommended it. You can see our review here.
Bridges, bridges and more bridges in Ljubljana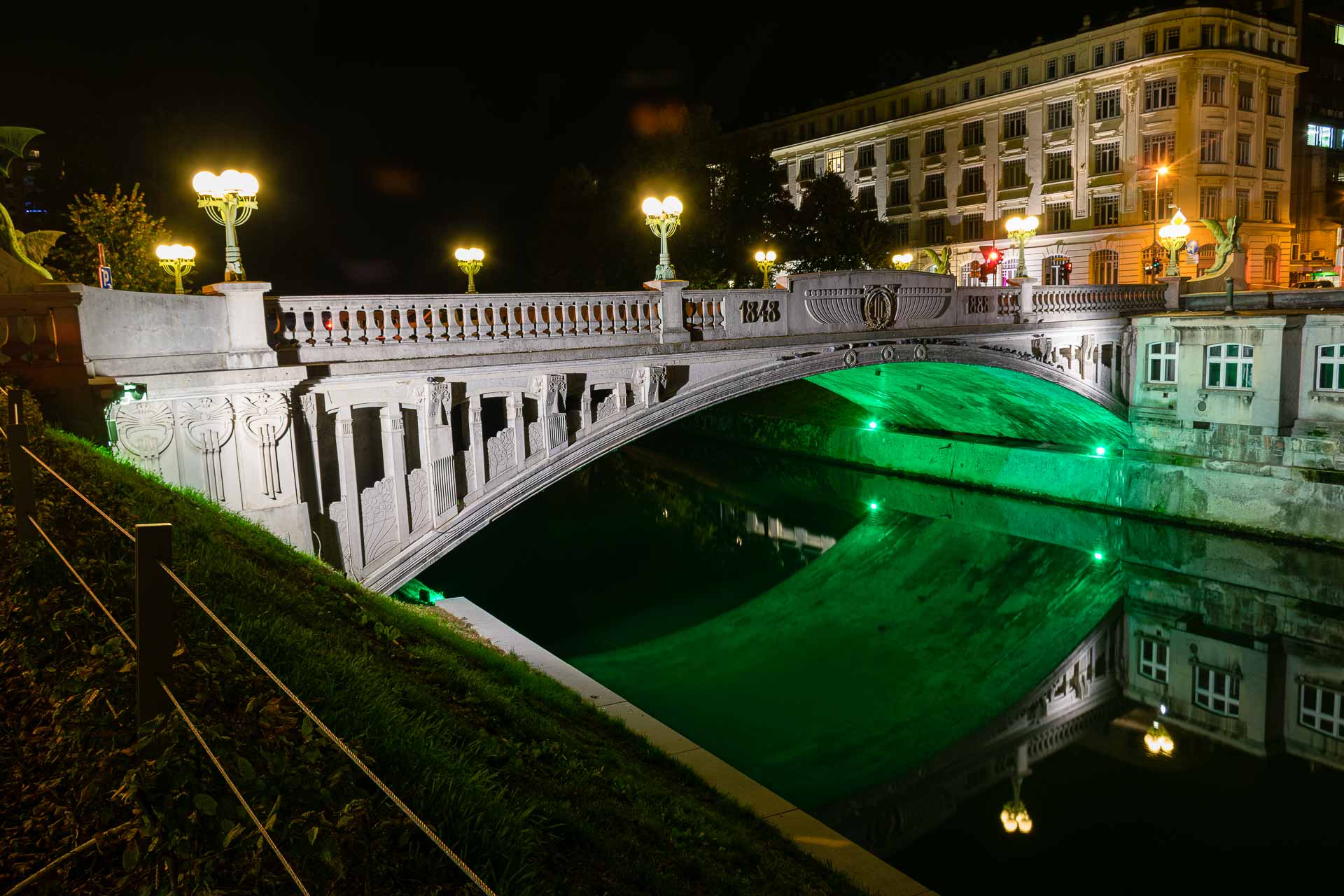 The capital of Slovenia is full of historical bridges and it is definitely worth zig-zagging above the Ljubljanica River to see them all. So, let's point out the ones you cannot miss during a one-day trip to Ljubljana:
The Triple Bridge
The middle one is the oldest in town and had been, once, the only access to town (currently the historical city centre). Jože Plečnik, the most famous and dear architect of Slovenia, built the two other adjacent bridges. In fact, he made the other two bridges because of the increasing number of cars, so people could also cross it without having to worry. Fortunately, cars are no longer allowed to circulate and now it is just a beautiful triple pedestrian bridge.
Dragon Bridge
This was built in 1901 when Slovenia was still part of the Austrian-Hungarian Empire. The dragon is the symbol of the city and you will see it everywhere, such as on a beer label, on its flag, on the garbage truck and…. on the Dragon Bridge!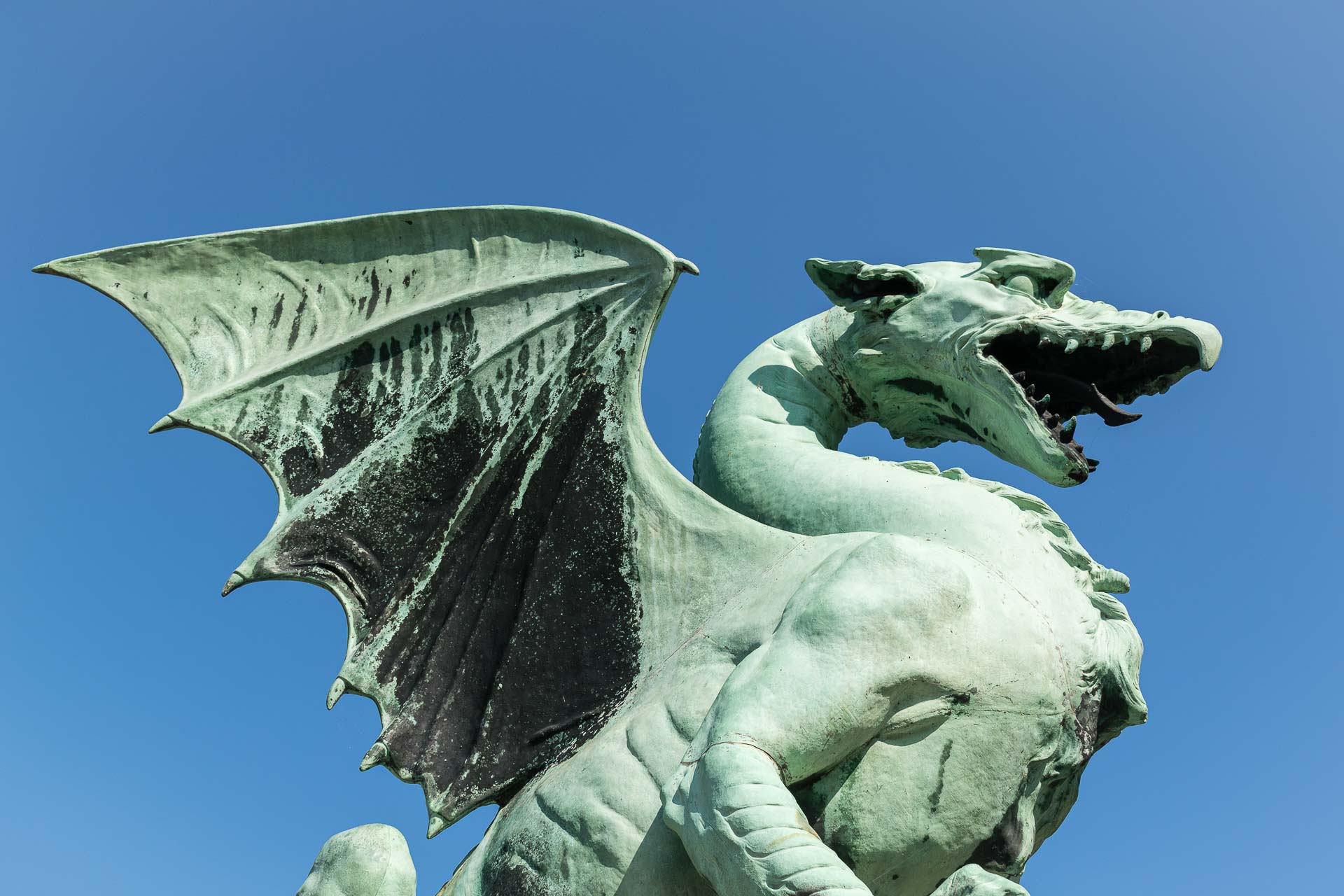 The Cobbler's Bridge
Cobbler's Bridge is also one of the oldest bridges in Ljubljana. This bridge helped the shoemakers and traders to avoid paying the city's taxes charged only on one side of the river. So, instead of crossing the river to sell their products (and pay taxes), they settled on the other side. The bridge made it easier for everybody, as people could buy their merchants and sellers, could sell. Well, not so much for the government, though. Actually, you can still see the oldest shoemaker shop right at the entrance of the bridge.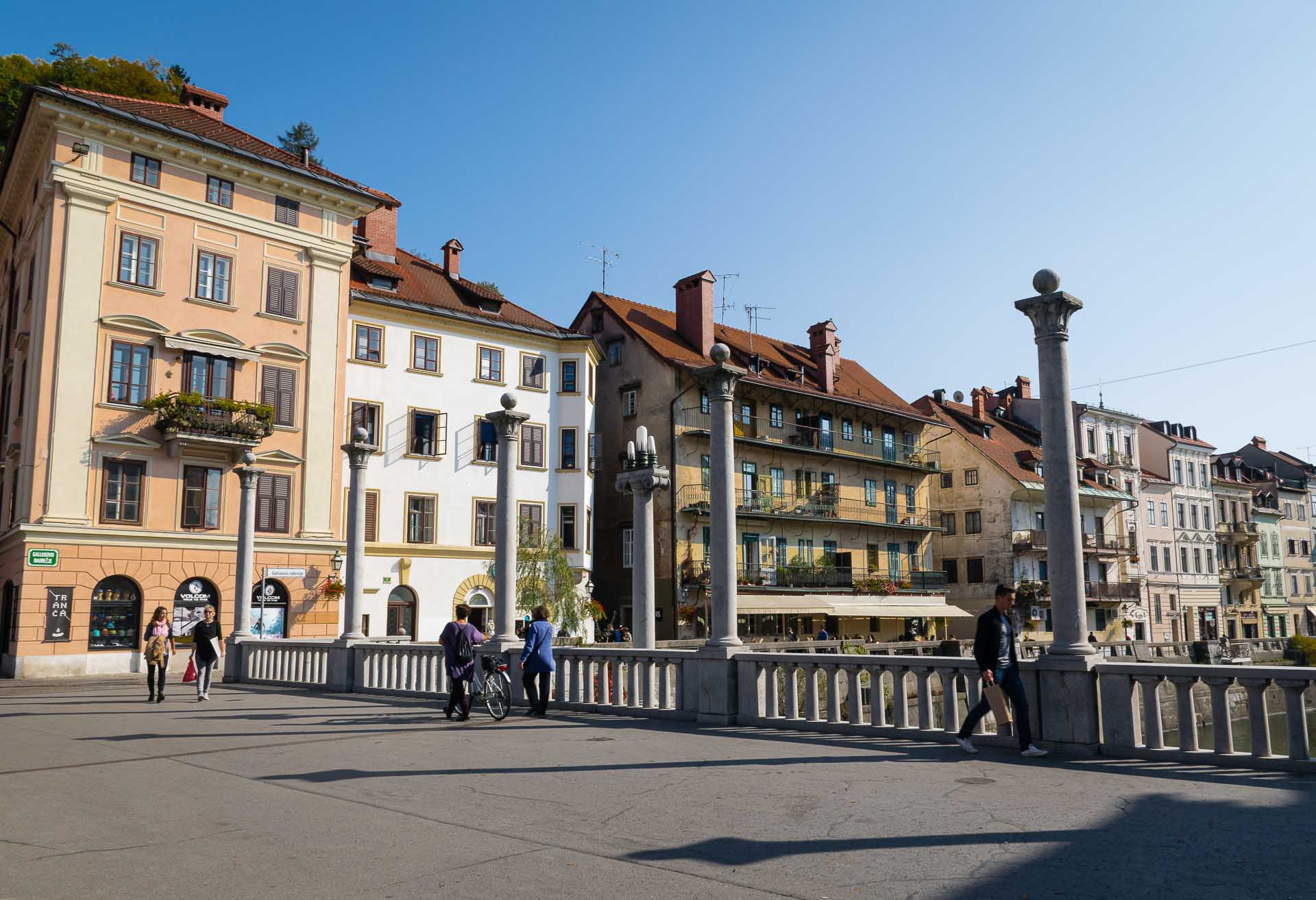 Walk by the Ljubljanica River
As simple as the title says! Let your hair down and go for a stroll along the Ljubljanica River. It will by the river where you will find the best bars and restaurants in Ljubljana. Allow yourself to enjoy a glass of wine or a bottle of beer and feel the town as a local. It is one of the best things to do in Ljubljana in one day! In fact, why not a wine tasting in Ljubljana?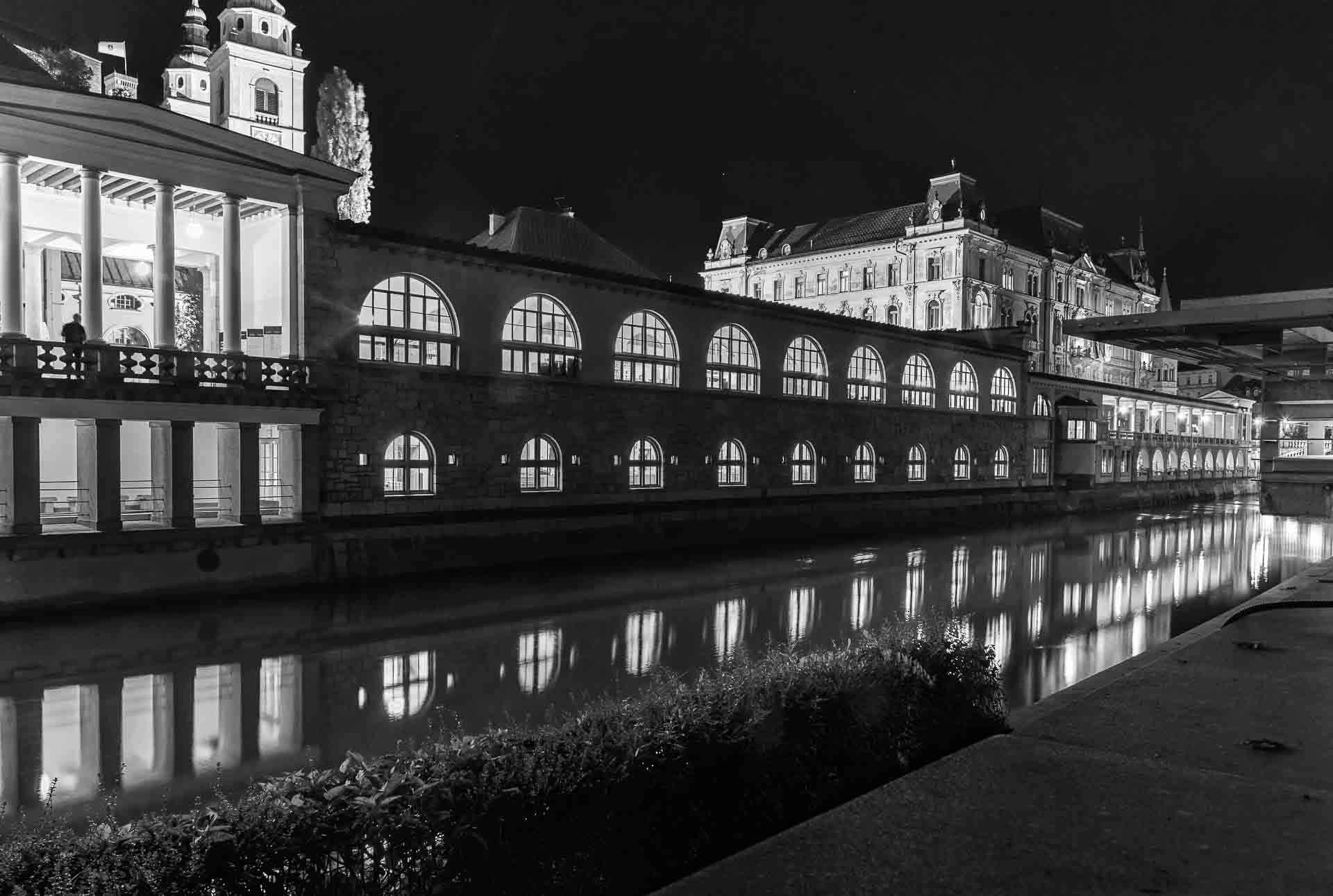 Watch the sunset from the castle in Ljubljana
The construction of the castle dates from different periods in history. It is atop the mountain and, from anywhere in the city centre, you can see the castle in Ljubljana. The view you have from up there is breathtaking and we recommend going up just before the sunset so you can enjoy the beautiful Slovenian twilight.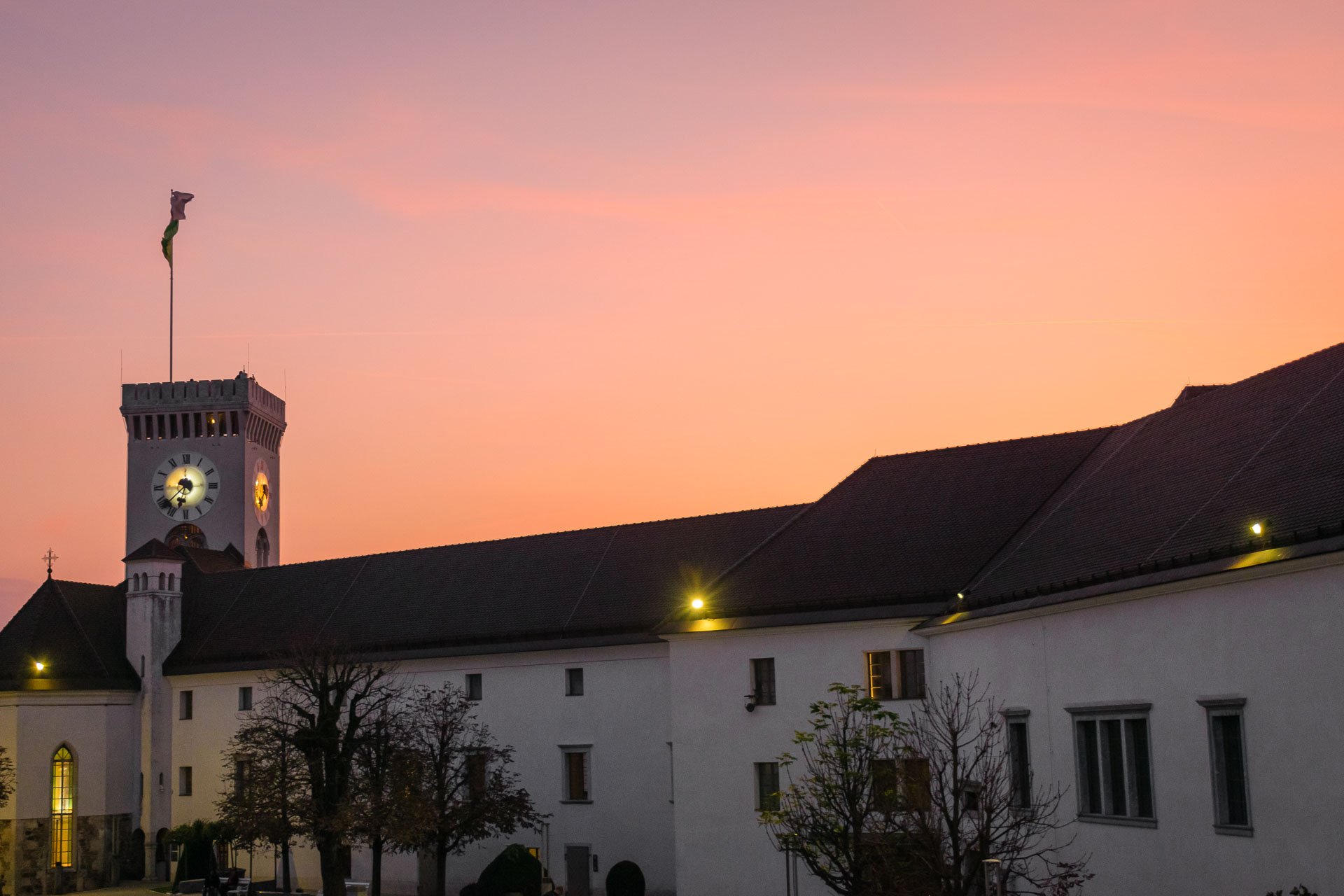 You don't pay to climb up to the castle, but you do if you want to go up the clock tower or St George Chapel. We only explored the area in which you don't have to pay and didn't feel like anything was missing. It seemed to us (and to some locals we met) that the view from the clock tower wasn't much better than the one we had from the veranda of the castle.
You can climb up there by either a funicular or by three walking paths. The funicular costs €4 return (€2,20 one way). On the other hand, the trekking is quite steep, but not so long. It takes no more than 10 minutes. We trekked and it was fine!
If you prefer a guided tour to get to know all the details about Ljubljana's Castle, check this option for prices.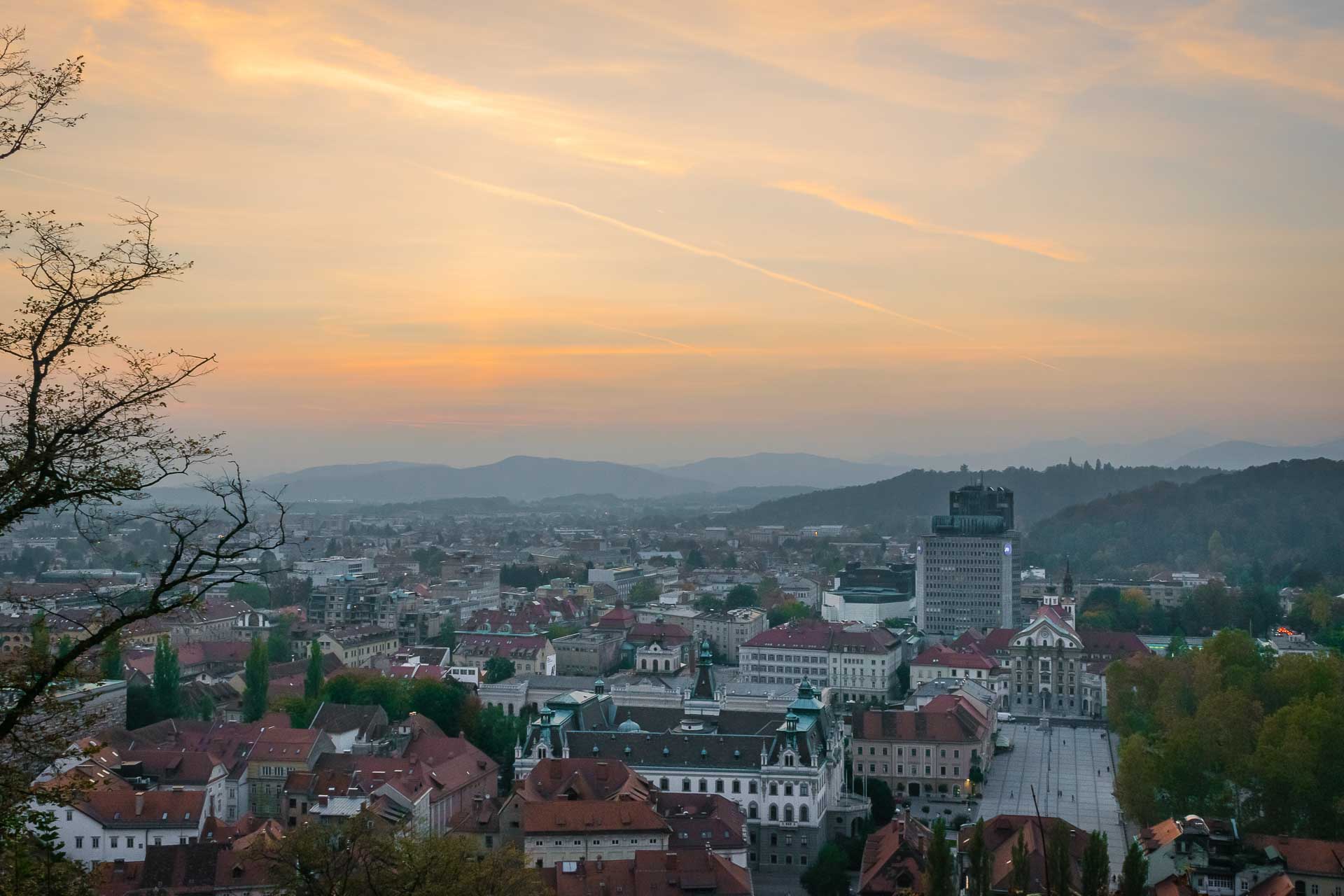 Taste local and handmade beers in the oldest pub in town
Ljubljana is a city where people love to drink beer. If you too and want to drink like a local, the Gold Ship, just opposite the Cobbler's Bridge, is a must! This is the oldest pub in town and they offer many different types of local beers, such as Human Fish (made by a group of Australian who, during their visit to Slovenia, fell in love and never left) and the famous Union and Lasko, amongst many more.
PRO TIP: Always carry a bottle of water with you! The water from the tap and from the fountains are drinkable. Have fun! But remember, NOT FROM THE LAKE! lol. We say that because we heard a foreigner was told the water is drinkable everywhere and was filling the bottle from the lake. IT IS FROM THE TAP!!!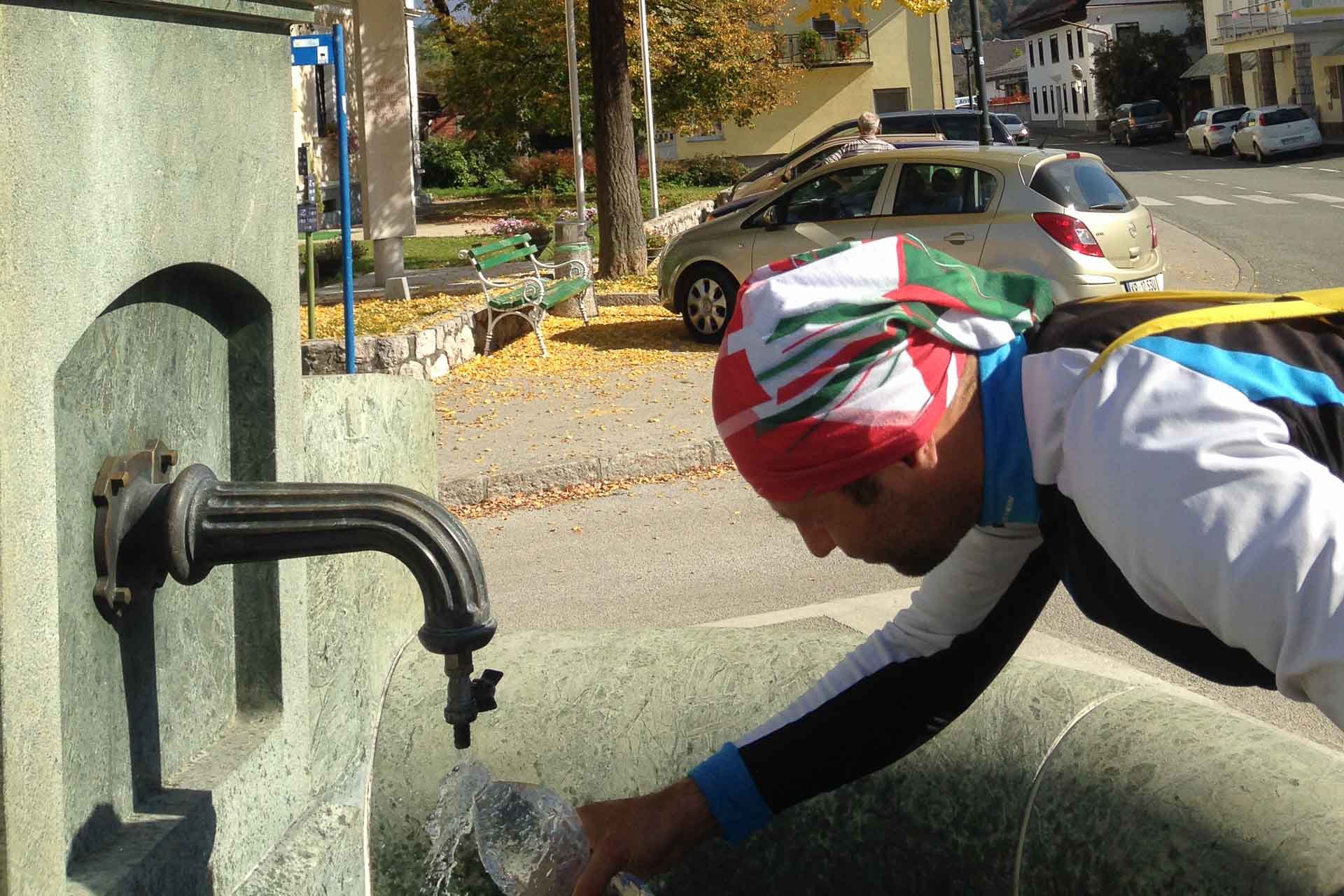 Have a drink above the sky
The Neboticnik in Ljubljana is on top of a 70m building and has a beautiful view of the city. We really wanted to go in there but, unfortunately, we didn't make it. Regardless, here is a tip for those who will go. Don't forget to let us know!
Apparently, the bar is not expensive and a glass of wine is just a couple of euros!
How to get around Ljubljana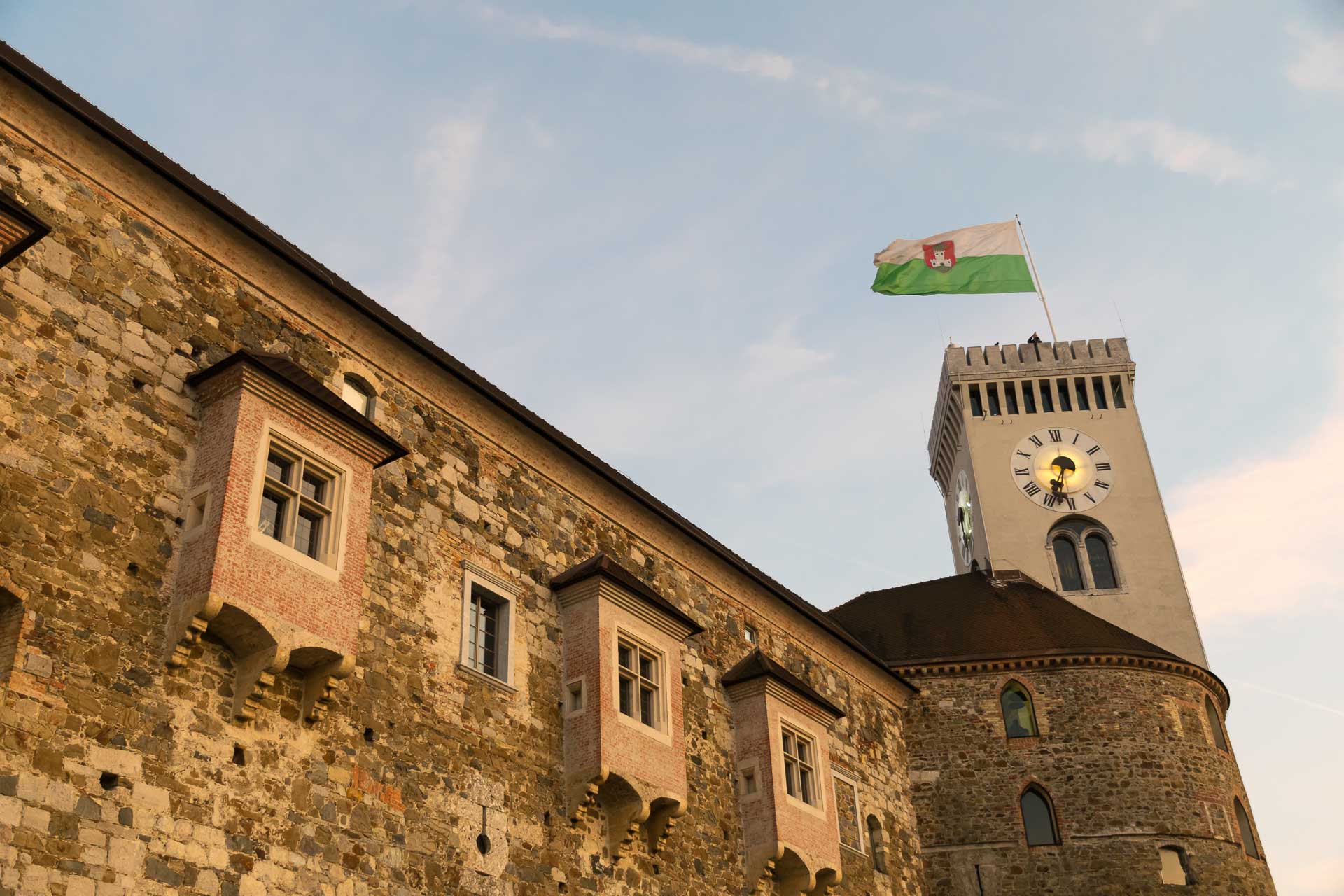 Cycling in Ljubljana
The historic city centre is really small and you can do all of it on foot. If you want to explore different parts of the city, we recommend renting a bicycle, as the city is practically flat and full of cycleways.
In fact, we did our whole trip to Slovenia by bike. You can check our doc series on YouTube about this trip here. Travelling by bike is great because you indeed make deeper connections with people, such as we did in Koper. Anyway, enough digressing.
If you are going to rent bikes, don't forget to check your front and back lights. Apparently, the police in Ljubljana is very strict regarding this. In fact, they can test your level of alcohol for cycling. And if you are cycling drunk, you lose your driving license (yes, your car driving license!). So, if you are going to drive and cycle, no drinks! And if you are going to drink, call us!!
Public transport in Ljubljana
If you are in the centre, tired or want a ride, you can call the number you see in one of the electric minibus going around known as Kavalir, or "gentleman". They are the only authorised vehicle to go around the city centre and can take you, or anybody, wherever they need. This is a project of the mayor to help mainly the elderly when they are doing their food shopping or walking around the town. How thoughtful!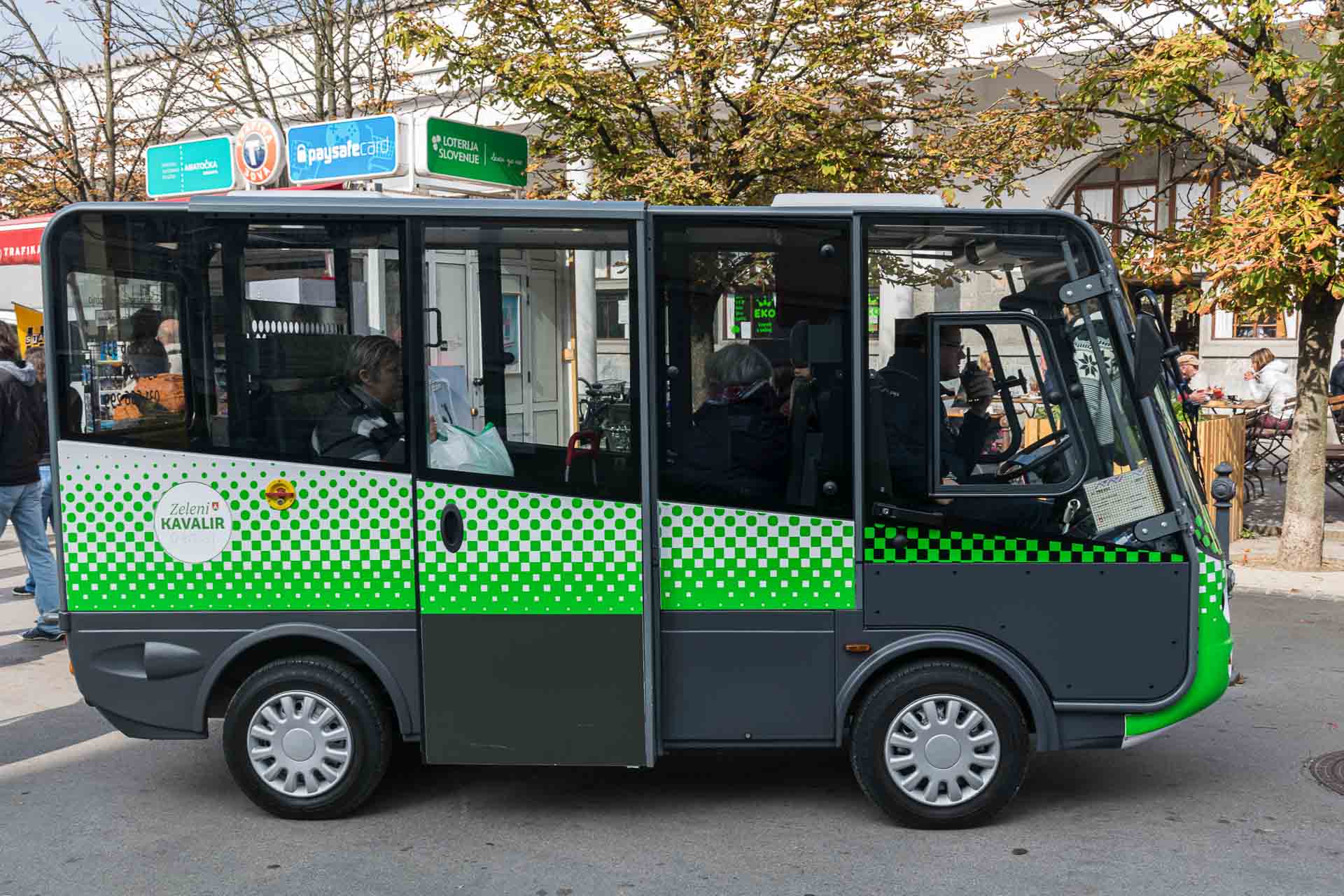 Trains from Italy to Ljubljana
If you are in Italy and want to visit Ljubljana, you have to head first to Trieste, at the Slovenian border, and then take one of the trains to the Slovenian capital. You can check the timetable for trains within Italy – for instance from Venice to Trieste – at Trenitalia's website. The route from Trieste to Ljubljana is made by Bahn company.
Day trips from Ljubljana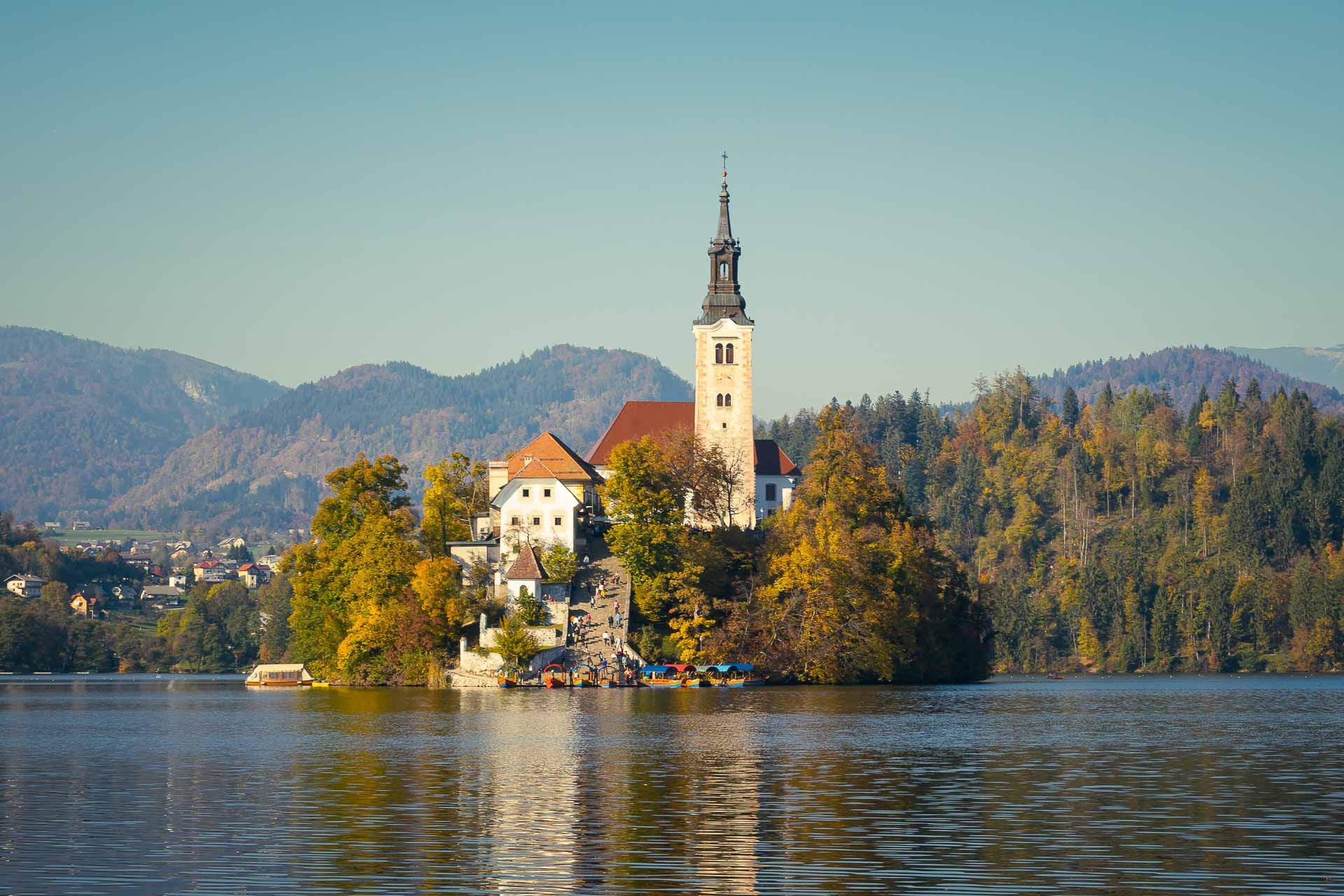 Slovenia is a rather small country and you can easily make day trips from Ljubljana. In fact if you have 2 or 3 days in Ljubljana, you should really spend the first day visiting its main tourist attractions (the ones we just listed here!), and the other two days exploring its surroundings.
For those short trips you can either join a tour such as the ones listed at Get Your Guide, or rent a car to go on your own. The Slovenian roads are very good and driving is a great way of getting around the country. You can compare car rental prices in Ljubljana here.
We really recommend visiting:
You can get a tour from Ljubljana to Lake Bled, including Lake Bohinj and Soteska Vintgar. Or a trip from Ljubljana to the Postojna Cave.
Where to stay in Ljubljana Slovenia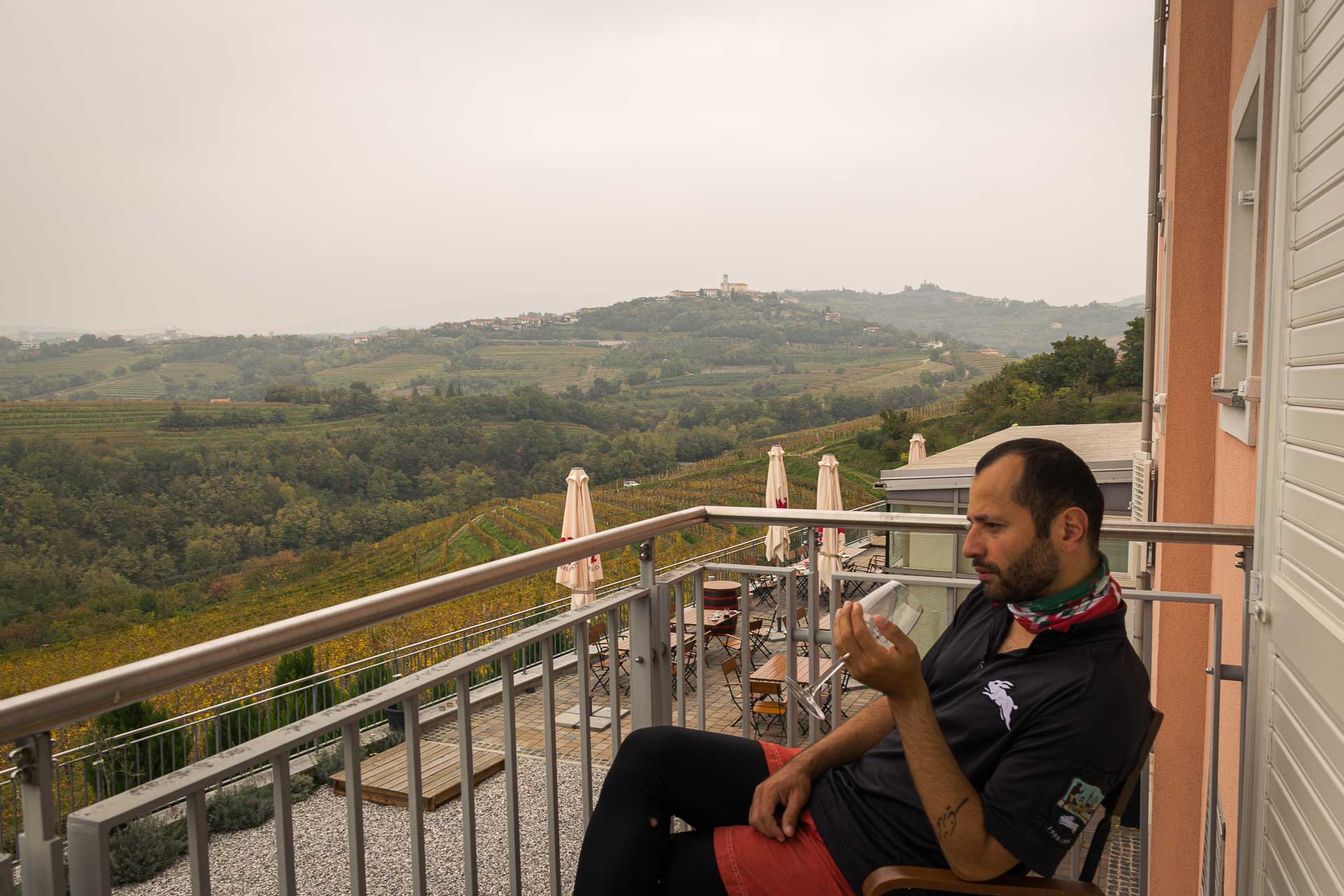 Even though you are actually a walking distance from pretty much everywhere, it's better to choose an accommodation in Ljubljana's city centre to be near its main tourist attractions. The problem is that Ljubljana is becoming a very tourist destination and the price of accommodation is getting more expensive too – more specifically in the city centre. So you have to sort of weigh in what you need.
These are some of our other hotel recommendations in Ljubljana's city centre:
$ – Hostel Vrba (score 8,9 on Booking) OR Hostel 24 (score 7,4);
$$ – Hotel Petkovšek (score 9,4 on Booking) OR Best Western Premier (score 8,4);
$$$ – Hotel Cubo (score 9,0).
Alternatively, as we mentioned before, the autonomous neighbourhood of Metelkova, although a bit far from the city centre (1 km), is a great option for those who like a more vibrant and artsy vibe. We stayed there, at the Celica Hostel in Ljubljana, an old military compound turned into a hostel, and really recommend it!
Check it out here to find more options of where to stay in Ljubljana.
---
This One day in Ljubljana post was originally written in October 2017 and updated in 2023.