This post is also available in:

Português
We spent two nights at Hostel Celica in Ljubljana – the famous Ljubljana prison hostel – and will share with you now all about the experience: how did it start; is it worth staying there; how much is the room; and much more!
Have you ever been curious to know how it is to spend the night in a prison cell? We have never planned such adventure, but that's exactly what happened to us in Ljubljana, the capital of Slovenia. When we were there, we decided to stay in the Celica Art Hostel ("celica" means "cell" in Slovenian), a former military prison turned into a hostel. We spent two nights in a small cell for two people and we will not lie, it was a quite unusual staying for us, somewhat claustrophobic, though remarkable. One of the most innovative hotels in Ljubljana, if not in the world.
By the way, if you are organizing you travel to Slovenia, you must read this article about what to do in Slovenia. It has all the information you need for a perfect trip in one of the most sustainable countries in the world.
Where is the Ljubljana prison hostel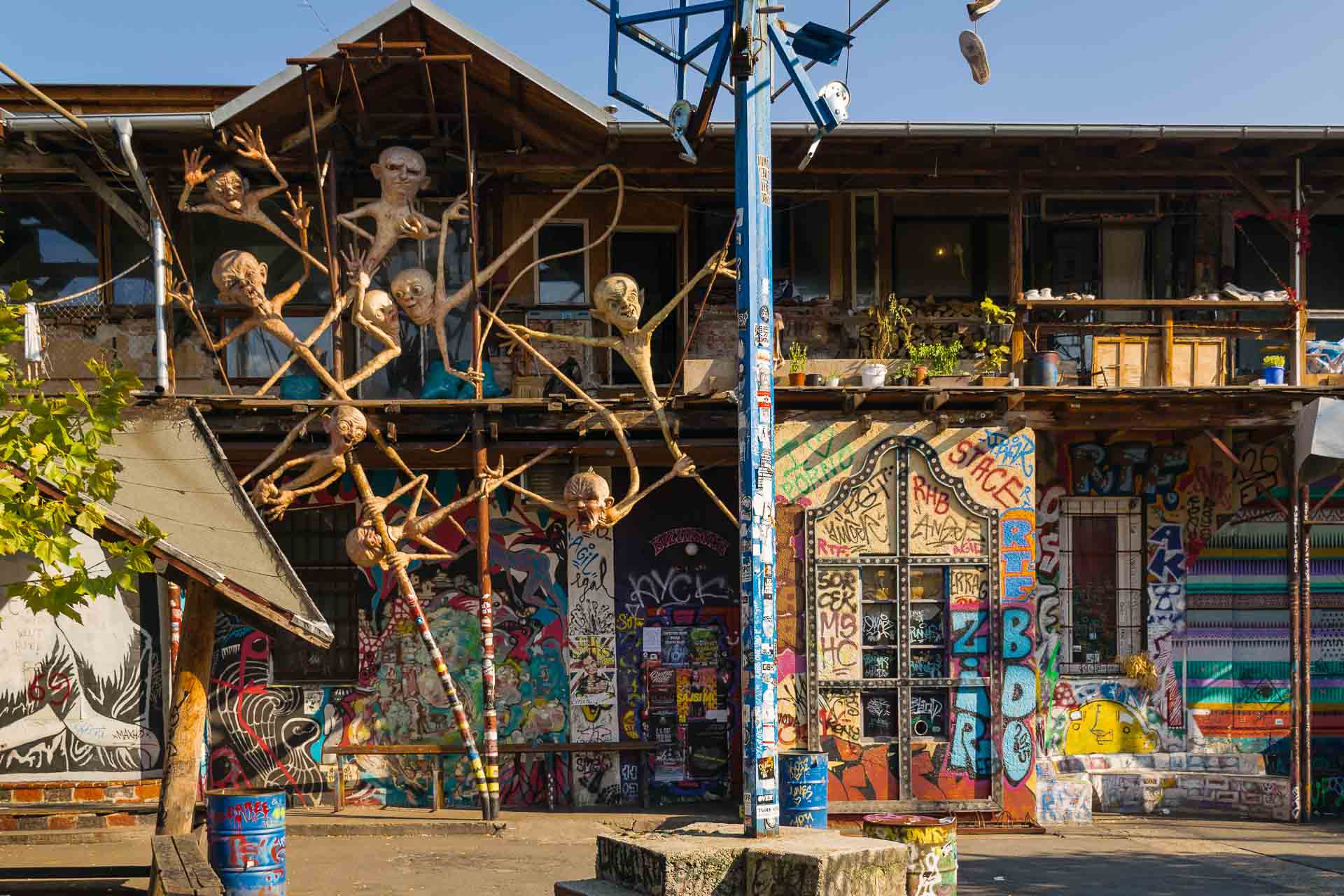 To explain better about this experience, we must start with the Metelkova Borough, where this Ljubljana prison hostel is located!
Metelkova is a former military complex built in 1882 by the Austrian-Hungarian Empire and later used by the Yugoslav Army. In 1991, when Slovenia declares its independence from Yugoslavia, a group of artists took over Metelkova and turns it into a huge artistic and social occupation in the heart of the Slovenian Capital city, just 10 minutes driving from the city centre.
Metelkova reminded us of the Freetown of Christiania in Copenhagen. It was also one of the coolest places we visited in Ljubljana. Amongst Ljubljana art galleries, bars in Ljubljana, cafes, offices, graffiti and artistic installations, there is also the Celica Hostel Art. The hostel used to be the prison of this former military complex. Both the Slovenian police and the government have tried to put down Celica Hostel, not just once. However, the local residents made a human chain, literally, and managed to keep it standing – almost – untouched. "Almost" because one of its walls was damaged by a wrecking ball.
Around mid-2000, through an association, the place went through refurbishments and turned into what known today as Ljubljana prison hostel.
You may also like to read:
The Celica Hostel Art Cells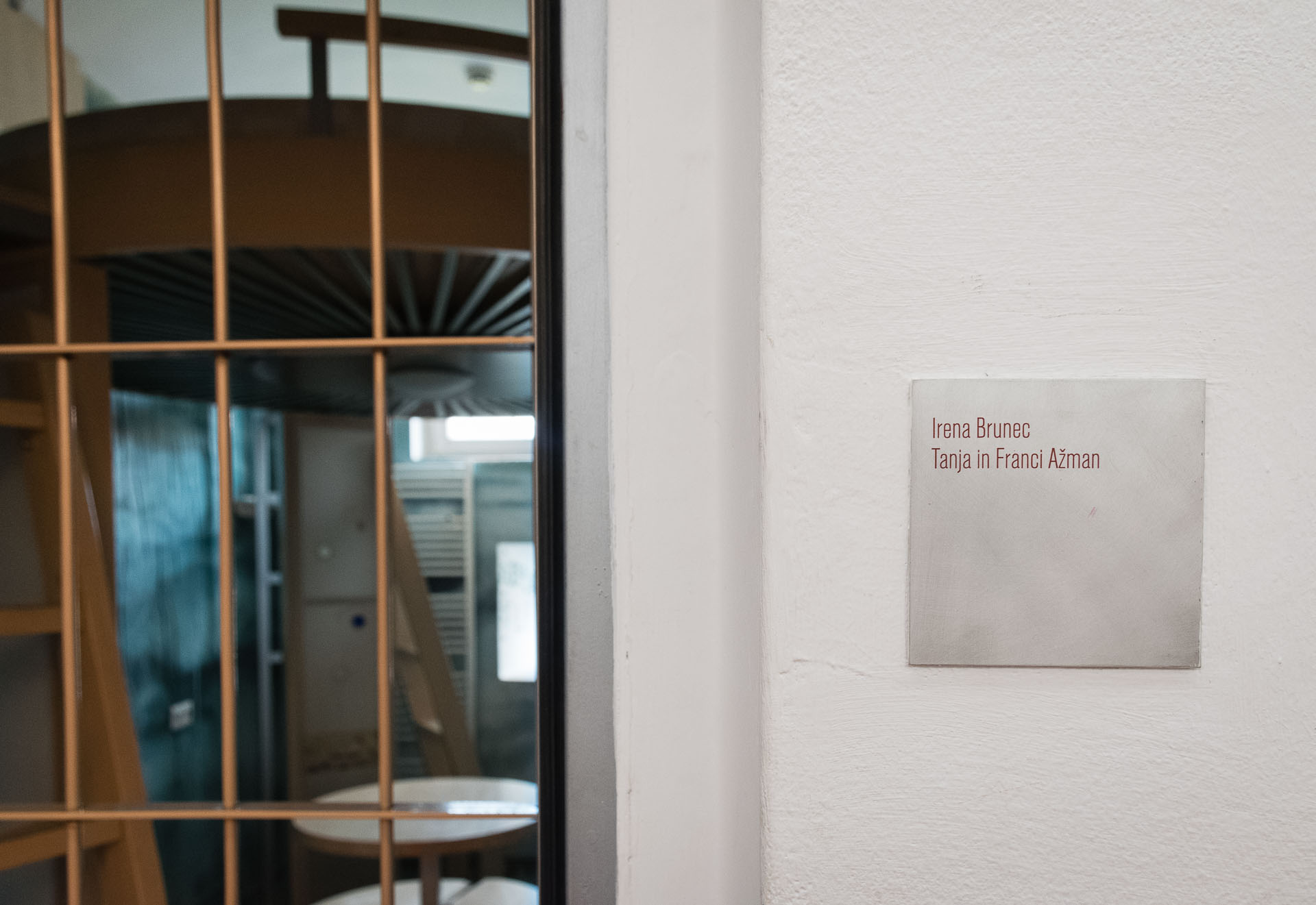 The Hostel Celica has 20 cells. Each one of them was designed by a different artist coming from different parts of the world. The goal of bringing those artists together was to put a touch of life and colour into this place historically grey and overloaded with negativity.
The window bars and the doors were kept exactly as they were during the prison time. The two shared bathrooms at the end of the corridor were also preserved. By the way, the wall damaged by a wrecking ball was turned into a nice window in one of the cells. You can perfectly see the round shape of the wrecking ball.
Each cell at Ljubljana's prison hostel has its original design. We have had the opportunity to see almost all of them and verify that each cell is cooler than the other. All of Hostel Celica's cells, however, hid stories and specific details which make your stay a remarkable and unique experience in the city of Ljubljana.
Unfortunately, you cannot choose which cell you will sleep at the time of your booking, "just as former prisoners weren't allowed to choose their cells at that time", as Celica Hostel employees told us. Fair enough!
Beyond the cells at Ljubljana prison hostel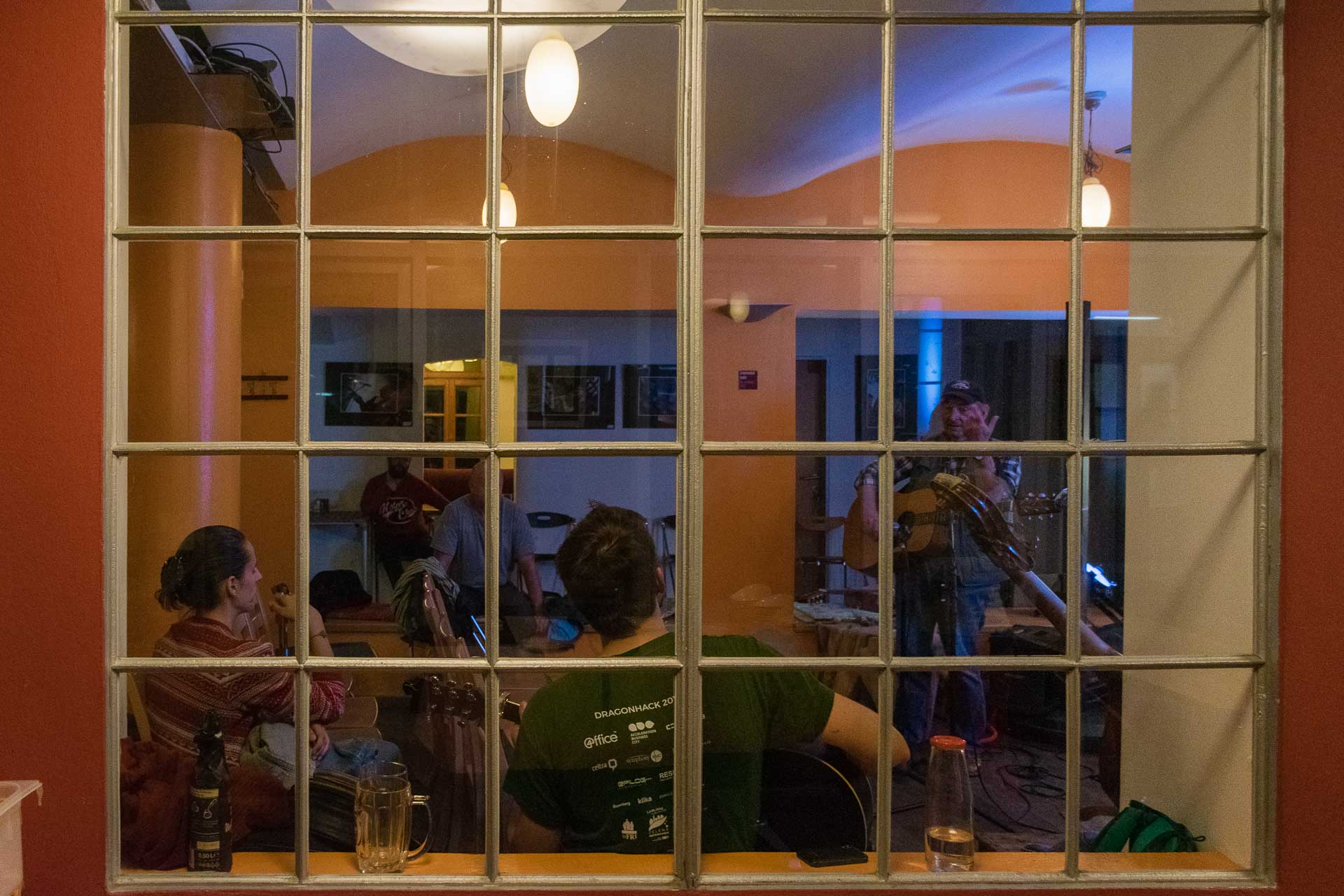 If you are not so adventurous or just don't feel like "spending the night in a prison cell ", you can also choose to stay in one of their eight "normal" dormitories. Sincerely, what we liked the most about Celica Art Hostel wasn't really about the experience of our specific cell/room – which, although interesting, is not the most comfortable, purposely, but, in fact, the whole atmosphere and structure the Celica Hostel Art offers.
Also, everyone from the staff team was extremely nice, from the girls at the reception to the Cape Verdean Eduardo, who works in the restaurant, to the manager Tanja. We felt like they really care about their guests. And that is the kind of memory we hold most dearly from all the places we visit. Plus, the location is quite good too. You are just about 20 min walking from the castle of Ljubljana.
The infrastructure of Ljubljana hostel prison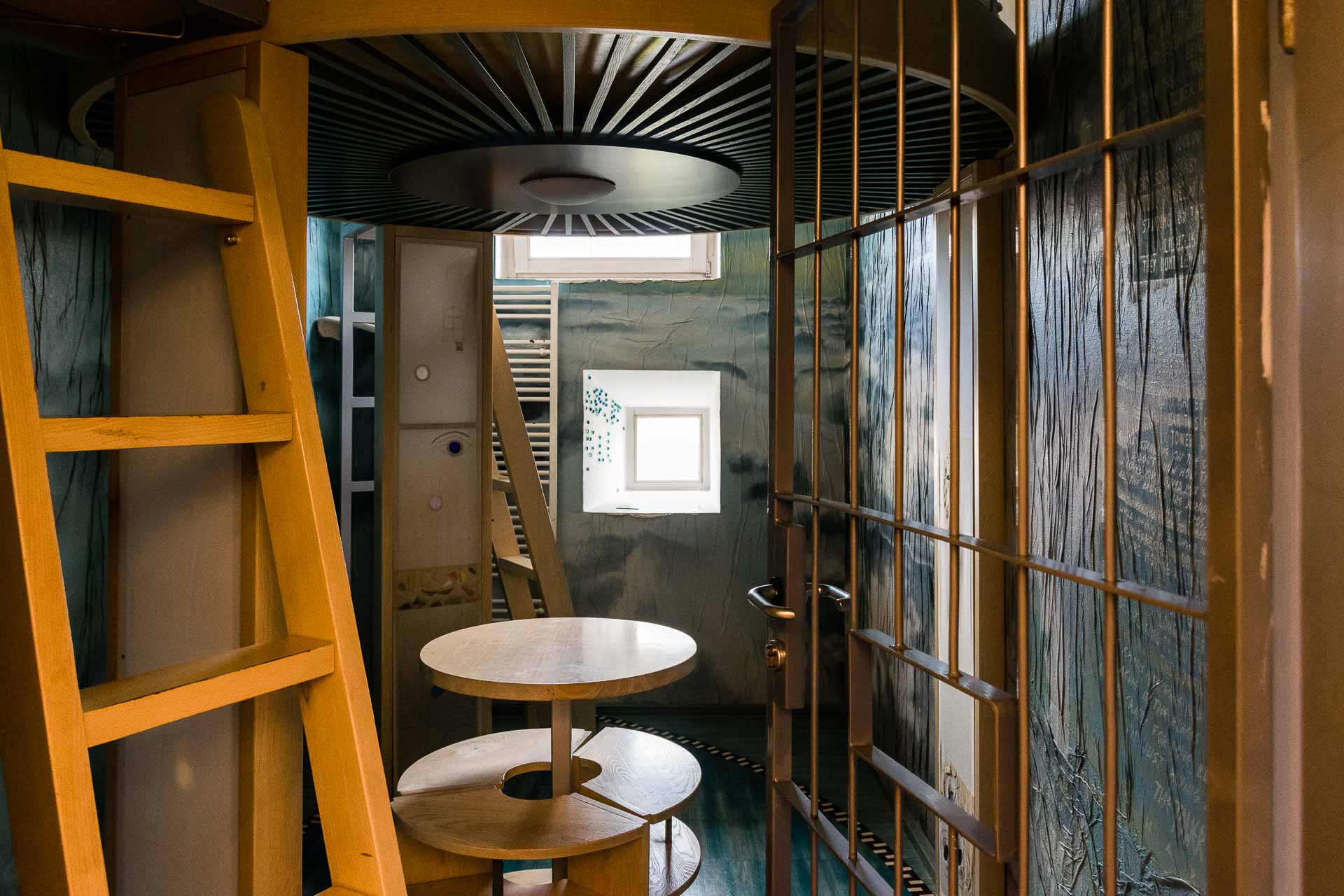 There are many places of Celica Hostel Art which was also repaired by artists, such as:
a very charming Oriental Room;
the Restaurant/Bar, which by the way hosts musical events always and serve delicious and not expensive food;
the reception
and an outside area quite nice on sunny days.
Another highlight of Celica Hostel is its breakfast buffet. They serve it everyday from 7h30 to 10h30 for 5 Euros, which is generally included in your staying, but also available for anybody.
How much is to sleep at Hostel Celica, in Ljubljana?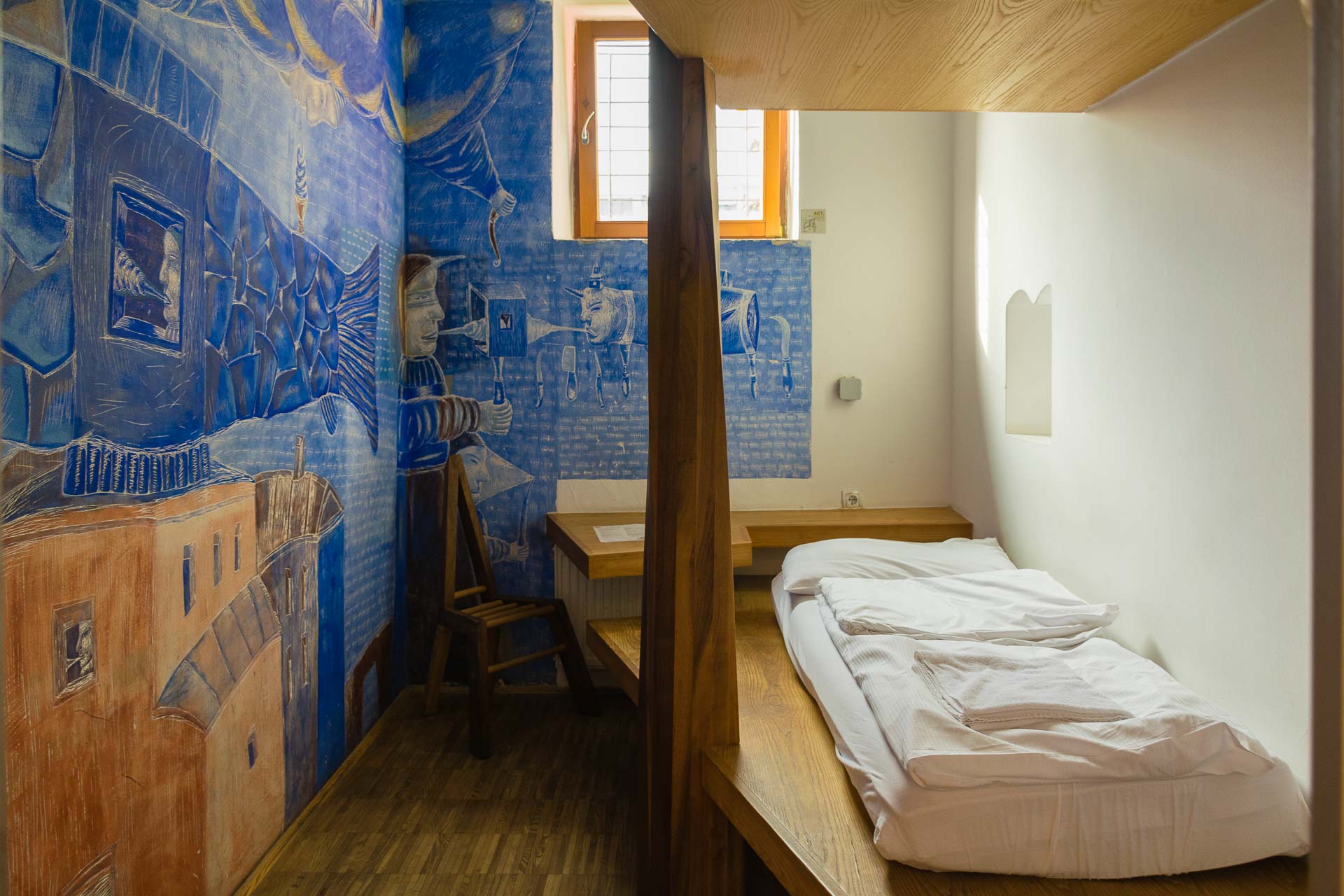 Well, Ljubljana prison hostel it is not the cheapest place we have found. However, it is not an usual place we are talking about. But  this is a hostel which has great originality and history. Still, we think it's better than an air B&B in Ljubljana, or even an ap in Ljubljana.
Check their availability and book your hotel in Ljubljana direct from here!
PRICES ARE IN EUROS PLUS A TOURIST TAX OF 1,27 PER PERSON – They also have a range of discounts possibilities.
---
Our staying at the Celica Hostel Art was an agreement between the two parts, but the opinion here expressed are fully sincere. Our primary commitment is with you, readers, and regardless of the partnership, we would never fail to give an honest review of our experience.
This Ljubljana Prison Hostel article was originally written on December 2017 and updated on August 2022