This post is also available in:

Português
Let's go straight to the point: Is the Nile cruise luxor aswan worth it? YES!
This was surely the tour trip that surprised us the most in Egypt. "What about the pyramids, then?", you must be asking yourself now. Well, the pyramids are the pyramids, right? Everybody dreams of seeing them. The expectations are high and they are really incredible. But, to go on a cruise on the Nile River, the largest in the world and, perhaps, one of the most important in human history, is something which had never crossed our minds. We didn't even know we had this possibility and, as many things in life, the biggest surprises come from things we least expect.
We heard of the tour by talking to one of the staff of the hostel we were as soon as we arrived in Cairo. He mentioned about this four days Nile cruise luxor aswan, passing by some important cities of Ancient Egypt.
At the time, we stumbled a little over the idea. It seemed expensive (US$ 400) and quite high-end style for the trip we had in mind. But the man lowered the price, showing us nice pictures and ended up convincing us to go. In the end, we paid US$ 300 per person for the 4 days.
A few days later, in the city of Luxor, we embarked on our cruise towards the south of the country.
The Ship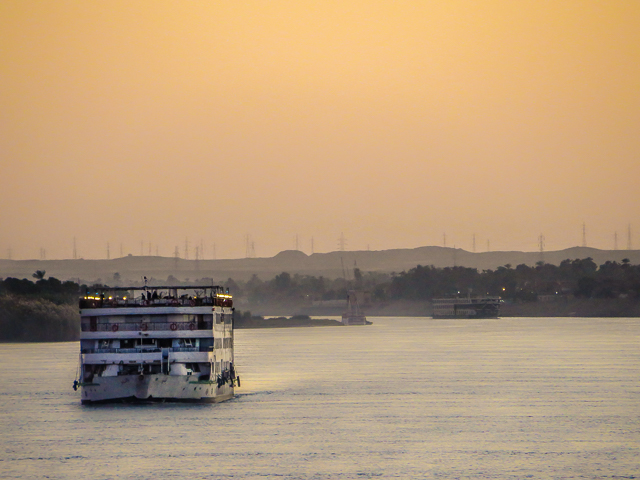 There are different shipping options. Ours were 4 stars, which is way too good. It was big and our bedroom comfortable, with a massive window to the river. The deck was very nice and even had a swimming pool (empty, as it was Winter time). Inside, a bar, restaurant, a souvenir store and that is it, basically. They food buffet, served daily, was simple, albeit delicious and generous.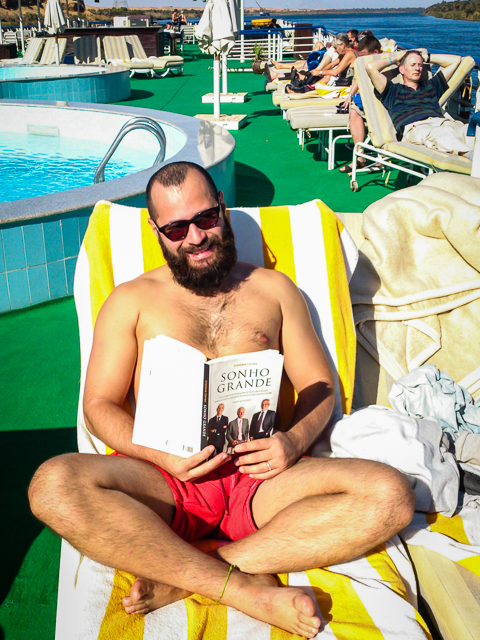 A steward cleaned up our room every day and made our towels into art, which got us laughing every time we entered the room.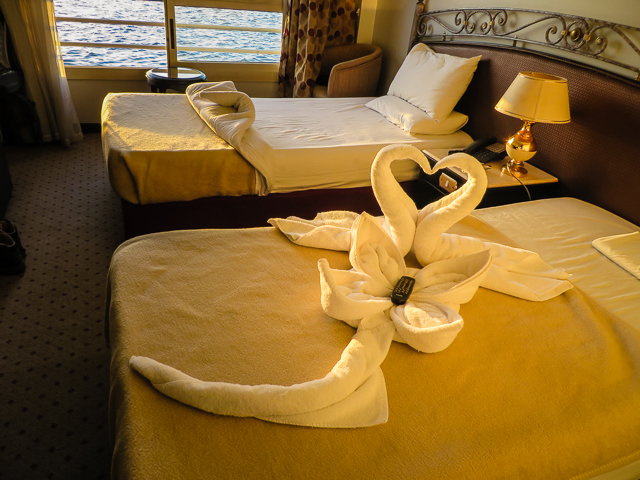 Everything was interesting, but slightly decaying, which didn't surprise us, really, as Egypt goes through a serious political, economical and social crisis. Tourism is an important aspect of the Egyptian economy and, after the coup d'etat and social revolutions, it plunged the number of tourists in there. In fact, many European countries advise against their citizens to visit Egypt. You can imagine the impact of it on their economy and general infrastructure over there.
The itinerary
There are many itinerary options to choose, from leaving from Cairo and going to the extreme south of the river, in the Abu Simbel city, to a simpler ones, which goes from Luxor to Aswan, for instance.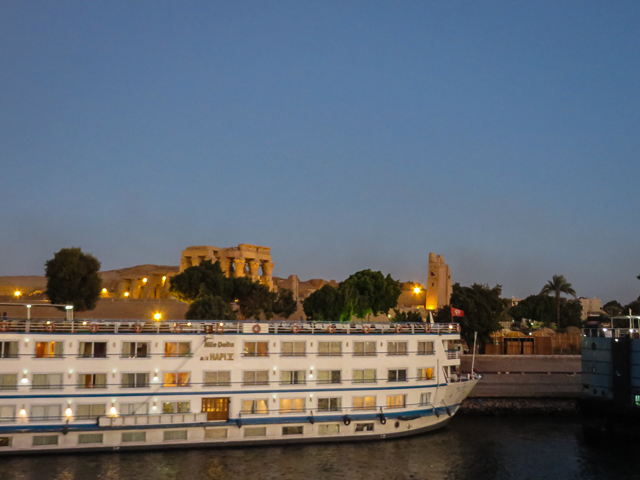 We got on in Luxor, stopped in Edfu, Esna and got off in Aswan. In those stops, there has been always a guide awaiting us, who would take us to see the many temples and other important tourist attractions from Ancient Egypt. What we liked more, for sure, was the King's Valley in the city of Aswan, which is a collective of many tombs of many different Egyptian kings. In general, all the ruins and constructions we visited were incredible and the Nile cruise luxor aswan was a great way to see the most important points of the Egyptian history.
How much does the Nile cruise luxor aswan cost?
As we mentioned at the beginning of the post, we paid around US$ 300 per person for the four days Nile River Cruise. As this was four years ago, we believe the price now is a bit higher than that.
The guided tour around the cities, as well as the breakfast, lunch and dinner, were all included in the price. At least, this is what was sold to us (you will see, carrying on reading, that it wasn't exactly like that).
As this was a while ago, we cant' remember the name of the agency we used for the Nile cruise luxor aswan. However, researching with our partners of Get Your Guide, we found this cruise option which has very positive reviews. You might like to check that. 
What is the best time to do a cruise in the Nile River
It is from October to May, as these are the most mild temperature. We were there in January and it was quite sunny during the day with a gentle breeze at night.
What we liked most
Without a doubt, the beauty of Nile. To lay down in the ship's deck in the afternoon to see the sun setting behind the palm trees at the edge of the river is remarkable.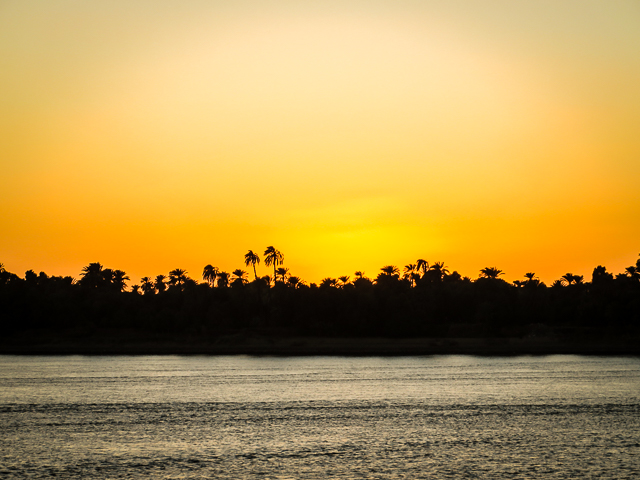 Another great thing is the tranquility the cruise offers. While all the cities we went through there were millions of people abusing us all the time trying to sell something or asking for money, the ship offered that relaxing refuge.
This abuse in Egypt reaches another level and in our third stop of the cruise, we were so exhausted from it, that we decided to not get off. We stayed on the deck enjoying the sun, reading a book and relieved that we were not being stopped every 10 seconds by someone forcing us to buy something.
We know it seems like a not very sensible judgement from us, but you know, this abuse in Egypt is really something we do not miss. And we actually tried to dress properly in there (Fe would put on a scarf on her head and Tiago with that long beard). Sometimes, people would think we were Egyptians. It worked initially, until they realise we do not speak Arabic and start offering things for us to buy immediately.
What we didn't like
Something really annoying, was the tipping. This is something which affects practically the country as whole, actually. Every tourist complains about the same thing. Just to have an idea, there were policemen who offered to take your picture and then demand money. It's ridiculous. There were so many stories like that, that we needed another post. Anyway, we thought we would be free from that in the cruise, and we kind of were, up to the last day.
Remember we said we closed a deal with everything included? We were emphatic with the people who sold us the package on this, as we had the money counted for this trip and we could have any unexpected expense. They assured us that everything, absolutely everything, was included.
On the last day of the cruise, when we were about to get off the ship, already saying goodbye to the staff, hugging and all, exchanging Brazilian shirts, the manager came to remind us that we should leave a fat tip to the crew.
We opposed, saying that we did not have this money and all of our money was given to the agency, who assured us we would have no other expense, even tipping was already included. There was no way, he said we should leave something. Every staff was looking down on us and the steward, who we met (and transformed our towels into art) said the ship crew earned almost nothing and this tip was their main way of surviving. They were not asking for pocket money, it was about 50 US$ per head.
After all, we left them US$ 20, really hurtful to see we were part of a totally exploitative scheme quite common in Egypt, and left. Everyone looked down on us after having initially denied leaving the tip.
To conclude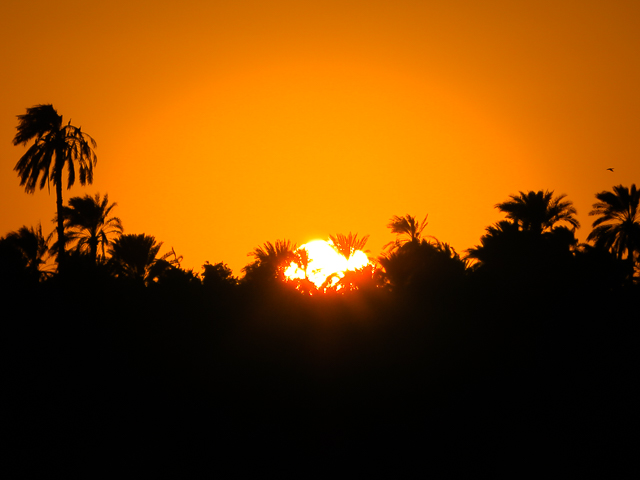 Anyway, Egypt is not an easy travel. You have to be prepared, psychological mainly. But still, it was one of the coolest trip we had done and we surely recommend to everyone who visit the country!