This post is also available in:

Português
Lake Bled in Slovenia is undoubtedly the most famous sight in the country, and one of the most beautiful lakes in Slovenia. The image of the huge greenish lake with a charming islet in the middle, surrounded by the Alps and with a medieval castle on top of a 100 meters cliff fills the imagination of almost every traveller.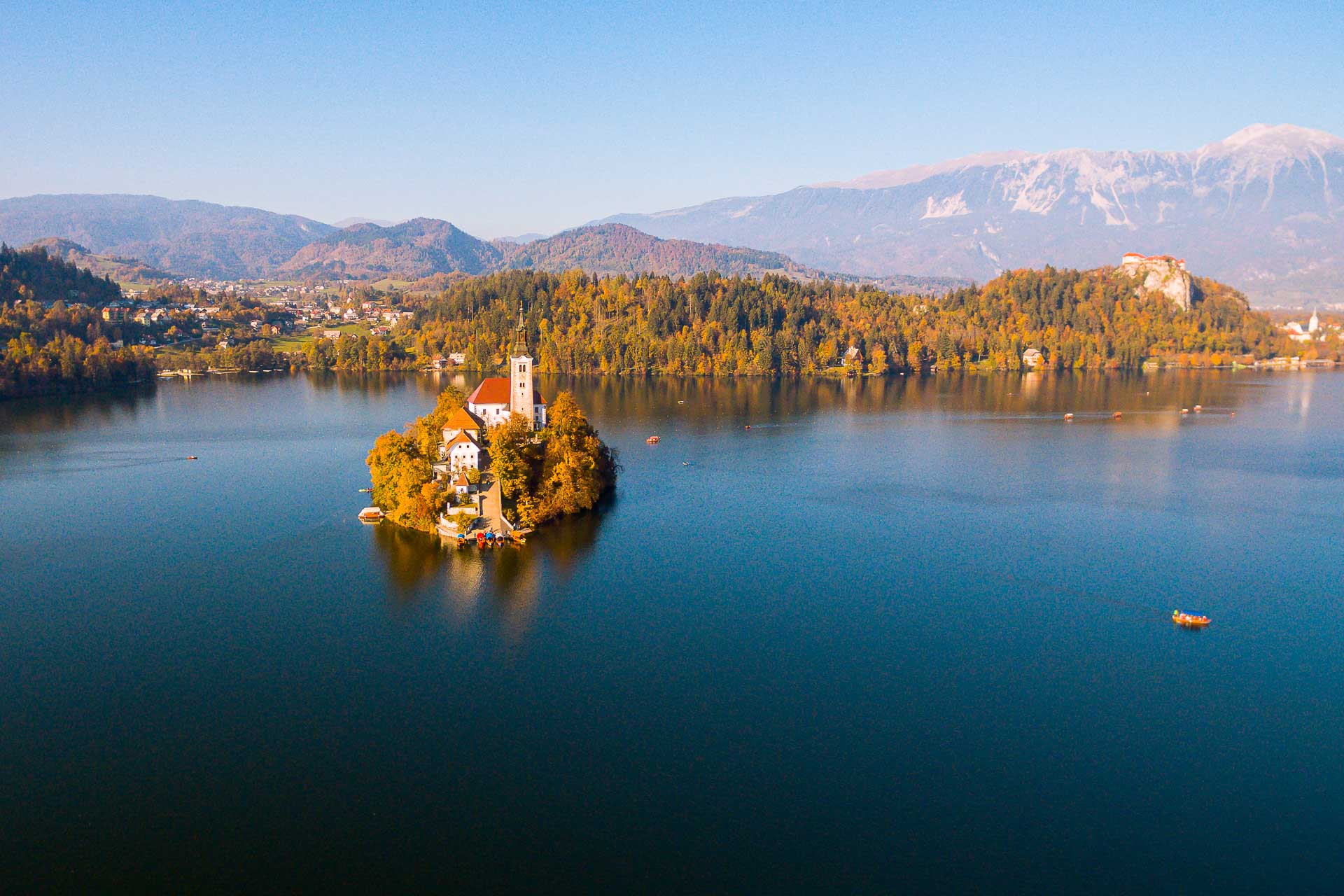 We were at Lake Bled during our cicle trip in Slovenia. We left Italy to Slovenia by bike and were absolutely in love with how beautiful Slovenia is. Over two wheels, we could really explore the region and confirm with sobriety that Bled has others not-to-be-missed attractions that goes beyond the lake. Check in here a complete list of everything to see, to do and to taste in this Slovenian paradise.
By the way, if you are organizing you trip to Slovenia, you should definitely read this complete article about what to do in Slovenia, with all the information you will need for a perfect trip to one of the most sustainable countries in the world.
Our month bike trip through the north of Italy and all over Slovenia became a series of video on our YouTube channel! Check it out and don't forget to subscribe to receive first-hand notifications of new episodes 🙂 On our Facebook and Instagram there are also many pictures and videos about our first experience with cycle tourism.
"
Things to do in Lake Bled in Slovenia
Wander around Lake Bled
The Lake Bled is about 6km long. To go around it completely won't take you more than 2 hours – not including the uncountable stops to contemplate the landscape, of course. You can go around the lake by foot or bike. You can actually rent a bike at Lake Bled if you don't plan to cycle to Slovenia as we did!
Bear in mind that the way might be a bit bumpy. Even though we went there by bike, we think by foot might be a bit more pleasant, if you have the time.
Swimming and/or enjoying some water activities
The water in Bled is clean and perfect for a swim during the summer time. For those willing to explore further the beauty of the lake, a good option is to rent a boat, kayak or a stand-up paddle in any of the many rental places of the region.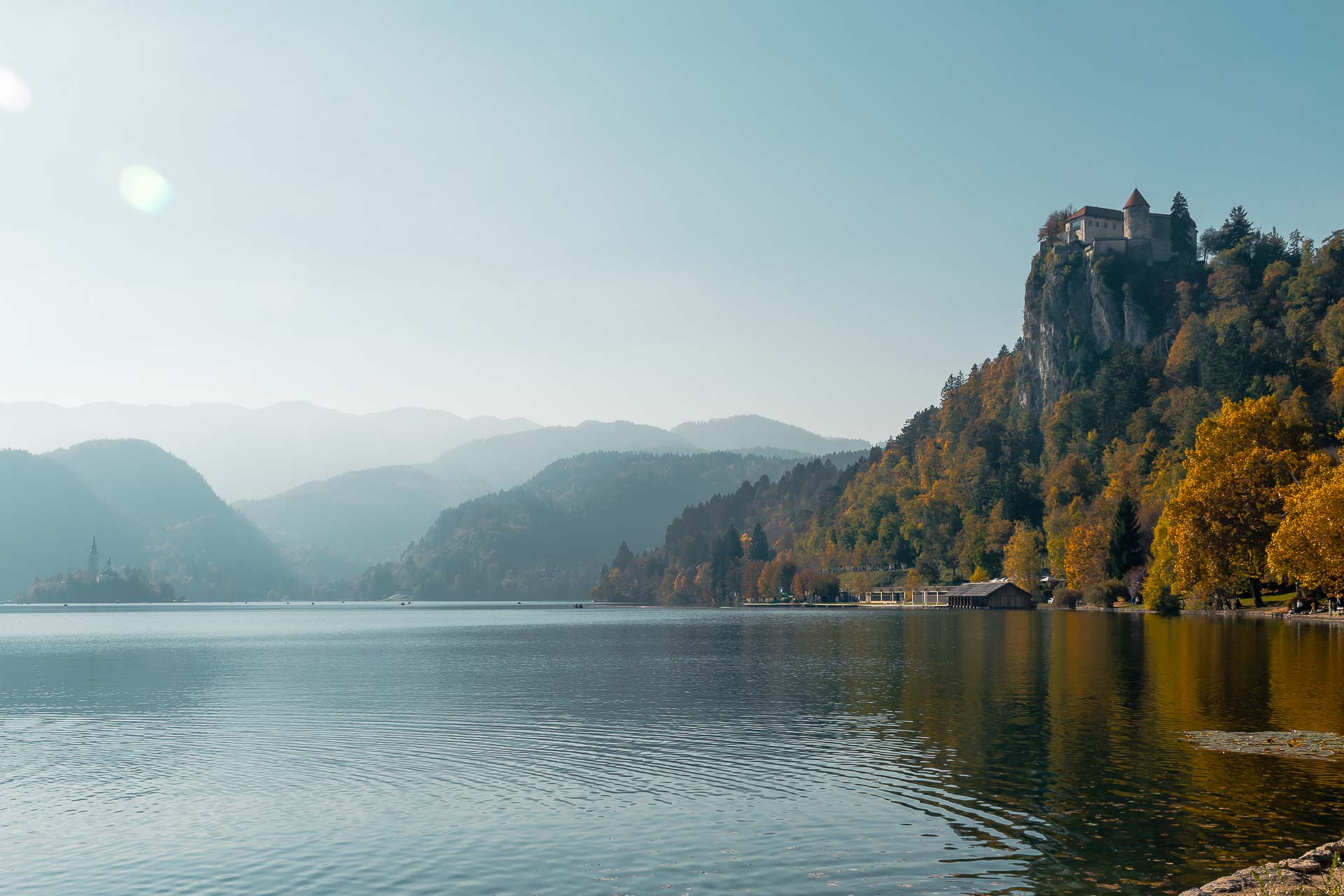 Speaking of water, did you know Slovenia was the first country in Europe to put in its Constitution the right to clean water as a fundamental right to all its citizens? The country's prime minister, Milo Cerar, called water the "gold liquid" of the XXI century. He also said the bill aims to protects this national good before the increasing international corporation lobby to privatize the water sources. Awesome, right?
Bled little Island
Lake Bled's Island is not just the most charming island in Slovenia. It is also the only one in the whole country!
You can only get there by a pletna. This is the name of the boats in Lake Bled, which is a kind of gondola and costs 15 Euros per person – return. There is no entrance fee for the island. But, if you want to visit the Lake Bled church – Church of the Assumption of Mary -, you will have to pay: Adults: €6; Students: €4.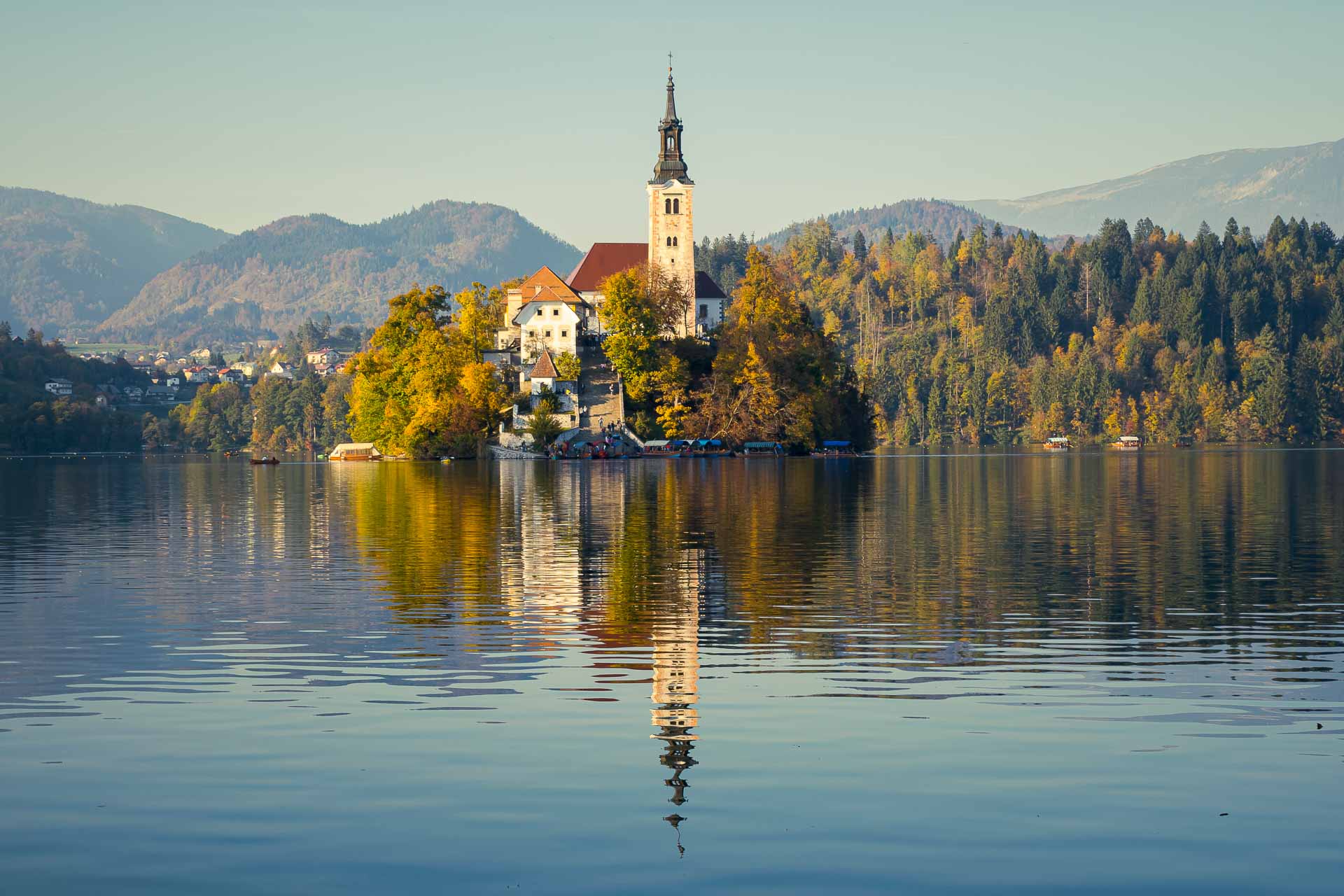 The little island is also a destination for many Slovenians dreaming to get married over there. Don't be surprised if a wedding ceremony will be taking place when you are there. Tradition has that the groom must carries the bride on his arms over the 99 steps that take to the church's doors as a sign of good luck. Another superstition is to ring the bell of the church to make your wish come true.
P.S.: We decided to not go to the Bled's Island because what called our attention the most was the view from outside with the island in its middle rather than the other way round. But we met with other travellers who did the tour and loved it, so it is up to you. They said the view from the boat is really worthy. If you go, just don't forget to let us know!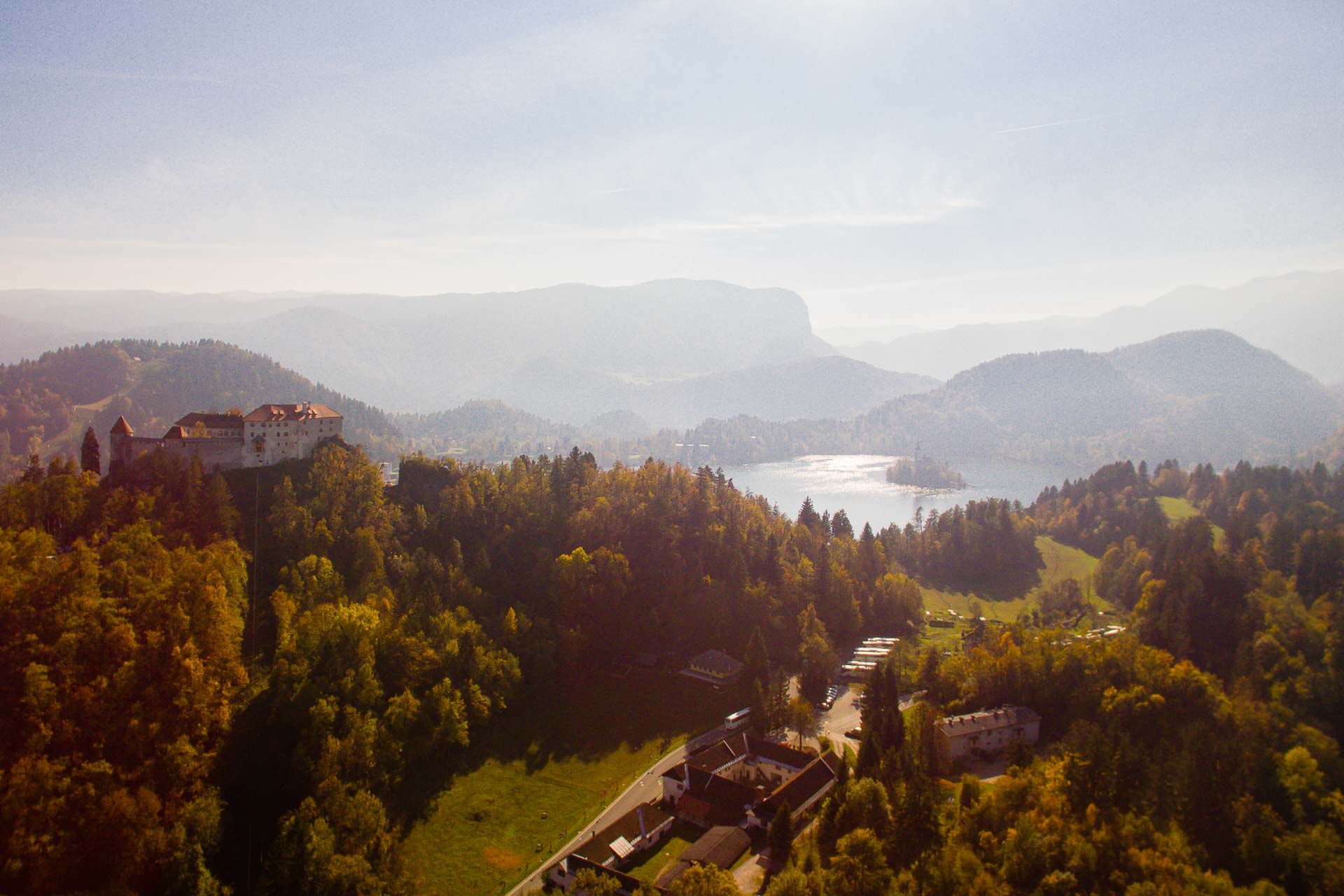 Climb up to Lake Bled Castle
The medieval Bled Castle dates back to the XI Century and it was almost entirely refurbished on the XVI century. As it is atop the cliff by the lake, the view from up there is spectacular.
There is a €10 entrance fee to get inside the castle (€7 for students, €5 for children up to 14 years old). We heard from many people that is not a must, considering that you can easily climb up there, go around the castle and have the same view. In fact, that is a must. Just by its right side, you have a mesmerizing view of the lake and its island.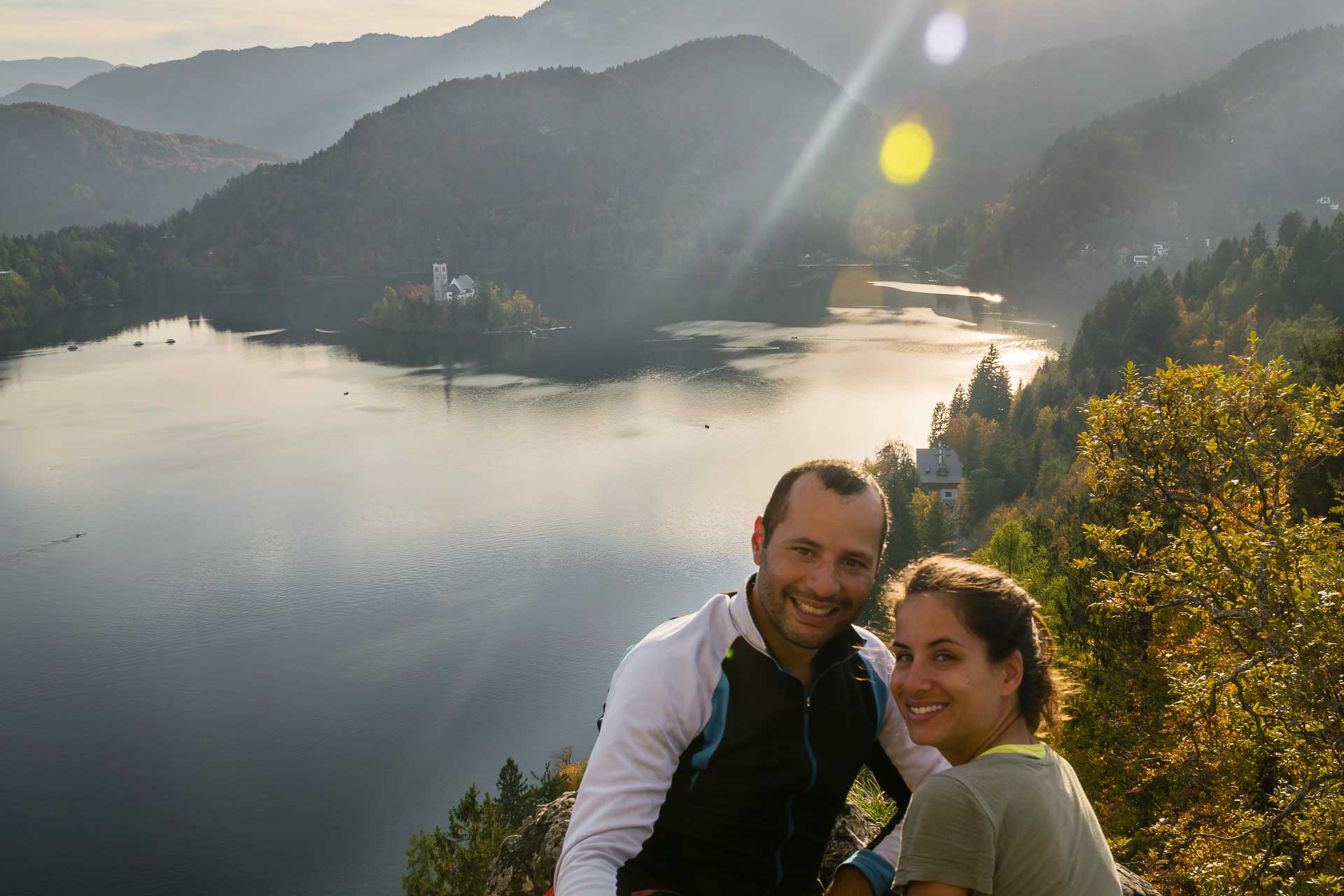 A good tip is to book a table at the Castle Restaurant. From there, you will have a beautiful view as well as nice food. And on top of that, you will avoid the entrance fee of the castle.
Try the famous Bled's Cream Cake or "kremšnita"
Kremšnita is a 60 years old recipe. It is a famous and delicious cake you ought to try. This cake is generally associated with Lake Bled, but you will have no problems finding it, as they are sold all over the country – probably cheaper than Bled, actually. But if you like to abide by the rules, than try it in Bled too.
You may also like to read:
Visit Vintgar Gorge
Just 4km away from Lake Bled, there is this stunning gorge you also must visit. You will see many natural pools along the 1.6km way over a wooden footbridge that crosses the river many times until arriving at the Sum Waterfall. You can get over there from Bled by taxi, trekking or cycling. It costs €5 to get in.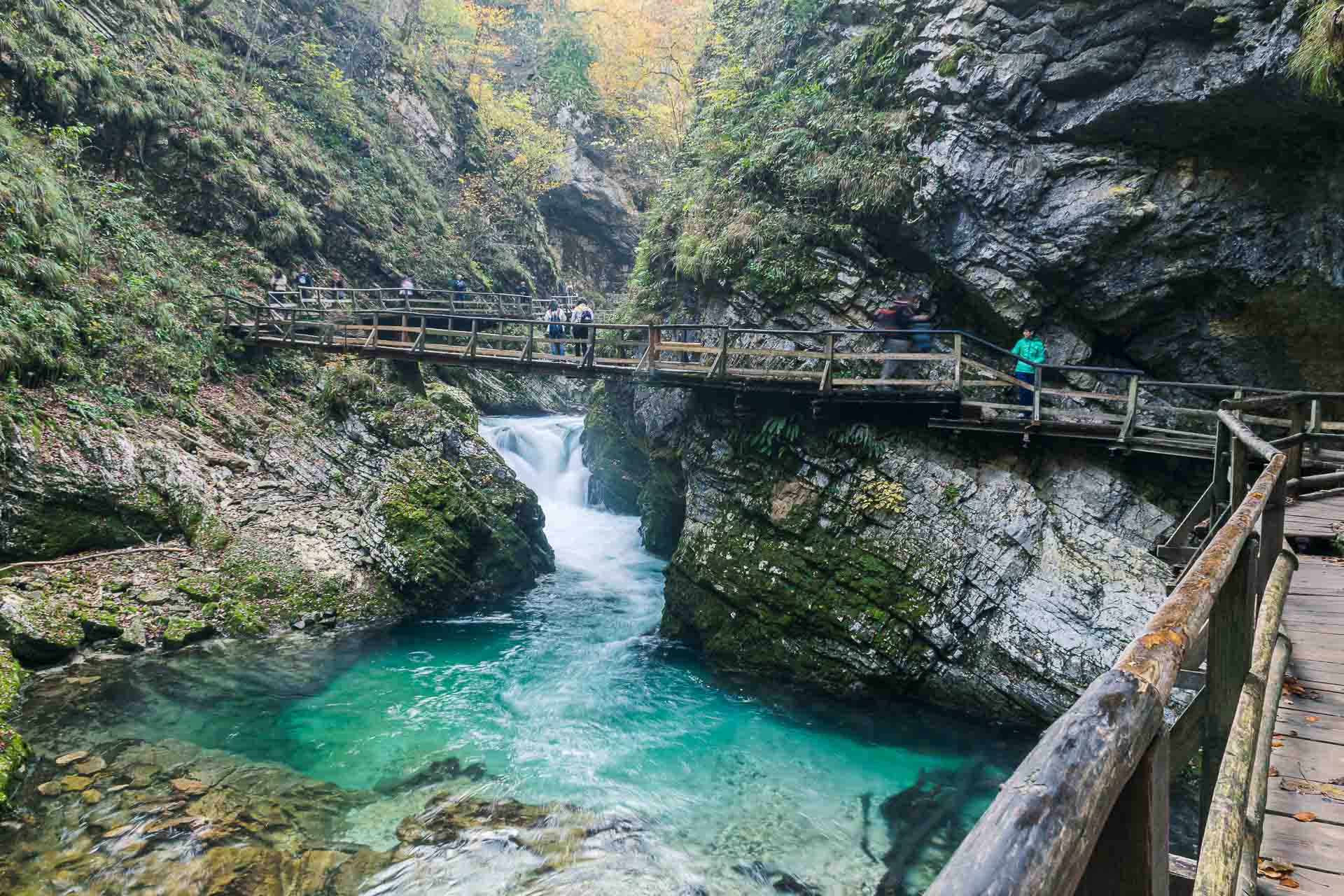 Go to Bohinj Lake
The Bohink Lake is about 30km east of Bled. Although it doesn't share the same fame as Bled, it is equally marvellous – if not more. Bohinj attracts many Slovenians who take advantage of the idyllic landscape to do sports or just relax over the weekend. We did the Bled-Bohinj course by bike and the landscape is splendid.
Honestly, Bohinj is one of the most picturesque scenario we have ever seen. Also, the most famous waterfall of Slovenia is over there, at the Triglav National Park. The Savica Waterfall was even an inspiration for the Slovenian national anthem. There is a tour that leaves from Bled to the Triglav National Park.
During our visit to Bohinj Lake we stayed in the Hostel Pod Voglom, a rather cozy hostel with private and shared rooms at a very relax part of the lake. We really recommend staying at Pod Voglom for the night. You can rent kayak equipment, go paragliding and many more sports.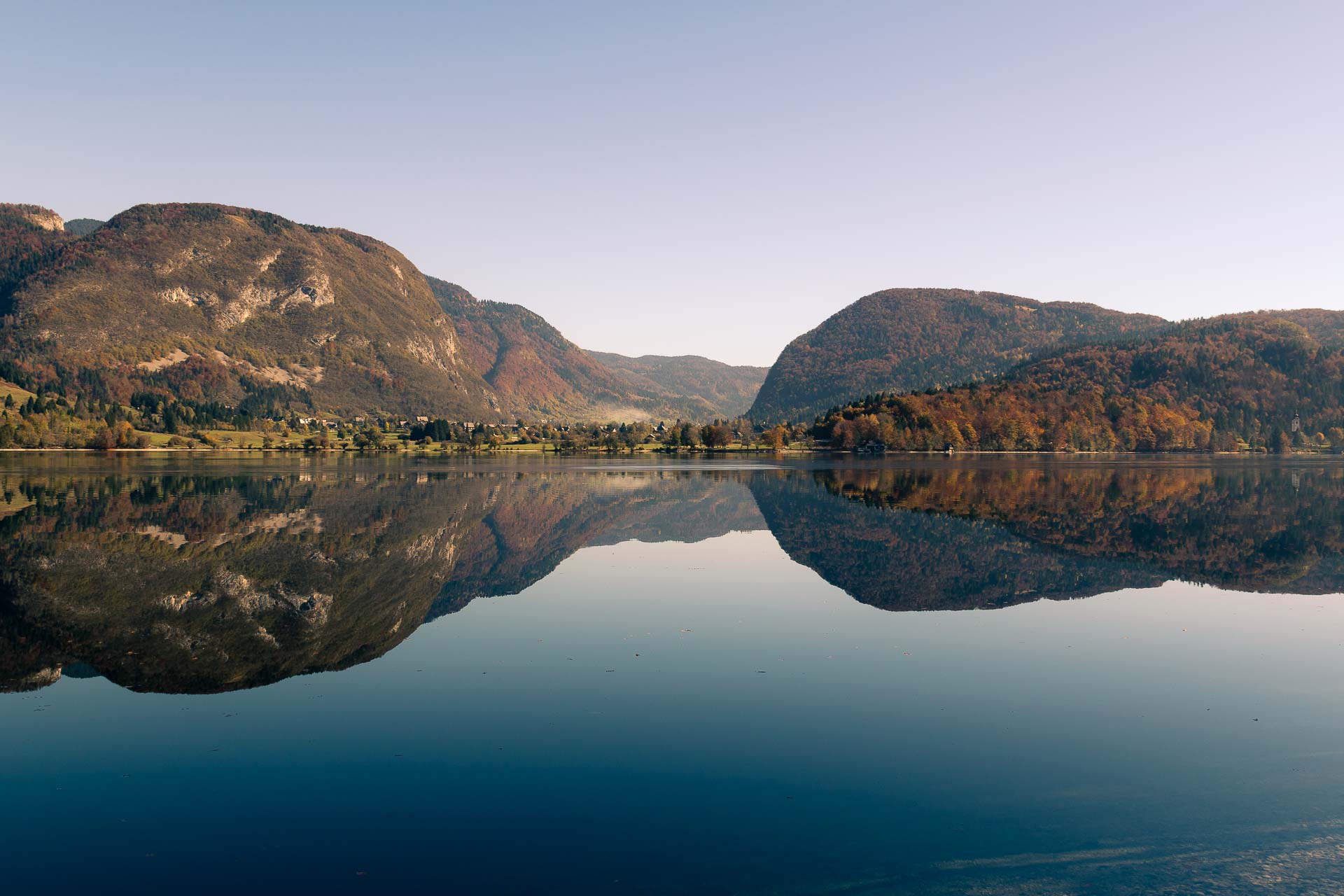 How to get to Lake Bled in Slovenia
The best way to explore Slovenia is definitely by car. It is a small country with natural wonders scattered all over. A car will give you the flexibility to explore even the most remote places. You can compare the HOMEPAGE, sorrybest deals on car rental in Slovenia here. Another good option is to go by bike, as we did!
Nevertheless, if you rely on public transport, Bled is easily accessible by bus or train:
Bus: There are buses leaving from the capital of Slovenia, Ljubljana, every hour. It arrives at the centre of Bled, just by the lake. The trip takes about 1h15 and costs about €6. See further info here.
Train: There are trains from Ljubljana as well to the "Lesce-Bled" station, about 4km from Bled. From there, you can either walk, take a bus or a taxi to the lake.
Another option is to take a tour from the capital of Slovenia. There are many tours that leave from Ljubljana so you don't have to worry about transport. In fact, Ljubljana cannot be out of your itinerary in Slovenia and we have prepared a full article on what to do in Ljubljana in one day!
Where to sleep in Lake Bled
The village around Lake Bled has very good infrastructure and there are many options of accommodations. We give you some for you here:
Budget – Hostel LakeBled (***)
Luxury – Vila Bled (****)
For other options, see all accommodation in Bled here.
PRO-TIP: We found an excellent restaurant, and quite cheap as well, just by the bus station. It is a kebab place with a diverse menu named Briksen. If you want to eat well and are on a budget, that's the place to go.
---
This article was written in February 2018 and updated in August 2022