This post is also available in:

Português
Corumba in Brazil is in the extreme west of the Pantanal of Mato Grosso do Sul and it unfolds as a haven for nature lovers and adventure seekers. We ourselves didn't imagine that we would find so much to do in Corumba! We only reserved three days of our itinerary through the Pantanal for this incredible city and it ended up being not enough.
To give you an idea, Corumba is the largest municipality in the State. It covers a large area of the Pantanal, making it a great place for nature lovers. Corumba is also the gateway to Serra do Amolar, one of the most magical places we have visited in Brazil – see more below!
This comprehensive guide unveils the hidden gems of Corumba, covering its rich history, transportation options, accommodation recommendations and a myriad of activities awaiting exploration.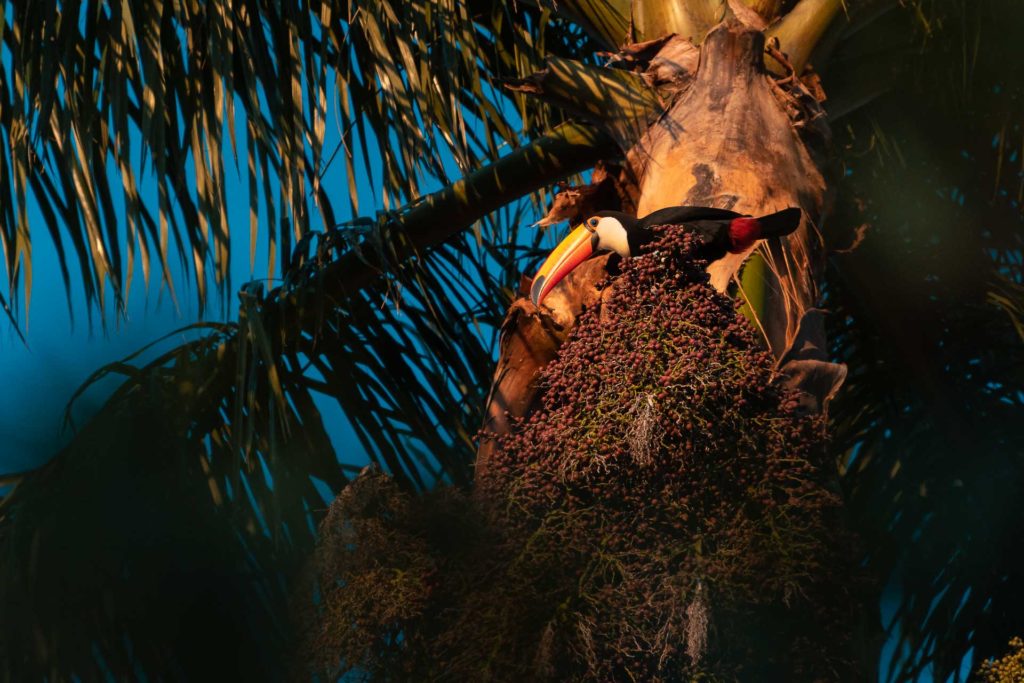 A little about the history of Corumba in Brazil
Once a bustling port city, Corumba played a pivotal role in Brazil's cultural and economic landscape. It was one of the main entry and exit routes for goods and immigrants, shaping the culture of Brazil during the 19th and early 20th centuries. Located on the banks of the important Paraguay River, Corumba was once the third largest port in Latin America!
Things started to change from the 19th century onwards. In 1930's, the period known as Great Industrial Development, which, among other things, saw the construction of a huge railway line that connected Bauru to Corumba. From this moment on, the main economic axis in the central-west region became Campo Grande and Corumba gradually fell into oblivion and isolation.
Corumba never recovered the importance of its heyday and it is possible to see some signs of the collapse around the city. On the other hand, the people of Corumba showed us that they are very proud not only of the past, but of the present that they are capable and willing to build.
During our trip to Corumba, we had the opportunity to meet inspiring businesspeople who are doing wonderful work to rescue local culture and develop sustainable tourism, which has the preservation of the Pantanal as its main mission.
Here in this text, we recommend some of these companies and institutions for you to visit during your trip to Corumba in Brazil!
How to get to Corumba in Brazil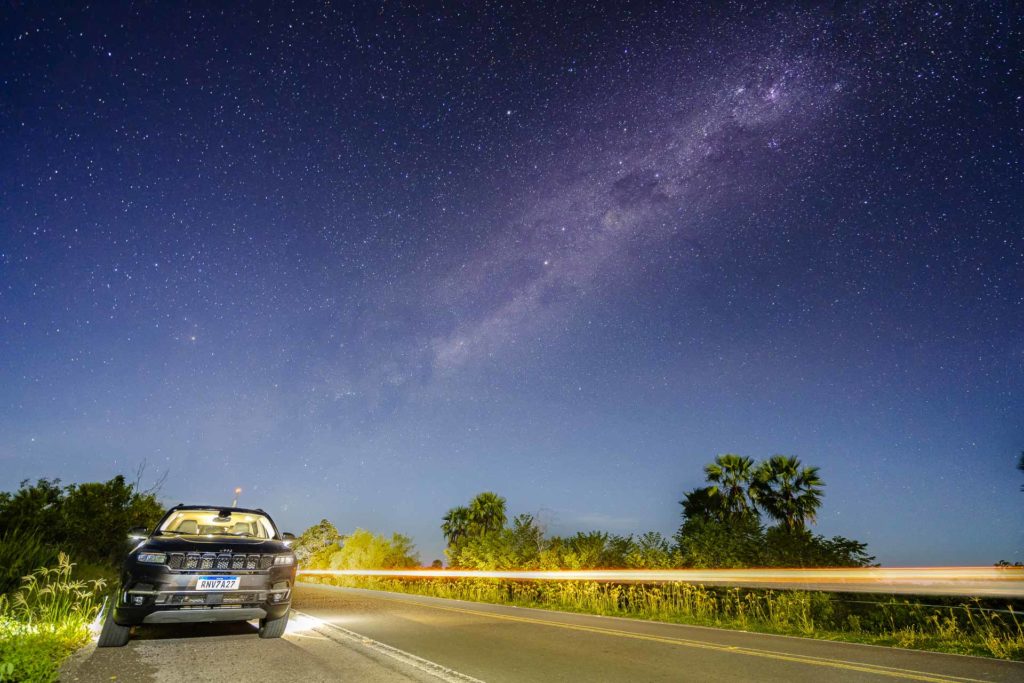 It is possible to get to Corumba in Brazil by:
Flight: weekly Azul flights departing from Viracopos Airport (2h journey);
Bus: Viação Andorinha leaving daily from São Paulo (20h journey);
Car: coming from Campo Grande via BR 262 (Corumba – Campo Grande: 430 km away). Or by Presidente Prudente for those coming from São Paulo (1,400 km), and other Brazilian cities.
As we mention in our complete articles about Pantanal North and Pantanal South, we highly recommend going to Corumba by car. Particularly because the Pantanal of Mato Grosso do Sul is not at all accessible by public transport.
If you are coming from the US or Europe (or flying from any other country really), then you will probably start your journey either in São Paulo or Rio de Janeiro. So you can choose to either drive from there or fly to Campo Grande first.
Visitors from the US and Europe might face a slight difficult on communication if you are travelling to Corumba on your own. We recommend having internet connection as Google Translate works really well. But not all the places will give you reception, so tune up your Portuguese 🙂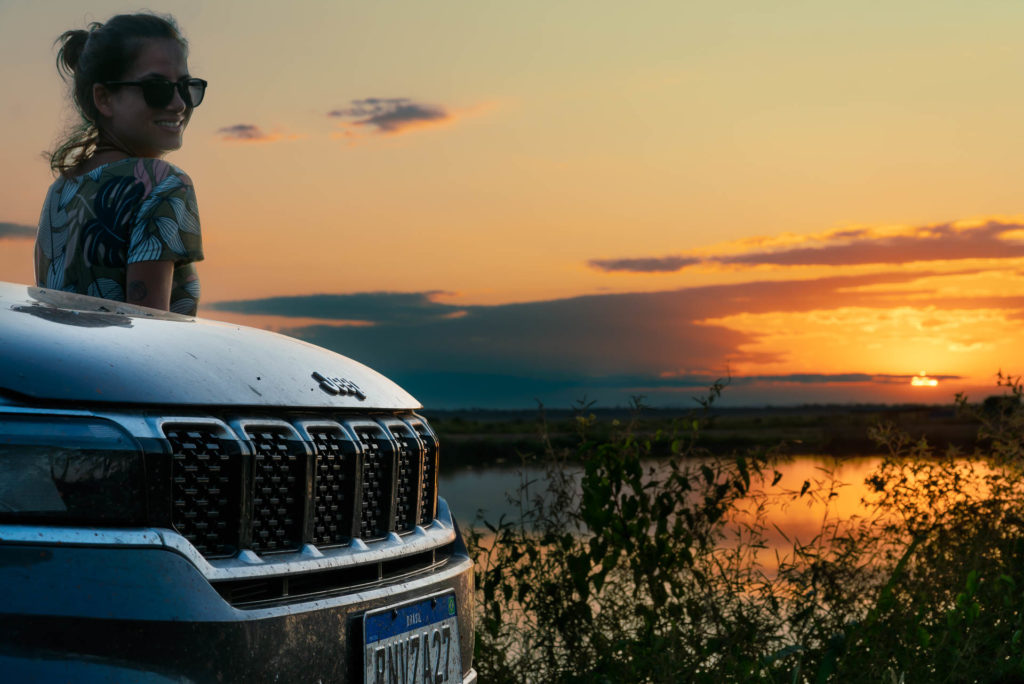 Our trip to Corumba started in São Paulo and it was a super peaceful journey. But you also have the option to fly to Campo Grande go from Campo Grande to Corumba by car.
Where to stay in Corumba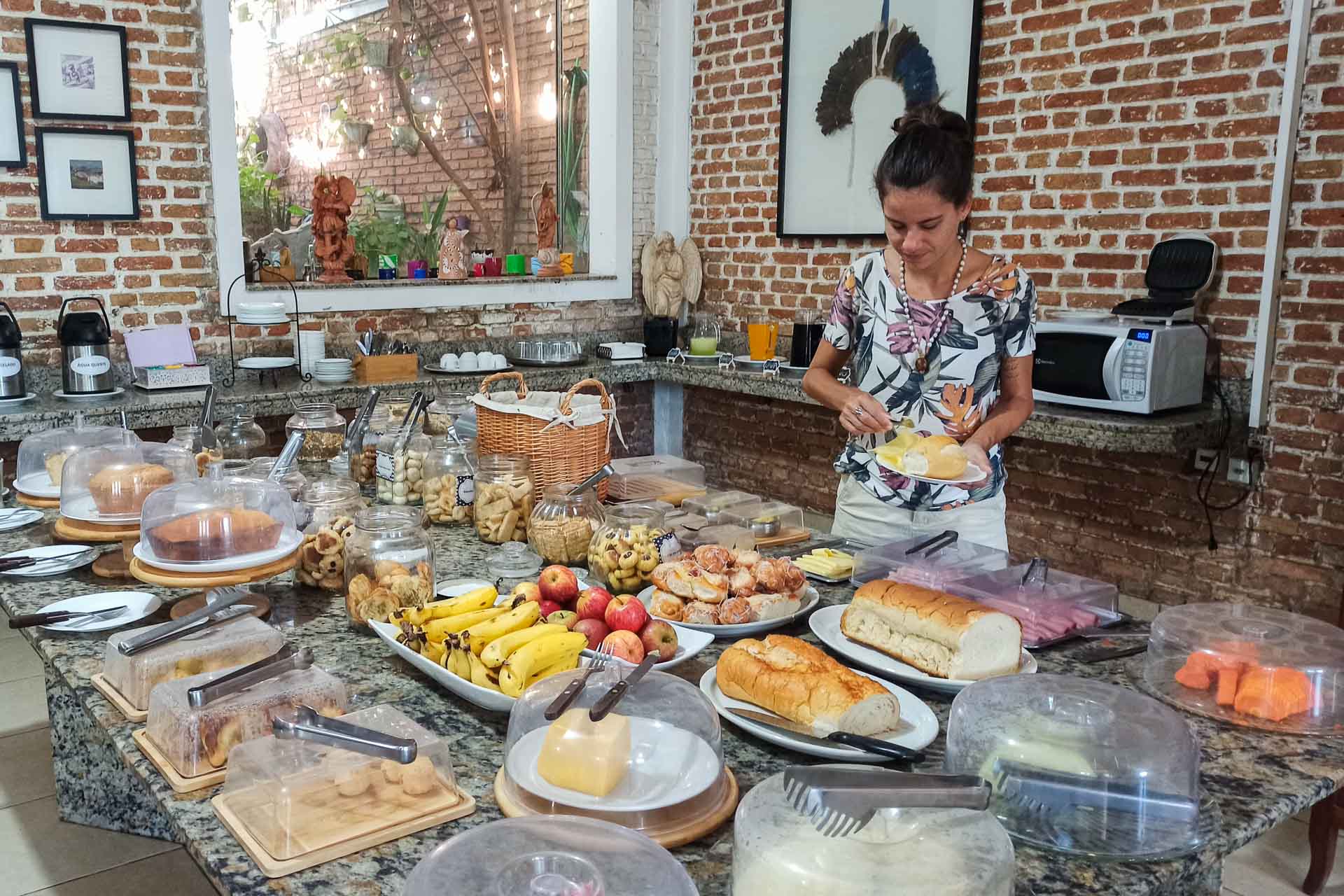 Corumba is a relatively small city with just over 100 thousand inhabitants. But it offers some good accommodation options of where to stay in Corumba:
Hotel Virgínia ($$): The rooms are simple, but the design of Hotel Virgínia is very cool. It is in fact we stayed! The owner's mission is to preserve the Pantanal culture and you will find several regional elements there, from indigenous artefacts to decorative details in the rooms that resemble the city's historic houses. The breakfast is also very tasty. Daily rate from R$200. Check availability here.
Hotel Nacional ($$): if you are looking for something more traditional, the Hotel Nacional might be a better option. More modern rooms and very delicious breakfast! Daily rates from R$200. Check availability here.
Pousada Xaraés ($$$): this is for those who want to have an experience on a Pantanal farm! Xaraés is 100 km from the urban center of Corumba. The idea is for you to immerse yourself in the Pantanal nature and culture, as accommodation includes all meals and activities such as horse riding, safari, etc. We went to have lunch at Pousada Xaraés and found the place beautiful. The farm is surrounded by lots of nature and is on the banks of the Abobral River.
What to do in Corumba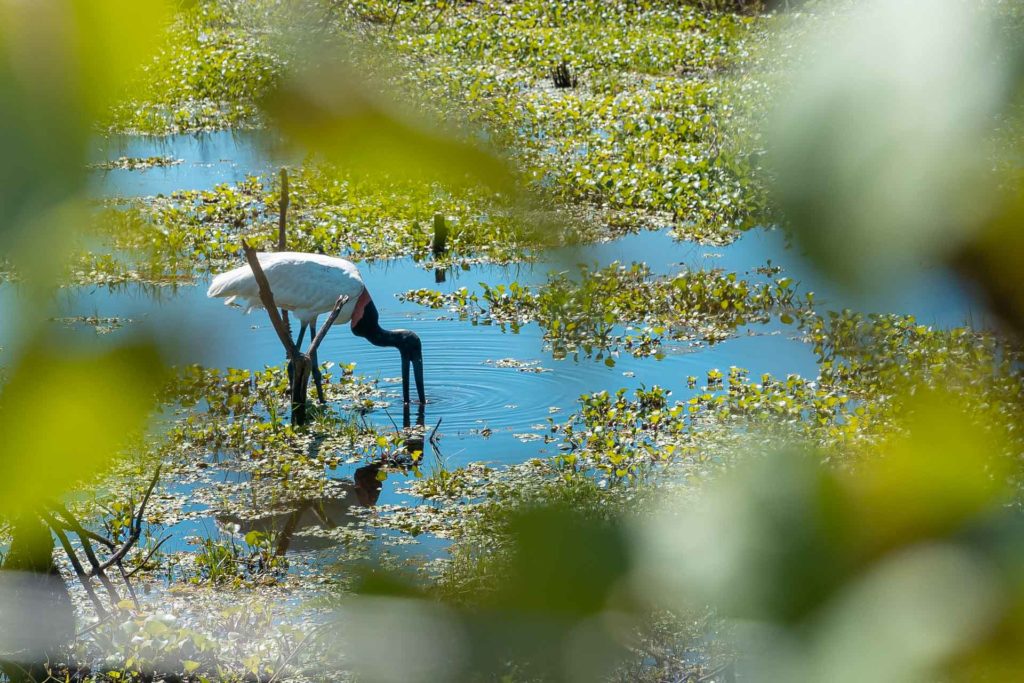 Visit the Pantanal History Museum
This museum, created and managed by the Instituto Homem Pantaneiro (IHP), is located in a historic mansion in Corumba. The idea is to provide an encounter with Pantanal culture, involving the visitor in a poetic and practical narrative of life in the Pantanal. The visit is quick and well worth it for anyone who wants to understand more about the region.
Location: Rua Manoel Cavassa, 275 Porto Geral, Corumba.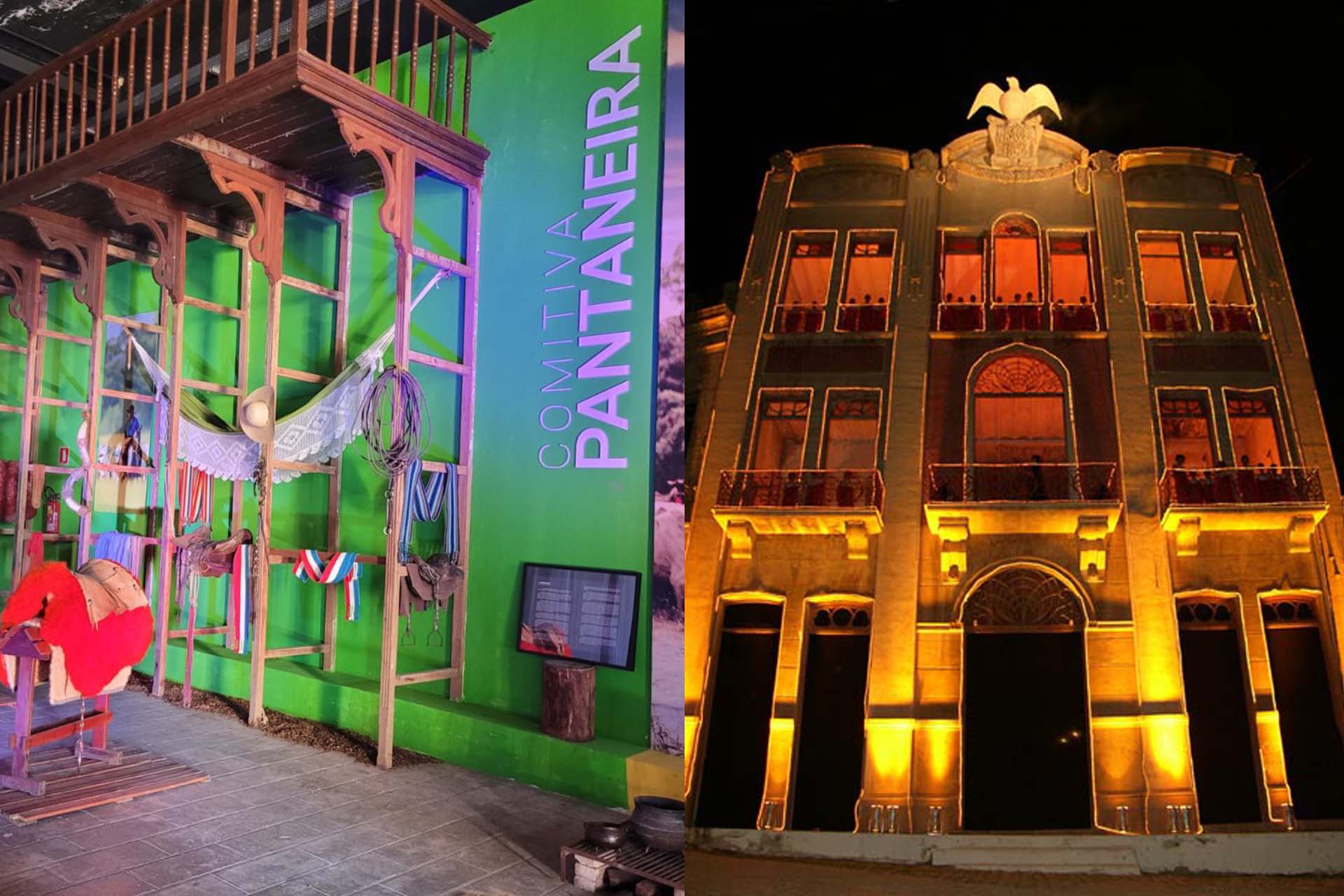 Guided Tour to La Cueva and visit to the Community of Montacusito
Across the border, in the Bolivian community of Montacusito, is the La Cueva cave (30 km from Corumba).
The tour is guided by women from the community and consists of visiting the cave, and then a visit to a trench area where soldiers from the Chaco War hid.
Both breakfast and regional lunch are included. To find out more about the tour, talk to Aguapé Ecoturismo.
Safari on Estrada Parque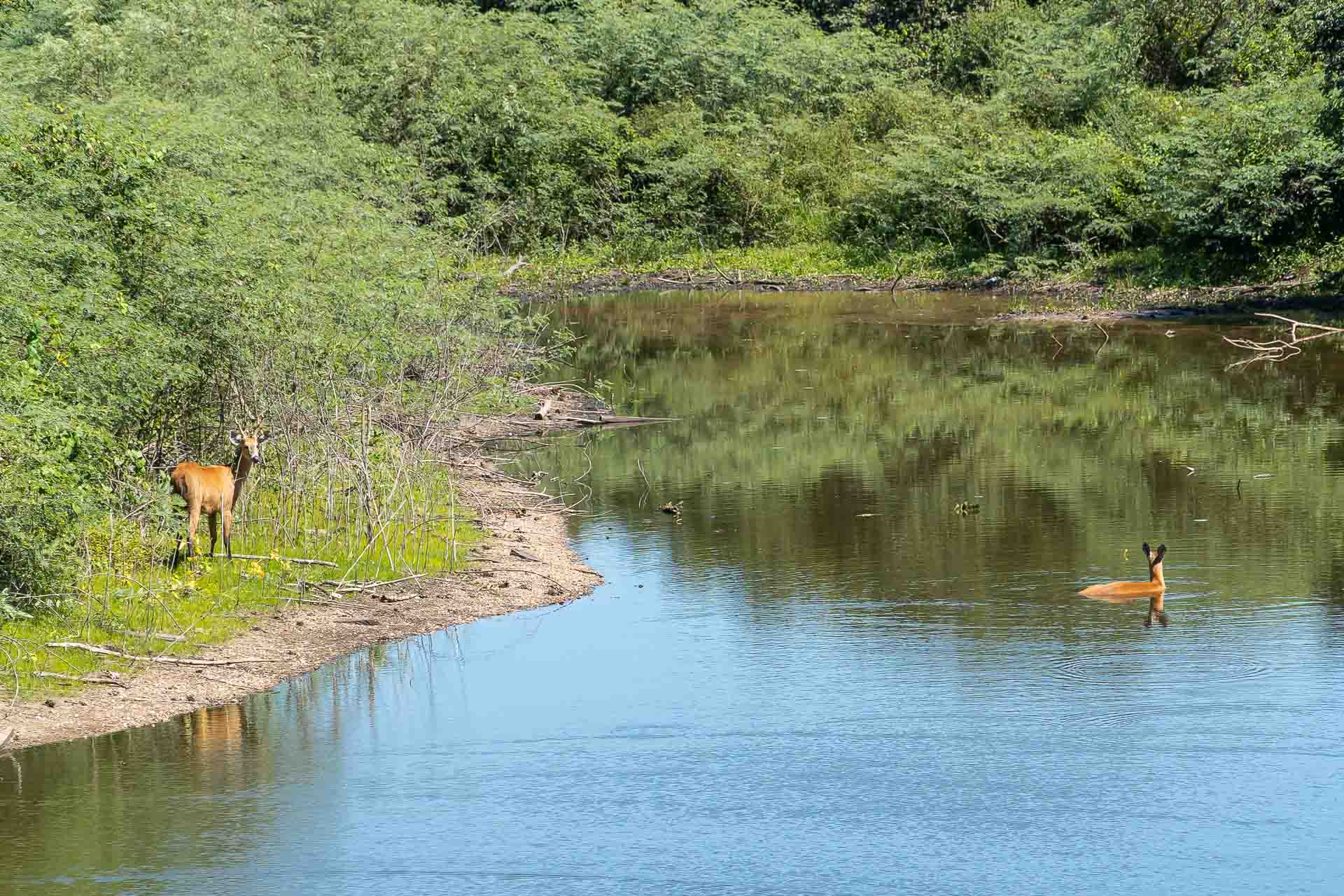 While Pantanal Norte has the Transpantaneira, Pantanal Sul has Estrada Parque! There are 150 km of dirt road that cross part of the Pantanal crossing the Paraguay River, lots of fauna and flora!
This is certainly one of the best things to do in Corumba for those who want to spot animals and get a taste of Pantanal life.
It is possible to do Estrada Parque on your own. But honestly, we don't recommend it as you end up missing a lot of animals and details about the biome.
For those who want to take the guided tour (like we did), our recommendation is the boys from Icterus. Gabriel and Rafael, guides and biologists who know everything about the region.
Come see on the Reel below what the walk along Estrada Parque is like:
Boat Trip in Corumba, Brazil
A boat trip along the Paraguay River in Corumba is simply unmissable. The Paraguay River is the most important in the region, connecting communities, histories and cultures.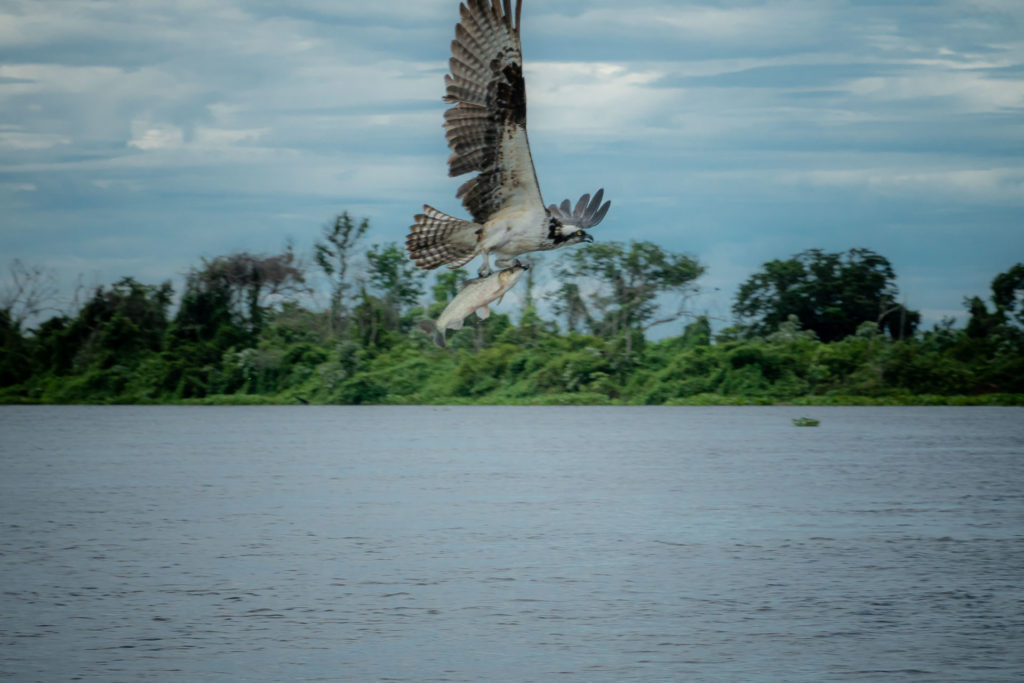 There are several boat tour options in Corumba, such as Aguapé Ecoturismo, which takes you floating on the Paraguai-Mirim River; and even activities such as kayaking and stand up paddle on the Paraguay River.
Stay on a typical Pantanal farm
Staying on a Pantanal farm is a great way to experience a more peaceful and contemplative Pantanal. You can find these farms throughout the Southern Pantanal, and we even indicate some in the Miranda and Aquidauana region here in this text.
But in Corumba it is also possible to stay at one, like Fazenda Xaraés, which we visited and loved. The idea here is that you stay at least two nights, and tours such as horseback and car safaris are included in the package, as are all meals.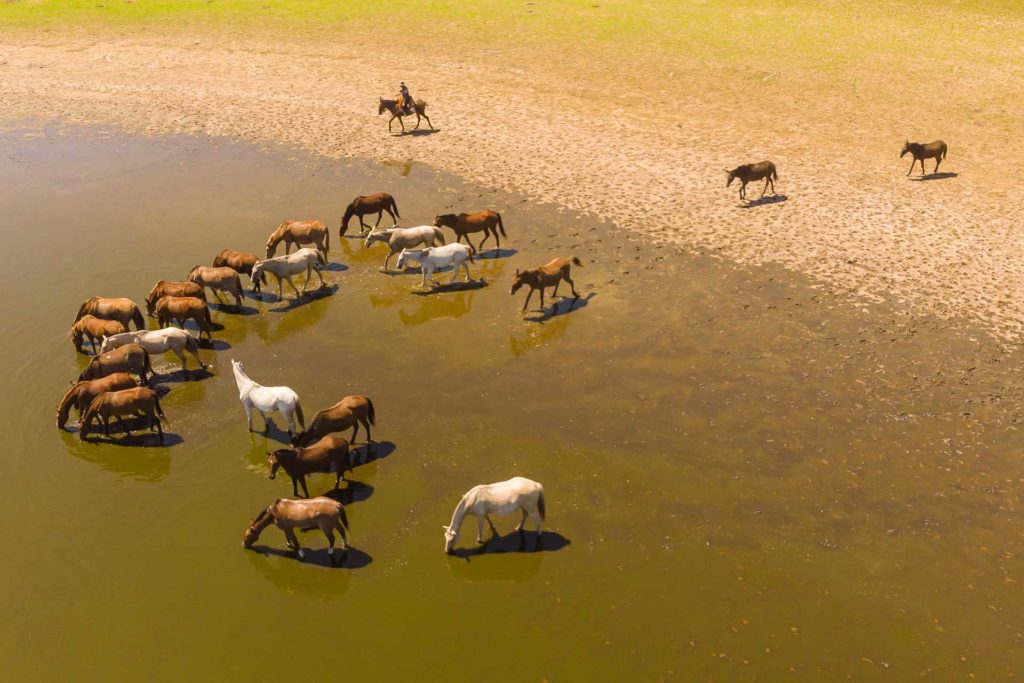 The only issue is that you are a little isolated, so for those who only have a few days in Corumba, you have to see if it's worth spending them all on a farm and giving up seeing the other things there are to do in Corumba.
Visit Bolivia from Corumba in Brazil
Corumba is on the border with the Bolivian city of Puerto Quijarro and is definitely worth a visit! After all, it's not often that you have the opportunity to visit Bolivia, right?
Plus, crossing the border is super easy and you can try Bolivian cuisine just around the corner!
Serra do Amolar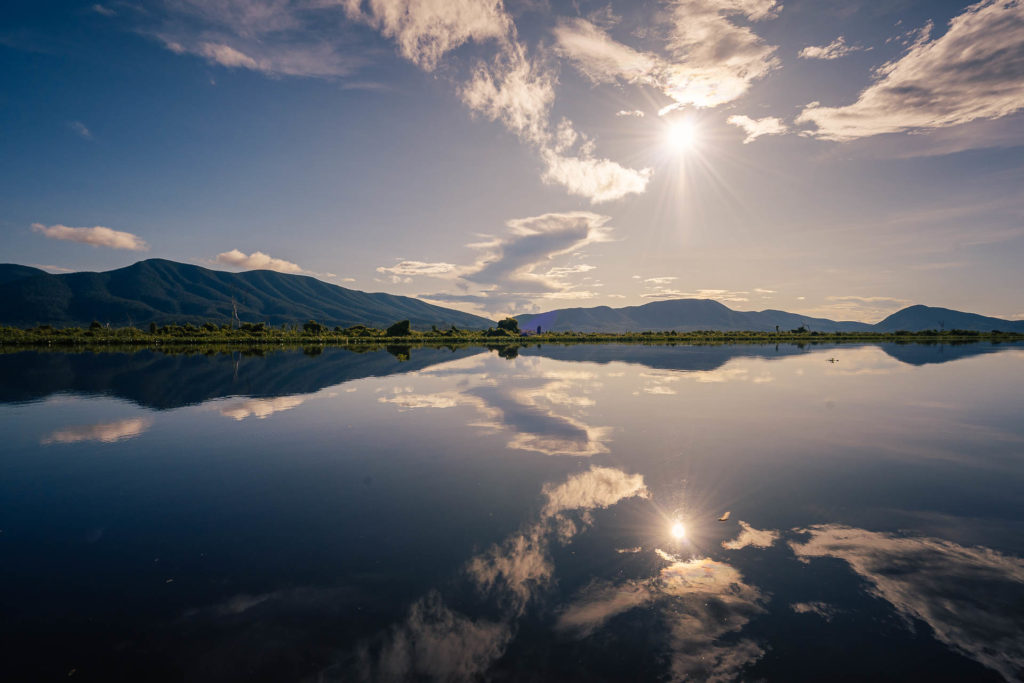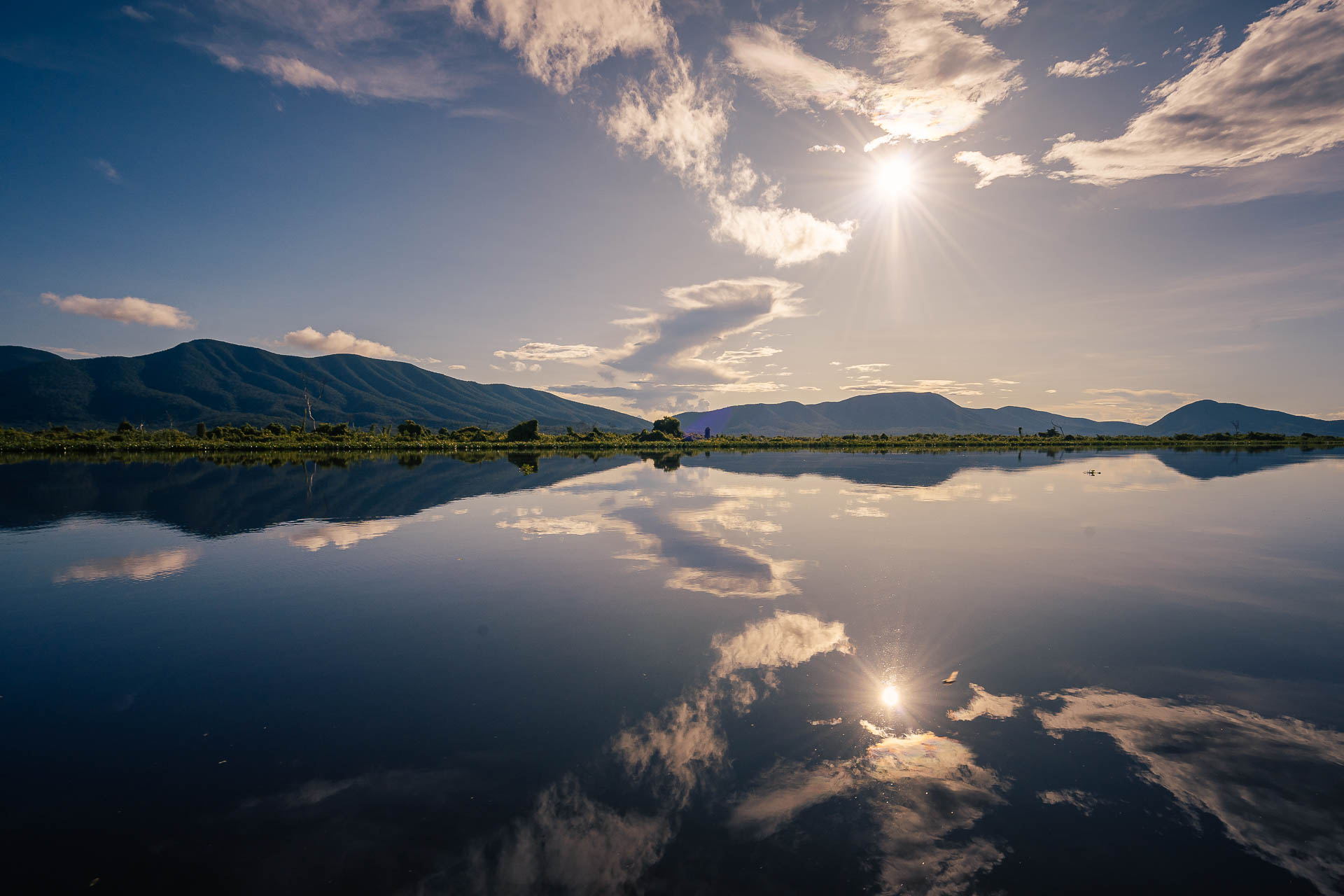 Serra do Amolar is simply one of the most beautiful, magical and profound places we have ever visited. The region is an RPPN (Private Natural Heritage Reserve) managed by the Instituto Homem Pantaneiro and until recently it was difficult to visit, but the Institute opened a tourist arm called Amolar Experience to make tourism in Serra do Amolar viable.
Serra do Amolar is the last frontier of the Pantanal, a place of rare beauty and practically untouched by human hands. The starting point for visiting Serra do Amolar is Corumba and getting there is not simple or cheap due to the distances and lack of infrastructure, but it is very worth it. We have an entire article dedicated to Serra do Amolar that you can read here.
The boat trip is on the Paraguay River and lasts 6 hours leaving from Corumba. It is recommended to reserve at least three days for the trip. For more information, speak to Amolar Experience.
Travelling to Corumba for 55+ age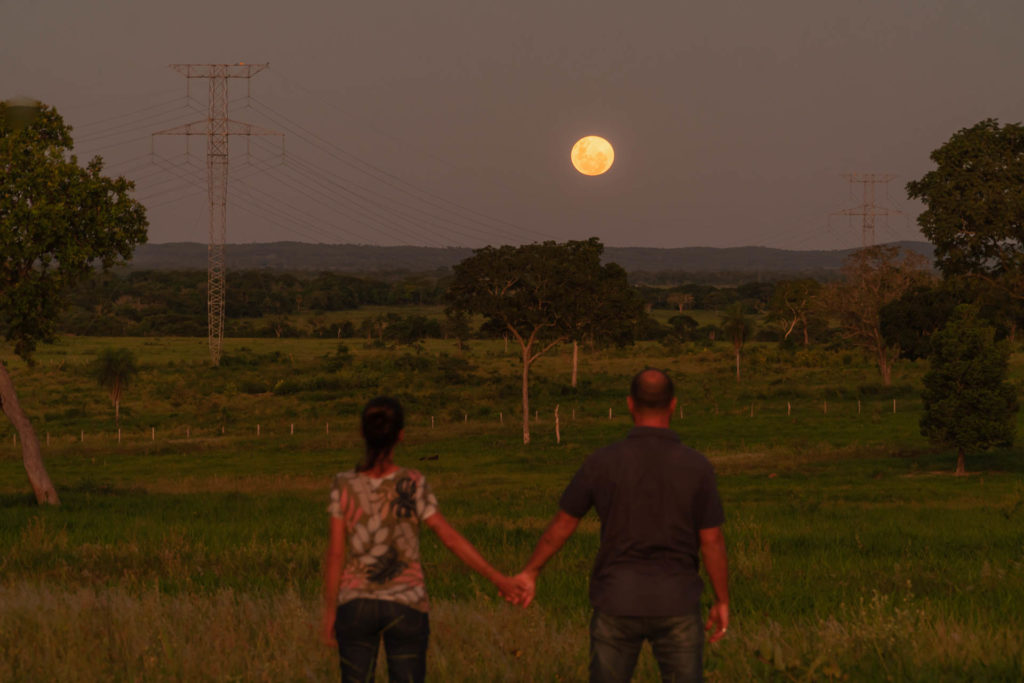 Even though travelling to Corumba might seem not so easy, you can have a completely hassle-free experience. We recommend using a good travel agency, that focus on responsible tourism, such as the IHP.
Also, the city offers quite good hotels and infrastructure. If you have more than 55 years old, you can do most of your actives in a car or boat. Just be prepared for the heat and mosquitoes.
If you want us to organise your visit to Corumba, please send us a message we will gladly make a completely tailored itinerary for you.