This post is also available in:

Português
To plan your itinerary to travel around the world isn't something easy to do. There are a few important factors to consider. You first have to organise yourself financially, then you have to trace your route, which will be influenced by your financial situation. You will not plan to go to Seychelles or French Polynesia if you are on a tight budget.
Once you know roughly where you will go, you have to decide what you will take with you (we can help you in this post). And to finalise, you will have to get prepared, such as medicines to take, insurance, perhaps a different account to get your money and so on.
But let's get to the point of this post, how to choose the itinerary to travel around the world 😉
And for that, we will discuss the 5 most important points: flexibility, priority, visas, seasonality and the budget.
First of all: Be flexible!
Because it is a long travel (ours has been going on for the past 2 years – see our itinerary), you can take for granted that you will not follow the planned route strictly. Well, you could, but you have a great chance to miss a lot of great opportunities that comes up along the way which you could have not foreseen it.
You will meet travellers on the road who will give you priceless tips of which direction to take, let alone meeting with locals who will tell you about the hidden gems of their country which few people know about it.
So, if you are very methodical, at least leave a space for changes in your route and come to peace in your mind that you might not follow your route so strict.
Second: what are your priorities?
Come on! It's the travel of a lifetime and you don't know when you will have the chance to leave everything behind again to tour around the world. So pick those countries you always wanted to visit and then you figure out how to get there!
The must countries we picked were Kenya, Iran, Russia and Indonesia.
The reason we picked Kenya, is because we really wanted to spend a few months in the African continent. At that time, we were a bit afraid of what "Africa" was. Like us, many people look at the continent as one whole thing. It is an incommensurable mistake. And as we did not have Monday Feelings to help us out ( 😉 ), we looked at the countries which would offer less "danger" to us. In addition to that, we found a great NGO to work with, based in Kenya, which was definitely decisive for us.
Iran made our list because of its history and context. If you read our posts regularly, both on Facebook, Instagram and in here, we will notice we are very keen on off-the-beaten-tracks destinations. Now, you can see that this is from the very beginning 😉 . So, we were fascinated with the Persian history and would like to see it with our own eyes. Plus, there was the factor of Iran being on the list of countries not to trade. Great arguments for us to visit and find out how bad they are by ourselves!
Russia, on the other hand, was more specifically for one activity. We wanted to cross the country on the Trans-Siberian (see everything about this journey here).
And Indonesia… well, Indonesia is Indonesia! And we also wanted to relax a bit 😉
Have you chose your priorities? So now it's time to connect the dots
So, there you have, the few dots put in the map ready to be connected.
As we know our first destination was Kenya, we looked at the cheapest way to get over there (remembering we were living in London). For that, we recommend SkyScanner as they have searching tools like "TRAVEL TO EVERYWHERE" and/or comparing ticket's prices "FOR THE WHOLE MONTH".
After checking all possible combinations, we found a cheap ticket leaving from Italy to Kenya, stopping in Egypt. Bang! We left London to Rome, one week in Italy, 10 days in Egypt and connected our first dot!
Because Kenya to Iran is not a common route, we had already booked the ticket to there. Well, obviously we ended up having to change the date as we decided to travel through Africa (Kenya, Tanzania, Malawi, Mozambique and South Africa).
But anyway, then, we made to Iran. However, in order to get our visas (see how here), we needed a ticket out of the country. So, 2 weeks in Iran and then we would fly to Jordan. That didn't happen and it was our second flight change – 100% on not following the route strictly 😉 .
We loved Iran so much that we missed our flight to Jordan and stayed another two weeks over there. Do you see why is so important to be flexible with the itinerary? Great and unexpected things happen along the way and the best choice is to change your plans and just enjoy the moment.
Then, we made our way to Russia by road, through Armenia and Georgia. Great choice!
Done!
All the main spots we already visited. Then we just let the wind takes us around South East Asia.
Visa requirements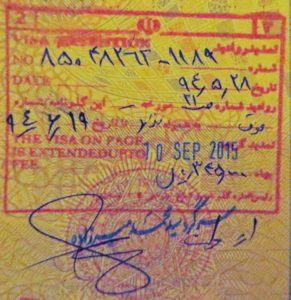 Before buying your tickets you should always check the country's visa requirement!
We had initially planned to visit Israel and after Iran, but we found out this is an impossible move as Iran forbids anyone who has visited Israel to enter the country.
We also wanted to travel to China, but found out that Brazilians need to apply for the visa at the Chinese Embassy in Brazil, therefore making it impossible for us (we found out that there are exceptions to the rule, but anyway).
So don't ever buy any flight tickets before checking what are the visa requirements.
You also want to consider: the budget
This is a very important part of the trip, so choose wisely.
If your travel around the world is more on a budget, avoid more touristic and expensive places like London or Paris for e.g.; I am not saying for you to scrap these out, but just drawing your route in a way you will avoid pick high season (summer) and spend less time in this type of destinations. Just think that 1 day in London is equal to 4 in South East Asia.
We had to postpone our trip to Bhutan because it is just too expensive to get there (around 200 dollars a day). It is still a dream to go there, but we just can't afford at the moment.
Decisions, decisions, decisions…
And last but not least: the season during a travel around the world
You have to consider the right season if you want to enjoy the best of a country. For instance, if you are going to India in June/July bear in mind you will not be able to go to Goa because of the monsoons in the south of the country. Or, if you want to go to Egypt, you might want to avoid the peak of the summer due to the steaming temperatures.
We didn't want to cross Siberia during winter, for instance. So, we knew we had to arrive in St Petersburg at latest in October. And we ended up having to shorten our stay in Georgia in order to do so. So, season plays a big role in your decision making process.
So, let's recap!
Be flexible with your itinerary;
Pick your priority;
Check visa requirements;
Choose the right season;
And have your budget in mind.
But most important of all: RELAX! You are about to embark on the best experience of your life!
Do you want to know our next destination? Follow us on Facebook, Instagram and subscribe to our posts!