This post is also available in:

Português
Are you travelling through the United Arab Emirates and wondering what is the cheapest desert safari in Dubai? We have also been there, so we decided to write this post explaining all about the desert safari in Dubai that your pocket will like it too. Just a heads up: this is definitely one of the best tours in Dubai!
In this post, we'll give you all the information you need for your tour. However, if you don't have time to go through details and just want the information straight away (we've been there too), this is the Dubai desert safari with the best cost-benefit we found (only € 36 p.p.)!
In this post, you will see:
Is it worth going on a desert safari in Dubai?
How it is the Dubai desert safari?
What's the cost of the desert safari in Dubai and what are the best companies?
How to dress for the desert safari
Desert safari Abu Dhabi VS desert safari Dubai
Where to stay in Dubai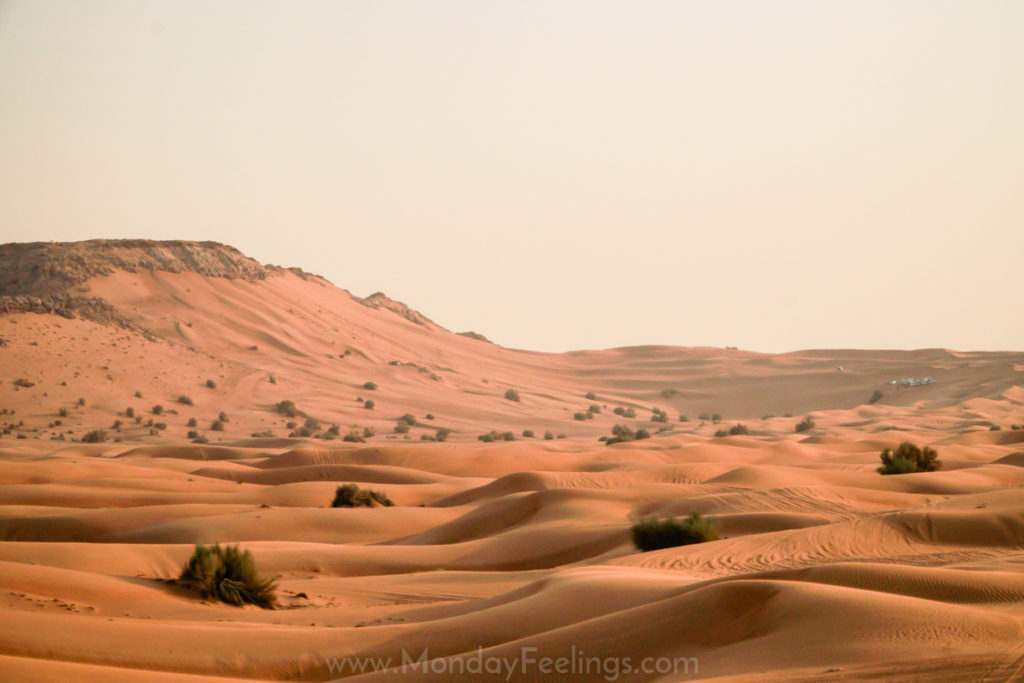 Is it worth going on a desert safari in Dubai?
Let us start this article talking about whether it's worth going on a desert safari, even though we have just said it's one of the best tours in Dubai.
We visited the United Arab Emirates twice and its main tourist attractions. Still, in our opinion, the desert safari is the most unmissable activity.
The thing is, there are many places to visit in Dubai, but they are all generally associated with skyscrapers and luxury lifestyle. However, at the desert safari, you get in touch with a completely new reality, which is the Emirati nature and local tradition.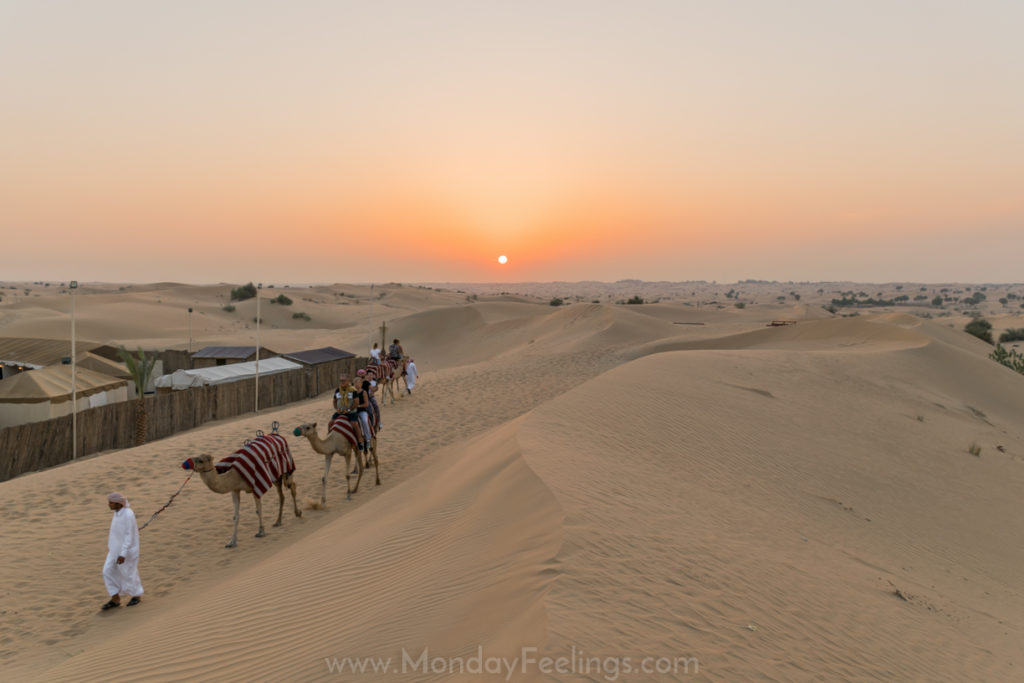 How it is the Dubai desert safari?
There are different tours for the desert safari in Dubai. There are those who take you to see the sunrise; others the sunset; and some even spend a night in the desert. So, there are many options for you to choose. We did the traditional safari desert tour, which is the one the majority go for – and that's the one we will talk about in here.
Let's call it the "classic desert safari tour", which takes about 6 hours and starts in the afternoon – so you can watch the sunset in the desert.
In this tour, the guide picks you up from your hotel with a 4×4, around 15h, and take you to the desert. The driving takes about one hour. On the way, you stop in a sort of mini market to drink or eat something, or buy a traditional Emirati head scarf. Some also go for a quad tour of about 20min, but you do pay separately. It is worth noting that the 4×4 car is for 5 people, so if you are in a couple, you are probably going to join another group.
You might also be interested in reading: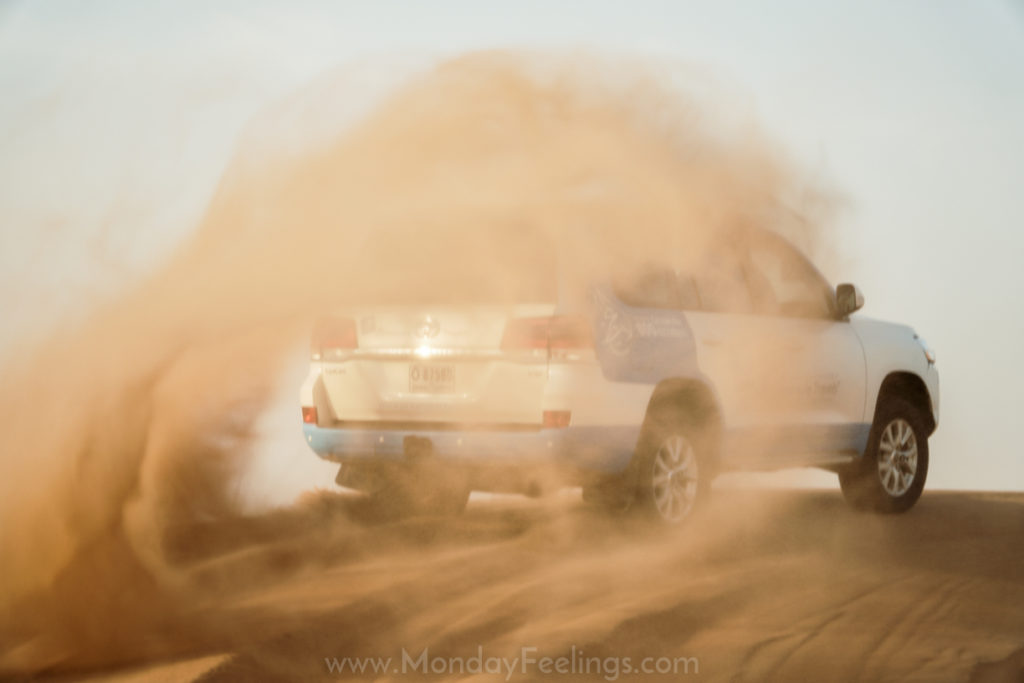 Around 16h30, you arrive in the desert and that's when the trip really starts. The guide deflates a bit of the tyre, so the car doesn't bog down in the sand, put a cool tune and turn the volume way up, ask all the passengers to hold themselves tight and start going up, down and sideways on the dunes of the desert. Although the adrenaline is high up, we have never felt in danger.
After 40 minutes of cool riding through the desert, it's time to stop for pictures. At this time, the guide will also provide with a sandboard, to go down the dune. Following, we head to a camping site set in the middle of the desert, in a great nomadic style, where you meet with fellow tourists. Outside the camping site, you are free to watch the sun setting in the horizon from wherever you want as well as go on a short camel ride. We do not encourage such tours with animals, so we skipped this part.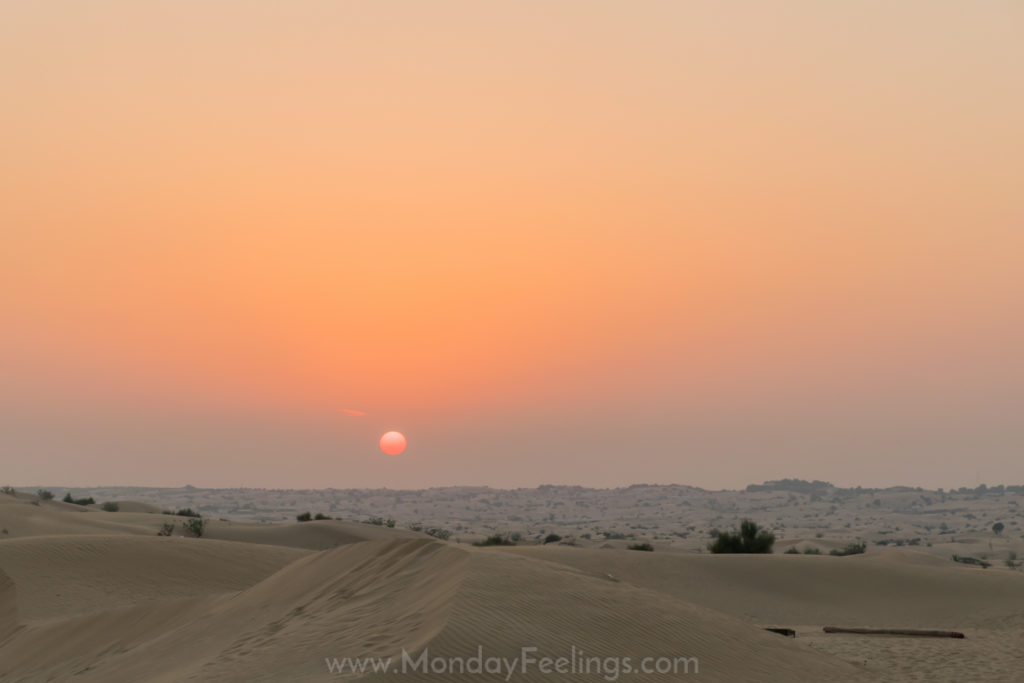 As soon as the night falls on the desert, we all get to the camping site and are free to do some activities before dinner, such as trying on the traditional Emirati clothes, for both men and women – Fernanda didn't enjoy putting on the full Burca, but Tiago had fun on the full men tunic – as well as henna painting, shisha smoking and more.
A little later, an awesome buffet is open to all with many sorts of barbecued meat and other traditional Emirati dishes. The dinner in the desert of Dubai was surely a highlight of the tour.
To put the ice on the cake, during and after dinner there is a presentation of belly dance, which included even a sword. Normally, the sky is open and full of stars. Not our case, though. It was a bit cloudy that day and we almost didn't see stars at all – if you are lucky to see it when you go, let us know in the comment below how was the experience.
In the end, the guide takes you back to your hotel, around 22h. It is indeed an incredible experience to have on your trip to Dubai.
The cheapest desert safari in Dubai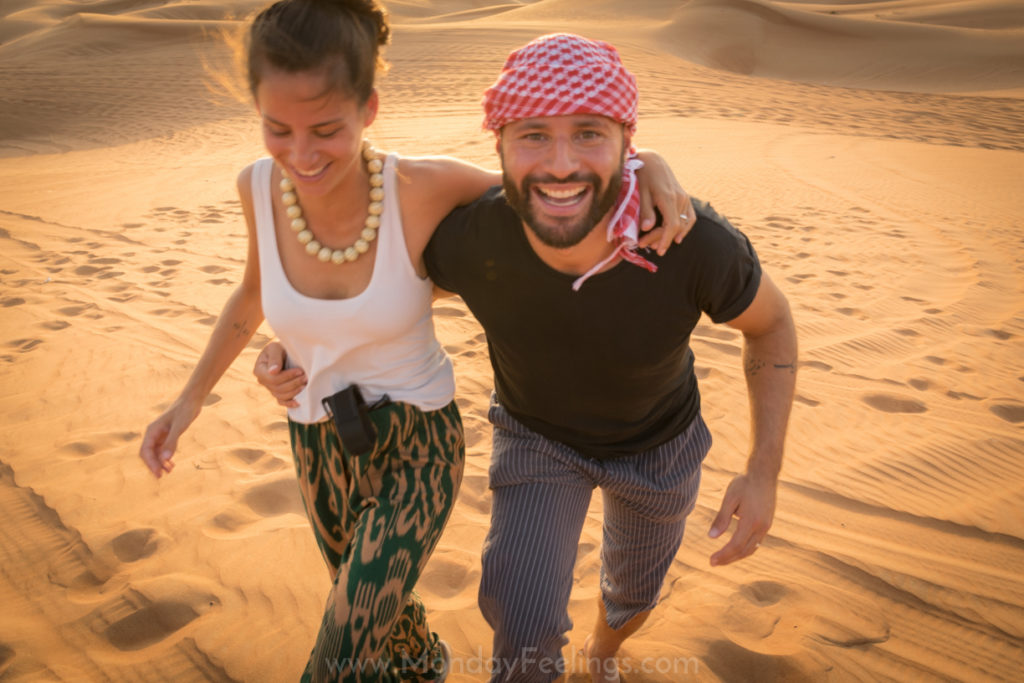 There are many companies offering the desert safari tour in Dubai. For this reason, we searched carefully so not to fall into any trap and decided to go with the OceanAir Travel . They were excellent and we can't recommend their service enough.
We booked the tour through the Get Your Guide platform as they had the best reviews from travellers, let alone the best cost-benefit too – about €36 per person. Our guide also made the whole trip even better, as he was extremely nice and helpful.
*For a more exclusive tour, check the Platinum Heritage , to go on vintages Land Rovers from the 50's.
How to dress for the Dubai desert safari
When choosing what to wear for your trip in the desert, give priority to comfort over fashion, having it in mind you are in a Muslim country. Ideally, you had better wear a large trousers, a T-shirt and your flip-flops, or trainers if you are not happy with the feeling of sand on your feet. In addition, grab your sunglasses, a hat, sunscreen and a hoodie, in case the night wind of the desert feels colder than you think. There will be water available throughout the tour.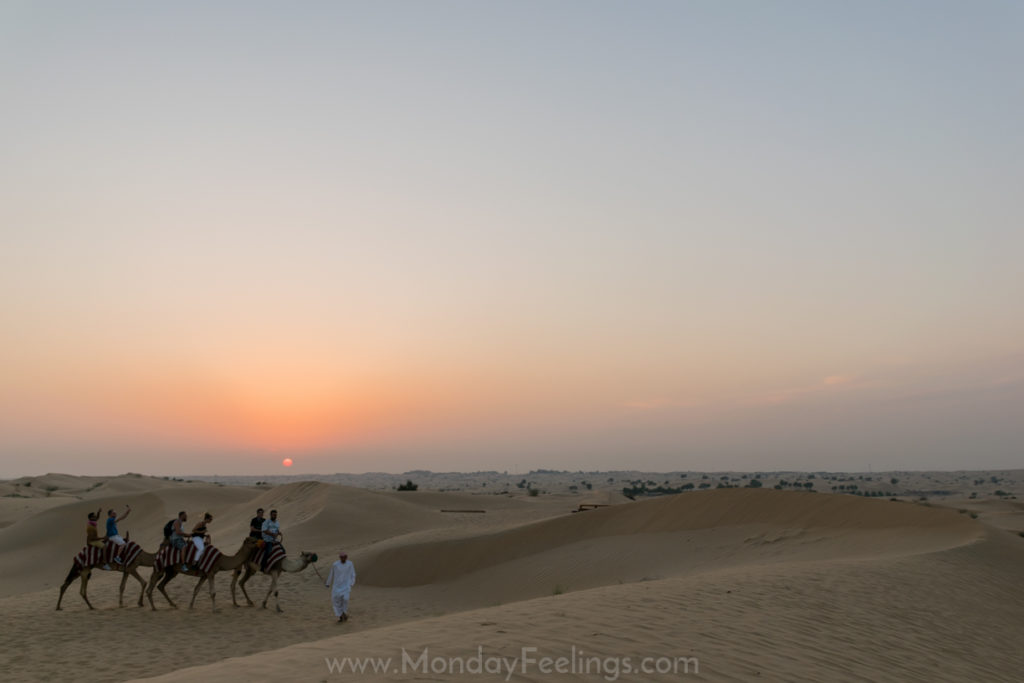 Desert safari Abu Dhabi VS desert safari Dubai
You might find yourself in a dilemma between the desert safari in Abu Dhabi or the desert safari in Dubai. We did the desert safari in Dubai, but we also spoke with other travellers who went on the desert safari in Abu Dhabi, and that's what we found out:
Both of them are similar, but the Abu Dhabi desert is bigger and has taller dunes too;
The capital of the UAE is considerably less touristy than Dubai, which has the advantage of a more particular experience where you probably won't find others doing the tour with you. However, when we did our tour in Dubai, there weren't many people doing it with us. In Abu Dhabi there would be even less people;
Both deserts are about 1h driving from their respective cities, so that's not really any point to make.
So, to conclude: if you are in Dubai, then go for the desert safari in Dubai. Likewise, if you are in Abu Dhabi, well, you know.
Where to stay in Dubai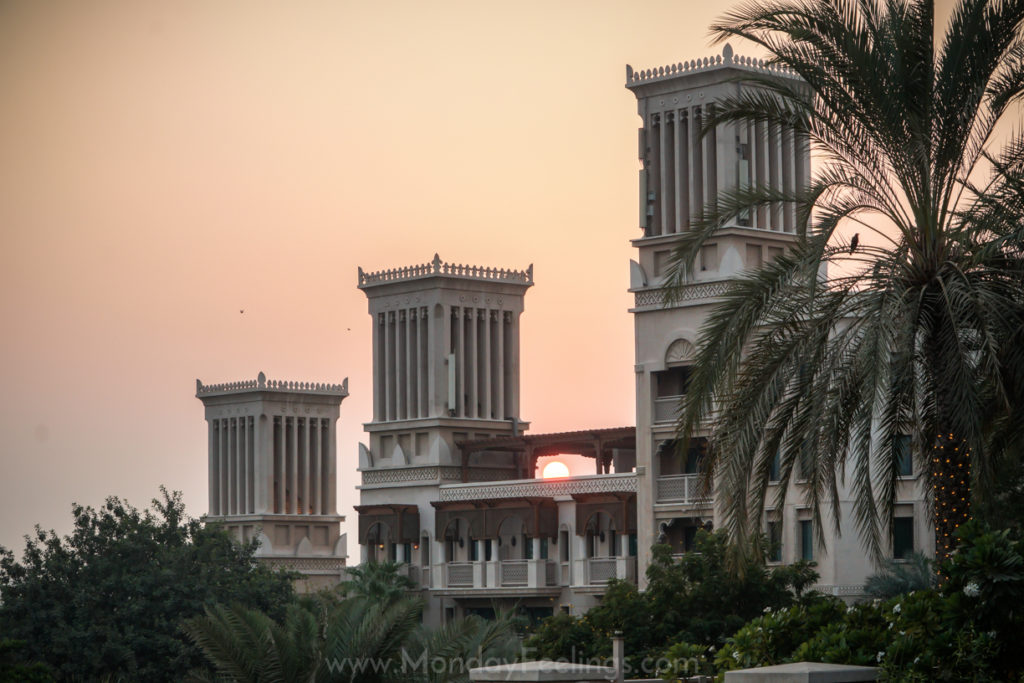 Dubai has plenty of choices to stay upon your visit and, although they are not that cheap, there are a few deals every now and again which you can grab a hold of. That's exactly how we ended up over there for the first time, at the Rose Rayhaan by Rotana Dubai, an excellent hotel overlooking the Burj Khalifa, right at the downtown Dubai. This is the central borough of the city, near a lot of attractions as well as the tube too.
If you would like a more budget accommodation in Downtown Dubai, have a look in here!
On our second visit in Dubai, we stayed in a friends-like-family house at the Dubai Marina and we also loved the area. This is a very charming and relaxing region of Dubai, where it's possible to enjoy most of it by foot. If you are interested in the beaches of Dubai, we recommend the region of Jumeirah.
Tailored Travel Itineraries for Dubai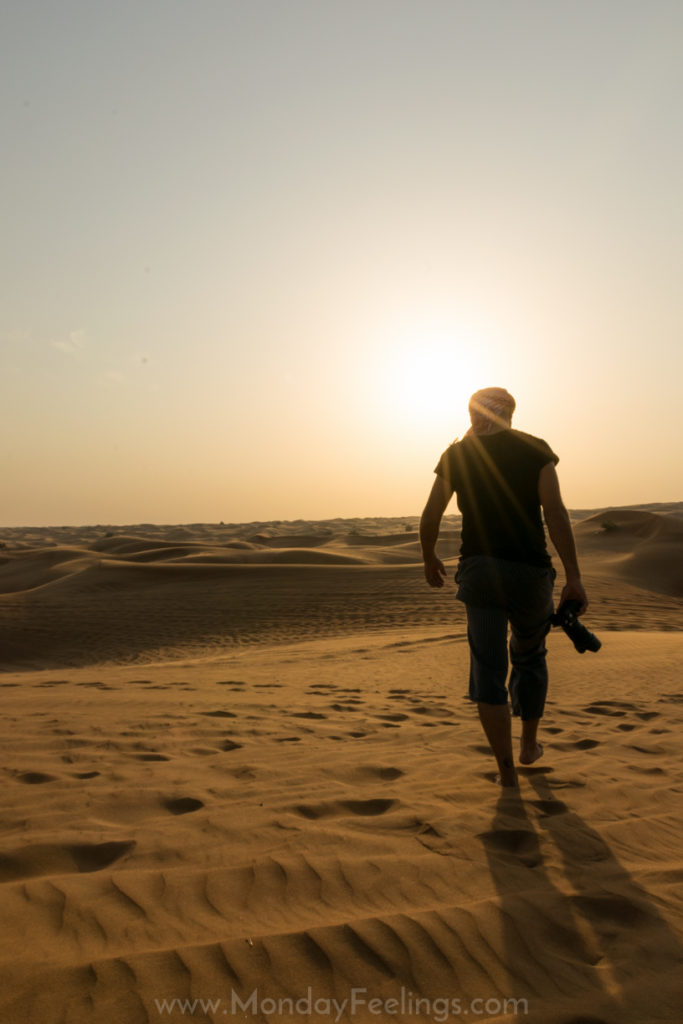 We are Tiago and Fernanda, a photographer and a journalist travelling around the world since December 2014. We create personalised itineraries and we will be more than happy to create yours too, and help you on your trip to Dubai. Our itineraries include tips and information on what to do in each destination, besides recommendations of places to eat and hotels to stay that will fit your pocket. Are you interested? Then email us at getintouch@mondayfeelings.com or send us a message in here and let's talk!
Safe travels!