This post is also available in:

Português
Choosing best place to stay in Sicily to stay during your trip to Italy can be quite a challenge. This is because Sicily is an island of vast expanse with endless cultural and scenic possibilities.
It's precisely because of its vastness in territory that we recommend selecting one or a few cities in Sicily to use as a base while exploring the neighboring regions by car or public transportation. Hopping from city to city, sleeping in a new place every night, can make the trip very exhausting.
We spent almost two months traveling through Sicily and now, we'll provide you with a list of the best place to stay in Sicily, according to your preferences and interests. Just a reminder that this article is meant to give you a list of cities to use as a base. To help you plan you trip to Sicily, also read our guide about the best cities in Sicily and what to do in this magnificent island in Italy.
Best place to stay in Sicily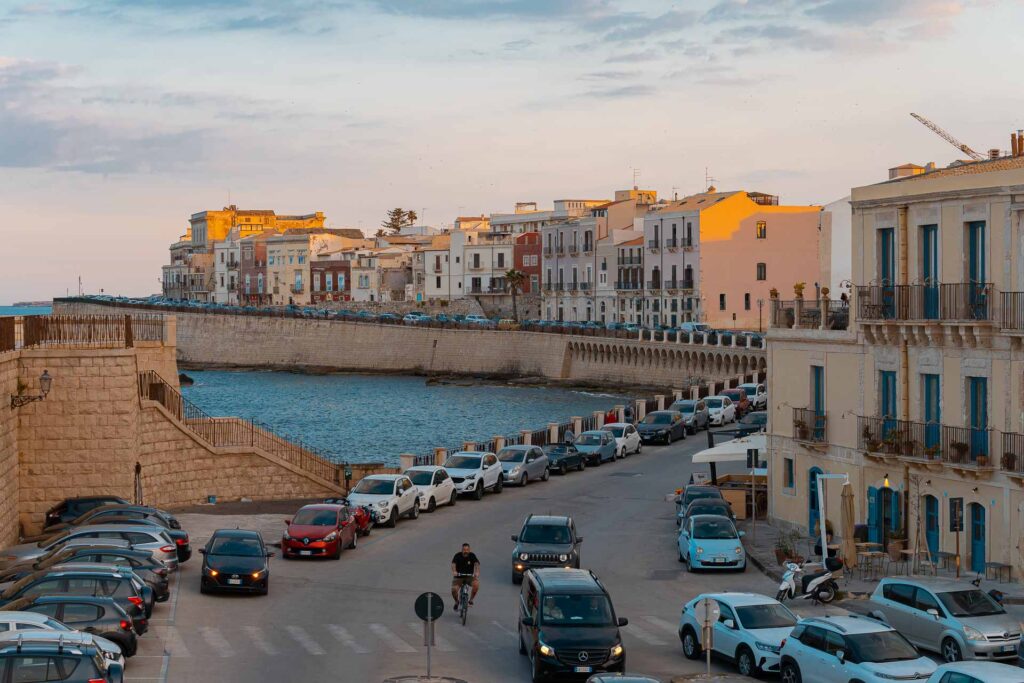 Syracuse – best place to stay in Sicily to explore the Baroque cities
Let's start this article about the best cities to stay in Sicily precisely with the location we chose as our base for most of our trip: Syracuse!
Syracuse is a historically rich, charming and well-preserved city. It has many of its monuments dating back to the times of Greek and Roman empires. Strolling through the streets of Syracuse is a journey through time, enriched by the unique charm of southern Italy.
The historic center of Syracuse is on a small island called Ortigia, connected to the rest of Sicily by a bridge. Being a larger city with bus options and a train station, it's easy to use Syracuse as a base to explore the eastern region of Sicily.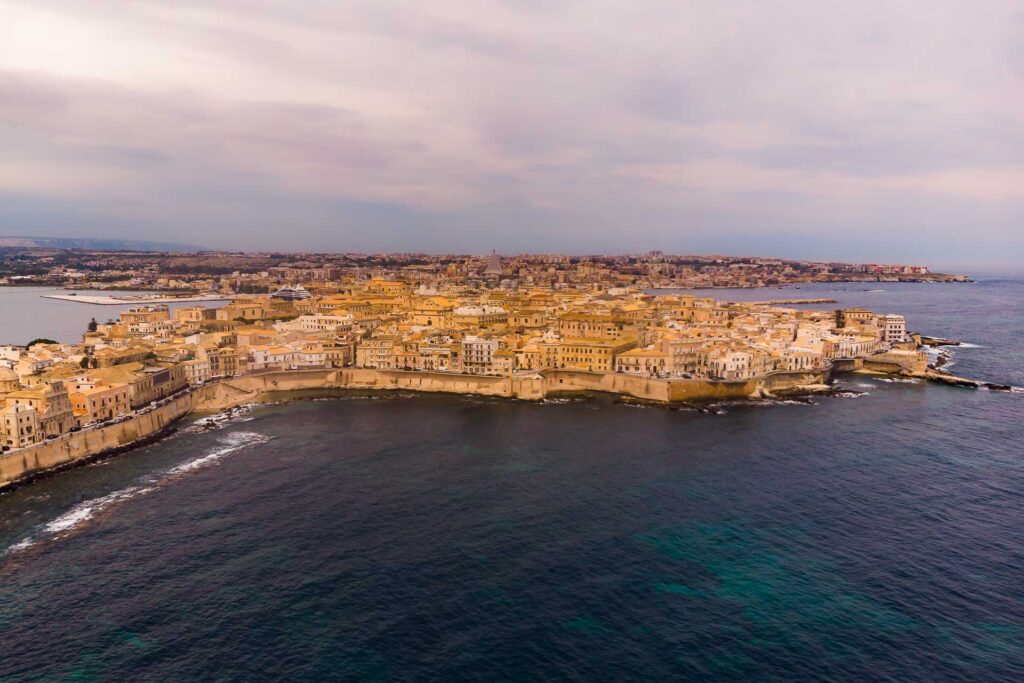 Staying in Syracuse, you can easily take a day trip by car or public transport to Catania or one of the Baroque Cities (Ragusa, Noto, or Modica). In fact, Syracuse is a great option for those relying on public transport.
Another highly recommended activity that can be done from both Syracuse and Catania is visiting Mount Etna!
How long to stay in Syracuse
We recommend at least four days. One day to visit Catania, another for one of the Baroque Cities, and the third and fourth days you can enjoy Syracuse itself or reserve a day to ascend Mount Etna!
Where to stay in Syracuse
The best option is to stay in Ortigia, the historic center. Ortigia Boutique Palace and Federico Boutique Hotel are great choices. If you prefer something more budget-friendly, you can stay a bit further from the city center and walk or bike.
Taormina – best place to stay in Sicily for a luxurious experience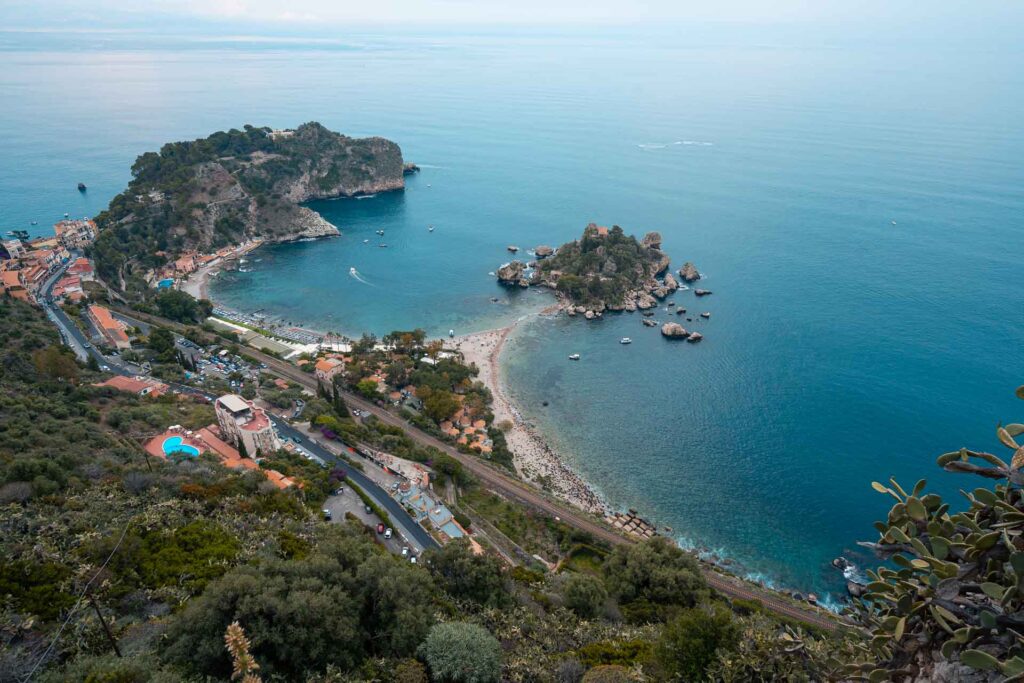 For those looking for a trendy and more glamorous place to stay in Sicily, Taormina is an excellent choice.
Taormina has not recently been known by tourists. However, it gained international fame after the second season of the series "White Lotus". Nowadays, Taormina is one of the most popular destinations in southern Italy and, for us, one of the most beautiful cities in Sicily.
So, be aware that if you don't enjoy large crowds of tourists, it might be best to choose another city to stay in Sicily. To be honest, we're not big fans of super hyped places, but the beauty of Taormina makes the visit worthwhile. Besides, Sicily is a popular destination and it's challenging to find cities that aren't crowded. So be prepared.
Taormina is also just 130 km from Syracuse, making it a convenient base if you want to visit Catania, Mount Etna, or simply enjoy the coast near Taormina, which is dotted with picturesque towns.
How long to stay in Taormina
Taormina itself deserves at least two full days as it offers numerous attractions like Isola Bella and the Ancient Theater.
Where to Stay in Taormina
If money isn't an issue, one of the best hotels in Taormina is the Mazzaro Sea Palace. But there are many other more budget-friendly options like B&B Tancredi.
You might also be interested in:
Catania – The second largest place in Sicily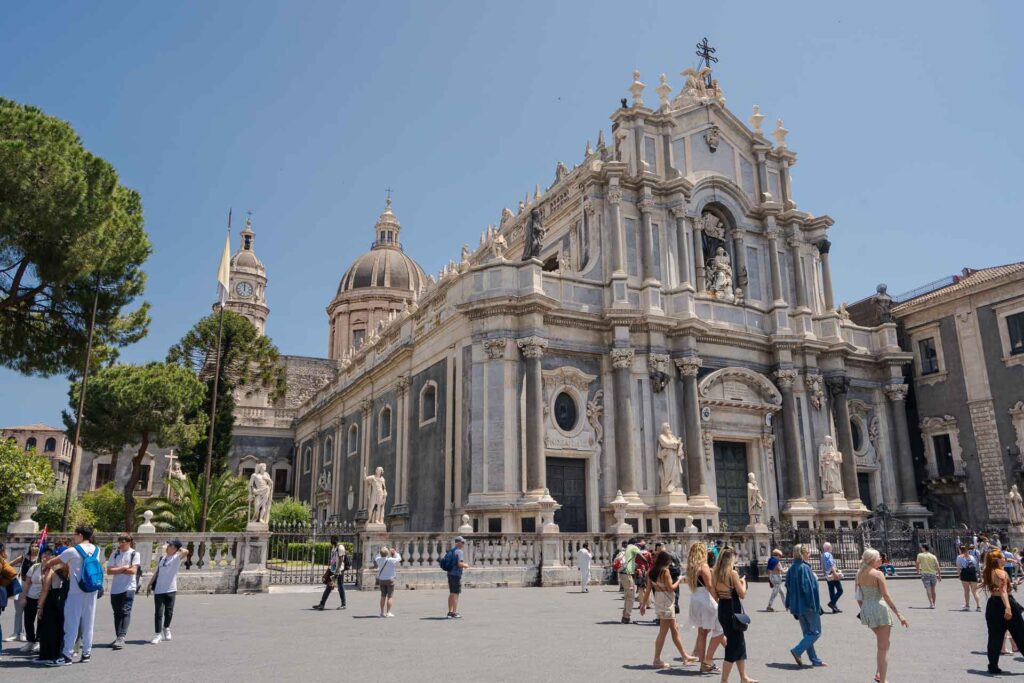 To conclude the exploration of the eastern side of Sicily, we present Catania as the last base option.
A somewhat controversial opinion here: Catania is far from being our favorite city in Sicily. Personally, I wouldn't choose to stay there, but we're including it here because of the convenient access it offers.
Catania boasts the second-largest airport in Sicily and also has a good train station. It's practical for visiting various cities in the region. From Catania, most tours to ascend Mount Etna depart, which, as mentioned earlier, is one of Sicily's most unmissable tourist attractions.
How long to stay in Catania
If this is your choice of base, we recommend staying at least for 4 days. One day for Catania, one day for Mount Etna, one day for a day trip to Taormina e one day for a day trip to Syracuse. You can also extend your staying here for a week and also arrange another day-trip to Ragusa and Noto, the Baroque cities of Sicily.
Where to stay in Catania
A well-located option is B&B Il Respiro di Encelado, but the city has many other hotels.
But please note: we don't recommend using Syracuse, Catania, and Taormina as bases for the same trip, as they are relatively close to each other. Pick one according to the descriptions be have just given.
Palermo – best place to stay in Sicily for a lively experience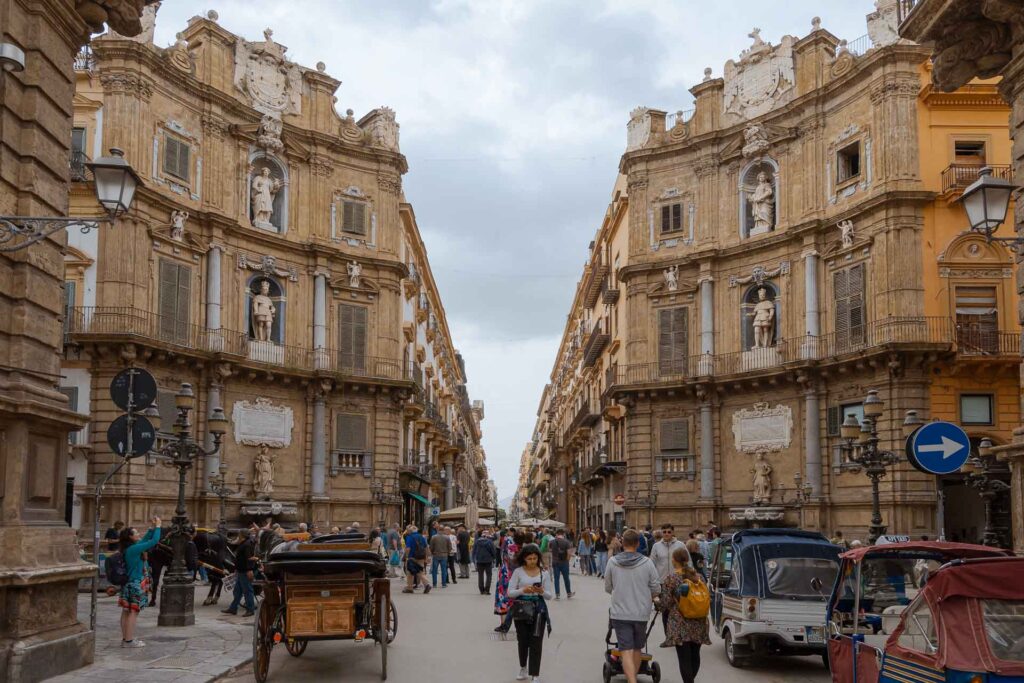 For us, it was love at first sight with Palermo. Definitely one of the cities in Sicily we liked the most and a place we'd choose to live if we ever return to live in Italy.
As the capital and largest city in Sicily, Palermo exudes life and excitement. For this reason, it may not be everyone's cup of tea, as it can be quite chaotic. If you're not a fan of this hustle and bustle, Palermo might not be the best city to stay in Sicily for you.
But for those who enjoy this cultural and artistic vibrancy, you'll adore Palermo. You can take advantage to be in Palermo and enjoy some free activities on the first Sunday of each month.
How long to stay in Palermo
In addition to exploring the city, which requires at least two full days, Palermo is also a great city to use as a base to visit:
Cefalù: A picturesque seaside village.
Piana degli Albanesi: Where you can taste the best cannoli in Sicily.
Corleone: The village where Don Corleone of "The Godfather" was born.
Selinunte, and many others.
Another place, about 115 km away, that we found fascinating is the Labirinto di Arianna. To get there, you can only go by car, and the journey takes about 2 hours. Besides the intriguing labyrinth, the road is stunning. Check our reels on instagram on the Arianna's Labyrinth (and take the opportunity to follow us too!).
Where to stay in Palermo
A lovely hotel with a large terrace overlooking the city is La Terraza su Palermo. You can check other options of accommodation in Palermo here as well.
San Vito lo Capo – one of the best places to stay in Sicily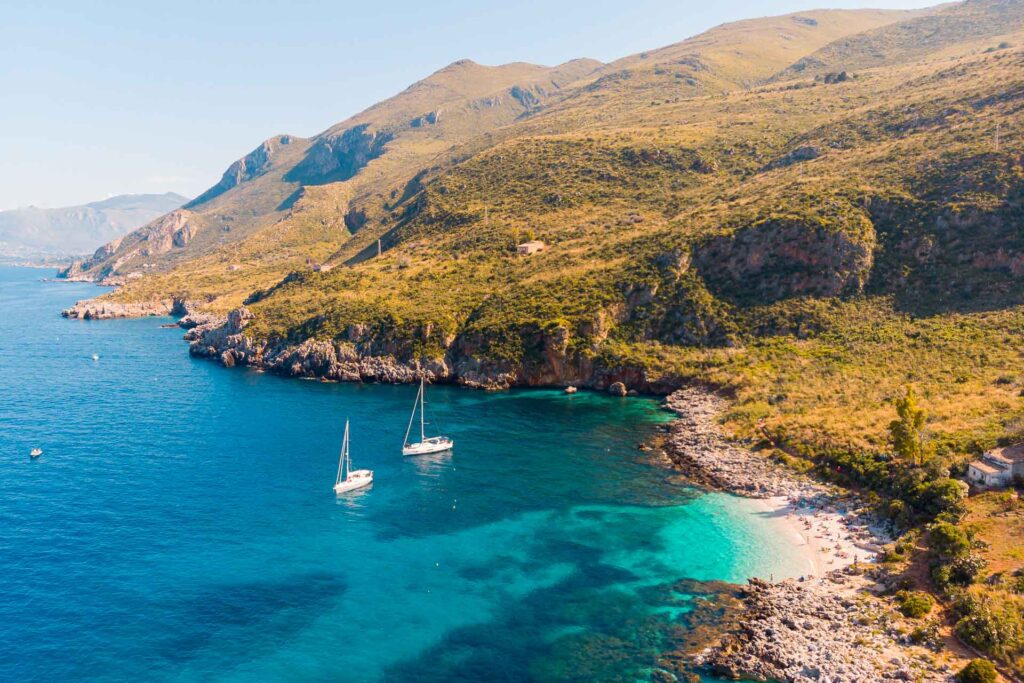 After we drove along the entire coast of Sicily, we can say without a doubt that the most beautiful beaches are in the San Vito lo Capo region.
The town itself is charming but quite small. It has only one bustling street with shops and restaurants, and that's about it. The buildings are relatively modern, so don't expect to see much culture here.
San Vito is an excellent base to stay in Sicily if you want to enjoy the island's beaches. We recommend visiting the beaches of the Zingaro Nature Reserve nearby.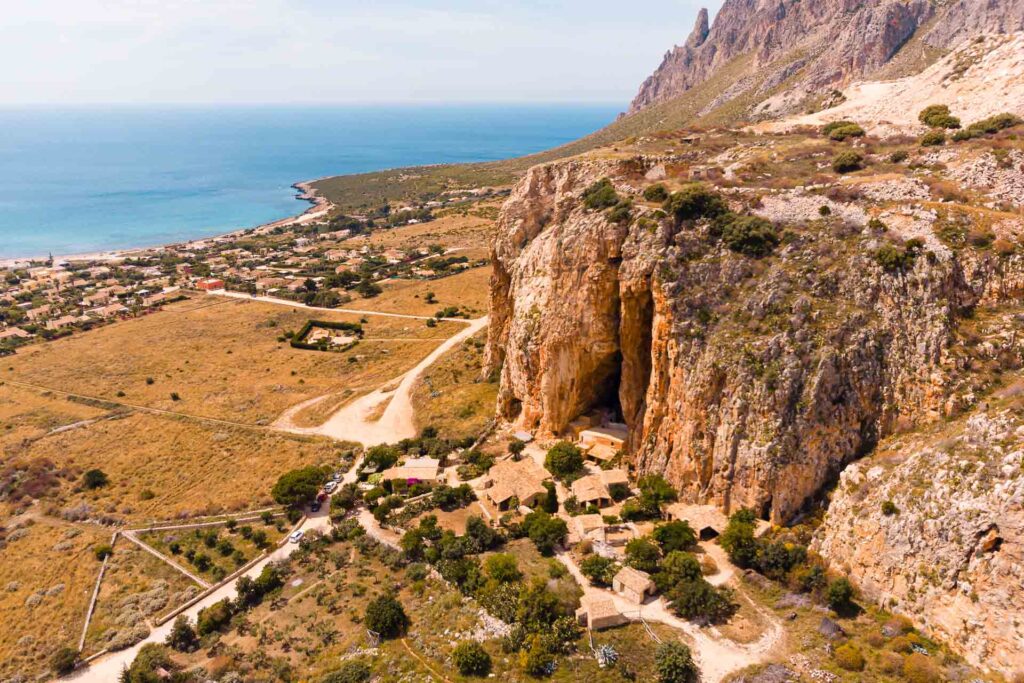 Other must-visit places for day trips from San Vito lo Capo are the towns of Erice, Trapani and the Mangiapane Cave. You can also opt for a boat trip to the beautiful Egadi Islands.
How long to stay in San Vito Lo Capo
We recommend at least three days in San Vito lo Capo because, as you can see, there's so much to see and do in the area.
Where to stay in San Vito lo Capo
We stayed at B&B Adriana, which is simple but offers great value. If you're looking for something more sophisticated, Artemide is an excellent choice.
Favignana – best place to stay in Sicily to explore the Egadi Islands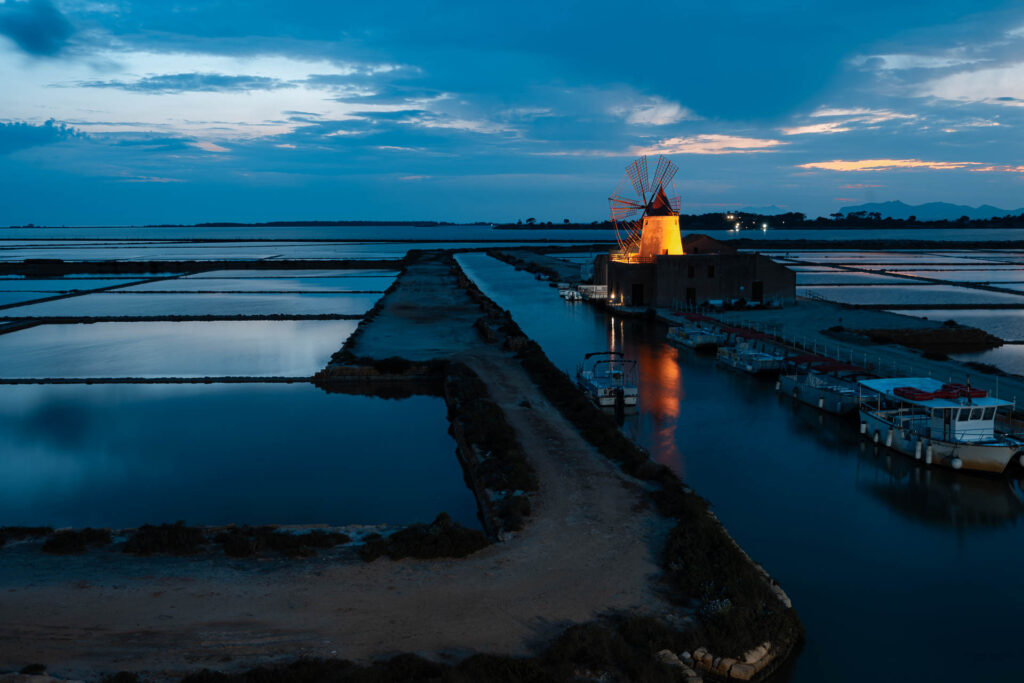 Near San Vito lo Capo is the small Egadi Archipelago, consisting of three beautiful islands: Favignana, Levanzo and Marettimo.
As mentioned earlier, it's possible to take day trips to the islands from San Vito lo Capo, Trapani and other nearby cities. But if you want to spend a few days on the islands – highly recommended -, our suggestion is to choose Favignana, the largest town.
How long to stay in Favignana
The Egadi Islands are a must for those who want to enjoy Sicily's beautiful beaches. If you decide to stay on the Egadi Islands, we recommend at least three days to explore the region.
Where to stay in Favignana
Our recommended accommodation in Favignana is B&B La Casa Dell'Arancio, but there are many other hotel options to suit all budgets.
Agrigento – best place to stay in Sicily to explore temples and culture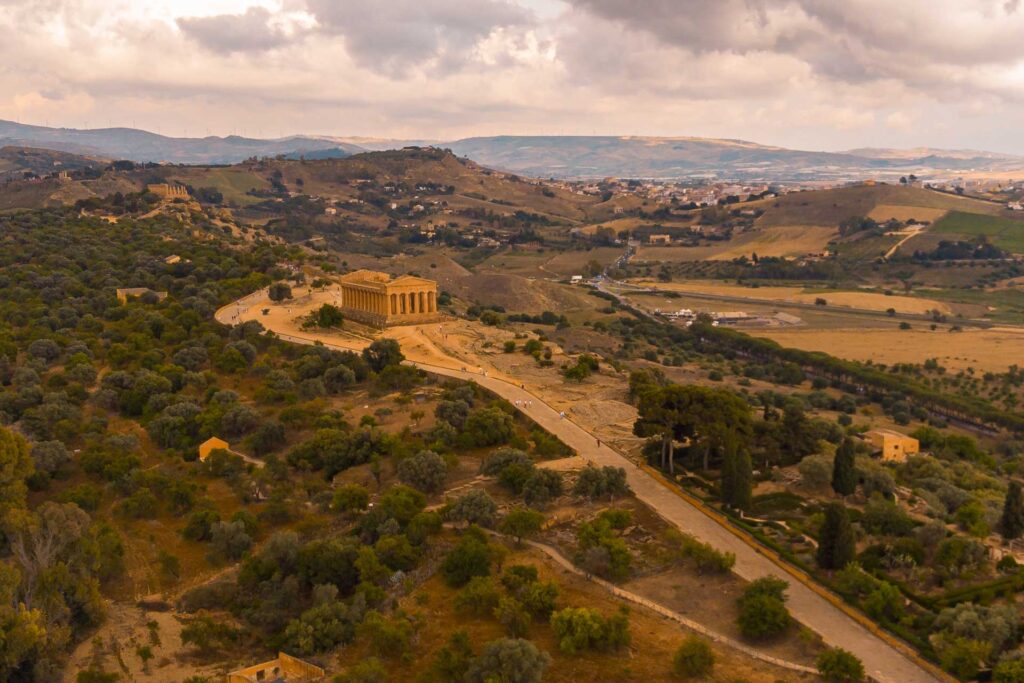 Agrigento is home to one of the world's most impressive and well-preserved archaeological parks. The beauty of the Valley of the Temples is reminiscent of the Acropolis in Athens.
Agrigento is a more vibrant and chaotic city in Sicily, with a significant influence of immigrants. It somewhat resembles Palermo. If you enjoy this kind of atmosphere, you'll love staying here. If you prefer quieter and more organized cities, Agrigento might not be the best choice among the cities in Sicily to use as a base.
How long to stay in Agrigento
We recommend staying in Agrigento for about three days to explore the region better.
From Agrigento, you can take day trips to beautiful places such as Scala dei Turchi, a fantastic Sicilian beach option. As well as the town of Piazza Armerina, home to the incredible mosaics of Villa Romana Del Casale.
Moreover, Agrigento is perfect for thoroughly exploring the Valley of the Temples.
Where to stay in Agrigento
Find accommodation options in Agrigento here.
Lipari – our best place to stay in Sicily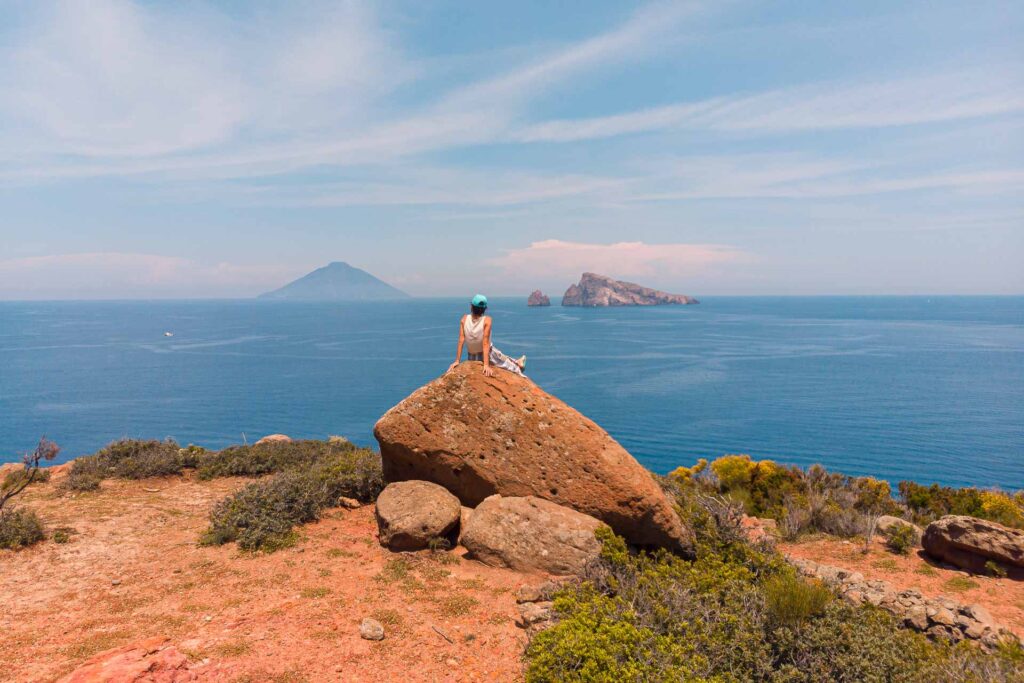 One of the most significant surprises of our trip to Sicily was discovering the Lipari Islands, a group of seven volcanic islands about 30 km off the northern coast of Sicily.
We spent three days on Lipari and it was perfect for exploring some of the neighboring islands. We witnessed a volcano in eruption, explored local beaches and villages and went around the whole Lipari.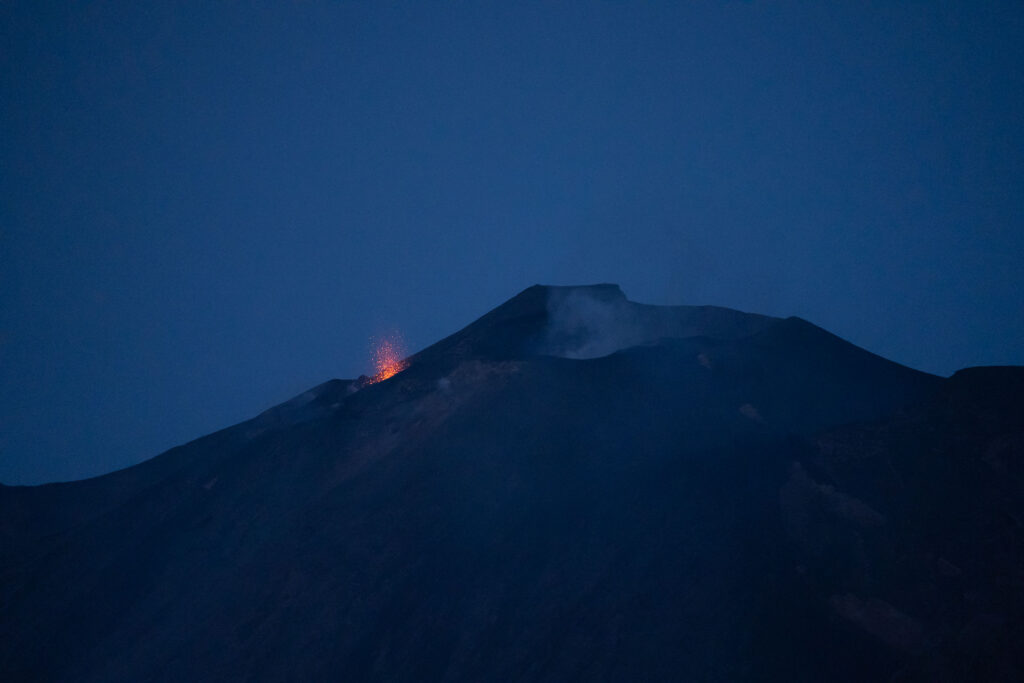 If you have some extra time in your Sicily itinerary, we highly recommend including the Lipari Islands in your travel plan!
Where to Stay in Lipari
This is an easy one to answer: stay at Case Quattrochi, one of the hotels with the most beautiful views we've ever experienced in our lives!
Best time to visit Sicily
The best time to visit Sicily is May, June, September and October. That's when temperatures are pleasant and it's not yet the high tourist season.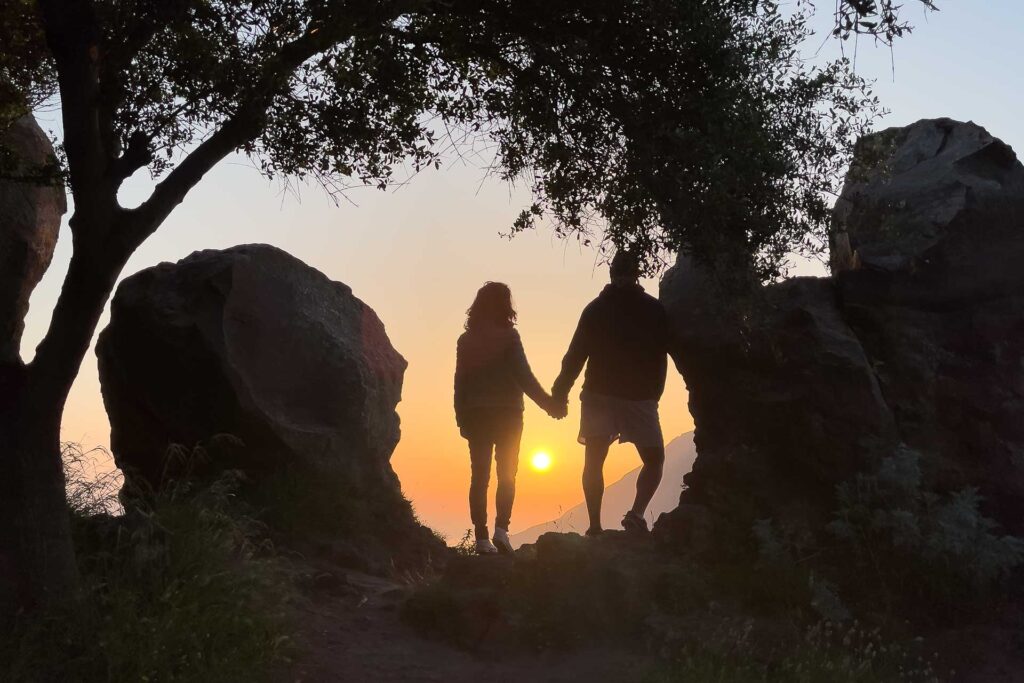 During the peak of summer, which is July and August, everything gets very crowded and hot – Syracuse recorded 48 degrees in August 2022!. We've mentioned this in our other articles about Italy and we'll repeat: traveling to southern Italy in July and August, in general, is not a good idea.
Italians have two weeks of national holidays known as Ferragosto. And as a result, almost the entire country from the northern regions travels south. Combine that with tourists worldwide looking for to enjoy the Mediterranean summer and you can imagine the situation.
However, we understand that not everyone has flexibility in choosing travel dates. And if the European summer is the only time you can visit Sicily, don't miss it. Sicily is a truly amazing destination. Just be prepared for the crowds and high temperatures.
Sicilian Winter: For those not particularly interested in Sicily's beaches, winters there are not very harsh, with lows around 12 degrees Celsius. The issue is that it's the rainy season as well. But lately, as the weather has been unpredictable, the last winter hardly saw any rain.
As you can see, choosing the right time to visit Sicily is crucial for making the most of your trip and picking the best place to stay in Sicily.
Road trip or public transport in Sicily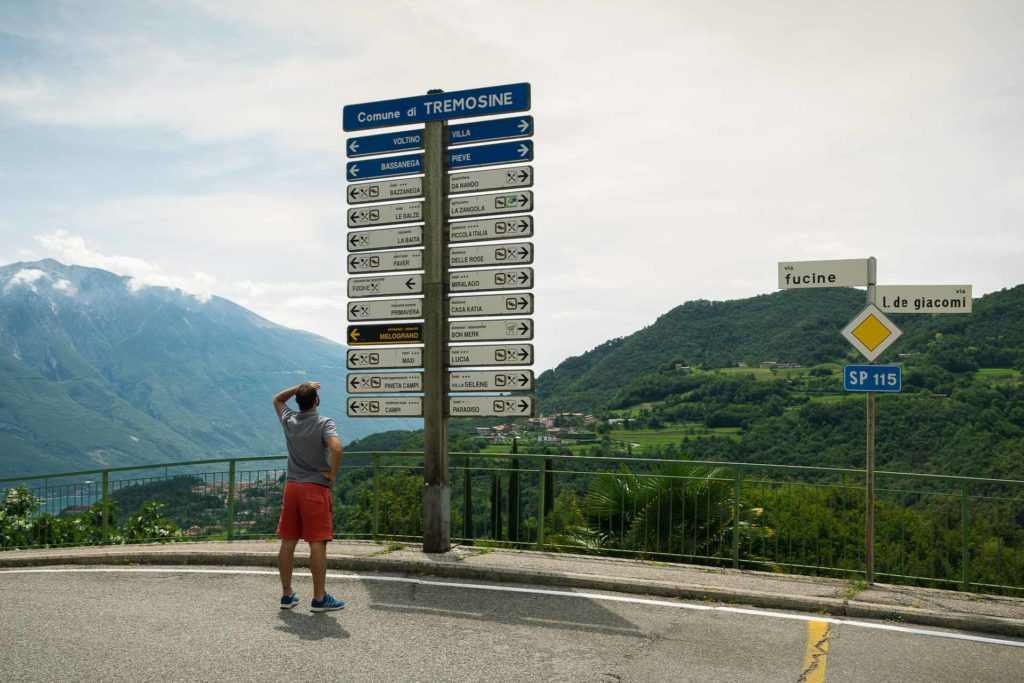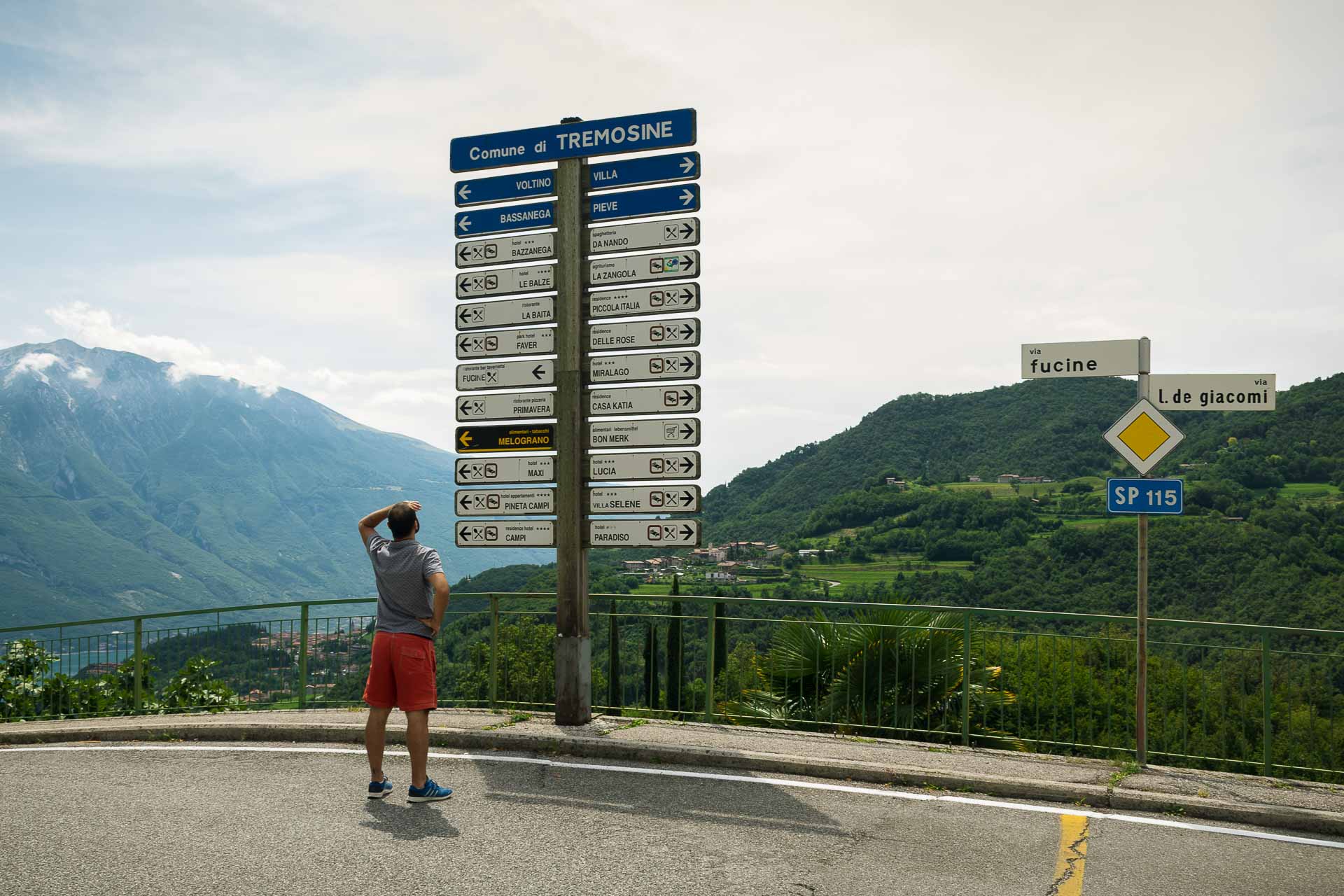 Our recommendation is to rent a car because it's the best way to explore the cities in Sicily with autonomy and flexibility. Additionally, some of the places you'll read about here can only be visited by car. Just mind some regulations in Italy. For instance, according to the US department, "fines are imposed if driving without the proper permits in historic downtown areas of cities and towns throughout Italy".
For those without the option to rent a car in Sicily, it's also possible to travel using public transportation. Just see the best place to stay in Sicily to use as a base for a car-free trip above. Keep in mind that you'll be more limited to larger cities with bus and train access.
Suggested Itinerary for the best place to stay in Sicily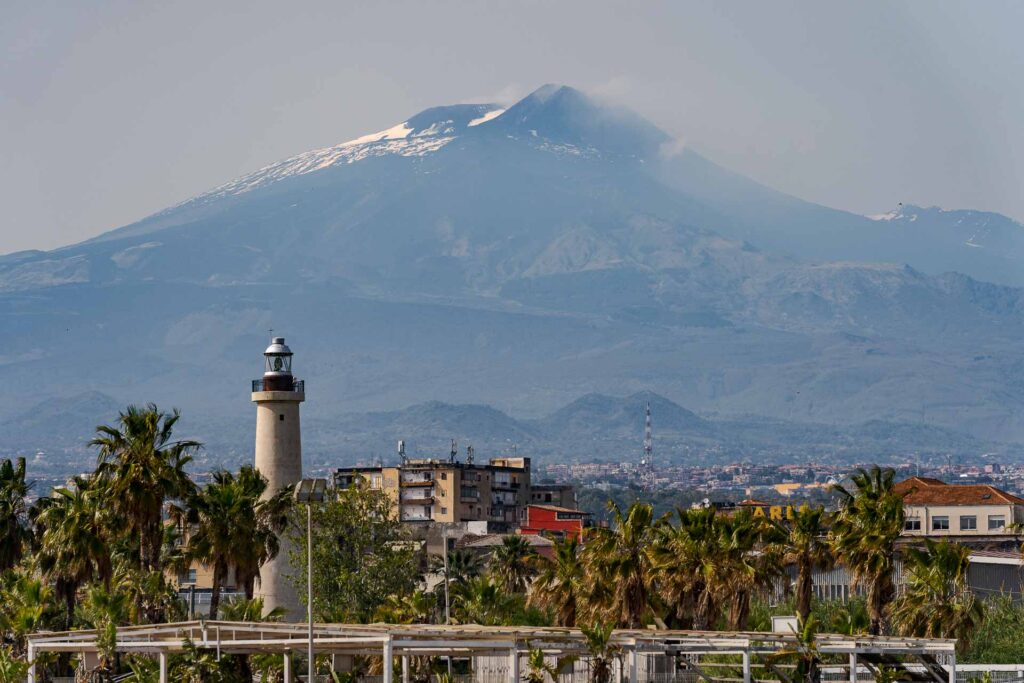 7 Days in Sicily (Arriving in Palermo)
Days 1, 2, and 3: Use Palermo as your base. Spend the first two days exploring the city, and on the third day, rent a car for a day trip to Cefalù.
Days 4 and 5: Drive to San Vito lo Capo and explore the beautiful Zingaro Nature Reserve.
Day 6: Explore the city, the Temples of the Gods, and, if time allows, visit the Scala dei Turchi and the mosaics of Villa Romana Del Casale.
Day 7: Return to Palermo, return the car, and catch your flight.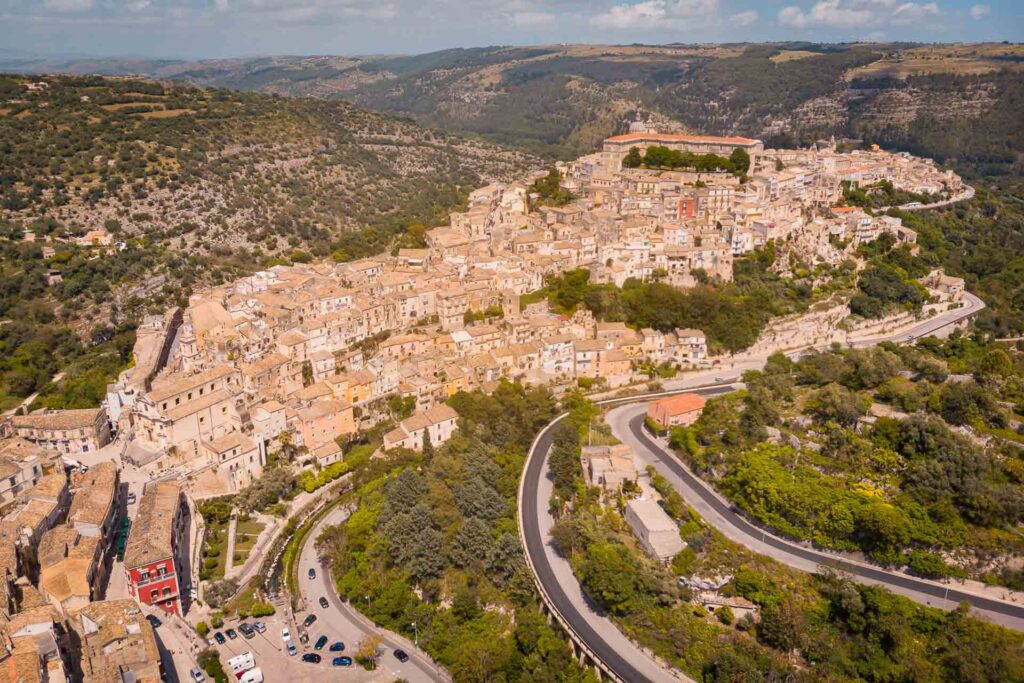 7-Day Sicily Itinerary (Arriving in Catania)
Arriving in Catania, you can rent a car or take a train or bus to Syracuse.
Days 1, 2, and 3: Syracuse. Explore the city and on the third day, visit one of the Baroque Cities.
Days 4 and 5: Taormina.
Day 6: Catania to explore the city or ascend Mount Etna.
Day 7: Departure.
Customized Sicily Itinerary
Of course, these are more generalized itinerary options that don't consider the preferences, budget, and interests of each traveler. If you'd like a personalized itinerary tailored specifically to your trip, please contact us. We'd be delighted to help you organize your travel!
We recommend hotels, cities, restaurants and activities that best match your travel style and budget., besides all the information you need to enjoy the most and worry the least. Send us an email.