This post is also available in:

Português
If you're planning a trip to the south of Italy and wondering what are the best cities in Sicily, we've got you covered: a lot! We spent a month traveling around Sicily, visiting its main sights and also some of its best secrets! Now, we share our tips and discoveries in this guide through the most beautiful cities in Sicily!
Sicily is huge in scope, but even bigger in cultural and scenic diversity. Due to its strategic location, the island has passed through the hands of different peoples and empires, such as the Greeks, Romans, Arabs and Normans. Each of them left a little bit of themselves behind, contributing to Sicily becoming an extremely multicultural destination.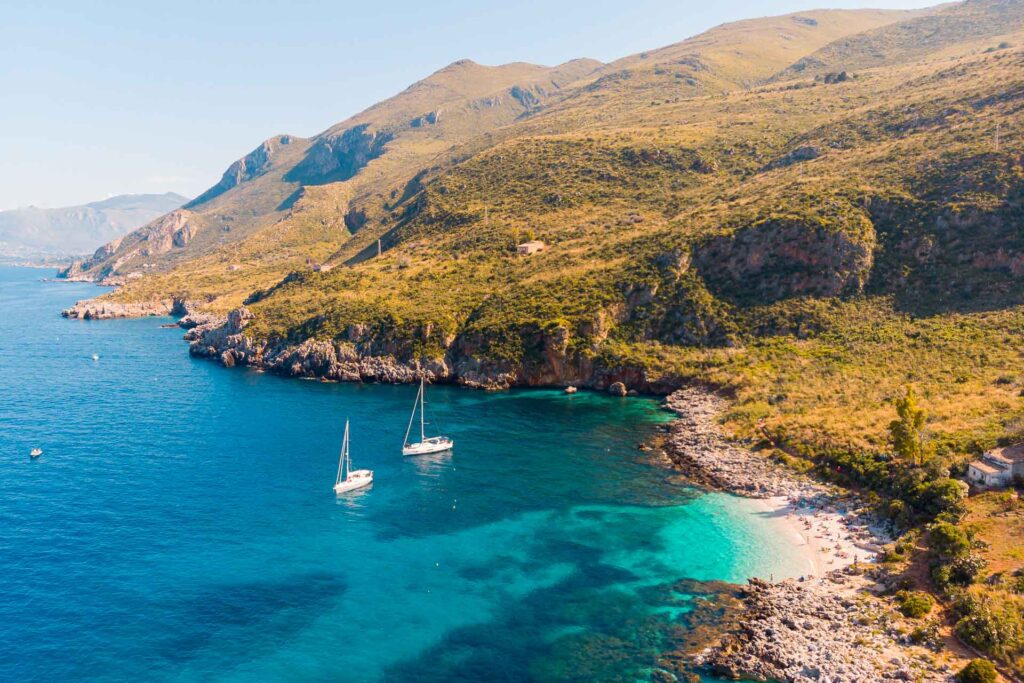 In this post, we tell you about the cities in Sicily you should not skip when travelling to Italy, including the accommodations in Sicily and what to do in each of the most beautiful cities in Sicily.
Also, look at our page dedicated to Italy, to help you organise your trip too. But first, let's look at how to travel in Sicily.
Travel in Sicily by car VS without a car
Our recommendation is definitely to rent a car for your trip to Sicily, as this is the best way to explore the island with autonomy and flexibility. Also, some of the places you'll see in this guide can only be visited by car.
We rent ours with RentCars, an online search engine that searches among the main car rental companies in the country, and always brings us the best deals.
For those who don't have the option of renting a car, don't worry, it's also possible to take a trip around Sicily by public transport. Just keep in mind that you will be more restricted, being able to visit mainly the bigger cities, where there is access by bus and train.
So now, let's get to the cities in Sicily!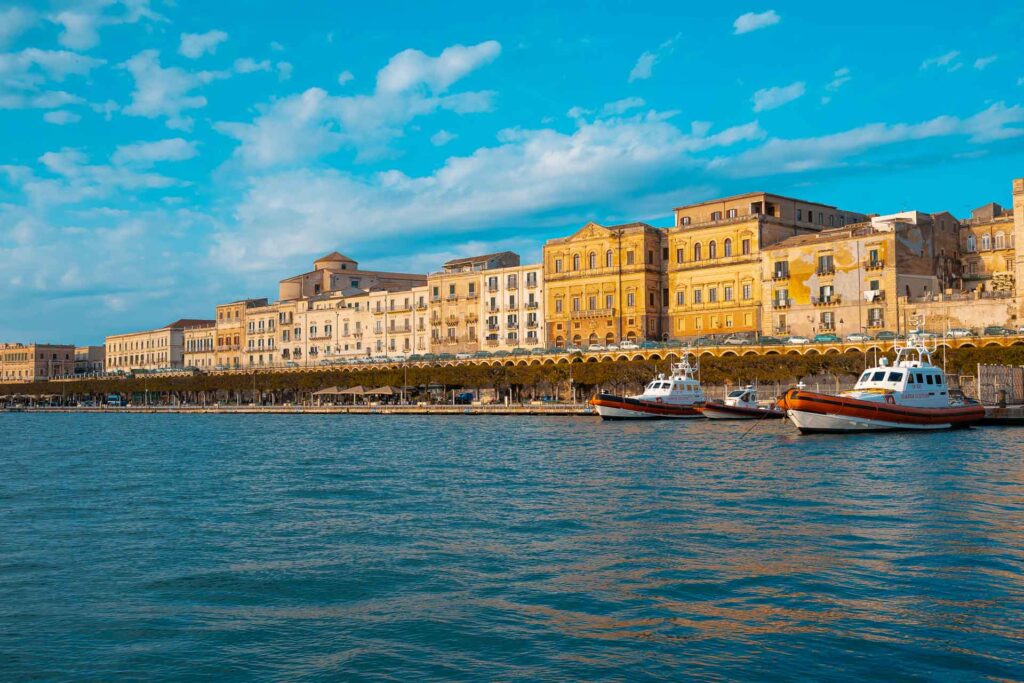 Best cities in Sicily and must-try experiences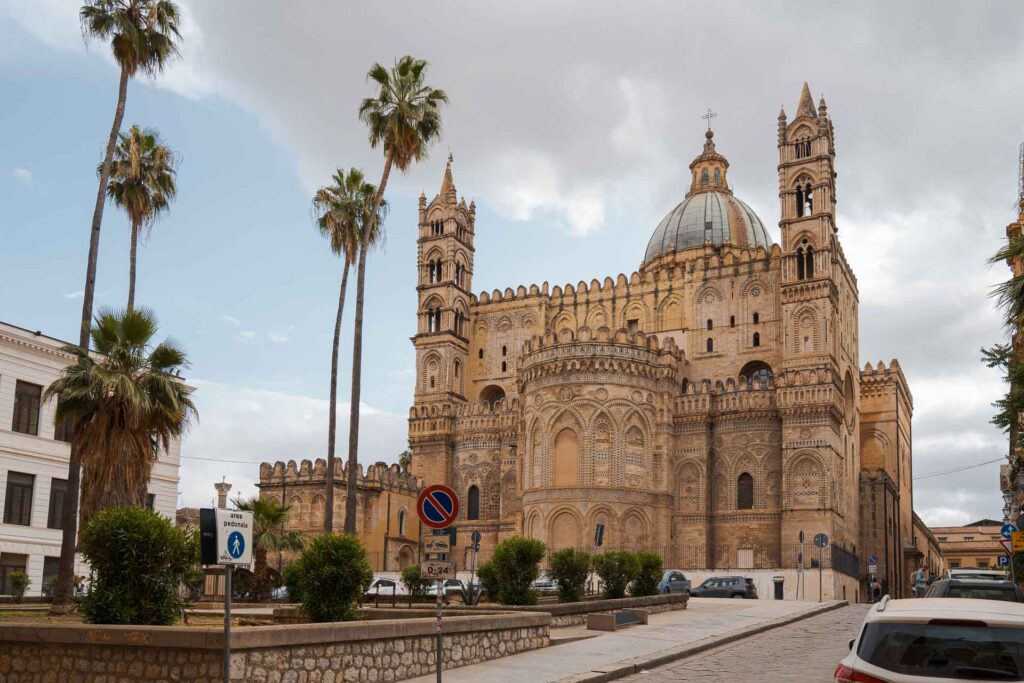 Palermo – largest city in Sicily
Let's start with the capital and largest city in Sicily: Palermo! Here is where the main international airport in Sicily is located, so Palermo ends up being the gateway for most travelers.
Palermo was one of the places we most enjoyed visiting. The city is far from beautiful from a conventional point of view, but it is very interesting and very rich in the human element. That's is because the city suffered major transformations every time it was under a different dominance, and that happened quite often.
The chaos there is widespread; the streets are narrow like a maze, the buildings so close together that they touch each other, and there seems to be no silence or privacy. On the other hand, the sense of community is very strong and you feel very welcome.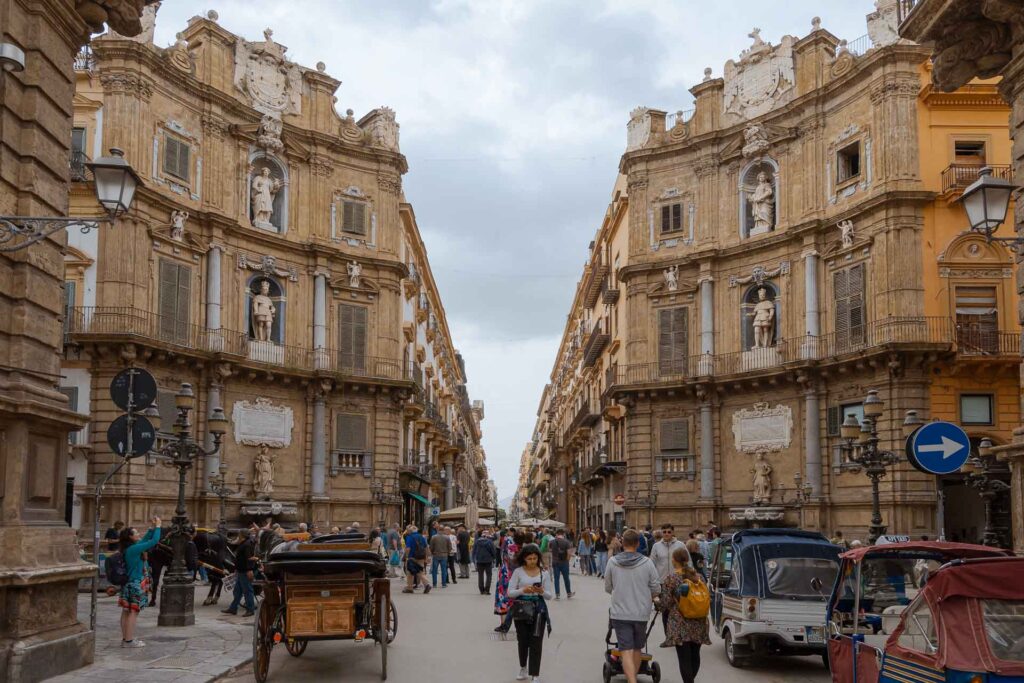 In Palermo, don't miss the various street fairs, such as Ballarò and Vucciria, as well as the Quattro Canti and the Norman Palace. And above all, take the time to get lost in its streets to feel the unique atmosphere of this Sicilian city.
Where to stay in Palermo
La Terraza su Palermo is a nice hotel with a large terrace overlooking the center. But if you are looking for something more sophisticated, the 5* Grand Hotel Wagner is your way to go.
To find out more places to stay in Palermo, look here.
Cefalù
Cefalù is a super charming seaside town, full of natural beauties and a rich historical heritage. It is just 70 km from Palermo, making it a great option for those exploring this northernmost cities in Sicily. See all the activities in Cefalu.
In addition to a beautiful golden sand beach, the city offers several historical attractions, such as the famous Norman Cathedral, as well as beautiful and charming medieval streets. It is also part of the Arab-Normand Itinerary in Sicily.
See where to stay in Cefalù here.
San Vito Lo Capo – one of the most beautiful cities in Sicily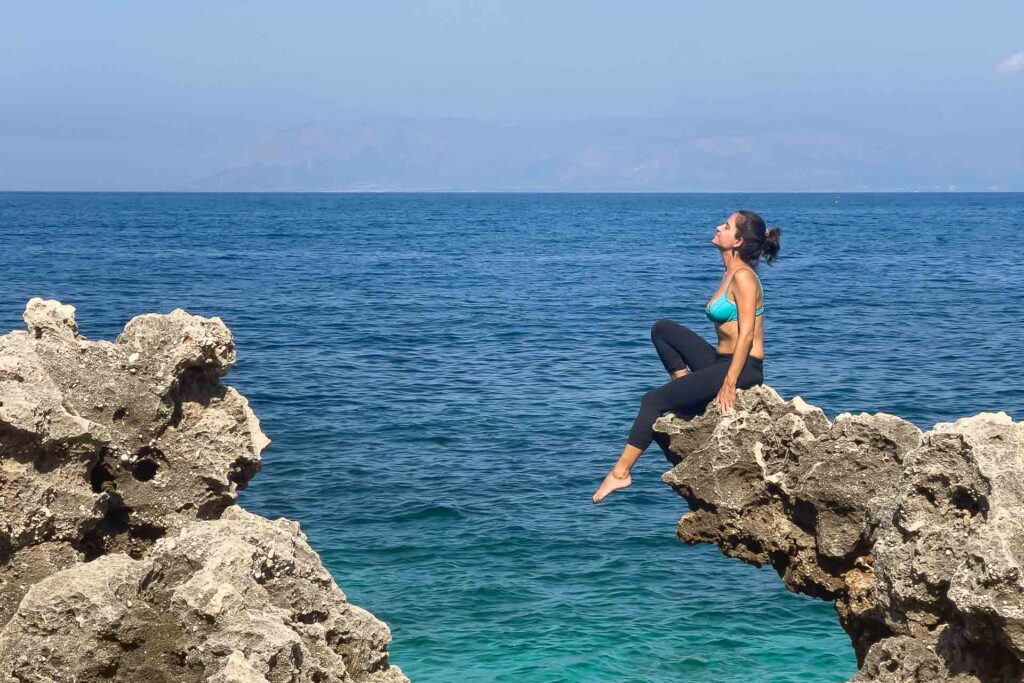 San Vito lo Capo and Zingaro Nature Reserve, houses the most beautiful beaches in Sicily! We traveled all over Sicily and we can say that the most beautiful beaches are in the region of the city of San Vito Lo Capo!
The beaches of the centre of San Vito are very beautiful too, but because they are in the middle of the city, they end up having some strange interference with the landscape, such as a cemented parking lot right next to the sand. However, you should definitely not miss the Zingaro Natural Reserve, which is next to the city! The natural park was the first area protected by law in Sicily and has more than 7km of trails, with 6 wonderful and well-preserved beaches.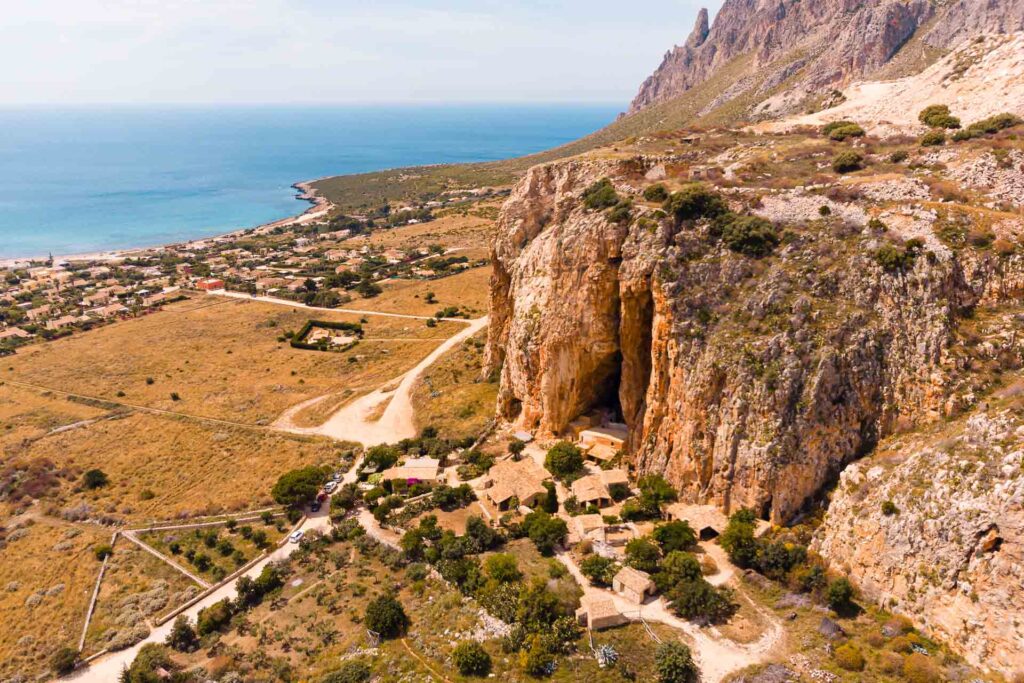 The trails are easy to do (we saw many children and elderly people), but in the scorching August heat, the challenge is certainly greater. For those who don't like to walk a lot, it is possible to stay at the first beach, which is less than 10 minutes walk from the park entrance.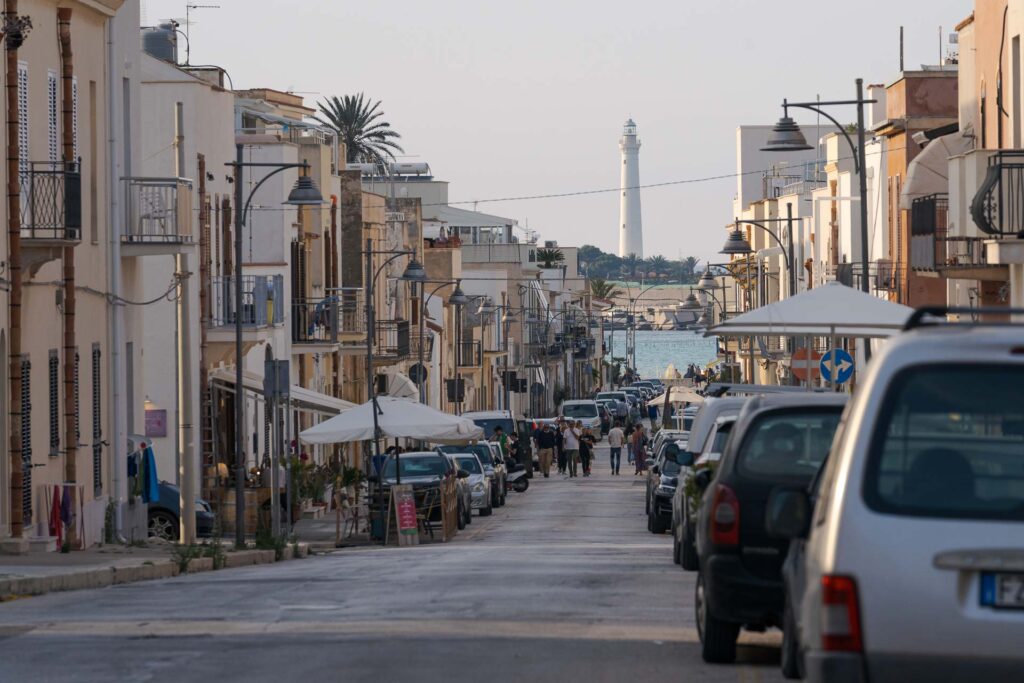 Where to stay in San Vito lo Capo
We stayed at B&B Adriana, simple but good value for money. For those looking for something more sophisticated, Artemide is a great option. For more options of accommodation in San Vito Lo Capo, look at here.
Favignana and the Egadi Islands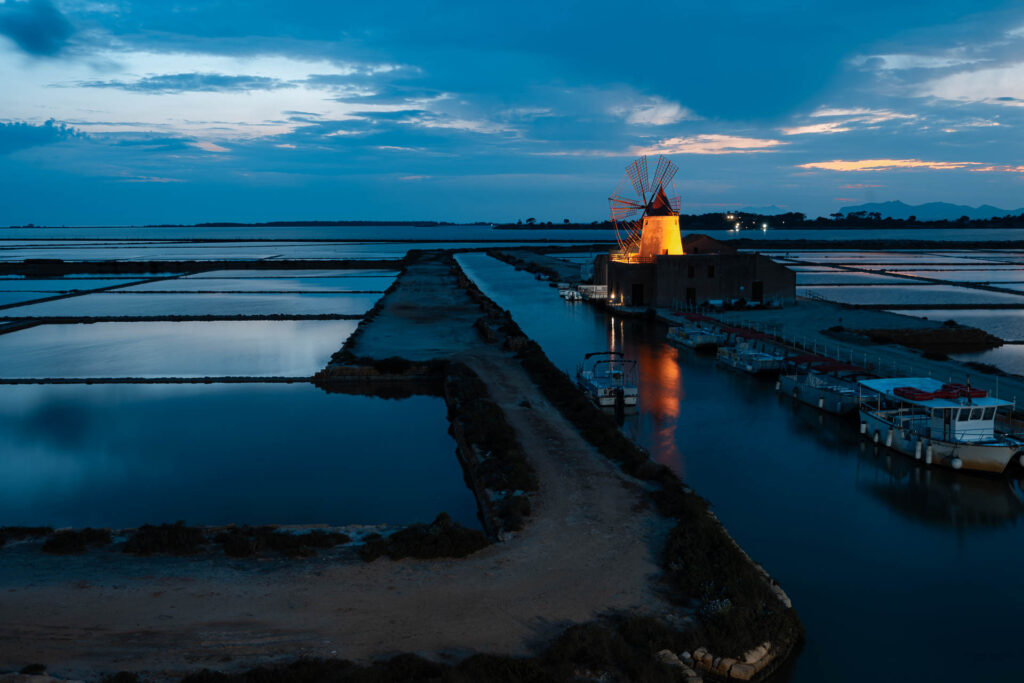 If the beaches of San Vito aren't enough to satisfy your desire for a summer as blue as the Mediterranean, another paradise beach in Sicily is the island of Favignana.
Favigana is part of the archipelago known as the Egadi, which is just 18km off the west coast of Sicily. Altogether there are three main islands: Favignana, Levanzo and Marettimo, with Favignana being the largest of them!
The Egadi Islands are known for their beaches with crystal clear water and for having many beautiful caves that you can explore on boat trips. Definitely another unmissable city in Sicily!
Where to stay in Favignana
Our recommendation for accommodation in Favigana is B&B La Casa Dell'Arancio, but there are many other hotel options to suit all budgets. For those who don't want to spend the night in the Egadi Islands, there are several options for day trips from Trapani or San Vito lo Capo.
Taormina – the luxury city in Sicily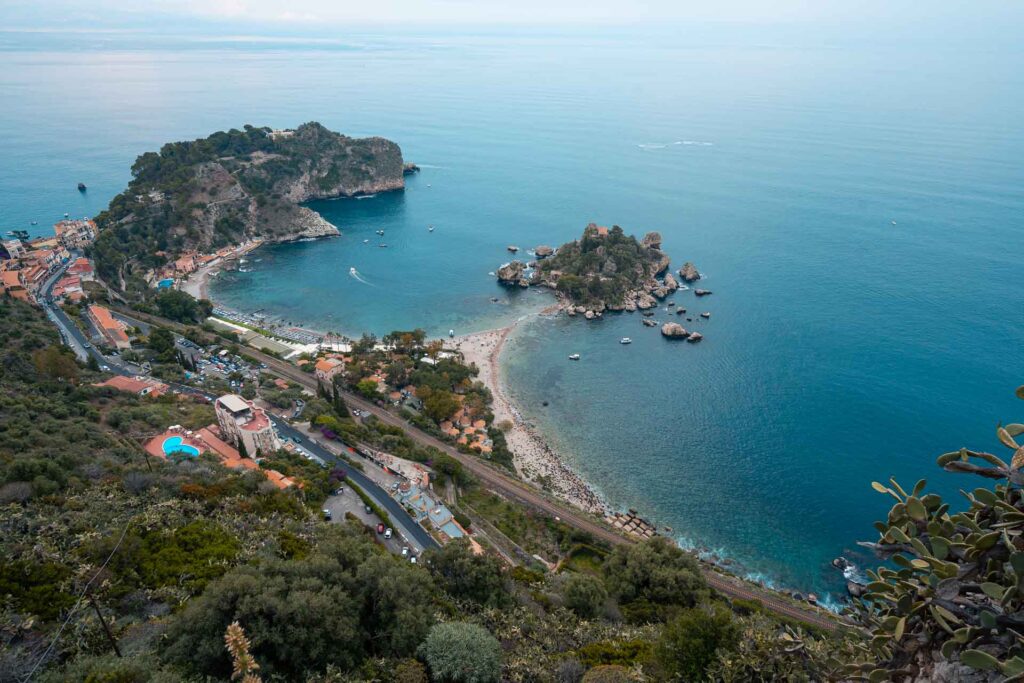 Taormina is currently one of the most visited cities in Sicily, and could not be left out of our travel guide.
Situated on top of a hill, offering wonderful views of the Mediterranean, Taormina was already a popular destination, but it became even more famous after the success of the White Lotus series. The city is really charming, full of narrow streets, with historic houses and the blue sea always accompanying us in infinity.
We spent just one day in Taormina and we can say that it was not enough to get to know it well, as there are many attractions around here, such as the Ancient Theater, Isola Bella, trails and many other things. See all the activities in Taormina here.
When in Taormina, don't forget to go up to Castelmola, the highest town in the region, from where you can enjoy spectacular views of the entire coast.
See where to stay in Taormina here.
Catania – one of the largest cities in Sicily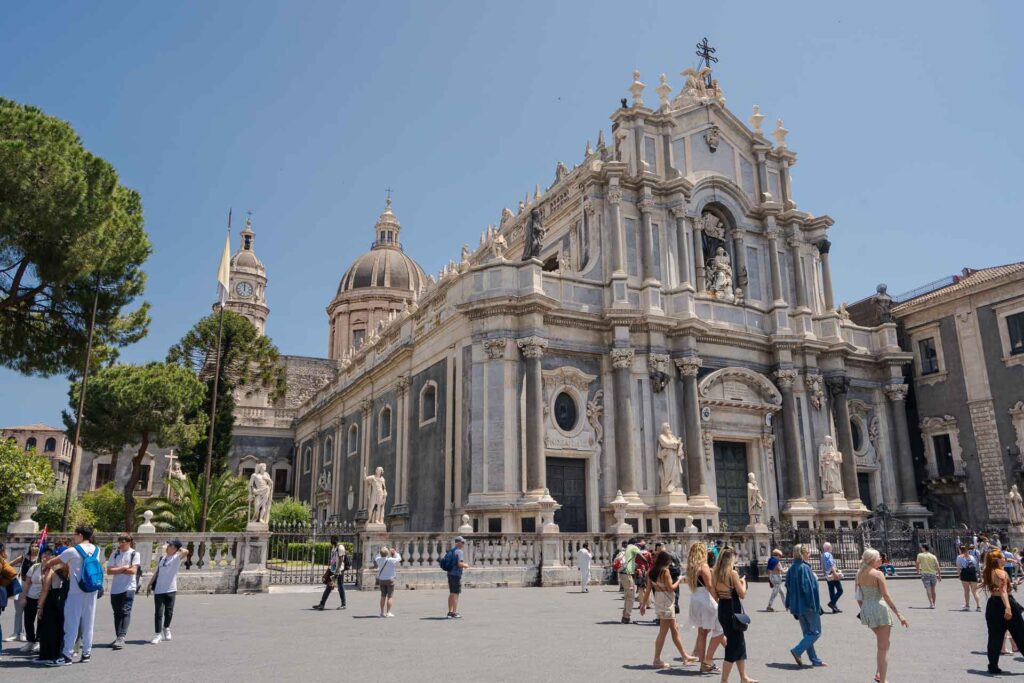 Catania is the second largest city in Sicily, with over 300,000 inhabitants. The city also has an international airport in Sicily, making it the second most popular gateway to Sicily.
We spent a few nights in Catania and, honestly, it wasn't the city that caught our attention the most. Catania has important historical points, such as the Duomo and the Roman Theater, but the feeling we get is that everything we saw there, we had already seen in other Sicilian cities on a larger scale or beauty. See the activities in Catania here.
The coolest thing about Catania, in our opinion, is the view of the imposing Mount Etna. Catania ends up being one of the best starting points for those who want to trek on Etna, which brings us to the next topic of this guide.
See where to stay in Catania here.
Climb Mount Etna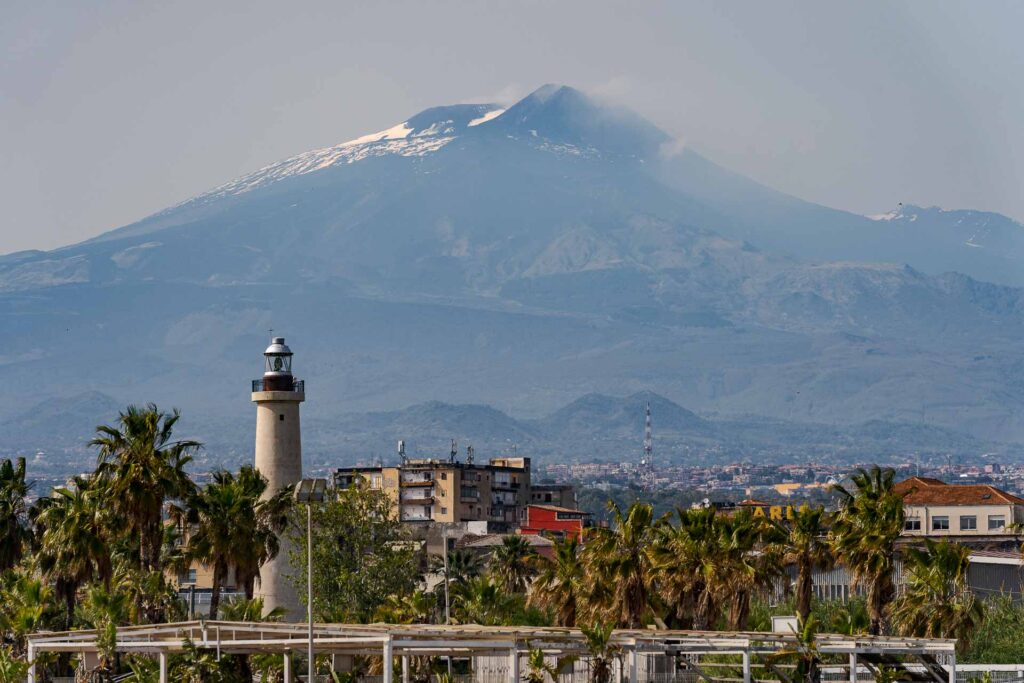 Mount Etna is the highest active volcano in Europe, over 3,300 meters high! Walking along its slopes, amidst the landscape sculpted by lava, is a unique experience.
Unfortunately, when we were in Sicily, Etna was showing seismic activity and the ascents were suspended. But we heard from so many people that this was one of the most unmissable activities in Sicily, and we could not fail to include it here.
There are some trail options, the most "basic" of which you can do on your own. If you want to better explore the park, you must be accompanied by a guide. For those who prefer a guided tour, we recommend this one, which goes up to the maximum height allowed, or this one, which leaves from Catania.
Syracuse – the most charming city in Sicily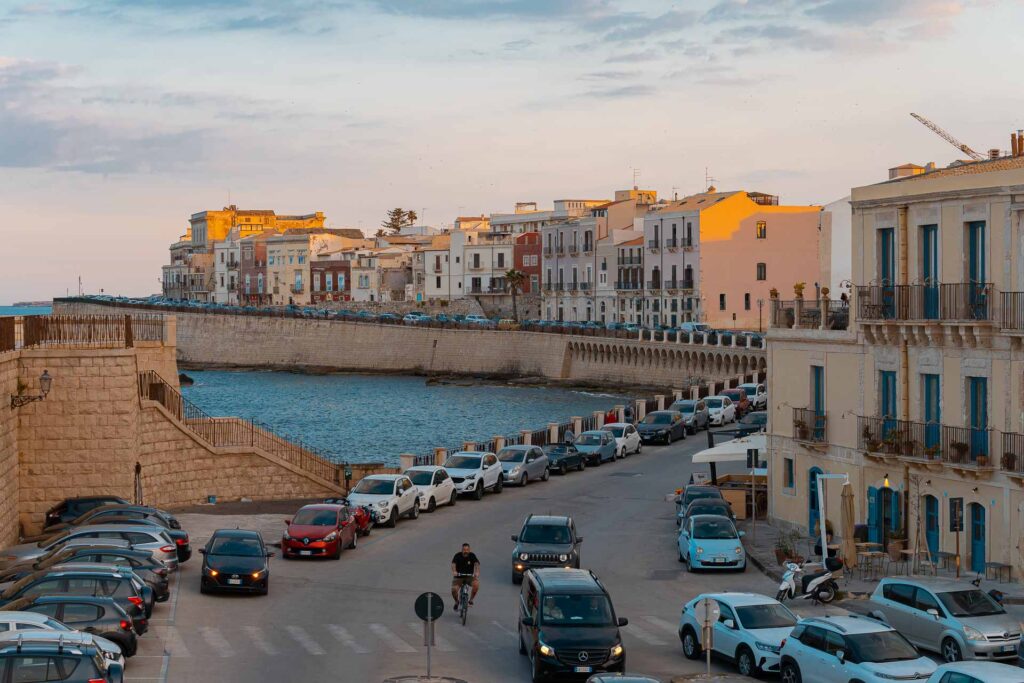 Syracuse is a very charming and historic city, making it a must stop for anyone travelling in Sicily. It was here, by the way, that we chose as a base to stay for two weeks.
The city of Syracuse was the capital of the Greek Empire and has enormous historical importance, preserving impressive archaeological sites, such as the Park of Neapolis, to this day.
The historic center of Syracuse is located on a beautiful islet called Ortigia, full of narrow streets, charming buildings, bars and restaurants.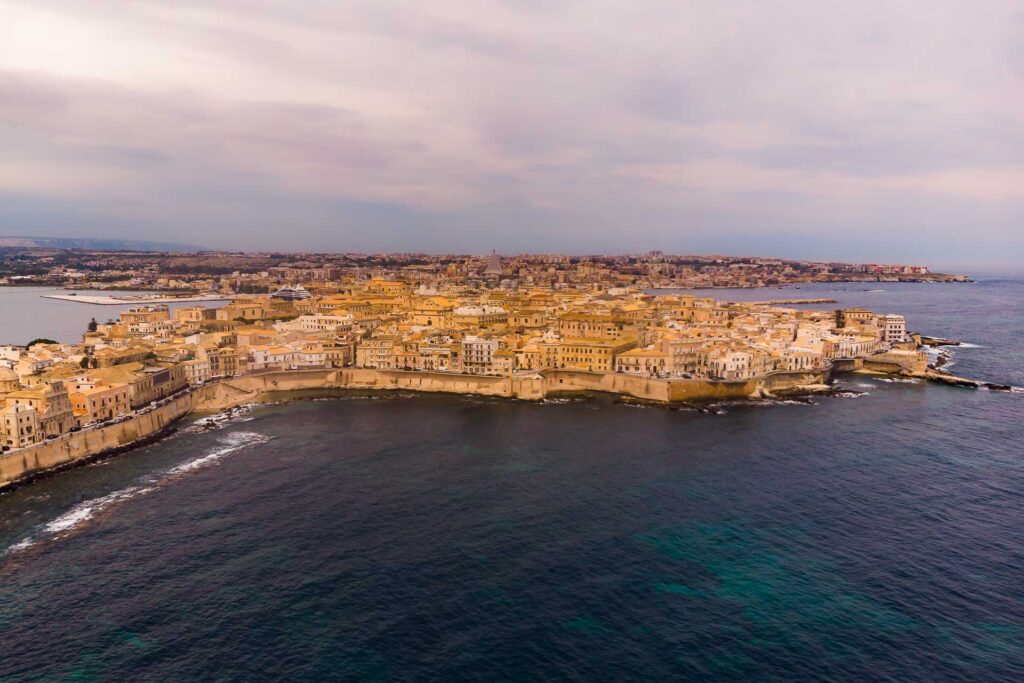 Tip Monday Feelings: we were lucky enough to visit Syracuse during the Theater Season, when ancient Greek tragedies are presented in the city's own Greek Theater! A unique experience that we highly recommend! The theater season runs from May to July. More information and tickets here.
Where to stay in Siracusa
The most charming accommodations in Syracuse are in Ortigia Island, but it is also possible to find good (and cheaper) accommodations outside the historic center too. Find you place here.
Valley of the Temples in Agrigento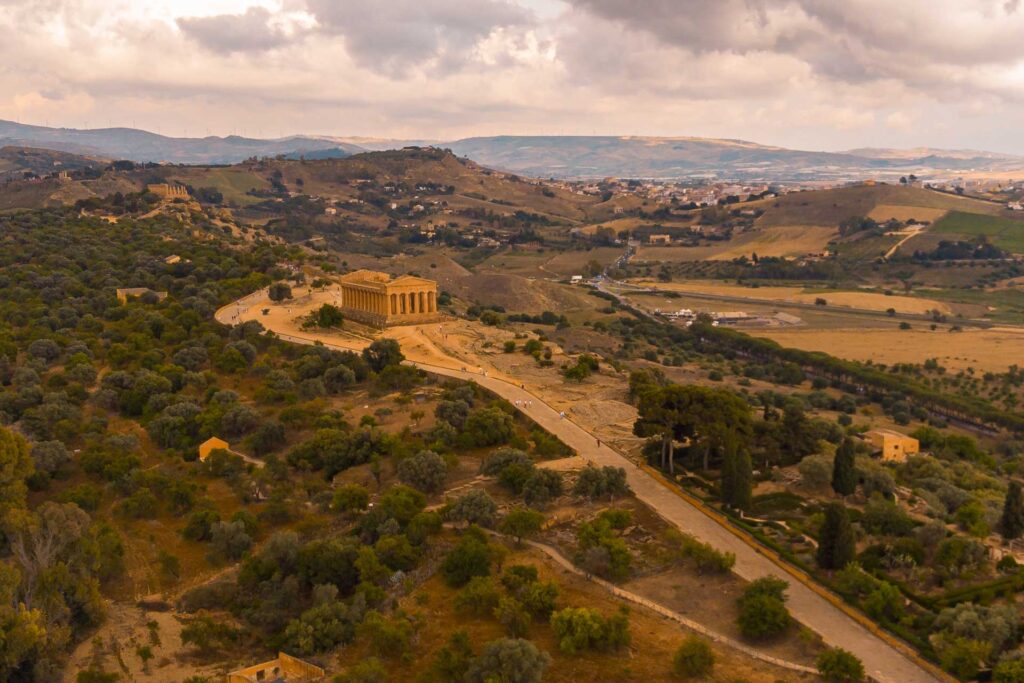 The Valley of the Temples, located in the city of Agrigento, in southern Sicily, is one of the most impressive archaeological sites in Europe! In my opinion, the level of grandeur and preservation of the ruins of the Valley of the Temples is only matched by the Acropolis of Athens – if not more!
The complex houses several ancient Greek temples, built between the 6th and 5th centuries BC, such as the majestic Temple of Hercules, the Temple of Concordia, and the Temple of Jupiter. All this in the midst of a beautiful setting, full of green hills and a crystalline blue sea in the background.
The Valley of the Temples is open from 8:30am to 9:00pm (check entrance fees here).
Find you accommodation in Agrigento here.
Scala dei Turchi
Also in the region of Agrigento, 15km from the Valley of the Temples, is a natural formation known as Scala dei Turchi (Stairs of the Turks), because it has the shape of stairs that would have favored the invasion of Arabs by sea.
Curiosity here: Turkish is a generalisation of the arabs. At that time, Italians would call any Arab a Turkish.
In addition to being a picturesque place, there is also a very nice sandy beach there, making it a great destination to spend a morning or afternoon by the sea in Sicily. However, if you are not driving, you can make a day trip from Palermo to the Valley of the Temples and the Scala dei Turchi here.
Lipari Islands – one of the best cities in Sicily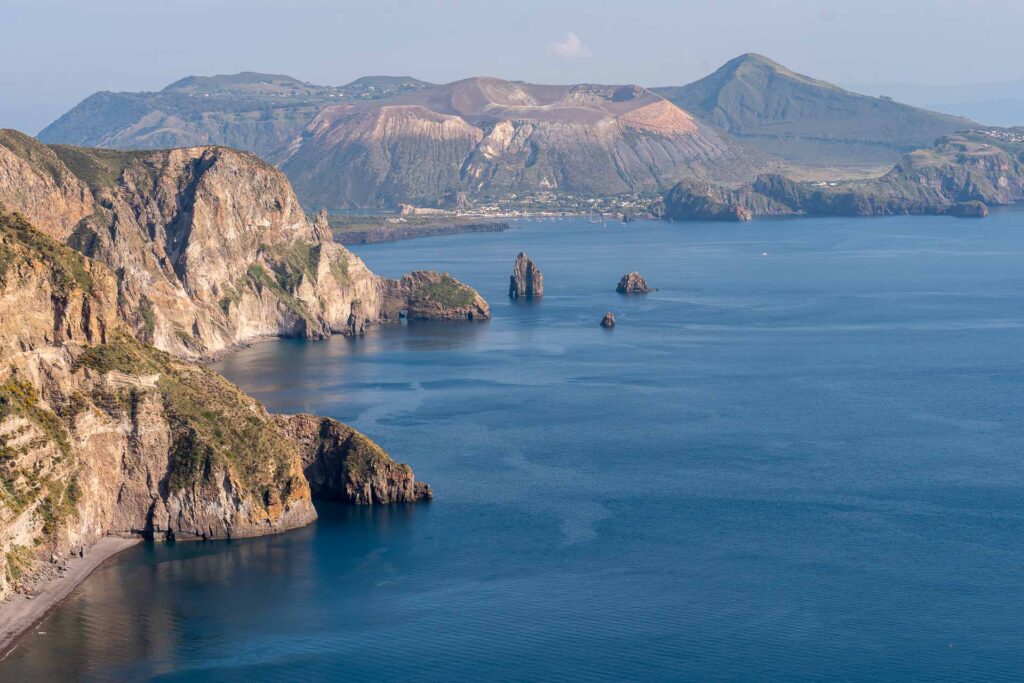 The Lipari Islands are a group of 7 volcanic islands located some 30 km off the north coast of Sicily. We had never heard of them before visiting Sicily, but after spending three days there, they turned out to be one of our favorite places in Sicily!
The islands have two active volcanoes, several picturesque towns and an extremely powerful landscape. Allow at least two days for the trip, as you need a full day to explore Lipari, and another day to take a boat trip to the volcanic islands in the region, where you can even see a volcano spewing lava!
Our recommendation for accommodation in Lipari is the wonderful Case Quattrochi, which is located in one of the most beautiful viewpoints in the entire archipelago.
Ragusa, Noto and Modica – the Baroque cities of Sicily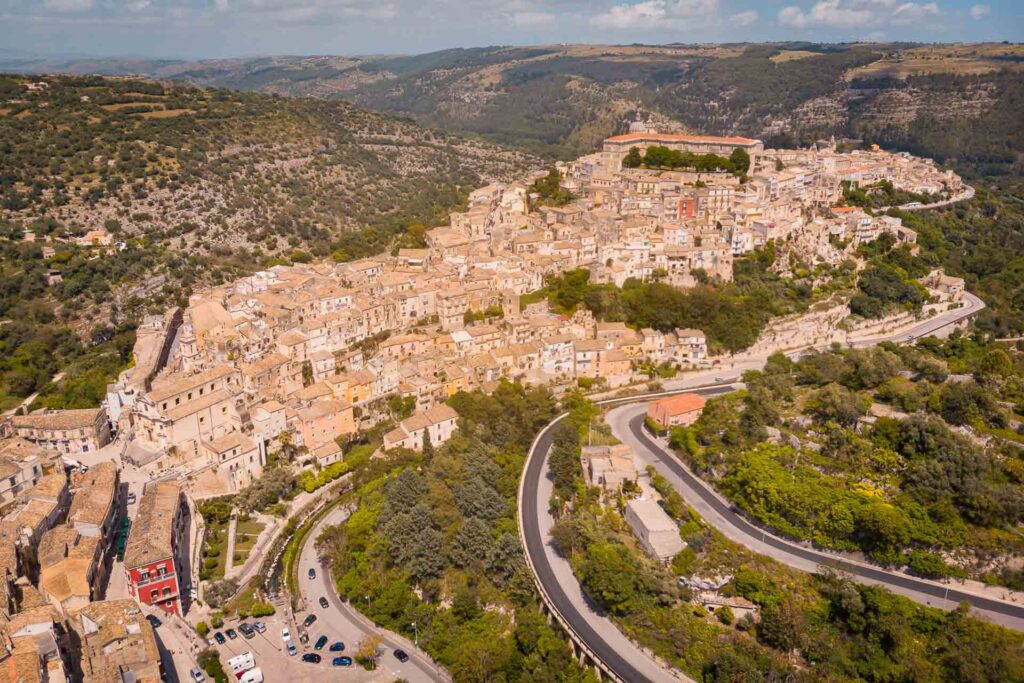 Ragusa, Noto and Modica are three cities located close to each other that are recognized as UNESCO World Heritage Sites.
Despite having similar styles, they are very unique and charming: Ragusa has a medieval atmosphere with narrow streets and beautiful palaces and churches; while Noto impresses with its imposing facades and squares; Modica enchants visitors with its rich tradition in chocolate making.
Although all cities deserve a visit of their own, for those who have little travel time in Sicily, we recommend choosing just one of them to spend the day. It is also possible to book a guided tour to visit the three cities on the same day.
Erice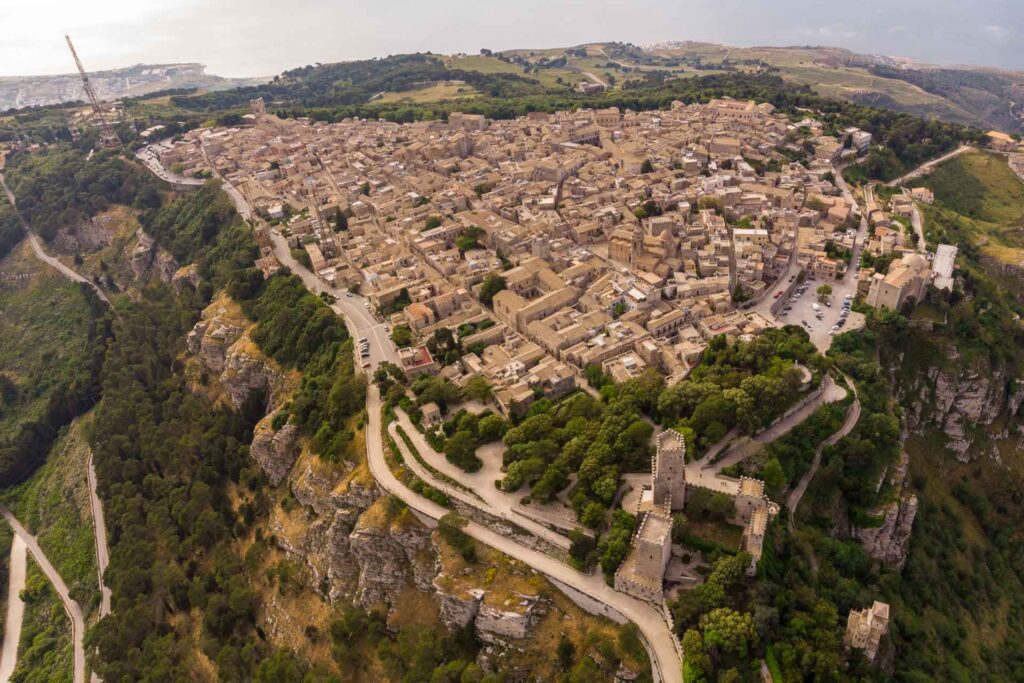 An all-medieval city built on top of a 750-meter mountain, Erice is one of the most picturesque cities in Sicily. With narrow streets, stone houses, castles and medieval towers, it's hard not to fall in love with the place.
Unfortunately, Erice currently depends almost entirely on tourism and therefore, there is almost no local life outside the season, which, for us, takes away much of the authenticity of the visit. Even so, the place is so charming and unique that it deserves a stop, even for a few hours, during your trip through Sicily.
City of Piazza Armenia and the amazing mosaics of Villa Romana del Casale
The city of Piazza Armenia, right in the center of Sicily, is internationally recognized for being home to one of the most impressive Roman mosaics in Italy.
The huge collection of super well-preserved mosaics is inside a 4th-century Roman mansion, the Villa Romana del Casale. The mosaics portray in great detail mythological scenes, sports and everyday life at the time.
The Villa Romana del Casale is open daily from 9am to 6pm – don't be late!. There are also options for tours departing from Palermo and Catania.
Arianna's Labyrinth
Arianna's Labyrinth is a contemporary work of art located on top of a hill in the Sicilian countryside – amongst many others.
Inspired by the myth of the Minotaur and Ariadna, the labyrinth symbolizes the journey of life. As you walk through its corridors, you get lost and find yourself several times, until you reach the center, where you are welcomed by an olive tree, symbol of southern Italy. I'm suspicious to say, because I love labyrinths, but this one by Arianna impressed me a lot. I loved it and spent long hours there getting lost and observing that place.
The road leading to the Labirinto di Ariana is also beautiful, being an activity in itself. I highly recommend exploring this region of Sicily by car and taking it easy. There is no entrance fee to the labyrinth, the place is always open.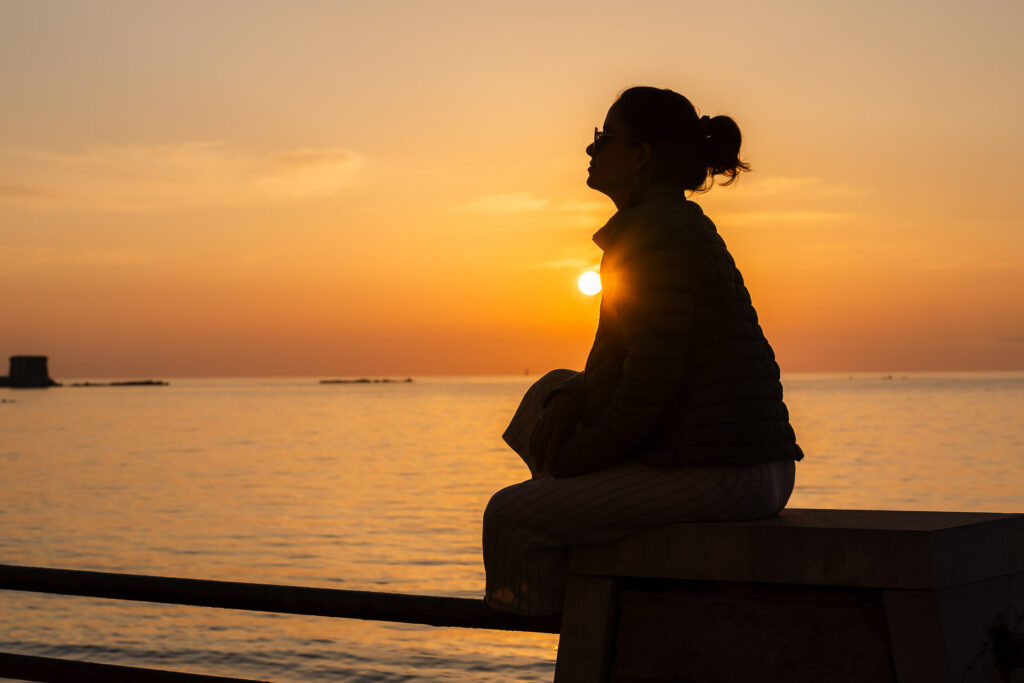 Personalized Itinerary in Italy
I hope this guide with what to do in Sicily helps you organize your trip to visit these beautiful and special cities in Italy! If you need help putting together your itinerary, please contact us, as we offer a personalized itinerary service, in which we create an itinerary designed exclusively for your trip, budget and interests.
Be sure to follow Monday Feelings on Instagram for more tips from Italy and the world.