This post is also available in:

Português
Are you looking for an Iran itinerary for your trip to Iran? Look no further! Check it out what to do in Iran in this complete guide, made after travelling for more than three months in two visits to this wonderful country, from north to south, east to west. We now share with you what are the best things to do in Iran!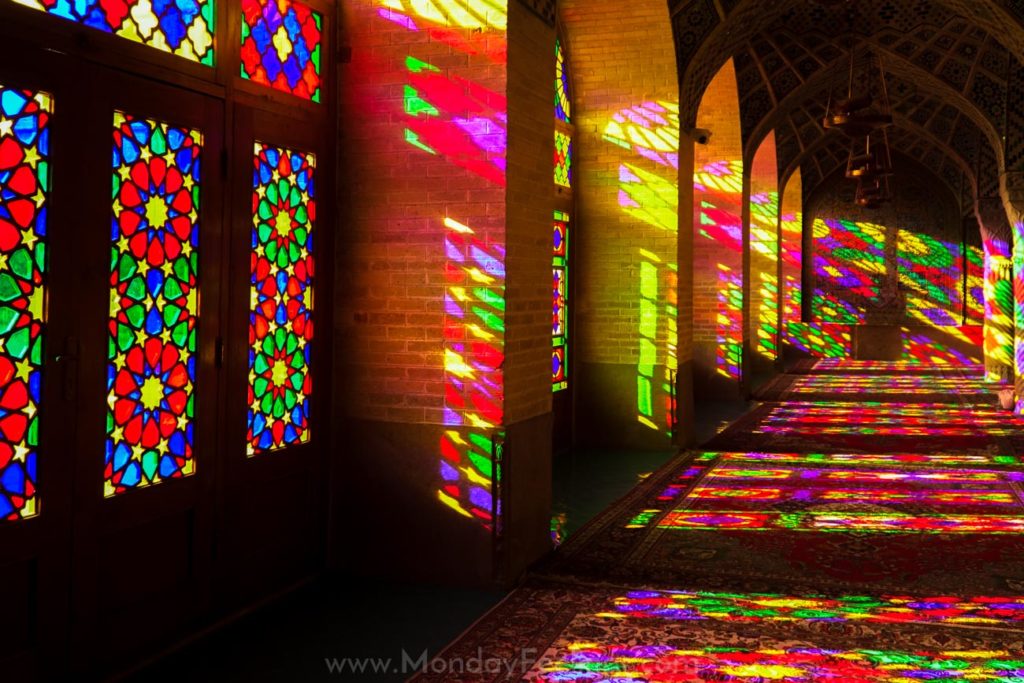 Those who have been following us for a while now (and if you are not, follow us on Youtube, Instagram and Facebook !) know that Iran is one of our top picks. And we don't say that just to be controversial because of the way Iran is portrayed by the media – we genuinely love Iran!
And we know we are not alone in that! In fact, everyone we know who visited Iran, ended up with a very special experience. And if you have found us here, you are probably one step away from falling in love with them too!
So, to help you in your journey, we have written you this complete Iran travel itinerary, with all the cities to visit in Iran, including its best sights, activities and experiences to have.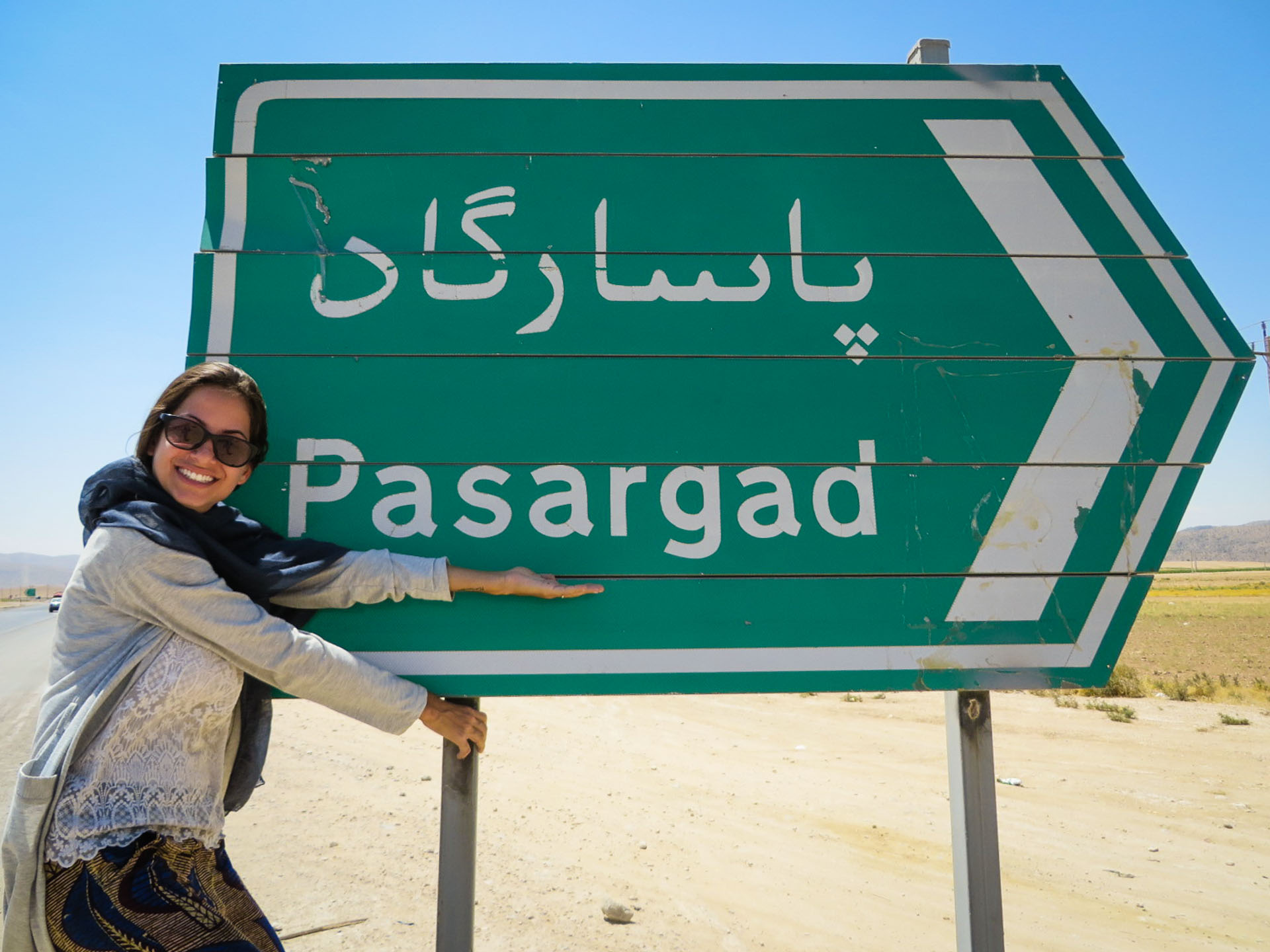 Iran travel tips
But before you head to Iran, here you are a few travel tips you need to know:
Best time to travel to Iran
The best time to travel to Iran is during the mild temperatures of autumn (September to December) and spring (March to June). Summer is really too hot, particularly the south. And obviously winter is specially too cold, hard to enjoy the mountains and deserts.
Credit cards in Iran
Due to economic sanctions, companies such as MasterCard and Visa cannot operate over there, thus it is not possible to use your credit/debit cards in Iran. But – and there is always a but – you have two options: you can either calculate how much you will need for the whole trip and bring cash; or get an Iranian Tourist Card with a local travel agency.
How to book hotels and tours in Iran
Because of the sanctions, all online purchases are restricted. Therefore, you will hardly be able to book tours, flights, transportation and even a hotel before your trip to Iran. But worry you not as we are here to bring you solutions and not lay down problems. Currently, there are a few Iranian travel agencies offering such services. One of them is the 1st Quest, which the team we had the opportunity to meet during our last visit to Iran. They are a serious and efficient company from which where you can book online different types of activities and experiences in Iran. We surely recommend using their services and you can get in touch with us in case you have any doubts.
Iran travel visa
Almost all nationalities need a visa to travel in Iran. Most of them, though, can request it at the airport (Visa on Arrival), or online through the new Iranian E-Visa system. We highly recommend you to request the E-Visa prior to your arrival, as on our last trip to Iran, we decided to try the visa at the airport and were almost turned away at immigration.
Iran travel insurance
It is compulsory to have a travel insurance to visit Iran. If you already have one that covers worldwide, it is unlikely that it is valid in Iran, unless it explicit says it also covers Iran (you might want to call and check. In case they say they do cover Iran, ask for a written proof to show at immigration).
Otherwise, you can book a travel insurance to Iran at the airport, upon arrival. It costs around 14 euros, for 30 days. But, if you would like to have everything arranged beforehand and show the immigration officers you have done your research well, you can purchase your Iranian travel insurance for the same price or even cheaper through a local travel agency – and online – such as the insurance from 1st Quest.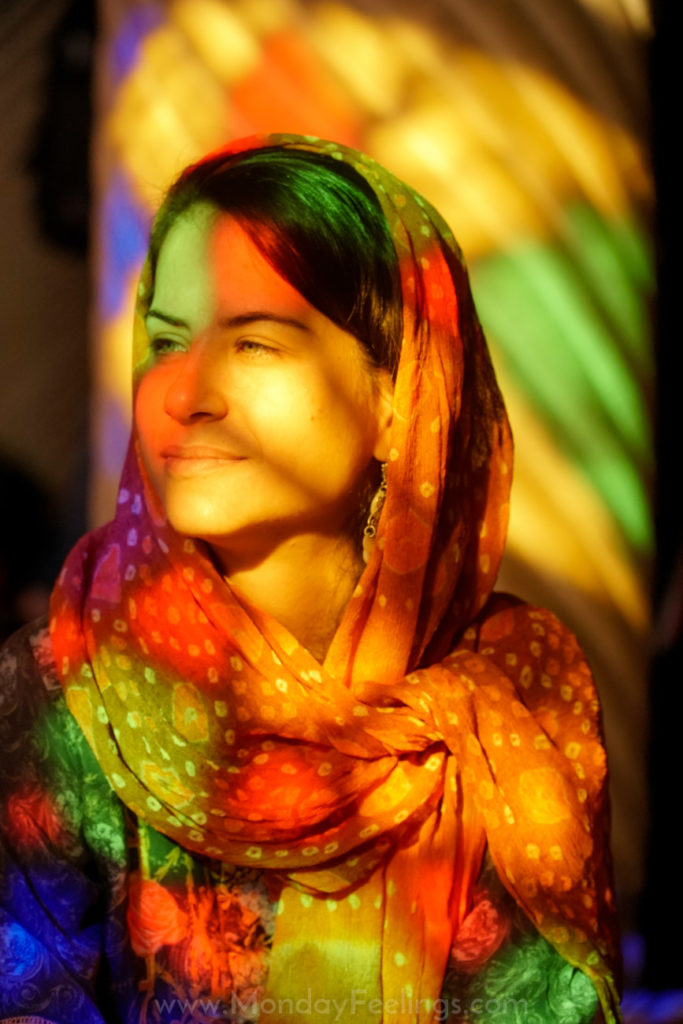 What to do in Iran – your complete Iran itinerary
Before we share with you all the must see places in Iran and the places in Iran to visit, here is a couple of heads up:
The cities on this Iran travel itinerary are in order of historical, cultural and tourist "importance/relevance". Which means if you don't have that much time in the country, you should prioritize the destinations mentioned at the beginning: Tehran, Isfahan, Shiraz and Yazd. These four cities comprise what is known as the "Classic Iran itinerary", and can easily be done in less than two weeks.
Despite being a beautiful country with many things to do, the best of an Iran travel is simply to get lost, to walk about and talk to people. Allow yourself to accept all the invitations for picnics, dinners and barbecues and prepare yourself to experience the best hospitality in the world.
Do you need help to organise your
trip to Iran
? Leave it with us. We create
tailor-made travel itineraries
that includes information and tips of what to do in each city, recommended places to eat and cost to benefits options of accommodation. We have helped other travellers to make the best out of their
travel to Iran
and we will be more than pleased to work with you too.
Are you interested?
Contact us via email on
getintouch@mondayfeelings.com
or
send us a message here
. Let's talk!
– Tehran
We recommend from two to three days to see Tehran's top attractions.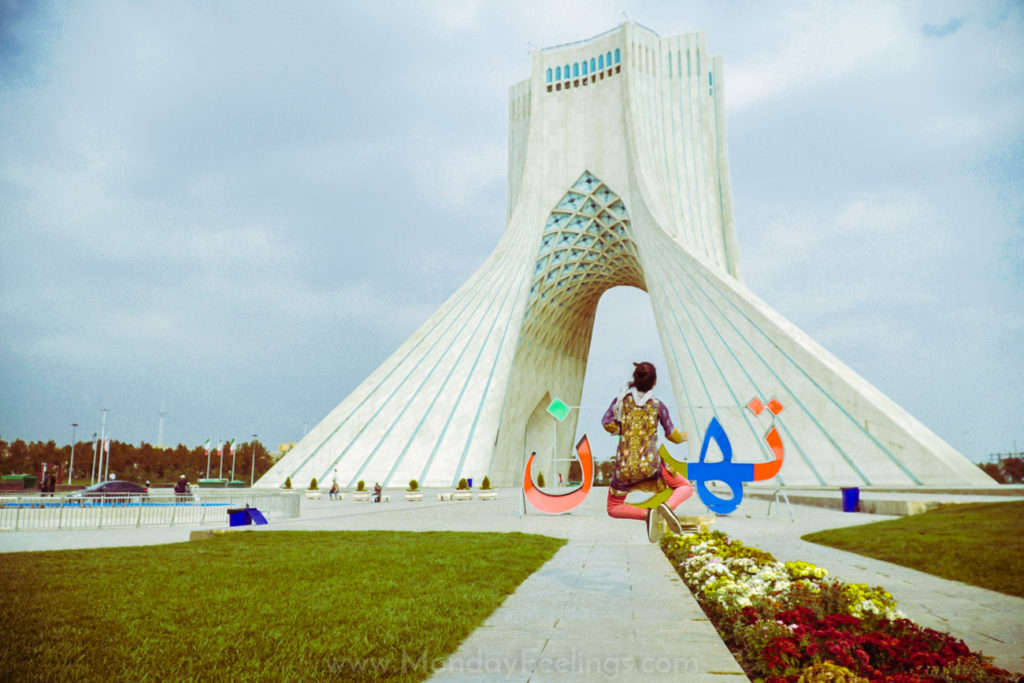 Tehran is the capital of Iran, a chaotic yet vibrant city. A place full of history and art that cannot be left out of your Iran itinerary.
Tehran's population is 9 million, making it the largest Iranian city. A curiosity is that this is one of the cities in the world with the largest number of urban parks, making it a perfect destination for countless strolls in the open.
We recommend spending two to three days in Tehran, depending on how flexible is your itinerary. If you want to spend longer time over there, rest assured you won't have problems in finding things to do in Tehran.
Tehran tourist attractions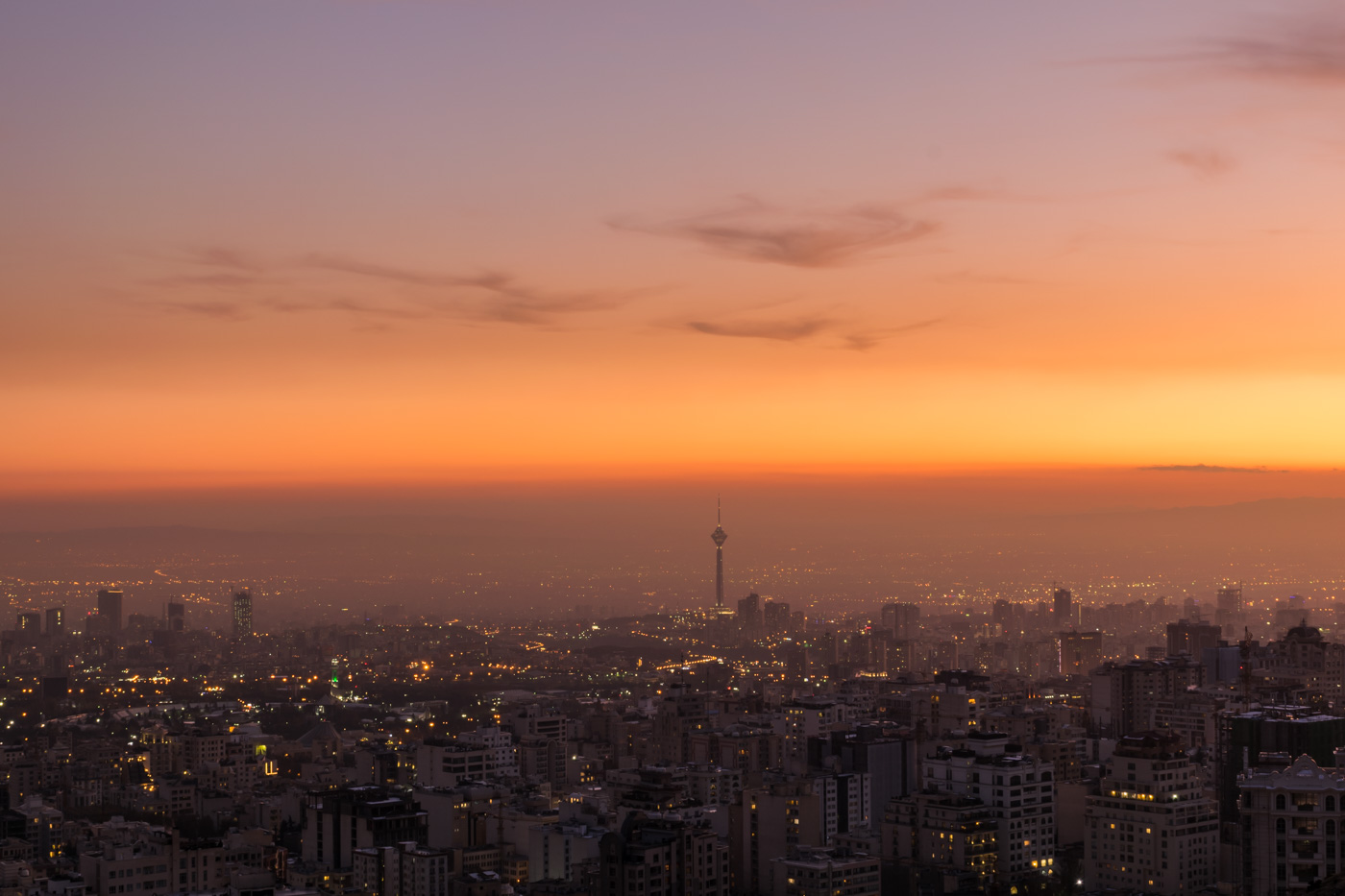 Golestan Palace;
National Museumb
Azadi Tower;
Tabiat Bridge: also known as "Nature Bridge", it was designed by a young Iranian woman and is a meeting point for couples and families. Try to visit it during late afternoon when the place is full and the weather is pleasant;
Valiasr Street: the longest street in the Middle East and a meeting place for young people at night;
Darband: a neighbourhood in the mountains that is full of restaurants and shops. This is also the beginning of a two-days trek up in the mountain that many people like to do (Iranians love nature);
Central Bazaar: we are not adept at shopping and therefore we do not find the place anything special. But, if you like this kind of activities, you cannot miss it Tehran's Central Bazaar. The architecture is nice though;
Visit many parks: get lost at night and be invited to have a picnic with the families around. Seriously, just walk through the parks and wait for the invitation;
Bam-e Tehran: The place on top of the mountain, also known as the roof of Tehran, is an awesome place to watch the sunset colour grading the city of Tehran. In the area, you can do a zip line, bungee jump, skiing and enjoy some delicious food too.
Bonus: In the winter, it is possible to ski in Tehran. We did not try (we travelled both times in midsummer), but we heard that the tracks are the best in the Central Asia.
Where to stay in Tehran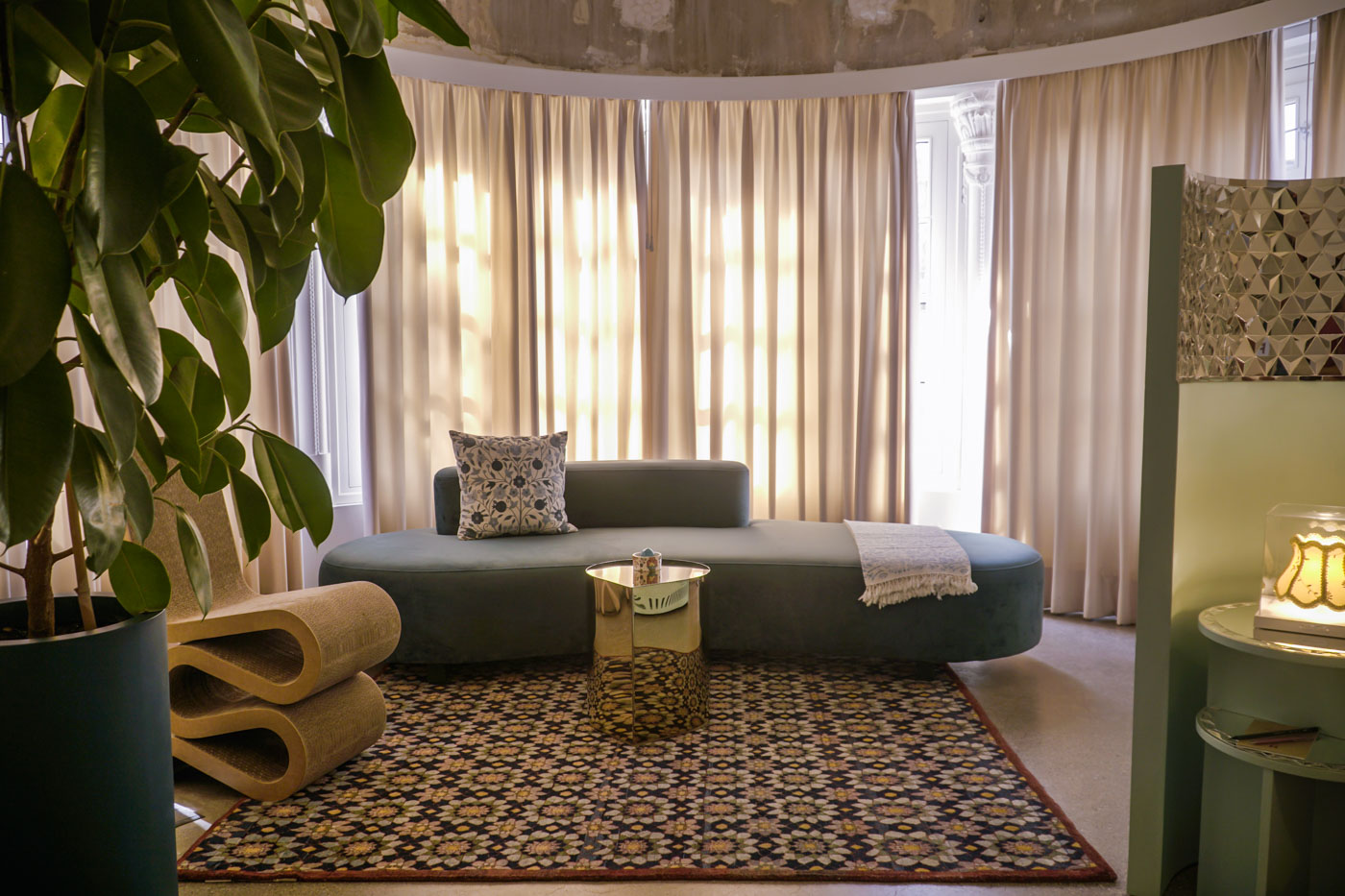 On our the last trip to Tehran, we made a very pleasant partnership with the best hotel in Tehran – according to us -, the Hannah Boutique Hotel. Their rates are not the cheapest, but the place is really special.
Located right in the heart of the Iranian capital, it is housed in a historical house which was converted into a stylish accommodation by a famous Iranian couple of architects. Each room at the Hannah Boutique Hotel has a different decor and a totally artistic vibe. Breakfast is simply divine and, at evenings, you get the chance to meet like-minded Iranians who also goes over there – the Hanna Boutique is well known amongst Iranians. In fact, even if you are not staying at the Hanna Boutique, we definitely recommend you to have a meal at their restaurant.
If you are looking for something more affordable, the Hi Tehran Hostel was highly recommended by other travellers. They are situated in a very charming and cosy house and offer single or shared rooms.
– Isfahan (Esfahan)
We recommend from two to three days to see Isfahan's top attractions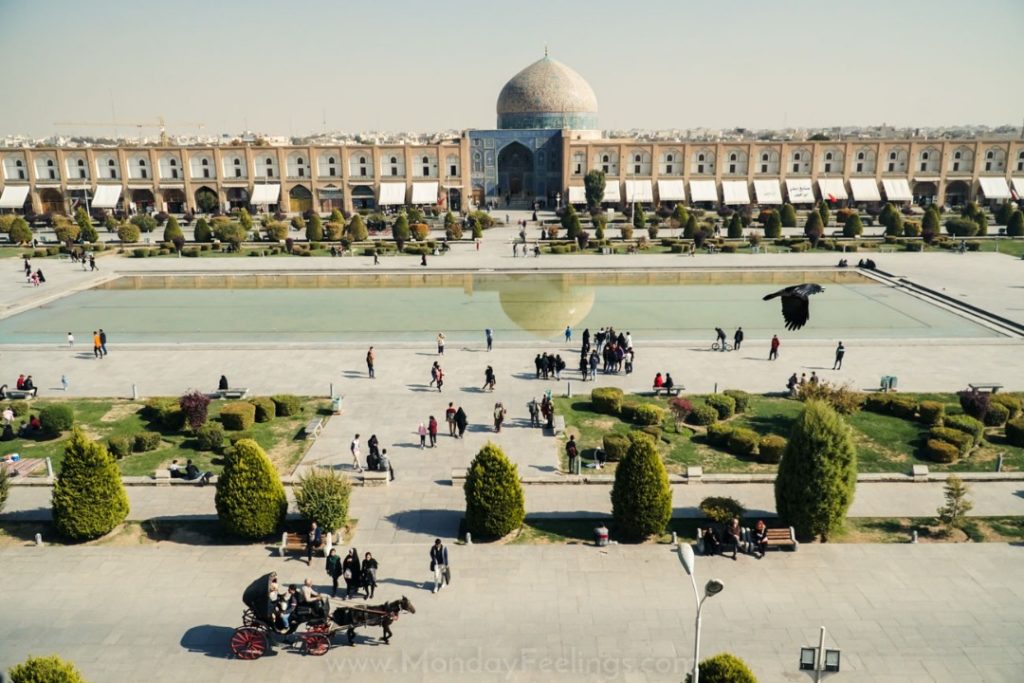 Isfahan – also known as Esfahan – is probably the most beautiful city in Iran. It is like an open air museum, where you find some of the finest examples of the Persian and the Islamic architecture.
Isfahan was the capital of the Persian Empire between 1592 and 1722 and is known as "Half the World", an allusion for carrying half of all the beauties there are in the world. The city has amazing gardens, squares, mosques and bazaars to visit, including two UNESCO World Heritage Sites in Iran.
Isfahan tourist attractions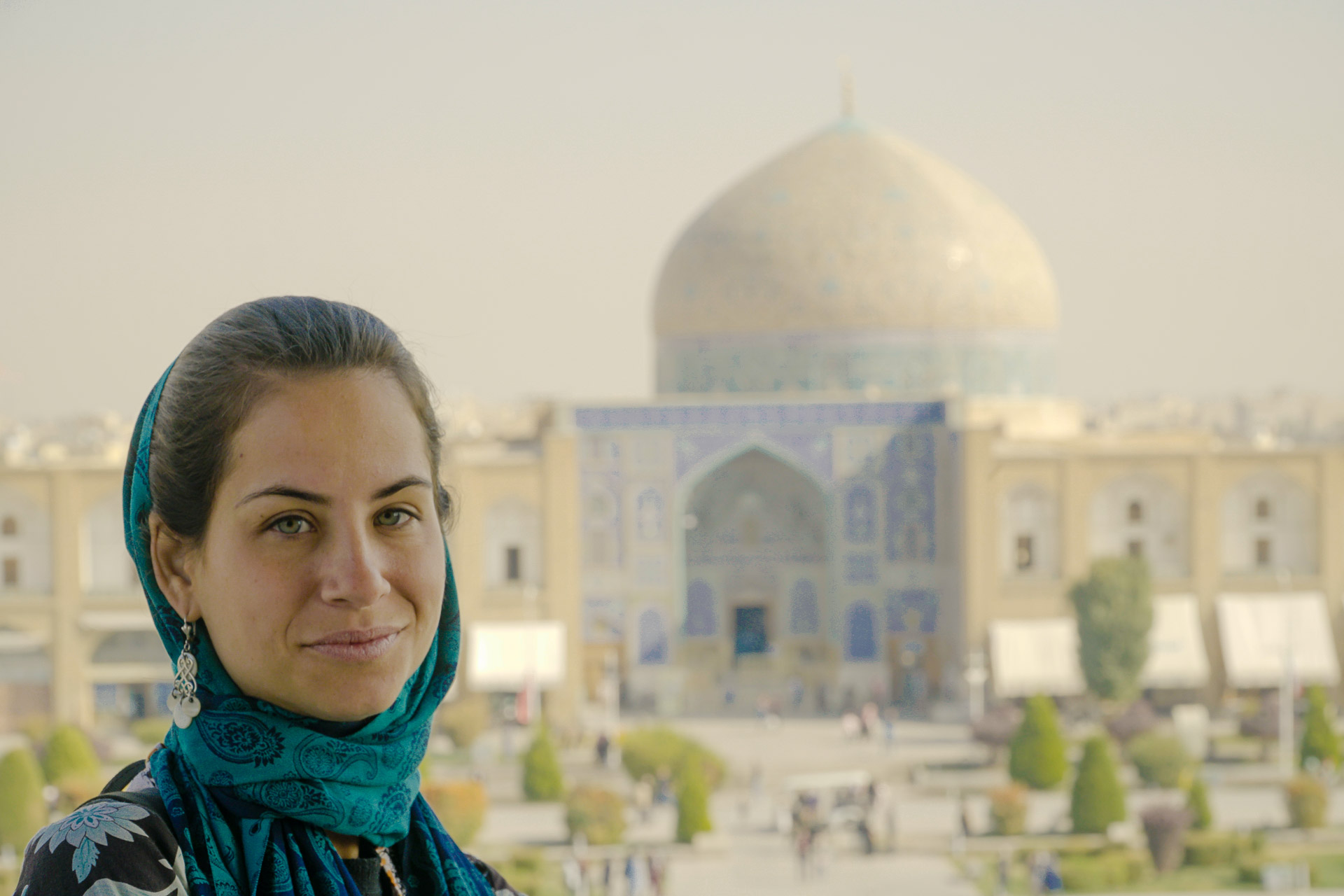 Naqsh-e Jahan Square: also known as Imam Square, this UNESCO World Heritage Site literally means "Image of the World". The Naqsh-e Jahan Square was built in the centre of the Persian Empire and aimed to represent the essence and grandeur of that time. In the same square, you find the Sheikh Lotfollah Mosque, the Imperial Bazaar and the Palace of Ali Qapu. We recommend to visit them all, particularly the Ali Qapu Palace;
Jameh Mosque (Masjed-e Jāmé): a little away from the tourist centre of Isfahan and neglected by most travellers, this mosque is another UNESCO World Heritage Site in Isfahan and is surely worth a visit;
Walk across the Si-o Se Pol Bridge;
Visit the Khaju Bridge;
Stroll around Chahar bagh Abbasi;
Enjoy the Armenian Quarter of Jolfa, including the Vank Cathedral.
Where to stay in Isfahan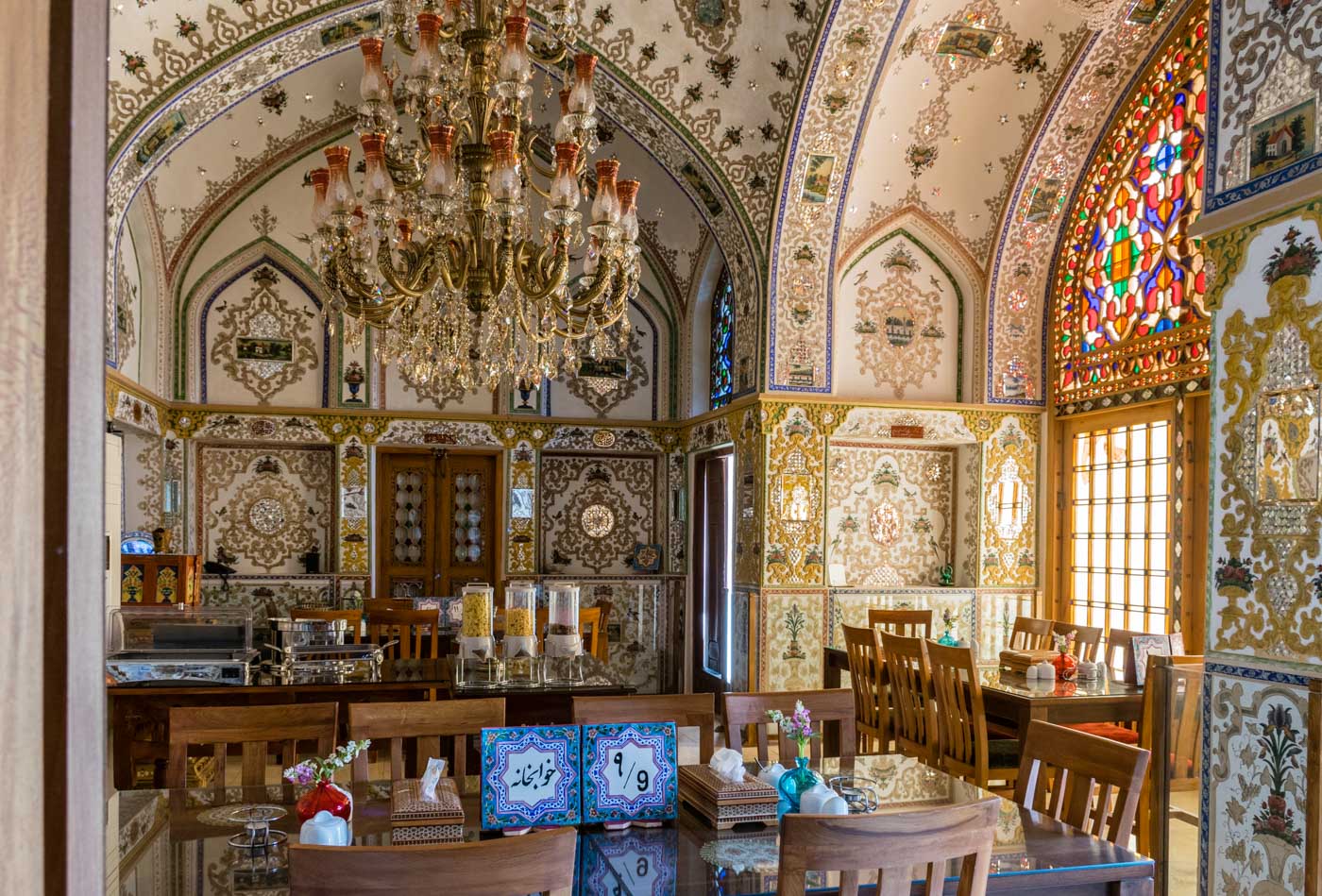 We stayed in a beautiful boutique hotel in Isfahan, the Kianpour Historical House. It is located inside an old palace from the Qajar Era (1789 to 1925). The reconstruction work of the hotel owner, a very talented Iranian architect called Mr. Kianpour, is impressive. By the way, if you decide to stay there too, make sure to ask him to show you the pictures of the palace before the renovation.
For travellers looking for a more affordable hotel in Isfahan, the Howzak House was very well recommended to us. Also located in a historical Iranian house, the Howzak offers individual rooms with shared bathrooms. It is also possible to take Persian cooking classes as well as other activities in there.
– Shiraz
We recommend three days to see Shiraz's top attractions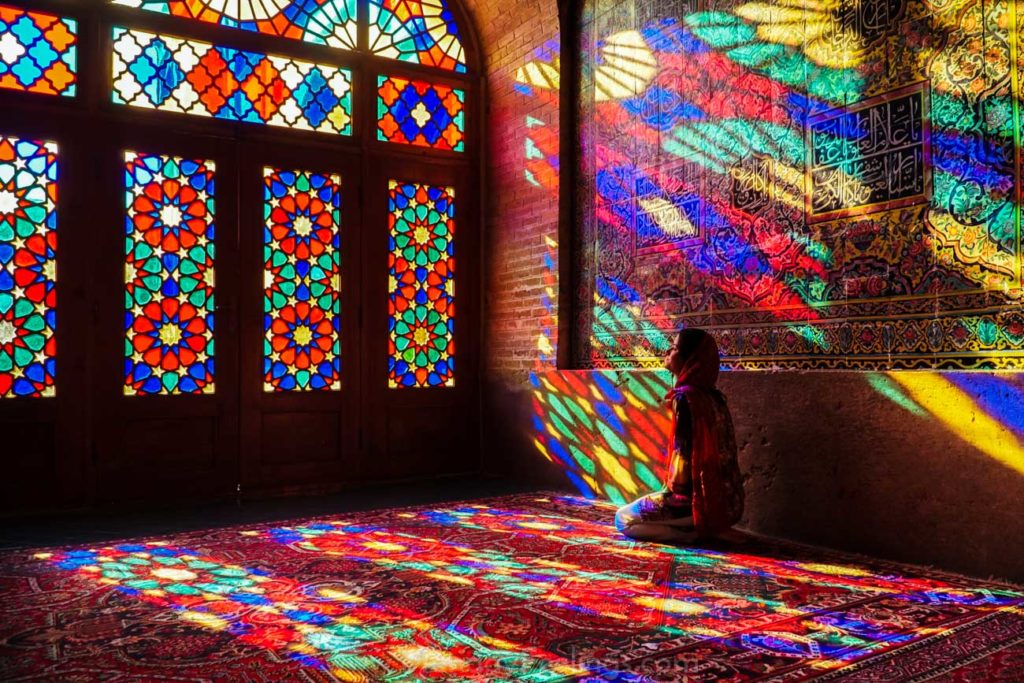 One of the most important cities in Iran, Shiraz is an important cultural and intellectual hub, not to mention that the Shiraz wine was invented there!
Shiraz is the best starting point to visit the ancient capitals of the Persian Empire: Pasargadae and Persepolis! By the way, don't forget to stop by the Necropolis, which is on the way between the two capitals.
Shiraz tourist attractions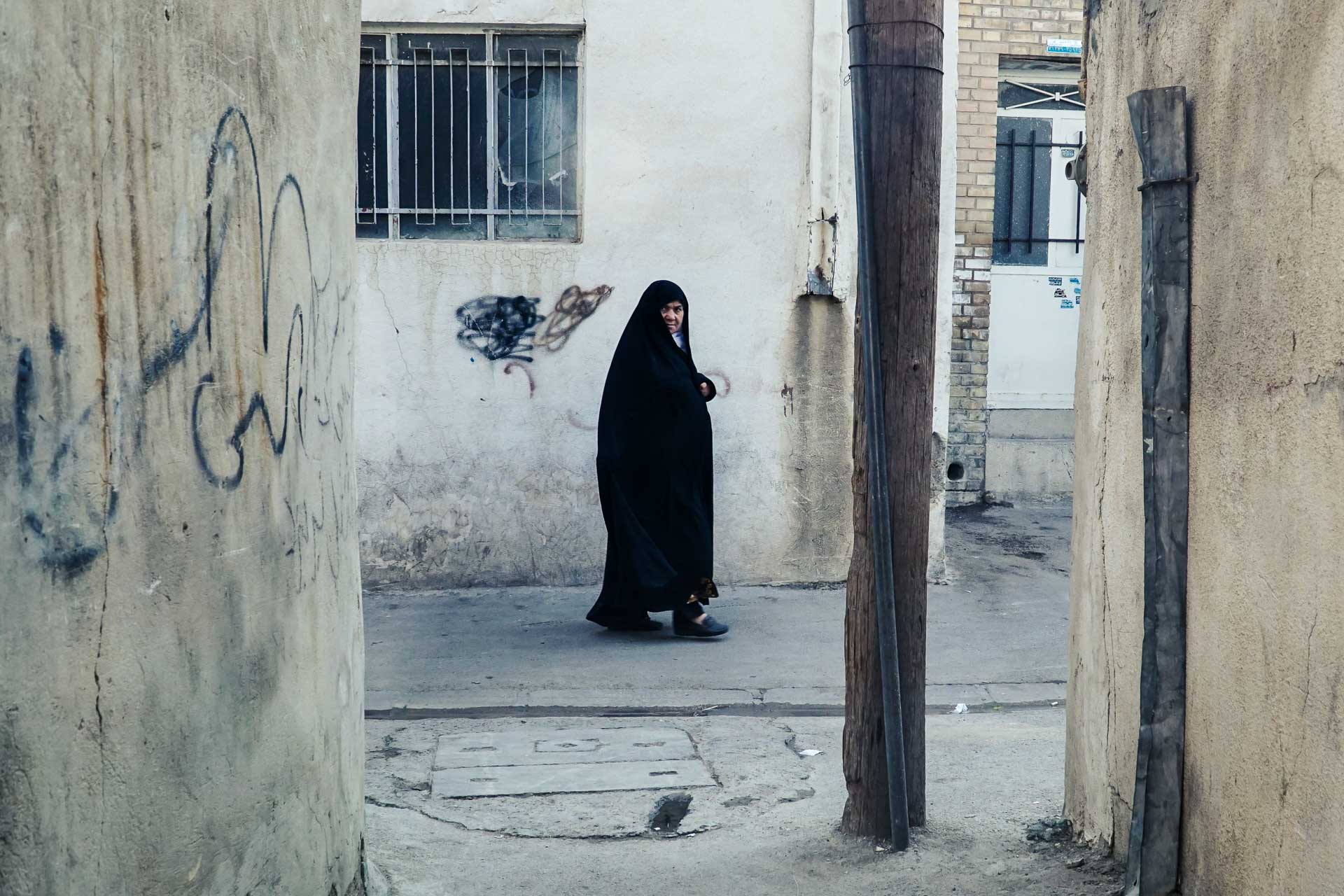 Aramgah-e Shar-e Cheragh: a magnificent group of buildings, mausoleums and mosque. They provide a free guide in English. Ah, and women have to wear the shador, which is that garment that covers everything but the face. Don't worry, they provide you with one at the entrance;
Aramgah-e Hzez: the tomb of the great Persian poet Hafez;
Eram Garden;
Mosque Nasir-al-molk: the famous Pink Mosque, and one of the most beautiful places in Iran. Make sure to arrive before 8h30am to see the effect of the sun reflecting on the colourful glasses. And be ready for crowds!
Take a day tour to visit Persépolis, Pasargad and the Necropolis:  You can either find a driver/guide in Shiraz yourself – you will see many people offering the tour at Shiraz's city centre – or you can find more tours here. PS: If you prefer to go yourself, we recommend to head to the main bus station and negotiate a deal with taxi drivers. Also, in Persepolis, we really recommend a guide too, which can negotiate a deal with someone at the entrance.
Where to stay in Shiraz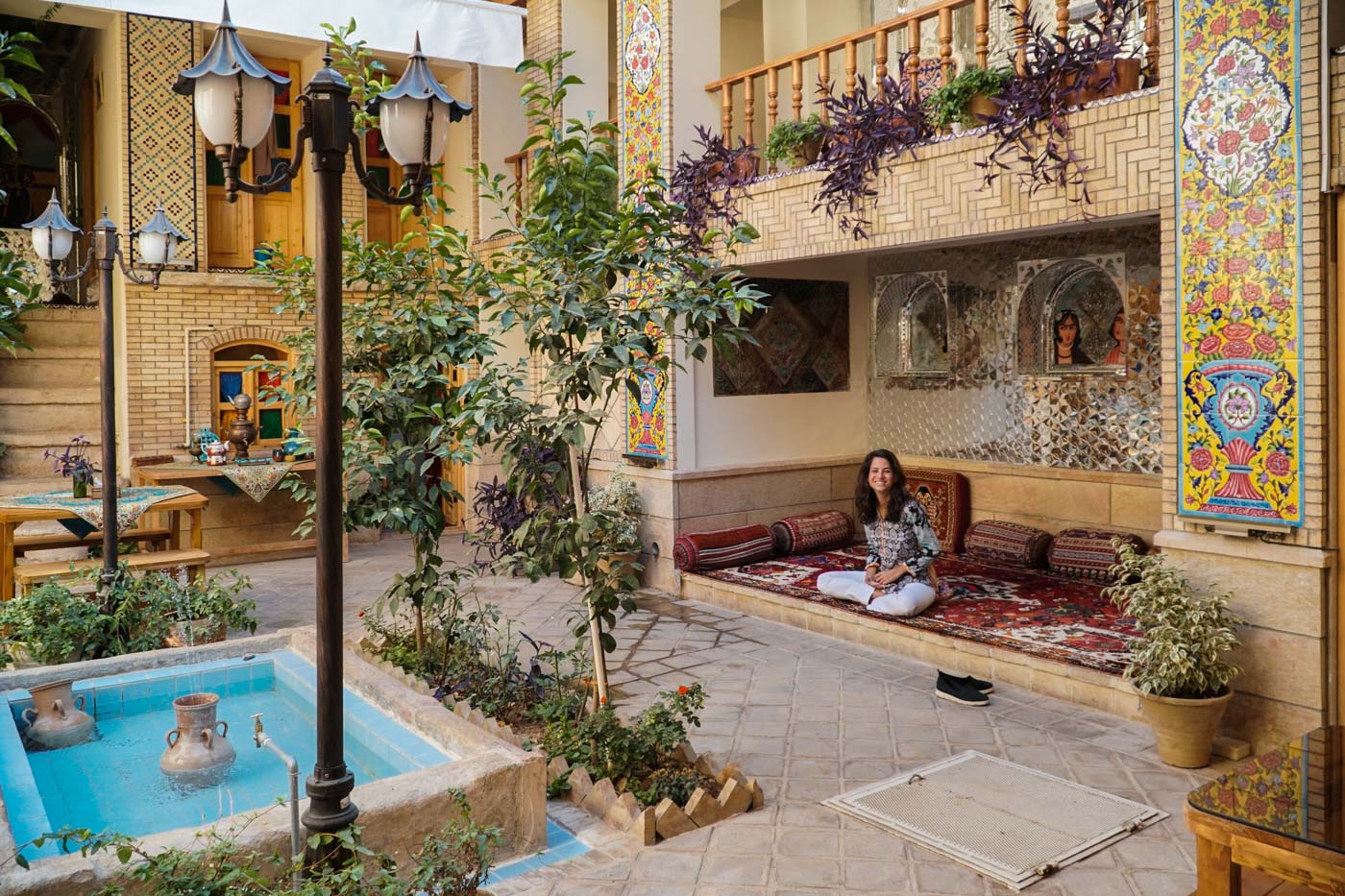 In Shiraz, we stayed at the traditional Homayouni House and we loved it! The hotel is situated inside an old mansion at the city centre and represents some of the best Persian architectural style.
The house is super cosy and the staff are extremely kind. The rooms are individual and breakfast is served daily on the terrace, which includes fresh traditional bread prepared on site by a local woman.
– Yazd
We recommend two days to see Yazd's top attractions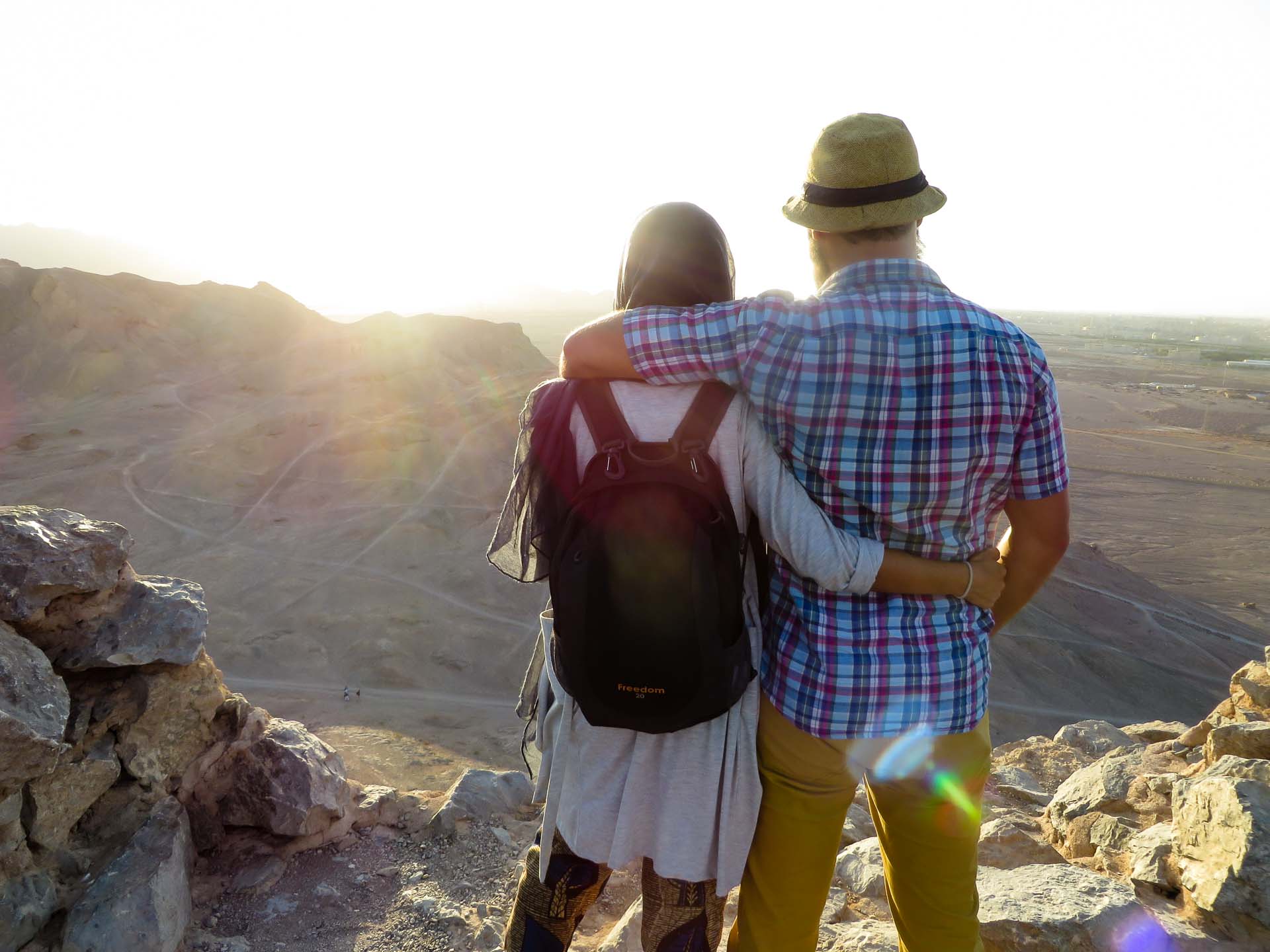 Yazd is located nearby the desert, so make sure to avoid the hottest seasons.
The city of Yazd has one of the largest Zoroastrian population in Iran and is the perfect place for learning more about the world's first monotheistic religion. The Zoroastrian slogan is "Good Thoughts, Good Words and Good Deeds" (or پندار نیگ گفتار نیک کردار نیک). Inspiring, right? We like this Zoroastrian mantra so much that we even tattooed it on our arms.
Yazd tourist attractions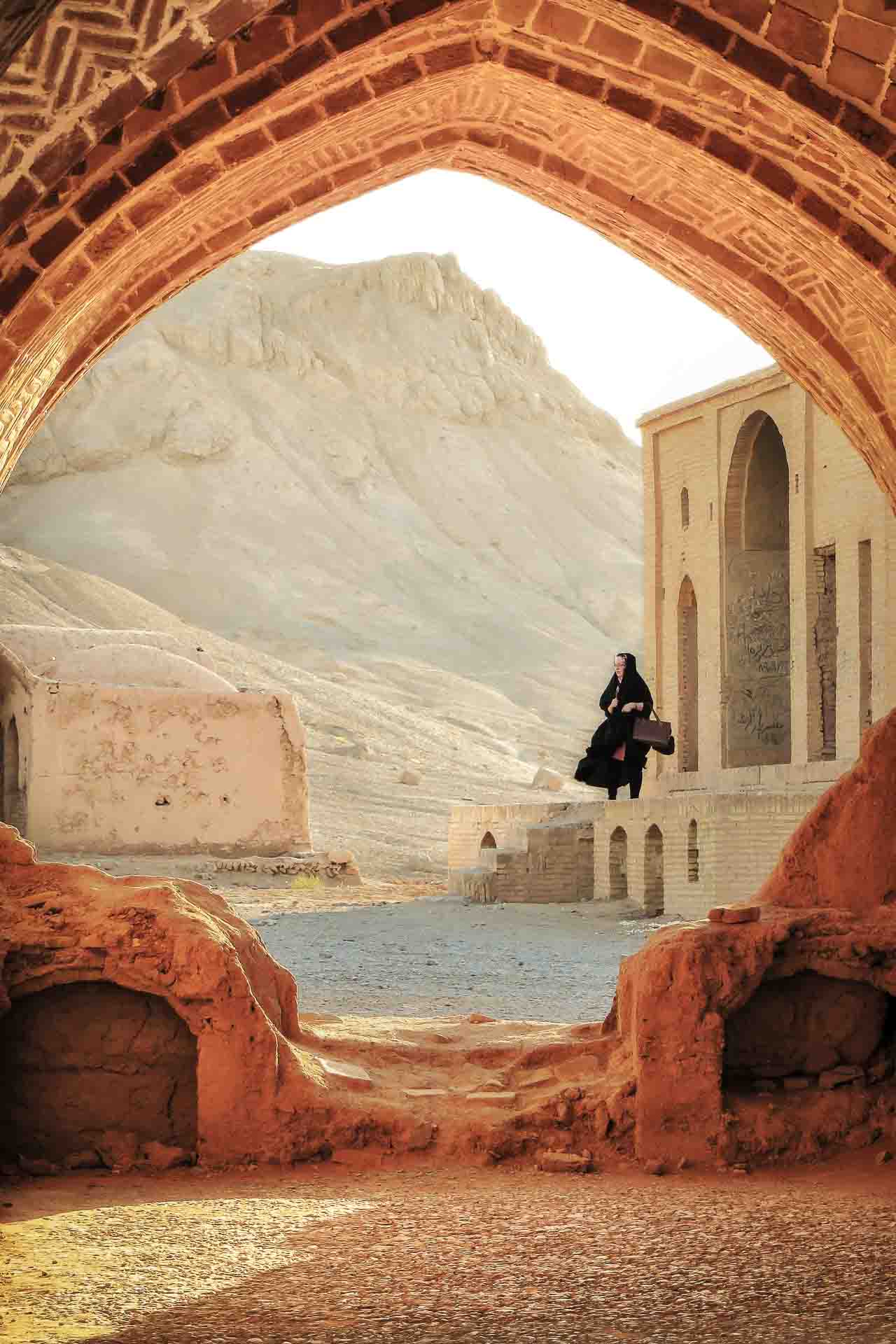 Attend a presentation of Pahlevani, the Iranian wrestling training: This is a very old and traditional Persian type of martial art. In Yazd, we only managed to see competitors training, which is also cool. However, it was during the World Nomad Games, in Kyrgyzstan, that we managed to watch a real fight of Pahlevani.
Visit the Zoroastrian Atashkadeh Temple: over there, there is a flame said to be burning for over 1500 years (yes fifteen hundred, not a mistake that made you believe it could be five hundred, or even one hundred – fifteen!). The Zoroastrians have the four elements of nature as sacred, for that reason the never-to-cease-fire is housed inside a temple;
Getting lost in Yazd's Old Town charming alleys;
Visiting the Jameh Mosque;
Visiting the Towers of Silence.
– Kashan
We recommend two to three days for Kashan
one day to walk around Kashan; another one to visit the nearby city of Abyaneh; and a third one for a day trip to Manjarab desert.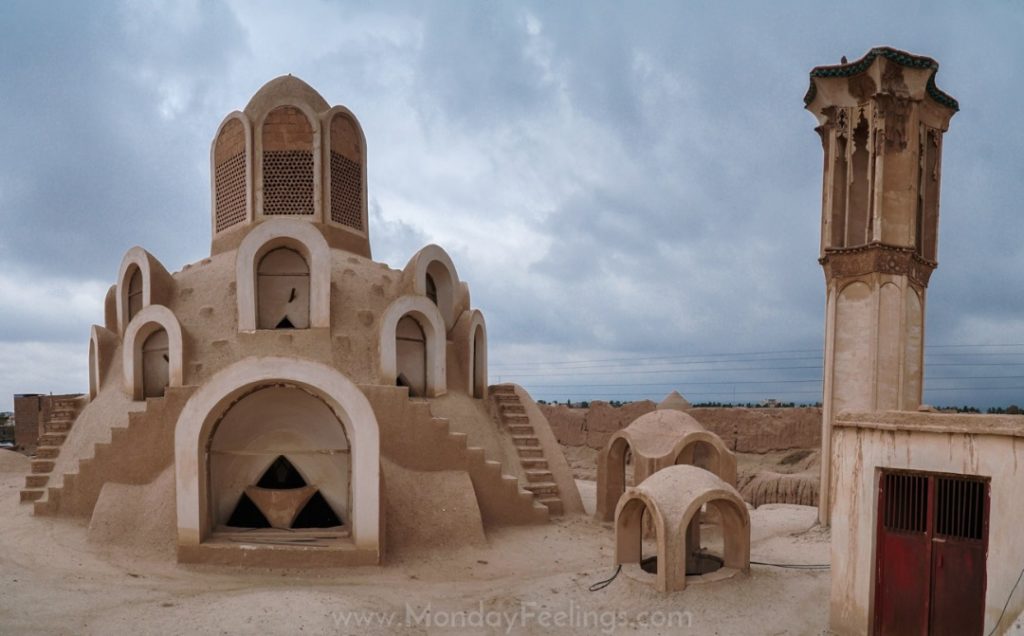 Kashan is a very historical Iranian city. Located only two hours away from Tehran, it is becoming more and more popular amongst local and international tourists in recent years. The best tourist activity in Kashan is to visit its traditional houses, which perfectly represent the Persian culture and architecture.
As locals explained to us, every traditional Iranian house must have three elements: light, colour and water; and you find all of them at Kashan's historical houses.
Kashan tourist attractions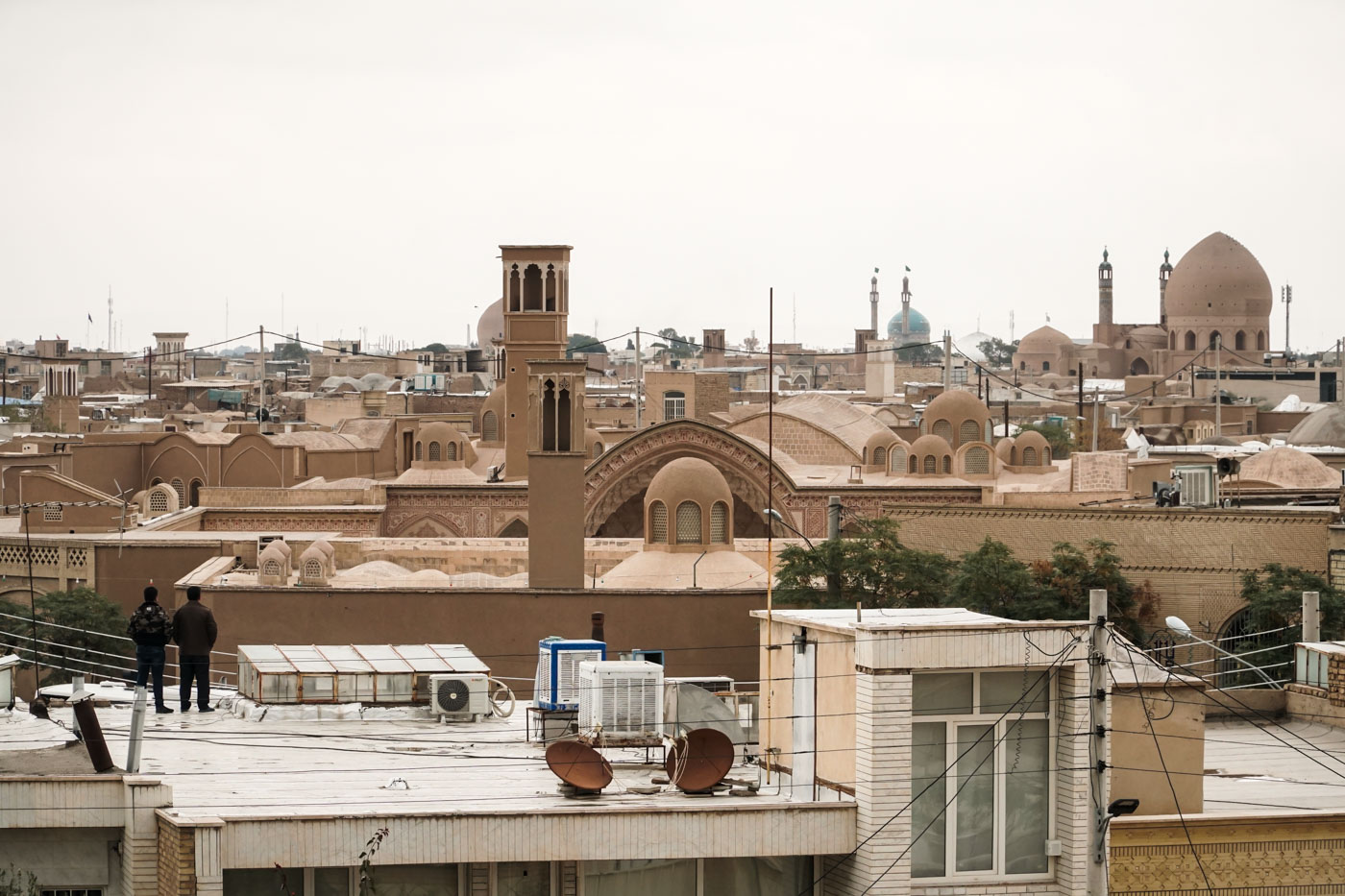 Visiting Abbasian Historical House;
Visiting the Historical House Sazvr;
And also visiting Tabatabaei Historical House;
Walking around Fin Garden;
Visiting the underground city of Nushabad – A 1500-year-old subterranean city where ancient Persians took refuge in times of war;
Making a day trip to the traditional city of Abyaneh;
Making a tour to the Manrajab Desert
TIP: You can book a tour which will cover the underground city of Nushabad, the Maranjab Desert and the Kashan Salt Lakes all together!
Where to stay in Kashan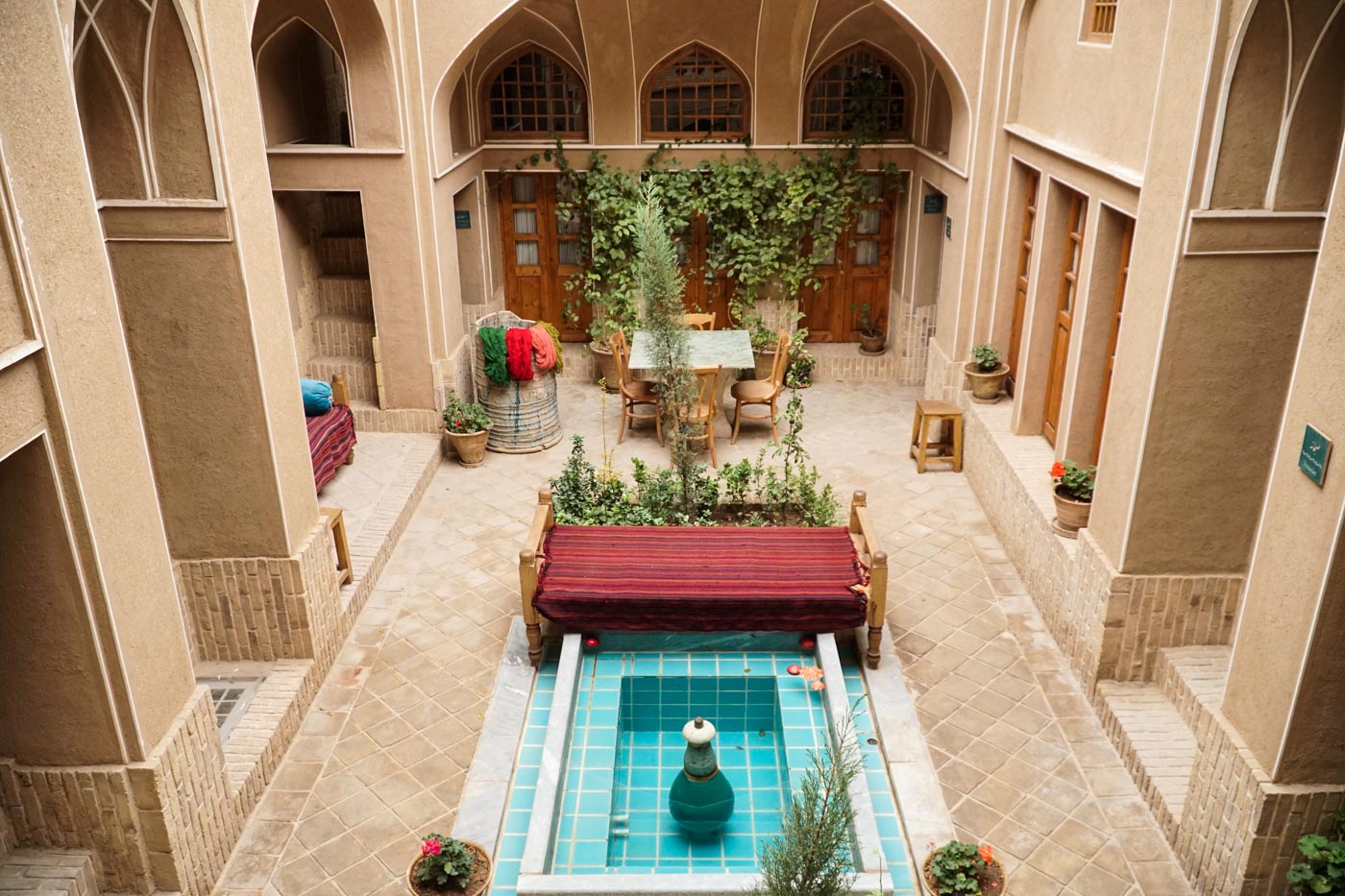 As we said, the city of Kashan is known for its traditional houses and there are many hotels housed inside these historical buildings. Choosing such type of accommodation is a great way of getting a better sense of this local treasure.
We stayed at the Sarva House, a very beautiful and charming boutique hotel located inside a traditional Iranian house. The Sarva House has only a few rooms, all en-suites, facing the central terrace. In addition to the space, which is very beautiful, they serve a delicious breakfast with many local dishes.
– Kerman and the Lut Desert
We recommend one day for exploring the city of Kerman, and three days for the Lut Desert Tour.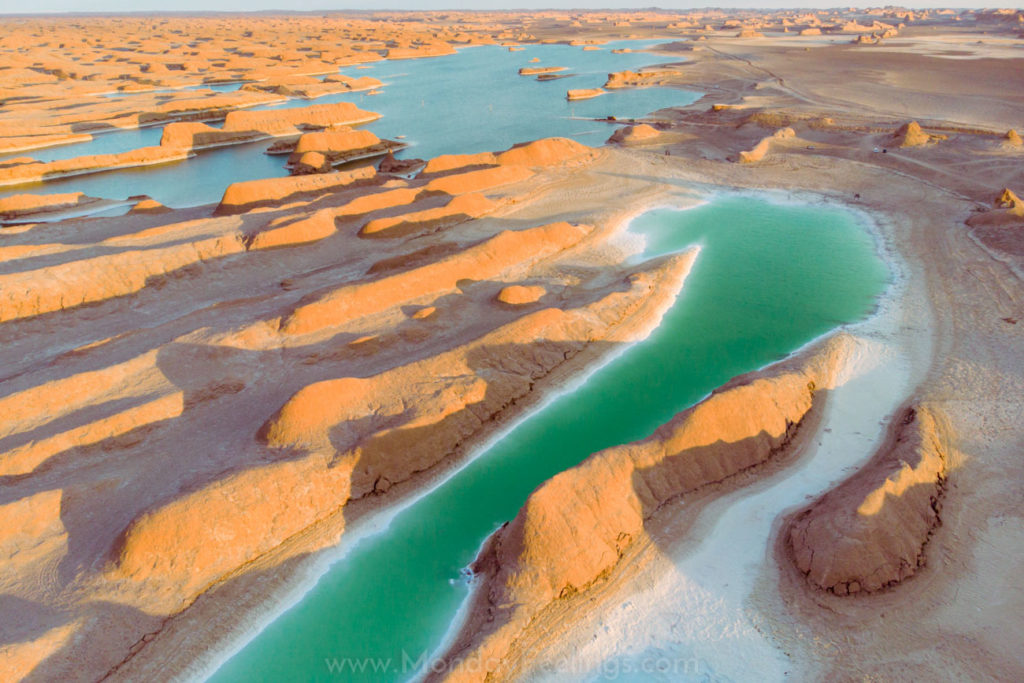 Kerman is not a very popular tourist destination for international travellers. However, it is one of the favourite activities amongst local tourists. An also historical city – it's getting repetitive, isn't it? -, Kerman has an interesting Central Bazaar, one of the oldest in the country, as well as some beautiful mosques and a few famous Iranian baths.
To be honest with you, we didn't find the city of Kerman that interesting. But, the nearby Lut Desert is one of the best things in Iran that will make your trip to this city worthwhile! The Lut Desert in Iran, also known as Dash-e Lut, is one of the most spectacular deserts we have ever visited.
We took a three-day tour with Ali, from the Azure Dome agency, and we cannot recommend him enough. During our three-day tour in the Lut Desert, we camped under the stars, climbed to the top of a mountain full of volcanic rocks, swam in an oasis, watched the sunrise on top of unique rock formations known as Kalut, and even witnessed the beautiful emerald green lakes that appeared in the dunes after the desert flooded (check out this video!).
For those interested in this Lut Desert tour, we leave here Ali's Whatsapp number: +98 913 295 6978.
– Tabriz
We recommend one or two days to see Tabriz tourist attractions.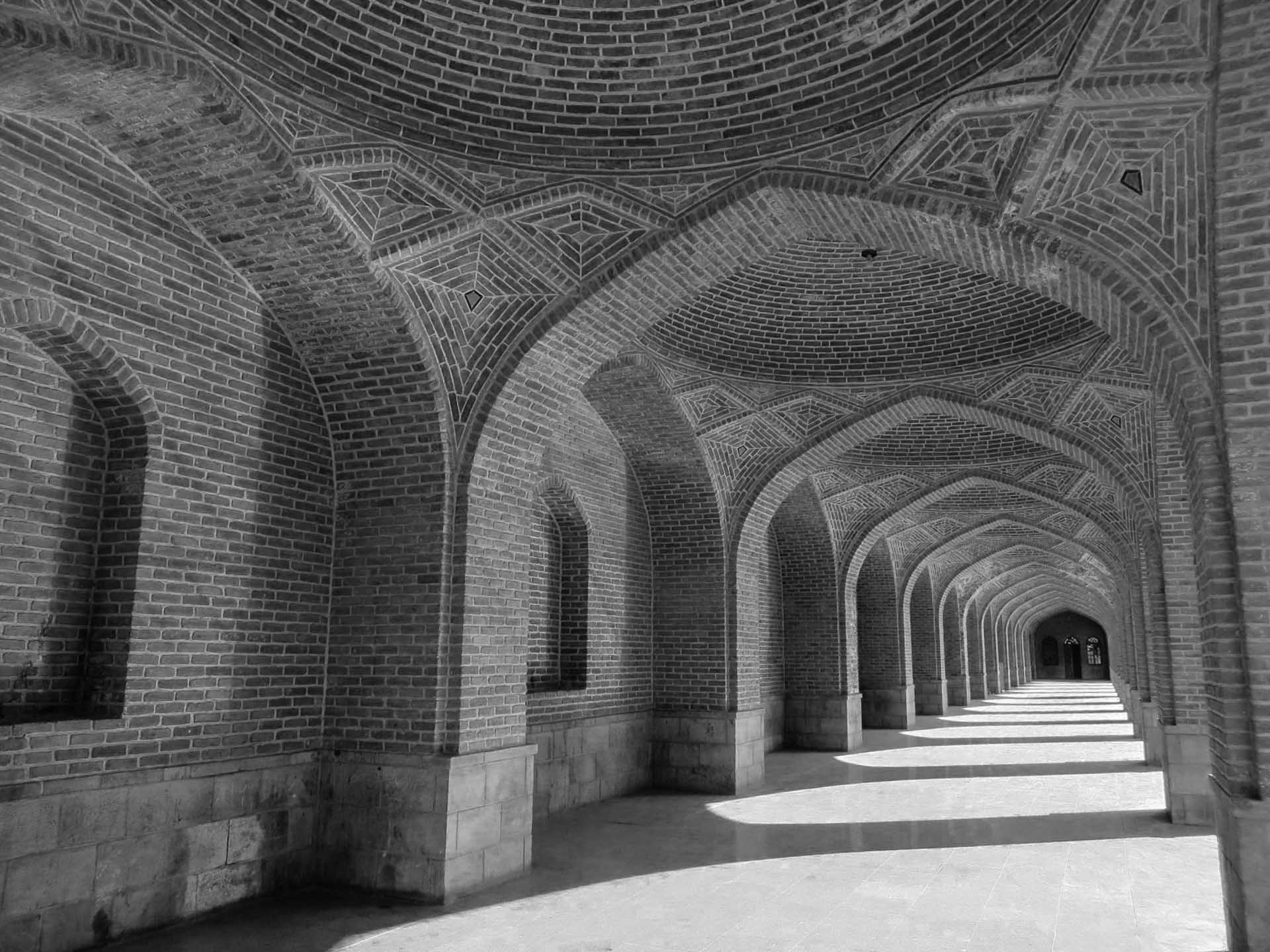 Tabriz has cultural traits more similar to Turkey than to Iran. The city is located in the north, near the Turkish border, being a great stopover for those visiting Armenia or Turkey. But before crossing the border to Turkey, check your government's safety recommendation for the zone.
Tabriz tourist attractions
Visit Kandovan, the Iranian Cappadocia;
have a look at the Kabood Mosque;
Visit the Centre Baazar: once again, if you like shopping.
Check the places of where to stay in Tabriz.
– Hormuz Island
We recommend one to two days to visit Hormuz Island.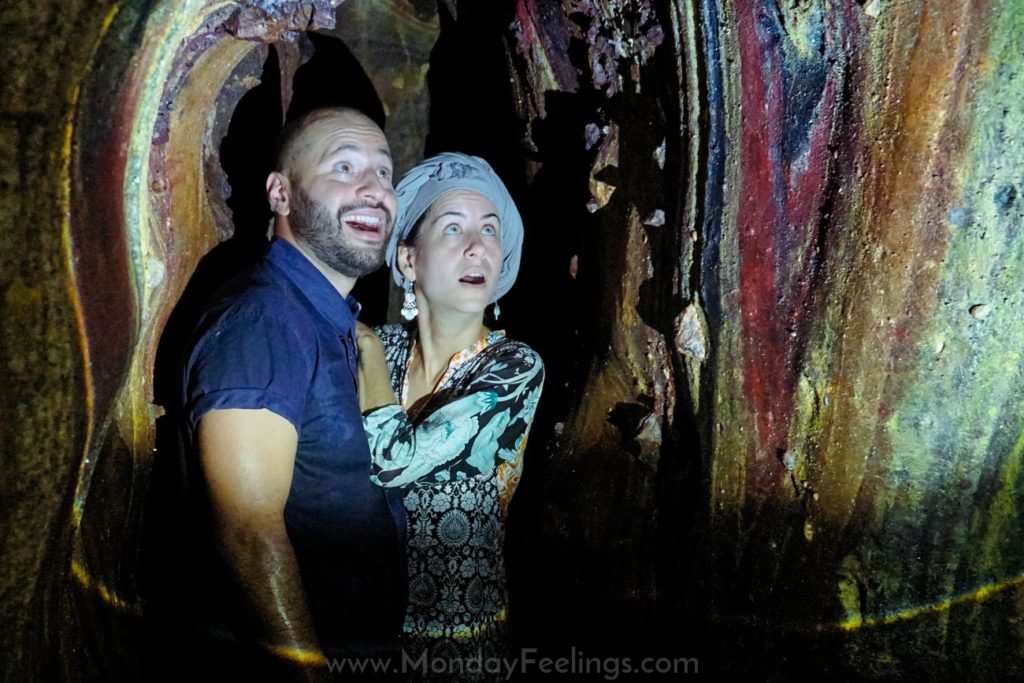 Known as the Rainbow Island, Hormuz is an Iranian island of exceptional beauty in the Persian Gulf.
The interesting thing about Hormuz island is that, as it is located quite far from other major urban centres, the atmosphere there is a lot more relaxed, level you even see women walking around without the hijab.
To arrive at Hormuz Island you must take a ferry from Bandar Abbas.
Hormuz tourist attractions
Red Beach and Silver Beach,
the Rainbow Cave,
the Rainbow Mountain,
the Portuguese Castle
and Dr. Ahmad's Museum.
See where to stay in Hormuz Island.
– Qeshm Island
We recommend one to two days to visit Qeshm Island.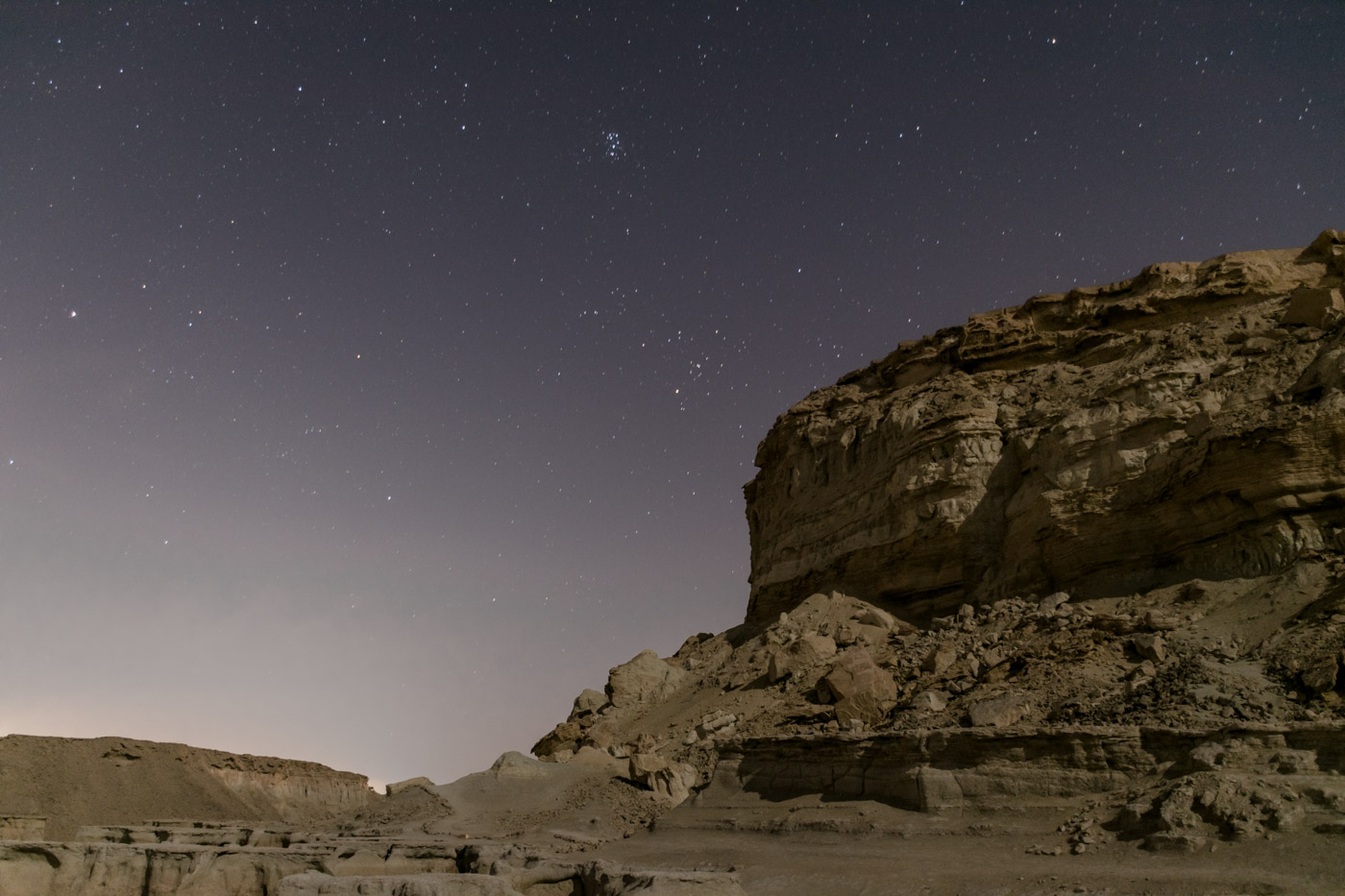 Located next to Hormuz, also in the Persian Gulf, Qeshm Island is an UNESCO Global Geopark. The island is super mystical and has several environmentally and culturally protected areas. We really recommend renting a car to explore it well! Otherwise, you can create your itinerary in Qeshm and then make a deal with a taxi driver accordingly.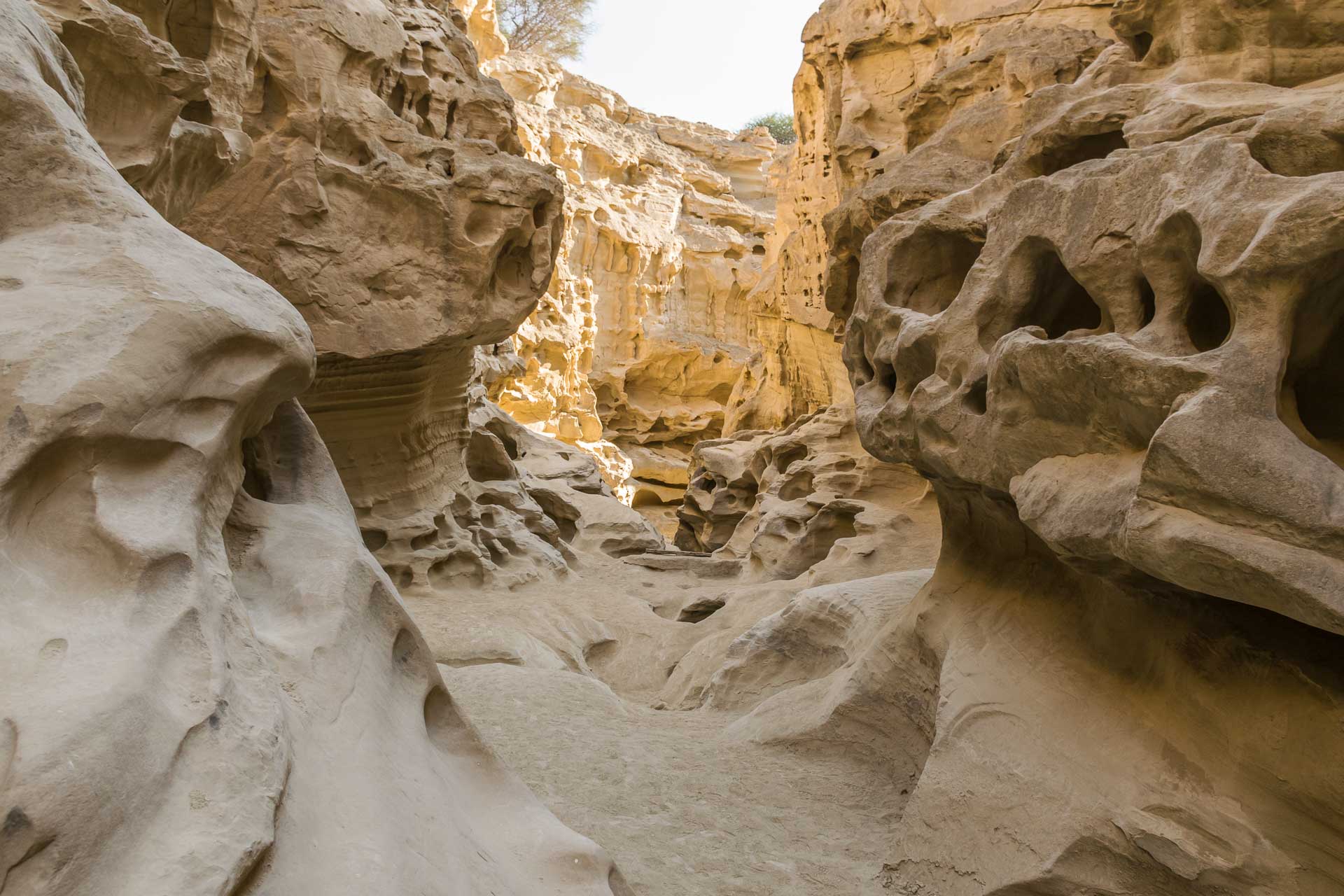 Qeshm Island tourist attractions
The Salt Cave;
Valley of the stars;
Tandis Valley – statues valley;
Chahkooh Canyon;
The Darre Shour Valley;
The mangroove;
Laft Town (Bander-e Laft) – cute little and very old village famous for its wind towers;
Hengam Island – a paradisiacal quiet and peaceful island to spend the day enjoying nature, possibly see dolphins migration and a beautiful sunset.
Special Tip: if you want to learn more about the Qeshm apparently mystical vibe, there is a cool Iranian cult movie called A Dragon Arrives.
Kish Island
The Kish Island is a paradise at the Persian Golf. The rules at Kish are completely different than in Iran:
women can swim in the beach,
alcohol is not forbidden and,
you don't need a visa to visit Kish Island.
We heard from other travellers that the island is one of the best spots for snorkelling and diving in the world.
See hotel options in Kish island.
– Hamedan
We recommend one to two days to visit Hamedan.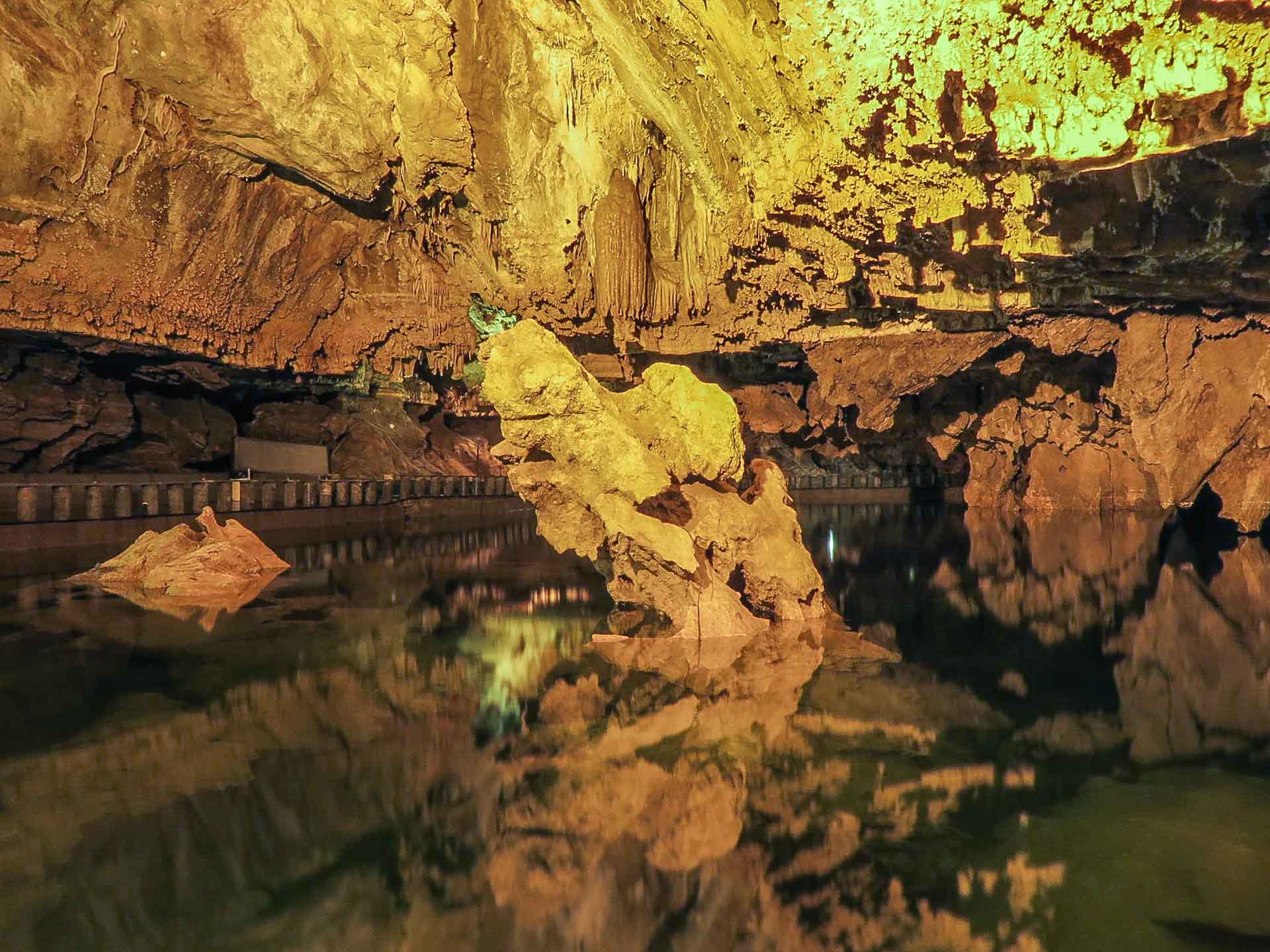 Hamedan is a pretty city and very well maintained. There is the main square where many families camp over the weekend. If you have the opportunity, go camping in the square too – good luck finding a spot though – and meet other families. Get ready to be invited to picnics!
Hamedan tourist attractions
Ali Sadr Cave: The largest water cave in the world. It is 11km large and 5km to be explored by either foot or boat.
Visit the park where there are the Ganj Nameh, registrations carved on a rock for over 2000 years, during the Persian Empire.
Find your hotel in Hamedan here. 
– Masuleh Village
We recommend one to two days to visit Masuleh.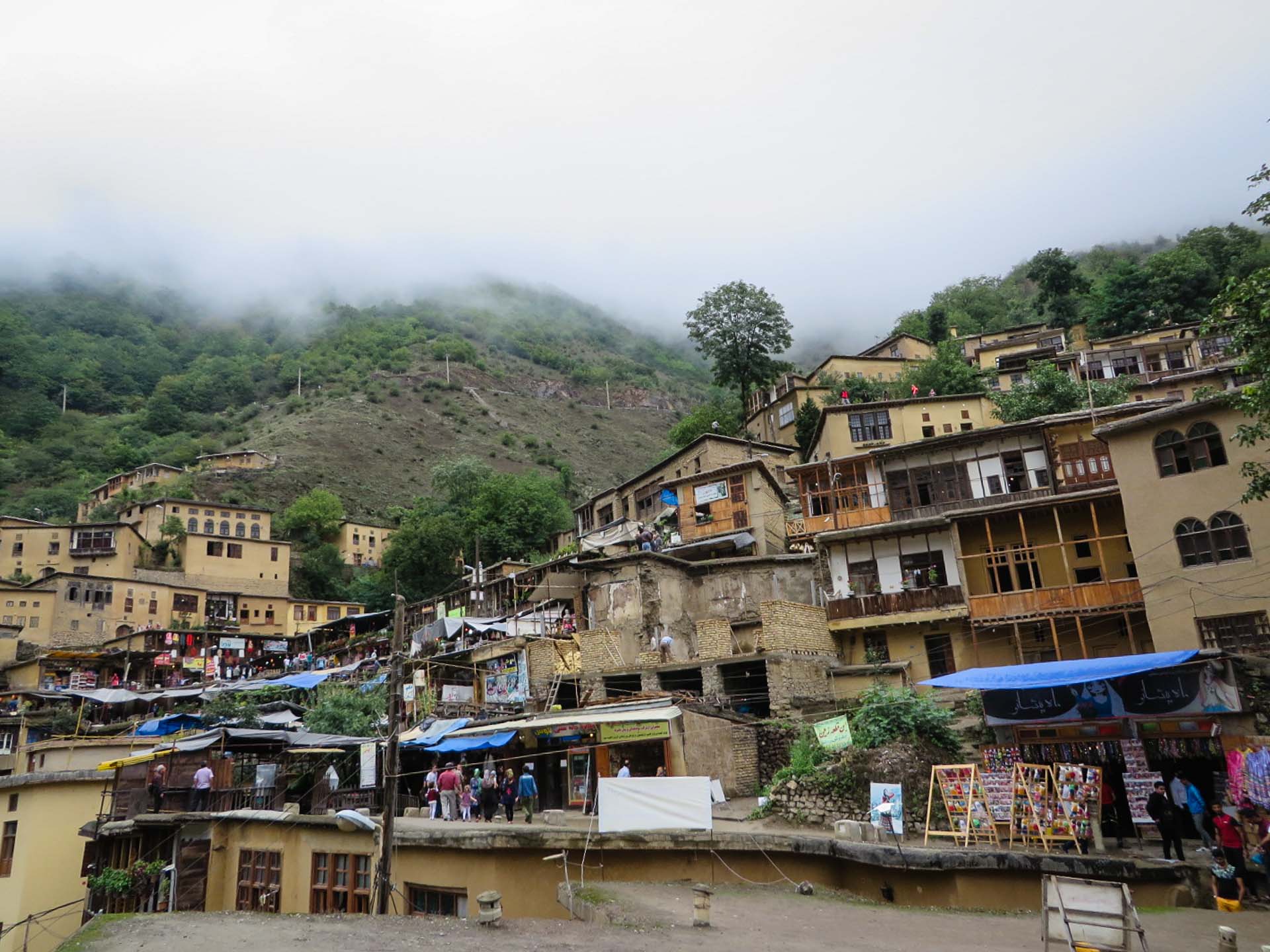 Masuleh is a cute traditional village in North Iran that has an unique architecture. The roof of the houses works like stairs to walk from one side to another. Thus, you have to walk over people's roofs when wandering about over there.
Masuleh is a notorious tourist destination amongst Iranians. It is full of market stalls, coffee shops to smoke shisha and restaurants. Definitely a place worth adding to your Iran travel itinerary if you have some extra time in the country.
– Rudkahn Castle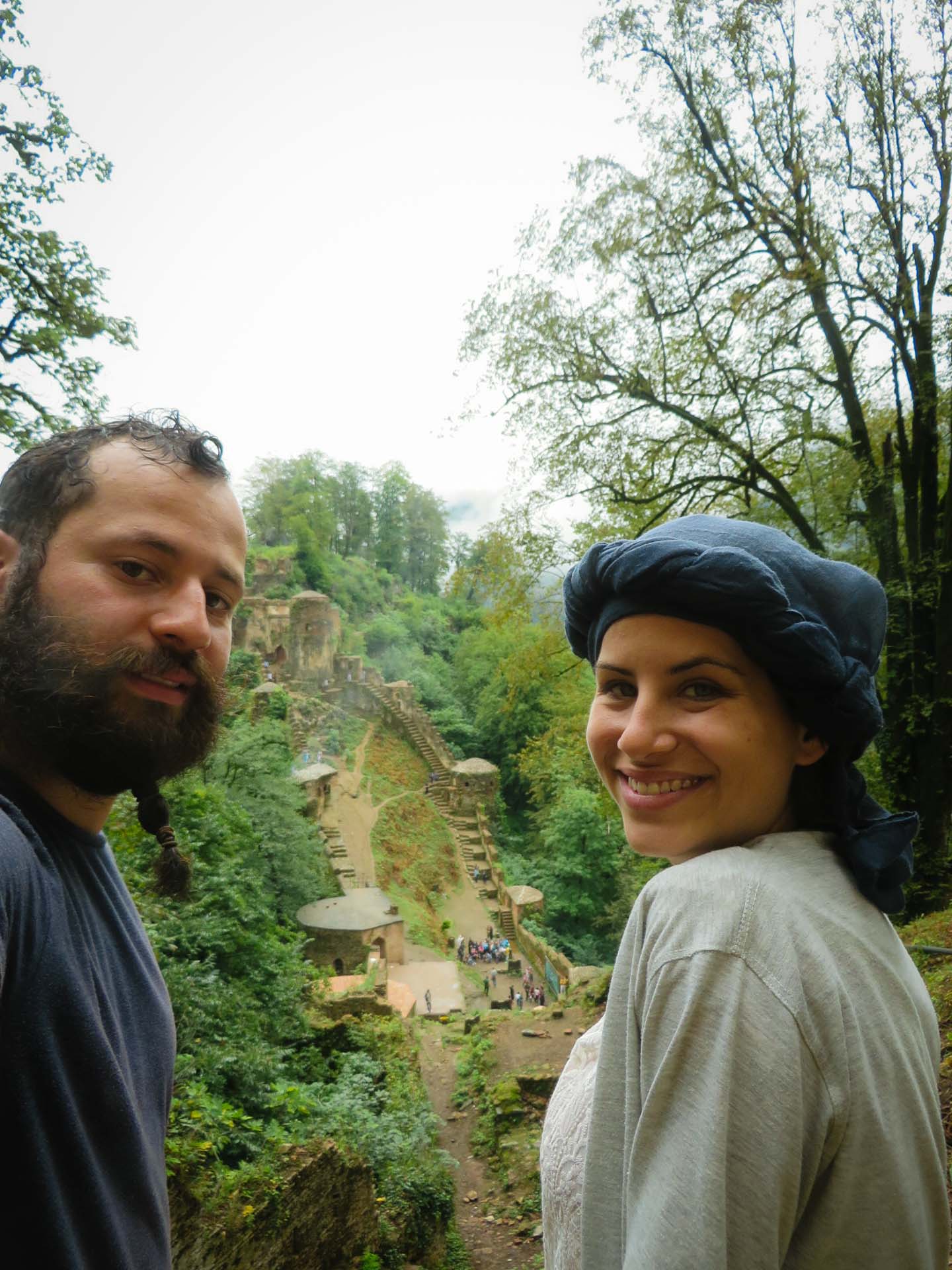 If you make it to Masuleh, don't miss out on this II century castle. The way up to the Rudkhan Castle is very nice and there are many corners to explore. In addition, you will find many Iranians enjoying the nature, reciting poems or singing traditional local songs.
– Abadan
Alright, Abadan is not a must-see in Iran. However, this is the city that surprised us the most and we could not leave it out of our Iran itinerary.
Abadan is a Brazilian town in Iran!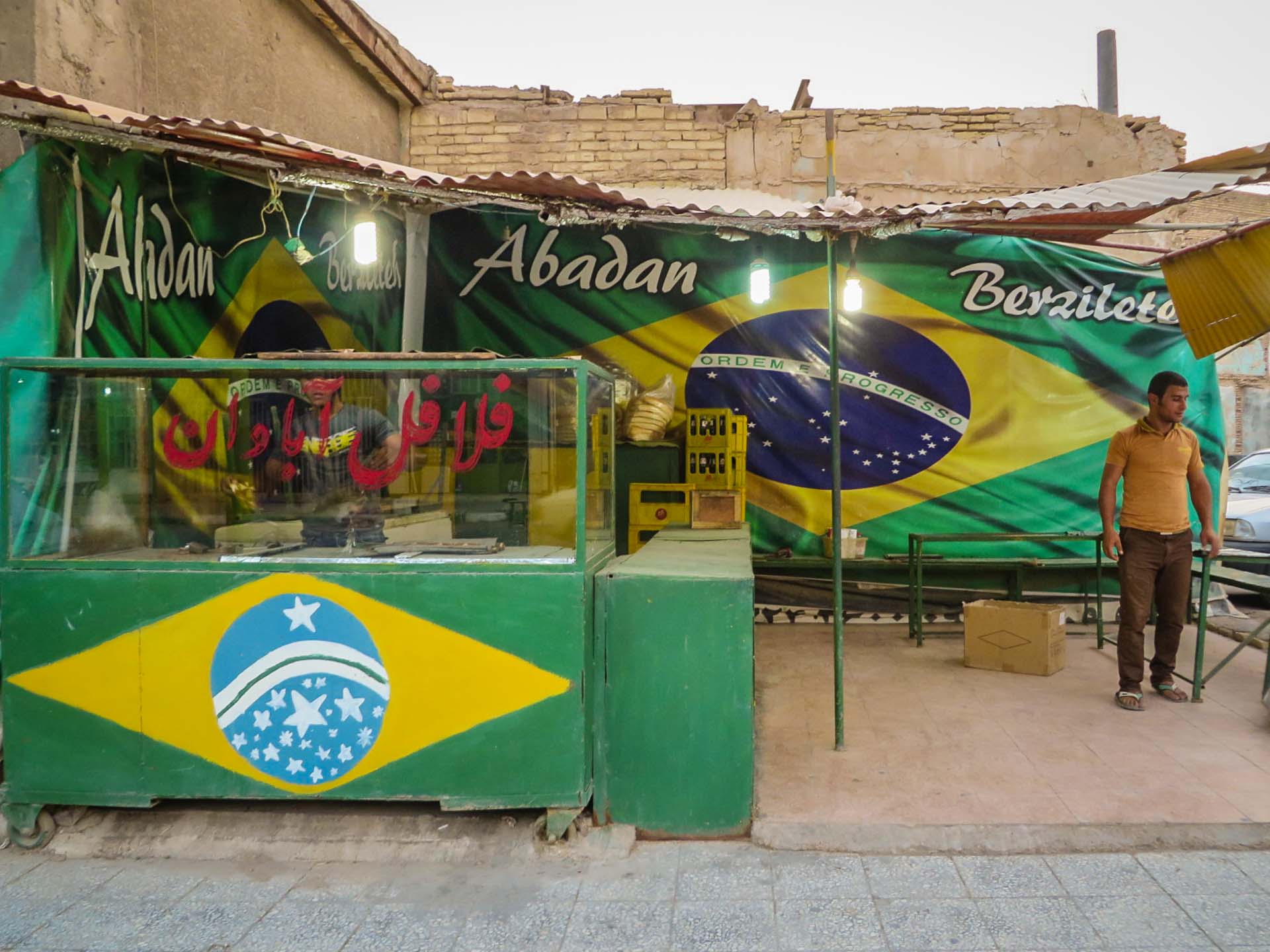 There isn't much to do over there, apart from the surreal adoration they have for Brazil. Well, after all, it is worth visiting, because in the end, the best of Iran is the people, and you will definitely see interesting ones in Abadan.
Moreover, the city was destroyed during the Iran-Iraq War. Actually, you can see Iraq just a few meters away on the other side of the river. It will be good to understand better this dark chapter of human history.
Anyway, if you are willing to go, this is a totally off-the-beaten-track destination in Iran for you to explore.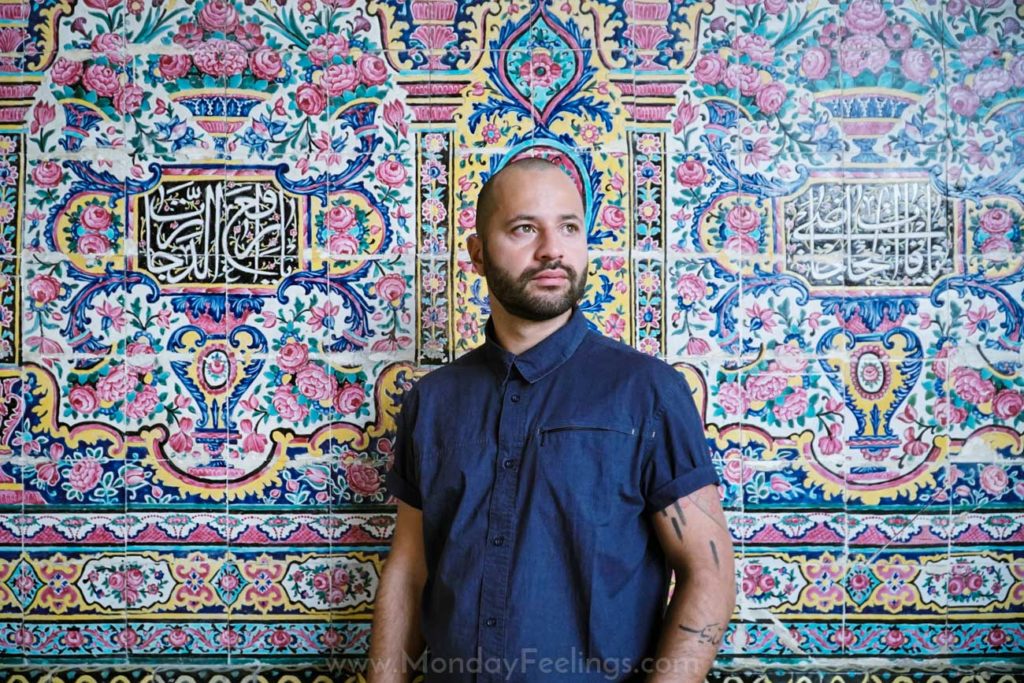 *The post Iran itinerary: The best things to do in Iran was originally written in June 2017, and updated in June 2020.