This post is also available in:

Português
If you've been captivated by our guide about the incredible Gili Islands, set in the pristine waters of Indonesia, now find out how to go from Bali to Gili Islands.
This island paradise is a must on any traveler's bucket list. It has options for honeymooners, nature-lovers, party-goers, surfers and more. So, in this guide, we unravel the secrets of making your journey from Bali to the Gili Islands the best way possible.
Bali to Gili Islands in an effortless luxury through an agency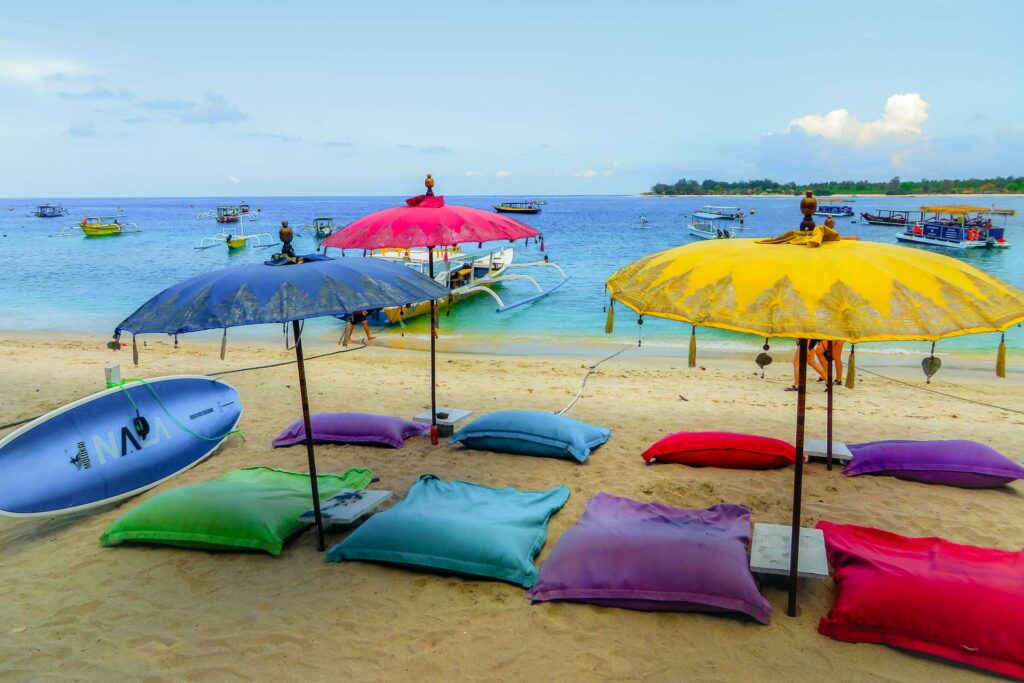 For those who value convenience and comfort, the easiest route is through a reputable agency. A chauffeur takes you from your hotel to a speedboat bound for the Gili Islands. While this option ensures a seamless experience, the price tag can reach up to US$100, making it a choice for those who prioritize comfort over budget.
If that is your style, we recommend looking at this agency here. They can pick you up at your hotel (depending where you are, you might have to pay a fee).
Bali to Gili DIY adventure
If you're an adventurous spirit or looking to save some bucks, embarking on this journey independently is entirely feasible and, more importantly, rewarding.
Step 1: Begin at Padang Bai Port
Your journey starts at Padang Bai. You can order a Grab or a Gojek for about 300,000 Rupiahs (US$20). Boats bound for Lombok depart hourly from Padang Bai. It offers a budget-friendly ticket at 43,000 Rupiahs (US$3), with a travel time of approximately 4 hours. You can bring your motorbike along for an additional 53,000 Rupiahs (US$4).
Step 2: Bemo Adventure to Bengsal Port, Lombok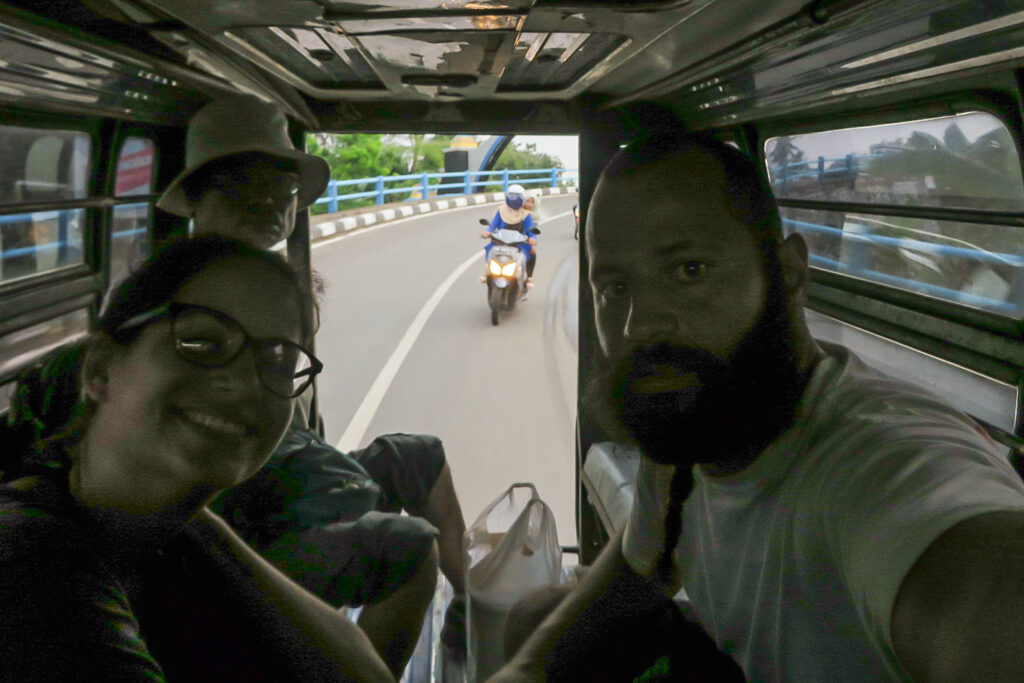 Arriving at Lembar Port in Lombok, resist the allure of taxis and opt for a bemo (minivan that operates as public transport in the region). While locals might insist on the absence of public transport, you can ignore them and walk further ahead the road.
It is not so simple to take a bemo, mainly because everybody will tell you that there are no public transports as they want you to take the taxi. But you can simply walk a little further to see the van which will take you to Mataram for 25.000 Rupiahs (US$ 2).
From Mataram, take another bemo to Bengsal port (each one costing about 5.000 Rupiah). All it might seem confusing, but seeking assistance from locals, despite language barriers, works really well. The entire journey from Lembar to Bengsal takes approximately 2-3 hours.
Step 3: Sailing to the Gili Islands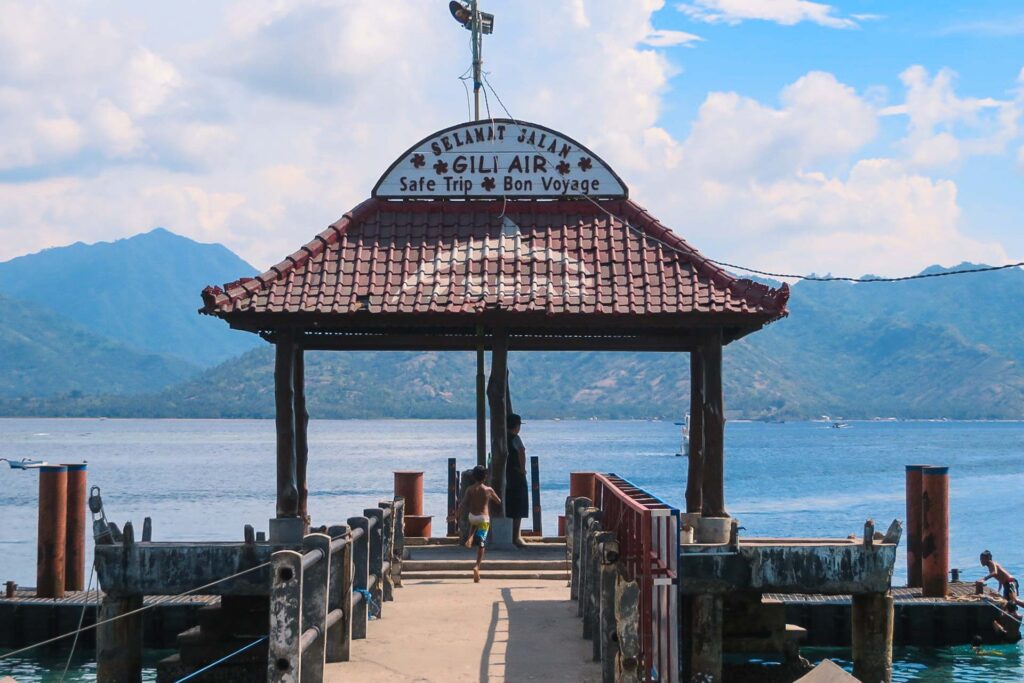 Bengsal port, your gateway to the Gili Islands, welcomes boats between 8am and 4:30pm. Operated on a first-come, first-serve basis, these boats depart when full, so timing is fluid. A modest fee of 12,000 Rupiahs (US$1) ensures passage, with an occasional extra 9,000 Rupiahs for taxes.
You can park your motorbike here if you took it with you. It will cost approximately 10,000 Rupiahs per day. Remember that there are no motorised vehicles in the Gili Islands, so you can't take yours.
Embarking on this independent journey might have some challenges. But the thrill of the adventure is an integral part of the experience. So, choose the path that resonates with you, and get ready for a taste of paradise!
Now, take the opportunity to book your accommodation in the Gili Islands here!
Exploring the Gilis – how to go from one Gili Island to another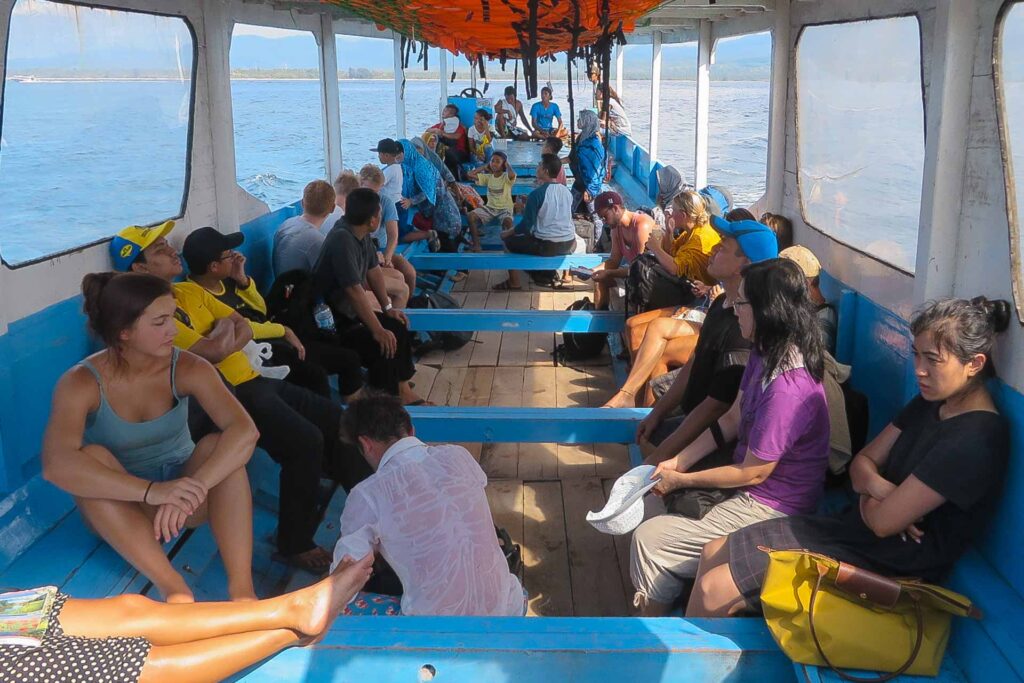 Moving between the three islands is not an issue, thanks to public boats with scheduled departures. Morning and afternoon options at 10am and 2pm respectively, offer a cost-effective passage at 40,000 Rupiahs (approximately US$3).
For those seeking a more private affair, negotiate with private boat operators whose rates range from 200,000 Rupiahs and beyond, depending on your bargaining skills. You can also rent private boats to go around the islands.
---
* This article was originally written in April 18, 2017 and updated in October 2023