This post is also available in:

Português
See here a complete guide with what to do on the Island of Boipeba, in Brazil! In this post you will find all the information you need to enjoy the best of the island: how to get to Boipeba Island, where to stay, must-see tours and much more!
The Island of Boipeba in Bahia has some of the most beautiful beaches in Brazil. Its magic, however, goes far beyond the natural beauties: this is a place that preserves a very strong ancestral popular culture, with a super authentic and welcoming atmosphere.
Boipeba Island is a different destination and you can feel it as soon as you arrive. Around here, time runs at its own pace and even the most accelerated person surrender to the atmosphere of tranquillity and cosiness. You can't help but fall in love! And in this post you'll find all the information you need to get the best out of your trip to this paradise island of Brazil!
Boipeba Island in Brazil – Index

Where is Boipeba Island in Brazil?
The Boipeba Island – or Ilha de Boipeba in Portuguese – is located in the South of Bahia region in Brazil and it is part of the Cairu Archipelago. The archipelago is formed by 26 islands, but two of them are quite notorious, which is Tinharé Island, where you also find the famous village of Morro de São Paulo, and the Boipeba Island, the topic of this complete guide of the best island of Brazil.
The south of Bahia is known to be very gorgeous. In fact, it is home of the so-called Discovery Coast – Costa do Descobrimento – the place where the Portuguese discovered (invaded) Brazil. Regardless of political statements here, no wonder the Portuguese instantly fell in love with the whole region. Boipeba Island is home of massive coral reefs, white sandy beaches, coconut trees, crystal clear water, rich culture and great weather throughout the year, which makes the Boipeba a paradise in Brazil.
Map of Boipeba Island in Brazil
Also read:
How safe is Boipeba in Brazil?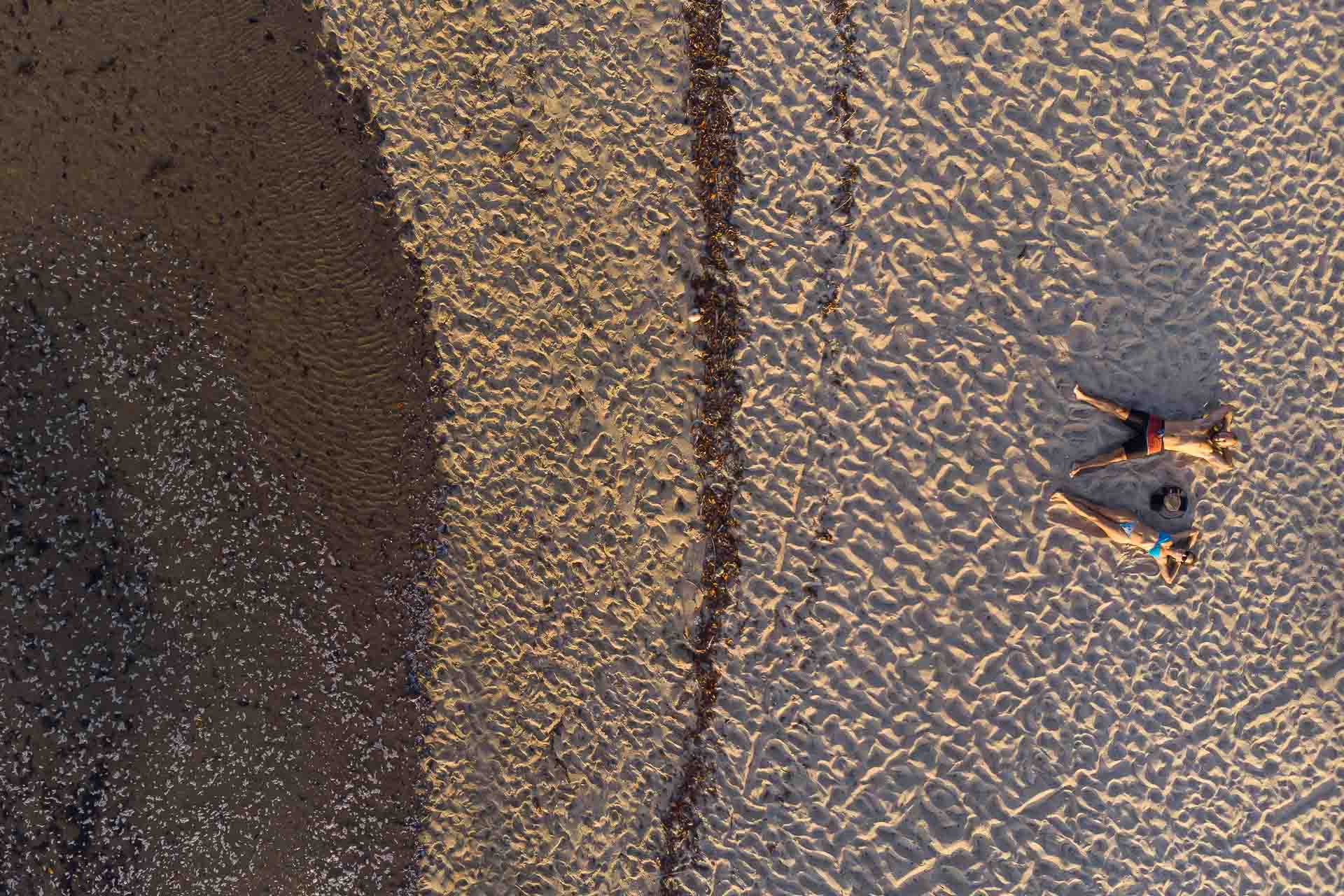 Even though Brazil is not so famous for being a safe destination, the island of Boipeba in Brazil is completely different. The four villages still hold the atmosphere of a fishing villages, where the community is more important than the individual. I am dare to stay is the safest place we have ever been in Brazil.
When we were there, our best friend lost his wallet in the night. It had money, credit cards and other important documents. Because we are from São Paulo, he immediately cancelled his credit cards. The day after, he went back to see if any one had left in some of the beach stalls. When he was walking in the beach, a young local tourist guide asked if he was Felipe. He said yes and he gave back his wallet. He said he found in the sand near the party and apologise to have used 1 R$ to buy a bottle of water, but the rest of the money was there. The Felipe took another 20 and gave to him, saying that he was right in buying himself a bottle of water. That's how safe is Boipeba Island in Brazil.
In any way, we recommend you to stay aware of where you leave your belongs and travel insured as well. Find the best insurance with World Nomad.
Villages of Boipeba Island
The Island of Boipeba is formed by four villages, Velha Boipeba, Moreré, Monte Alegre and São Sebastião (Cova da Onça). The most visited village of Boipeba Island are Velha Boipeba and Moreré. As a matter of fact, a lot of people have doubts about the difference between Velha Boipeba and Moreré. And by a lot of people, we mean us, before visiting Boipeba Island.
Basically, Velha Boipeba is the main village of Boipeba Island and Moreré being the second most famous village.
Velha Boipeba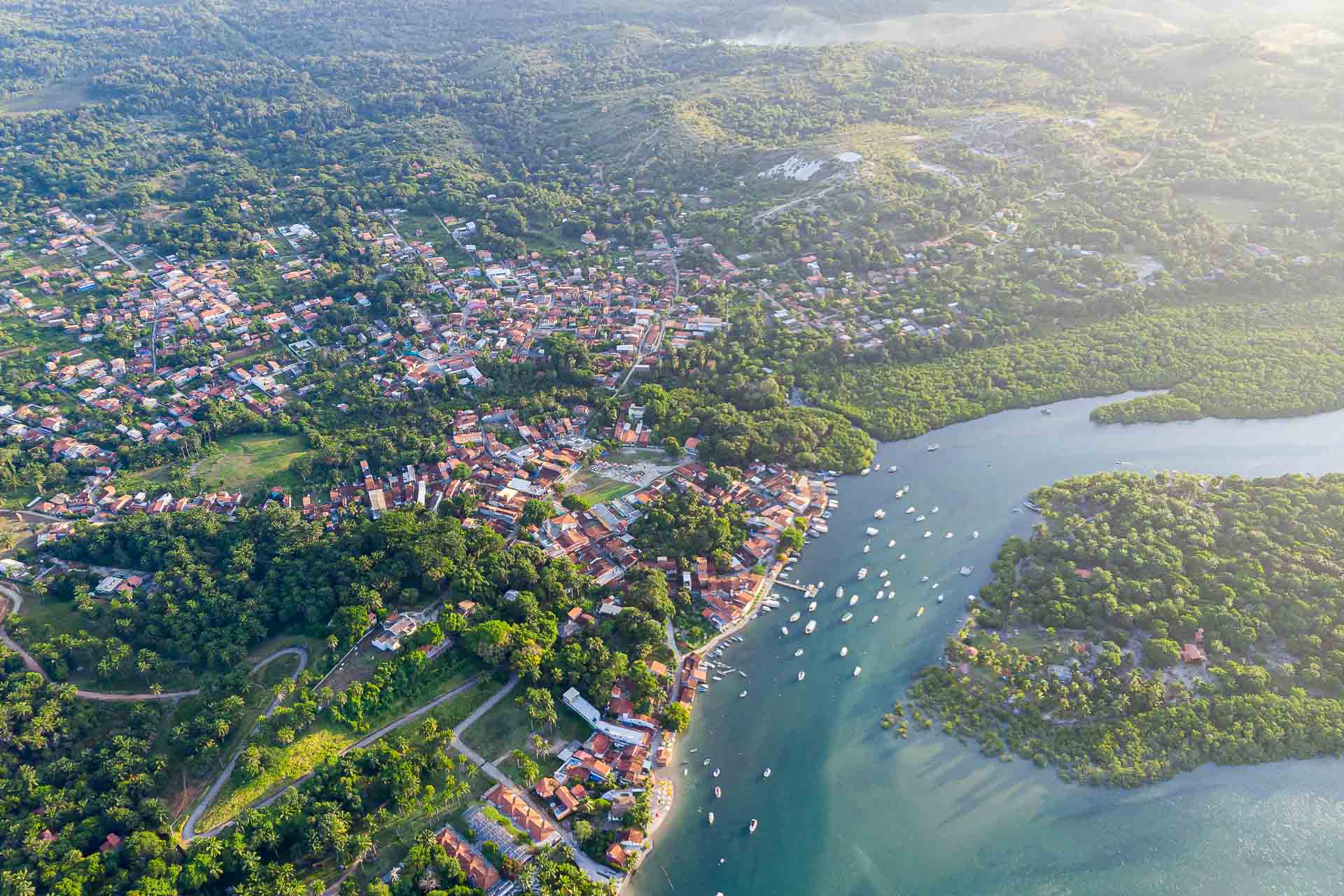 Velha Boipeba is the largest village in the island and it is here where you will find the greatest variety of restaurants, inns, markets, bakery and tourist structure in general. If you aren't much of a wild nature person, then Velha Boipeba is definitely your stop.
Even though tourism is much more present in Velha Boipeba, it does not mean the village has lost its originality. Velha Boipeba has some really nice bars, such as Casa Latina – which we loved. Every night there is something lively going on, whether it was samba, forró or awesome gigs.
Moreré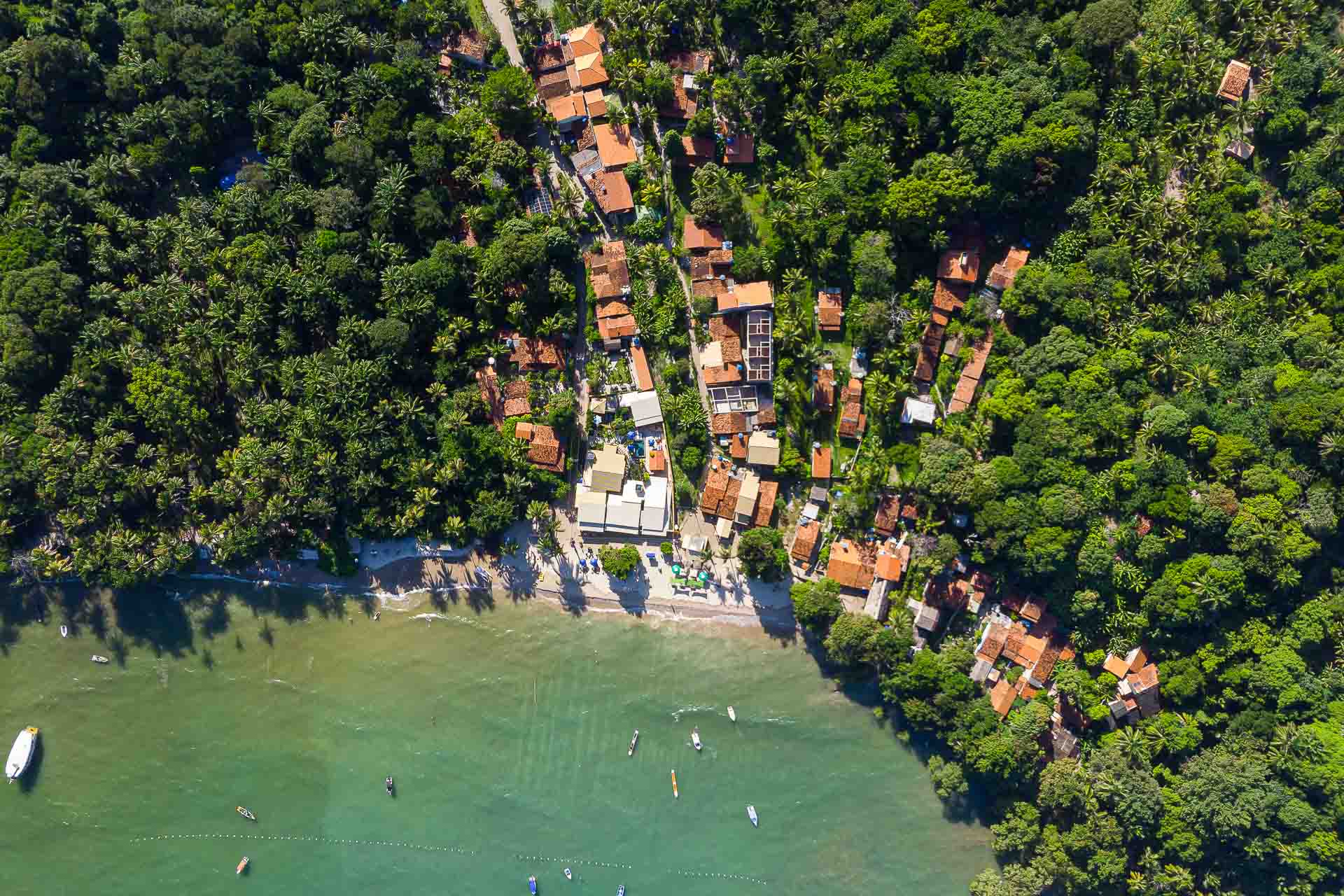 The village of Moreré in Boipeba is very quiet, with few houses and beach stalls. And that's what make Moreré absolutely amazing! You have so much closer contact with nature in Moreré that it feels like an energy charger of life. By the way, get ready for the night show that the sky of Moreré gives! The sky of Boipeba is notoriously famous in Brazil and you get to see why in Moreré.
Moreré is pretty laid back, but that doesn't mean it doesn't have its festivities from time to time. It's on the contrary, really! The natives of Moreré know how to enjoy a party and we were in some very good sambas on the beach over there. The problem is that they almost always happen spontaneously, so it is hard to predict what and when it will happen. Doesn't it make more interesting for you too?
If you choose to stay in Moreré, keep in mind that:
electricity will likely run out at some point;
does not pick up reception from any mobile operator;
wi-fi works, but is not very reliable;
there is no health centre in the village.
Monte Alegre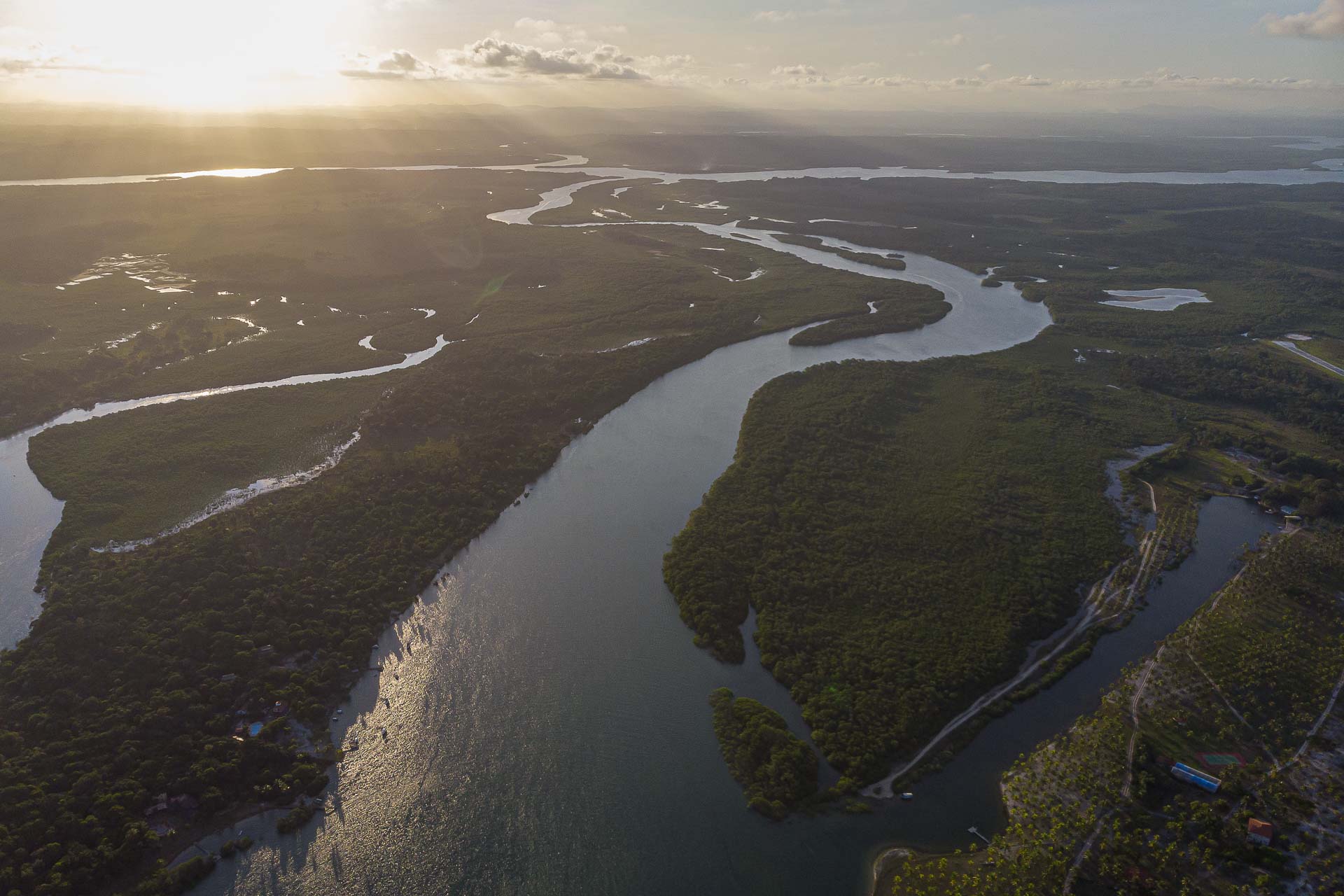 Monte Alegre is located in the heart of the island, in between Velha Boipeba and Moreré. It is the only village out of the four which is not by the coast. For this reason, it is quite hilly and surrounded by forest. This village is a quilombo, which are protect ethnic group in Brazil formed by enslaved descendants. That means it is a space of resistance and cultural preservation related to the historic oppression suffered by the black community in Brazil and it shall be respected as such.
The village is famous for its original gastronomy, particular the homegrown chicken, and its history. If you are interested in visiting Monte Alegre, we suggest speaking with Manoela, from Quase Nativa. She arrange tours to Monte Alegre. It is quite worth the visit!
São Sebastião (Cova da Onça)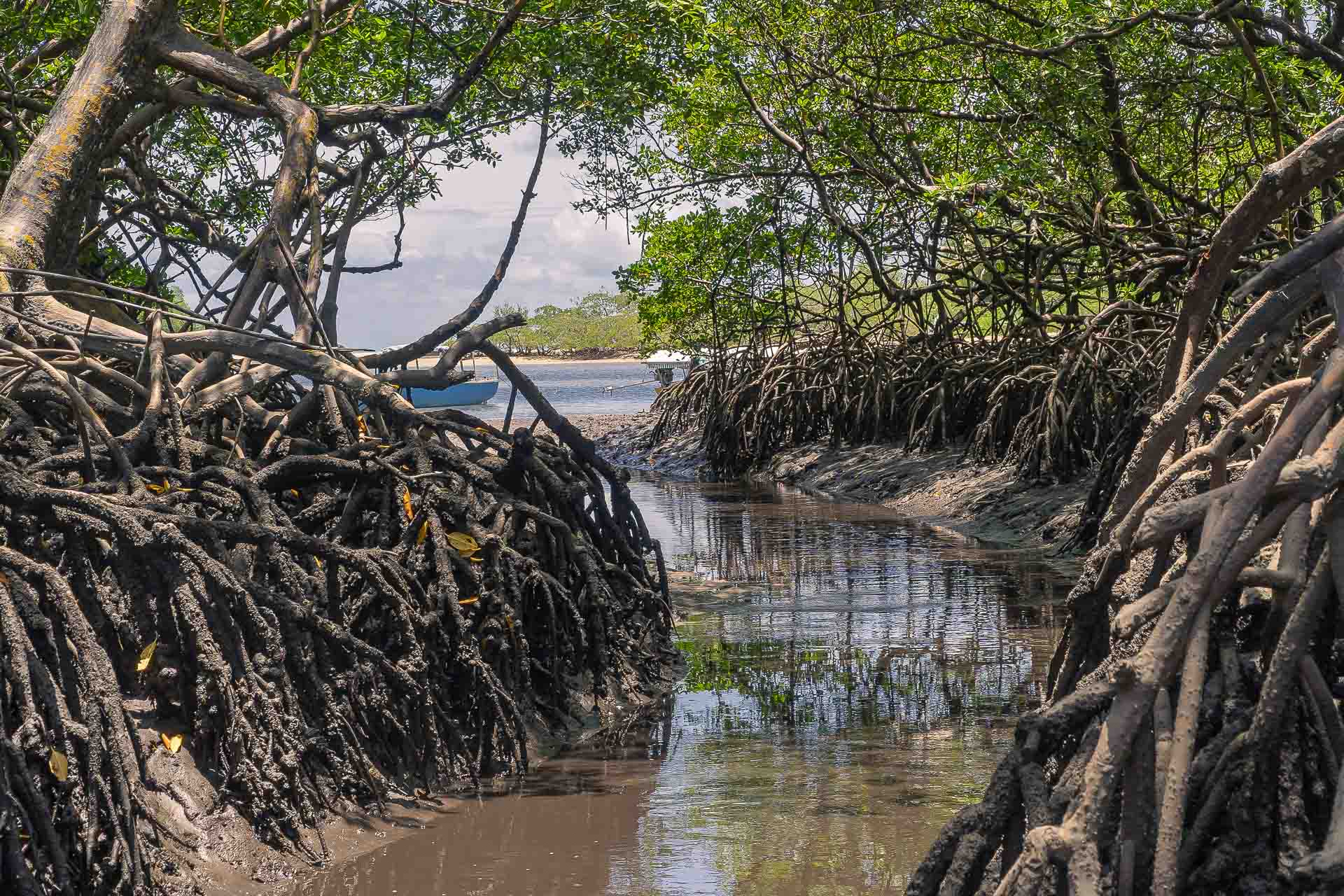 The original name of this fishing village is São Sebastião, but is commonly known as Cova da Onça (Jaguar's pit). The origin of its nickname is uncertain though, with a few legends behind. It is the furthest village from Velha Boipeba and not so easy to reach as well. You can either go by boat, around the island, or trek through the island, level medium. If you like trekking, the way passes through Monte Alegre, where you can visit the quilombo village as well. Just ensure to go with a guide and perhaps arrange a return by boat.
The village of São Sebastião is famous for its delicious gastronomy as well, especially sea food. However, it's not the best place for a swim, due to its proximity to the mangrove. If you visit São Sebastião, don't forget to visit the pit!
The Beaches of Boipeba Island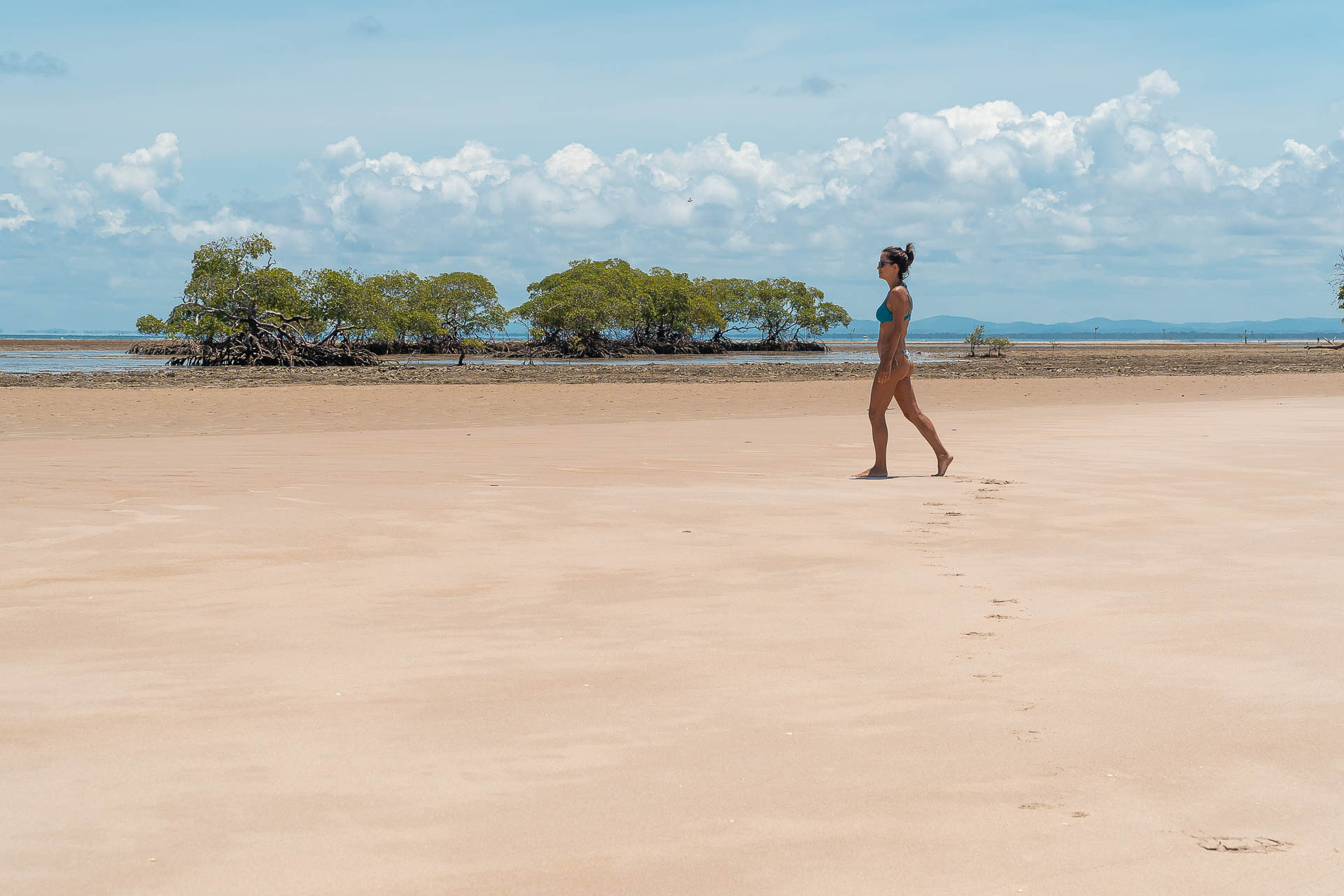 Now, we have covered the Cairu Archipelago that has two main large islands, being Boipeba Island one of them. And Boipeba Island has four villages. Among all these villages, you will find nine beaches to enjoy, which are:
Boca da barra;
Outeiro;
Pedrinhas;
Tassimirim;
Cueira;
Moreré;
Bainema;
Castellanos;
Cova da onça
Boca da Barra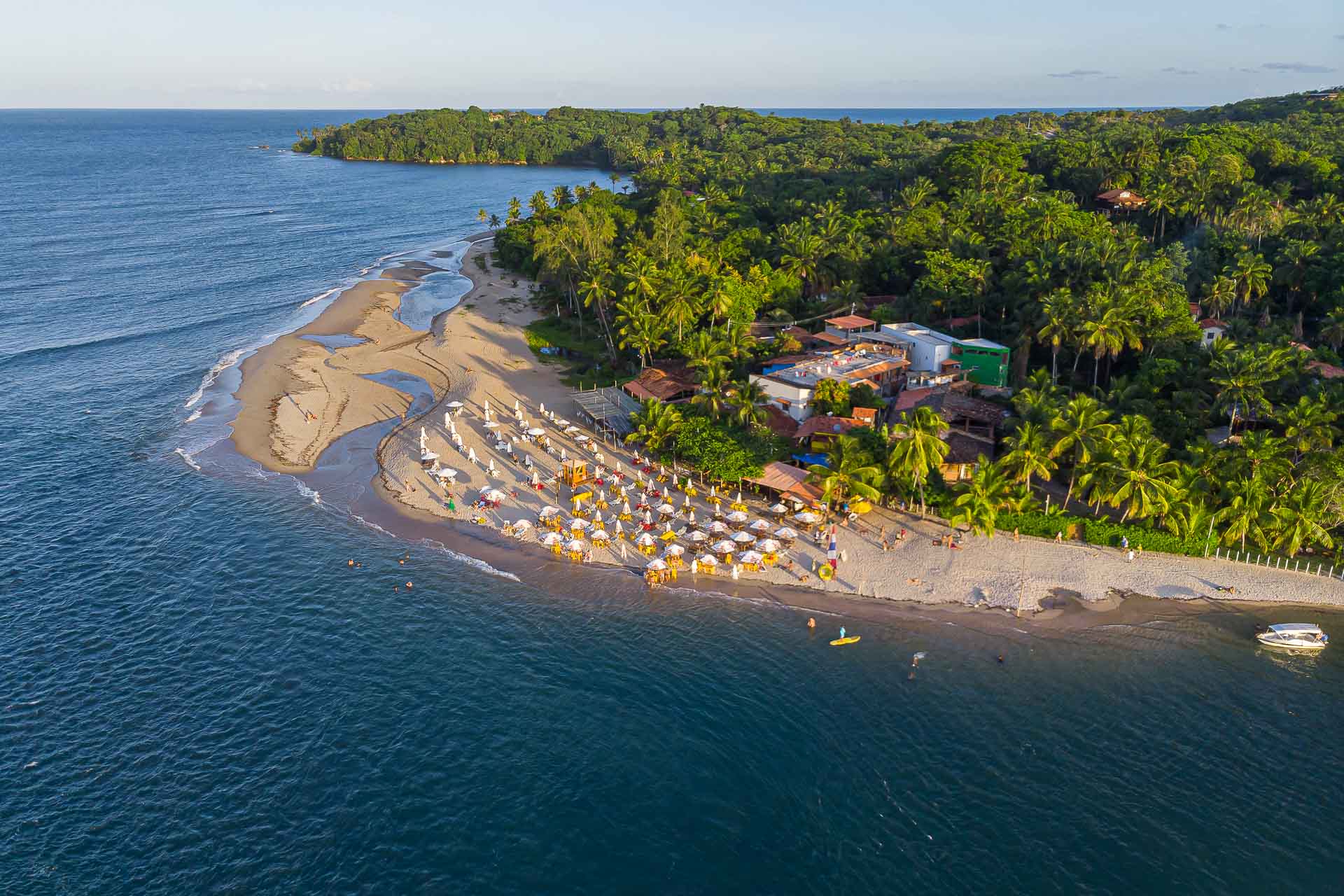 That's the most touristy beach because is the closest to Velha Boipeba and the final destination of chartered boats. The beach is quite structured, you can rent a boat, a stand-up paddle and enjoy the sunset where the river meets the sea.
Outeiro Beach
If you continue walking from Boca da Barra, you will find the Outeiro Beach. It's a short strip of sand, but very quiet. A great spot to run from the crowd of Boca da Barra. Just be aware of the tidal variation here, as high tides might take over most of your sand spot.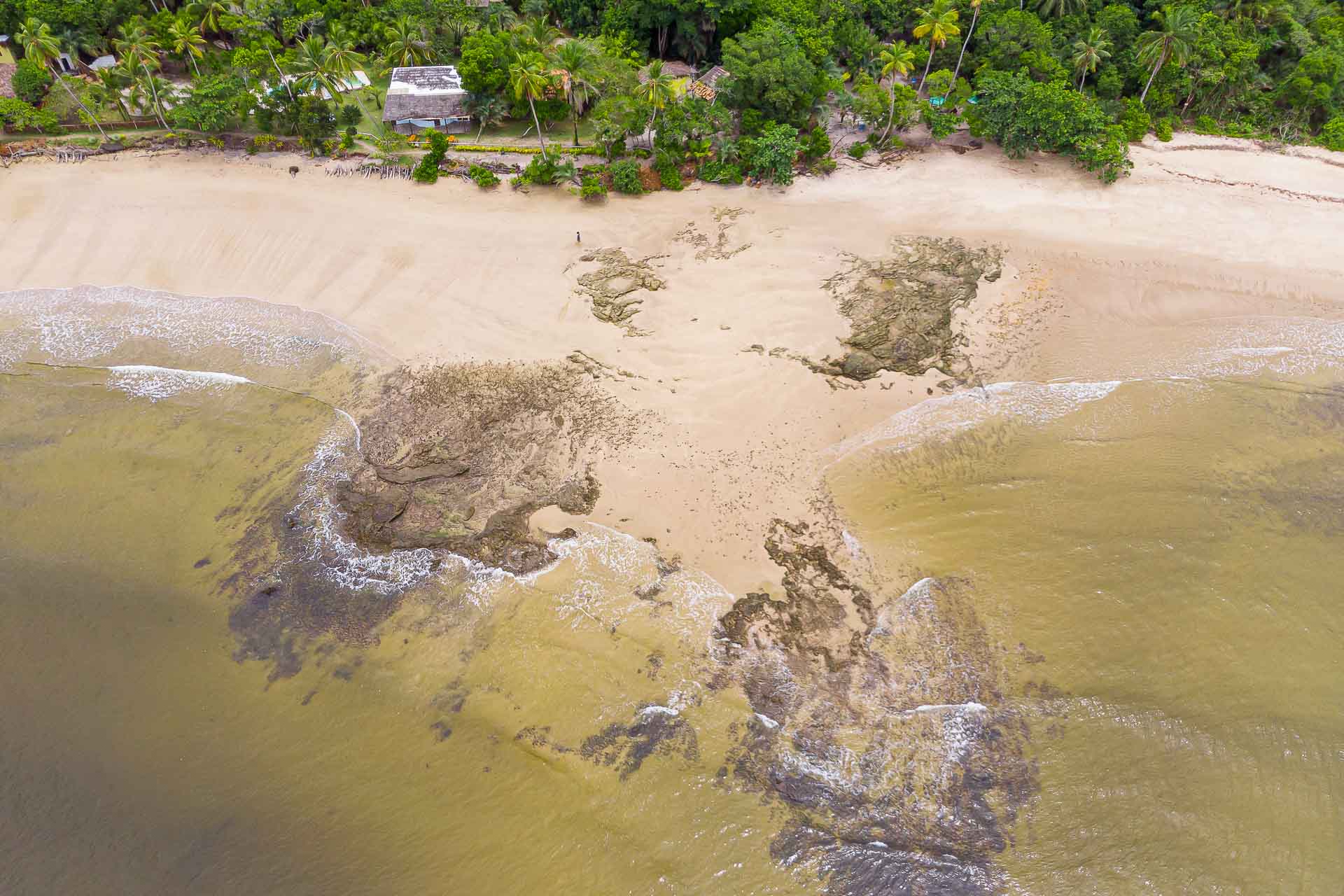 Pedrinhas Beach
After Outeiro Beach, taking a small trekking, you will find Pedrinhas Beach. That's a total small deserted beach where you will enjoy, most of time, by yourself. Mind you that there are no beach stalls at all, only you and nature.
Tassimirim Beach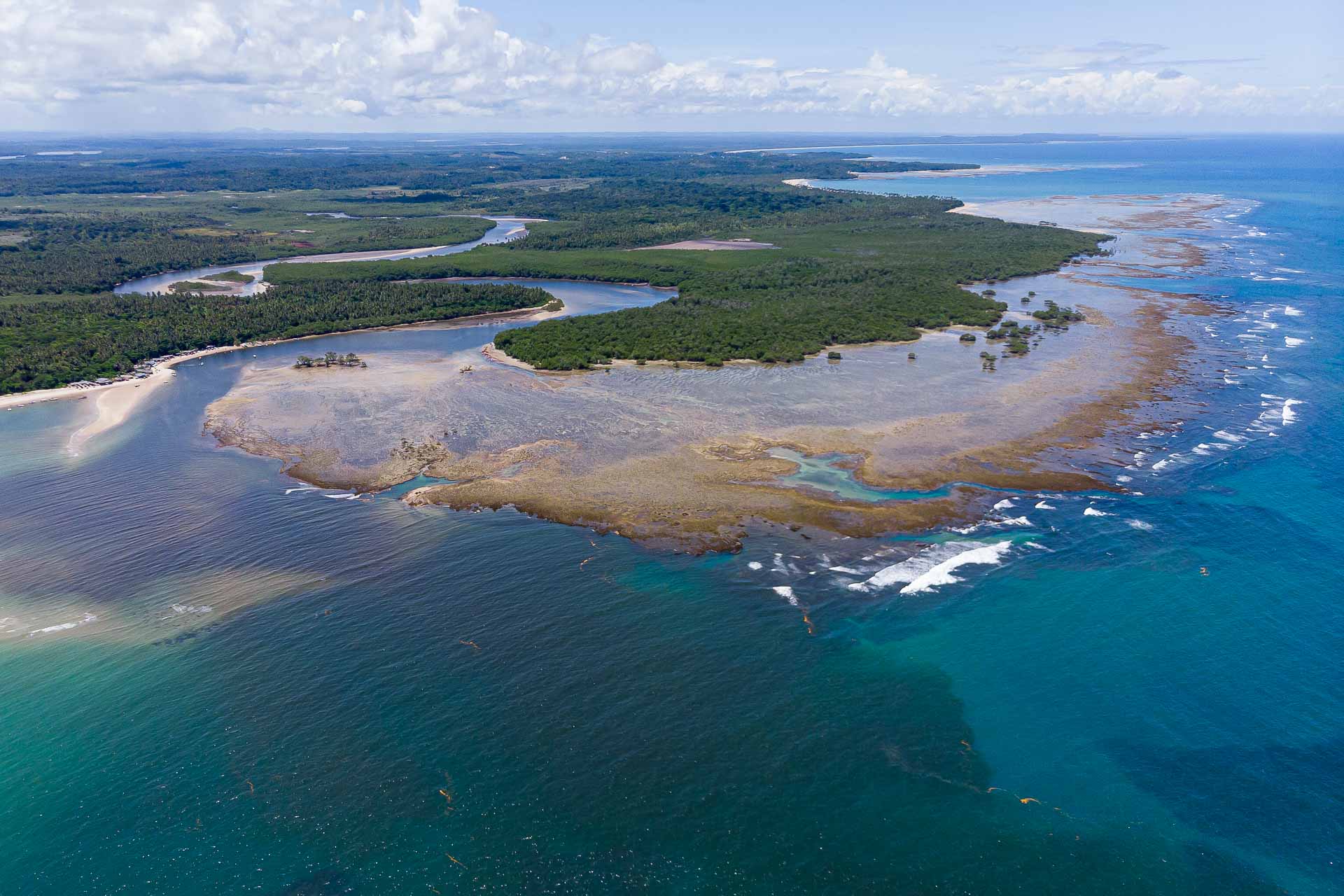 Just passing Pedrinhas Beach, there will be a stone stair that will take you get to Tassimirim Beach. It should be about a 20min walk. Tassimirim is surrounded by coral reefs, which makes it very beautiful, but not the excellent spot for swimming. However, during low tide, it forms natural swimming pool in between corals, which is great to enjoy.
ATTENTION: corals are living beings and you cannot walk on them under any circumstances (even in the parts closest to the sand that look like rocks – that is coral). Also avoid applying sunscreen before entering natural pools as it is also harmful
Cueira Beach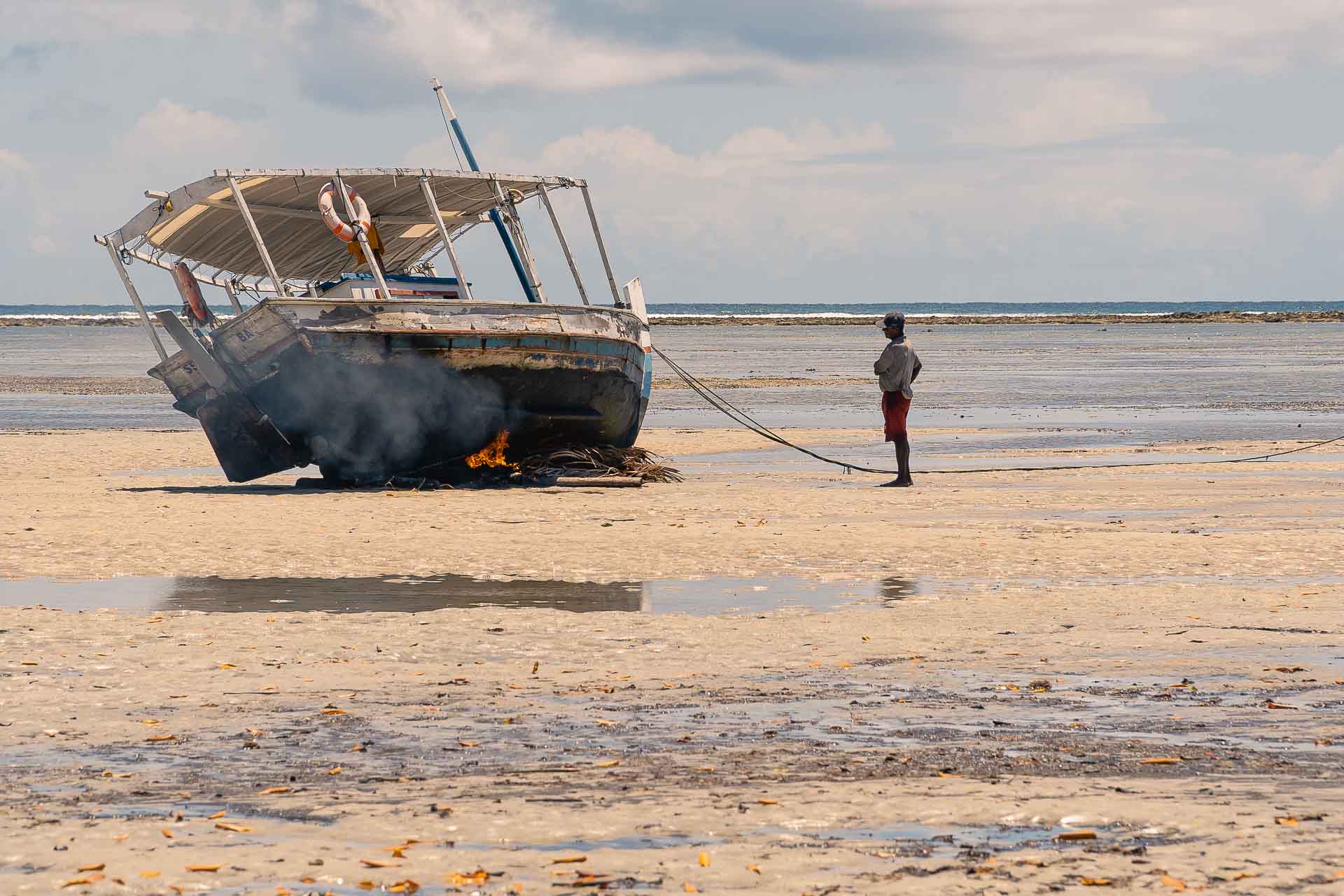 Continue walking from Tassimirim, you will find Cueira Beach. It is a large white sandy beach and the water are not so calm too. In fact, at the right time and right season, it's a great spot to surf in Boipeba.
Moreré Beach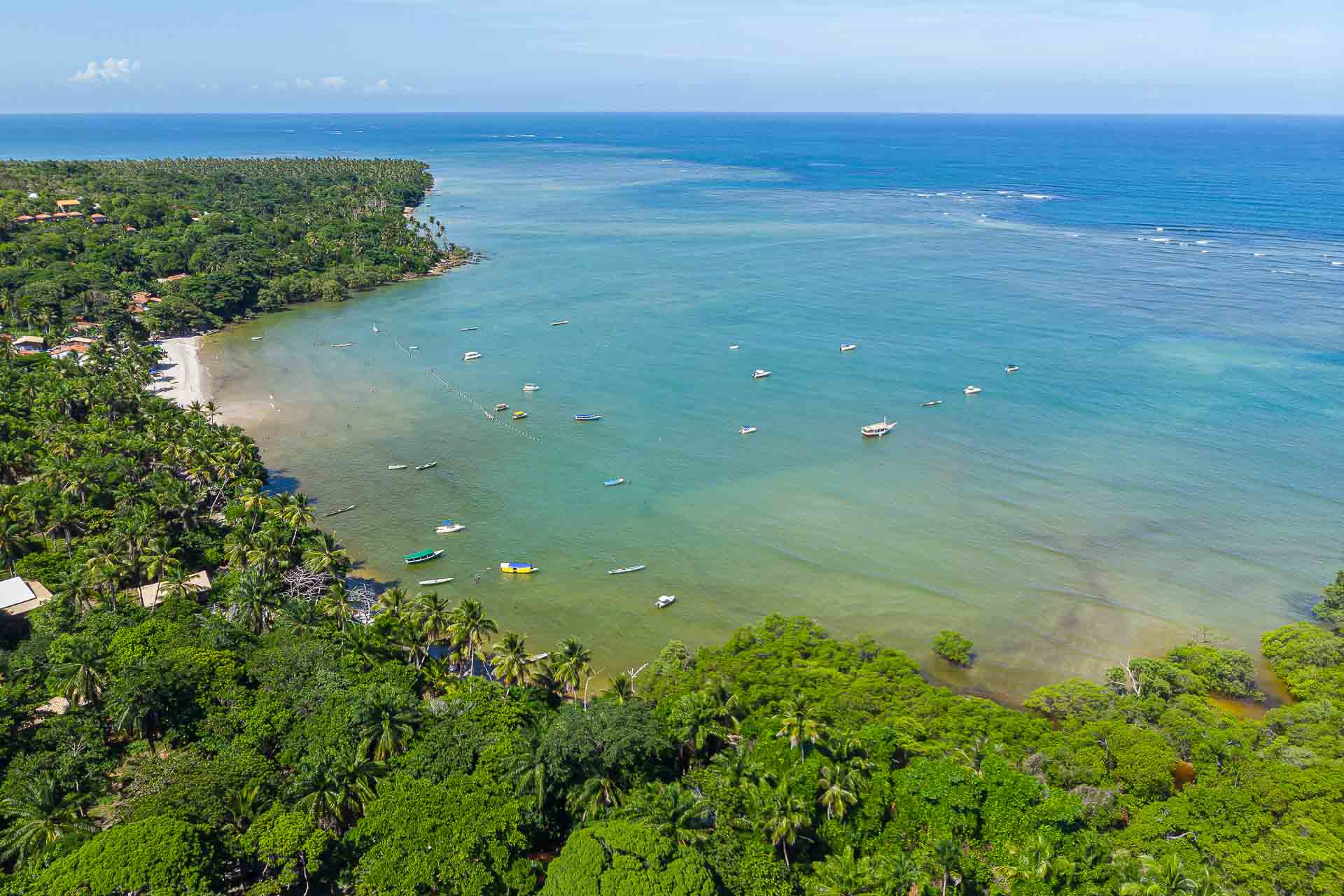 In front of the village of Moreré, it is one of the the best beaches in Boipeba. Here, the tidal variation is so notorious that you basically have two different beaches in the same place through the day.
Bainema Beach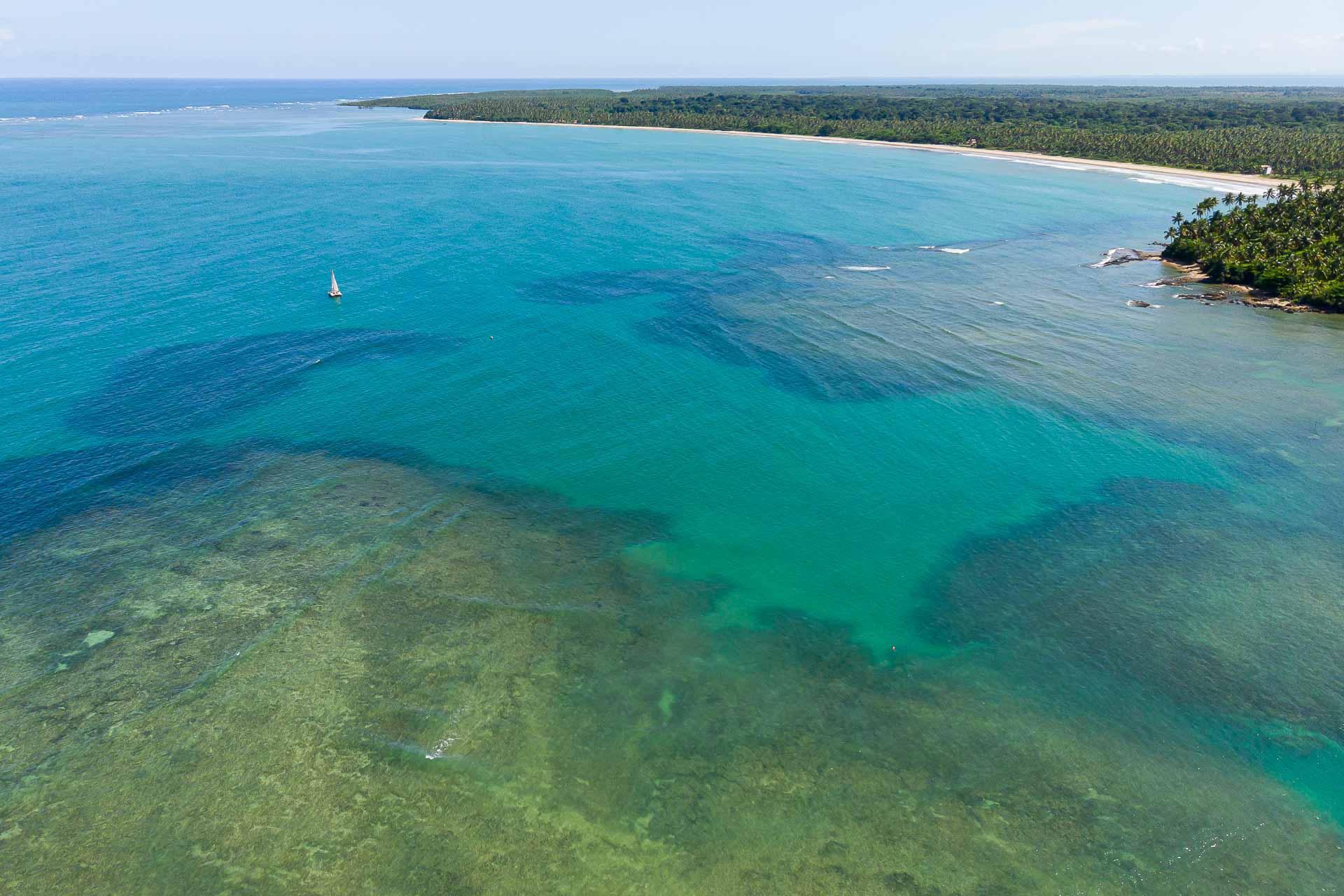 Very next to Moreré Beach, there is the Bainema Beach, with a short walking distance in between them. It is also a quite long white sandy beach with very limited beach infrastructure. It is very nice for a stroll while admiring nature.
Castellanos Beach
Castellanos Beach, unlike all the others above, isn't so easy to reach. You can go by boat or perhaps rent a quad bike. But, the best is go on a trekking from Moreré through the mangrove. Anyway, all the effort is completely paid off as Castellanos is the most beautiful beach in Boipeba. Here you feel like you are in a paradise island of Brazil.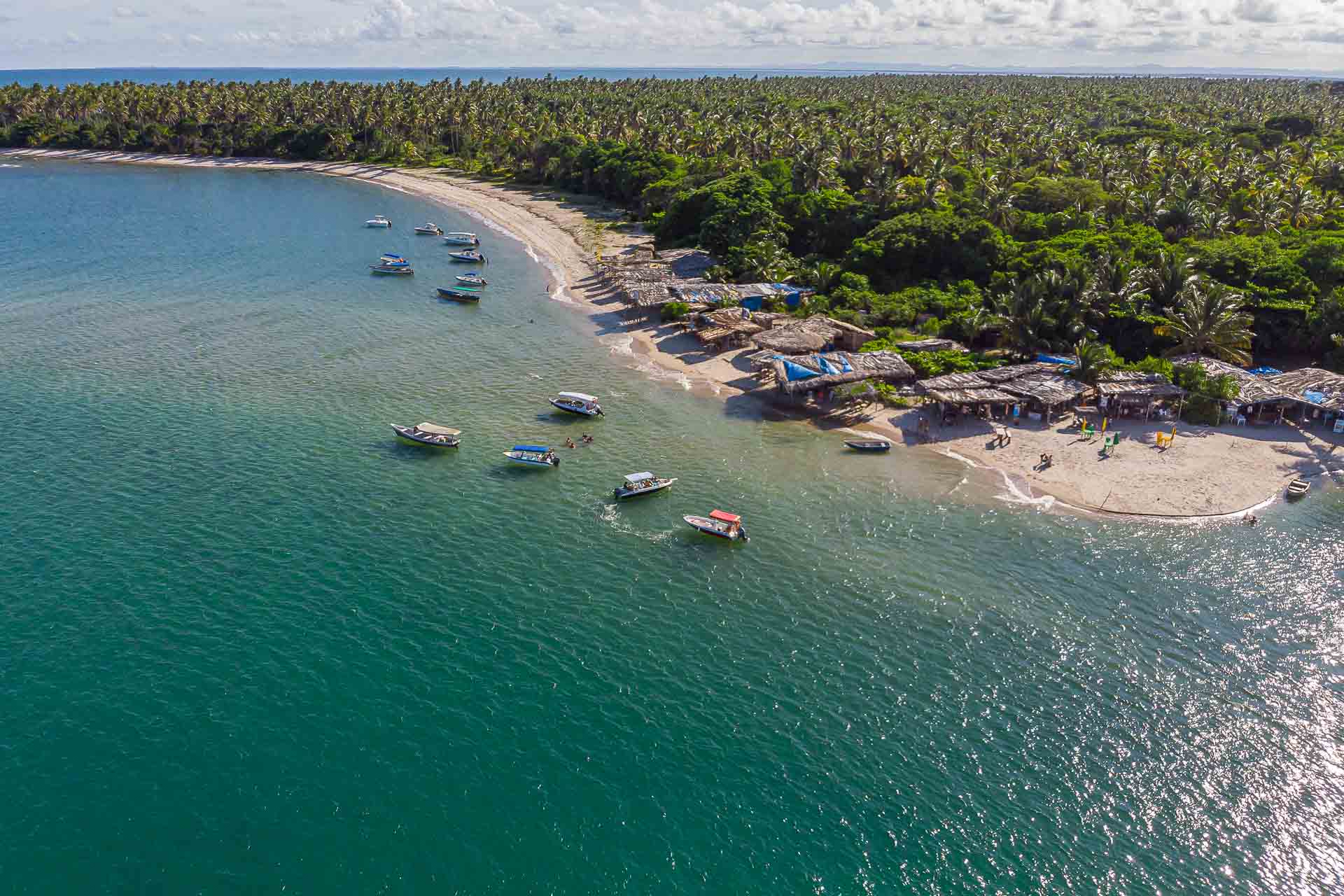 At Castellanos beach, there is no electricity. The beach stalls work on generator. So here it goes the pro tip, you can go camping in Boipeba in here. After the sunset, speak with the owners of the beach stall to put up your tent and enjoy the night with no noise from the city. Make sure to leave a tip to them!
Cova da Onça Beach
The Cova da Onça Beach is located in São Sebastião Village, also known as Cova da Onça too. As mentioned, because of the proximity to the mangrove, it's not the best place for swim in the Ilha de Boipeba.
Best time to visit Boipeba in Brazil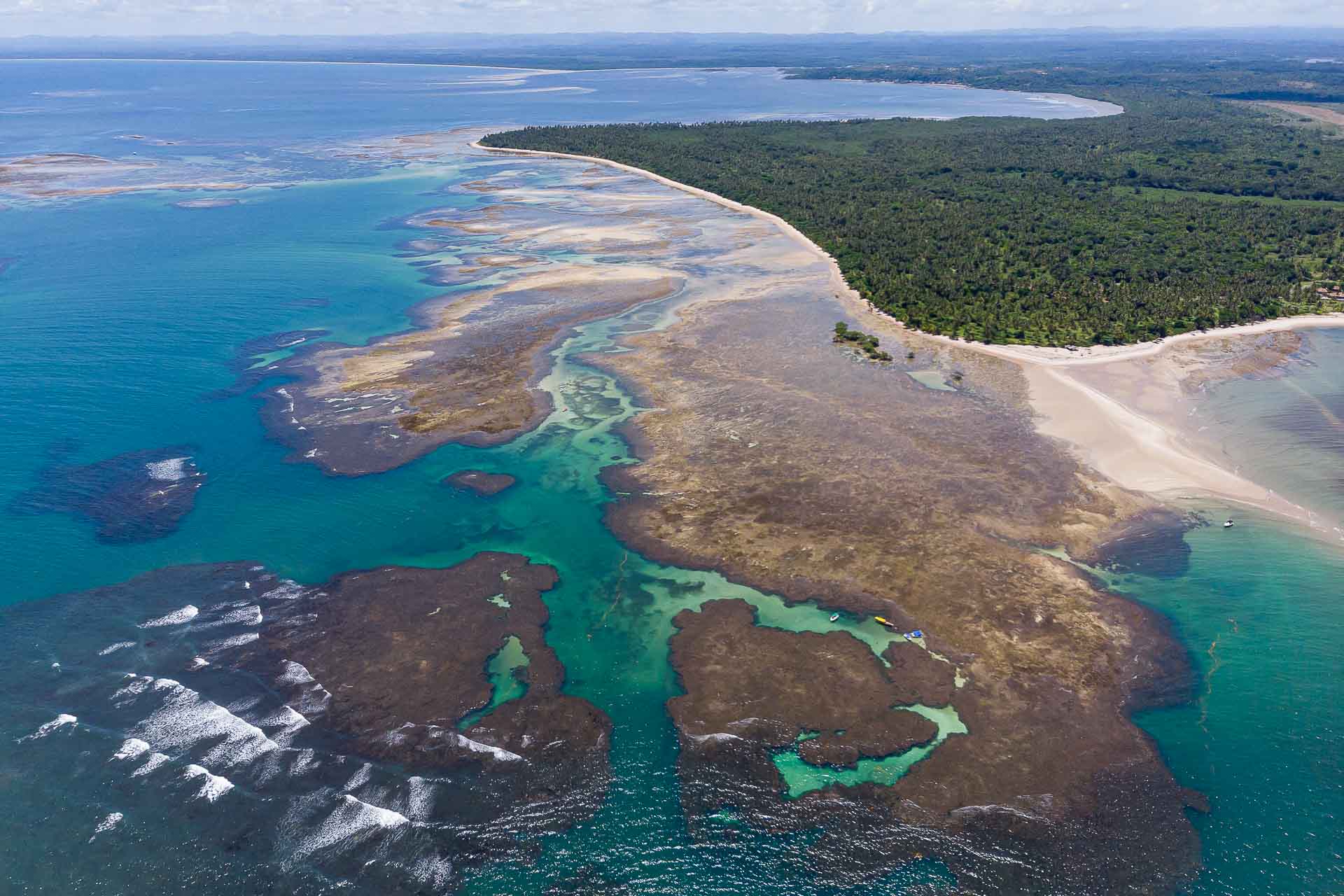 Boipeba is a paradise because you can have a enjoy Boipeba throughout the year. Just be aware that high season are from December to February. Though, it doesn't get ridiculous crowded. But, as the island does not support many people, you might experience difficulty to find accommodation.
Also, note that April to July is rainy season. Therefore, the best time to visit Boipeba, in our opinion and experience, is from September to December or March to April. And if you want to surf in Boipeba, July is the month to go.
How to get to Boipeba Island in Brazil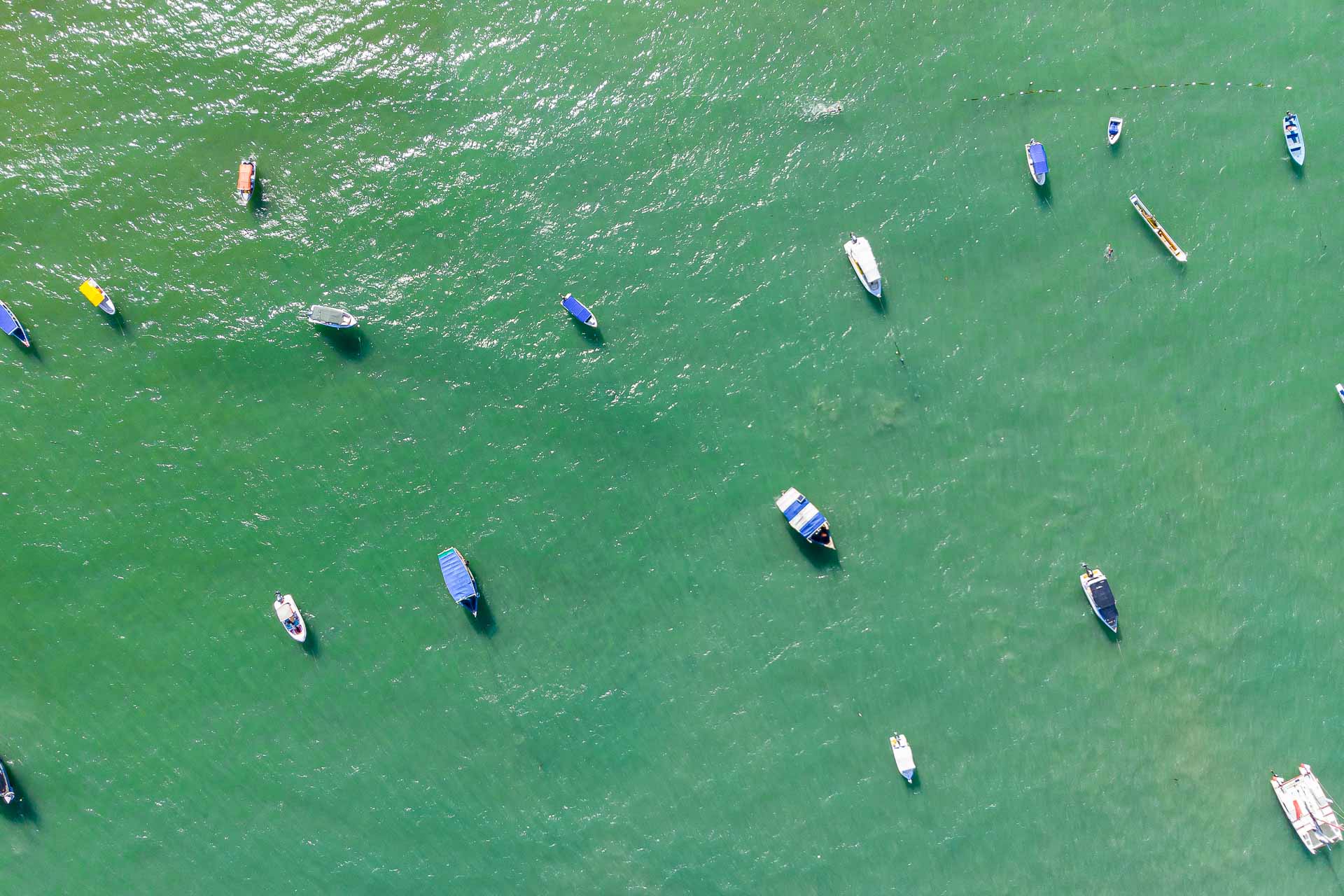 How to get to Boipeba by car
It is not possible to arrive by car in Boipeba Island. So, if you want to get to Boipeba by car, you will have to park your vehicle in one of the nearby cities, either Valença, Torrinhas, Camurugi (Graciosa Port) or Cairu, and take a boat to Boipeba from there.
Find the best deals on car rental to Boipeba Island in Brazil here.
How to get to Boipeba by bus
You can get to Boipeba by bus arriving in Valença from pretty much anywhere. Below, we list how to get to Boipeba from Salvador, Ilhéus, Morro de São Paulo and Barra Grande.
In Valença, the bus terminal is about 1km distant from the port, where you take your boat. Another option is to stop in Camurugi and take a boat from the Graciosa Port.
Boat to Boipeba Island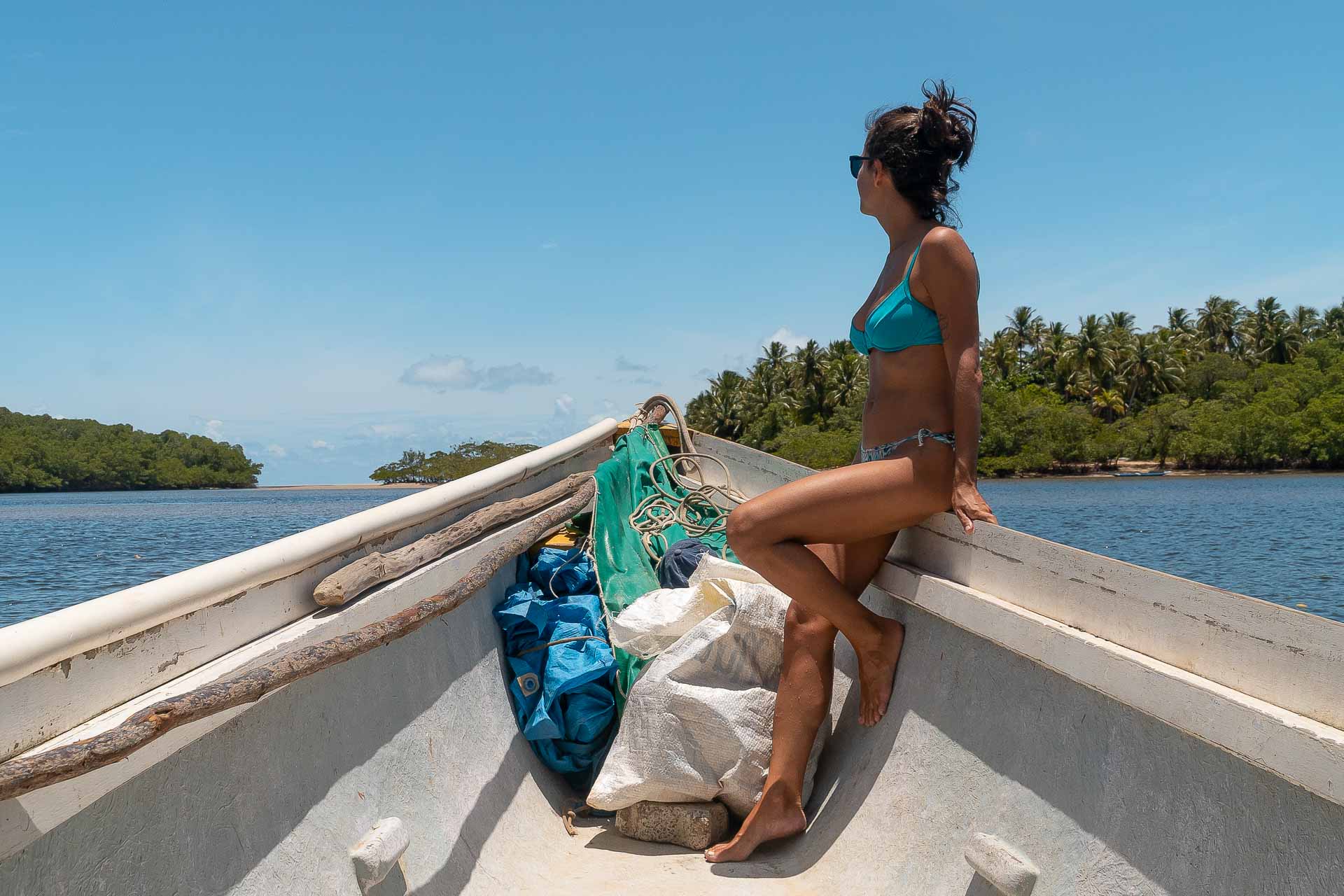 As we mentioned, no matter how you want to go to Boipeba, you will have to take a boat. It will depend from where you will take your boat from and if it will be express or chartered.
Boat from Valença to Boipeba
The crossing costs around R$ 50 per person and takes approximately 1 hour. The first speedboat usually leaves at 10am and the last between 4pm and 6pm.
Boat from Torrinhas to Boipeba
Torrinhas is a very small village that pretty much survives on car parking and chartering boats to Boipeba Island. You can charter a speedboat to Boipeba or Moreré from there at any time, if the tide allows you. This option is faster and, depending on the number of people, it costs the same, as the price to charter a speedboat for 6 passengers is R$300.
If you want to organize your parking and chartered boat from Torrinhas, speak with John on +55 75 9986 3068.
Boat from Graciosa Port in Camurugi to Boipeba
You can take a speedboat from Graciosa Port for about R$30 (or more). The trip to Boipeba will take 40 min and the last boat leaves at 17h.
Boat from Cairu to Boipeba
You can charter a speedboat boat for quite a cheap price leaving from Cairu as well. If you are driving, the road is much better than the one going to Torrinhas and the village is quite nice, with colonial historic houses.
How to get to Boipeba by plane
For those who don't have time to waste – but have money to spare – it's also possible to take a small plane in Salvador. Less than 30 minutes later and for a humble quantity of R$900 per person you will arrive in Boipeba Island in Bahia.
How to go from Velha Boipeba to Moreré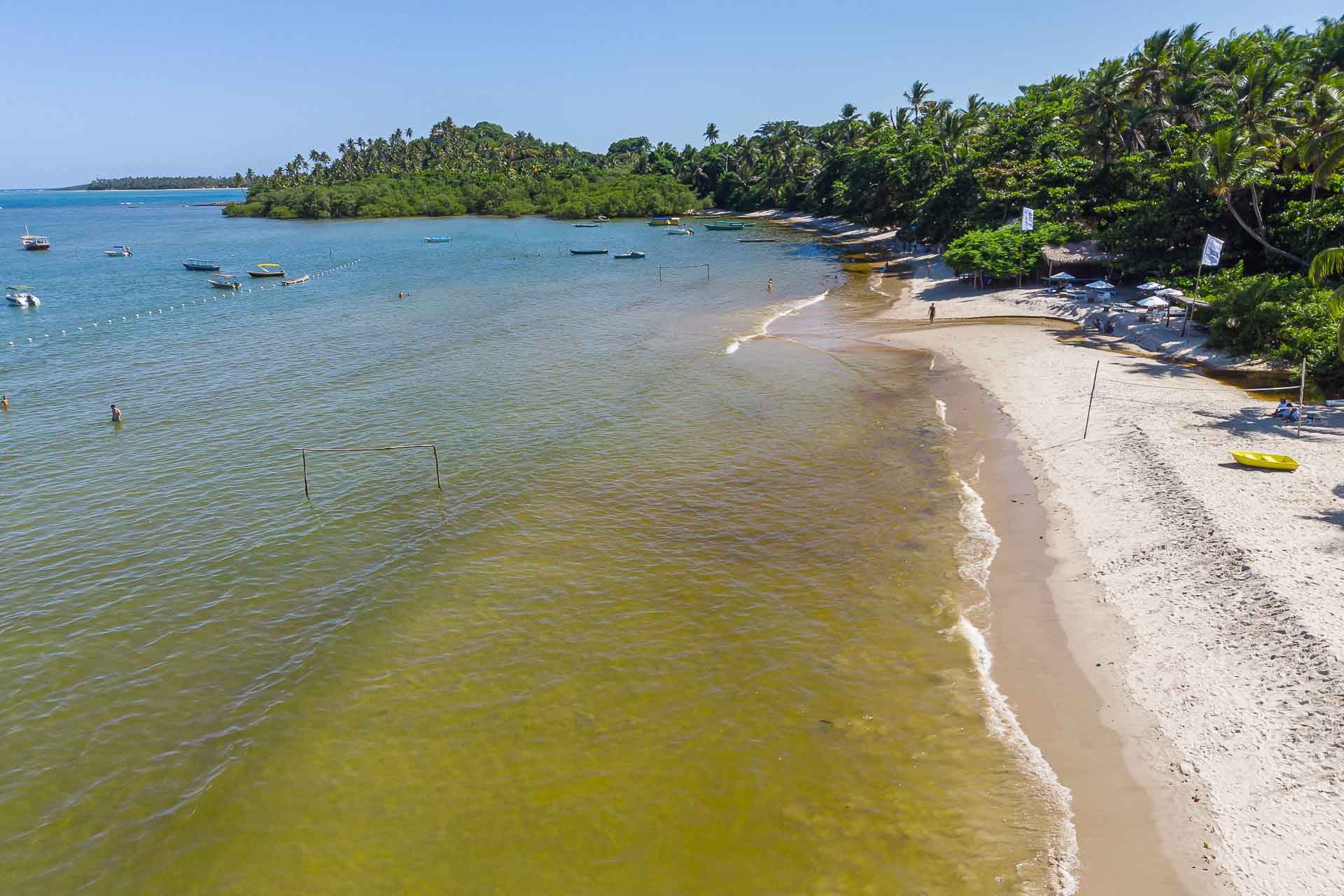 There are three options in Boipeba Island to get around from one village to the other. You can:
take a tractor, which farmers converted into public transportation for tourists;
rent a quad-bike;
take a boat;
or walk.
The tractor leaves from 1km distance of the port in Velha Boipeba. On your way, don't miss on the acarajé da Lene, just before the corner of the tractor. It's the best acarajé!
How to get to Boipeba from Salvador
By car
To go to Boipeba Island from Salvador by car, go to the São Joaquim Maritime Terminal in Salvador and take the ferry to Bom Despacho on Itaparica Island. It costs R$ 50.60 for a normal car (64,.70 for a large car) from Monday to Friday and R$ 71.70 on weekends and holidays (91.40 for large cars). The crossing to Itaparica takes approximately 1h and it can get quite crowded, so you might want to book your spot in advance. Check fares and timetable here.
From Bom Despacho, drive to Valença, Graciosa Port, Torrinhas or Cairu and take a boat to Boipeba Island. The car parking in Valença is the most expensive one. We drove to Torrinhas and parked our car for R$10 (1.85 USD) per night and chartered a boat to Velha Boipeba with John.
Bom Despacho to Valença – 110km or 1h50
Bom Despacho to Graciosa – 125km or 2h10
Bom Despacho to Torrinhas – 160km or 3h10
Bom Despacho to Cairu – 160km or 3h
Our friend from Salvador told us that, during the high season, it might be better to drive around to the BA101 passing through Santo Antonio de Jesus. You can also check a transfer from Salvador to Boipeba here.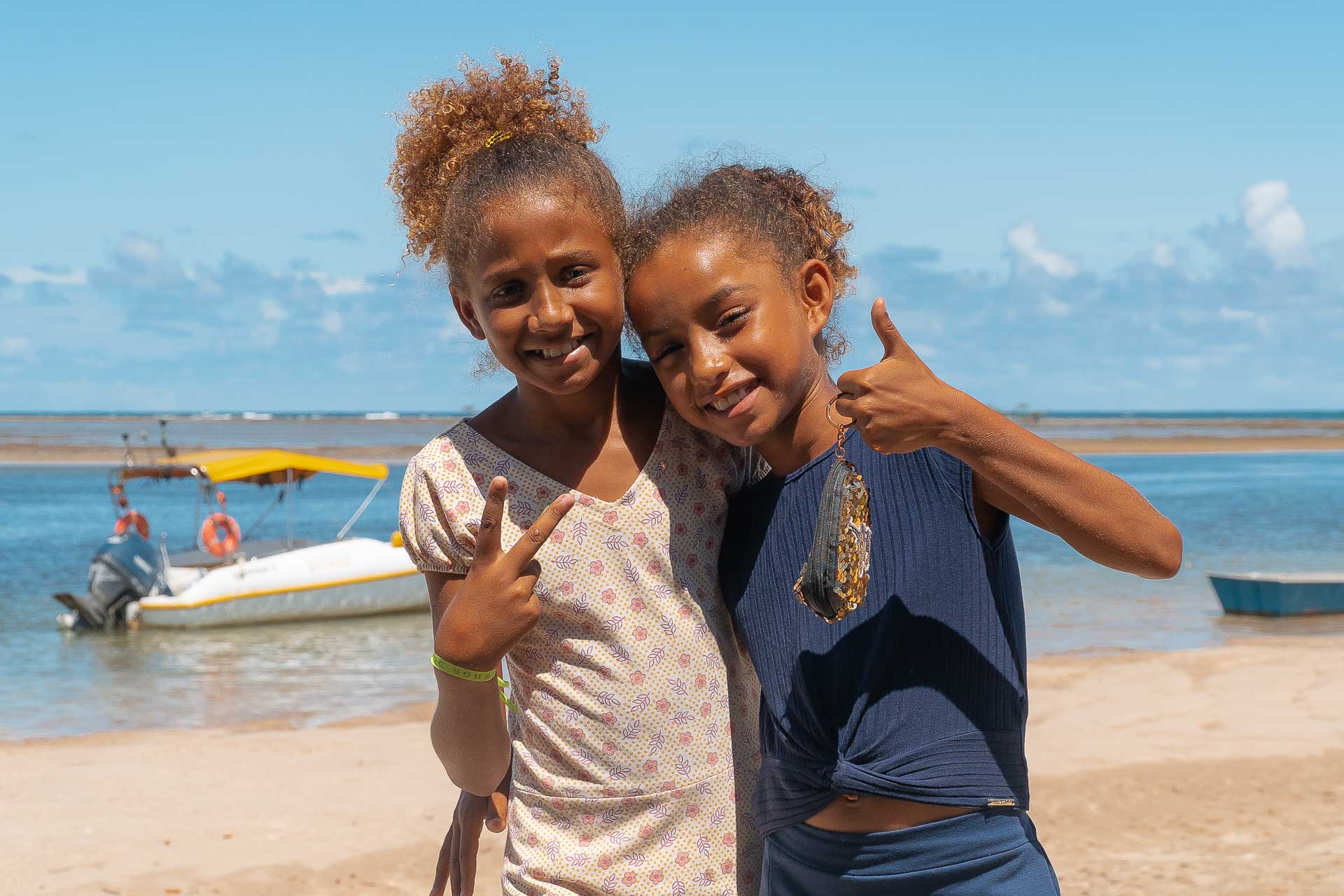 By public transport
Also take the ferry at São Joaquim Maritime Terminal in Salvador to Bom Despacho. It costs R$ 5.60 per person from Monday to Friday and R$ 7.40 on weekends and holidays. From there, you can take a bus from the company Viação Cidade Sol that goes to Valença paying R$ 35 for about 2h trip. Alternatively, you can take one of the shared taxis just outside the ferry.
How to get to Boipeba from Ilhéus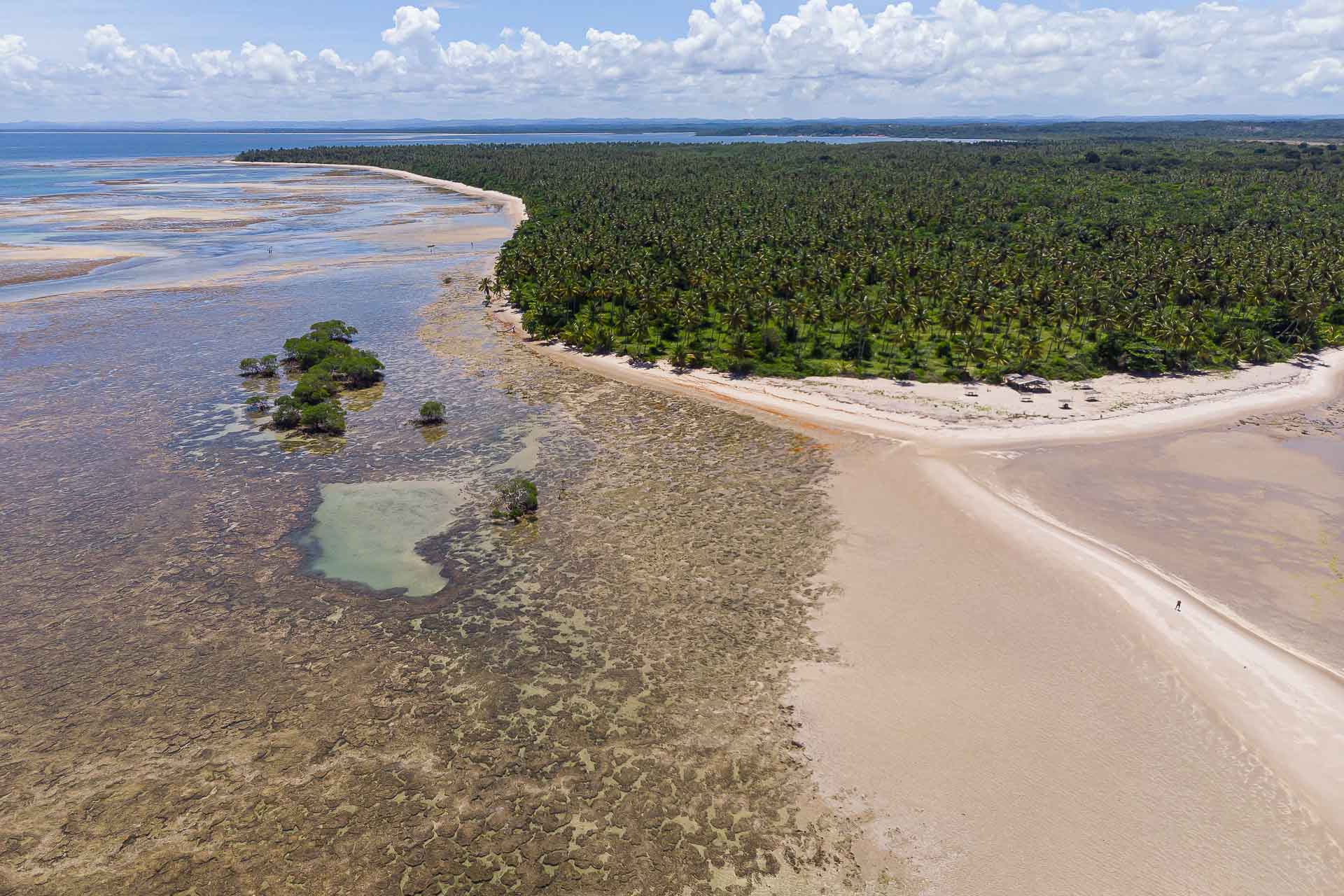 By car
To get to Boipeba Island from Ilhéus by car, you can drive on the BA001 to either Valença, Graciosa Port, Torrinhas or Cairu and take a boat to Boipeba Island.
Ilhéus to Valença – 187km or 3h30
Ilhéus to Graciosa – 175km or 3h10
Ilhéus to Torrinhas – 180km or 3h20
Ilhéus to Cairu – 185km or 3h20
By public transport
From Ilhéus, take a bus to Valença or Graciosa Port and the boat to Boipeba Island. Look at tickets here.
How to get to Boipeba from Morro de São Paulo
There are daily speeboats you take from Morro de São Paulo to Boipeba Island. Alternatively, you could go on a 4×4, but apparently the trip is quite bumpy and tiring.
How to get to Boipeba from Barra Grande
From Barra Grande, in Peninsula de Maraú, you can take either a boat, taxi or drive to either Valença, Graciosa Port, Torrinhas or Cairu.
What to do in the island of Boipeba in Brazil
Find here a list of the best things to do in Boipeba Island to enjoy fully the best island of Brazil.
1. Enjoy Moreré Beach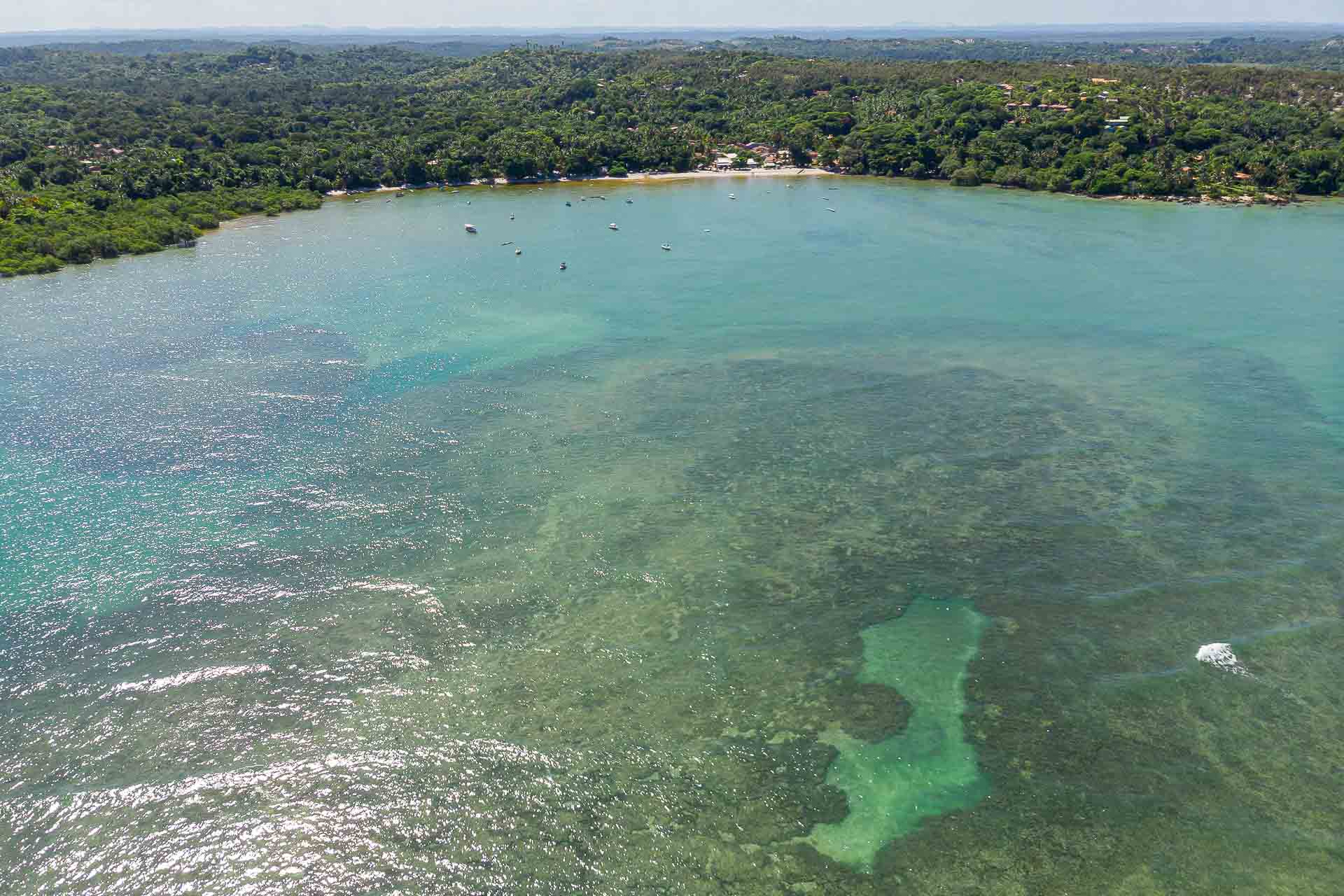 2. See Moreré's natural pools.
I confess that I find this natural pool thing a little overrated (don't kill me, lol). The natural pools are beautiful, but I don't know if it's worth the effort to take a boat and go to the bottom to enjoy them. But anyway, I leave here the tip and it's up to each one.
3. Enjoy the beaches next Moreré
4. Take the walk through the mangrove to Praia de Castelhanos.
This activity is a must-see and mandatory guide tour in Boipeba. We highly recommend Alisson from Moreré Adventure!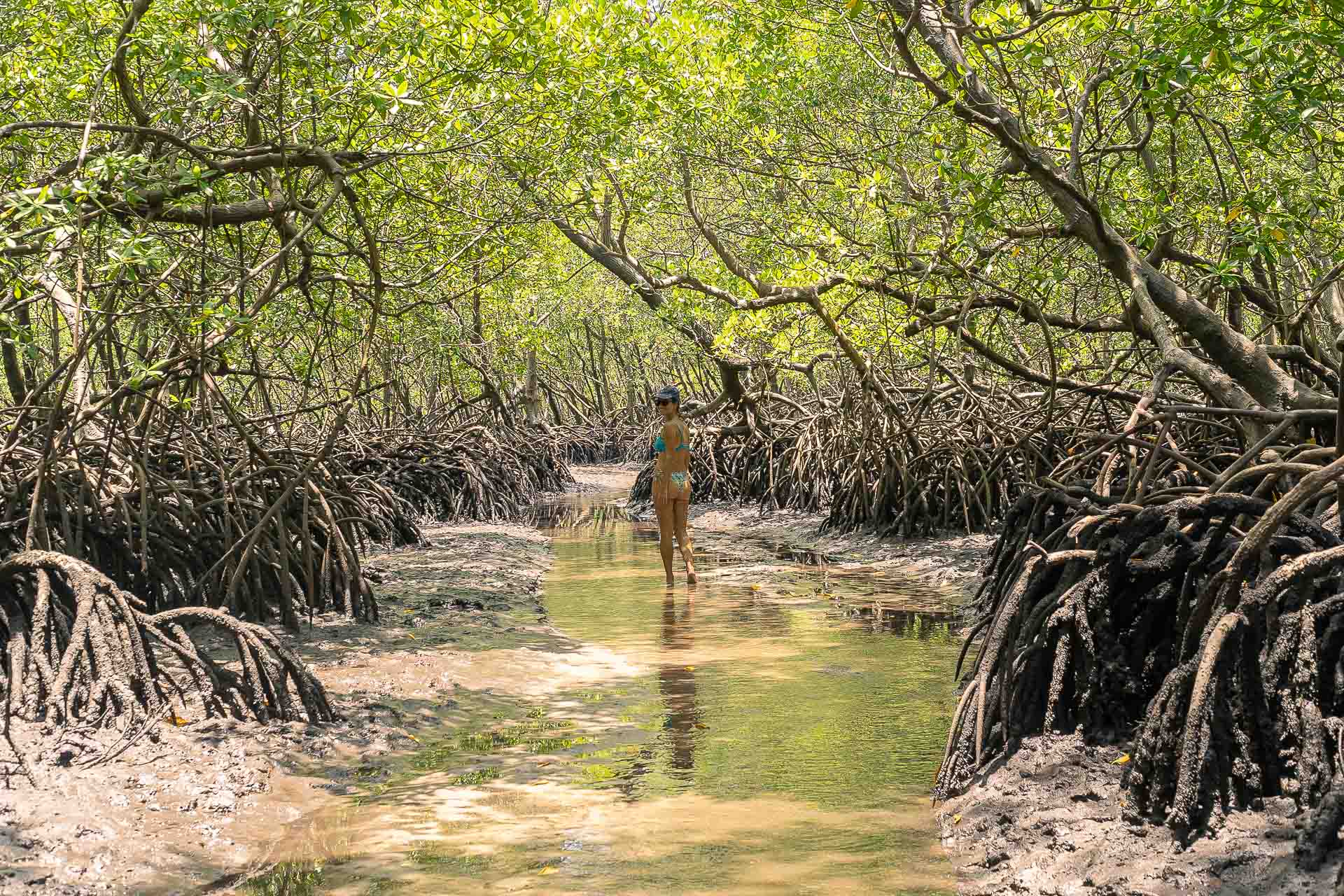 5. Boipeba Roots Tour.
This guided tour was created by writer and traveler Manoela Ramos, who lives on the island. The idea is to present the most ancestral and cultural side of the island and some of its important and emblematic characters. The tour usually takes place on the weekend and unfortunately it rained when we were there, but it is one of the activities we most wanted to do (whoever manages to do it, come back later to tell us what you think!).
6. Enjoy Boca da Barra Beach watching the sunset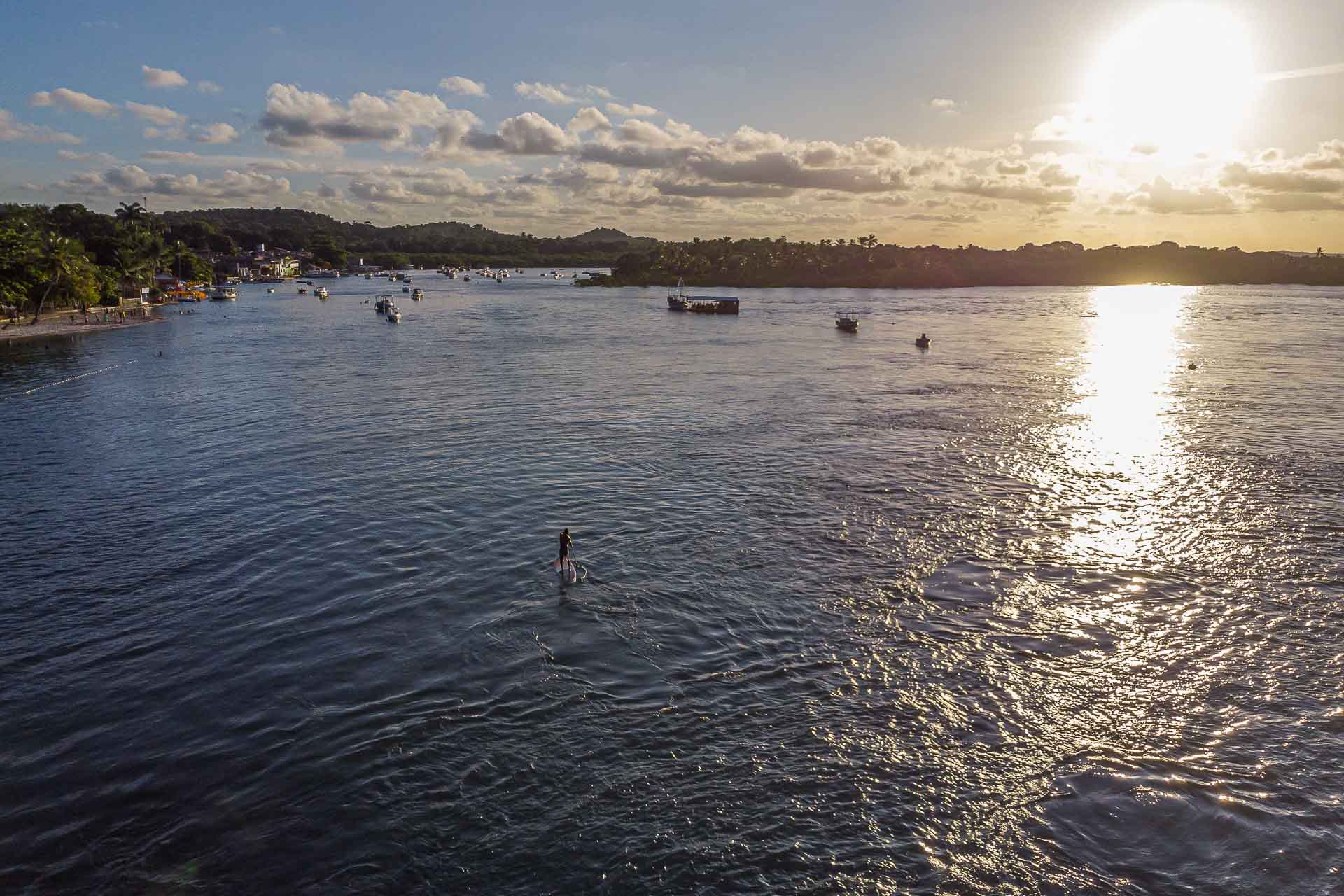 7. Go around the island by speedboat.
This tour in Boipeba is a little expensive, but it's a great way to get to know all the beaches.
8. Enjoy Boipeba at night.
As we said, the village has great night time attractions, we especially love the Casa Latina shows.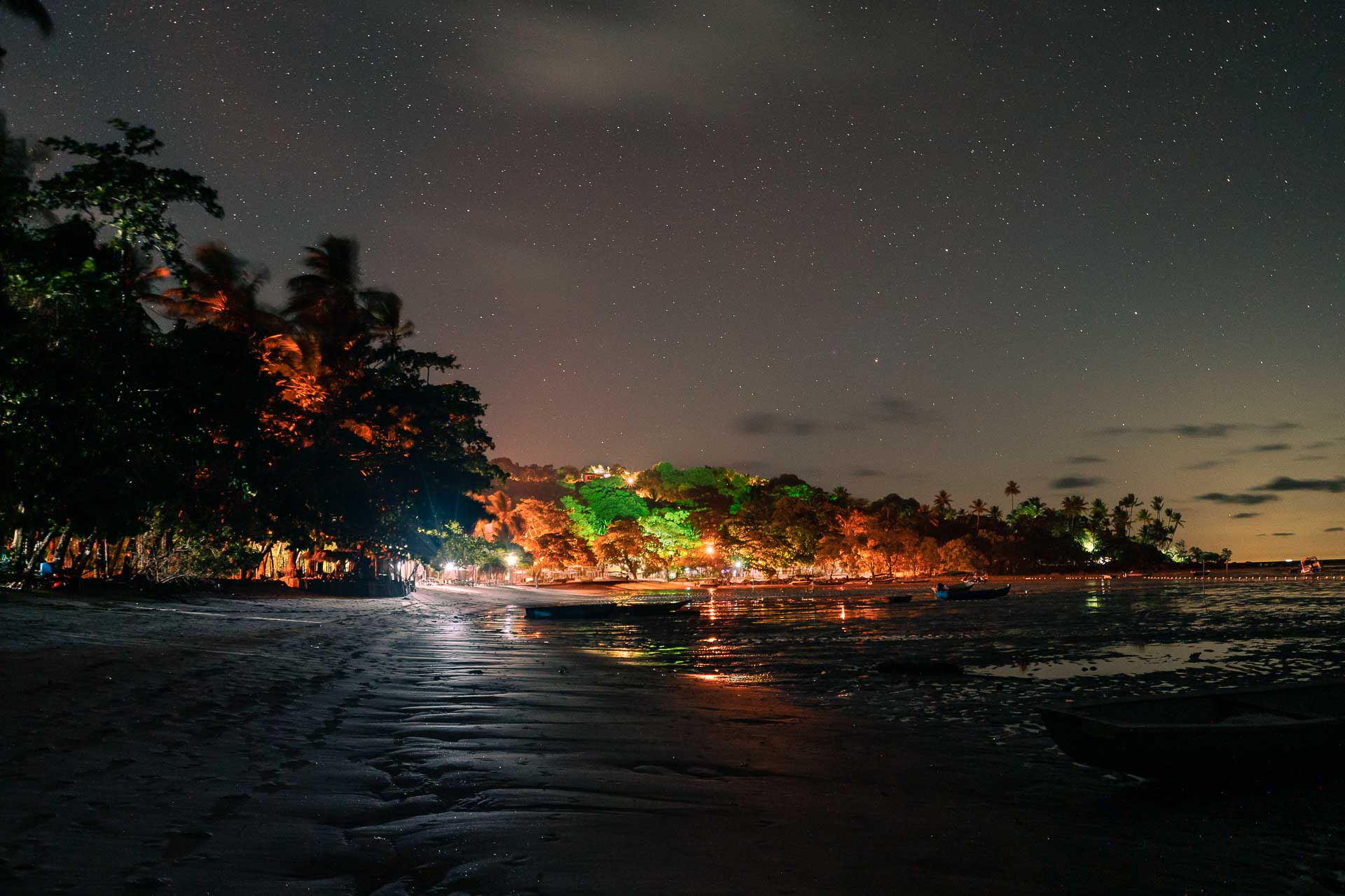 9. February 2 in Moreré.
February 2 is the Day of Iemanjá. In Moreré, this is a beautiful and extremely powerful day. Surely, it is an experience I wish for everyone.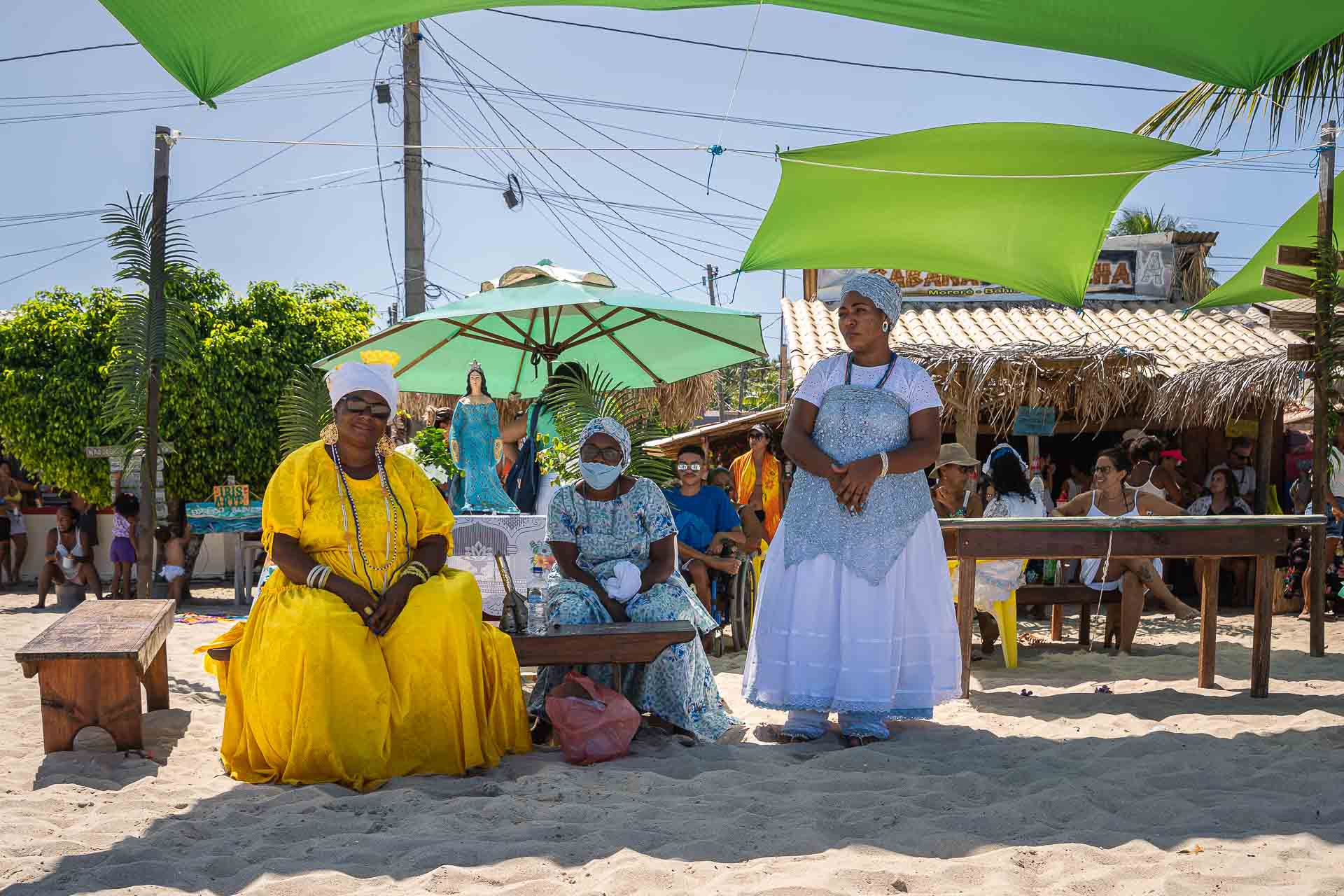 Where to stay in Boipeba Island in Brazil
We recommend you to stay in both Velha Boipeba and Moreré to experience the lively of Velha Boipeba and wilderness of Moreré. But if you don't have much time, just focus in one of them.
Where to stay in Moreré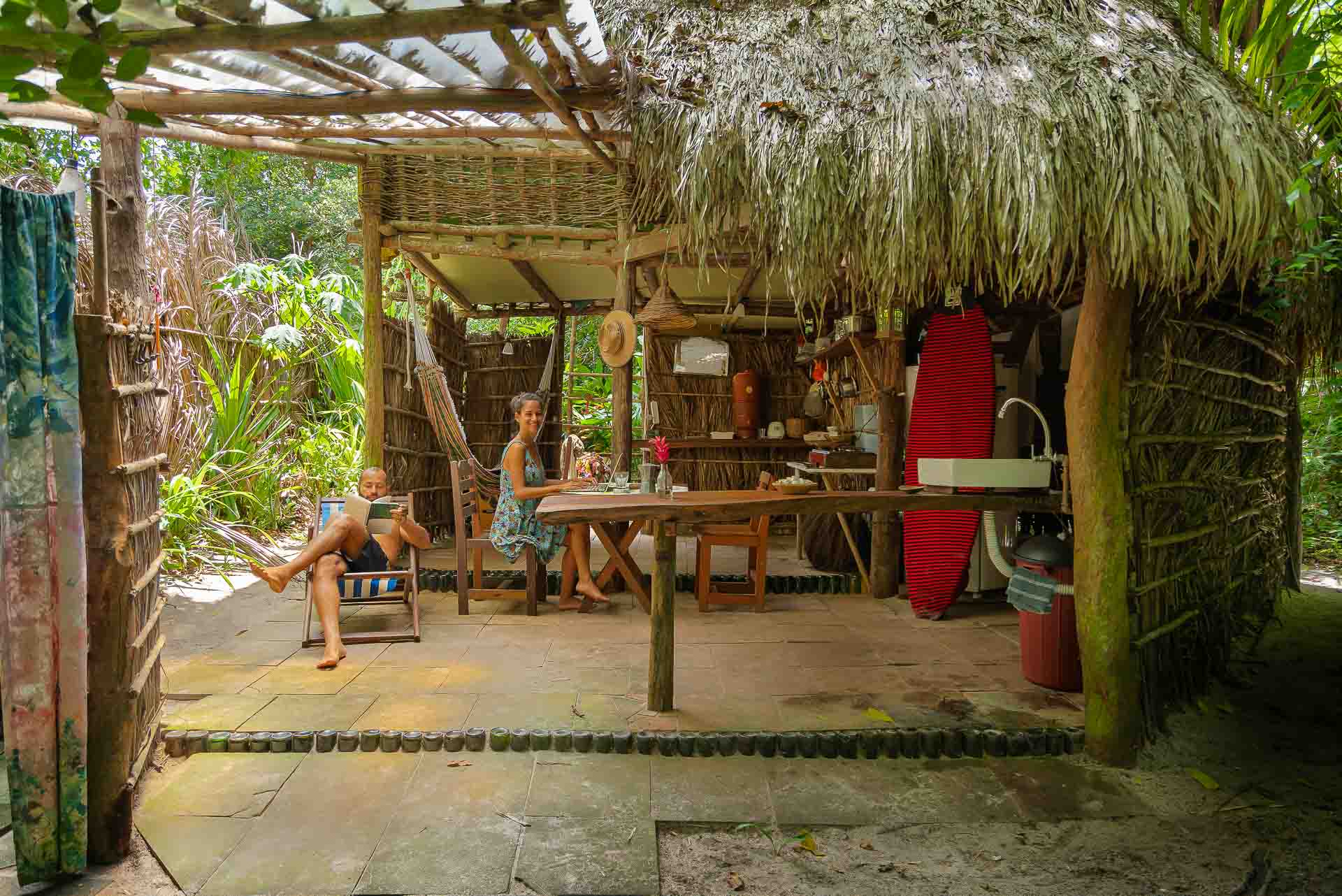 In Moreré, we stayed at an amazing inn called Canto do Moreré, which is the most sustainable hotel we have ever stayed at. We spoke with one of the owner and she told us they have not cut down any trees for the project, having taken advantage of the natural spaces of the forest. Also, the bungalows preserve the architectural style of the old houses of the natives, helping to preserve the memory of the island. Furthermore, Canto do Moreré recycles almost all the waste it produces. They even finance a solid waste collection project in the village, since the city doesn't have one, and have several social projects too.
Canto do Moreré has 10 options of bungalows of different sizes, for both couples and families, including a camping site. It is a very rustic environment that offers deep integration with nature. Check availability here!
Despite being comfortable and super original, I understand that the Canto do Moreré might not be for all types of travellers. Another option is the new hotel Ventos Moreré, with a more sophisticated, albeit cool, proposal – a quite pricey too.
See other accommodation options in Moreré here.
Where to stay in Velha Boipeba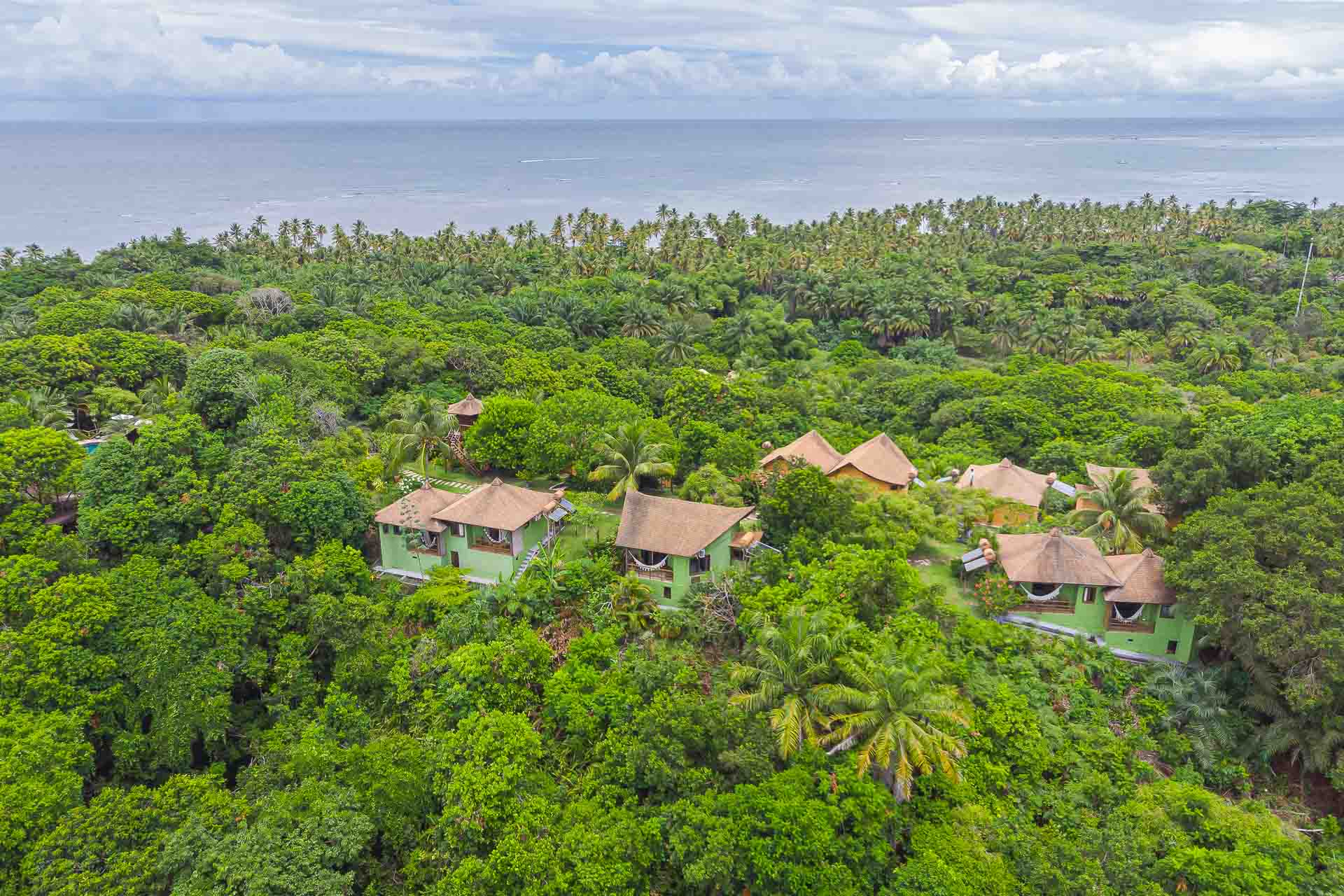 In Velha Boipeba, we stayed at Pousada Mangabeiras at the invitation of the hotel and we can say with certainty that this is one of the best inns in Boipeba. The bungalows are super comfortable and they also have a very nice sustainable accommodation proposal. Mangabeiras is one of the few inns of Boipeba with a pool and their breakfast is simply divine.
The rental here aren't the cheapest and the location is a little far from the center of Boipeba, about 15 min walking. If you are looking for comfort, peace and quiet, Mangabeiras is perfect.
Another option for a Pousada in Boipeba is Céu de Boipeba. All glass, it is surrounded by nature and offers a privileged view of the sea and the forest.
Other options for where to stay in Boipeba are Pousada Tassimirim and Pousada Horizonte Azul. Or see other options here.
Where to eat in Boipeba Island in Brazil
In Boipeba Velha, there are many options of restaurant. An affordable, but nice place is the Zumbi dos Palmares, just in the corner of the Santo Antonio Square. Also, Pizzaria Terra Brazilis can offer quality food as well.
In Moreré, you can find any beach stall that serves food and you will be satisfied with the quality!
In Castellanos beach, you have to stay at Barraca da Nega and ask for crabs and drink the cacao caipirinha.
How many days to stay in Boipeba in Brazil
Boipeba is a place to get in touch with nature. The wildness and pristine landscape are still like no other. Things are changing fast though, so we urge to travel to Boipeba responsibly. Foment local businesses, mind your litter, respect locals and avoid mass travelling. Taking all into consideration, we recommend staying 7 days in Boipeba.
Itinerary Boipeba in 7 days
Day 1 – Arrive in Boipeba Velha and enjoy the beach of Boca da Barra, watch the sunset and enjoy the night in the village;
Day 2 – Boat trip around the island;
Day 3 – Boipeba Roots Walk;
Day 4 – Move to Moreré and enjoy Moreré beach
Day 5 – Trekking through the mangrove to Castellanos Beach
Day 6 – Visit the natural pools of Moreré and perhaps Tassimirim.
Day 7 – Depart.
Itinerary Boipeba in 4 days
Day 1 – Arrive in Boipeba Velha and enjoy the beach of Boca da Barra, watch the sunset and enjoy the night in the village;
Day 2 – Boat trip around the island;
Day 3 – Trekking through the mangrove to Castellanos Beach from Moreré;
Day 4 – Visit the natural pools of Tassimirim or Moreré in the morning and depart.