This post is also available in:

Português
In this article, you will find a complete list of the most charming and best towns in Tuscany, as well as valuable tips and info to organise your trip through one of the most beautiful regions of Italy.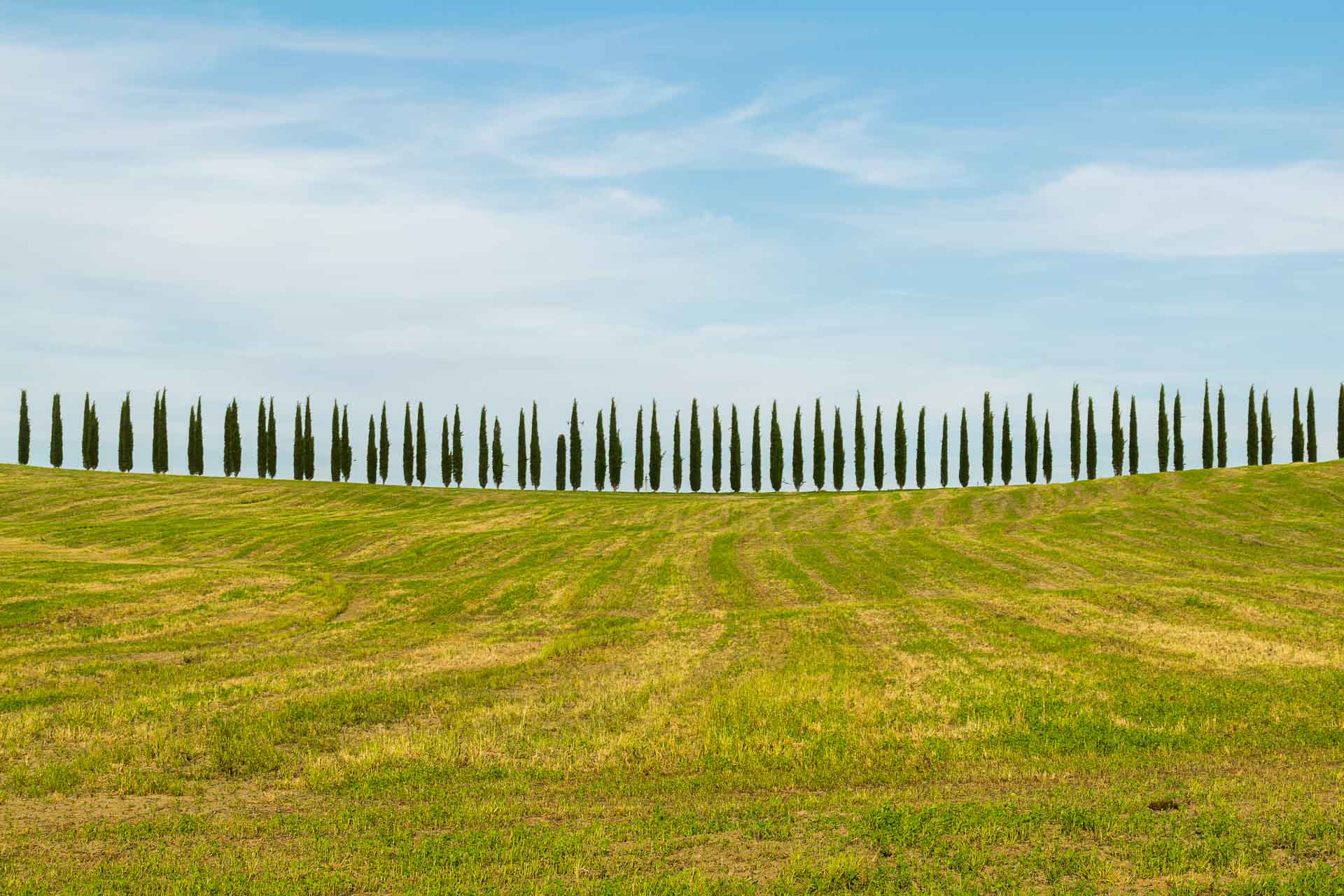 Why visit Tuscany cities
A trip around Tuscany is a dream of many people. Its hilltop towns of Tuscany, the landscape full of cypress trees, sunflower fields and vineyards that go beyond the horizon were immortalise in films such as "Under the Tuscan Sun" and are now part of the imaginary of people all over the world.
This is a region with countless possibilities and we know how difficult it can be to structure your itinerary leaving no important places behind. For this reason, we set out in this post all the necessary tips and information as well as a list of the main cities in Tuscany that you need to know, ranging from the most famous to the most hidden ones. So, enjoy the best of Tuscany!
Best time to visit the best towns in Tuscany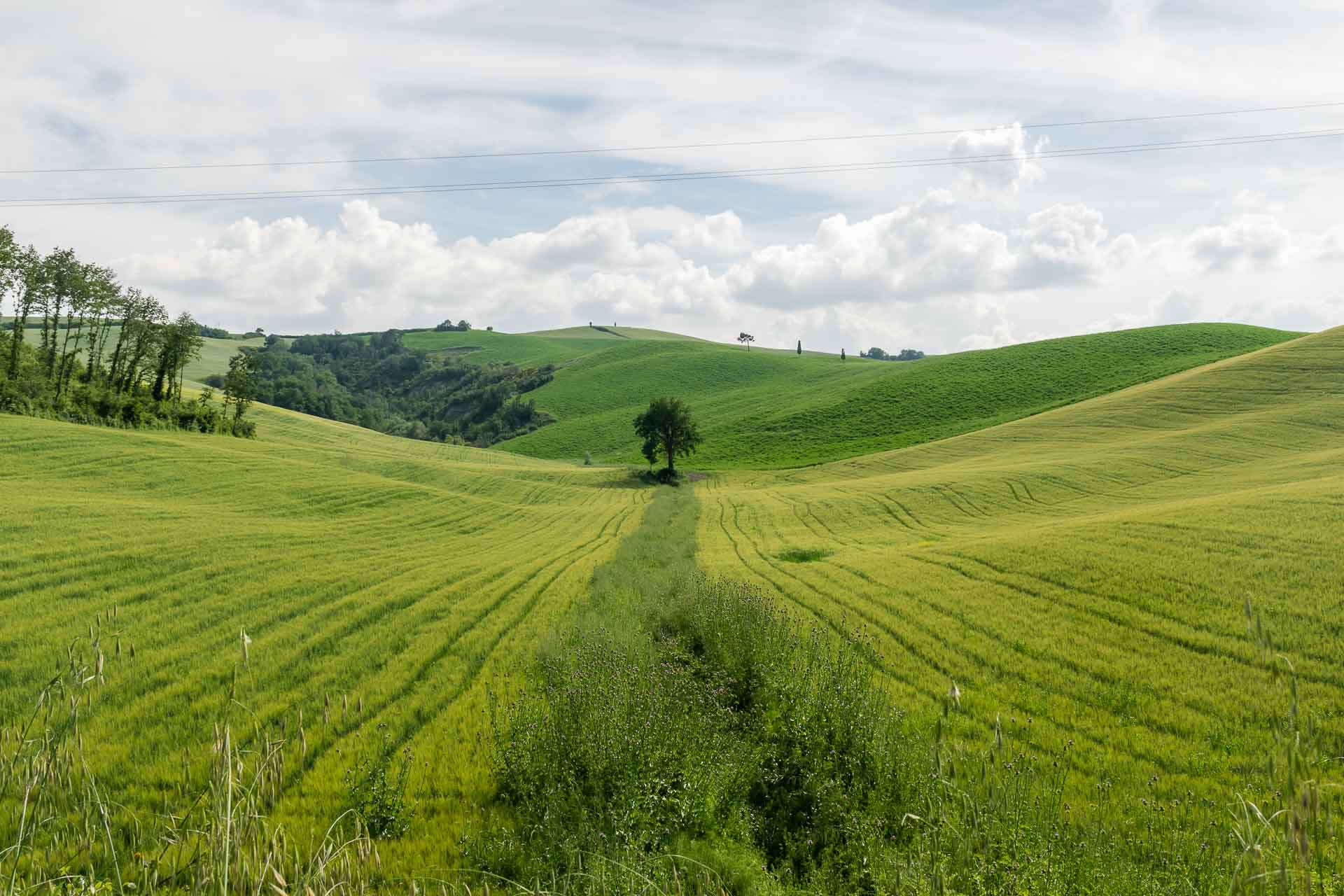 We are talking about an extremely popular region in a country already rather visited by tourists. Having said that, you should then avoid high seasons, which are the summer holiday months in north hemisphere – July and August. After all, this is the hottest period and believe us, Italy can get unbearable humid in summer.
Over the winter, which are from November to March, isn't also a good option because of the cold, particularly in the mountain region. Unless that's exactly what you want!
The best months to travel to Tuscany are during the Spring and Autumn, which are April, May, June, September and October. Temperatures are mild, days are longer, prices are cheaper and crowds are smaller. That's when the landscape is also prettier!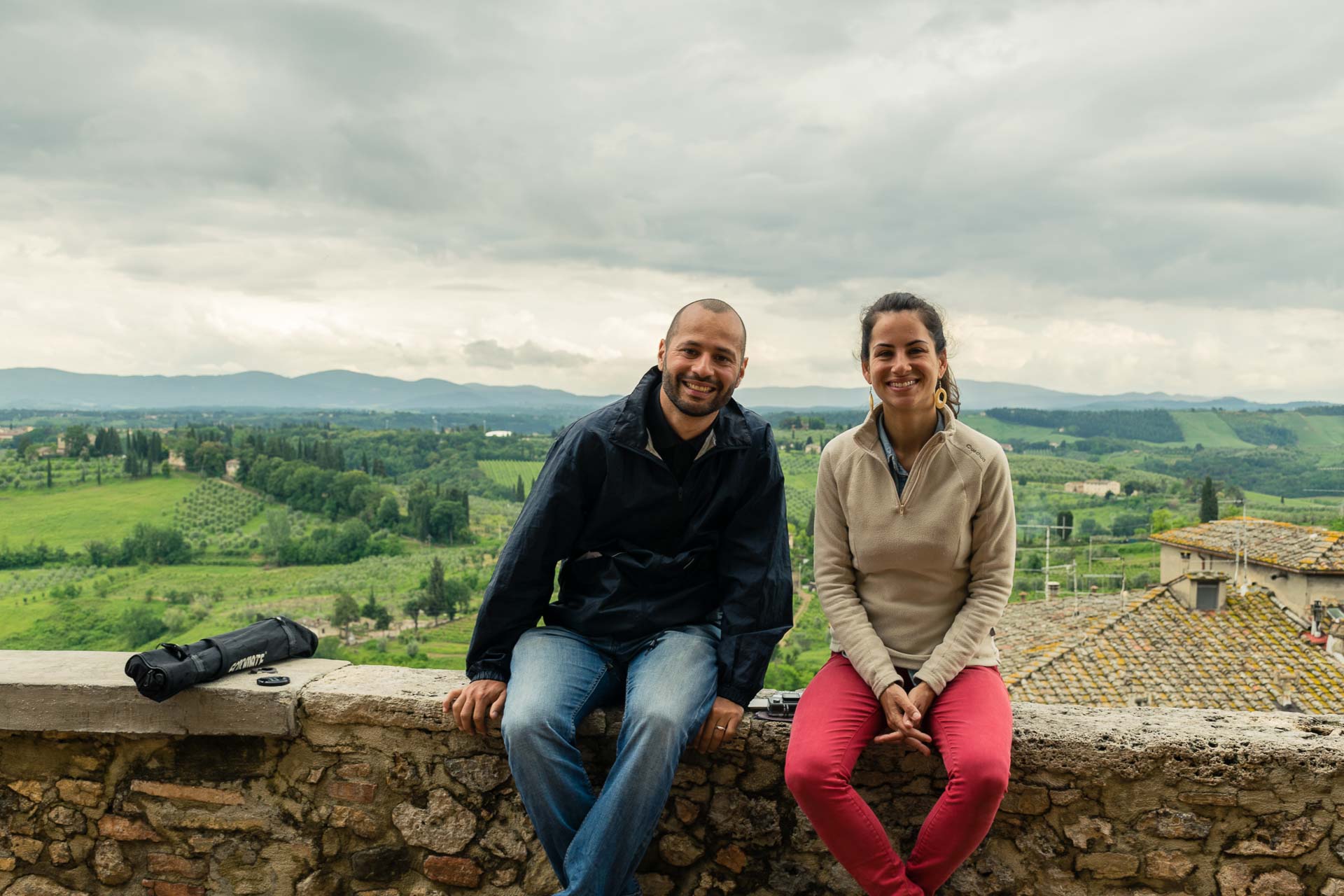 Best way to travel around Tuscany best towns
Rent a car in Tuscany
The best way to go around Tuscany is driving as you will have the flexibility to visit even the most remote villages. Although there are 2 international airports in Tuscany – Pisa and Florence – you are most likely to land in a larger city, such as Rome or Milan. From there, you can HOMEPAGE, sorryrent your car to wherever destination you want.
Public transport in Tuscany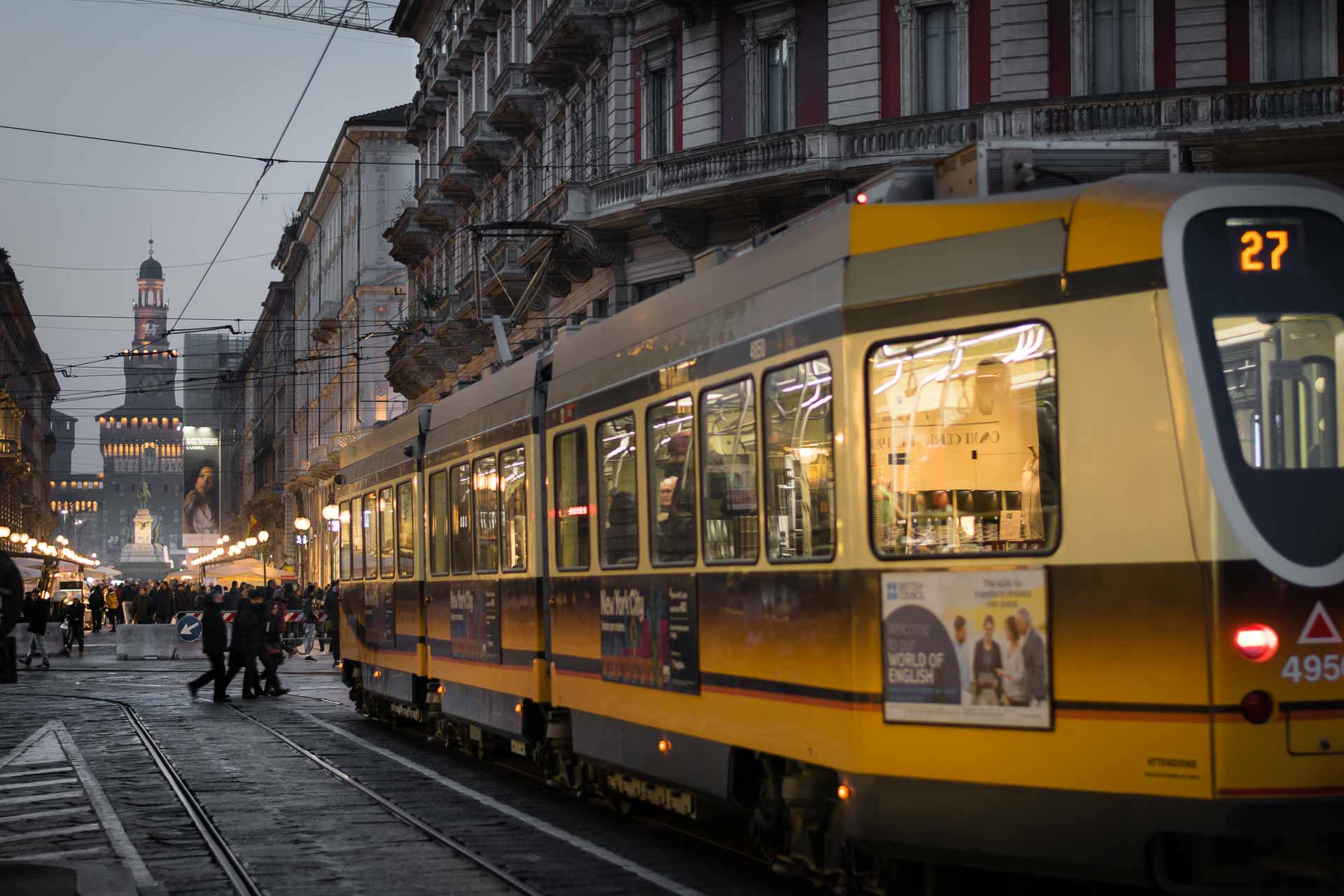 Tuscany is well served by trains and buses. The main cities to visit in Tuscany will hardly give you any issues using public transport. However, if you do wish to go to lesser known cities, such as Monteriggione or the hot springs thermals of Bagni San Filippo, a road trip is definitely the way to go.
To find out about time and prices of trains, visit trenitalia.com. For information about bus tickets, check Italy by bus; Tuttti gli autobus or Flixbus.
Biking in Tuscany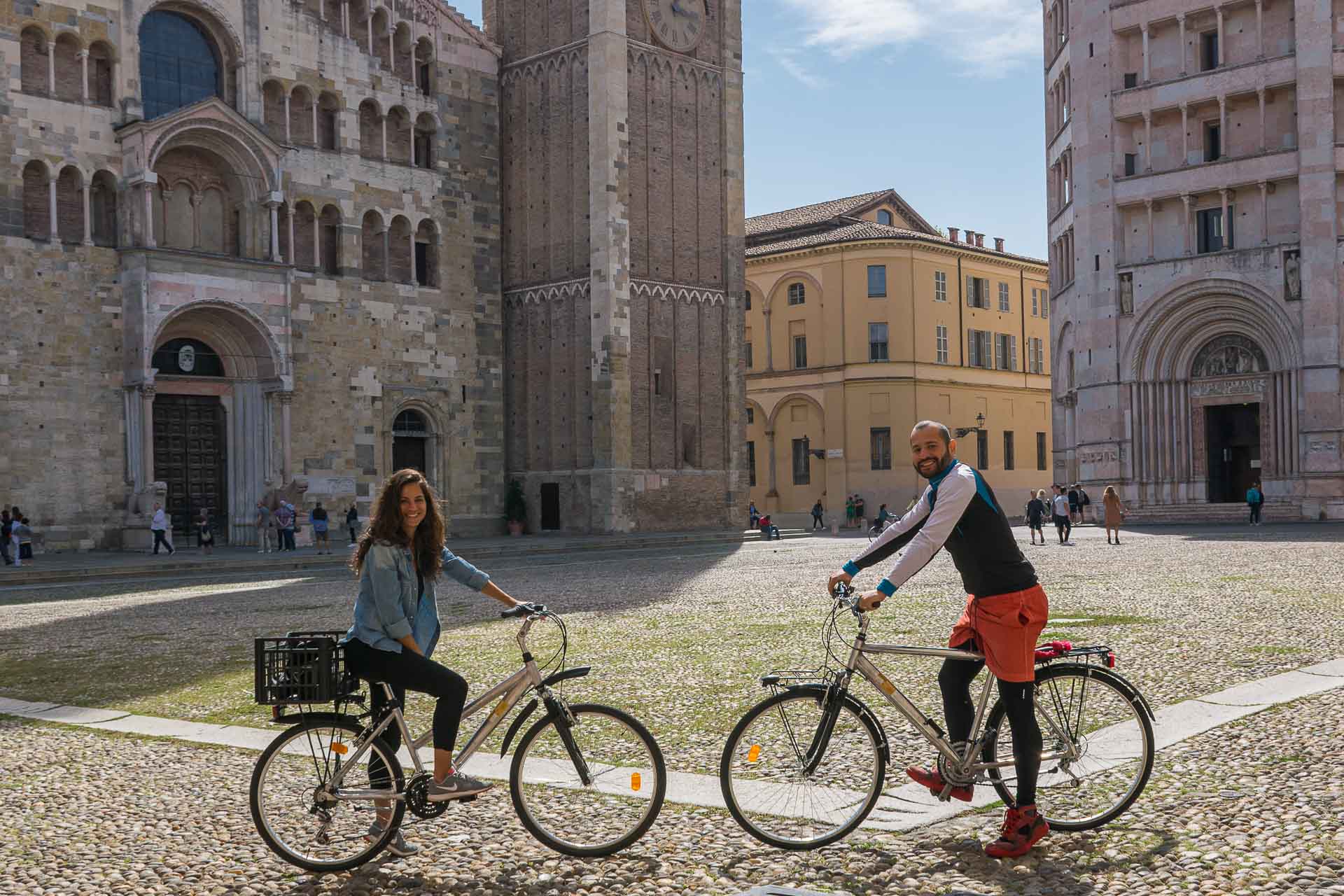 We had no idea of how Italians are adept to bike trips until moved to Italy and start cycling ourselves. If you go for this less conventional mean of transportation, you will be happy to know there will be other cyclists on the road too, and that drivers are quite respectful towards cyclists.
We crossed Italy by bike, from north to south. Check our webseries below!
One of the greatest thing about cycling in Tuscany, is that it has a cycleway, though not entirely finished, the Eurovelo 5 (see all the bike routes in Europe here). It coincides with the pilgrimage route of the Via Francigena. A bike tour through Tuscany is a great option because it will allow you to go to the most remote and hidden places – really paying attention to your surround. Nevertheless, we must say that pedalling around those endless Tuscany hills demands a certain kind of physical readiness.
Walking through Tuscany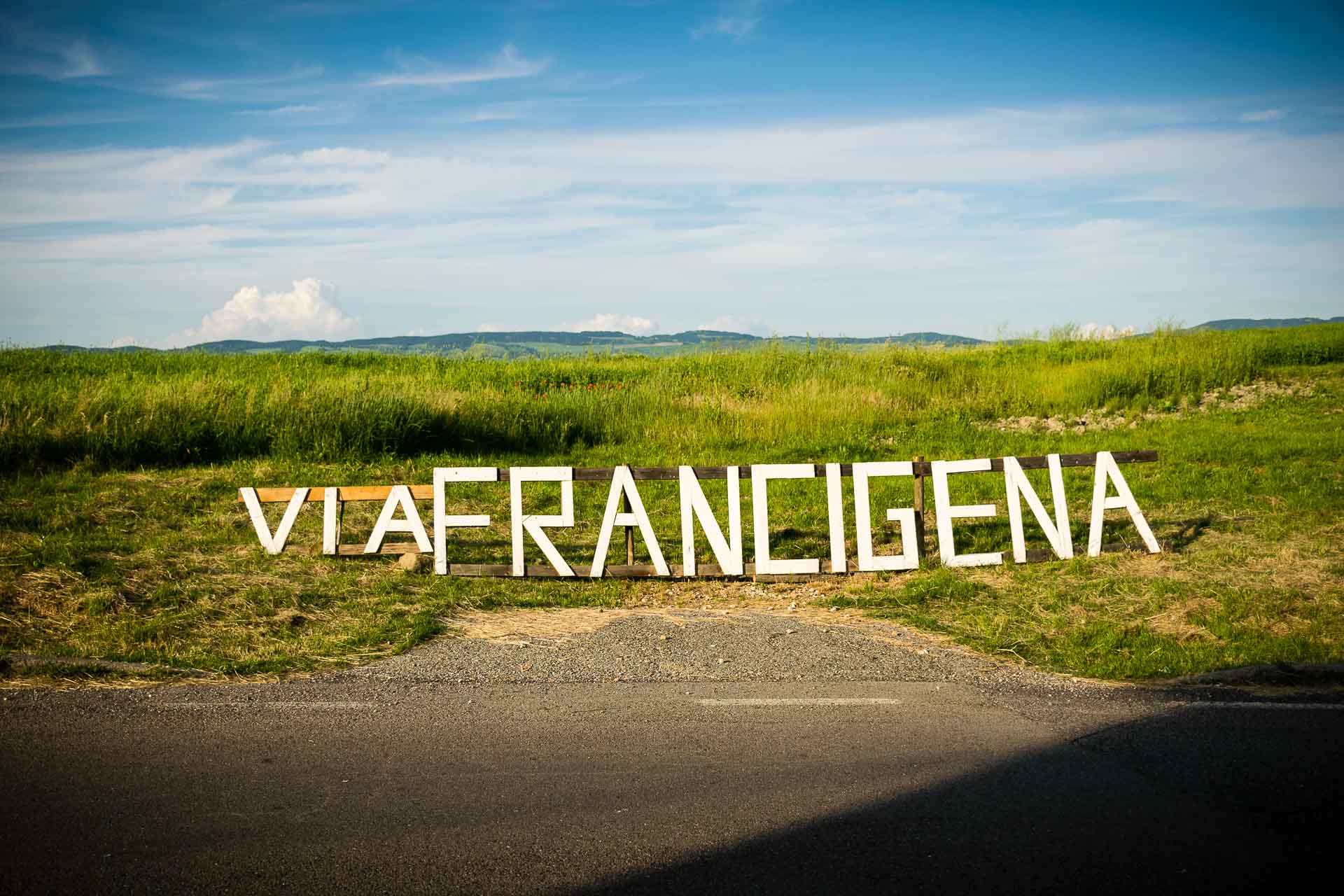 Yeah, that's right! You can walk through Tuscany through the Via Francigena, a pilgramage route. During our bike trip around Tuscany, we met many pilgrims who praised the infrastructure of the path. In fact, there is even a pilgrim passport you can make at the Via Francigena that costs €5 e allows your to have discounts in many hostels and restaurants. We will cover it in depth in a future post, but you can see the episode we talk about this.
See from minute 1.55 to hear about the Pilgrim passport
How many days to travel through the best towns in Tuscany
That's hard to tell. The saying "the more the merrier" works quite well now 🙂 . This Italian region has so many wonderful places to be seen, and we are not talking about the famous ones. The reality is that Tuscany has untold villages that will take your breath away.
One can go on around Tuscany for more than a month without getting tired. But, as we know most people won't have that much free time, we suggest to spare at least a week to 10 days. Within this period of time, you will be able to easily visit the cities in Tuscany we will mention in here.
Best towns in Tuscany
Florence (Firenze)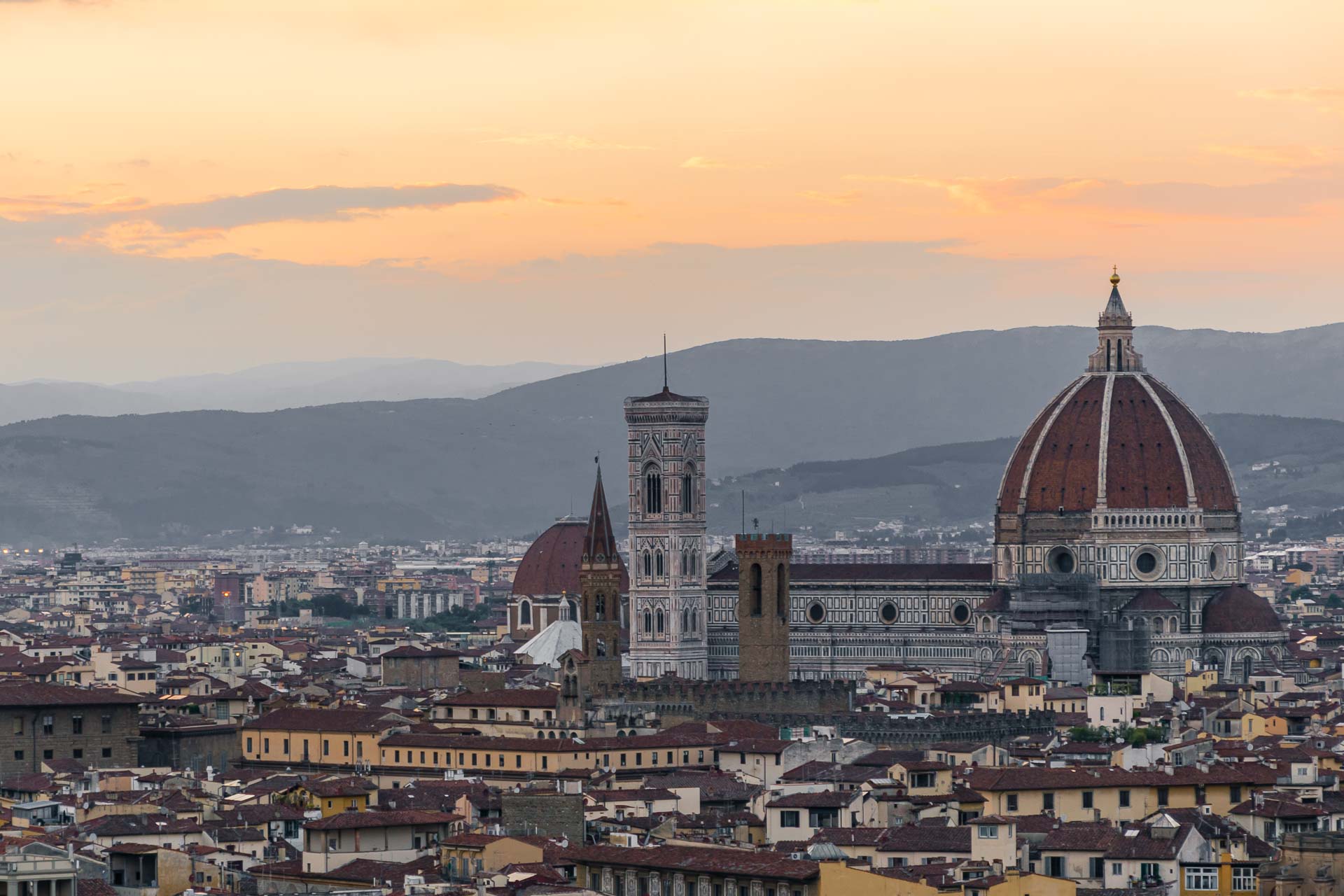 Florence is surely one of the best places to visit in Tuscany. It's the capital of Tuscany as well as its largest city. Florence was once home to one of the most powerful families in the world, the Medici. It was also here where the main philosophers, artists and writers of humanity, such as Dante Alighieri, Michelangelo, Leonardo da Vinci and more, lived. If art of Tuscany is something that interests you, here is your place.
Florence is the birth of the Italian Renaissance and probably one of the most beautiful cities in the world. Honestly, there are so many monuments, palaces, streets and museums to visit that one week wouldn't probably be enough. If you are short on days, take at least a couple of full days to your visit to this remarkable town.
A good tip to know the main sightseeing of Florence in a day or in a short time in general is to attend the Free Walking Tour. But surely, here it will be one of the best places to stay in Tuscany.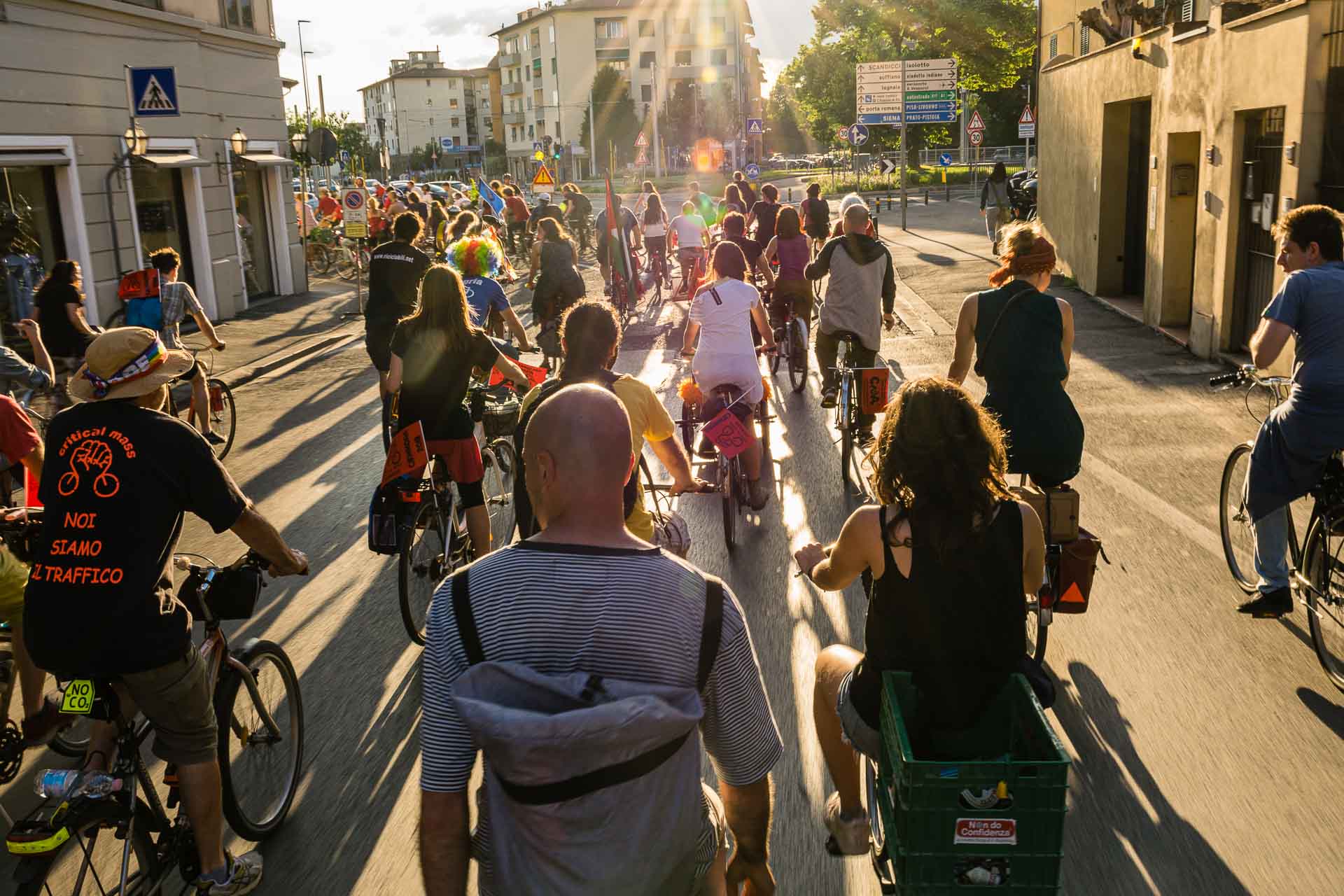 Our last visit to Florence coincided with the Critical Mass, the largest cycling event of Europe. It was happening for the first time in Florence.We spent 5 hours cycling through the centre and outskirts of town with a group of more than a thousand cyclists from all over the world. We say more about this experience in the video!
Find you the best deals on accommodation in Florence. Also, you might want to check some tours and activities to do as well. Have a look at our partners, Get You Guide, for tours in Florence.
Pisa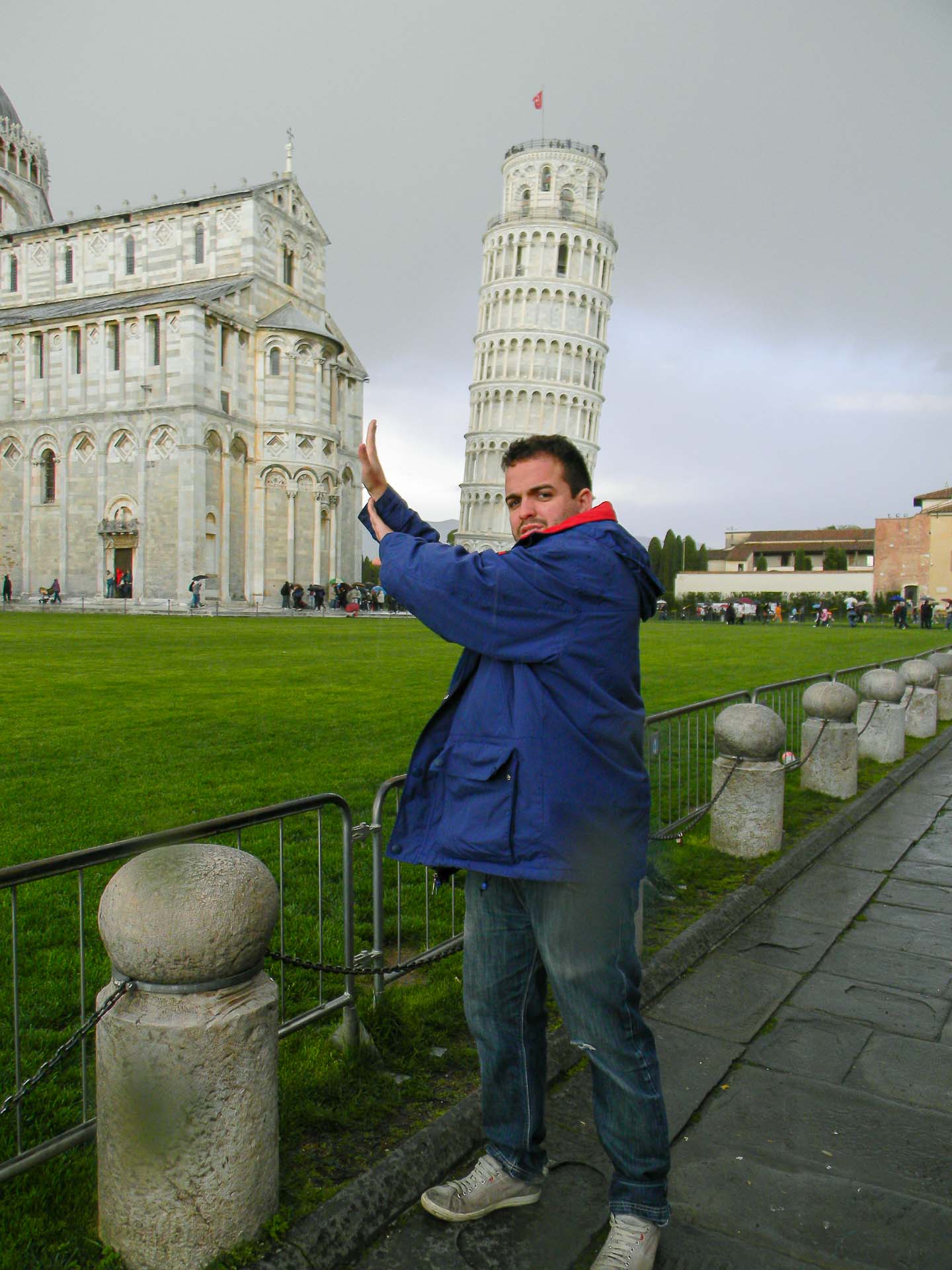 Pisa is mostly famous for its leaning tower, although there are other sights to visit. The leaning tower is at the Piazza dei Miracoli (Square of Miracles), where you can also visit the Duomo (Pisa cathedral), the Batisterio (Pisa baptistry) as well as the Camposanto (Pisa cemetery).
This city in Tuscany has a very small historical city centre, there is no need to spend the night over here. You can just spare a few hours and take the time to see other nearby cities.
Curiosities
The leaning tower of Pisa, or just the tower of Pisa, is just a bell tower of the cathedral.
The whole square of the miracles is a UNESCO heritage site.
It's in here where is said that Galileo proved Aristotle's Theory of Gravity wrong, by the "Law of the free fall".
Did you know that the first Sunday of each month most of museums in Italy are free?
Lucca

Lucca is one of the cities in Tuscany we liked the most. It's not just has well-preserved palaces, iconic towers, historic streets and beautiful cathedrals, but it is also one of the walled cities in Tuscany. It's medieval wall has been converted into an urban park surrounding the city, which you can either walk or cycle around.
It is worth spending a full day in Lucca (see here more in depth what to do in Lucca in one day), in order to get to know better every corner of it and fall in love with the city's bohemian atmosphere.
Volterra
This is the city in Tuscany with the largest number of Etruscan ruins in the region. For the record, the Etruscans were some of the first people to inhabit Tuscany as well as other parts of North Italy, such as Lazio, Umbria and Emilia-Romagna.
The Etruscans dominated the region long before the Romans arrived and their cultural legacy is still seen in many of the cities in Tuscany.
If you are looking for understanding more about the history of the region, then a visit to Volterra is a must. Take the chance to go to the medieval city centre and the Roman amphitheatre, easily done in a few hours.
Find out where you can have a free fountain of wine in Italy!!
San Gimignano
San Gimignano, in the province of Siena, is one of the most beautiful medieval walled towns in Tuscany – and most visited as well. It is atop the hill, surrounded by a wall, and with around 10 preserved towers from around 70 that once existed over there. It must be in your list of best towns in Tuscany.
The city is also on the Via Francigena route and, over one hundred years, it has been attracting pilgrims on their way to Rome.
San Gimignano is also known for its gastronomy, including the production of saffron, which has been for years one of the main economic source, even used to pay the army with. By the way, don't miss the local wine, Vernaccia, and obviously, the most famous ice cream shop Gelateria Dondoli. We didn't want to face the queue, so let us know if it is worth the time 🙂
TIP: Although the size of the city being rather small and being easily visited over an afternoon, it is interesting to spend a night over there to avoid the crowds and the sunset, when the large groups of tourists leave.
Check it out the best activities to do in Tuscany
Colle di Val d'Elsa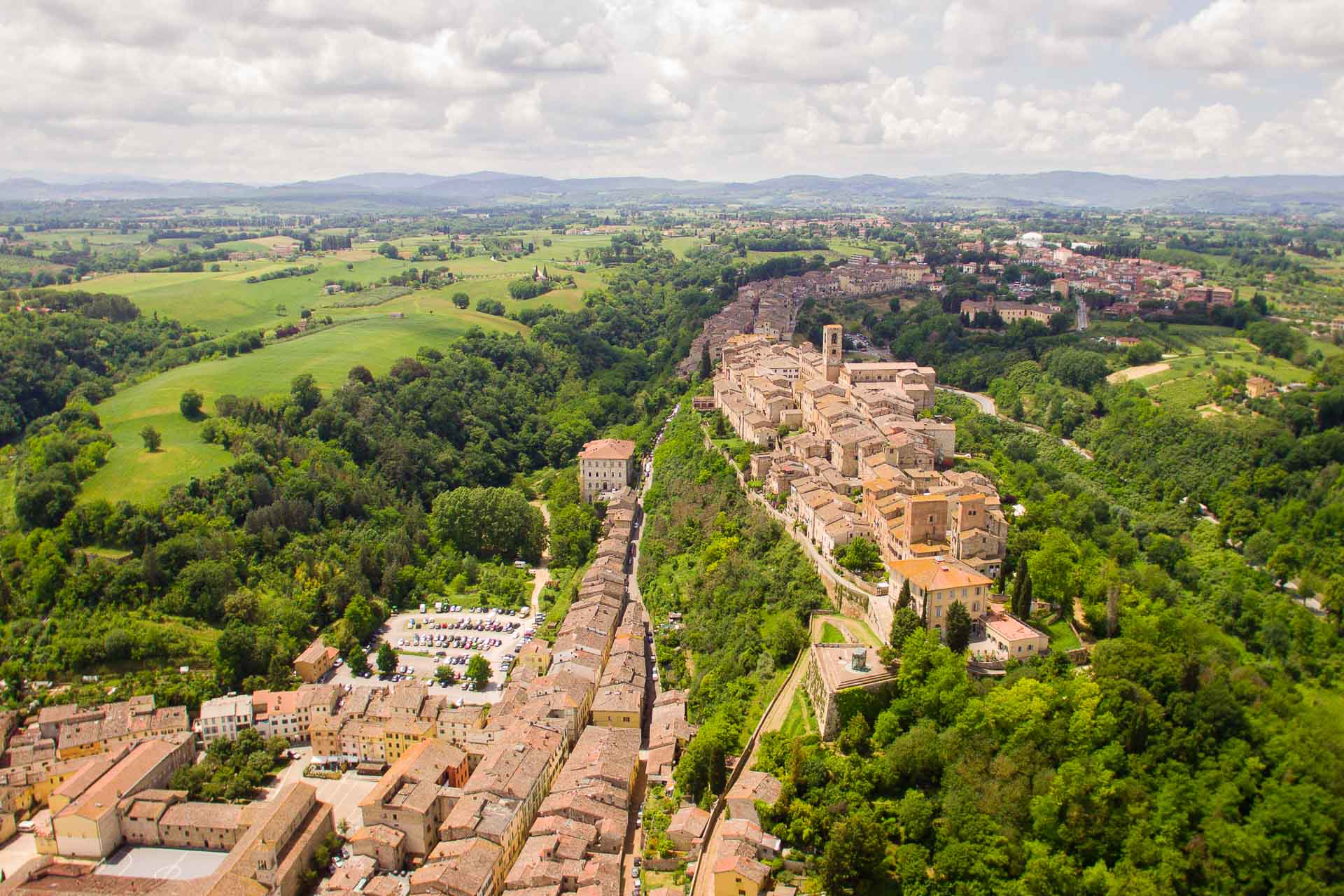 Colle di Val d'Elsa is another picturesque town in Tuscany atop the hill you wouldn't like to miss. The video below will say better than our words.
See from minute 2.12 to see Colle di Val d'Elsa
Monteriggioni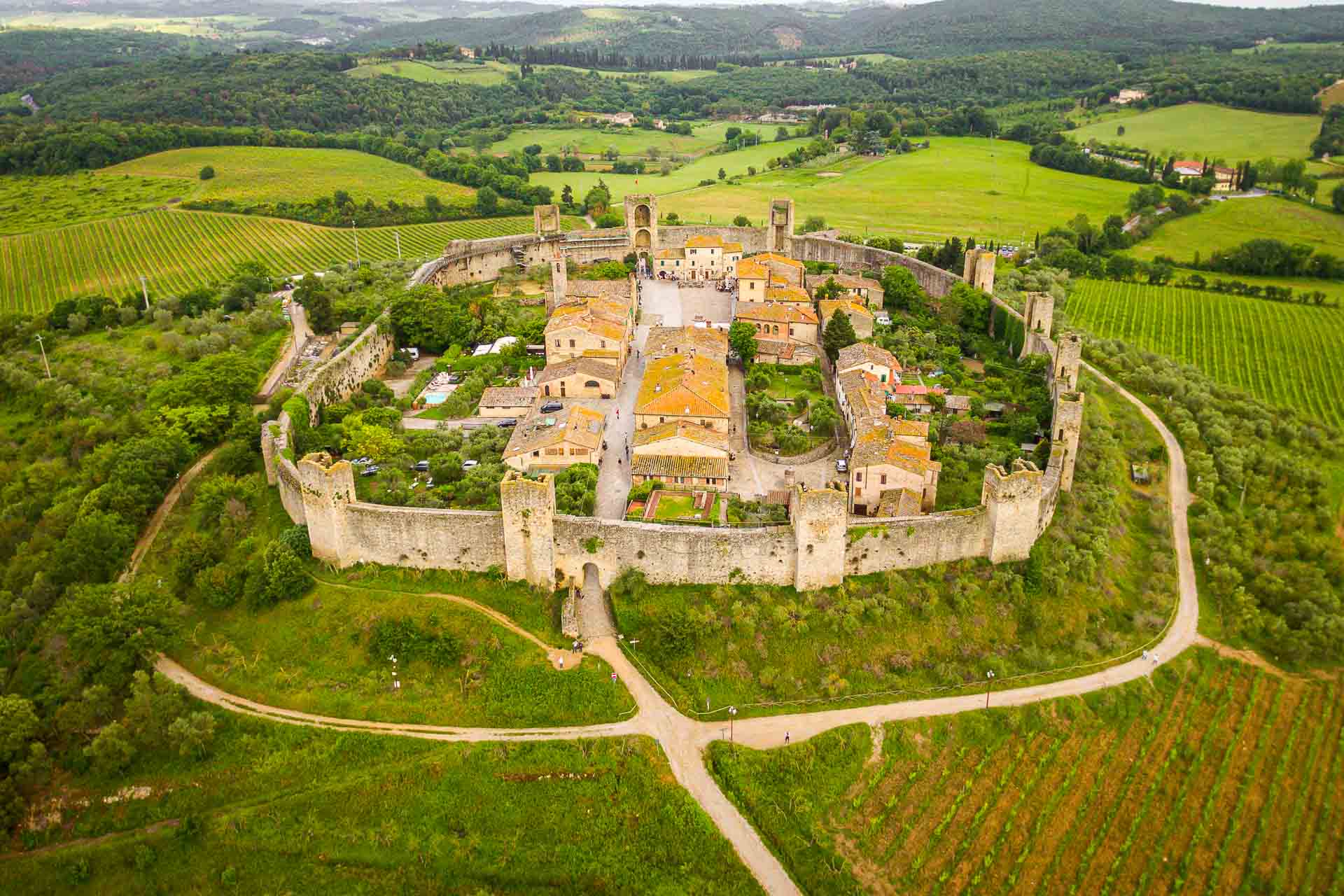 Monteriggioni is another one of the Tuscany towns which is completely walled and medieval. It was one of the most impressive for us during our trip through the cities of Tuscany. It was built in the XIII century by Siena to defend them from the never-stopping attacks of Florence. Monterrigioni was at a strategic place and its importance during that time awarded the city a mention on the "Divine Comedy" by Dante Alighieri.
After many years of wars and dispute, however, in 1554, the town fell to Florence and the Medici family took control of Monteriggioni.
TIP: Colle di Val d'Elsa and Monteriggioni are really small and about 10km from each other that you can do both in one afternoon.
See from minute 8.54 to see Monteriggioni
Worried about internet when travelling? See this fantastic device that can save your trip!
Siena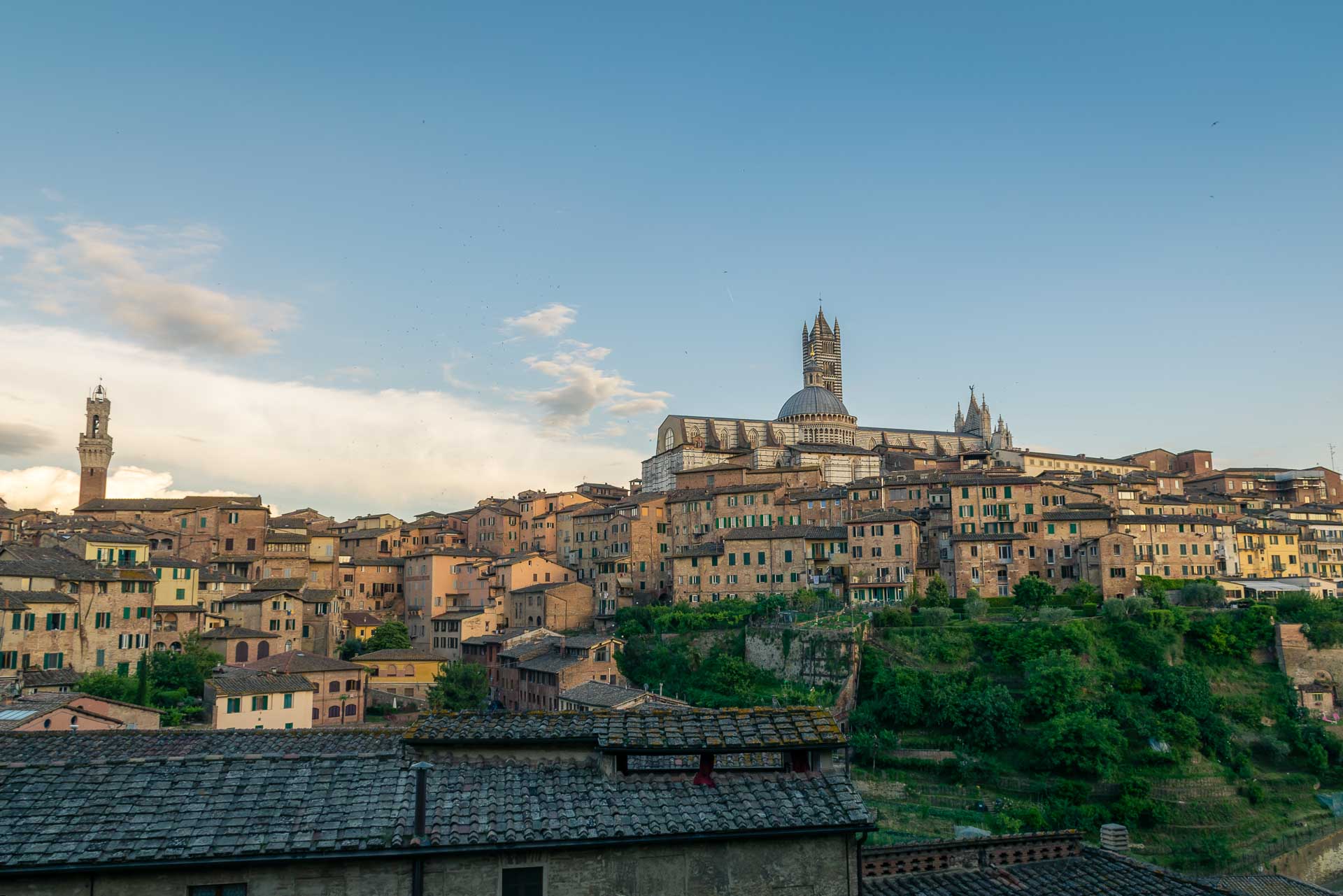 Siena is just wonderful. Its magnificence is doubtlessly compared to Florence. Spare at least a couple of full days to explore it well.
Besides appealing to the general public, what really made an impression on us was the kindness and hospitality of the people. We experienced a bizzarre/comic/wonderful episode where everybody from the street was brought into play to help us rescuing the lid of our camera lens, which had fallen into the manhole.
When we say everybody from the street, we mean every body.
There were two young men running from door to door enlisting others to help in the mission. The owner of the bar tried to put a tape on the tip of the broom, having the tape given by the neighbour and the broom by somebody else. This whole operation was directed by a lady, who casually smoked her cigarette, calmed down her dog, bossed people around and kept everything under control. The two young men and we managed to get our lid back. Vittoria! As they shouted, for the general excitement of the street.
See from minute 1.57 to see the who bizzarre/comic/wonderful episode!
It was indeed a remarkable scene that worked to leave us even more in love with Siena.
Find an accommodation in Siena here.
Montepulciano and Montalcino
At about 30km distant from each other, these two Italian comunes are compulsory stops to try to find your best winery in Tuscany.
These cities are already worthy of your visit simply because of their charm and beauty. Therefore, don't miss out on the wineries and the best vineyards in Tuscany on your way over here, to taste some of the best wines in Tuscany, the Vino Nobile di Montepulciano as well as the Brunelo di Montalcino. Also, here you find some of the best wine tours in Tuscany.
Bagni San Filippo and Terme di Saturnia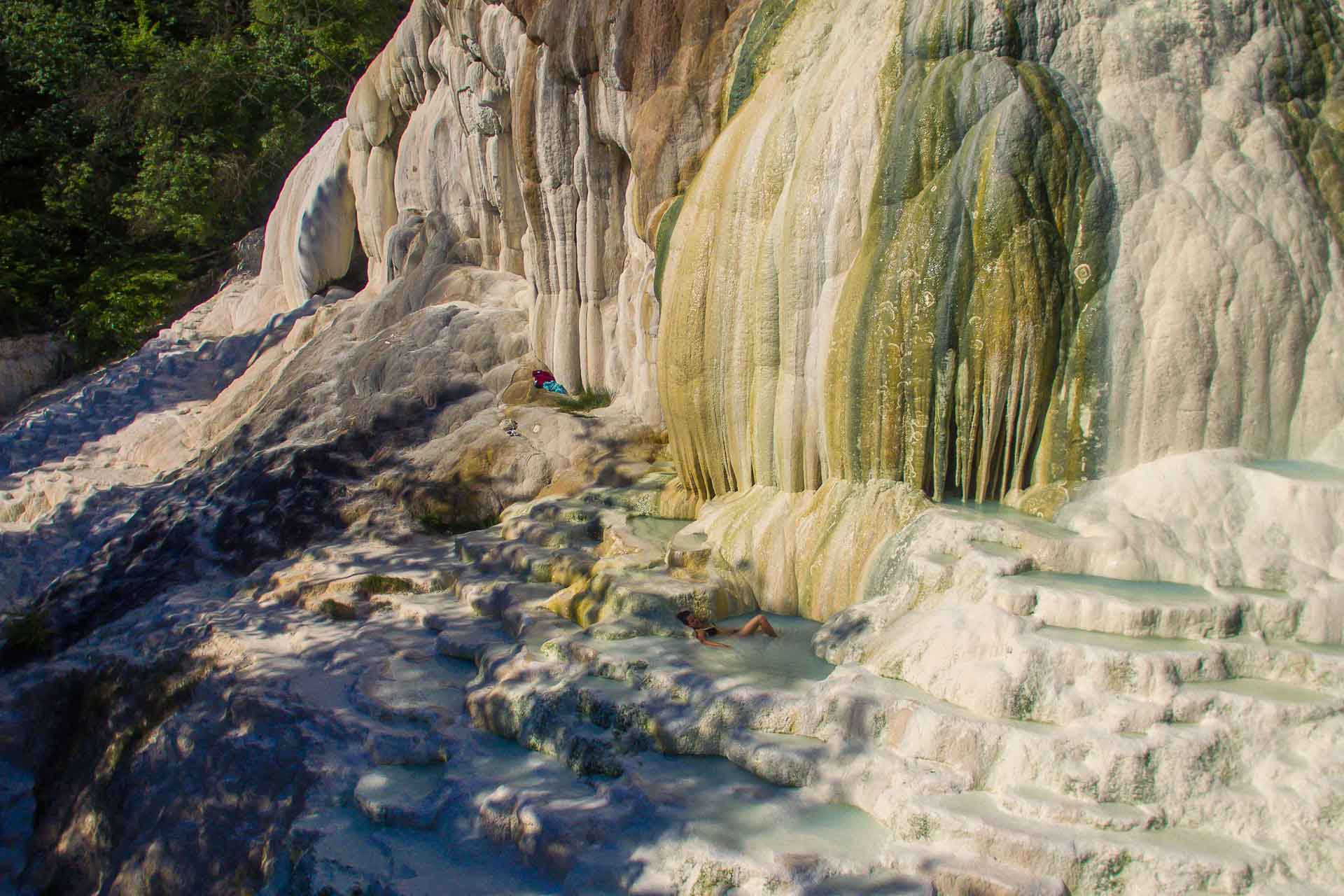 Not everyone knows about this, but Tuscany has many natural – and wonderful – hot springs scattered around. Some are even free of charge!
The most famous of them, however, is the Terme di Saturnia. Although we have not visited the place yet, it was very well recommended. But, if you are looking for something less touristy – and more wild too – we have been to Bagni San Filippo and we loved it.
Chianti Classico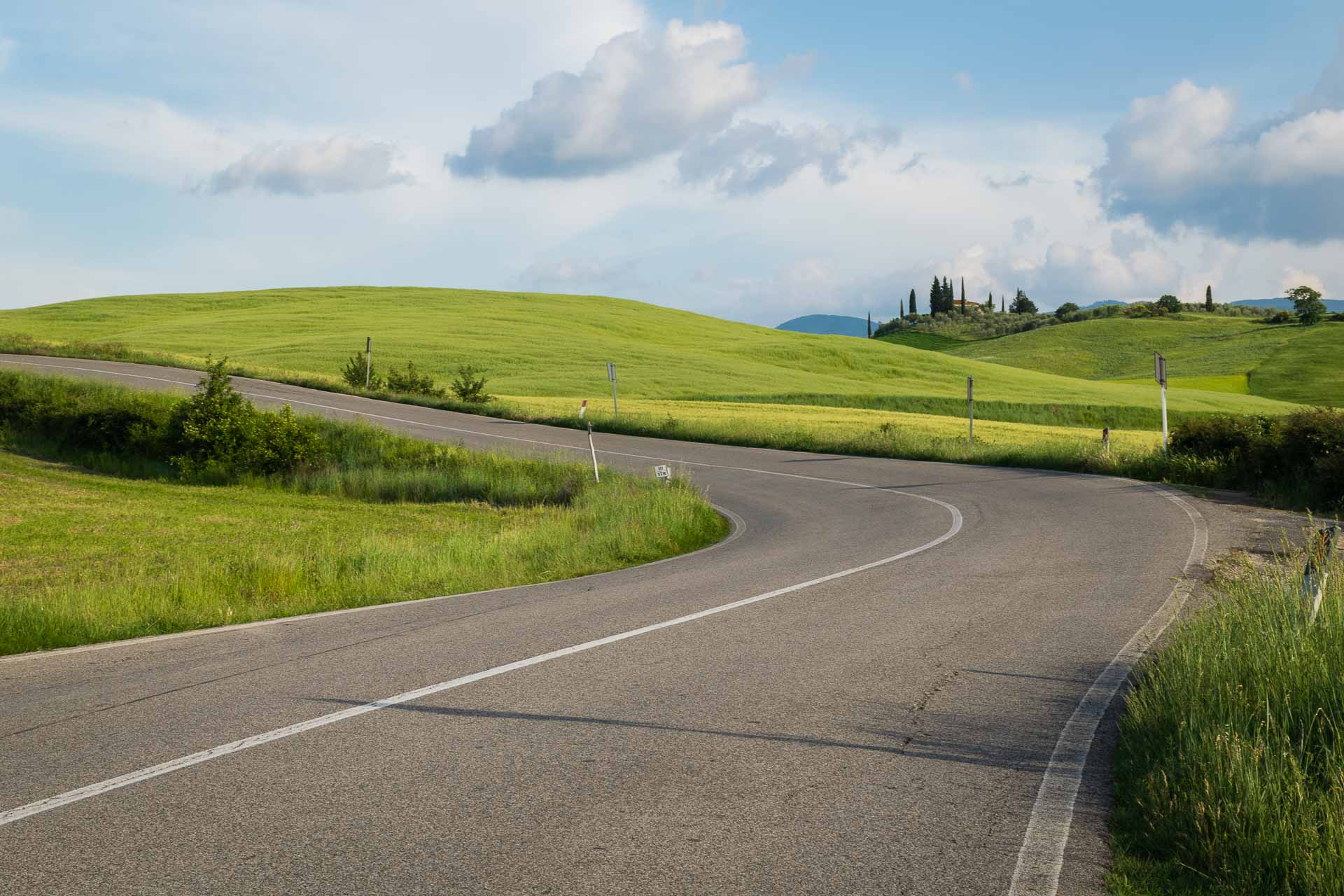 Chianti Classico is not a city or a province in Italy, but just an area between Florence and Siena widely known for its excellence in providing the best agriturismo in Tuscany (Food & Wine) – I would actually go as fas as best agriturismo in Italy, really, where you will find the best restaurants in Tuscany. But beyond all the eating and drinking, you will also enjoy astonishing landscapes worthy of a postcard picture.
The main cities to visit are Greve, Panzano, Radda and Castellana, but there are also other smaller yet picturesque too, such as Volpaia, Badia and Passignano.
The rule around here is crystal clear: do as many tastings as you possibly can.
Arezzo and Grosseto
Well, if you have made to here, you deserve an extra city!
These two Italian towns, which we have not – yet – the chance to visit, has been very recommended to us.
So, last but not least, the final cities of our list you must visit: Arezzo and Grosseto.
Best beaches in Tuscany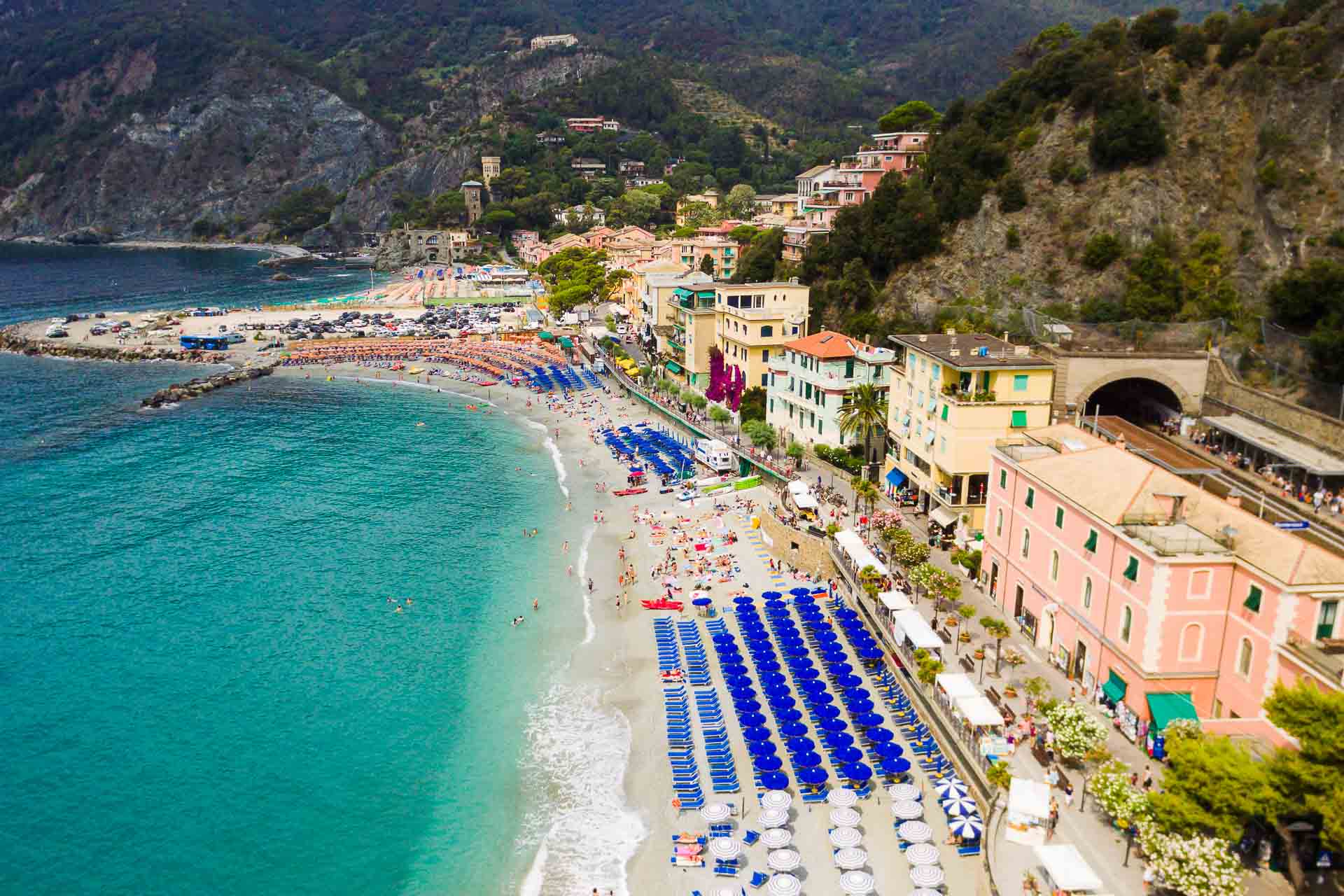 Massa di Carrara and Lucca
Find the beaches of Bagno Maurizio, Bagno Angelo and Bagno Carlo. But honestly, this whole long beach from Marina di Massa to Viareggio is great to enjoy.
Cecina
Find the Donna di Cuori beach, which literally means the Queen of Hearts. It's located in the province of Grosseto.
Scarlino
Find the Cala Violina beach, also located in the region of Grosseto.
Monte Argentario
Find a few great beaches in this sort of island. The La Feniglia is interested and also near a dog friendly area too. Also, find the Mar Morto Beach, in the other side of the "island".
If you are planning to travel to South of Italya as well, we have a list of the best beaches in Puglia for you too.
Map of the best towns in Tuscany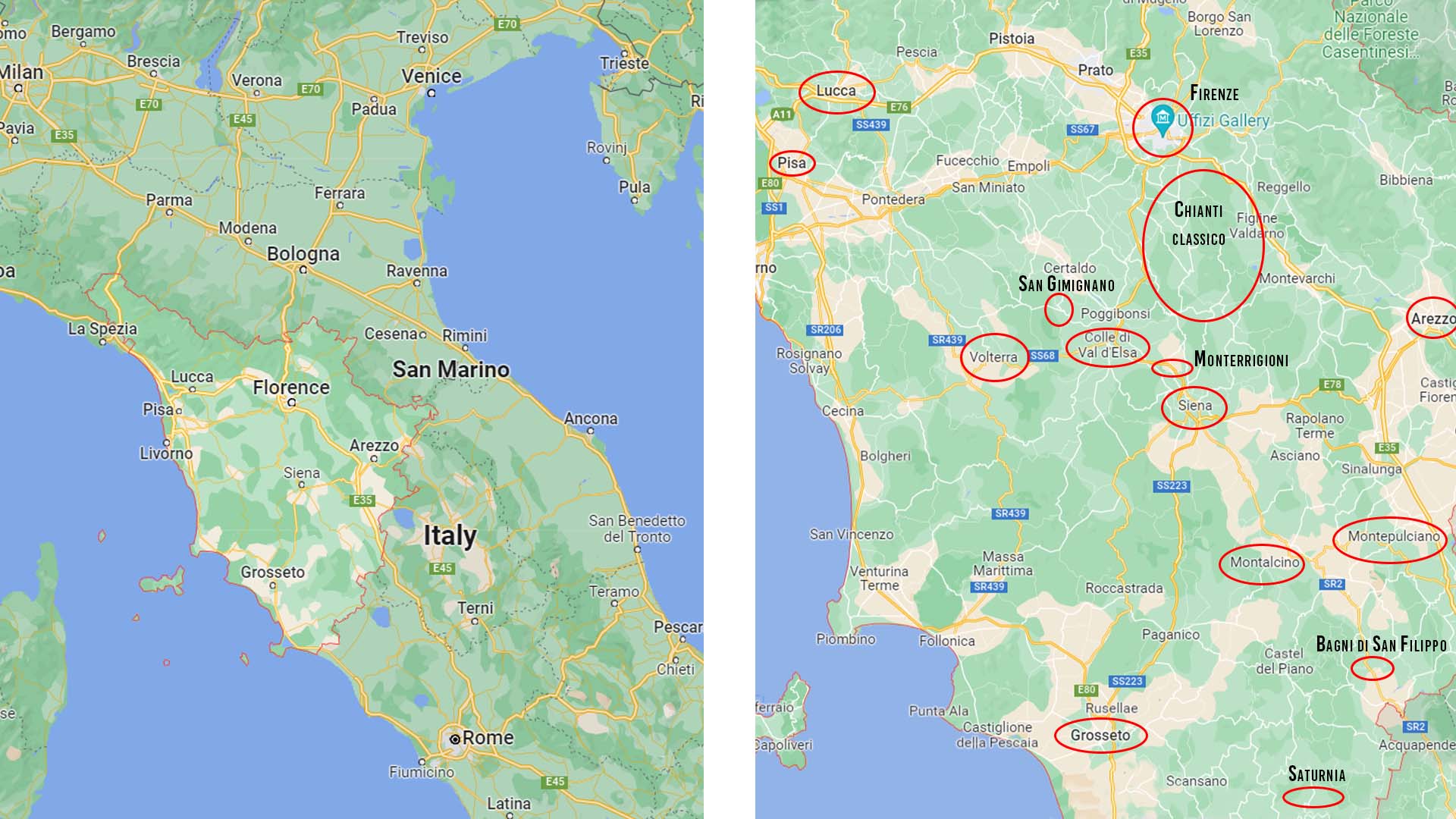 In this towns of Tuscany map above, you can see where Tuscany is in Italy as well as the location of each best towns in Tuscany we spoke in this guide.
Find the best hotels in Tuscany towns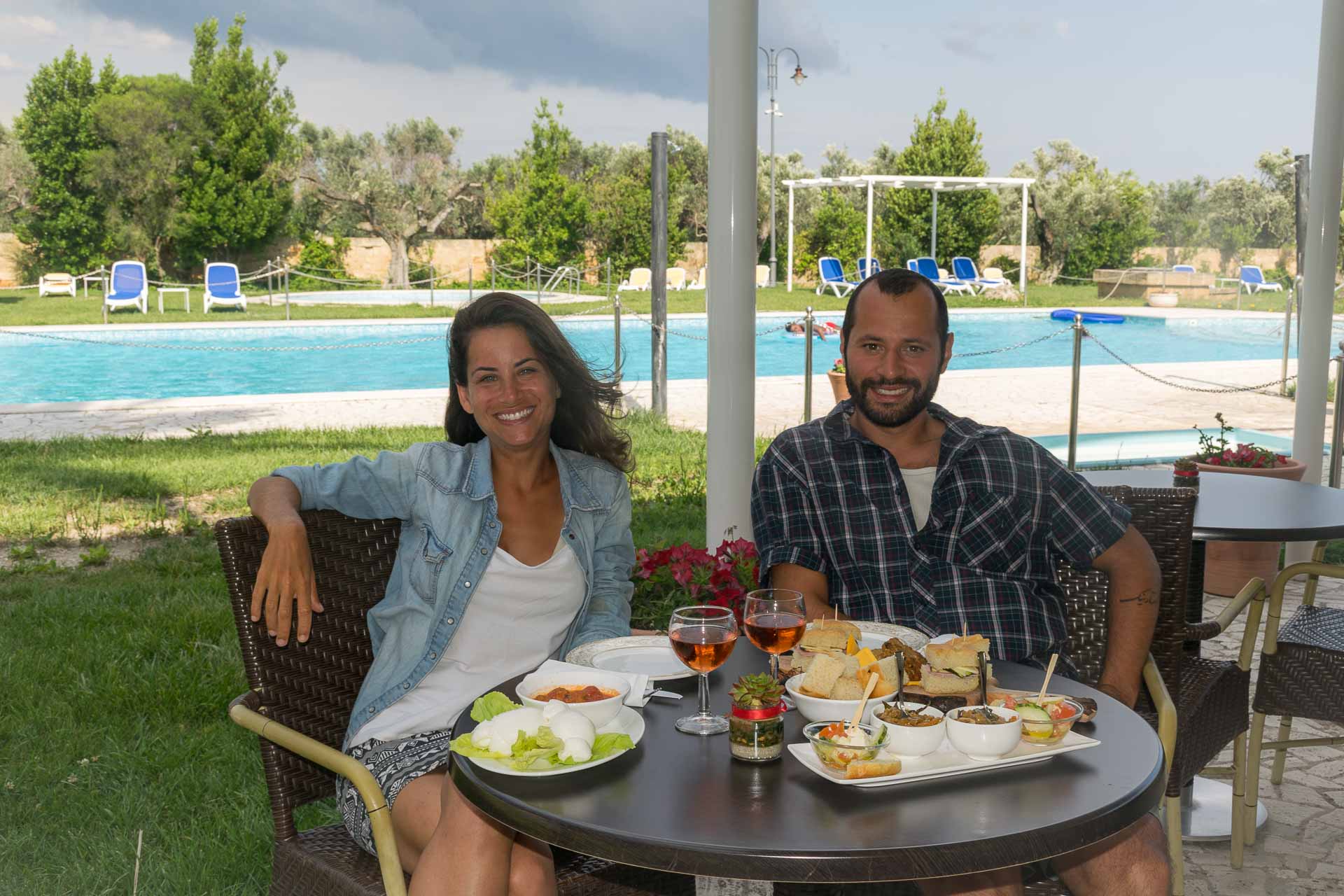 In this interactive map, you can find the best places to stay in Tuscany and the best hotel in Tuscany for you. You can zoom in and out to go to the desired place!
We hope this guide helps you to organise your trip through Tuscany. If you have any question, just hit us up!
Safe travels and don't forget to come back here and tell us what you thought!
---
* Post originally written on June 18th 2019 and updated on July 07th 2022 *