This post is also available in:

Português
Have you ever thought about going on a long distance cycling in Europe? We have never ever thought about this possibility until not so long ago. Things started changing when we met an Austrian cyclist in a park in Parma, the Italian city we have been living in. He told us about the best European cycling route: the Eurovelo.
The Eurovelo is a net of cycling routes in Europe with more than 70 thousand kilometres (43 thousand miles) of extension, crossing the whole European continent. The Eurovelo is made by 15 routes that goes through 42 counties, making biking in Europe not only possible, but quite awesome as well.
*You may also like to read: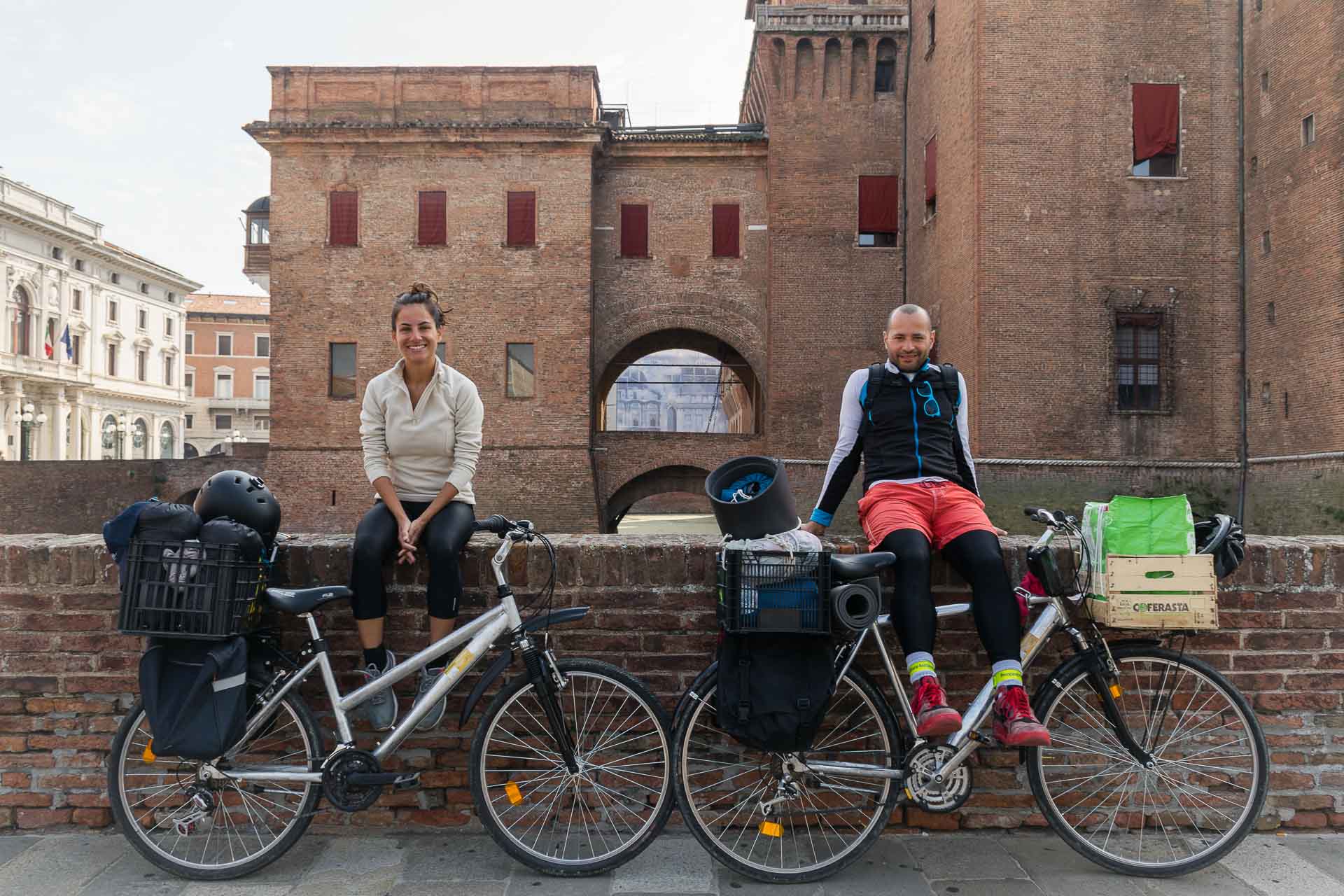 These bike routes in Europe started to be developed in the 90's through a partnership amongst the ECF – European Cyclists Federation – and the British and Dutch organisations Sustrans and Frie Fugle, respectively.
Most of the cycling routes are already completed and finished. You might experience some lack of infrastructure in some of them. So, you are better off choosing your route according to your abilities. Many of the Eurovelo routes for biking in Europe have great infrastructure and can be done by anybody, but some may be more demanding and require more experience and organisation.
Eurovelo routes for cycling in Europe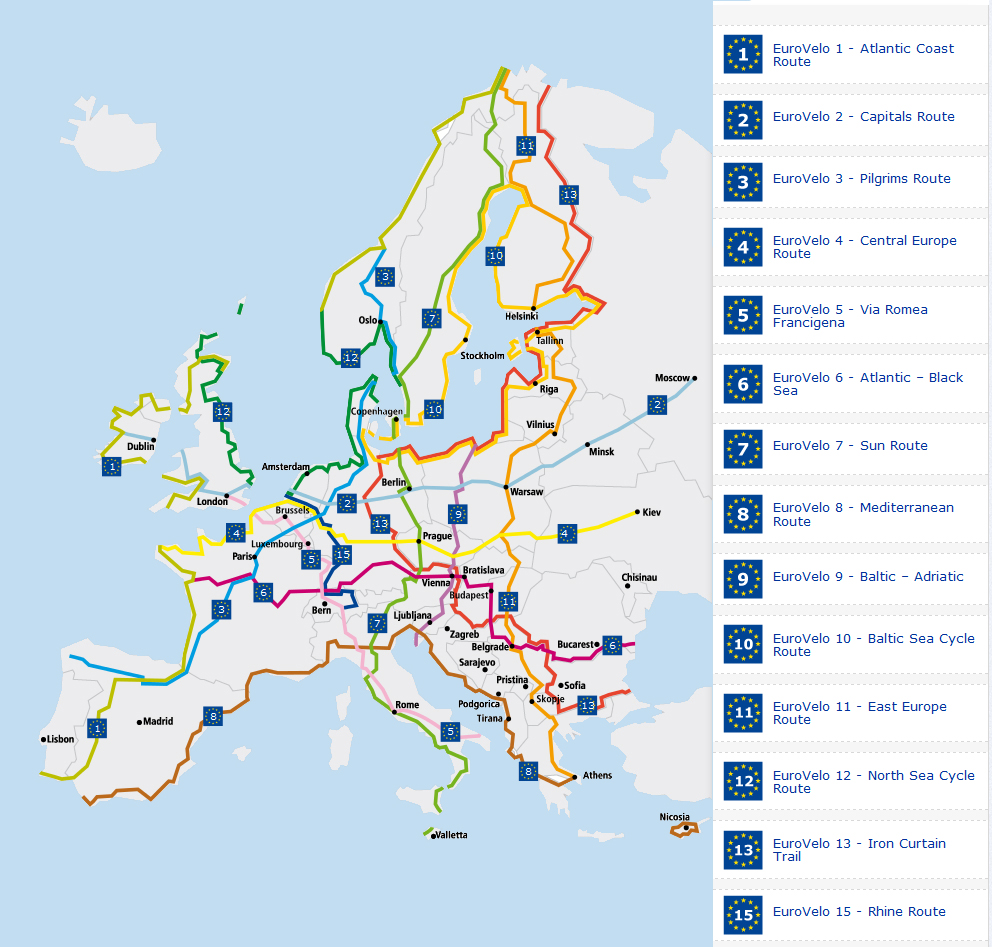 As we have said above, the Eurovelo has 15 routes – Eurovelo 1, Eurovelo 2, Eurovelo 3 and so on. Each one of them takes you to a specific journey, where you will encounter different countries, cultures, stories and flavours. Deciding which one to go will depend on your interest, time available, starting point and many other specifics.
On the Eurovelo website, you can find maps and information about each route. The website has its version in French and German, besides English. In any case, we will discuss below some of the best routes for cycling in Europe, explain further which ones are easier, the ones with better infrastructure, the ones that comprises more historical sites and so forth. That way, it will be easier to choose how you are going to cycling through Europe.
Eurovelo 8, the Mediterranean Route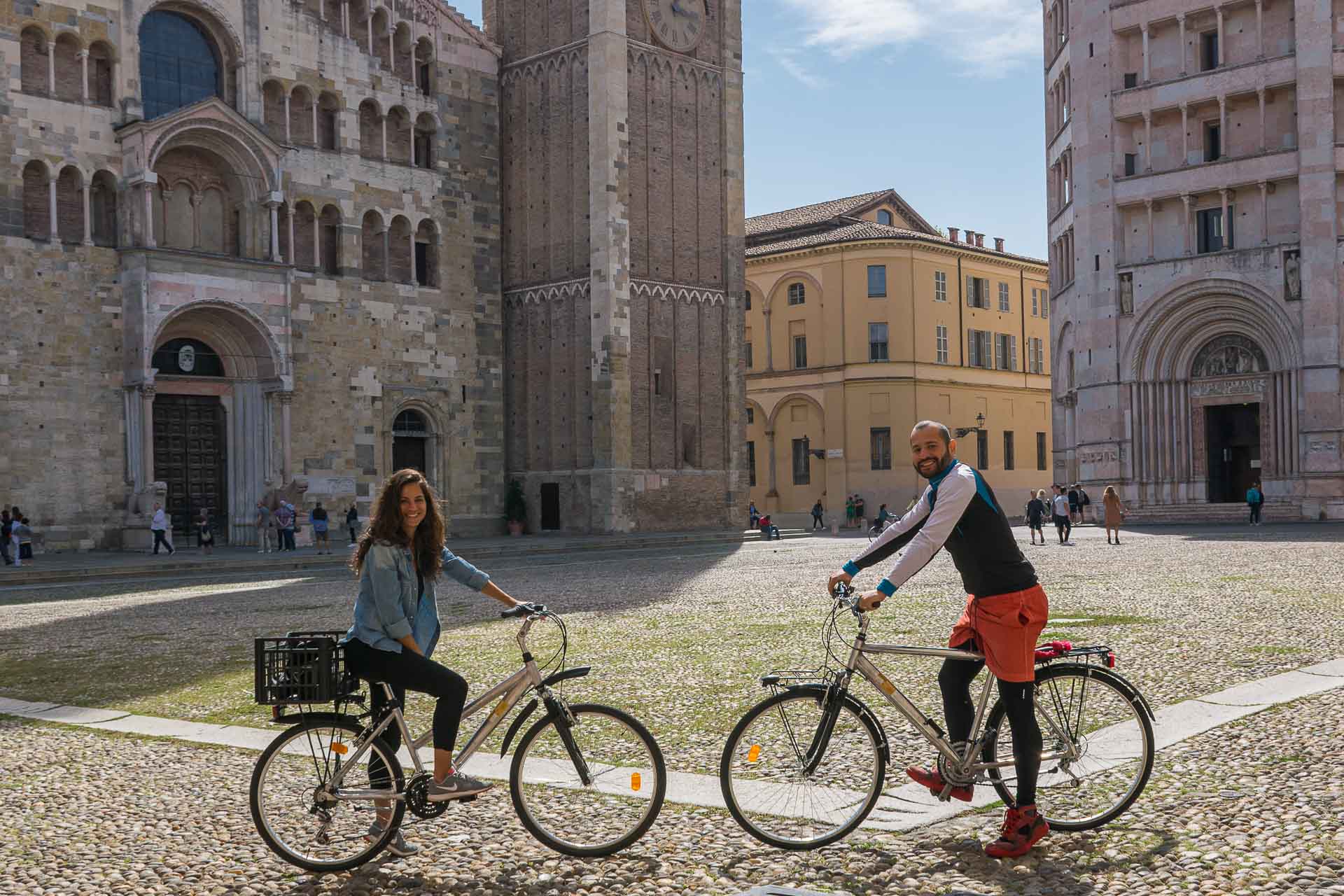 The Eurovelo 8 is also known as the Mediterranean Route. It has 5.888 km/3658 miles and it's one of the most popular long distance cycle routes in Europe. It goes from Spain all the way to Chipre, through 11 countries, 23 Unesco Heritage Sites as well as through some famous cities, such as Barcelona, Venezia, the coast of Croatia and Greece.
We pedalled a part of the Eurovelo 8 during our cycling trip from Italy to Slovenia. We left Parma, north Italy, and went through Mantua, Ferrara, Venice, Aquileia, Trieste and all the way to the Slovenian coast. From there, we decided to explore Slovenia instead of continue to Croatia, through the Eurovelo 8.
*Another cool-  and challenging – way of travelling around Europe is by foot. Have you ever tought about it? Check this post about hikes in Italy for more.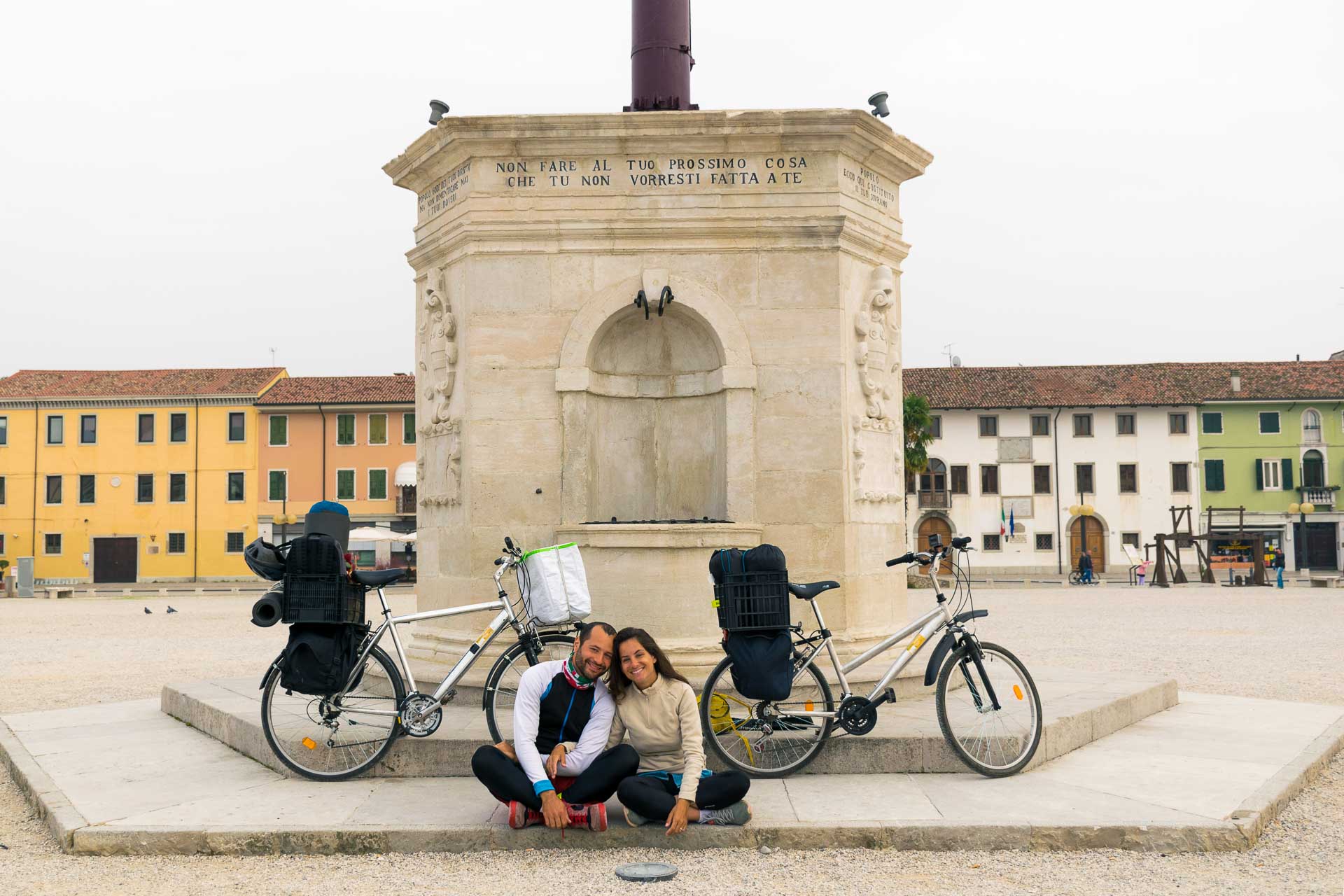 Despite its infrastructure not being the greatest we have ever seen – we actually got lost a few times – it was a bliss cycling in Europe through the Eurovelo 8, particularly cycling in Italy by the edge of the Po River. Besides offering an astonishing landscape, the cycling route is pretty much flat all the way.
Our long distance cycle trip in Europe lasted for about 45 days and it was a remarkable experience. It was the first time Fernanda did a bikepacking – yes, this term exist and we love it! – of this kind. One of our goals was exactly proving that one does not need to be a professional cyclist to do a long distance bike trip. The adventure turned into a series of episodes on our YouTube Channel and you can see it here: (don't forget to subscribe and tell us what you think)
Cycling in Europe for history lovers
If you want to explore the history of the continent while bikepacking in Europe, the Eurovelo website recommends you to take the Eurovelo 3 and Eurovelo 5. Both goes through famous pilgrim tracks. Another advise is the Eurovelo 2, an European cycling route for those looking to see some of the main European capitals, such as Dublin, London, Berlin and Warsaw.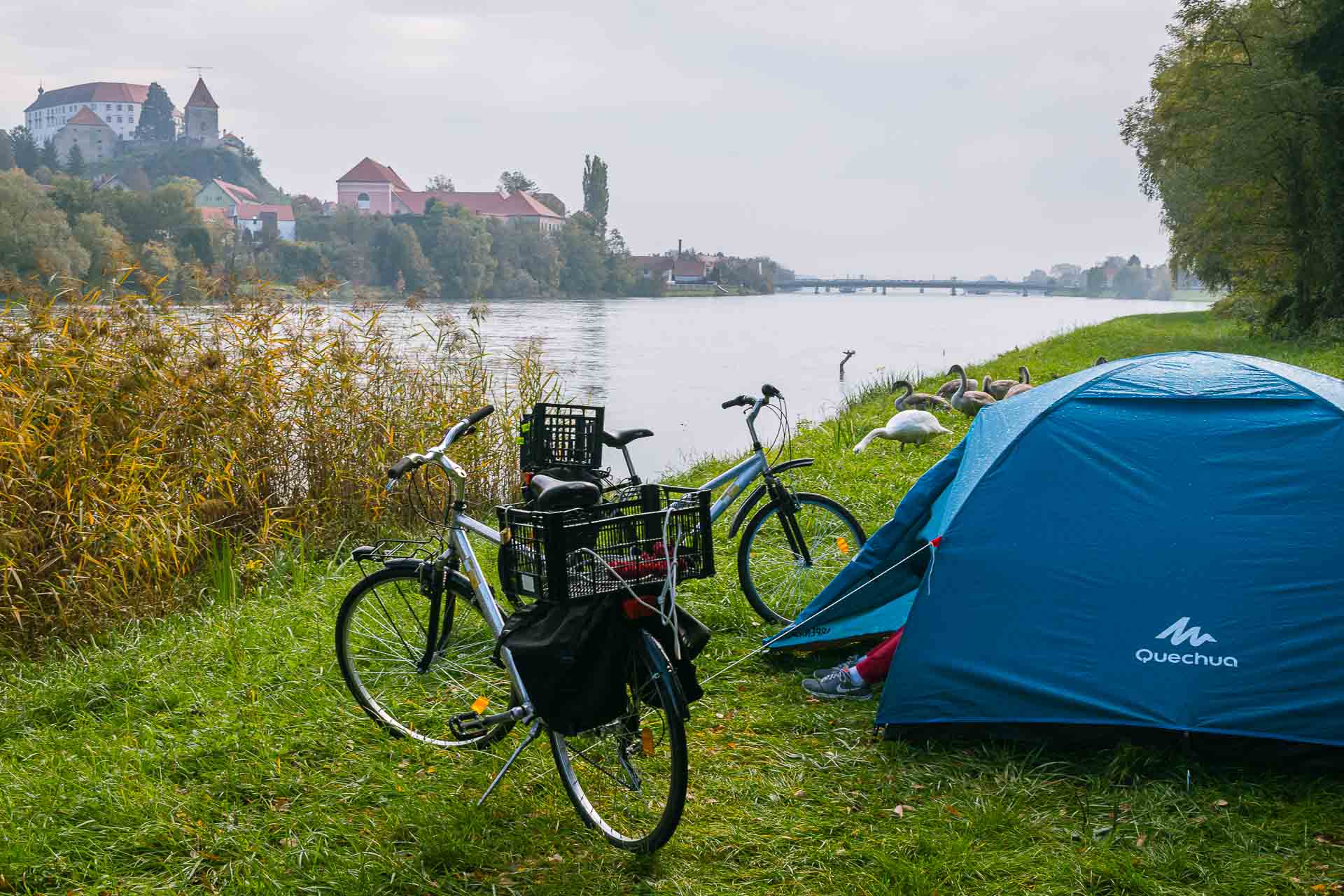 On the other hand, if you are more interested in Europe's recent history, the Eurovelo 13 is a great option. The bike route is also known as the Iron Curtain Route. This European cycle route is the longest of all. It has 10.400 km/6482 miles and goes through all of the 20 countries that used to delimit the border between Occidental and Oriental Europe.
Just a disclaimer here: You don't have to follow anything. You are the one who decides the route of your road cycling holiday. It's up to you which the country to visit, the cycling route to go, how much to pedal, how fast, what distance, everything is all according to you.
The best European cycle route for the first time on cycling in Europe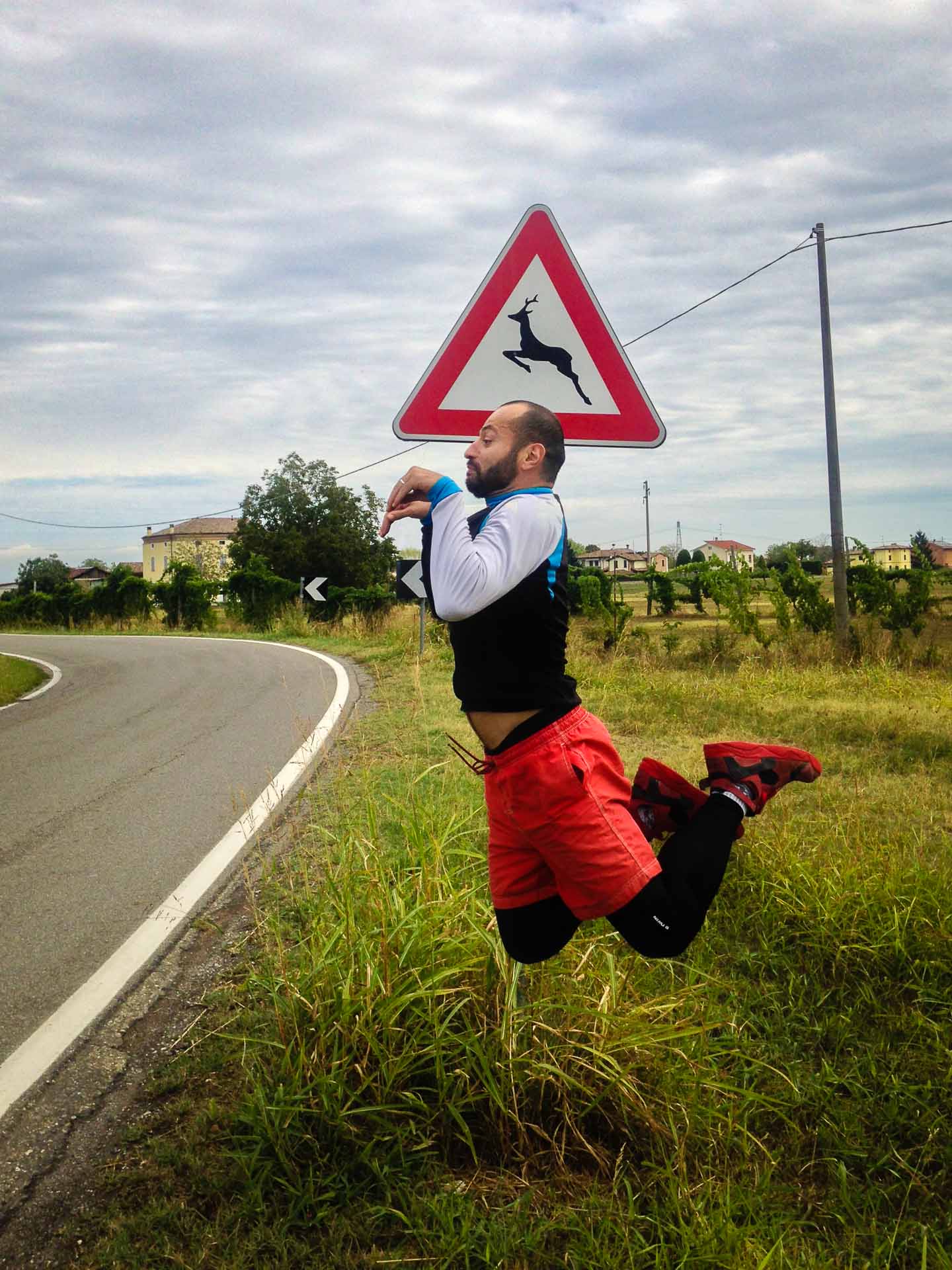 For the newbies on a long distance biking trip, the Eurovelo 6 is a good advice. It connects the Atlantic Ocean to the Black Sea. This bike route has one of the best infrastructure, let alone being practically flat all the way as it edges the Loire, Reno and the Danube Rivers.
Family cycling holidays in Europe
A great advice for cycling in Europe with children is the route 15. This cycling route edges the Reno River from Switzerland to The Netherlands. That's the best and most complete bike route in Europe and, according to the Eurovelo website, the 1320 km/820 mi of extension can be easily done during the school holidays.
* And if you are looking for accommodation during your cycling in Europe, find here the best deals.
Why travelling by bike in Europe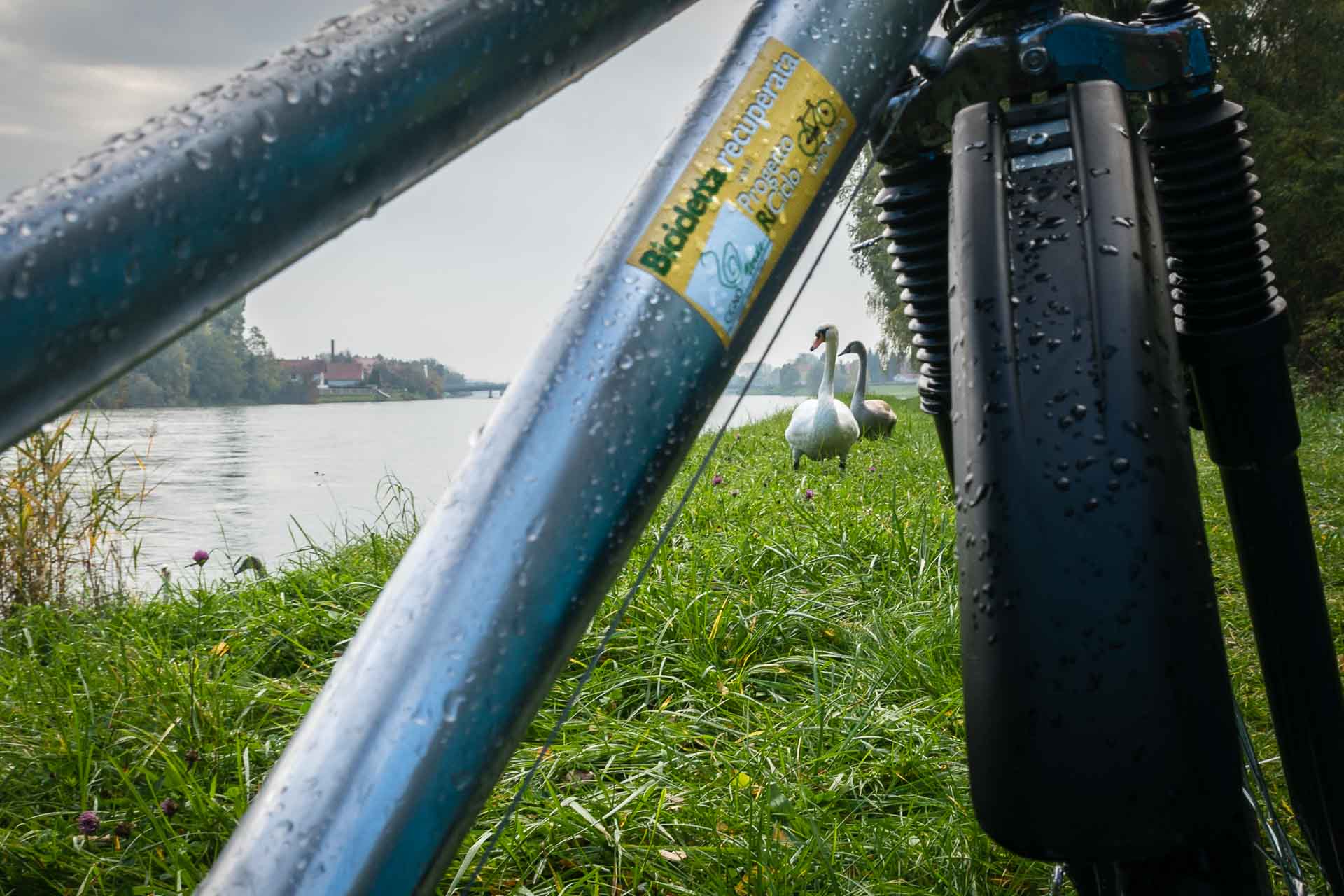 Well, let's answer this question, portraying how we developed our relationship with this rather exciting way of travelling.
As we mentioned earlier, this trip from Italy to Slovenia was the first we did together. We loved so much that, since then, we are trying to demystify a bit of the current idea about cycling in Europe, such as tiredness, difficulty and hazards, as well as encourage people to try for themselves too.
The best of biking in Europe is actually the possibility to interact intensely and profoundly with the place you are visiting. It's mostly because your interaction with the new place is over a large period of time and goes gradually from the countryside to the most lively centre, allowing  you to grab the whole spectrum of this new place you are visiting, from no civilisation to urban centres.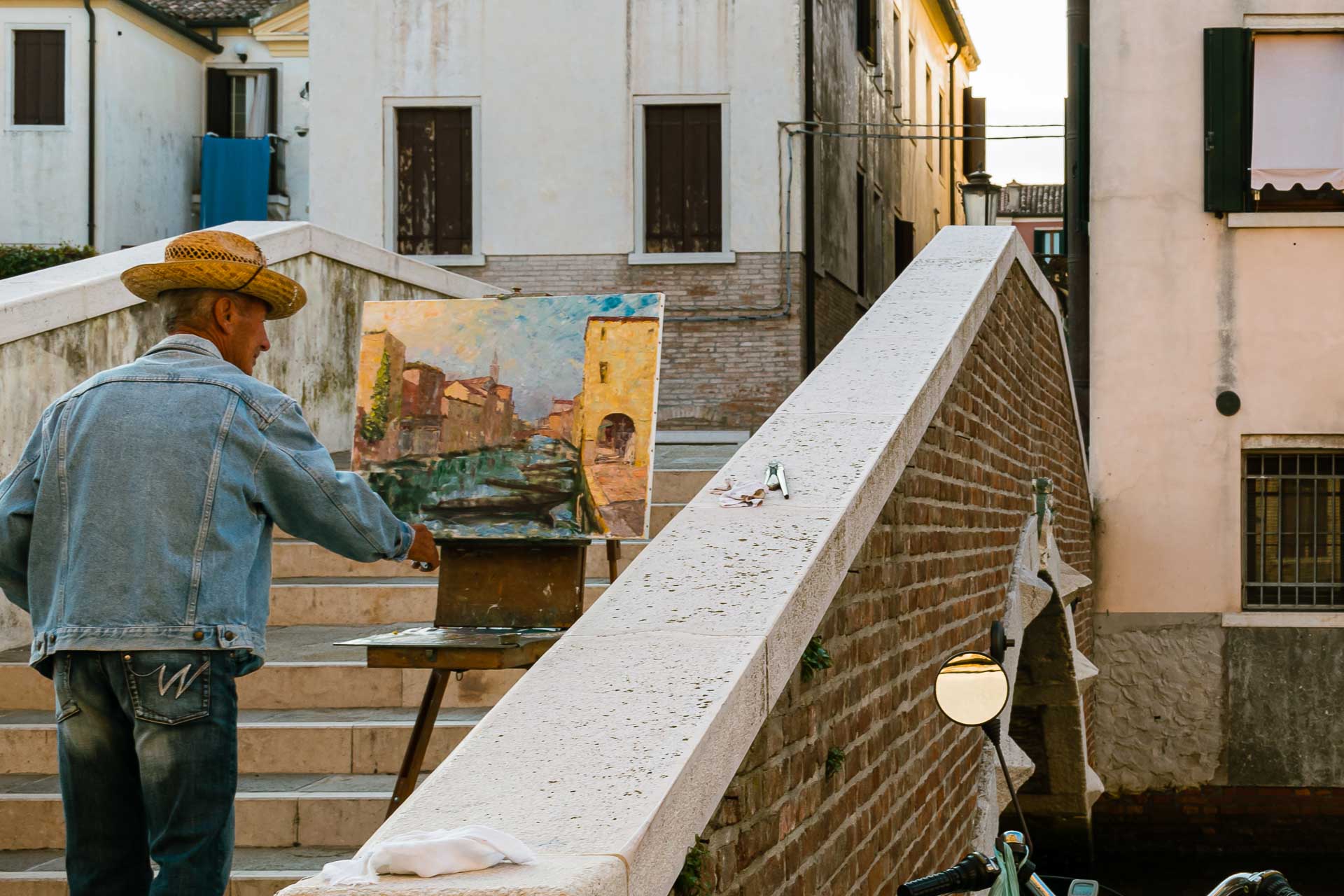 Moreover, bike trips naturally catches attention during the course. Therefore, many people – mostly locals – approach you, wondering where you are coming from, where you are going and so forth.
On our cycle trip to Slovenia, we met with many people along the way and we received many invitations to sleep in people's home. As we are supporters of a more immersive way of travelling, the human contact and the interaction with local culture are top priority to us. Cycling through Europe allowed us to have that as no other means of transportation.
Furthermore, cycling also enabled us to reach and explore practically every corner of the place we visited. Because we were travelling by bike, we were able to see beautiful spots, such as caves, lakes, dens and more, which we didn't originally plan. And on top of it all, it is a much cheaper, healthier and non-destructive way of travelling. I think we can rest our case now, can't we?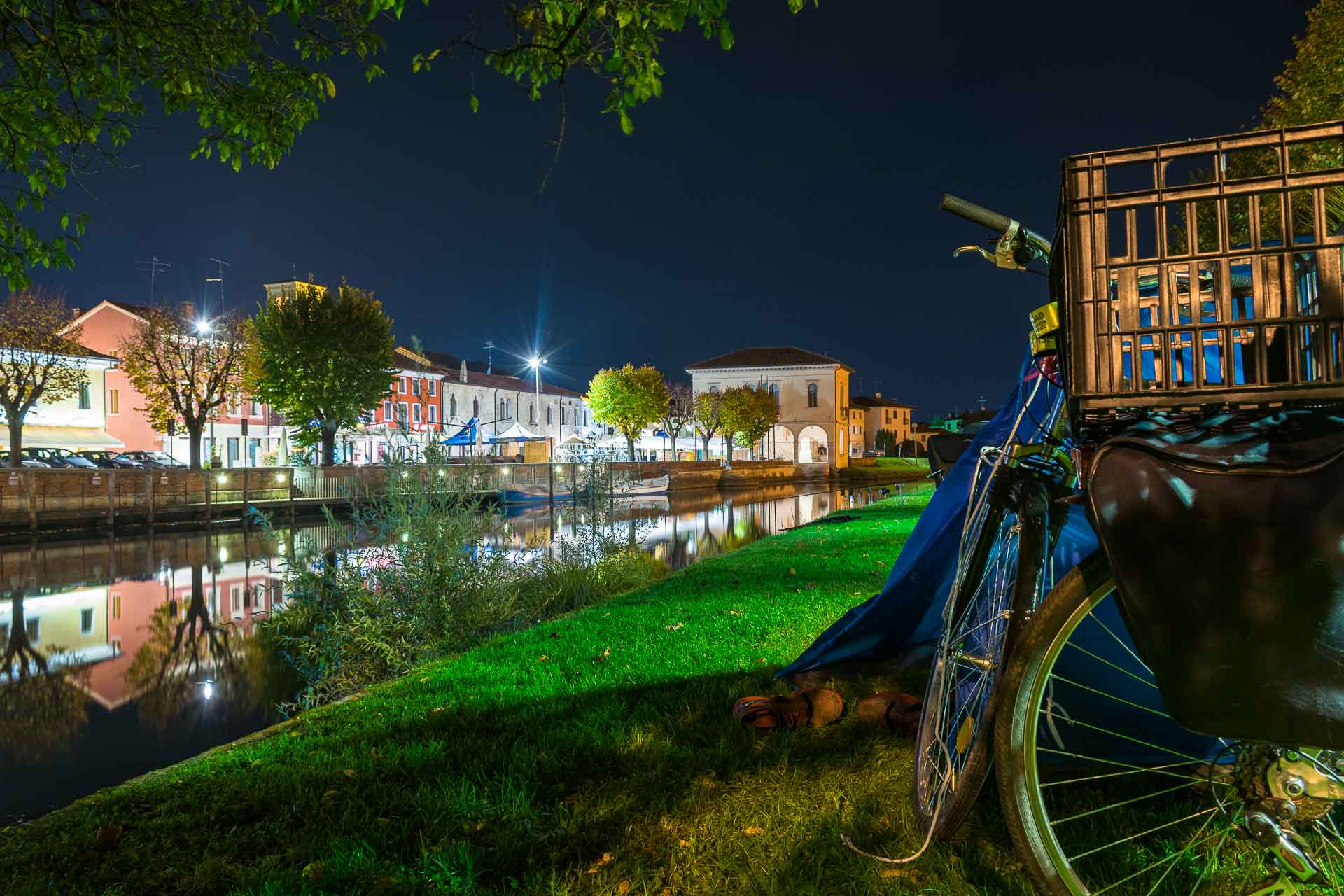 Can anyone go on a long distance cycling trip?
Cycling trips are definitely for anyone. That's actually something we want to prove with our experience, that anyone can do such trip. We are far from being professional cyclists. On our first cycle trip to Slovenia, we trained for only 3 days prior to departure. We followed our rhythm – slowly and still – until we arrived everywhere we wanted.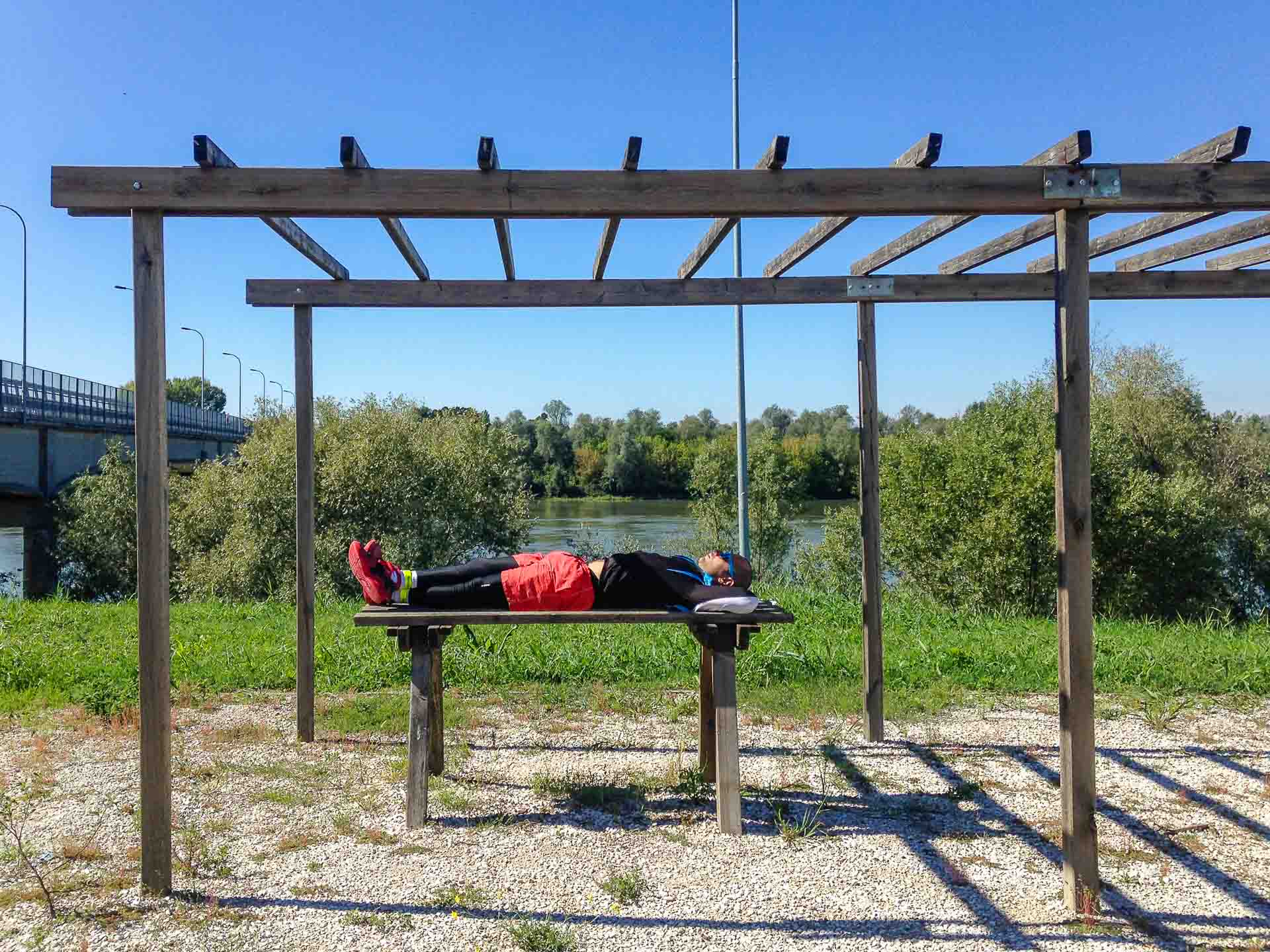 Everyone should try bikepacking at least once in life, simply because it is possible. Fernanda, who had never ever had done such trip, was very afraid of going to Slovenia by bike. She thought she wasn't physically prepared and only cyclists could do it. That perhaps could be dangerous and a thousand other fears. She needed to try in order to find out that none of those fears were actually true for her and she was indeed capable – as she was – to go on a long distance cycling trip in Europe as much as we think many other people are capable as well.
Have you ever tried cycling in Europe? Let us know your experience!