This post is also available in:

Português
In the heart of East Java Island, in Indonesia, lies the captivating Kawah Ijen crater active volcano. Ijen is a haven for tourists seeking the mesmerizing phenomenon known as the "Blue Fire". Each night, a mystical blue flame, reaching heights of about 5 meters, dances from the crater.
However, to witness this spectacle, one must embark on a nighttime Ijen Volcano hike. As daylight obscures this magical display, you should start your hike around 1am.
Ijen Crater Hike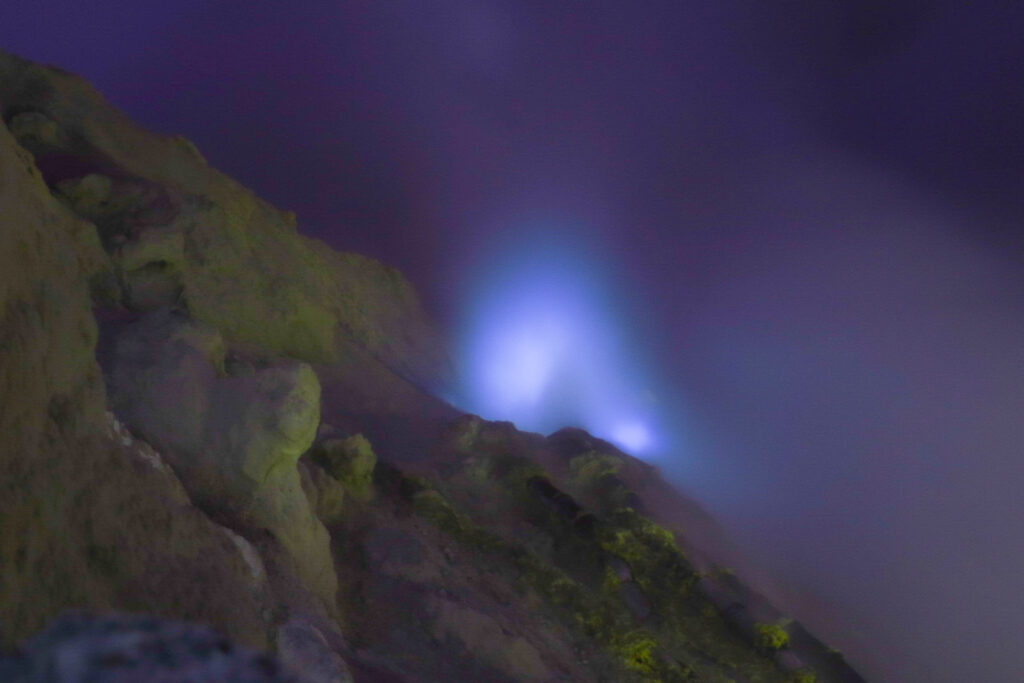 Hiking to the Ijen crater in the dark necessitates a 3km trek illuminated by torchlight. As you reach the rim, a sign boldly declares, "Forbidden entrance for visitors – danger," absolving the operating organization of any responsibility. Therefore, the decision to proceed is yours.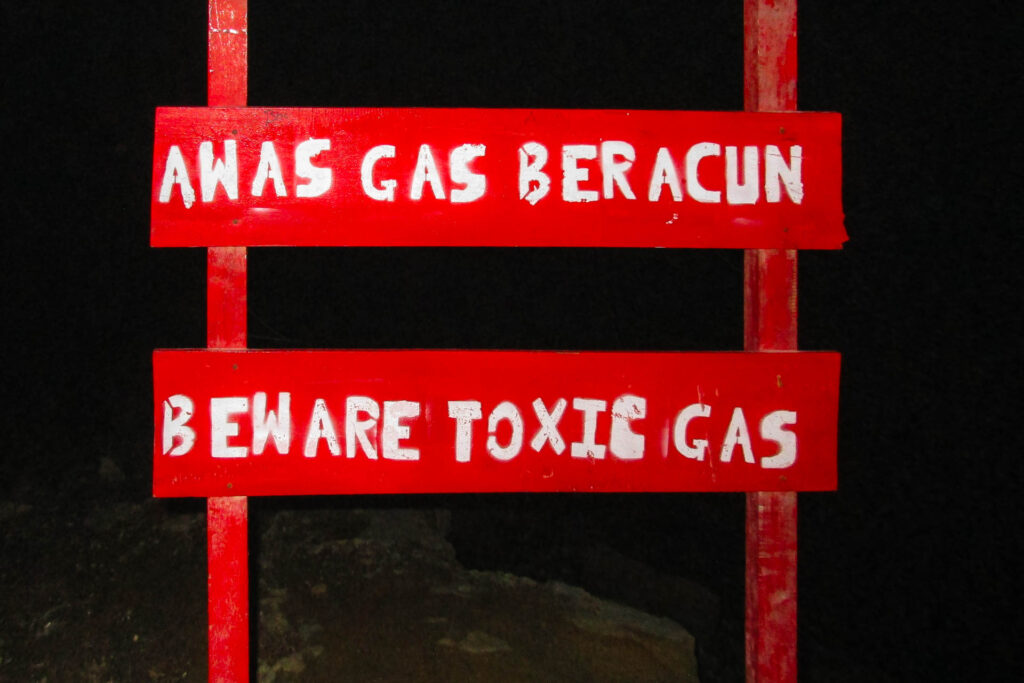 Forging ahead, after about an hour's descent into the crater, the pungent smell of sulphur and constant emission of toxic gases envelop you, emphasizing the importance of wearing breathing masks.
Unveiling the Beauty at Dawn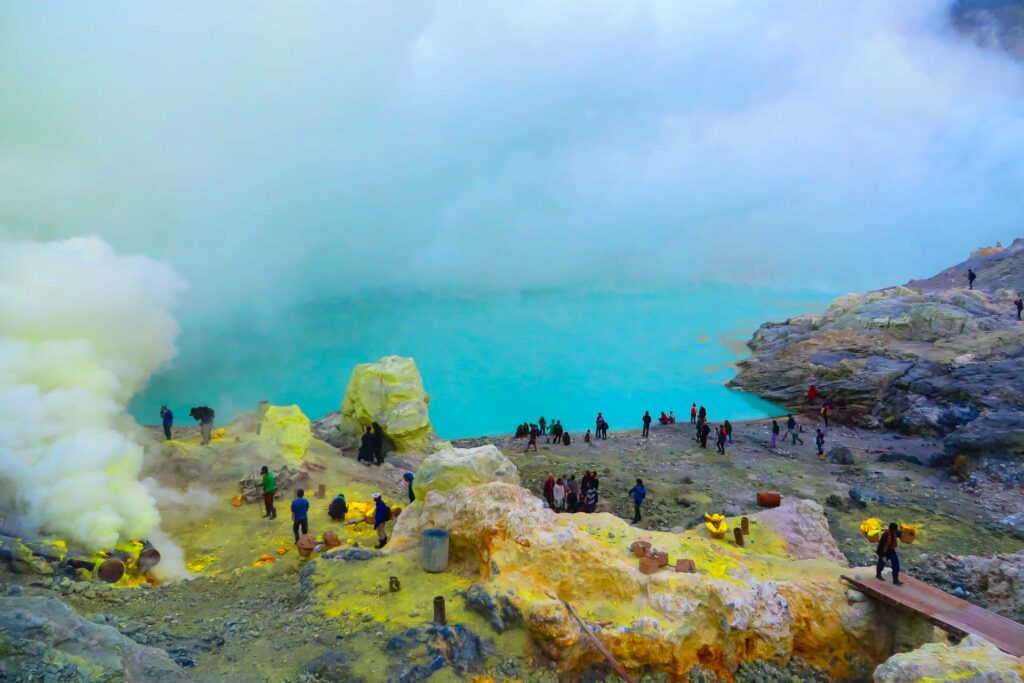 As the sun rises, Ijen reveals its splendor. Colossal rocks adorned with various hues, lava-formed pathways and an acid turquoise lake, recognized as the most acidic in the world capable of corroding a car within minutes. The panorama evokes a sense of ecstasy.
Yet, the unparalleled beauty of Ijen crater isn't the sole focus of this experience. We could not help but shift our attention to the 300 dedicated mine workers laboring to extract sulphur.
Twice a day, these men endure the arduous trek, each carrying around 80kg of sulphur on their shoulders. The hazardous job, paying a meager 1000 Rupiahs per kilo (less than US$0.10), falls significantly below Indonesia's average salary of about US$100.
The dark side of Ijen crater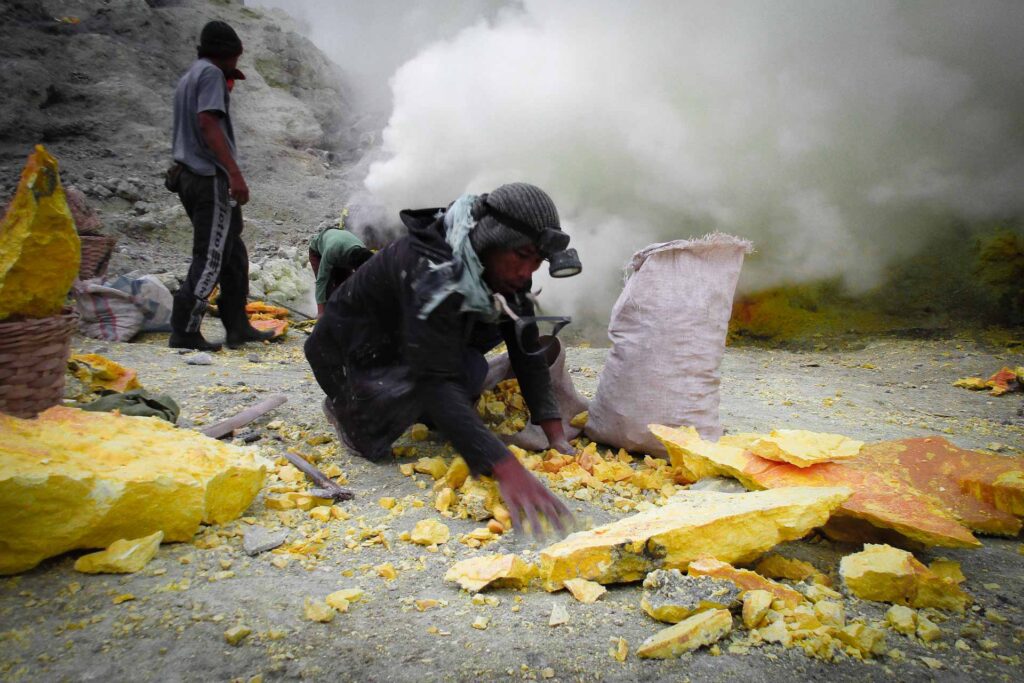 Amidst an extremely toxic atmosphere with ceaseless smoke, most workers forego masks. The constant coughing and groaning of those enveloped in smoke paint a vivid picture of the challenges faced by these laborers.
Gaseous sulphur expelled from the crater of the Ijen volcano is directed through ceramic tubes, turning into liquid. Miners then engage in the arduous task of breaking, putting in a basket and balancing it on shoulders. Then, they ascend to the rim, transferring it to a two-wheeled barrel and finally descending the 3km rugged road. Many toil seven days a week, all year round, contributing sulphur for cosmetics, medicines, fertilizers, gunpowder and more.
By the way, if you are travelling to Indonesia, make sure you are insured. We have seen many accidents on the road and we should not play with our luck. We trust SafetyWing, our partner, particularly if you are on a long-term trip. They have the best cost, allowing you to book on the go as well as renewing on the go as well. See prices here.
Ijen tours
Ijen has developed tourist facilities, including basic accommodations, cafes, and souvenir shops. It's not hard for travelers to find services to cater to their needs, especially in the vicinity of the volcano's entrance.
What to take to your Ijen volcano hike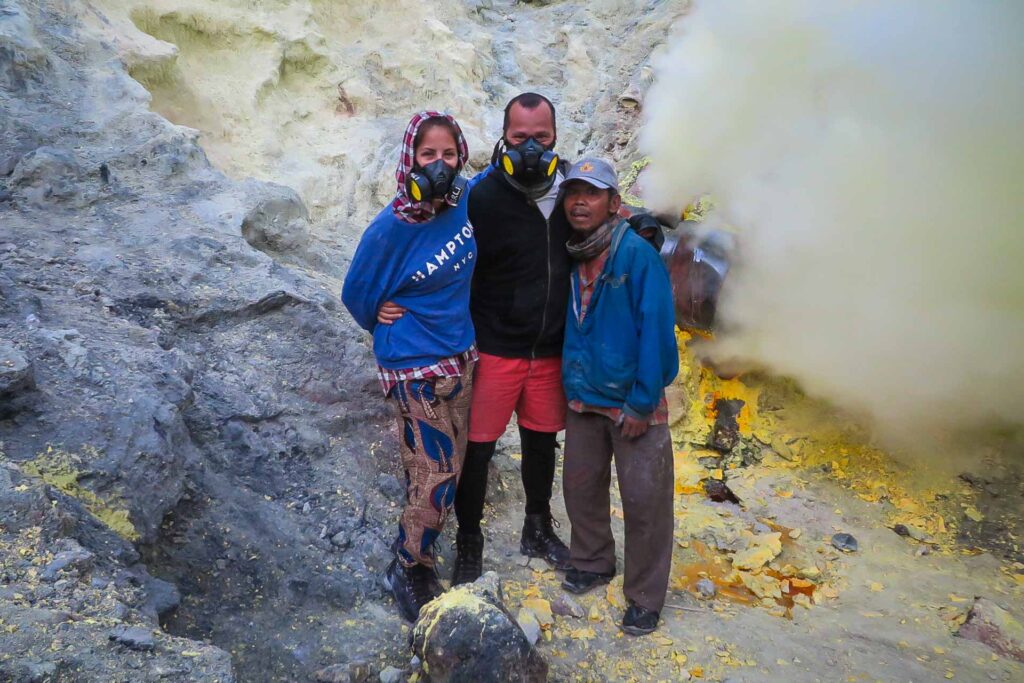 As we mentioned, this adventure can be quite hazardous. Therefore, it is important to adhere to safety guidelines, especially during the trek. Some travelers don't see the need of wearing a mask, we do emphasise the need of it (see why sulphur is bad for you). You can rent yours at the entrance of Ijen volcano.
Also, make sure you have appropriate clothes. During your ijen volcano hike at night, it will be very cold. Also, the path is not even at all. So make sure to bring warm clothes as well as appropriate shoes to climb to the Ijen crater.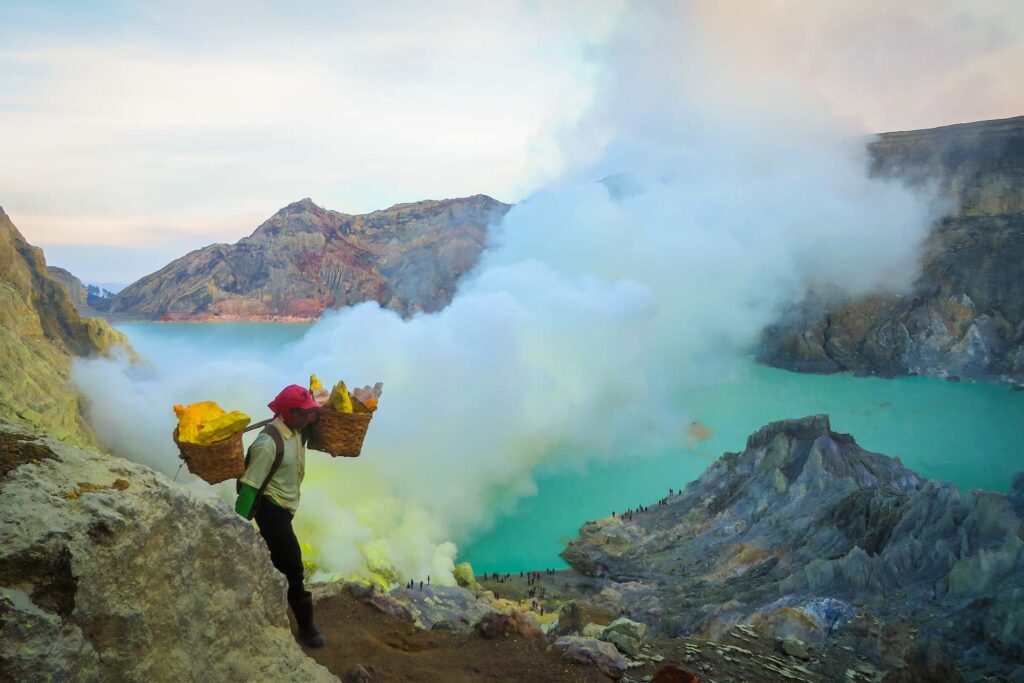 Also, Ijen crater offers breathtaking photo opportunities, especially during the sunrise when the landscape transforms. Don't forget your photography gears to capture the beauty of the volcano and the Blue Fire phenomenon.
Ijen crater guided tour
Most visitors opt for guided tours, booking packages from nearby cities like Anyuangi. These packages, priced up to 350k Rupiahs (US$25), include park entry. A midnight pick-up and guided trek are part of the experience.
For those seeking a more immersive and budget-friendly adventure, renting a motorbike (US$2.50/day) and embarking on a self-guided journey is an appealing alternative.
Self-guided Ijen tour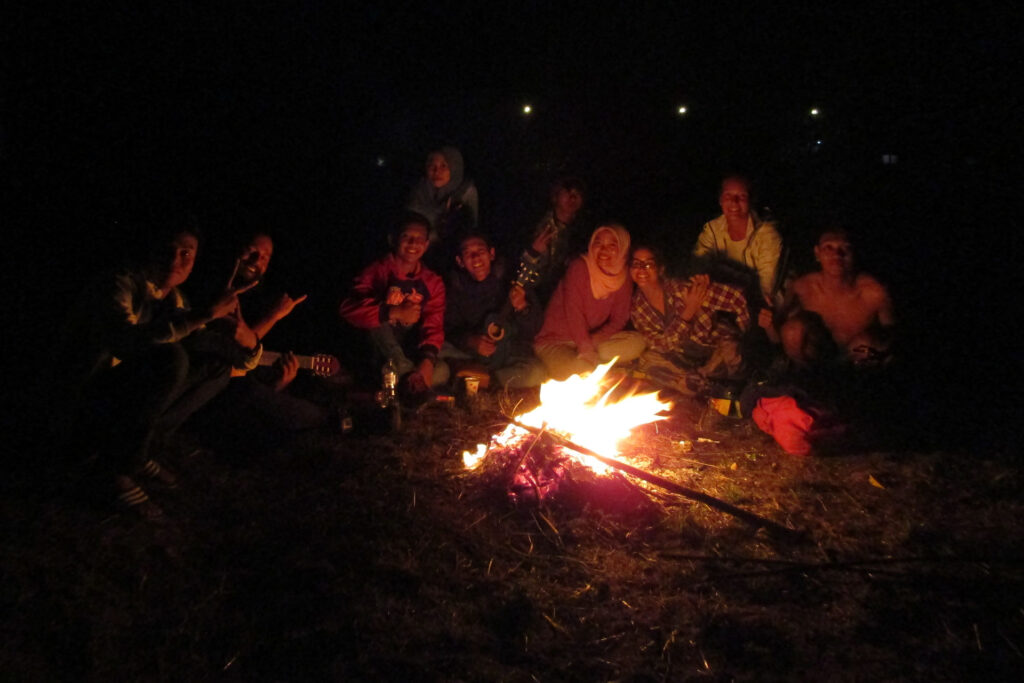 Few travelers know that it's possible to camp freely at the mountain's base. Locals gather around 7pm, creating bonfires and sharing stories before hiking Ijen volcano.
The entrance fee is 100,000 Rupiahs for foreigners (US$7.50) and 5,000 Rupiahs for locals. On weekends and holidays, rates rise to 150,000 Rupiahs for foreigners and 10,000 Rupiahs for locals. Just remember to factor in a parking fee of 5,000 Rupiahs.
If you are on a budget but still appreciate a guide, you can get a local guide to enhance your experience. A local guide will give you insights into the geological and cultural aspects of the region and offer valuable information about the volcano and its significance for the local population.
You might also be interested in:
Ijen crater tour from Bali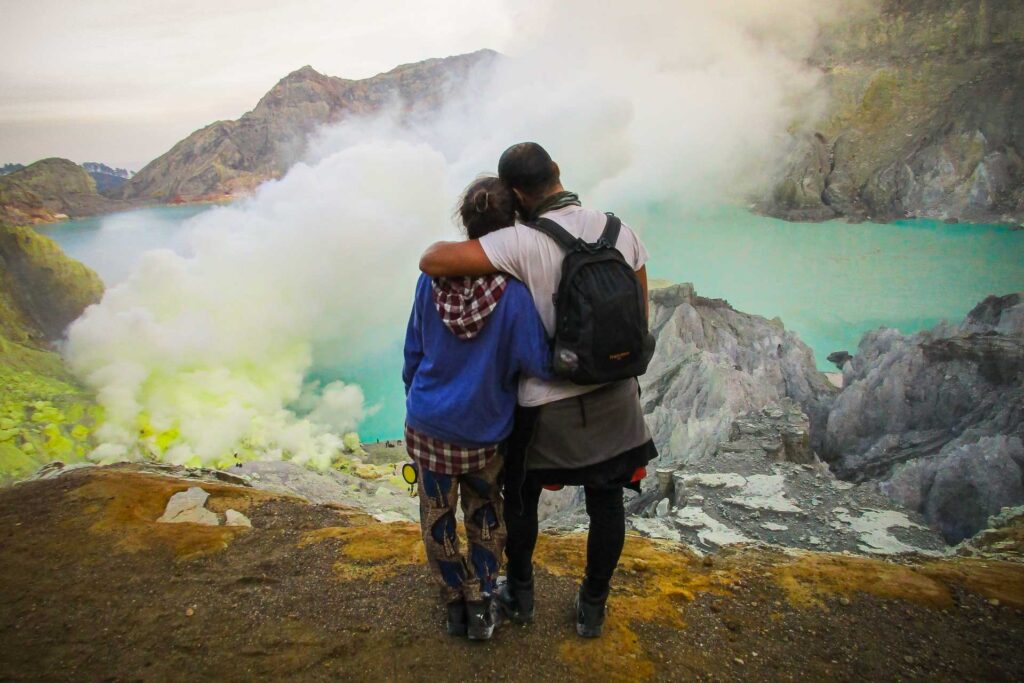 The easiest way to visit Ijen crater tour from Bali is book with a private agency. They will pick you up from your hotel and drive you to the Gilimanuk Port. Then, you get a 4×4 to the Ijen volcano, where you start your hike. After sunrise, have breakfast and get back to Bali. See availability here.
However, if you want to visit Ijen crater from Bali on your own, you can take a taxi to the Gilimanuk Port and cross to Ketapang. Find yourself an accommodation around the area to prepare for your hiking. Also, arrange to rent a motorbike if you want to save some money on a taxi to the Ijen volcano. Then, you can go to the foot of the mountain at around 7pm to camp there and start your Ijen volcano hike at night.
You can make your way back to Bali just like you came to Ijen or continue to Jakarta, just like we did. You can book your transport with Gojek or Grab apps, they work really well in Indonesia.
---
* This article was originally written in January 12, 2016 and updated in October 2023