This post is also available in:

Português
Mantua is famous for its Renaissance Architecture and for being a very cultural and artistic city. The Gonzaga Family dominated the city for long time (about 400 years) and therefore put their stamp on most of the city. In 2008, it became a UNESCO World Heritage Site together with Sabbioneta – which is a village of Mantua – and, in 2016, it was elected the Italian Capital of Culture. Now that you have more than one reason to travel to Mantua, let's see what to do in Mantua, Italy!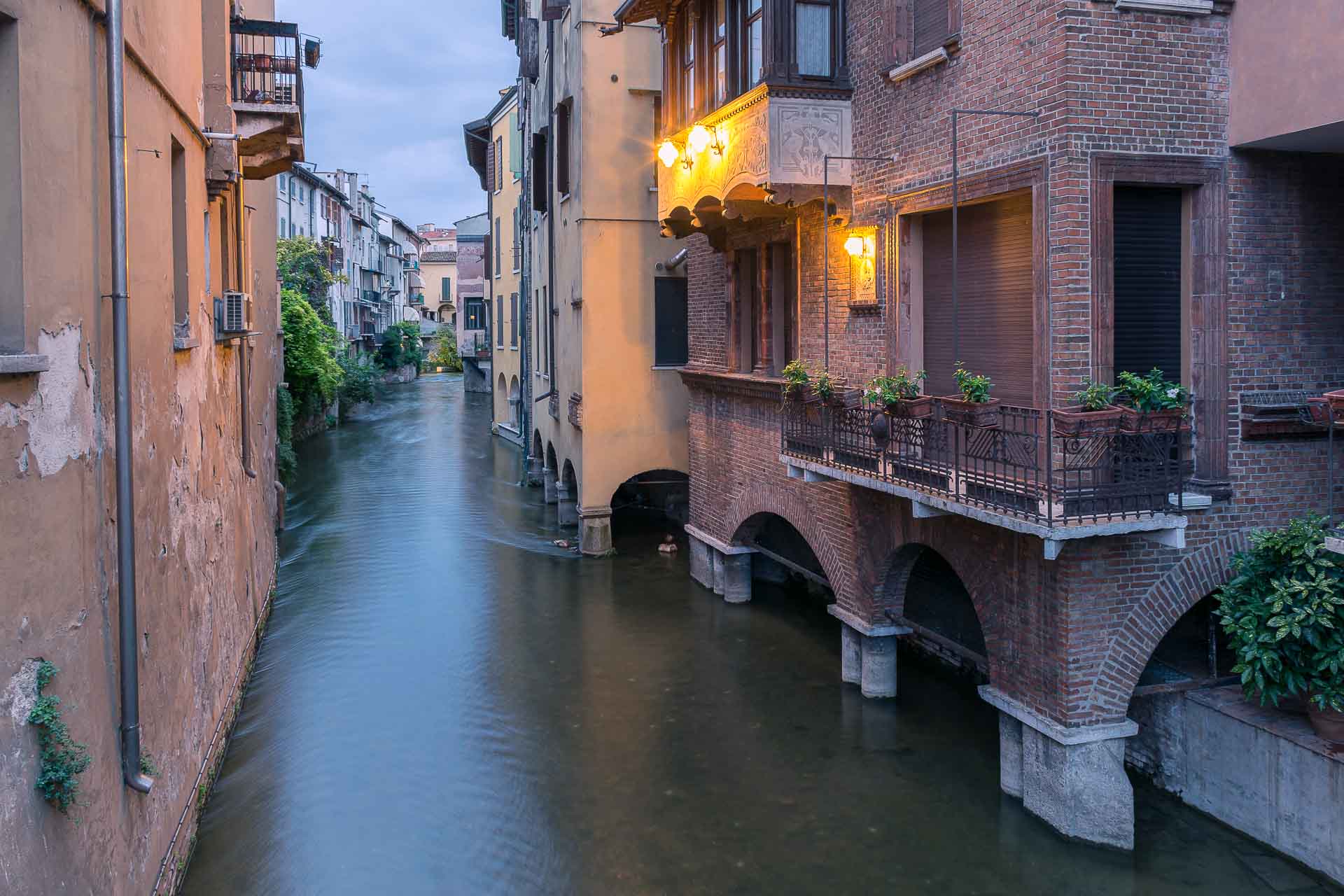 Mantua Lakes
Ok, before looking at what to do in Mantua, we should talk about the lakes in Mantua.
Mantua is surrounded by three artificial lakes (upper, middle and lower lakes) created to increase the city's defence system even before the Gonzaga's dynasty. As a result of being surrounded by wetlands, the city has not increase much since its medieval time – currently about 48.000 people -, nor has it changed much either. Full of palaces, paved mostly in cobblestones, preserved size and renaissance architecture as well as not having a lot of tourists, Mantua will definitely take you back in time.
Where is Mantua
Right, one more thing before all the list of what to do in Mantua, is make sure you know where is Mantua. Mantua is approximate 190km away from Milan, which is less than 2h30min driving through Piacenza. Or 115km away from Bologna, or about 1h30 driving. Or 160km from Venice, which should take about 2h driving. A part from driving, you can get to Mantua by train or cycling, like we did!
If you are on a road trip in Italy, it's a perfect spot to enjoy Mantua in one day, or two. And to find the best deals on car hiring, HOMEPAGE, sorrycheck out prices with Rental Cars here.
What to do in Mantua Italy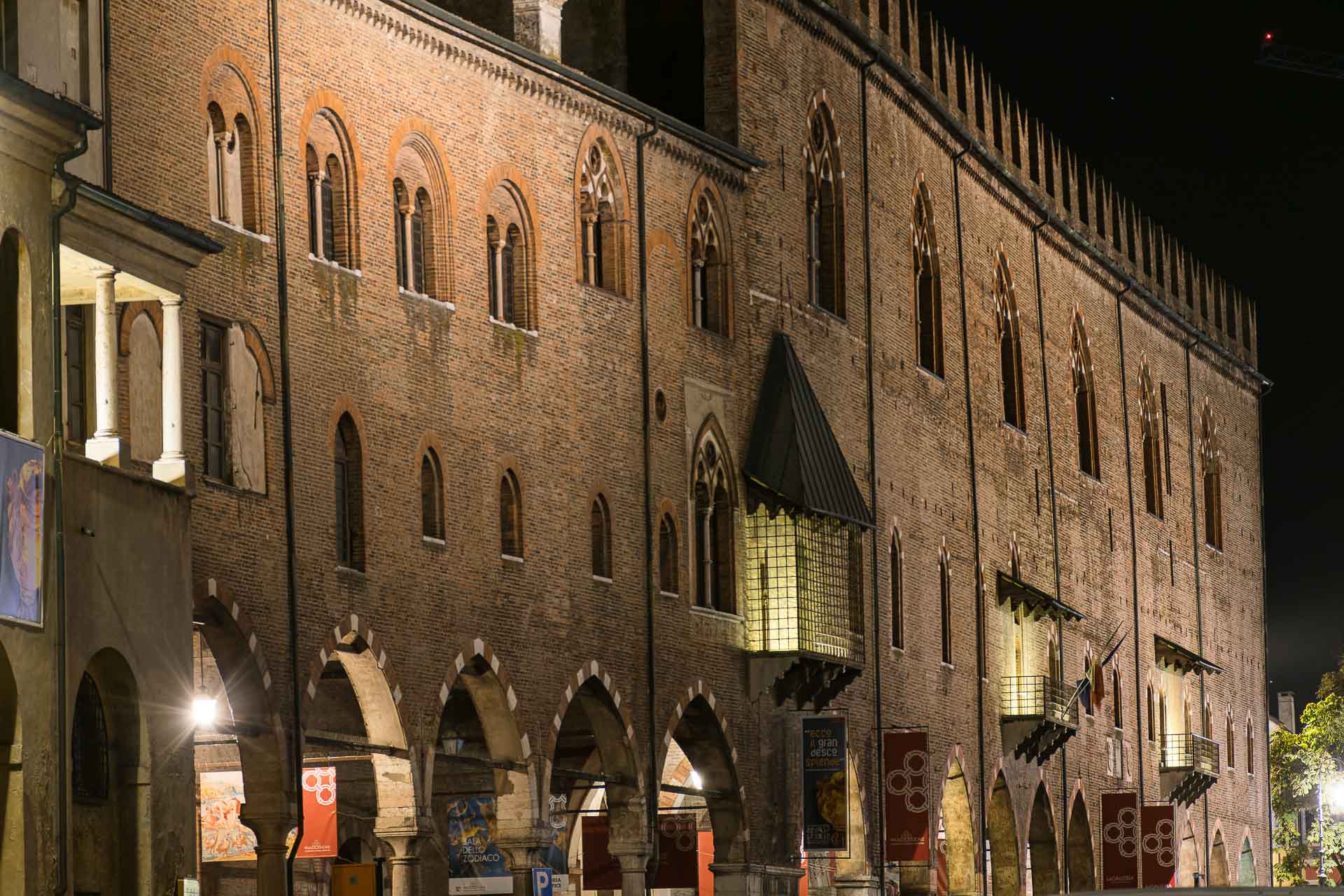 Walk from Piazza Sordello to Piazza Andrea Mantegna
A walk from the Piazza Sordello to the Piazza Andrea Mantegna going through Piazza Broletto and Piazza delle Erbe is just fantastic to see all the architecture of Mantua.
Start at Piazza Sordello, where the city was founded and where you will see the Duomo di Mantua (main cathedral) and the Palazzo Ducale. Then, head towards Piazza Broletto, where you can visit the Arengario (see below) and the Palazzo della Podestà. At Piazza delle Erbe, you will be able to see the Palazzo della Ragione, the Clock Tower and the Rotonda di San Lorenzo. Finish your walk at the Piazza Andrea Mantegna to see the Basilica of Sant'Andrea.
Duomo di San Pietro (Mantua Cathedral)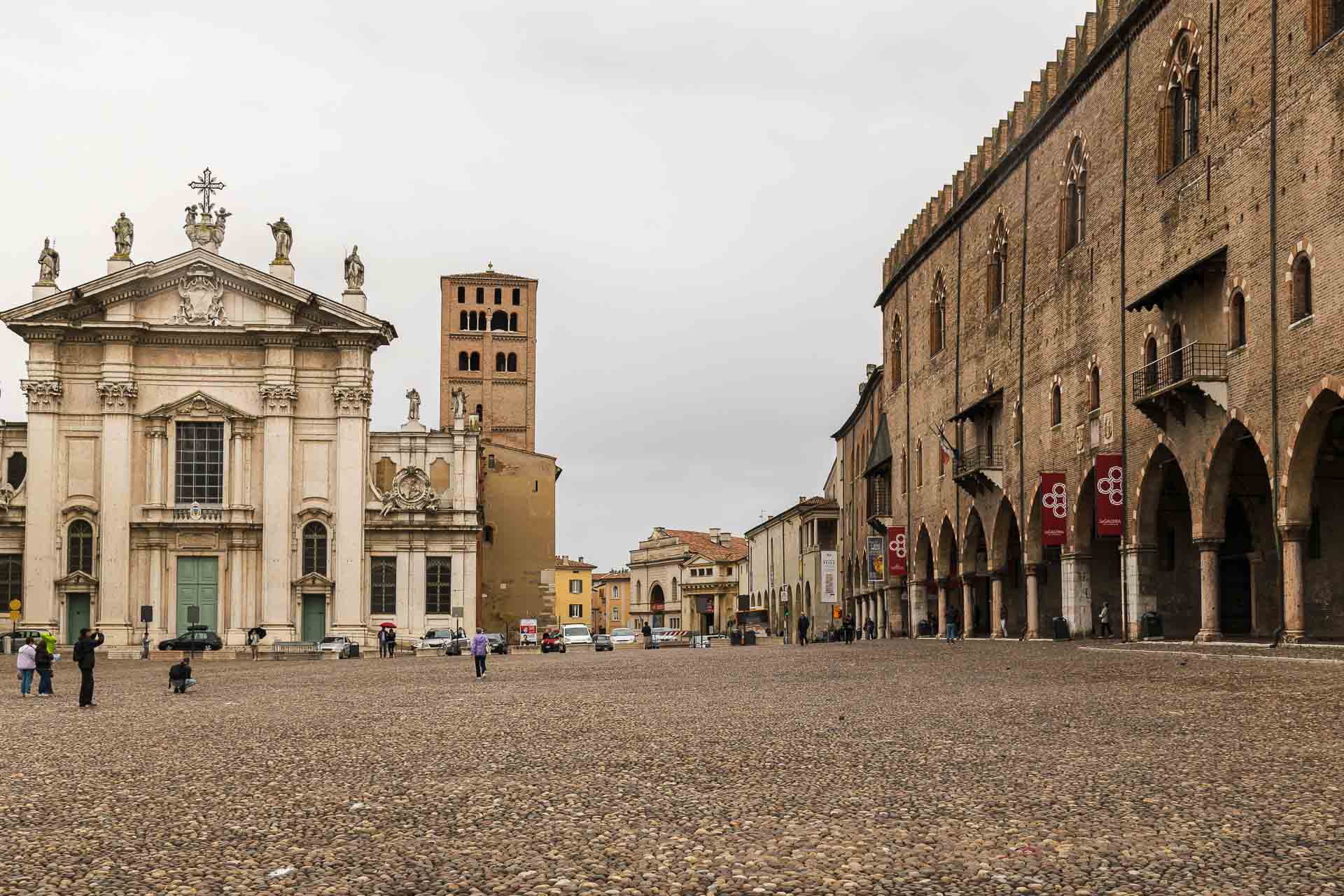 The most important religious place of town but not as beautiful as its nearby Basilica of Sant'Andrea.
Entrance: Free
Opening hours:
Mon-Fri (10am-1pm; 3pm-7pm) – Summer
Mon-Fri (10am-1pm; 2pm-8pm) – Winter
Sat and Sun (10am-6pm)
Location: Piazza Sordello
Palazzo Ducale and Castelo di San Giorgio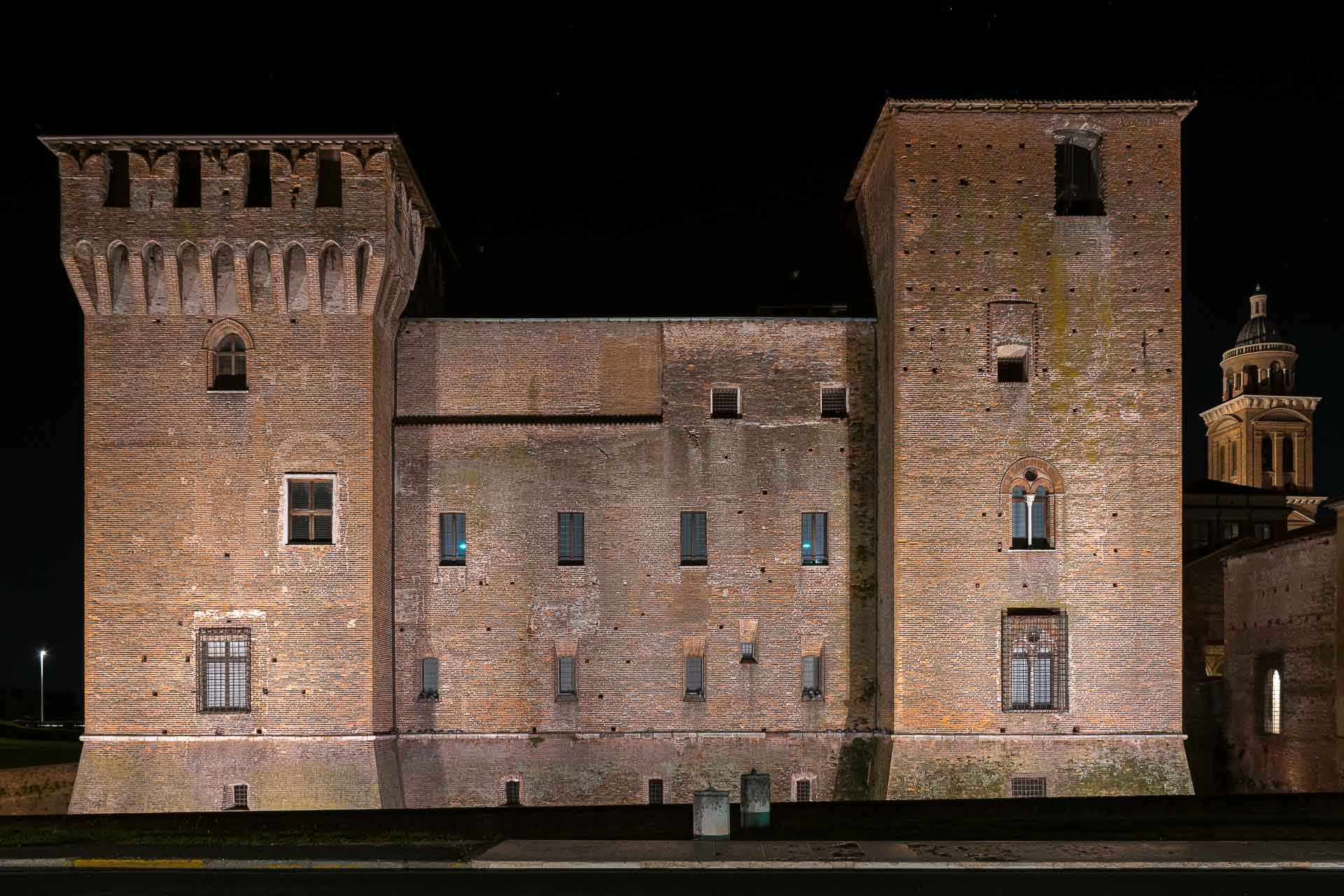 The home of the Gonzaga's family, it is the second largest residence in Italy (giving the first place to the Vatican). The whole development is huge and includes countless rooms, basilicas, galeries, gardens, courtyards and the castle.
When visiting Palazzo Ducale in Mantua, you have two tour options: you can visit just the Old Court, which encompasses the Palazzo del Capitano and the Magna Domus; or you can make the full tour, which includes the Saint George Castle and the Camera Degli Sposi (Bridal Chamber). The Bridal Chamber is the the highlight of the tour and a must if you are after art and paints.
You can get a guided tour to have a better explanation of the place.
Entrance:
€12 (Adults); €7,50 (reduced) – Old Court+Bridal Chamber+San George Castle
€6.5 (adults); €3.25 (reduced) – Old court only
Plus €5 for a guided tour (10am, 11am, 12pm, 3pm, 4pm) booked at the entrance.
Free with the Sabbioneta and Mantova Card (it costs €20)
**Free every first Sunday of each month! Do you want to know why?! Check it out this article here. 
Opening hours: Tue – Sun (8.15am to 7.15pm)
Location: Piazza Sordello
The Sabbioneta and Mantova Card (price: €20) grants access to the place – Further info here.
Further info: ducalemantova.org and mantovaducale.beniculturali.it
Arengario
An archway from the XIV century which connected the Palazzo della Podestà and the Palazzo del Massaro. In this place, judges announced the sentences to criminals, where most were tortured from ropes tied into iron rings just below the arch. These iron rings are still there to be seen.
Entrance: Free
Opening hours: 24h
Location: Piazza Broletto
Find out the best activities to do in Mantua here.
Rotonda di San Lorenzo
The oldest church in town (dated from 11th century), the Rotonda was build after the Church of the Holy Sepulchre of Jerusalem, and its location once was a Jewish stronghold. One feature of this church is its level, sunk below the level of the square.
Entrance: Free
Opening hours:
Mon-Fri (10am-1pm; 3pm-7pm) – Summer
Mon-Fri (10am-1pm; 2pm-8pm) – Winter
Sat and Sun (10am-6pm)
Location: Piazza Delle Erbe
Basilica of Sant'Andrea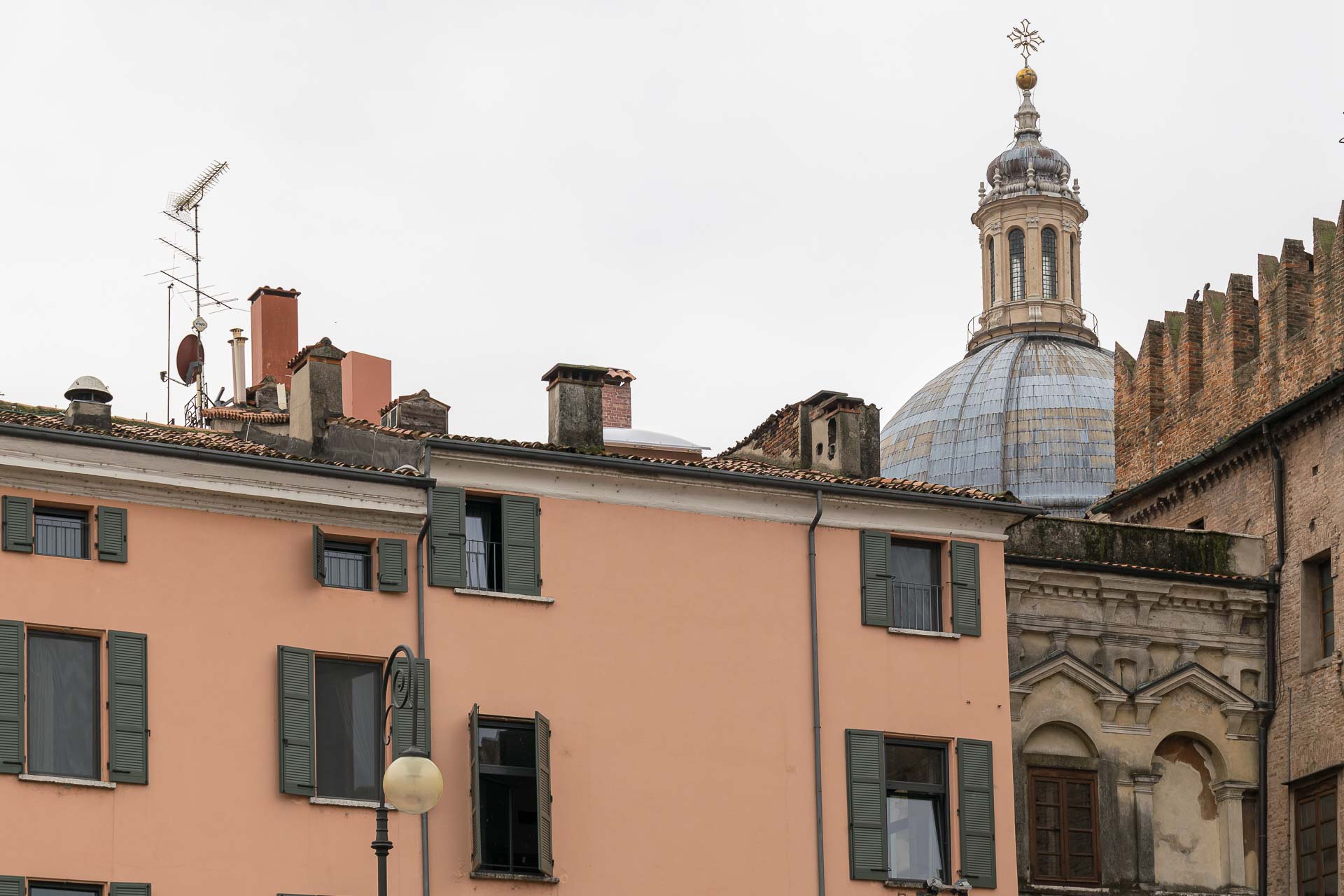 The story says the Roman soldier who speared Jesus on the cross, picked up the earth with Christ's blood and buried it in Mantua (being considered a part of the Holy Grail). Nobody could find this, until Sant'Andrea indicates where. After the discovery of the earth, a small church honouring apostle St Andrea was built, and afterwards restored into a bigger construction.
Inside the church, there is also a tomb of Andrea Mantegna, the painter of the famous paints in the Bridal Chamber, at Palazzo Ducale.
Entrance: Free
Opening hours:
Mon-Fri (8am-12pm; 3pm – 7pm)
Sat (10.30am-12pm; 3pm – 6pm)
Sun (11:45am-12:15pm; 3pm-6pm – summer or 3pm-5pm – winter)
Location: Piazza Andrea Mantegna
Palazzo Te
A resting palace of the Gonzaga family (and a getaway of Duke Federico with his mistress), the palace is also a must if you are after paints and art. The highlight is the Giants Room, with a series of paints.
Entrance:
Opening hours: Tue – Sun 9am-6.30pm; Mon 1pm-6.30pm
Location: Viale Te, 13
Further info: palazzote.it
Piazza Virgiliana
A vast green area near the centre of Mantua, great for an afternoon walk.
Sunset by the river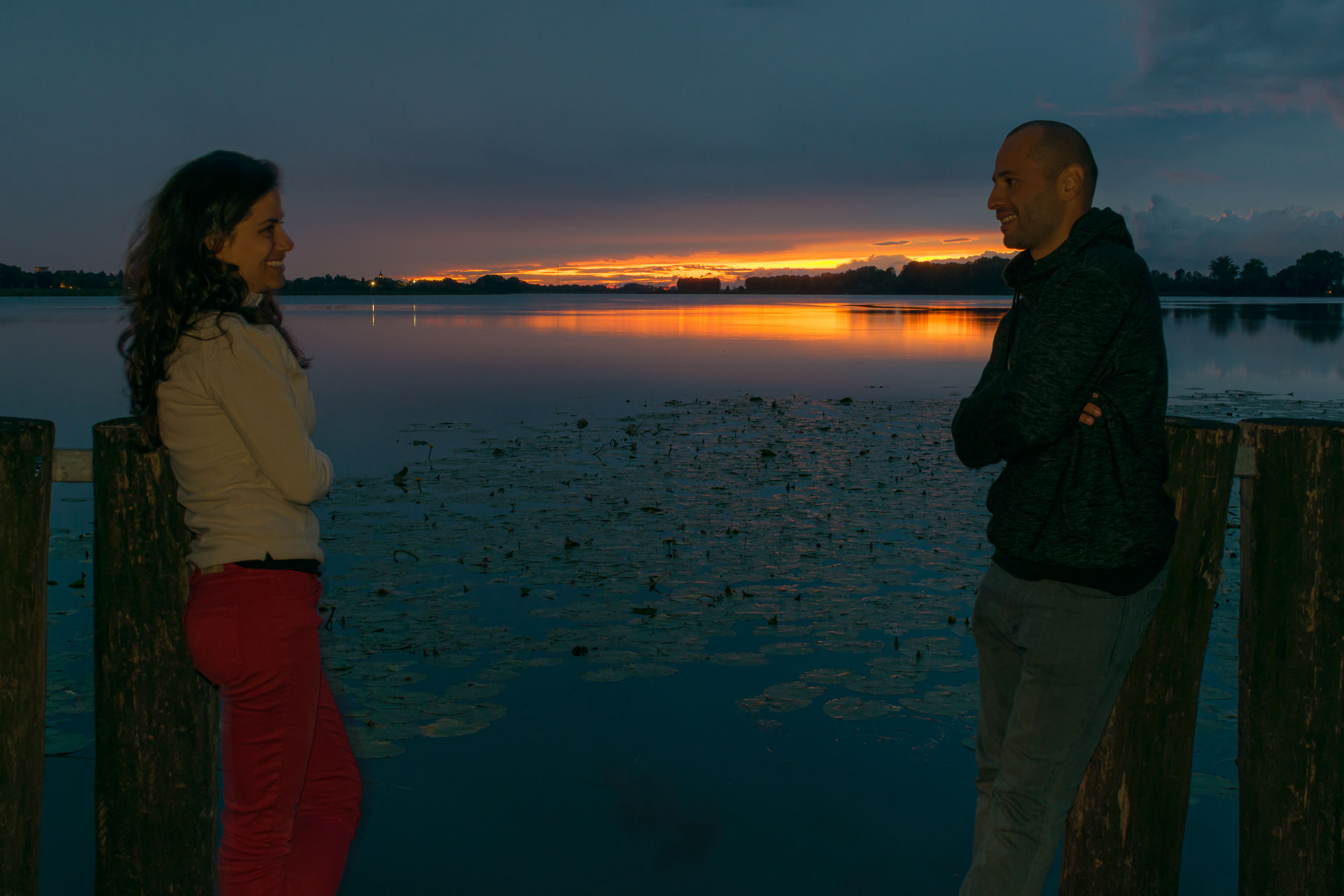 One of the best sunsets we have seen was at the Motonavi Andes Negrini Pier. However, anywhere between there and the station will be great to appreciate the sunset.
Cross the bridge and look back at the city
Crossing the bridge in front of the San George Castle all the way to the end and appreciate the view of the city.
Bike trip in Mantua
Mantua, as for most of the North Italy, is flat and full of cycle paths. To rent a bike and visit the nearby cities of Lago di Garda and Verona is not a bad idea at all.
Visit Sabbioneta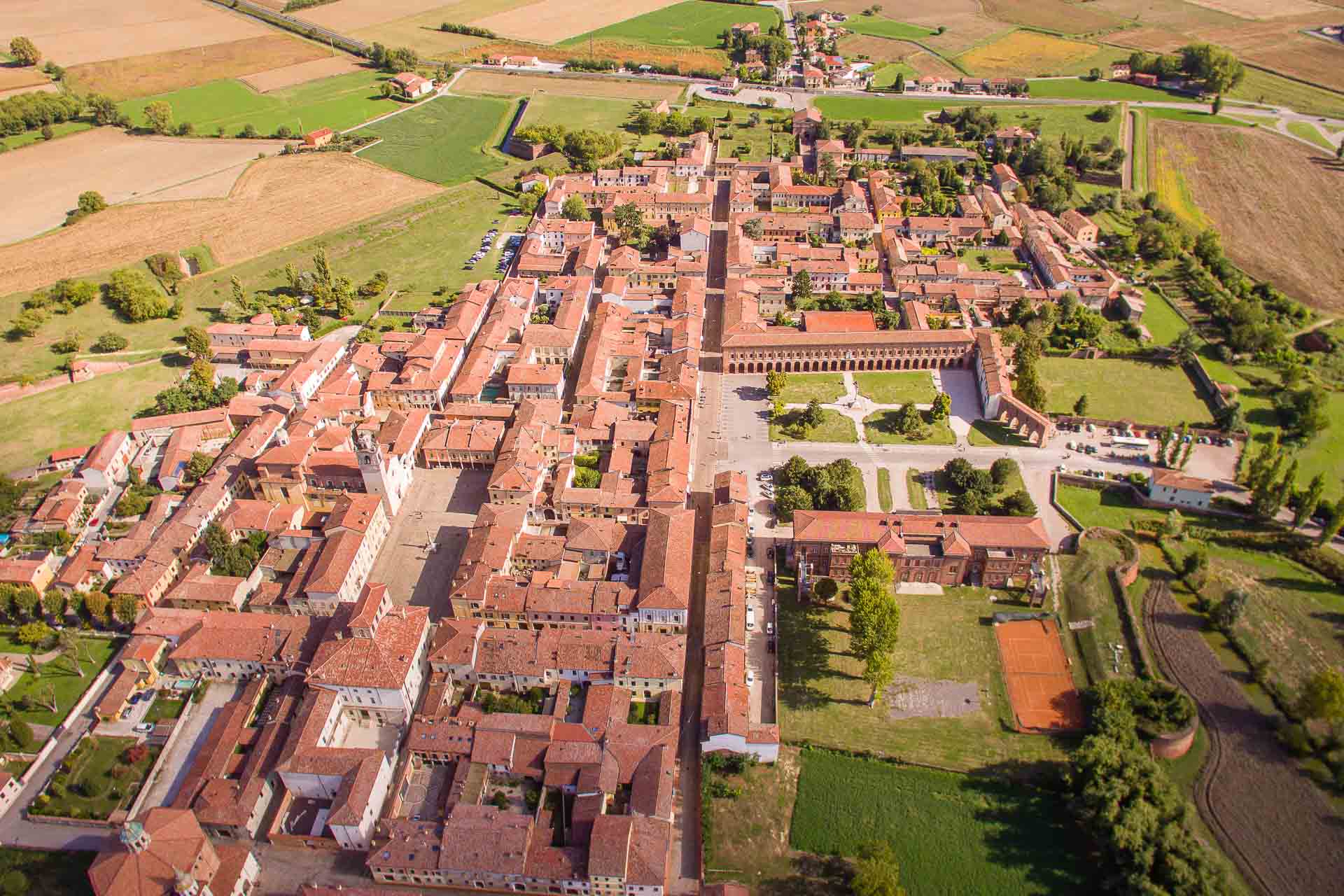 33Km away from Mantua, Sabbioneta was also included as a World Heritage Site by UNESCO. A walled city built in Renaissance style and inspired by the Ideal City's principal, mentioned at Thomas More's Utopia. It used to be the home (fortress) and residence of the Gonzaga Family prior to their move to Mantua.
Although we liked Sabbioneta, we couldn't help feeling the city is quite abandoned. As in many other Italian cities, the younger generation of Sabbioneta fled town to sick for better opportunities, causing the city to shrink. If you are really into this kind of Renaissance starred shape construction, what we recommend you instead is to visit another place, a city called Palmanova (280 km from Mantua), which is definitely one of the most impressive citadels we have ever seen!
Where to stay in Mantua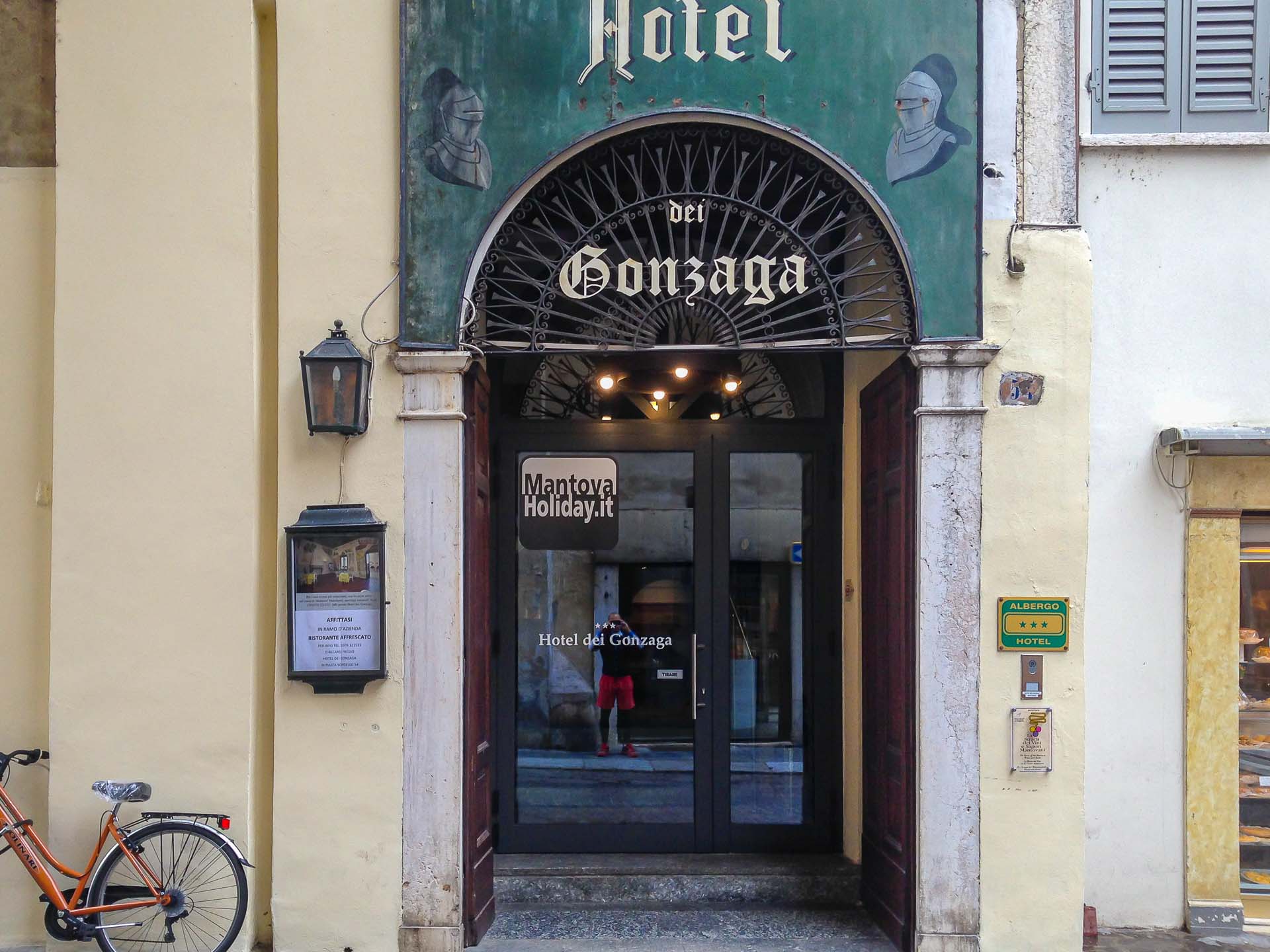 When we were there, we stayed at the Hotel Dei Gonzaga hotel in Mantua, right at the centre of Mantua.
Nevertheless, Mantova offers lots of choices for different budgets. See the best hotel deals here!
What to eat in Mantua
Mantua is famous for its gastronomy too. Once you are there, you ought to try the Tortelli di Zucca, different sausages and, obviously, the torta sbrisolona. More about it in here.
For those on a tight budget, we recommend the Ristorante Pizzeria da Gigi, at the city centre, which served good and cheap food (pizzas from 4,50 euros and half liter of the house wine for 7 euros).
Mantua or Mantova
If you are confused between Mantua and Mantova, the difference is simple. Mantua is the English name for the Mantova, which is the original name of the city in Italian. So, call it Mantua or Mantova as you wish. But if you go for Mantova, don't forget to make the hand gesture of joining all of your fingers together pointing up and putting on an accent too!
Getting around Mantua
The city is quite small and you can do practically all of it by foot. The longest you will walk will be to Palazzo Te, which is 1.5Km away or about 20min walking.
The train station near the city centre takes you to and from the main cities of Milan, Venice or Verona.
Just watch out if you rent a car as in most of Italian cities, you are not allowed within the historical city centre without a permit. All in all, we can guarantee you that Mantua is definitely worth visiting! Let us know your opinion about this historical city in Italy.
*This What to do in Mantua Italy travel guide was originally writen in November 2017 and updated in July 2022.*