This post is also available in:

Português
Are you planning a trip to Qatar and looking for where to stay in Doha? We lived in the city for three months and now we give you a list of the best neighbourhoods in Doha to stay in during a trip to the Qatari capital.
In this post you will find a detailed guide on each of the neighborhoods indicated and our hotel suggestions in Doha, so you can choose which best fits your trip and budget.
If you have any questions, please contact us and we will be happy to help organize your trip to Qatar. And if you want to know more about what to do in Doha, read this text.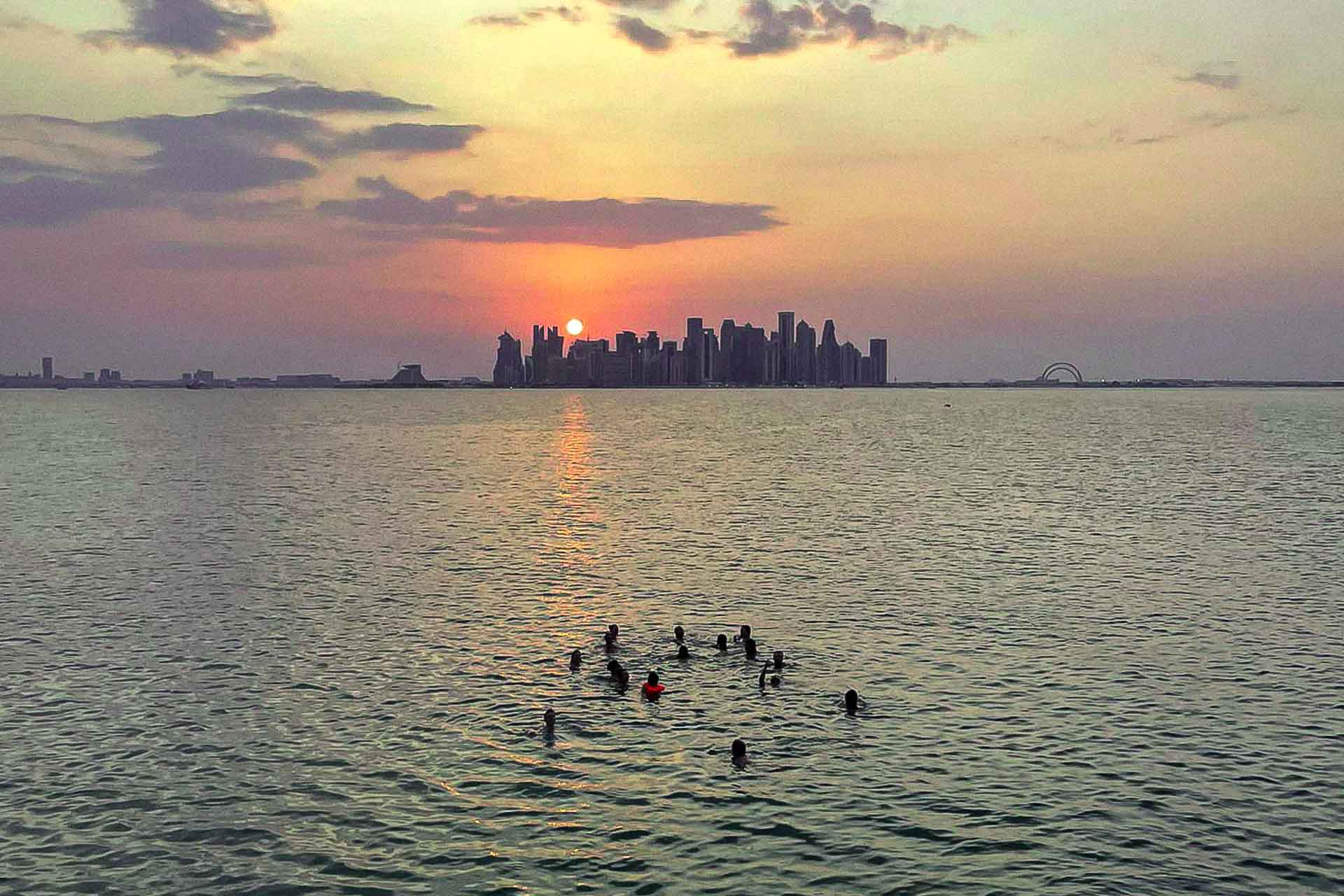 Understanding the city of Doha
Those looking for where to stay in Doha will not have any difficulties, as the city offers a huge variety of hotels. The real problem is finding cheap accommodation in the capital of Qatar, because the city is really expensive.
But don't worry, because we'll give you tips on neighborhoods where you can find accommodation with the best cost-benefit ratio. For those with a flexible budget, the sky is the limit when it comes to finding a hotel in Doha, as the city has some of the most luxurious and sophisticated accommodation in the world.
One thing that is important to highlight is that although Doha is an expensive city, it has a great transport system which, on top of everything else, is cheap! The subway, for example, reaches the main neighborhoods and attractions of Doha, and the ticket costs 2 QR (less than R$ 3). Uber and local taxis are also a great alternative.
In other words, no matter how much you choose accommodation in Doha that is a little further away from the tourist areas, you will still be able to move around the city smoothly.
Best neighborhoods to stay in Doha
The best neighborhoods to stay in Doha are for sure:
Souq Waqif: ideal for those who want a central location and a more cultural experience;
Msheireb Downtown Doha: for those looking for a more original accommodation in Doha;
West bay: for those who like modern skyscrapers and scenery;
The Pearl: ideal for those who want to experience all the luxury that Doha has to offer;
Old Airport: for travelers looking for cheaper hotels in Doha, or who are going to spend just one night in the city;
Al Sadd: very local neighborhood, without much charm, but with cheap accommodation options.
Below we explain in detail the pros and cons of staying in each of them:
Souq Waqif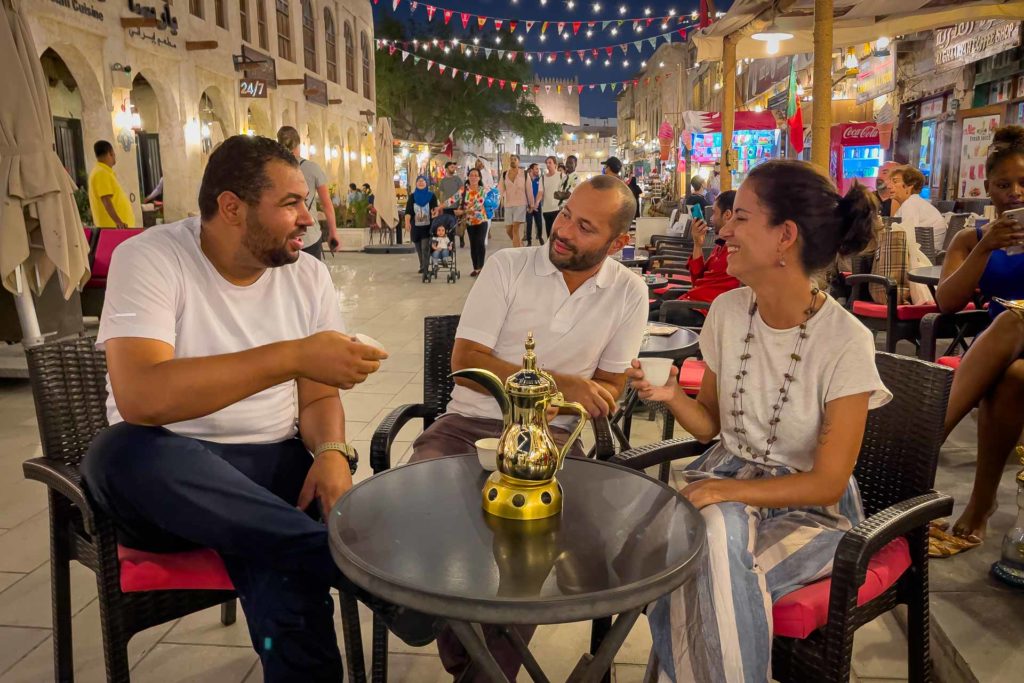 Souq Waqif is one of the most touristic and central neighborhoods in Doha. This is where the oldest bazaar in the city is located, attracting tourists and locals almost 24 hours a day. During the 2022 World Cup, Souq Waqif was the real heart of Doha, with almost everything happening there.
In addition to being in a very central position in the city, offering easy access to the rest of Doha, you will also find a variety of restaurants, shops and museums. Who wants comfort and the possibility to explore a little of the city on foot, Souq Waqif is certainly the best option for where to stay in Doha.
Where to stay – Hotels in Souq Waqif:
$$ Souq Waqif Boutique Hotel: super charming boutique hotel, which mixes traditional Qatari architecture with more modern elements. Rooms are spacious and comfortable and offer views of the garden or Souq Waqif. The hotel has an 8.6 rating on Booking.
$$ Al Najada by Tivoli: classic and comfortable rooms, with the quality guarantee of the Tivoli brand. Al Najada offers a swimming pool and is a 5-minute walk from Souq Waqif. Booking rating: 8.8.
$ Kingsgate Hotel: located 5 minutes walk from the Souq, they have a sauna, gym and indoor pool. This hotel in Doha has an 8.0 rating on Booking. Option with good cost-benefit for those looking for where to stay in Doha.
Msheireb Downtown Doha
Neighboring Souq Waqif is a neighborhood that has become very popular in Doha, it is Msheireb, or Downtown Doha, as many call it.
Msheireb is also located in the center of Doha, but has a more modern feel than Souq Waqif. I found Msheireb to be a super vibrant region, with several installations and artistic interventions, so much so that at times it reminded me of London.
The location is also well served by subway, buses and taxis, making it an excellent option for those looking for where to stay in Doha!
Where to stay – Hotels in Msheireb:
$ Alwadi Hotel Doha: offers sophisticated rooms with a more modern feel. It has an outdoor pool, spa and gym. This hotel in Doha has a score of 9.0 on Booking.
$$ Park Hyatt Doha: 5 star hotel with relatively good value for money. Park Hyatt also has an indoor pool, fitness center and spa. Guest rating is 9.1.
$$$ Mandarin Oriental: one of the most sophisticated hotel chains in the world, Msheireb's Mandarin Oriental offers an outdoor pool, gym, terrace and bar. Their rating on Booking is 9.4. Arguably one of the best hotels in Doha!
West Bay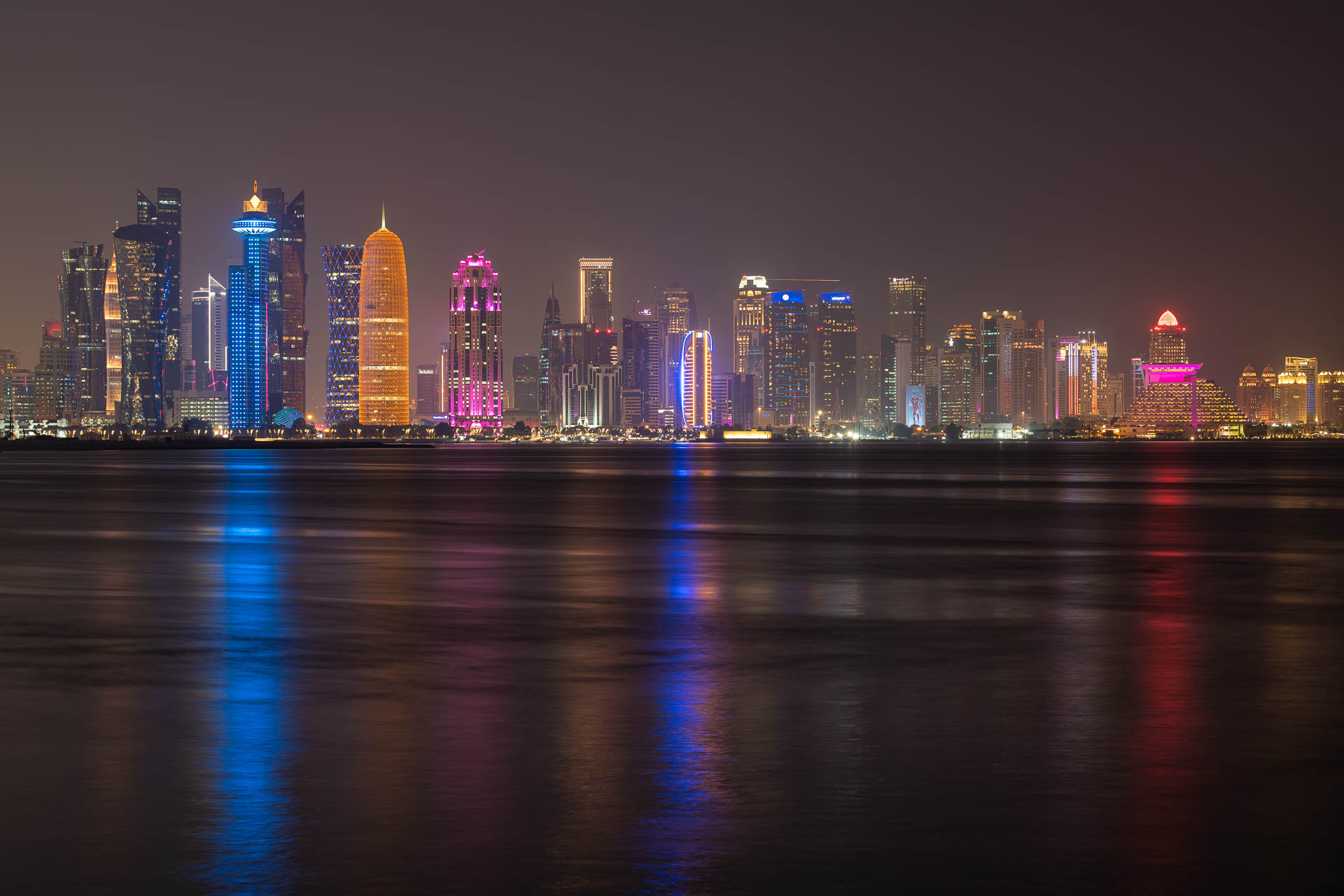 Another tip we give to those looking for where to stay in Doha is West Bay, one of the neighborhoods we visited the most when we lived in Qatar.
Neighboring the sea, this is a more modern area, with large skyscrapers and many options for hotels, restaurants and shopping malls.
West Bay is not as central as Msheireb or Souq Waqif, but as it is a modern neighborhood, it is where most of the international shops, renowned restaurants and bars are located, as it is only possible to consume alcohol in Doha inside international hotels.
West Bay also has its own metro station and is another great base option for those looking for where to stay in Doha.
Where to stay – Hotels in West Bay:
$ Retaj Al Rayyan: 4 star hotel facing the sea in West Bay, with great value for money. Retaj Al Rayyan has a spa and spacious rooms with sea views. Guest rating: 8.1.
$$ The Wyndham: 5-star hotel with rooftop pool, right in the center of West Bay, close to the subway. Booking score: 9.
$$$ St. Regis: 5-star, foot-in-the-sand hotel with a huge pool and private access to the beach. The rooms are spacious and the decoration is classic-chic, a great option for those looking for accommodation in Doha in style. Rating 8.6.
The Pearl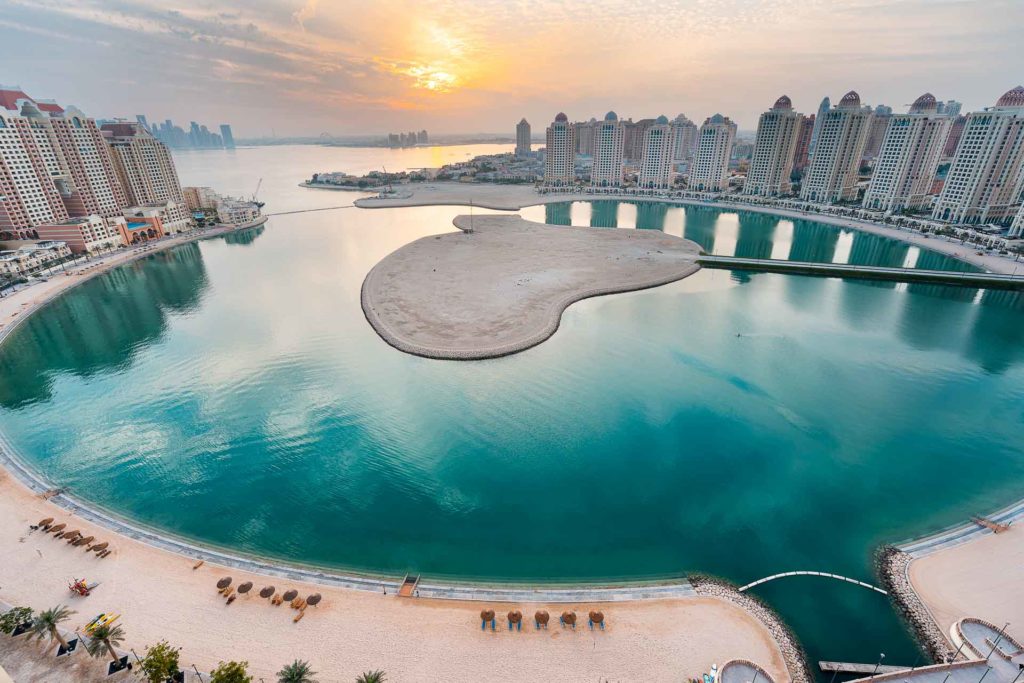 The Pearl is one of the most luxurious areas in Doha. A completely planned neighborhood, where 80% of Qatari families live. The region has many green areas, a caress to the body, considering the heat in that city.
The Pearl is an artificial island built to rival The Palm in Dubai. By the way, anyone who knows Dubai will notice several similarities between the two cities.
The only problem with The Pearl is that it is a little further away from the center of Doha and there is no metro in the area, so you are dependent on taxis.
Where to stay – Hotels at The Pearl:
$$ Hilton The Pearl: another classic hotel in Doha that needs no comment. The Hilton at The Pearl has a pool, bar and beach access. Booking rating: 8.6
$$ Marsa Malaz: we frequented this hotel a lot when we lived in Doha, because of the bar they have on the roof, The Secret Garden. The hotel itself is worth the visit, as it is beautiful, with a decoration well inspired by the local culture. Guest rating: 8.4.
$$$ St Regis The Pearl: one of The Pearl's most luxurious lodgings. Hotel in Doha 5 stars with rating: 8.5.
Old Airport
As the name implies, Old Airport is the neighborhood where the city's old airport is located, which is still in operation. Doha's newest airport, however, Hamad International Airport, is also nearby. In other words, the Old Airport neighborhood is conveniently located close to the city's two airports.
In addition to offering a more affordable hotel option in Doha, this is also a good accommodation alternative for those who only have one night in Doha.
The Old Airport district is 10 km from Souq Waqif and 13 km from West Bay.
Where to stay – Hotels in Old Airport:
$ Strato Hotel By Warwick: hotel with great value for money and good infrastructure. They even have a swimming pool. Rating 8.0
$ Premier Inn Doha Airport: Basic classic hotel, close to the airport and metro. Guest rating: 8.8
$$ Holiday Inn: traditional hotel chain, perfect for those who don't want to make a mistake when staying in Doha, and yet without paying too much.
Al Sadd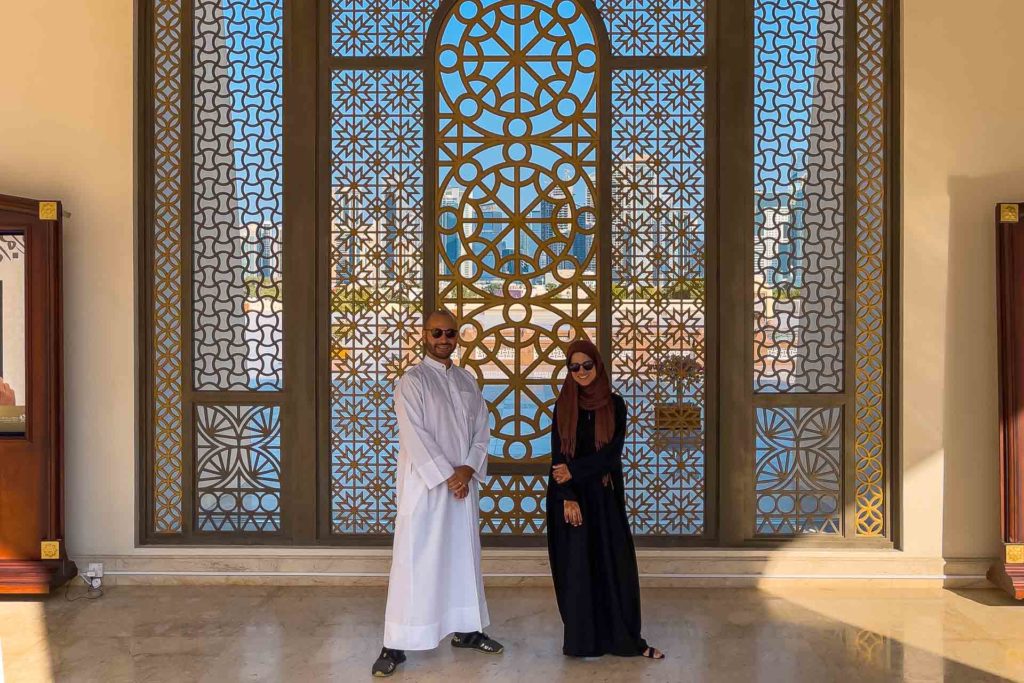 Al Sadd is a relatively well-located neighborhood in Doha, but it is not at all touristy. It is 5 km from Souq Waqif (only two metro stops) and 7 km from West Bay.
This is where the majority of Qatari immigrants live. Because of this, you will find a huge variety of good and cheap restaurants, with cuisine from all over the world (Indian, Pakistani, Arabic, Filipino, etc.).
The neighborhood is not very charming, but it has some hotel options, as well as having a metro station that connects you to the rest of the city in just a few minutes.
A great option for accommodation in Doha if you don't want to spend too much.
Where to stay in Doha – Hotels in Al Sadd:
$ La Villa Suites Hotel (7.4)
$ Swiss Belinn Doha (8.7)
$$ Double Tree by Hilton Al Sadd (8.3)
Best time to visit Doha/Qatar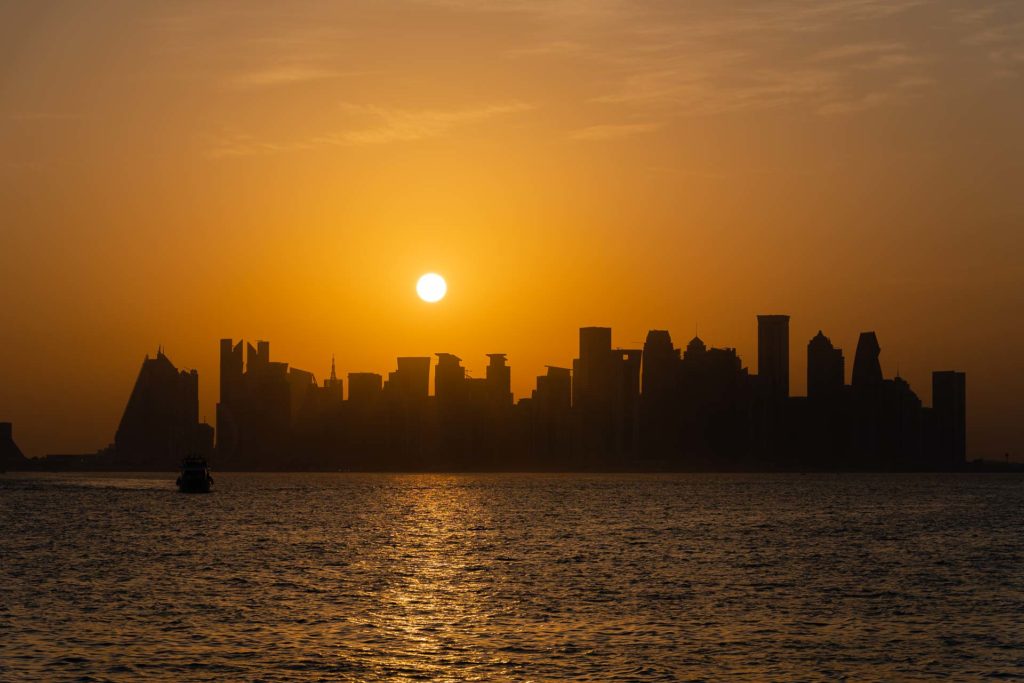 The best time to travel to Qatar is from November to April, when temperatures are milder. During the summer months, from May to September, temperatures can reach over 40 degrees Celsius and the humidity is unbearable.
We lived in Qatar from October to December, and even in early October the temperatures were quite high. We even got a thermal sensation of 50 degrees. In December, the temperature dropped a lot and on some nights we even had to wear a coat.