This post is also available in:

Português
We lived in Doha for three months and had the opportunity to explore Qatar quite well. Now, we prepared for you a complete Qatar Itinerary with all the best things to do in Doha and around (as you will see there are quite a lot of Doha day trips to do too!).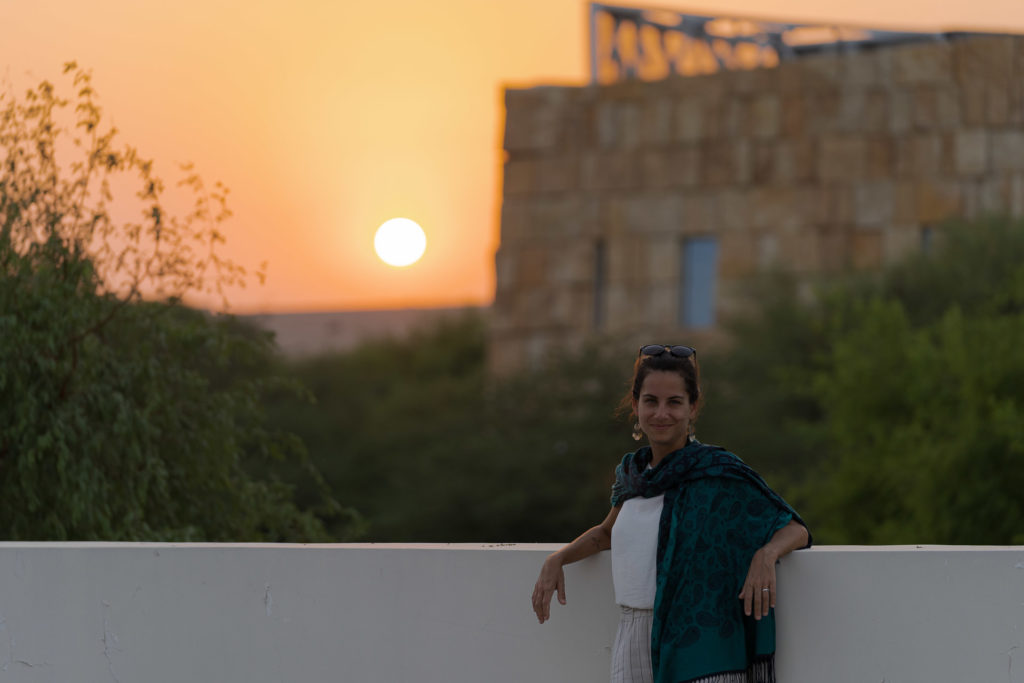 Where is Qatar
Qatar is a peninsula in the Persian Gulf with a 563 km (2,35 miles) coastline and its only land neighbour is Saudi Arabia. Doha, capital of Qatar, is the largest and one of the few cities in the country. So if you are going on a trip to Qatar, Doha will be your headquarters and where you will find most of Qatar touristic points.
The city is a mix of traditional and modern life. You can enjoy an adventurous desert safari during the day and have a fancy dinner on a skyscraper rooftop at night. Between beaches, sand dunes, marvellous skyscrapers and secular architecture, Doha Qatar is an exemplar of Occidental and Oriental influences. The perfect place to learn about the past and experience the future. There is a lot to do in Doha Qatar and we are going to tell you all about it in this Qatar Itinerary!
A little bit of Qatar history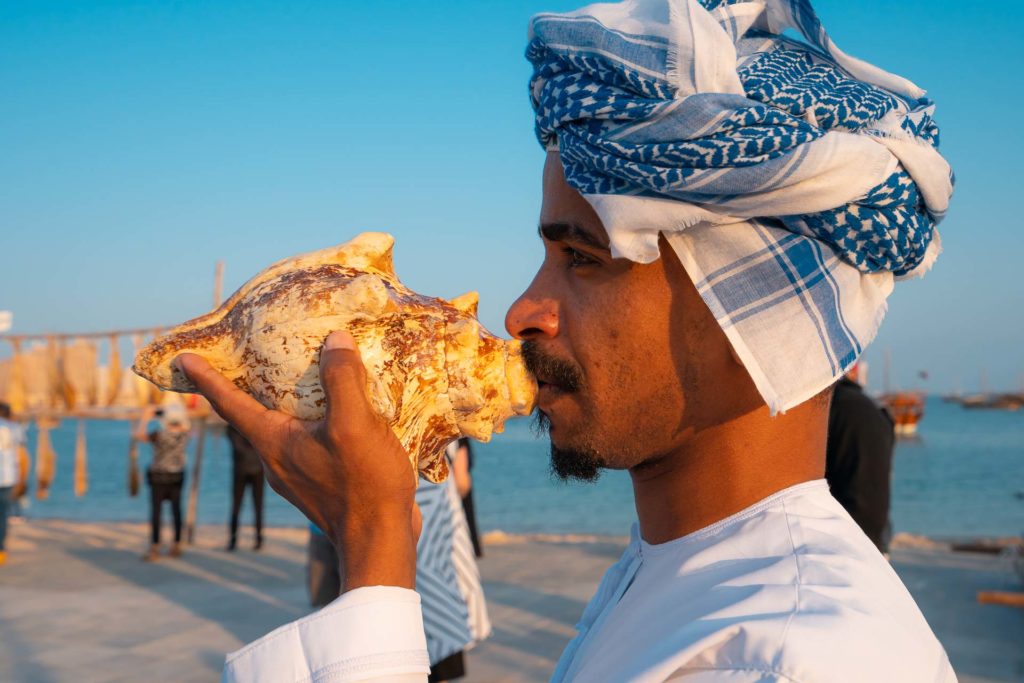 First things first, before we start this Qatar itinerary, it is useful to understand how the country became what it is now. This peninsular country was part of the United Kingdom and became independent in 1971. Until then, it was an almost uninhabitable place, a desert with temperatures getting as high as 50 degrees Celsius.
Qataris, as people from Qatar are called, are very proud of their pearl culture, and they love to talk about it. Proof of that is that one of the main Qatar World Cup stadiums was a reference to the country's pearl history.
Qatar today
Today, it is one of the richest countries in the world with a GDP of more than US$ 60,000 per capita. And pearls are not the reason for all this wealth. Qatar is the third-greatest natural gas reserve in the world and it is very clever on how to make money from it.
In the 1990s, the Emir's son at the time came to power and started to invest in natural gas. He pioneered the technique of transforming it into liquid and export to the world. But, as they knew gas is a finite resource, they started to use all this money to invest in constructions and companies all over the world. Today they are owners of Harrods (the famous department store in London), the Shard (the 72-storey skyscraper also in London) and are a major shareholder of Heathrow Airport.
It also has US$ 3.8 billion in properties in Manhattan, NY, and is the owner of Al Jazeera, the main media from the Middle East. In summary, it has invested more than US$ 400 billion in more than 40 countries.
Where to stay in Doha Qatar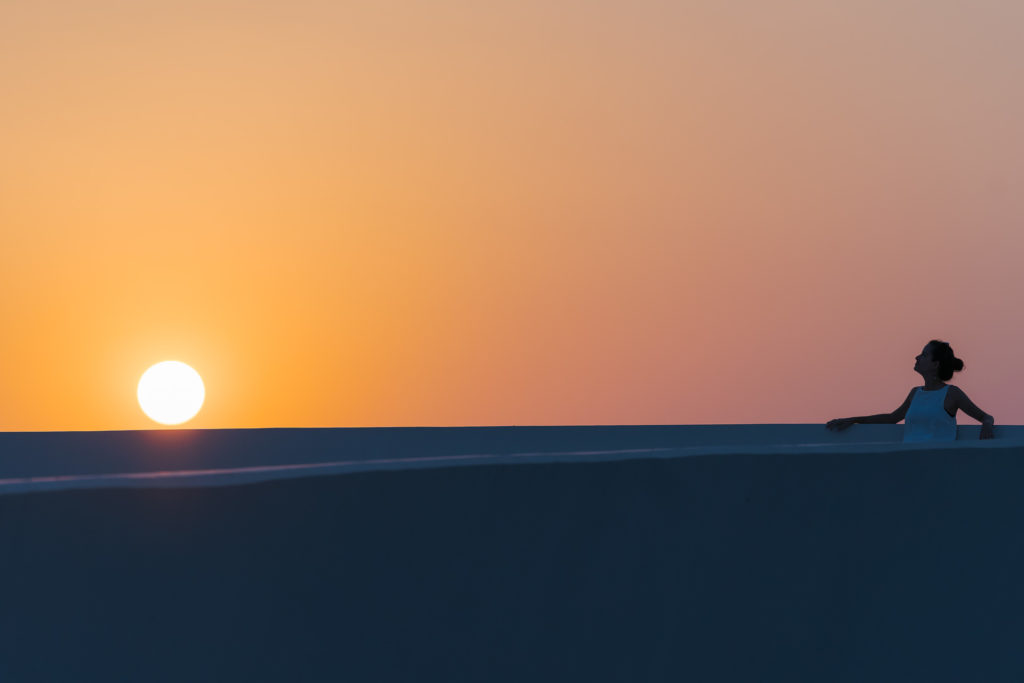 With so many options for accommodation in Doha, it can be overwhelming to decide where to stay. That's why we've created a detailed post about the best places to stay in Doha. However, here's a brief overview:
If you want to immerse yourself in the city's rich culture and history, we recommend staying at the Souq Waqif Boutique Hotel by Tivoli, located in the heart of the bustling Souq Waqif bazaar.
For a more modern experience, the West Bay area is a great choice. With its proximity to the sea, shopping centres, restaurants, and international hotels, you'll have everything you need at your fingertips. At West Bay, we recommend staying at The Wyndham, but this is just one of many great hotels there.
On the other hand, if luxury is what you are after, then staying at the Pearl, with its private beaches and huge buildings is your option. Have a look at the Hilton at the Pearl.
If you have only 24 hours in Doha and need to stay near the airport, the Premier Inn Doha Airport may be a convenient choice. While it's located a bit outside of the city centre, the Old Airport region offers excellent value for money and is still well-connected to Doha's many attractions.
Best time for visiting Doha Qatar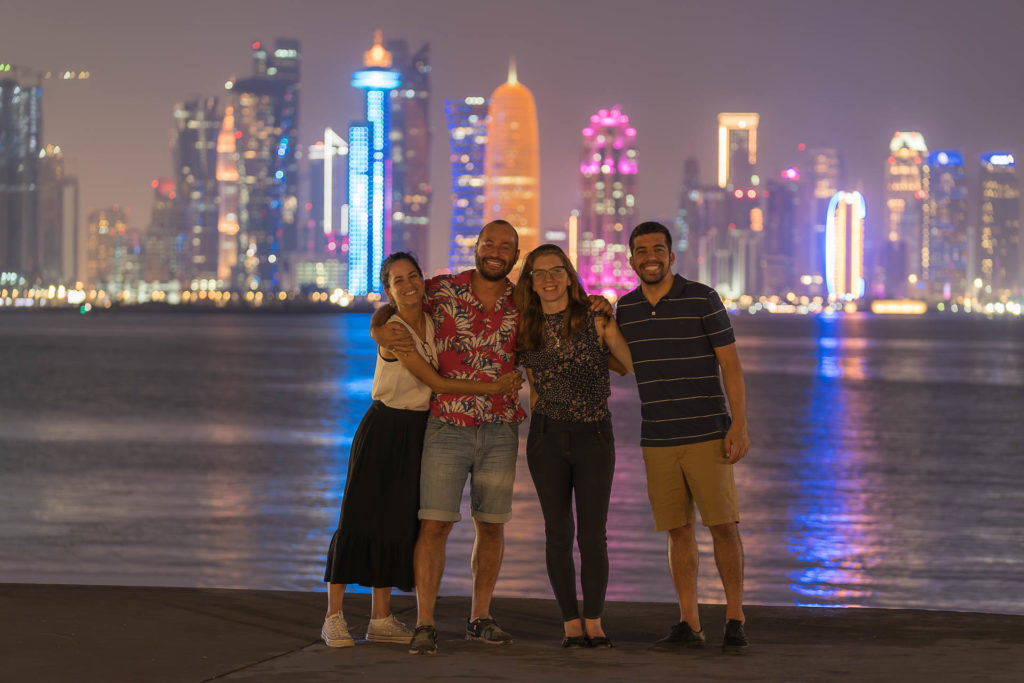 The best time to travel to Qatar is during the months of November to April when temperatures are milder. During the summer months from May to September, temperatures can soar over 40 degrees Celsius and the humidity can be unbearable.
We lived in Qatar from October to December, and even in early October, temperatures were quite high. We experienced heat indices of up to 50 degrees. However, in December, temperatures dropped significantly, and on some nights, we even needed to wear jackets.
Even though the country is kind of prepared for the heat, with Doha having many tourist attractions indoors, a trip to Qatar during summer is still very unpleasant. We advise on this Qatar itinerary to visit Doha during the months of November to April.
Qatar transportation – how to get around Doha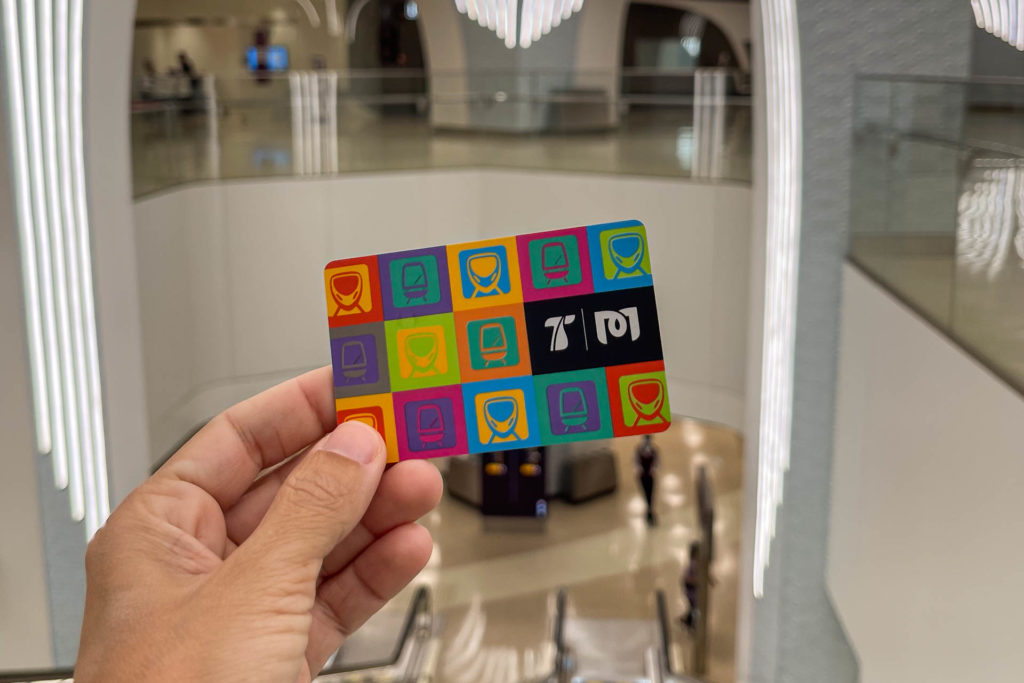 If you're wondering about Qatar transportation and what's the best way to get around Doha, I would recommend using public transportation and/or taxis. Not only are these options affordable, but they're also a great way to explore Doha's top tourist attractions.
Despite its reputation as an expensive city, getting around Doha is actually quite inexpensive! The city's brand-new metro system is very convenient and covers many of the popular tourist destinations. To use the Doha metro, you'll need to purchase a metro card for just 10 QAR, which is available at any station. The cost of a single journey on the metro is only 2 QAR.
Alternatively, you can opt for government-owned taxis, which are called Karwa. These taxis have a starting price of 4 QAR and charge around 1.8 QAR per kilometre. Another great option is Uber, which is widely available in Doha and often even cheaper than taxis. Overall, there are plenty of ways to get around Doha and explore all the wonderful sights and sounds this Qatar itinerary has to offer.
Qatar itinerary: Things to do in Doha Qatar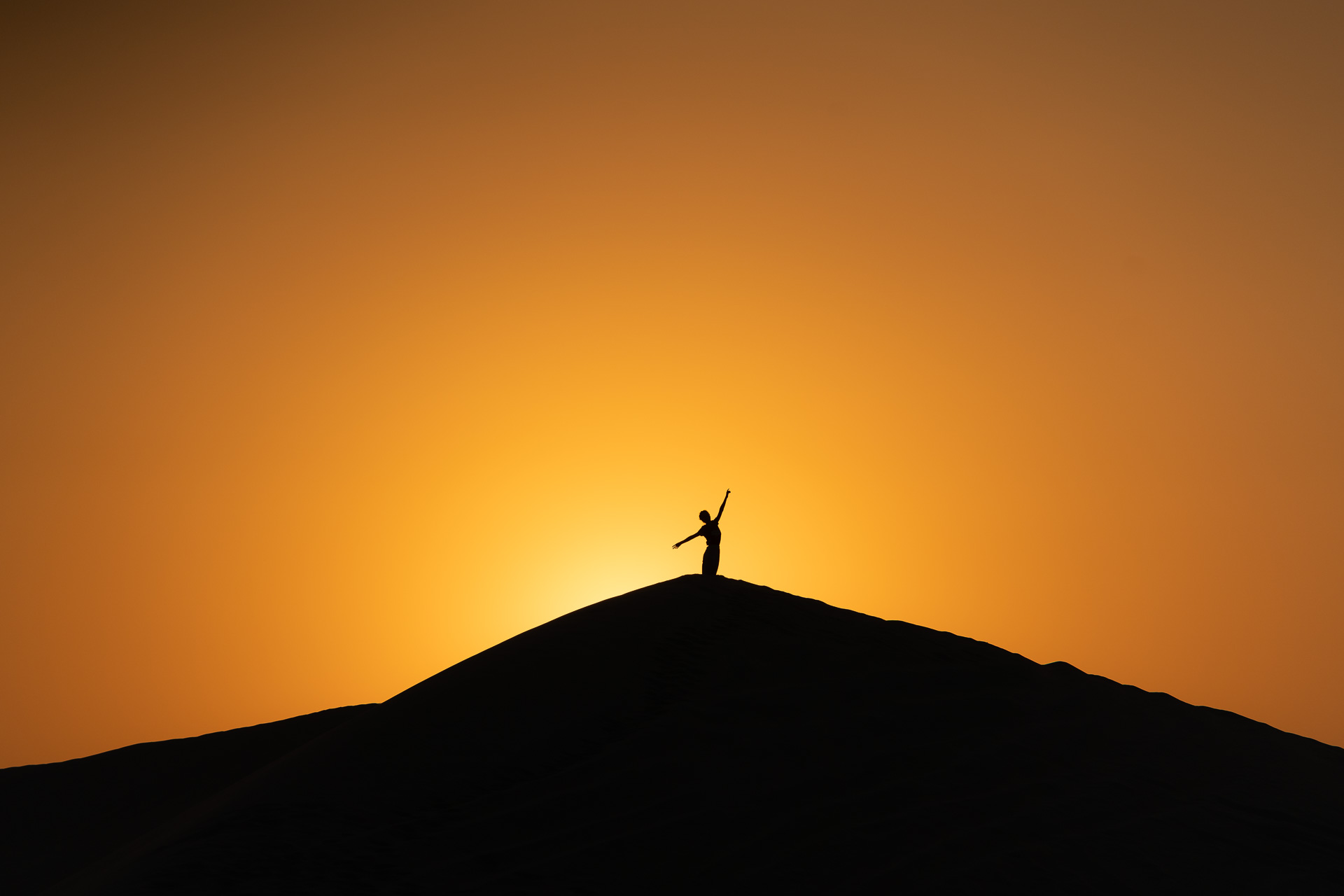 Now that you have all the important background information about Doha tourism, it is time to delve into what this whole Qatar itinerary is really about: the best places to visit in Doha and around: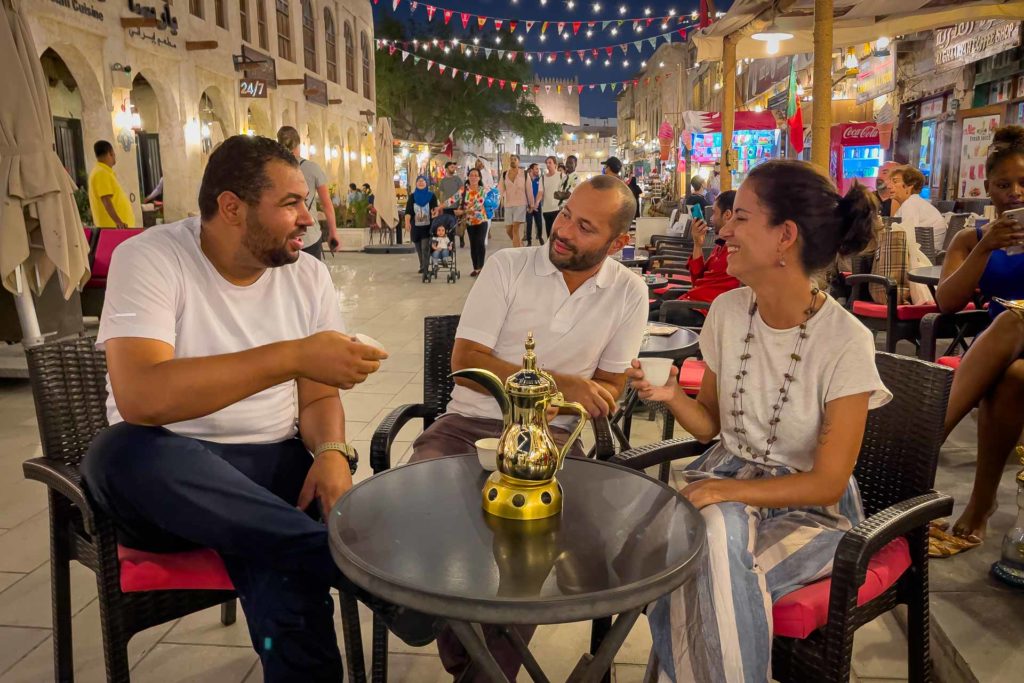 Walk down the Souq Waqif
Souq Waqif is one of Doha's top attractions, thus being our first recommendation on this Qatar itinerary!
The Souq is a traditional market in Doha Qatar and one of the few places that shows the old Qatari village style. Souq means "market" and Waqif means "standing"! It holds this name, Standing Market, because during the inundations of the Persian Gulf the merchants had to work standing on their feet.
A thousand years ago the place was a street market where Bedouins and locals sold many kinds of products such as textiles, spices, and handicrafts. In the 1900s, with the development of the country through investments in gas and oil, the market has fallen into oblivion and even suffered a fire in 2003.
Some years ago the government decided to revive it, rebuilding Souq Waqif and bringing back the scenery of the ancient bazaar. Walking down the streets of Souq Waqif is a nice way of experiencing the local culture, trying the traditional dishes and enjoying the charming architecture of ancient Qatar.
There you will find clothes, rugs, wooden furniture, glass ornaments, and local food, which are sometimes weirdly mixed with some modern occidental ingredients – such as Nutella. It is also a pleasant place to buy souvenirs if you are that kind of traveller.
The best time to visit Souq Waqif is in the afternoon when the temperature cools down and many locals head to the market for leisure.
Explore the Museum of Islamic Art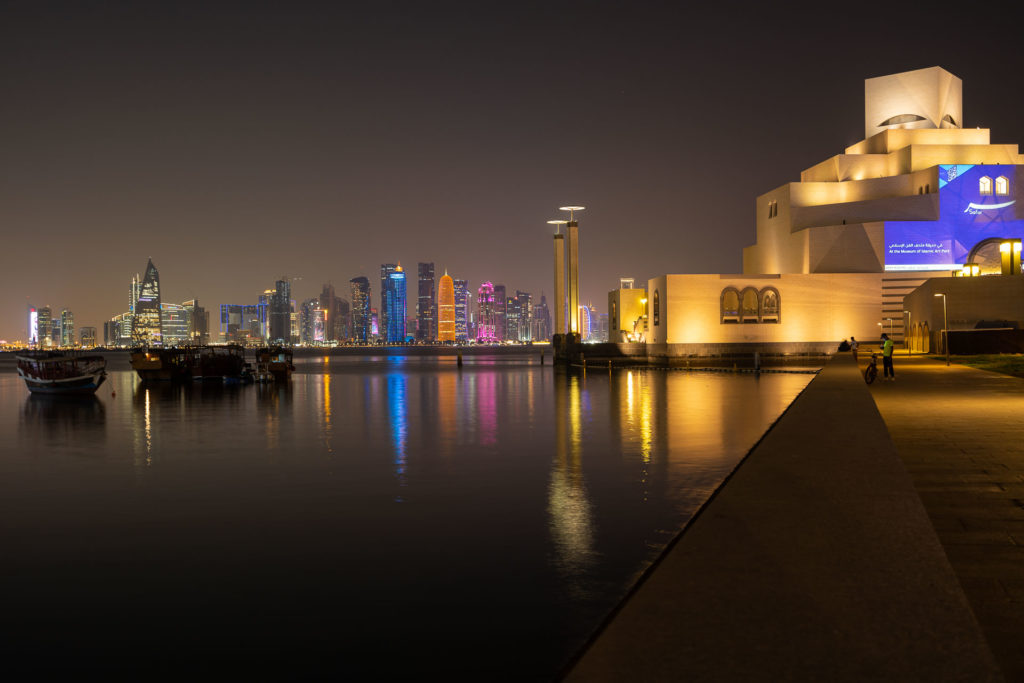 The MIA is one of the most important cultural landmark in Doha Qatar. It was opened in 2008, and it is located at one end of the 7 km (4.35 miles) long Doha Corniche. It holds artefacts from as old as the 7th century, examples of ceramic, metalwork, jewellery, and textiles, more than 800 manuscripts from the Qurans and the rarest manuscripts in the Islamic world, the Abbasid Blue Quran.
We loved MIA not only because of its exhibition, but the architecture of the museum is just incredible. This for us is one of the best things to do in Doha, thus being also on the top three of our Qatar itinerary. Near the museum, there is also MIA Park which is a nice place for a picnic.
The Museum of Islamic Art of Qatar opens from Saturday–Thursday (9am–7pm) and on Fridays (1.30–7pm). Tickets cost 100 QAR.
Enjoy a walk down the Doha Corniche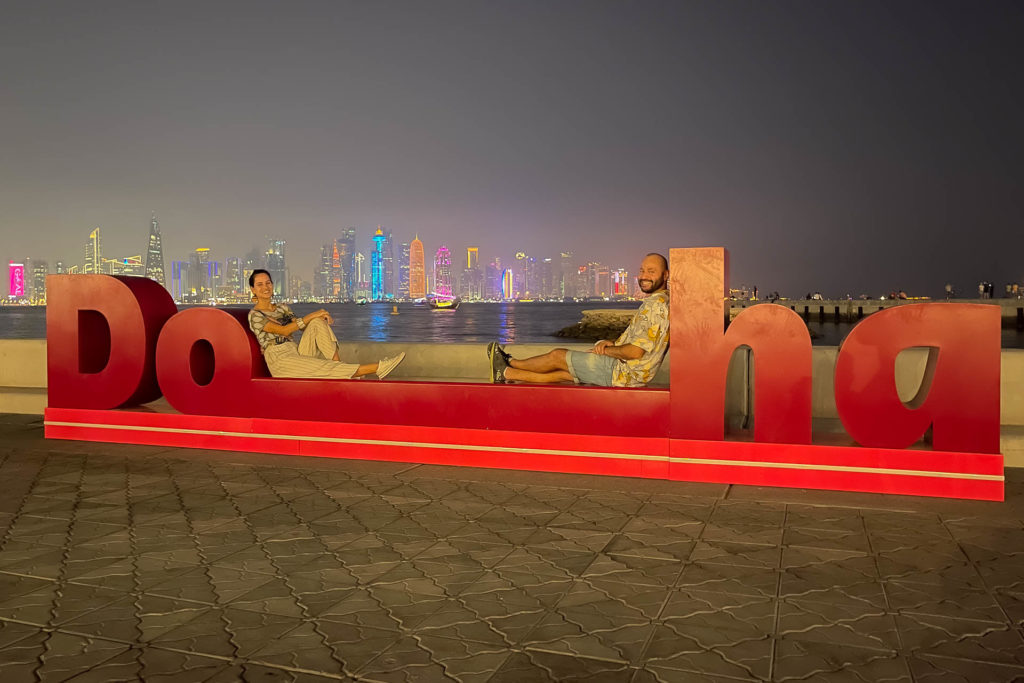 This 7-km-long promenade (4,3 miles) links one end of Doha to the other one. It is a charming place to take a walk while being delighted by skyscrapers and the sea landscape. A good tip is to go for a walk early in the morning or late in the evening when the weather is milder. If you choose to do both, you will have the chance to compare the so-different atmosphere between the days and nights at Doha.
A visit to the Corniche is such a must see in Qatar that we even added it to our list below of the best things to do in Doha for a day, so even if you only have a few hours in Doha, you should make sure to pop in at the Corniche.
Visit the Katara Cultural Village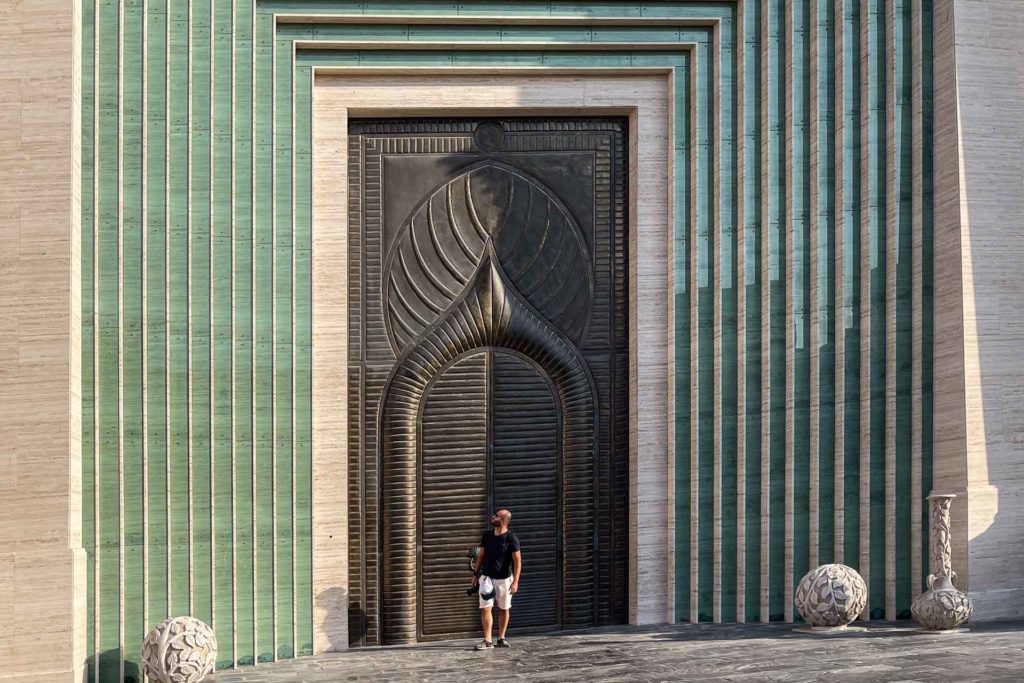 Also known as the Valley of Cultures, in this village you will get to know the Qatari culture through many local activities, art, architecture, cuisine and Islamic features. As you walk through the cobblestone pathways and alleys, you can spot the beautiful Katara Mosque and the Gold Mosque, made of small golden chips in an Ottoman style. There is also a Greek-style Amphitheater with a capacity for 5000 people, and the Operahouse, home of the Qatar Philharmonic Orchestra. The place is the perfect example of the rich culture, heritage, and architecture of Qatar.
A walk around Katara is one of the best things to do in Doha in our opinion, and you can easily do it on your own. However, if you want a more in-depth experience, we recommend taking a guided tour which will also take you to many of Doha sightseeing.
Visiting Qatar State Grand Mosque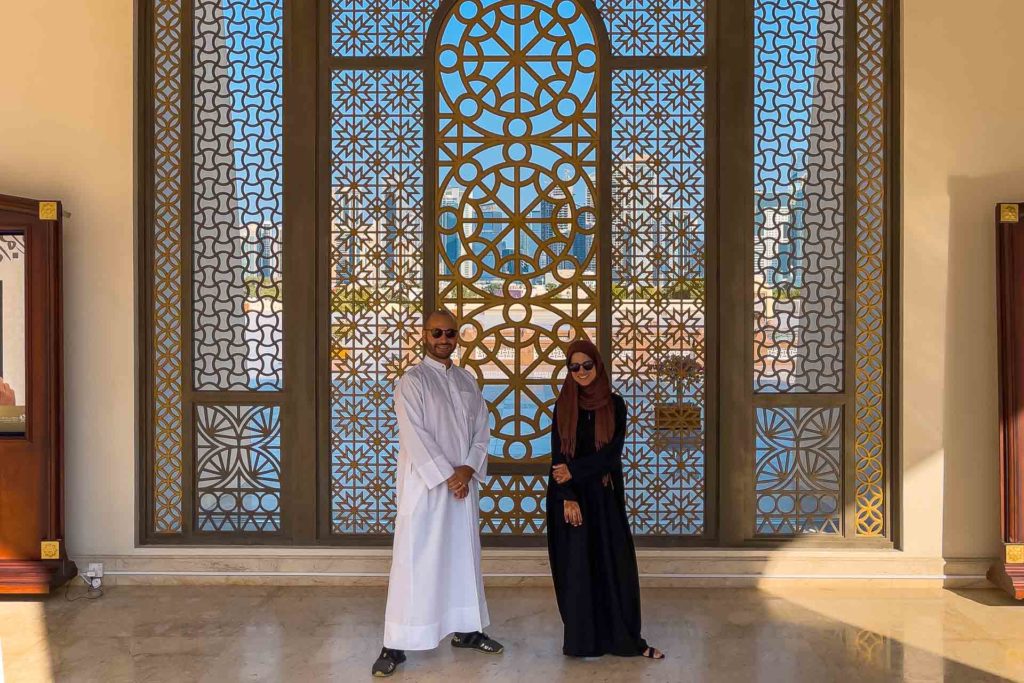 Also known as Imam Abdul Wahhab mosque, this is Qatar's largest mosque.
I won't lie: this is not the most impressive mosque we saw. It can't be compared to the Sheikh Zayed Grand Mosque in Abu Dhabi, nor the Pink Mosque in Iran. Or the Badshahi Mosque in Pakistan, which we all had the privilege to visit.
However, what's interesting about the Qatar State Grand Mosque is that you can take a free guided tour, in which the guide takes you around the external and interior areas of the mosque, explaining the architecture and history. It was very enriching in understanding more about Islamic history. Also, the view of Doha from the mosque's patio was incredible, making this a great option for those looking for free things to do in Doha.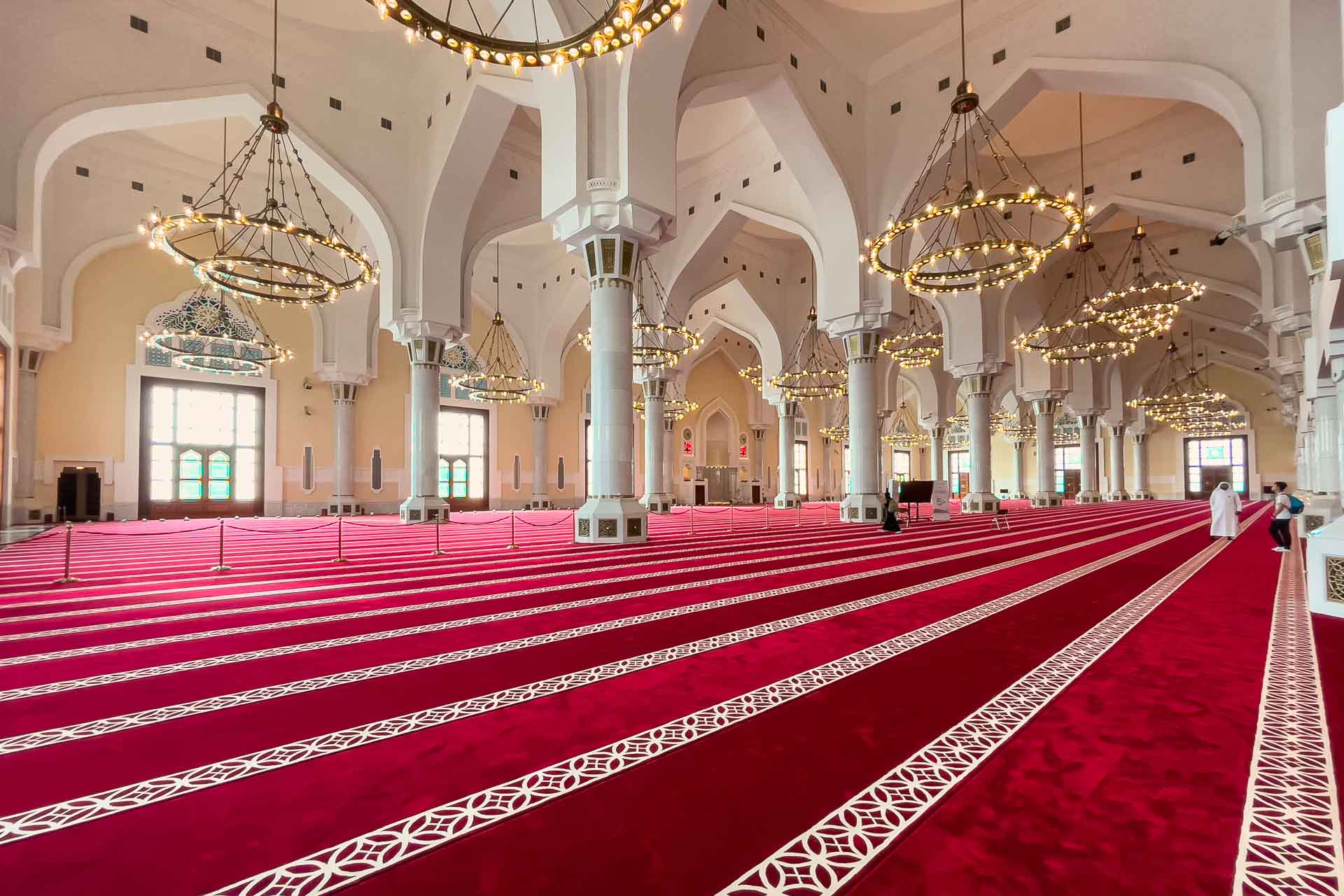 Make sure to visit it between prayers as they don't allow people inside the praying room during these moments. They actually advise visiting it at least 35 minutes before the call to prayer (you can check praying times here). Friday mornings and afternoons are the main days for worship in Islam and should be avoided.
They provide women and men with appropriate clothes.
Take a look at the National Museum of Qatar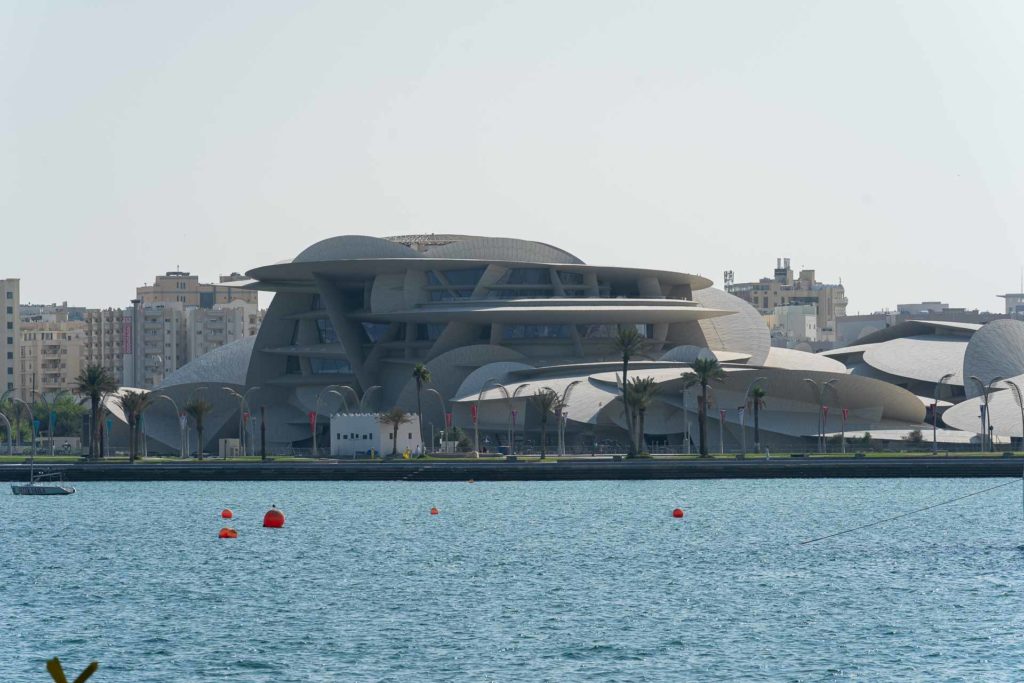 The National Museum of Qatar is another wonder of architecture and a must for any museum lovers visiting Doha! This tourist point in Doha tells through its arts the history from the earliest times to the present day of Qatar. There you can get to know more about the Bedouin culture, the tribal wars, the establishment of Qatar, the discovery of oil and Qatar life in the modern day.
The National Museum of Qatar opens from Saturday–Thursday (9am–7pm) and on Fridays (1.30–7pm). Tickets cost 100 QAR.
Get to know the Pearl Qatar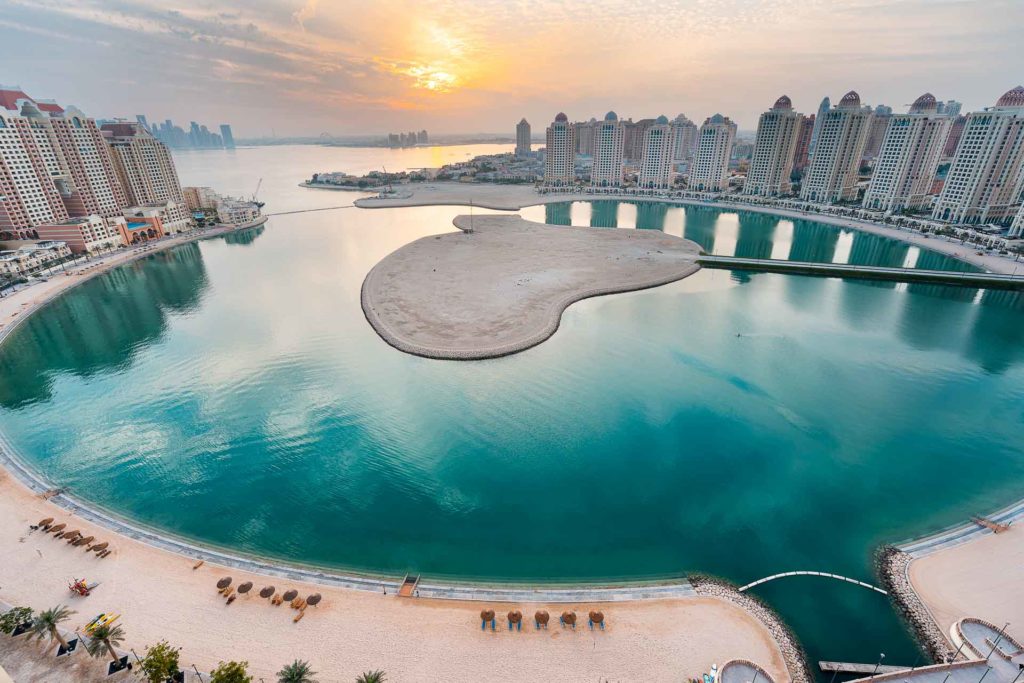 If you're looking for luxurious and futuristic places to add to your Qatar itinerary, make sure to visit The Pearl. Also known as the Arabian Riviera, this man-made island off the coast of Qatar boasts Mediterranean-style marinas, residential towers, mansions, and high-end stores. It's a remarkable landmark that showcases man's ability to imitate nature while building such an opulent destination.
Note: Plastic bags are banned on the Pearl so don't get them to the island.
Have a brunch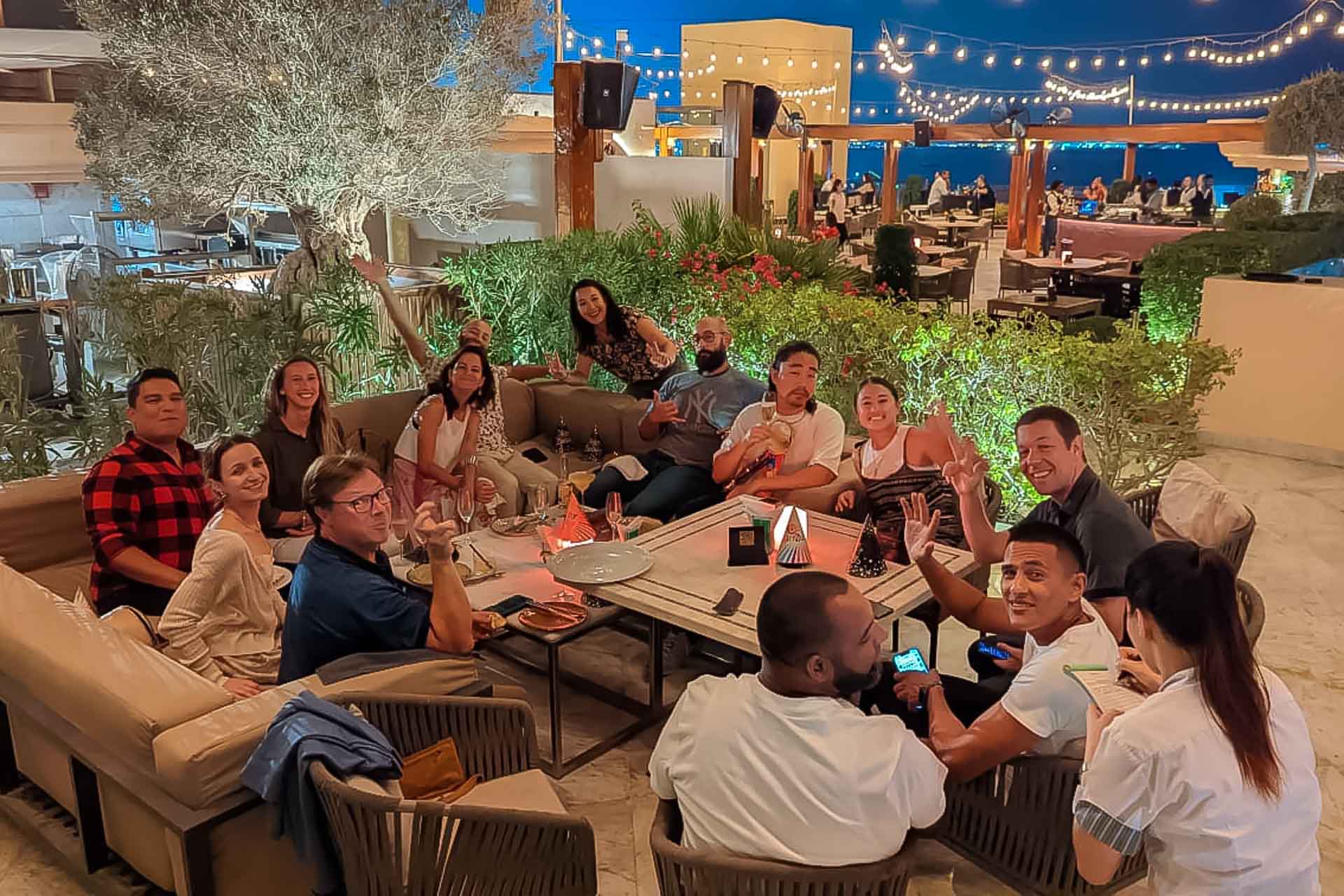 If you're looking for an indulgent experience to add to your Doha itinerary, be sure to reserve a table for a sumptuous brunch in Doha. This is a popular program among tourists because it is where you can eat and drink in Doha Qatar as much as you want. Famous hotels offer brunches with different kinds of local and international cuisines. Some of them are served in front of a breathtaking view of the city, others are offered in fancy palaces.
Brunches in Doha are usually only available on Thursdays and Fridays, which is the actual weekend in Qatar.
Rent a boat and enjoy the afternoon on the high sea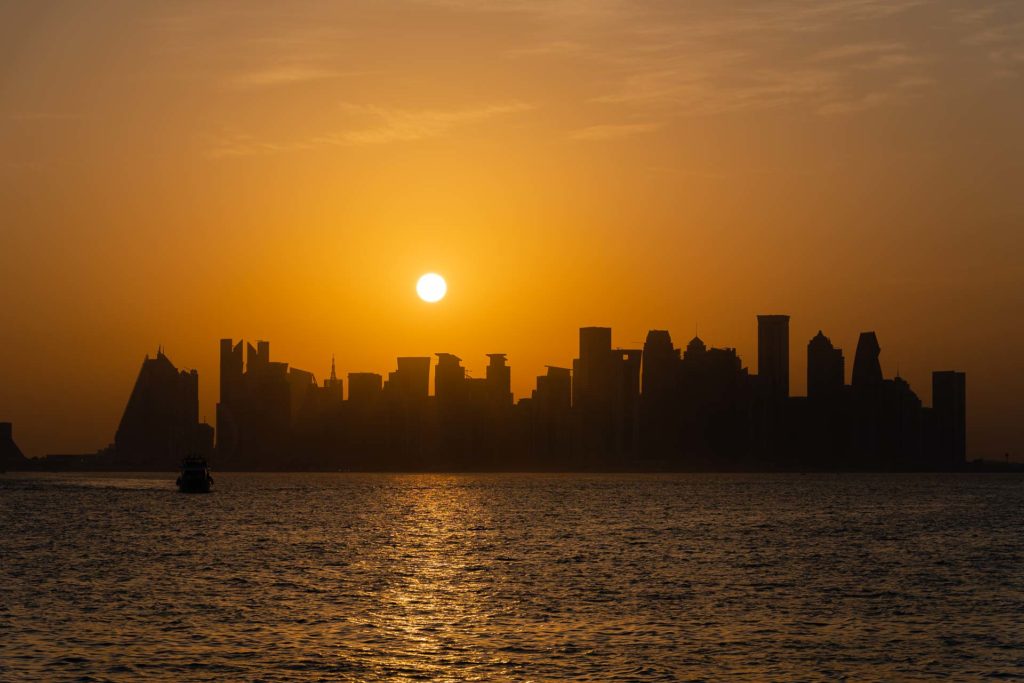 For you to relax among the clear waters of Qatar, there are many speedboats and yacht rental services. You can either go fishing, diving, observe the colourful marine wildlife. Or simply cruise along the coastline while watching the beautiful Doha sunset.
If you want a more local experience, hop on a dhow boat and go watch the city's skyline from the sea. Dhow is what they call the traditional vessels used to carry merchandise through the coast of Arabian countries in earlier times. There are short and longer trips, many with guided tours with the history of the sailors and these boats.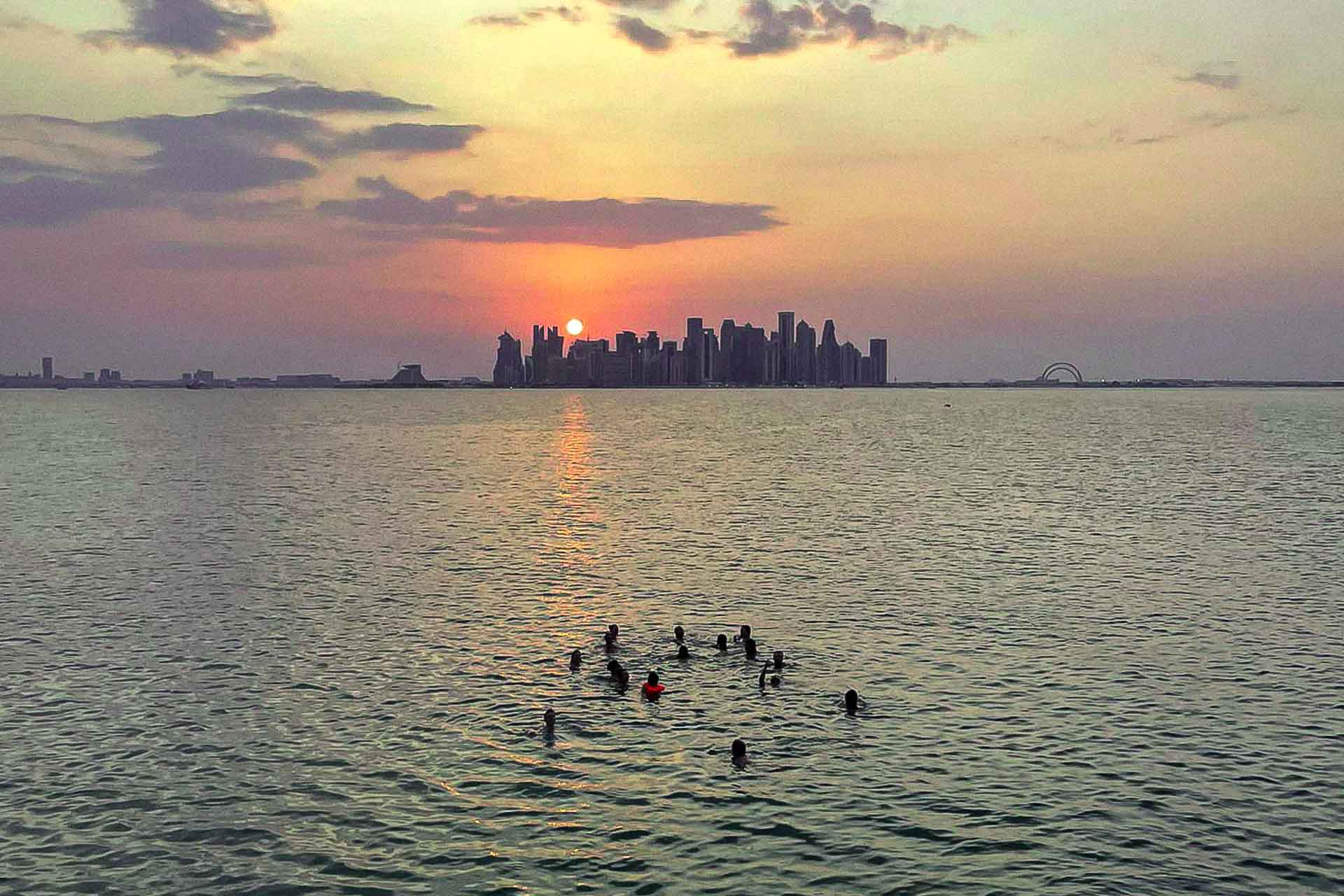 Renting a dhow boat to spend the day at the sea, was our favourite activity in Doha! We used to rent it with friends. Each one of us would bring a bit of booze and we would spend a lovely day on the sea. Swimming, dancing, drinking and eating barbecue offered by the crew, repeated and not necessarily in this same order.
Hang out at the upscale Doha malls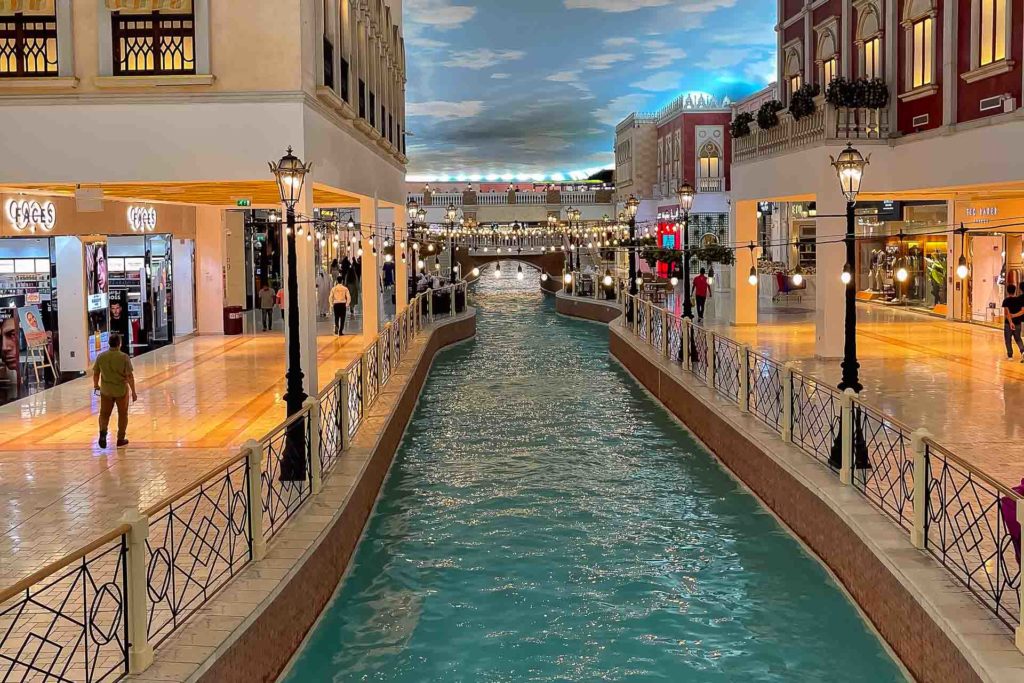 A Qatar itinerary is not complete without a visit to at least one of Doha's malls. Whether you just like wandering around or are a shopaholic, you will love the immense and thematic Qatar shopping malls. They are full of luxury brands, high-end stores and some peculiar entertainment places that might surprise you. If you are up for that experience, make sure you go to the Villaggio Mall. Inspired by the city of Venice, it has an internal canal where you can gondola ride. There is also the City Center Mall, the largest mall in Qatar. And the Landmark Mall, a Qatari-castle-like building, that houses the Circus Land amusement park.
Take a walk around Msheireb Downtown Doha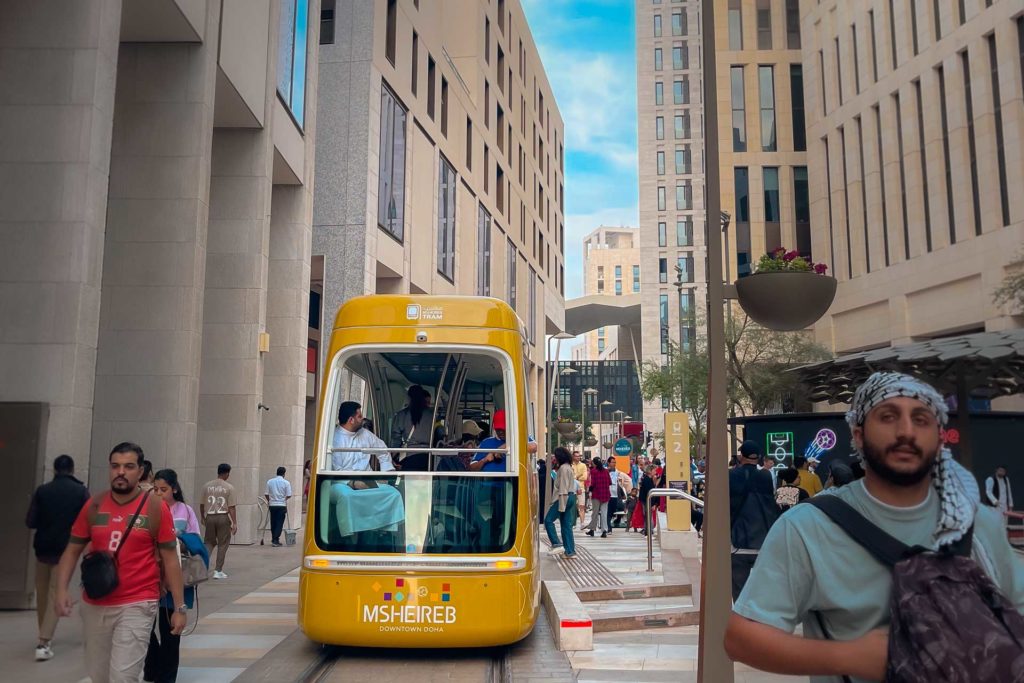 Msheireb Downtown Doha is one of the top Doha Qatar tourist places to visit. It is the world's first sustainable downtown regeneration project with contemporary architecture. The central square has an innovative cooling system and a retractable roof to keep the sun out. It has loads of events, shopping options and a wide variety of places to eat. And if the walking will get you tired, just get a free tram. It runs every six minutes in a 2-kilometre-loop (1.24 mile) around the area.
Visiting the beautiful Education City Mosque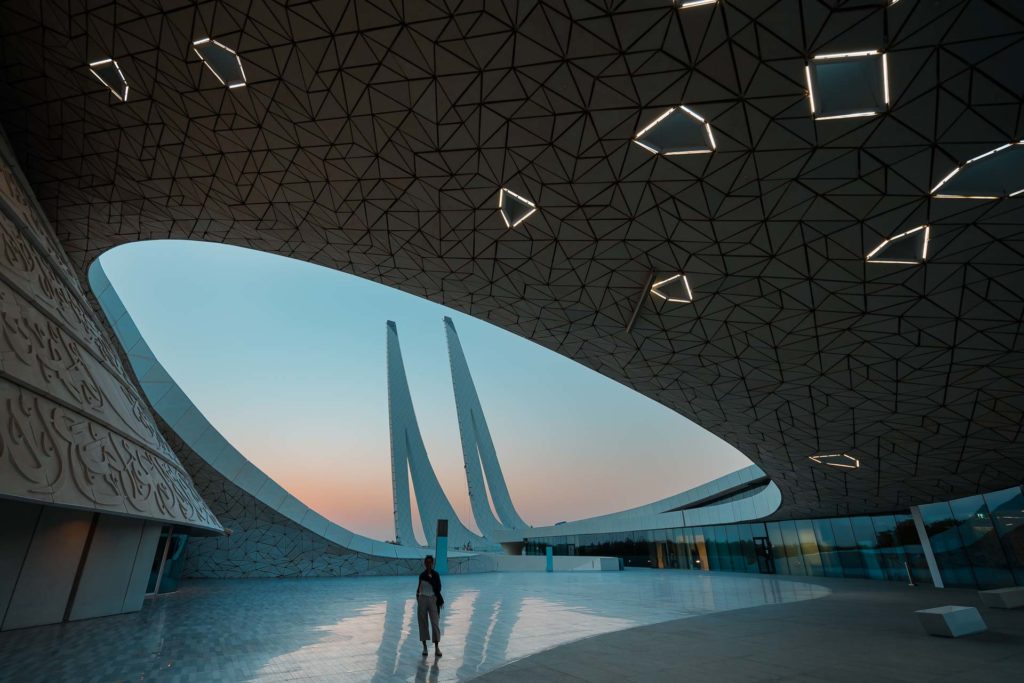 You won't see this listed on other Qatar travel guides. But, for us, the Education City Mosque is one of the most beautiful places in Qatar. The architecture of this mosque is stunning and catching the sunset over there is something else entirely. Surely a Doha must-see! While you're there, be sure to explore a bit of the Education City complex. There is a local tram, which is free of charge.
Going for a stroll at the Box Park
Doha tourism has been on the rise, especially after the FIFA World Cup. Doha's Port has been revitalised for the competition and the Box Park is one of the results of this revival! Made of colourful containers, this is an interesting area to go for a stroll in the afternoon, grab a snack or buy some local souvenirs. This is the area where the iconic 974 Stadium (now dismounted) used to stand.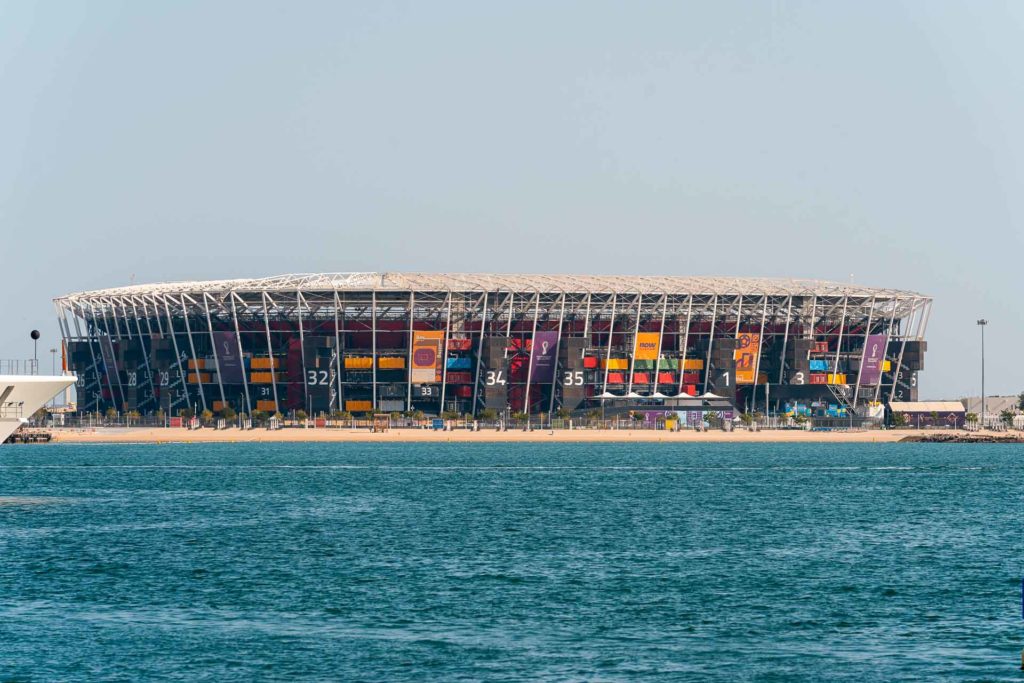 Doha Day Trips
If you had enough of Doha and are looking for a change of scenery during your trip to Qatar, there are plenty of day trips to choose from. In fact, there are so many options that it can be hard to know where to start! To help you out, we've put together on this Qatar itinerary a list of our favourite day trips from Doha.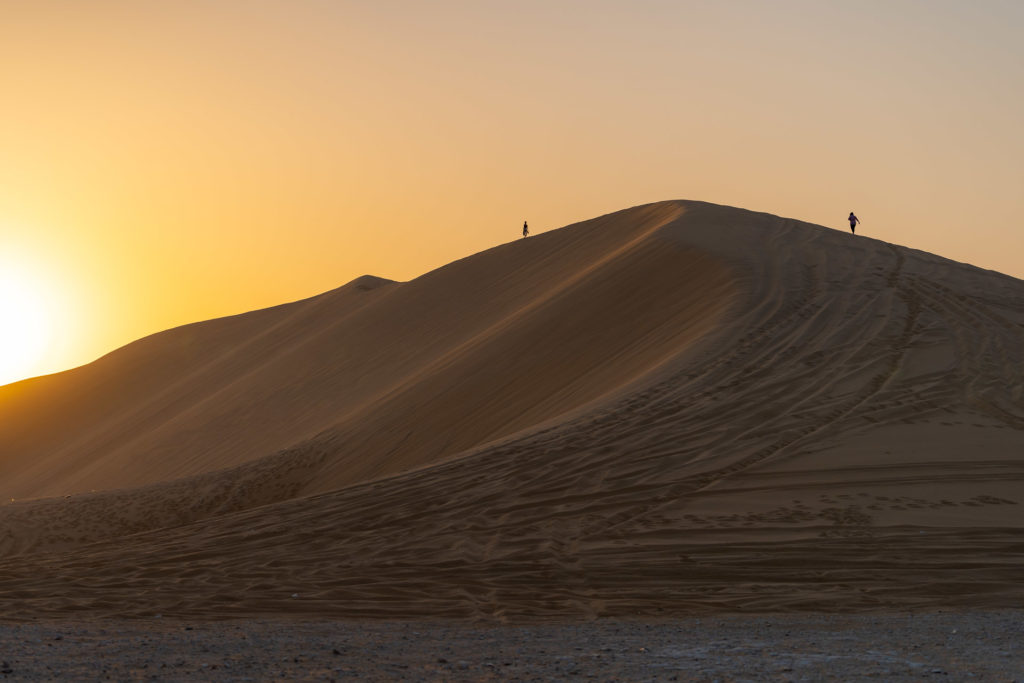 Go on a Desert Safari
We loved the desert safari in Qatar so much that we have a dedicated article about it! The desert is surely one of Qatar most beautiful places.
This is a truly Middle Eastern adventure. You get into an SUV and enjoy a desert safari in the surroundings of Doha. You can go dune bashing across the area, try sandboarding, camel riding and be mesmerized by the awesome views. There are also overnight safari tour options if you want to spend the night under an open sky in the middle of the sand dunes.
Make sure to pick a desert safari in Qatar that stops at the Inland Sea. Also known as Khor Al Adaid, the Inland Sea is 80 km (49.7 miles) from Doha. It is a top tourist attraction in Qatar. It is one of just three places in the world where the sea meets the sand dunes. In fact, UNESCO considers it a natural reserve. This extraordinary landscape is a great place to relax and contemplate nature. You can even pinpoint Saudi Arabia on the other side of the sea.
Check out the price and details of this activity here.
Go kayaking in Al Thakira Mangroves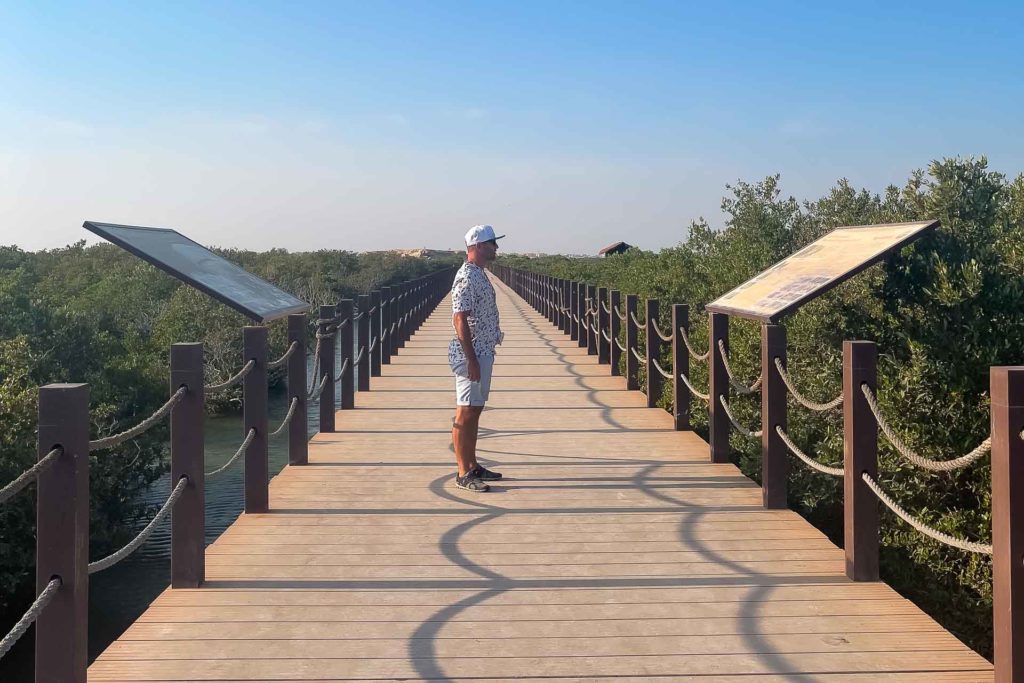 You might be surprised that a country mostly known by its deserts could have such a rich and lively forest. To explore this different side of Qatar, you can go kayaking through the Al Thakira Mangroves Forest. It is a large area of greenery filled with a rich ecosystem, including herons and flamingos that fly there during some parts of the year.
There are a couple of camps in the mangroves that offer kayaking to tourists. Make sure to stay for the sunset as it is breathtaking.
Chill on the beautiful Azerbaijan Beach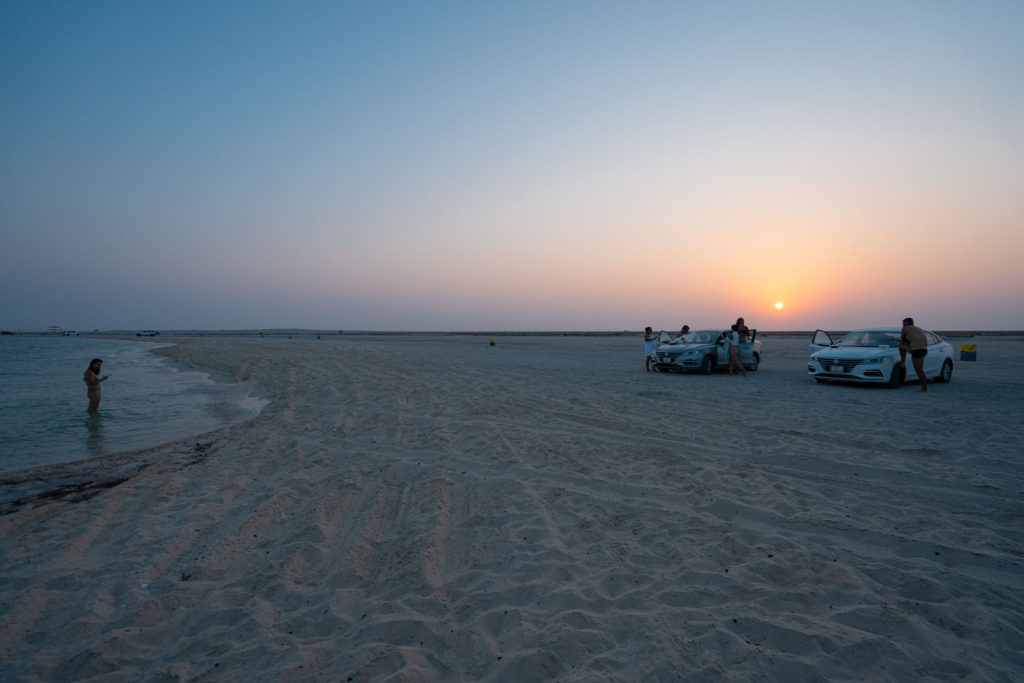 Qatar has some beautiful beaches. But because of its rigid dress code, women are not allowed to wear bikinis in most of them – apart from some hotel private beaches.
However, this doesn't mean you won't be able to enjoy the pristine waters of the Persian Gulf. If you want to enjoy a secluded beach where you can swim and wear your bikini, we have the answer. That is Azerbaijan Beach, some 90 km north of Doha.
This beach is quite isolated. There is no service around, so you should bring whatever you need for the day. The only complication here is that you have to have your own car to drive there. If you don't have one, HOMEPAGE, sorryrenting a car might be an option.
Visiting art Installations in the Qatari desert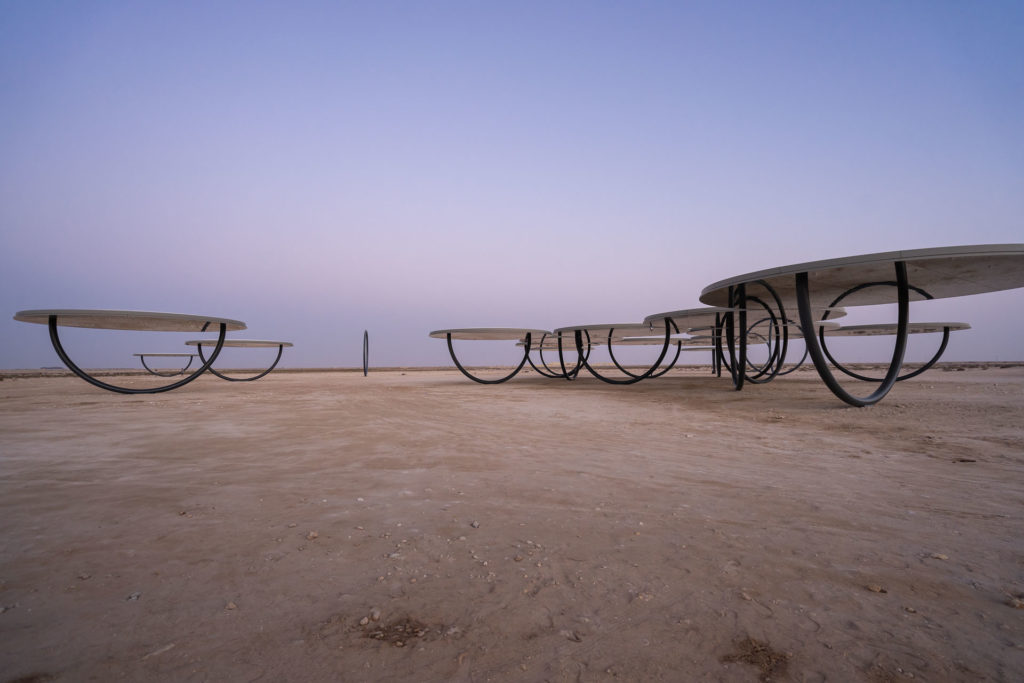 Qatar has many art installations around the country. One that really caught our attention was the "Shadows Travelling on the Sea of the Day", by Olafur Eliasson. It is only possible to arrive there by car, as it is in the middle of nowhere. On your way, make sure to make a quick stop at Fort Zubarah. There, you will hear a bit about the culture of Qatar from the very beginning. If you don't have your own car in Qatar, you can book a private tour to take you on this day trip.
This particular art installation is made of large rounded mirrors in the desert. So, when looking up at those large mirrors, it reflects the sandy ground below. Olafur wants viewers to realize that when they look up, they actually look back down. It is an invitation for travellers to contemplate their connection to the ground. You can read more about his artwork here.
Apart from Shadows Travelling on the Sea of the Day, you can also visit The Slug Turtle, by Ernesto Neto; The East-West/West-East by Richard Serra; and The Miraculous Journey by Damien Hirst. These art installations showcase the unique blend of tradition and modernity, a very interesting tourist attraction in Qatar!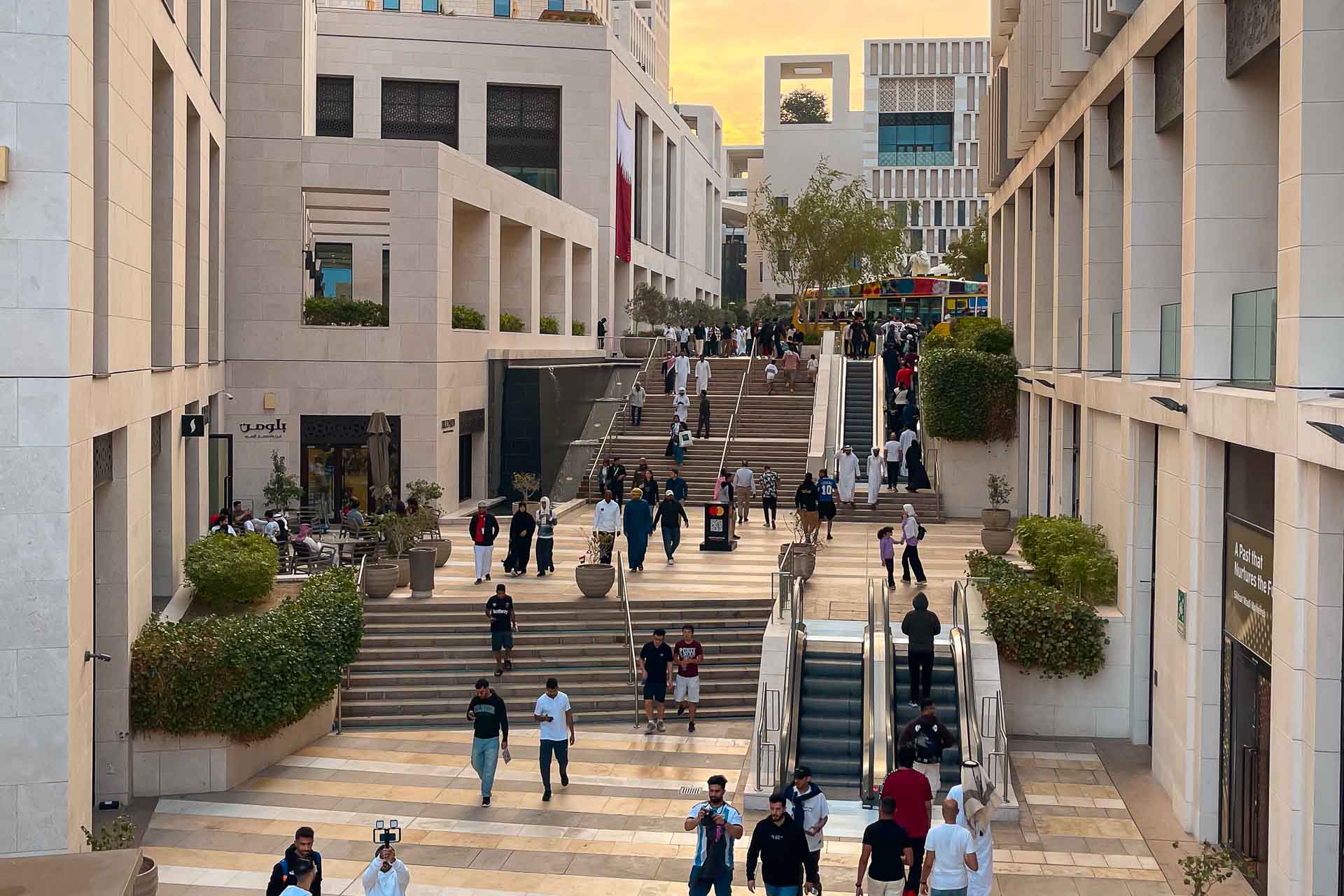 Watch a peculiar Camel racing (with robots)
Camel racing has been the traditional Bedouin spectacle in Gulf countries for a long time. It seems like a crazy idea to use robots as jockeys. But there is an interesting and dreadful story of how robots came to be the rule in such an ancient sport.
Since the 1970s, children as young as 4 years old (the lighter, the better) have been used as jockeys in camel races. For a long time, human rights groups would protest against it. They would report that many kids were kidnapped and trafficked from poor countries, such as Sudan and Somalia, to work as a jockey, living in terrible conditions and at risk of suffering serious injuries during the races.
In 2005, Qatar finally created a law stating that jockeys should be over 16 and weigh a minimum of 45 kg (99 pounds). The solution to an awful human rights problem was in technology. And that is how Qatar started using robots as jockeys in camel racing.
We were very curious to see a camel racing in Qatar, however, it proved to be a complicated task. This is such an insider activity that there is barely any information in English. We tried to call the place where the race takes place, but again, no one would speak English. On top of that, the competition only happens in a few months and in certain days of the week. Anyway, we didn't have the chance to see it. But, if you have more time, we think it can be a very interesting thing to do in Doha. Is possible, make sure to include that on your Qatar itinerary. Let us know if you are luckier than us and manage to see it! We would love to hear all about it!
Alternatively, there are Doha day tours that can take you to see a Camel Race Track.
What to do in Doha for a day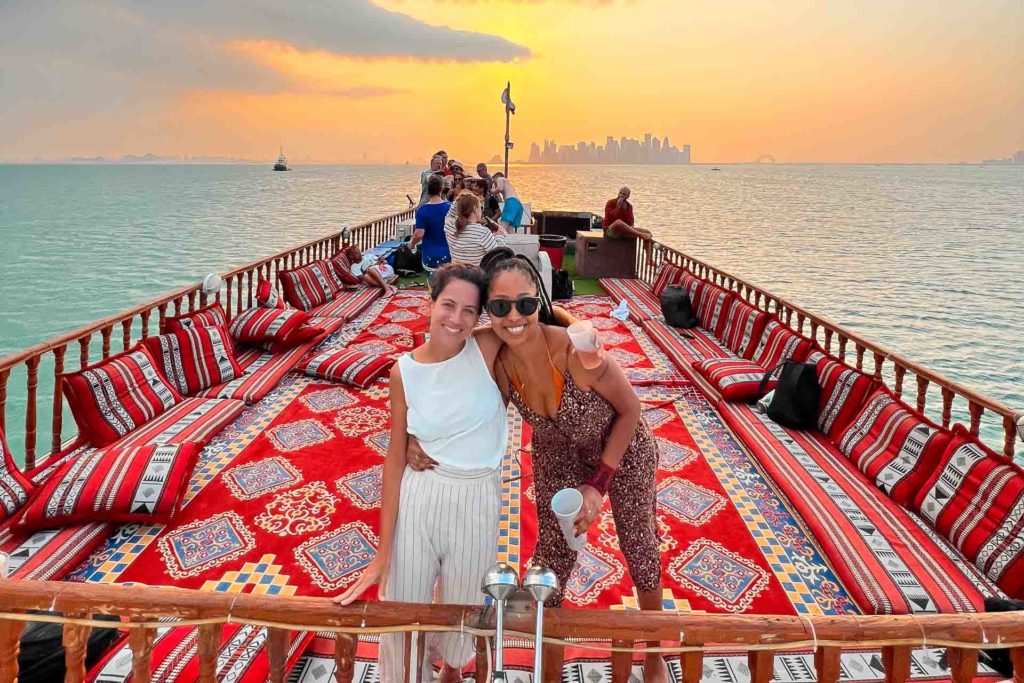 It is not possible to squeeze all we listed here in your Qatar itinerary if you only have 24 hours in Doha. However, there are still quite a few interesting things you can do and see in one day in Doha!
This is our suggested itinerary of what to do in Doha for a day:
Start by going on a visit to Qatar Grand Mosque (the free guided tour takes about 40 minutes).
From there, head to Katara Village, to see a bit of this cultural place, which often has some art installations and other interactive activities. Make sure to visit their promenade which has a local market.
After that, you are ready to walk through Corniche, Doha's most well-known street. This 7 km long promenade overlooking the sea has much to see and feel (even if you only choose a small portion of it to walk through).
Finish your 24 hours in Doha with a visit to Souq Waqif, Qatar's main bazaar, where all the local nightlife happens. You can have dinner there before heading back to the airport or to your hotel.
PS – If you have seen many mosques before and perhaps are more into museums, I would suggest changing the early visit to the Grand Mosque to a visit to the Museum of Islamic Art.
Is Doha Worth Visiting?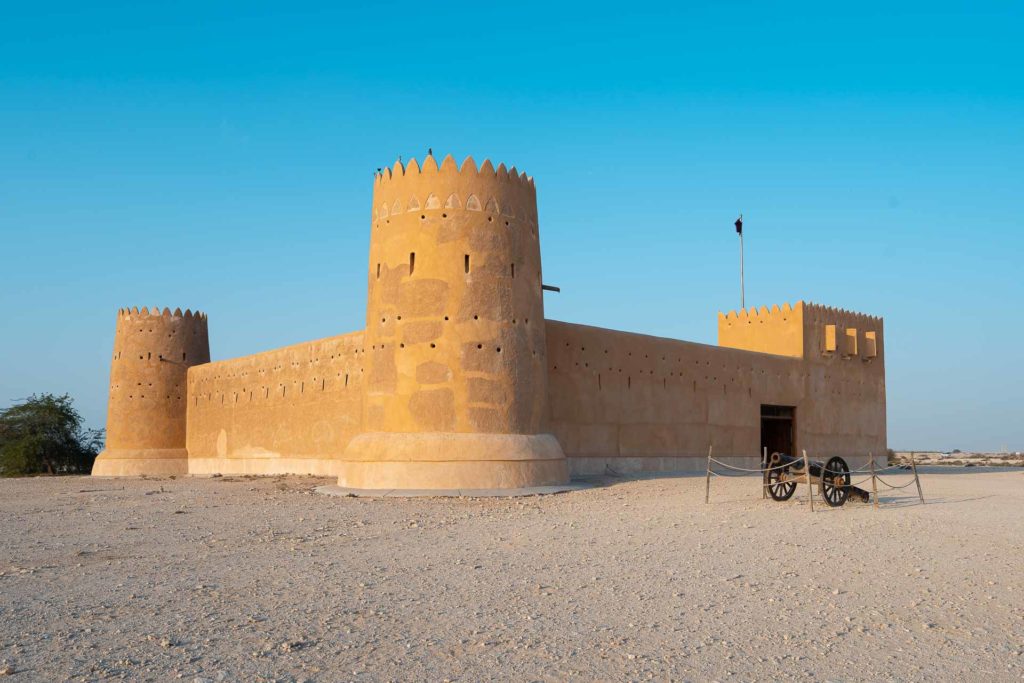 If you find yourself with a long layover in Qatar and are wondering whether is Doha worth visiting, our answer is a resounding "Yes!". At Monday Feelings we believe that every single place in the world is worth exploring, as it can lead to unforgettable experiences and unexpected encounters.
By leaving the airport and venturing into the city, you may discover incredible sights and opportunities that you would have otherwise missed. As you just read, there is actually plenty you can see even if you only have 24 hours in Doha.
For those with more time to spend in the country, even better. From this Qatar itinerary, you can have an idea of how many Doha tourist attractions there are! Therefore, even if you have a week in the city, you won`t get bored!
Final thoughts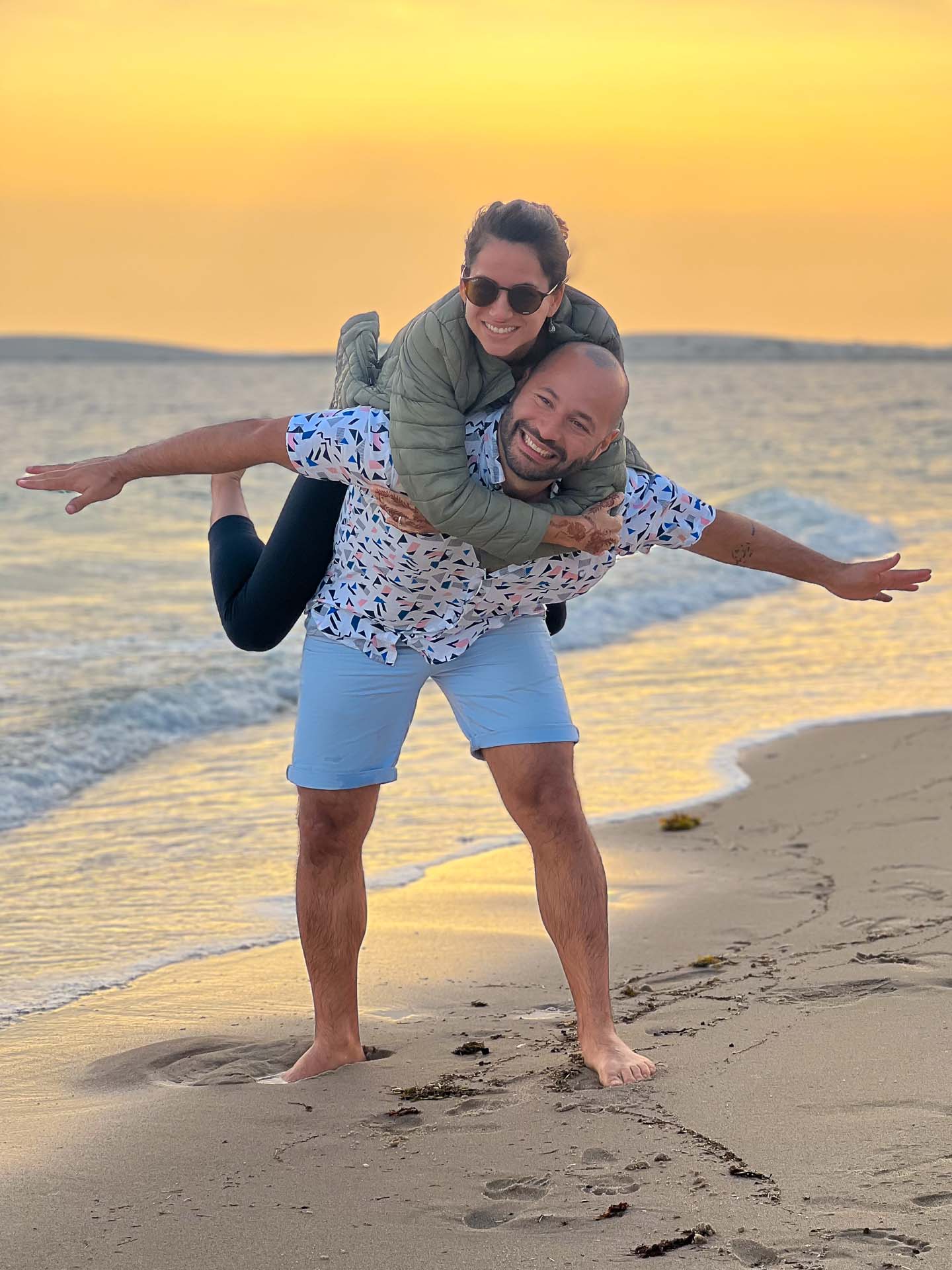 We hope you enjoyed this Qatar itinerary! As you can see, after living in Doha for 3 months we grew quite fond of it and hope you will too!
If you still feel like you need more unique and personalised advice and tips for your travel, get in touch with us as we also work with bespoke travel itineraries and would be more than happy to help you organize your travel in Qatar!
---
What's the best time to visit Doha
The best time to travel to Qatar is from November to April when temperatures are milder. During the summer months (May to September), temperatures can soar over 40 degrees Celsius and the humidity can be unbearable.
Best things to do in Doha
There are just so many things to do in the city, but here you are some of Doha's top tourist destinations:
– Souq Waqif
– Museum of Islamic Art
– Doha Corniche
– Katara Cultural Village
– Qatar Grand Mosque
– National Museum of Qatar
– The Pearl
– Msheireb Downtown
What to do in Doha for a day
Start by going to Qatar Grand Mosque, for a free guided tour. Then, head to Katara Village, to see a bit of this cultural place. After that, you are ready to walk through Corniche, Doha's most well-known street. Finish your 24 hours in Doha with a visit to Souq Waqif, Qatar's main bazaar.
Doha day trips
Our favourite day trips from Doha:
Going on a Desert Safari; kayaking at the mangroves; chilling at the deserted Azerbaijan Beach; and visiting one of the many art installations in the Qatari desert.
Free things to do in Doha
1 Walking along the Corniche;
2 Doing a free guided tour at Qatar Grand Mosque
3 Going for a walk around Souq Waqif
4 Getting to know some of its many thematic shopping malls
5 Visiting the luxurious man-made island The Pearl
Is Doha worth visiting
Of course, it is! First, we believe that every single place in the world is worth exploring, as it can lead to unforgettable experiences and unexpected encounters. Secondly, Doha has quite a lot to offer tourists, as you could read in detail in this travel guide!