This post is also available in:

Português
Known as Ilhabela – it means "beautiful island", but written all together – it is the second largest maritime island in Brazil, behind Santa Catarina Island only. We have recently made our first visit to Ilhabela, one of the best beaches in Sao Paulo, and have now prepared this complete guide with what to do in Ilhabela. In addition to an itinerary to enjoy Ilhabela in 2 days, here you will find a complete list of all the best beaches, trails and waterfalls, as well as valuable tips for your visit, curiosities and much more.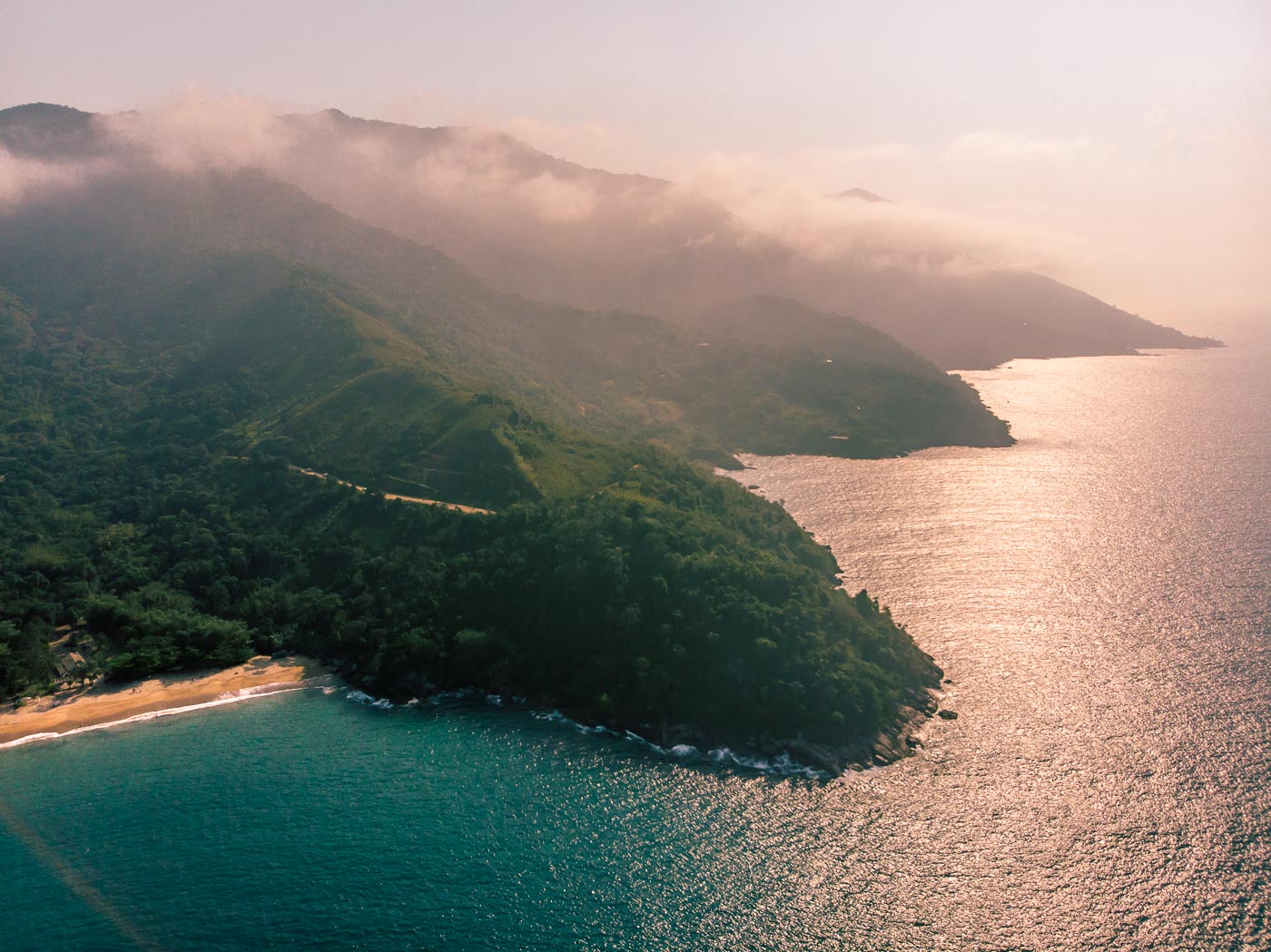 The beautiful island of Ilhabela, Brazil
What to say about an island that carries so much beauty in its name? (In Portuguese, this joke makes more sense). Our expectations for visiting Ilhabela were already high, but even so, it was impossible not to be impressed with what we found. Ilhabela has more than 80% of its territory under an environmental preservation area, being one of the largest portions of Atlantic Forest in the State of Sao Paulo! There are countless beaches of singular beauty, 360 waterfalls – "one for each day of the year", as the locals like to say -, cosy fishing villages, in addition to a super charming historic centre.
With only two days to enjoy the island, we got to know many of its enchanted and charming places. But for those who have more time available, it is certainly worth reserving as many days as possible for the trip.
Where is Ilhabela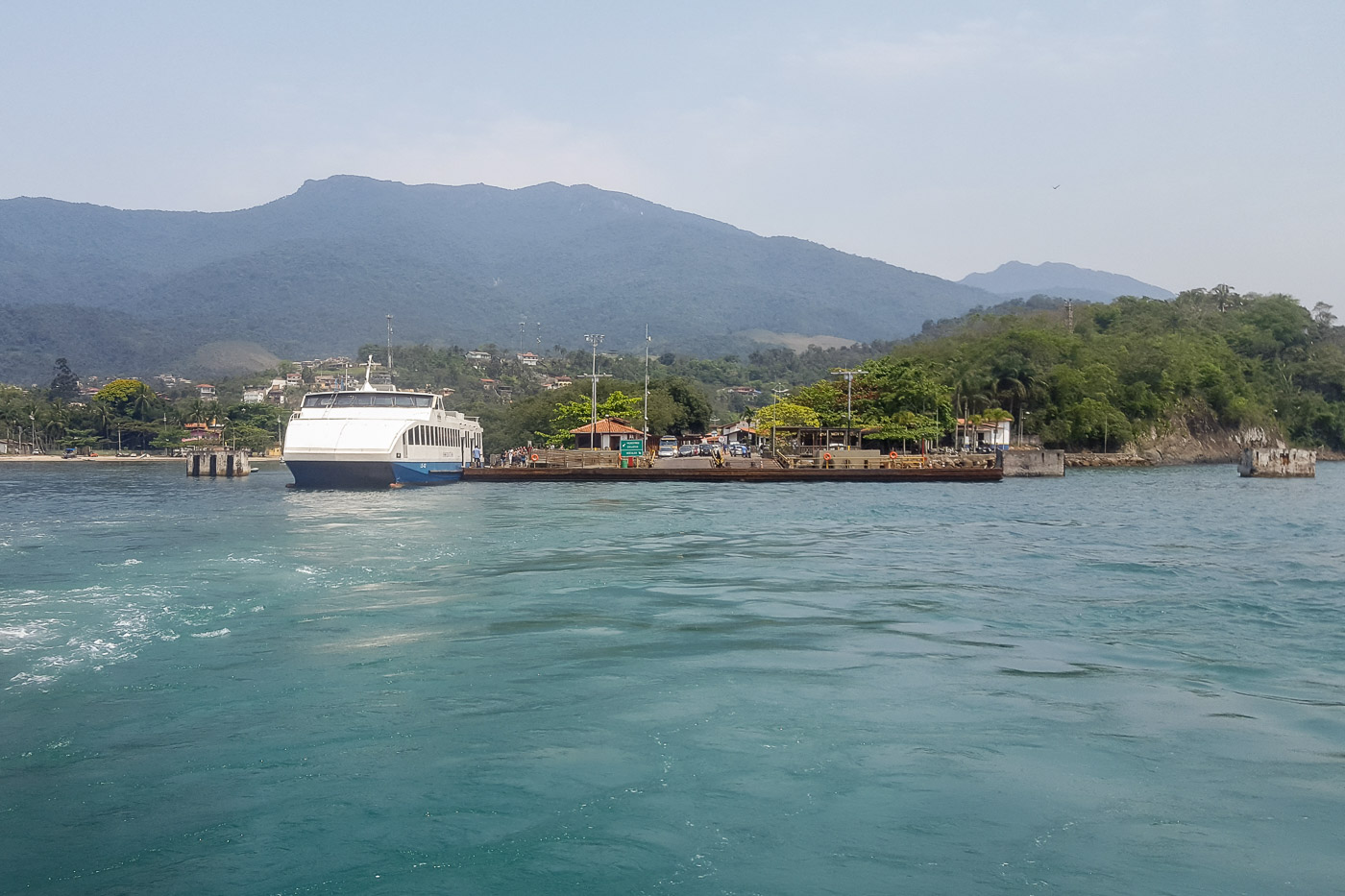 Ilhabela is located on the north coast of São Paulo and is part of the municipality of São Sebastião, having Caraguatatuba on one side and Maresias on the other. It is approximately 210 km from São Paulo and 450 km from Rio de Janeiro.
To reach the island, you need to cross the ferry Sao Sebastiao-Ilhabela. However, be prepared! In high seasons, you can face queues of up to 7 hours. The crossing of the Ilhabela ferry costs R$19 (about U$4) on weekdays and R$28.50 (about U$6) on Saturdays, Sundays and bank holidays. It is not possible to pay by card, only cash or electronically toll. To plan your crossing, you can check the Dersa website, which is the company that operates the crossing, to make sure the time and size of the queue.
It is possible to escape the Ilhabela ferry line by booking your crossing at a scheduled time and, obviously, paying for that. In this case, the crossing costs R$46.40 (about U$8) on working days; and R$65.30 (about U$11) on Saturdays, Sundays and bank holidays. The values vary according to the number of axles of the vehicle. To book the time of your crossing, go to the this part of the Dersa website.
The best way to visit Ilhabela, surely, is by car. This way you will have the flexibility to better explore the island and its more distant beaches. Even if you don't have a car, consider renting one for the trip, you certainly won't regret it. HOMEPAGE, sorryGet a car rental quote!
How to get to Ilhabela
How to go to Ilhabela from Sao Paulo
Take the marginal road towards Cumbica International Airport and continue to São José dos Campos. Take exit 152 and turn onto Av. Mario Covas. Go straight until the road turns into Tamoios Motorway and arrive at Caraguatatuba. Follow in the same direction to São Sebastião and to the ferry to cross to Ilhabela. The whole journey lasts around 4h30.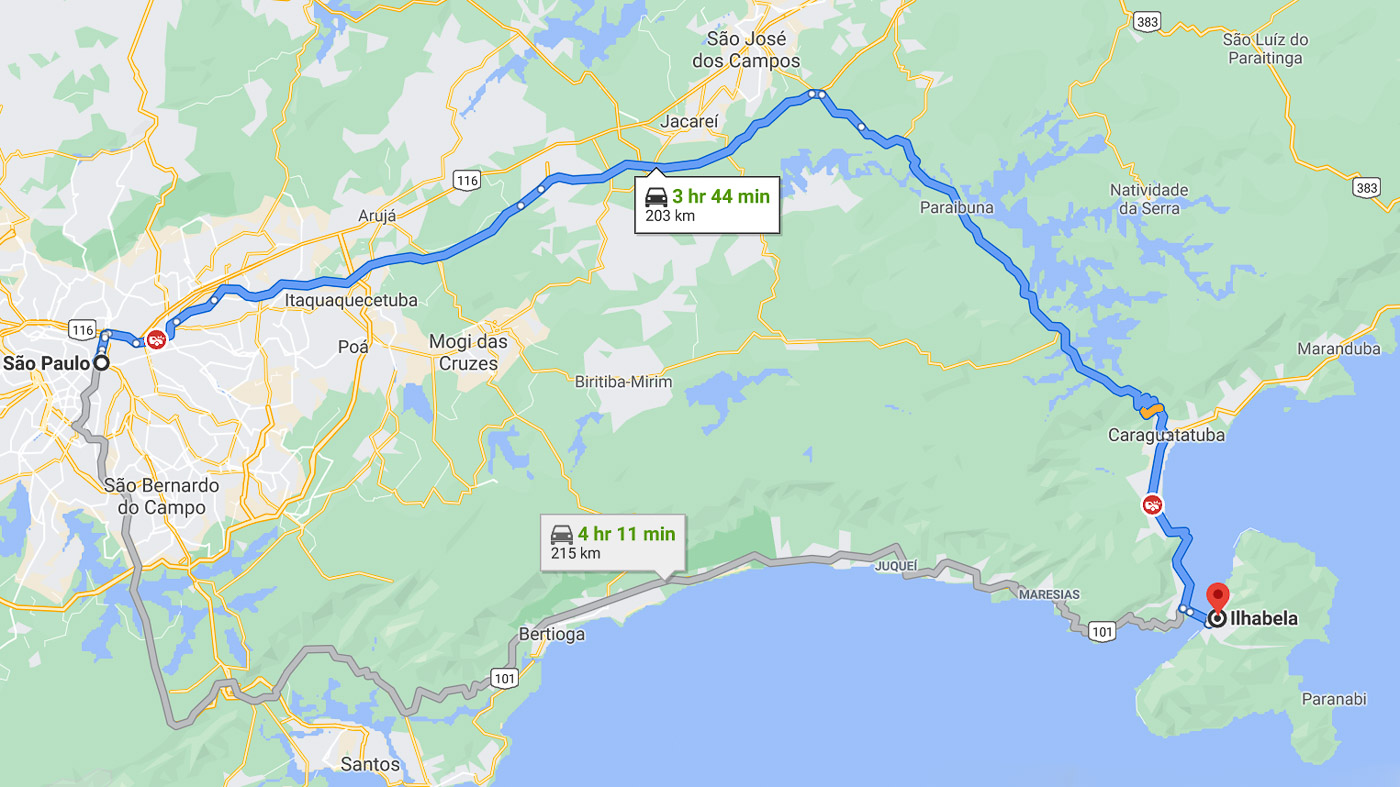 How to go to Ilhabela from Rio de Janeiro
Take the Presidente Dutra towards São Paulo to São José dos Campos. At exit 150, make a U-turn and follow Av. Mario Covas. Go straight until the road turns into Tamoios Motorway and arrive at Caraguatatuba. Follow in the same direction to São Sebastião and to the ferry to cross to Ilhabela. The whole journey lasts around 7h30.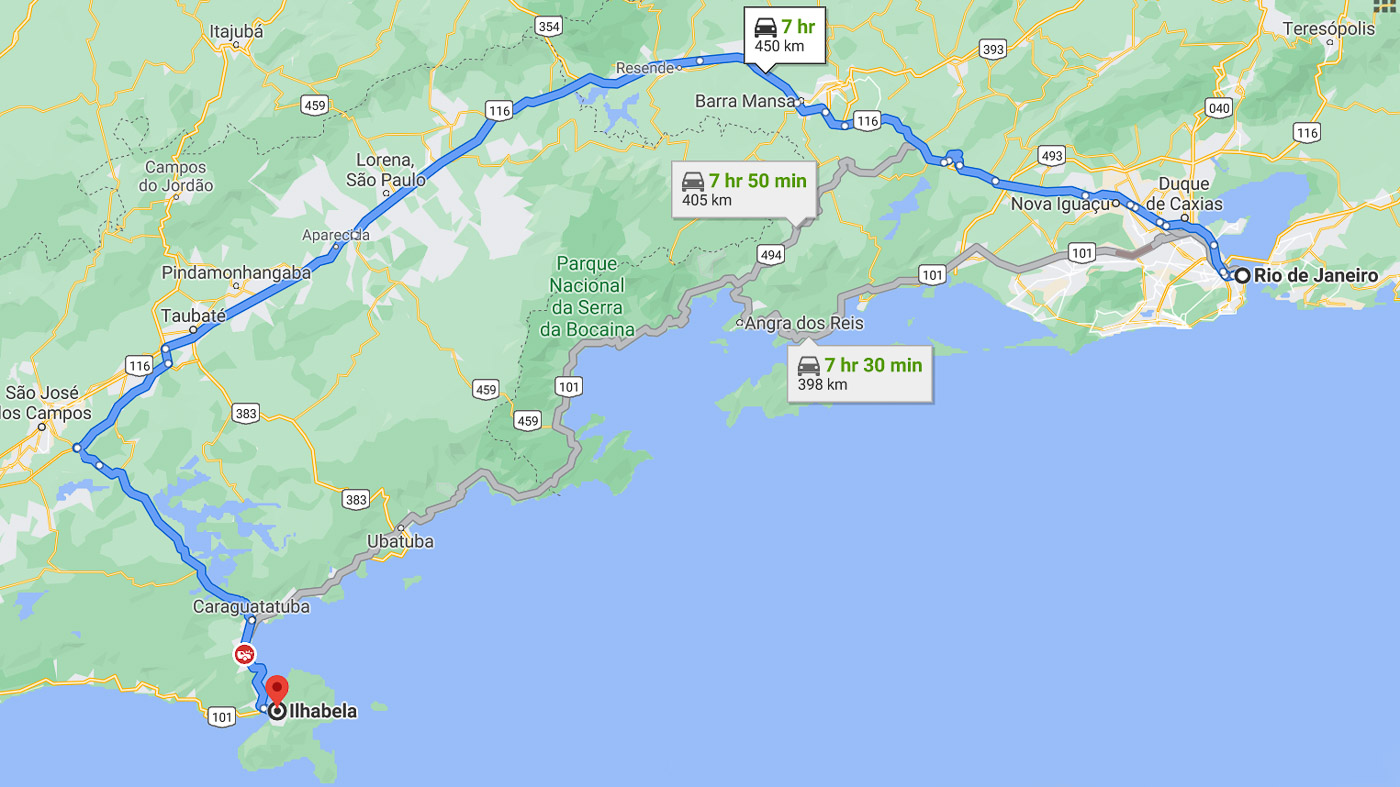 Itinerary: What to do in Ilhabela in 2 days
Assuming you have two full days in Ilhabela, here is a tour to see some really cool and beautiful places on the island!
Day 1
Today is the day to visit the northern beaches of Ilhabela, which are the wildest and, in our opinion, more beautiful than those in the south. The idea is to go with your car, starting with the most distant of them, Jabaquara (this is the last beach on the north coast of Ilhabela that you can visit with your own car). After enjoying a few hours at Praia do Jabaquara, come back making your stops as you wish. Our suggestion are Praia Pedra do Sino and Praia da Armação (See more details about the northern beaches in the beaches topic below). Go back to your hotel, take a shower and go for a walk in the historic centre. Have your dinner and a drink and go to bed.
Day 2
Today is the day to wake up early! Have breakfast and go for a boat trip to the Indaiaúba Beach and Bonete Beach. The Praia do Bonete is considered one of the most beautiful in Ilhabela and the visit is a must. The tour costs about R$150 (about U$30) per person. We did it with Rodrigo (@Rodrigopirata) and we highly recommend it. He is one local from the small village in the Bonete, son and grandson of fishermen on the island. The tour lasts almost the entire day, returning at sunset. Go back to the hotel, have a baht and go out to enjoy a bar and perhaps some live music in the historic centre again.
By the way, have you a travel insurance already? Make sure to have one before going to Brazil. We recommend using SafetyWing. Check the price below:
What to do in Ilhabela at night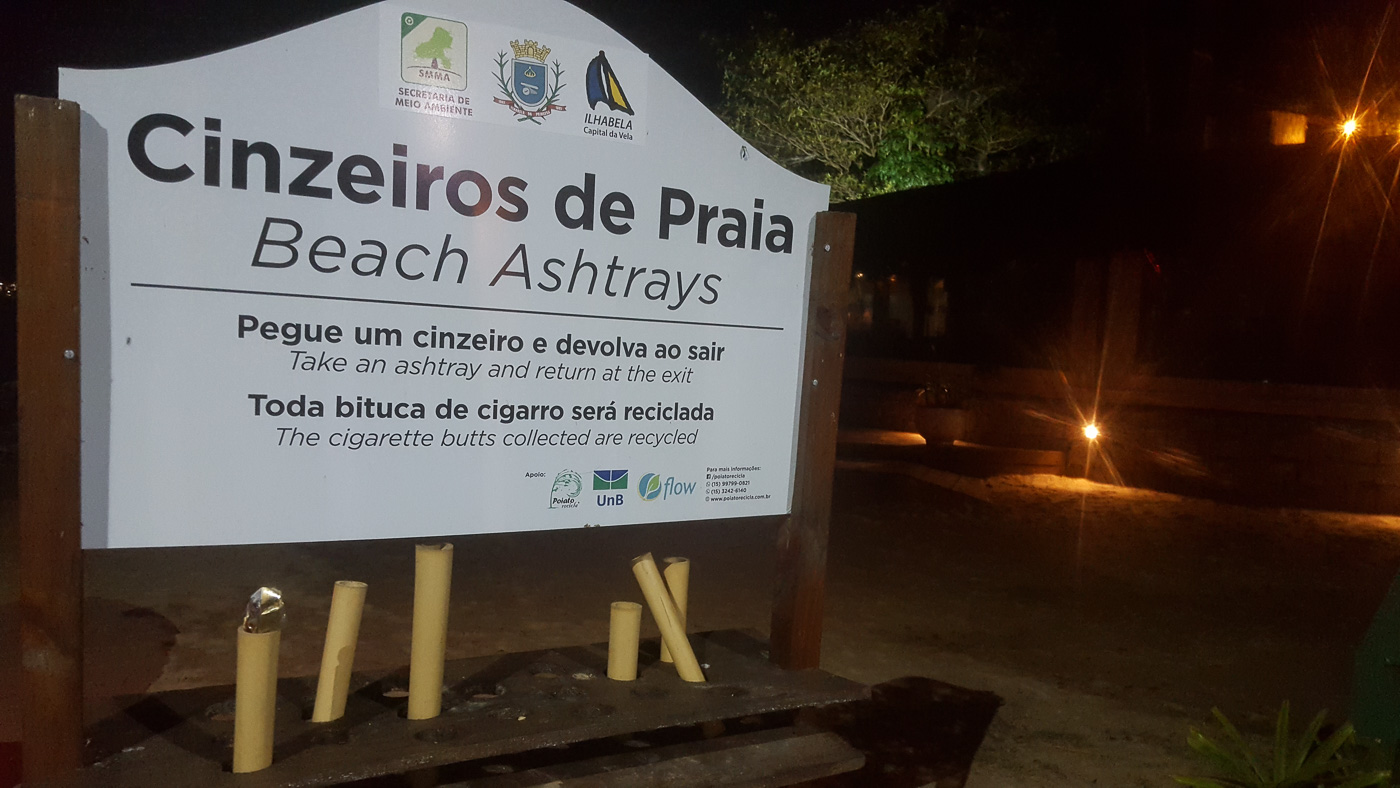 The truth is, Ilhabela is a place to enjoy during the day. When the sun goes down, the best thing to do is to enjoy the Vila of Ilhabela, which is its famous historic centre. There, you will find many restaurants, bars and shops.
A good tip of what to do in Ilhabela at night is to make some fire and music at the beach, which are safe and super peaceful. We did at Praia do Sino in the north of the island and it was wonderful.
Another tip on what to do in Ilhabela at night is to stroll around Praia Grande, in the south of the island, which has a lively shore and live music.
If you like adventure, then a great activity to do in Ilhabela at night is going on a night diving tour!
The best tours of Ilhabela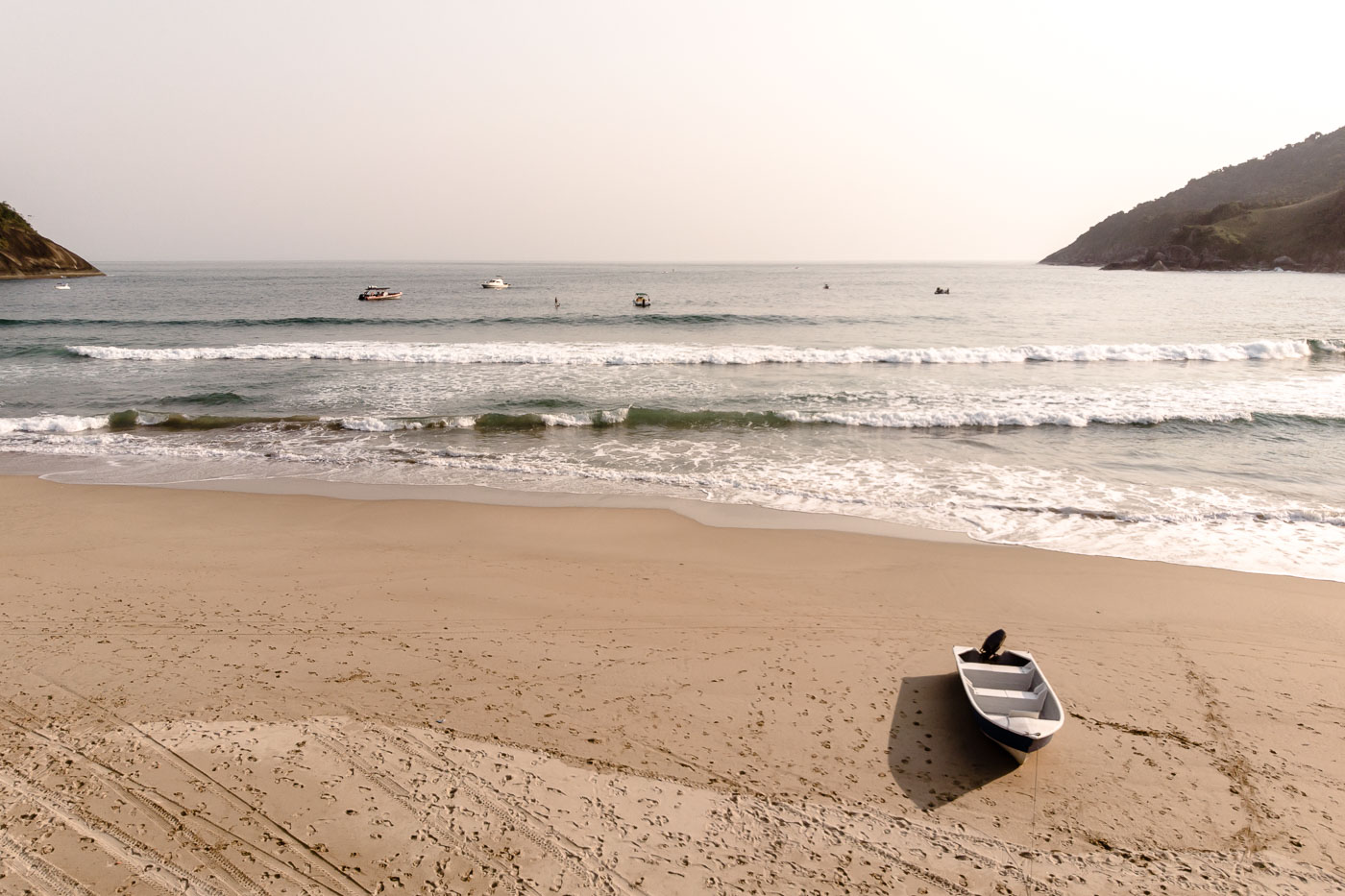 We were very impressed to see that, although Ilhabela is a known destination, it is very rustic and preserved. It is only possible to easily access half of the island – the northern zone, the southern zone and the historic centre. All the rest you can only reach by 4×4, boat or on foot. Just bare in mind that the trails are long and difficult.
Despite the difficulty in reaching the most remote parts, we recommend the effort, whether hiring a boat, jeep tour or facing the trails. It is in these places that you find the most interesting scenarios: rivers, waterfalls, sea and mountains intertwined in the middle of the Atlantic Forest, only separated by one or another fishing village in the middle of the natural landscape.
There are plenty of trails, private boat or schooner options. But what you can't miss is:
Praia da Indaiaúba and Praia do Bonete
It can be done either by "superboat", which takes around 40 people without flexible schedule or private boats. As we were 3 couples, we took a private boat for R$150 (about U$30) a head to spend the day.
We left at 9am from Praia do Perequê, passing through the entire southern part of the island to Indaiaúba Beach. Then, we stayed there for a while and went to Praia do Bonete, where we ate, drank and had fun. Just around 6pm, we went back to the city. On the way, Rodrigo, our captain, told us many stories of the island, in addition to having made an exclusive stop at Buraco do Cação, which is a cliff where a cave is formed.
Praia da Fome, Praia do Saco do Eustácio and Praia de Castelhanos
It can be done by "superboat" or by private boat too. Here, the route towards the other way, the north coast and it costs around R$180 per person (about U$36). Stop at Praia da Fome for 30 min, then at Praia do Saco do Eustácio for another 30min and go to Praia de Castelhanos for 4h.
A more affordable option is just taking the schooner ride, which takes around 120 people to Praia da Fome and Praia do Jabaquara only.
Jeep to Praia de Castelhanos
Another option for those who want to go to Praia de Castelhanos but do not like the swing of the sea is to take a 4×4 jeep and cross the Ilhabela State Park. The tour is much more affordable, around R$120 (U$24) and takes a group of 8 people.
The best beaches in Ilhabela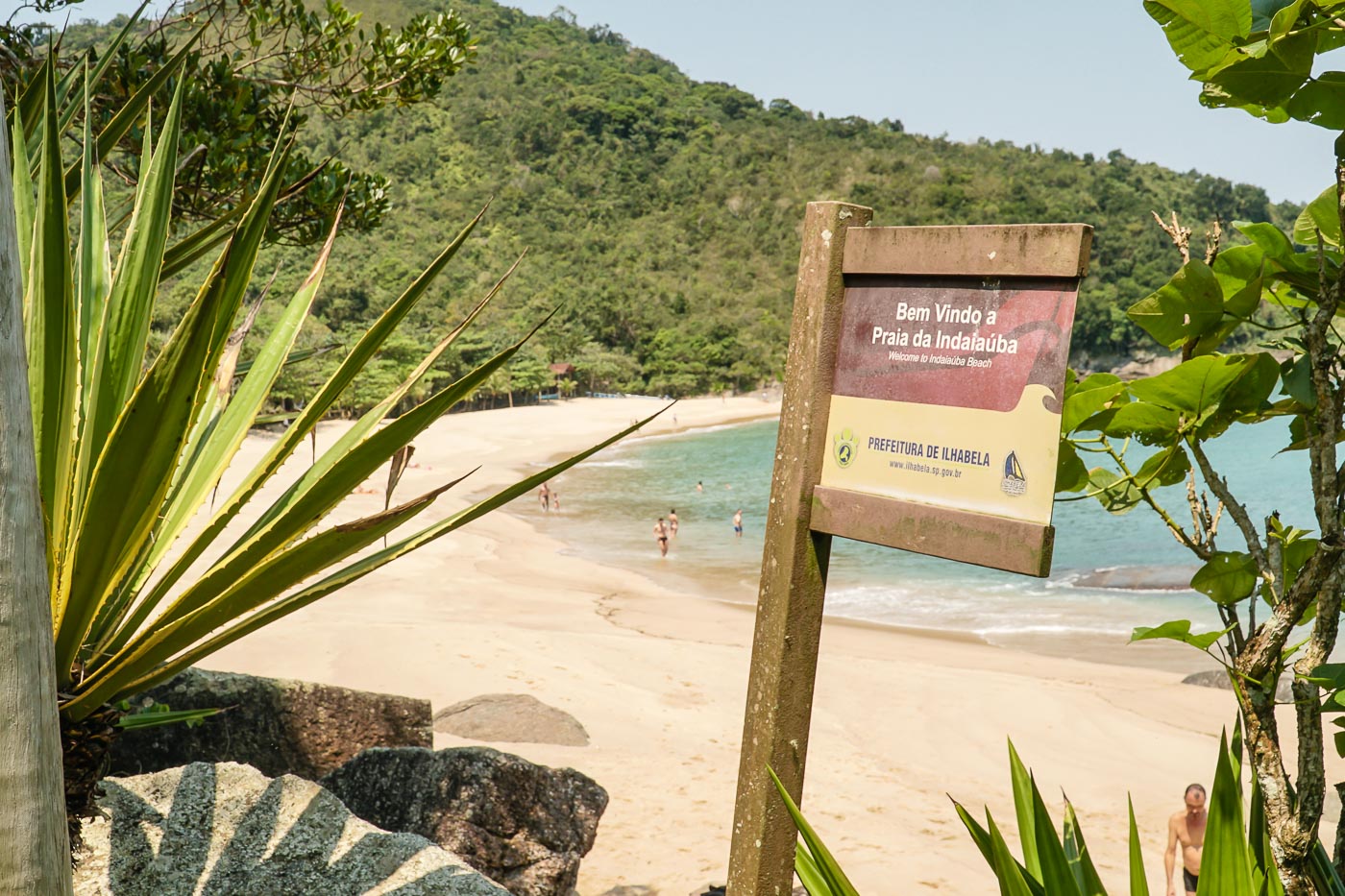 It will be very difficult to name the best beaches in Ilhabela, but let's talk about some that are very worth visiting.
The best beaches in the north of Ilhabela
Praia do Jabaquara – one of the most beautiful beaches in Ilhabela. It has a very wild environment, which is why it is really worth it. It can be made by car, about 45 minutes of dirt road (20 km from the ferry boat). The path is not very easy, very winding and with some steep uphill that gave us the impression that my small car would not make it. But, at the end of the road, the viewpoint of the beach pays off. You can park on the road without paying anything, but go down – and then up – the hill on foot. Or park down there for R$60 (U$12) a car, single price.
* Note: there is no money refund if you decide to leave on account of the sandflies. Ah, in case it wasn't clear, there's a LOT of sandflies in the Praia do Jabaquara.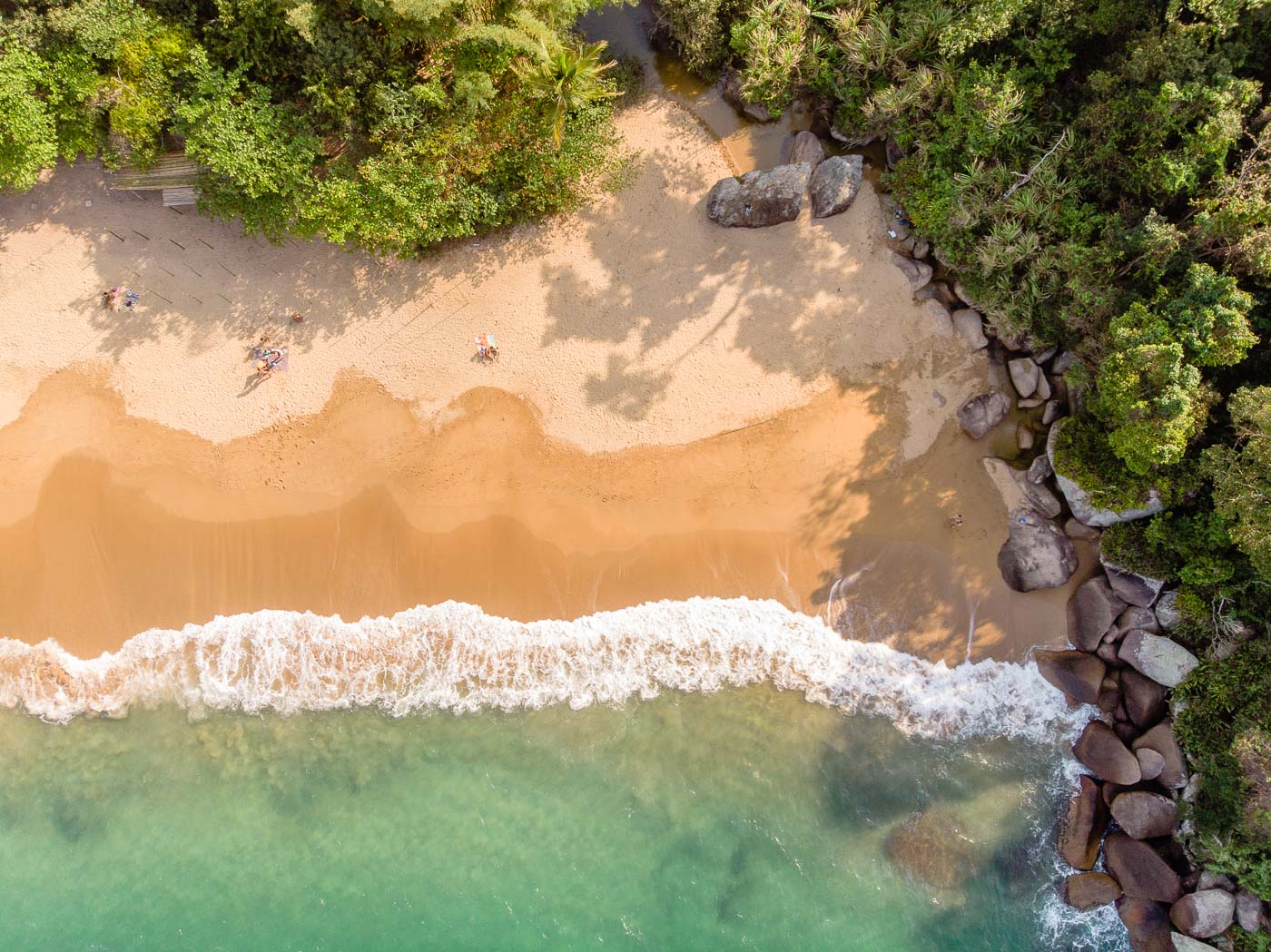 Praia da Armação – good to go with the family. It has good infrastructure, restaurants, sports equipment rental, plenty of shade and even a very photogenic chapel, the Immaculate Conception Chapel. You can see some turtles in the sea and it is a great spot for snorkelling.
Pedra do Sino Beach – Officially called Garapocaia, it has a narrow strip of sand, with many kiosks, chairs and sun loungers by the sea. As it is easily accessible, it is not uncommon to see this beach full. Be sure to ring the bells, I mean, hit the rocks to hear the bells!
By the way, Ilhabela is a great place to scuba diving. You can go on your first lesson here with an English speaker guide and free cancelation. Check it out here!
The best beaches in the south of Ilhabela
Ilha das Cabras Beach – Provides a beautiful view of Ilha das Cabras, the private island of ex-senator Gilberto Miranda, particulalry from the wooden decks. A very good place to practice diving.
Praia da Feiticeira – A small and very charming beach. It always seems to be crowded, but it's more because it has little space on the beach. It does not offer a place to eat and drink and is usually frequented by families looking for a more peaceful environment.
Praia Grande – The most famous beach among locals in the south zone. It's where you can enjoy your day spending less money. It has plenty of space and is well structured, with sports courts, bike path, freshwater shower, shaded benches, restaurants and kiosks, SUP and kayak rentals and a beautiful wooden deck. Note that the beach falls from shallow to deep very quick. Perfect for snorkeling activity!
Praia do Curral – The most famous beach among tourists. The typical beach to see and be seen, with a great structure and not so cheap.
The best beaches away from Ilhabela (difficult to access)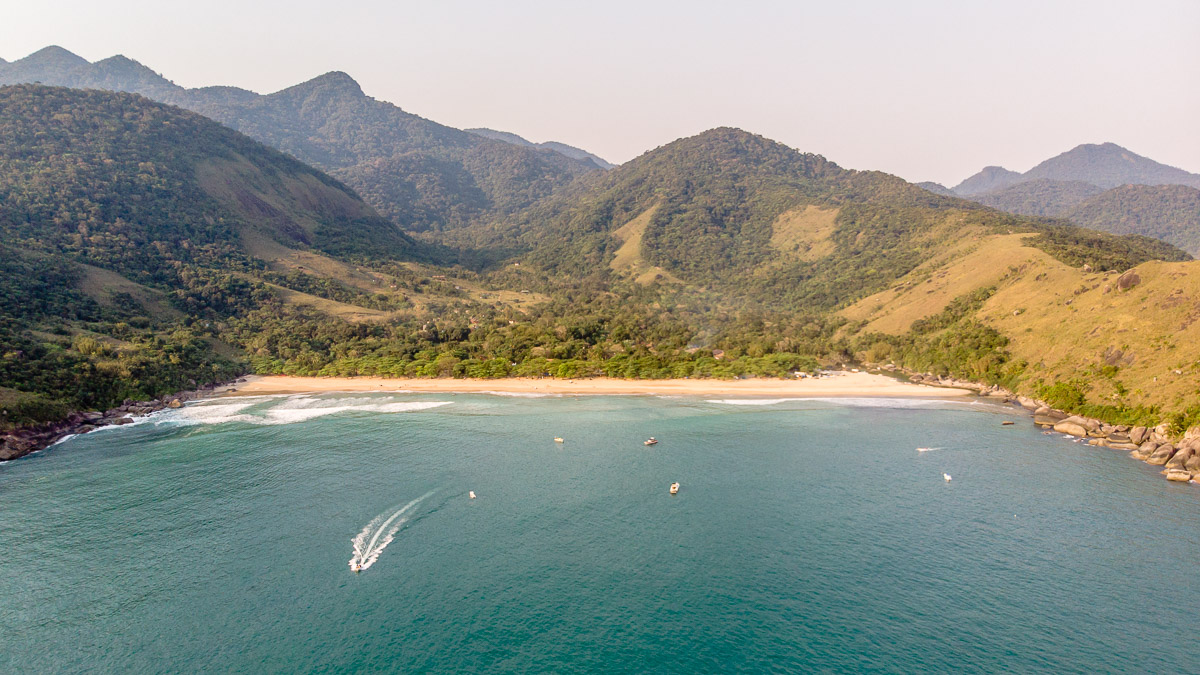 Praia do Bonete – It is famous to be the most beautiful beach in Ilhabela. But to enjoy this wonder, you need to be an adventure lover. You can only get there by small boat, so there will be excitement on the way jumping the waves; Or trail, which takes almost 4 hours to go up and down through closed and open forest. But its white sandy beach and charming environment are very worth it! There are some rustic restaurants on the beach and a village that follows. A 10 min walk down the village takes you to "Poço Fundo" (Deep Well), which is a fresh water bath! When you go, watch out for the sea conditions, because if the sea gets rough, you can't go – or worse, come back.
Castelhanos Beach – It is among the most famous landscapes in Ilhabela, which is this heart-shaped beach. Access is only by boat, jeep or on foot (you can also go by bicycle). It is exactly on the other side of the island, crossing the Ilhabela State Park. Castelhanos has a rough sea, a view towards the ocean and not the continent and an extensive strip of sand. Also, it has restaurants, bathroom and good infrastructure to spend the day.
Praia da Fome – Next to the Jabaquara Beach, with an emerald green sea, this is a great place for snorkelling. You can only reach there by schooner or boat.
Things to do in Ilhabela Brazil – Waterfalls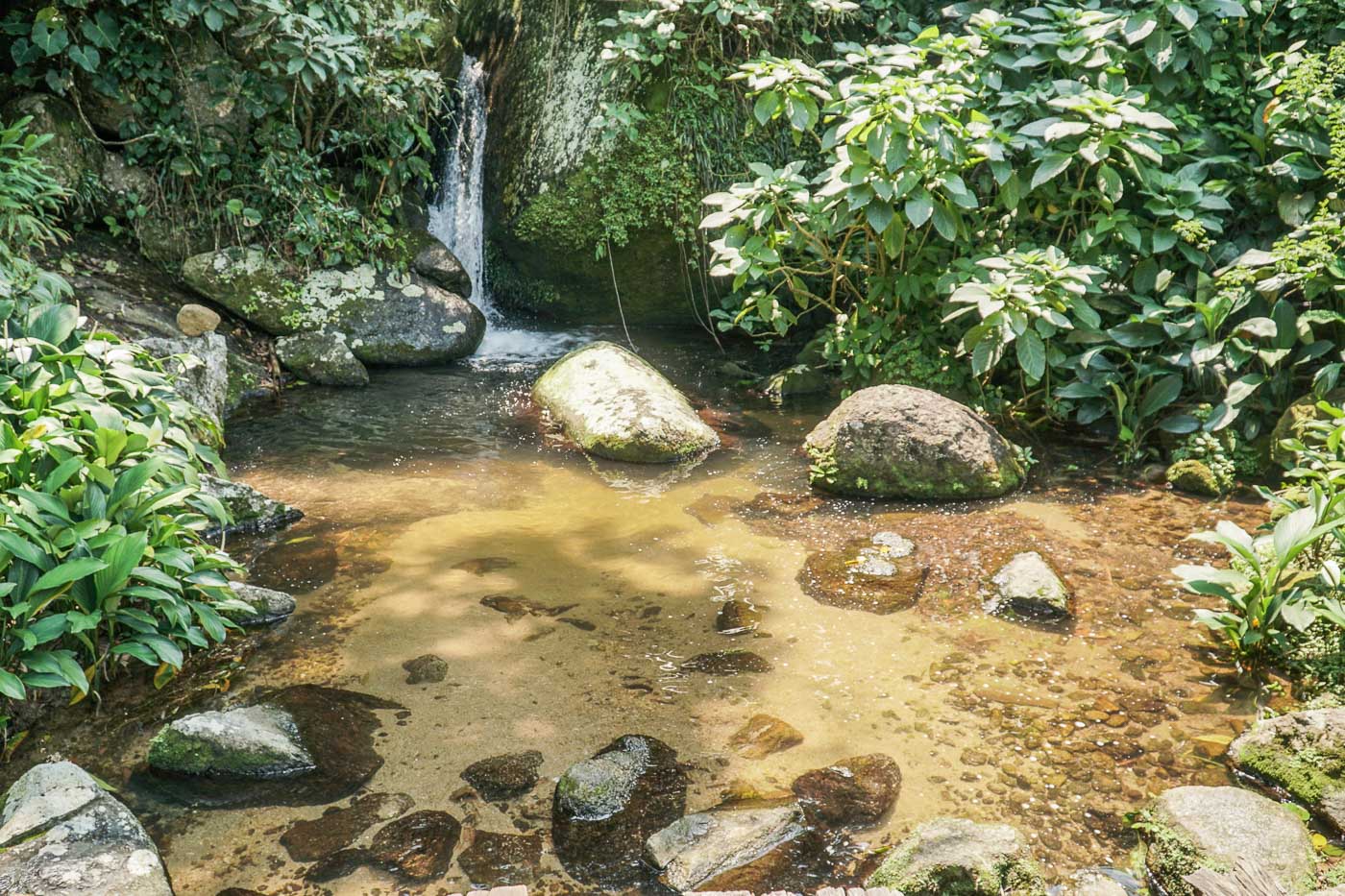 As we already said, in addition to the beautiful beaches, Ilhabela has more than 360 waterfalls – "one for each day of the year", as the natives like to say. Below is a list of the best waterfalls in Ilhabela:
Paquetá Waterfall – from Praia do Curral, in the south of the island. It's a fall of 3 levels, where at the top is formed a natural pool overlooking the sea.
Veloso Waterfall – A drop of about 50m high on 3 levels. You can get there by a trail of just over 1 km, departing from Camping do Sítio, on Veloso beach.
Três Tombos Waterfall – Known as Pancada D'Água Waterfall, in Ilhabela State Park. It is close to Praia da Feitiçeira. The trail passes through part of the Atlantic Forest, still well preserved.
Friagem Waterfall – In the north of the island, from Praia do Viana, it is a difficult level trail, which requires a guide. The fall of Friagem Waterfall forms a shower, but it has many slippery stones.
Gato Waterfall – It's in the left corner of Castelhanos Beach and not difficult to get. Bathing is not recommended due to the slide of stones.
Toca Waterfall – Very close to the ferry area, very easy to access and well signposted, following the trail of Castelhanos Beach. It is one of the most famous tourist spots in Ilhabela, with a natural shower of more than 3m, a 50 meter natural slide, bathrooms and a "cachaçaria", which is a bar that serves homemade cachacas (Brazilian rum). For being in a private area, a fee of R$20 (about U$4) is required to enter.
Are you crazy about waterfalls? Look at these falls in São Paulo:
Best trekking in the island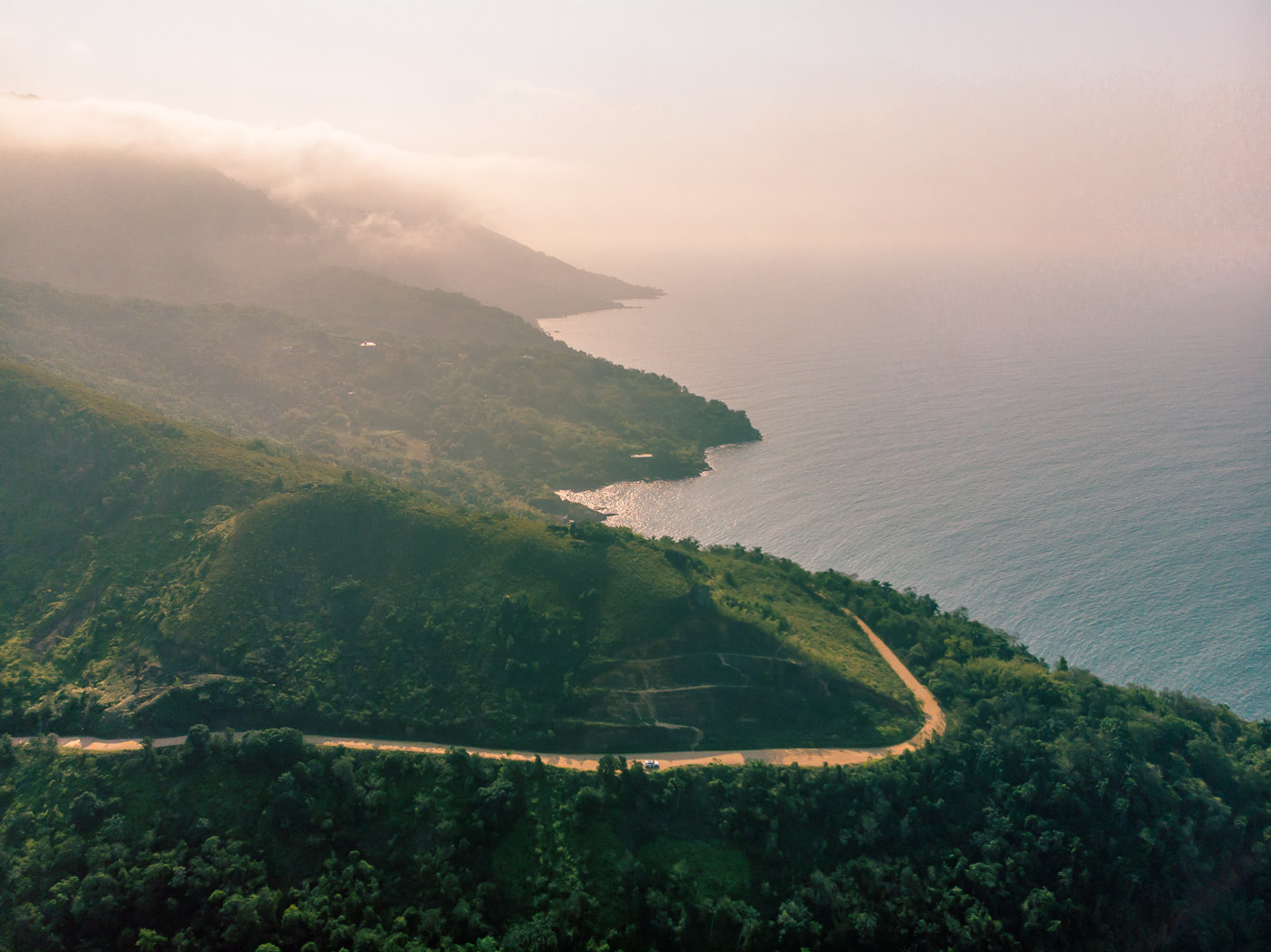 Below is a list of some of the best trails to do in Ilhabela:
Pico do Baepi – Provides a 360 degree view of the island and is the most famous peak in Ilhabela. It is 1,048m high and 7km long, with the entire route surrounded by the Atlantic Forest. Start early at 6 am and choose the day to trek wisely. The trail is well signposted and requires good physical preparation to reach its top. It takes 2h30 to go up and 2h to go down.
Praia do Bonete – A 12km trail with many ups and downs, requiring good physical preparation. On the way, you pass 3 waterfalls plus the Saquinho Belvedere. It takes 4h to 5h to reach Bonete by trail, so leave early. It is common to do the trail to Bonete and return by boat (R$60 / U$12). But don't forget, depending on the time and condition of the sea, you may get stuck in Bonete.
Agua Branca Waterfall Trail – Located at the entrance to the trail that leads to Castelhanos Beach. The trail is light, but long, reaching up to 4km long. As there are 5 wells spread along the trail of Água Branca Waterfall, you can choose to do it partially, choosing the number of wells you want to see.
Where to stay in Ilhabela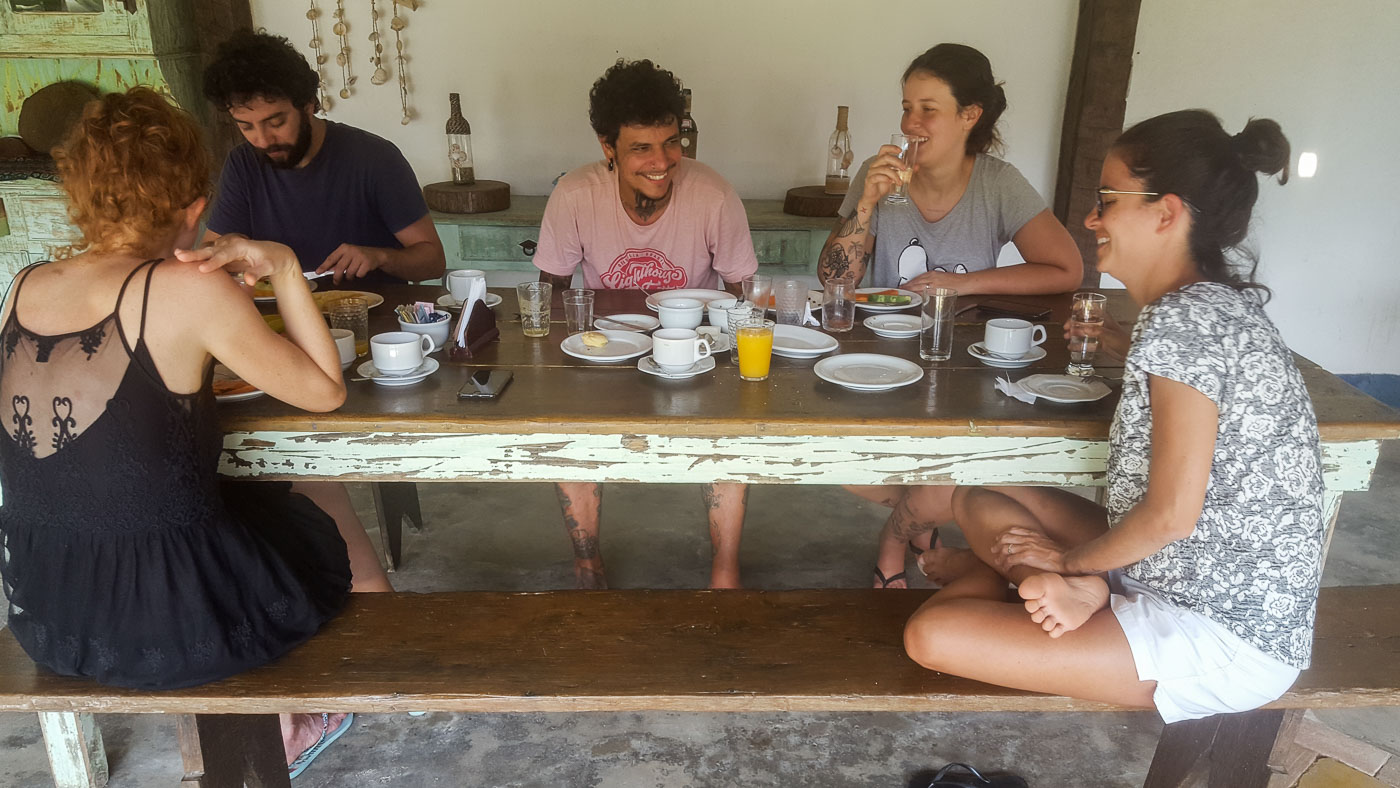 The island has accommodation options ranging from the rustic to the most luxurious. It has for all tastes and pockets, just choose.
We stayed at Velinn Pousada Bromélias, a charming inn located on a historic farmhouse dating from the beginning of the last century. Much of the structure of Velinn Bromélias is original and the place has a swimming pool, a beautiful and wooded garden and a stream that runs through the property. Despite being a more rustic hotel, with simple rooms, we found everything very charming and comfortable, not to mention that the staff were extremely helpful and friendly. Velinn Pousada Bromélias is close to the ferry, towards Toca Waterfall – to check the hotel's price and availability, take a look here.
If you are looking for something more luxurious, take a look at DPNY Beach Hotel and SPA, the most famous and luxurious accommodation in Ilhabela.
Check out other hotel options in Ilhabela here!
Sandflies (borrachudos)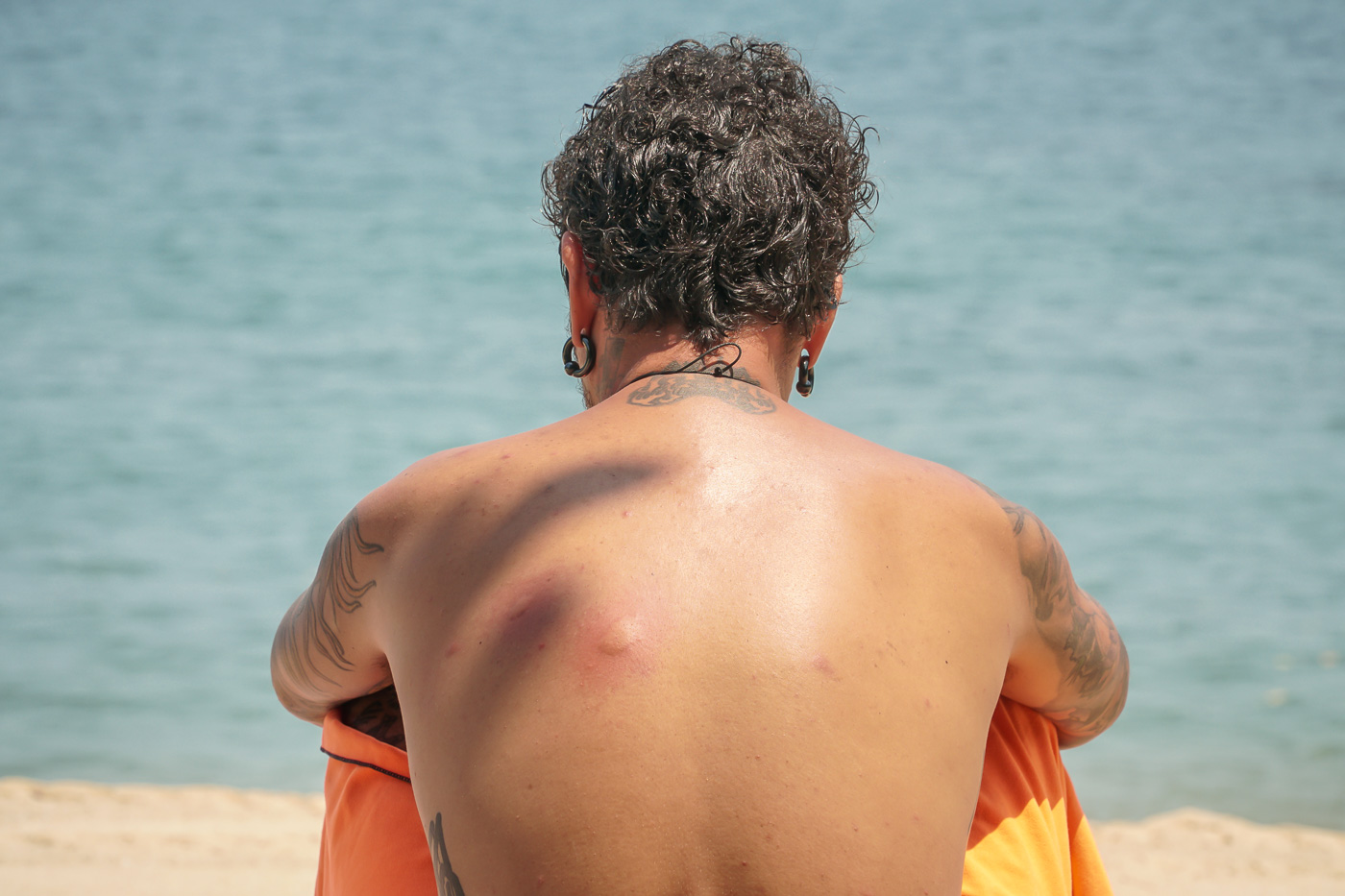 Not everything on this idyllic island is a bed of roses. In the midst of friendly residents and wild outstanding landscapes, you will also find a terrible animal capable of sucking all of your blood and run out of your patience: the sandflies – or borrachudos, in Portuguese.
They are everywhere, but mainly on the most deserted beaches, and are unbearable. There are no repellents that will solve, though it helps, and it is scary to see that pile of huge bites sprouting up on your body. We arrived in Ilhabela with the thought of "wow, I would live here for a few months easily" and we left with "as long as these sandflies inhabit the island, I won't live here". Really, get ready. They are many and are unbearable.
Some tips to protect yourself from rubber in Ilhabela:
The repellent that worked best among us was "Extreme". The local repellent "Citroilha" also worked well. But remember to put it on again every hour and so, as well as whenever you come back from the sea water;
If you have heard the story that taking vitamin D keeps these bugs away, know that it's horse shit. Absolutely no use;
They only bite during the day, peaking in the early morning and late afternoon. So, you don't have to worry about sandflies at night;
The wildest and most remote beaches obviously will have more sandflies;
In summer, they are more numerous.