This post is also available in:

Português
Travelling to Peru and searching for information about the 5 days Salkantay trek to Machu Picchu? Look no further as in this post you find everything you need to know about one of the best hikes to Machu Picchu, such as: How difficulty is the Salkantay trek? How much does it cost? How is the tour by the day and much more!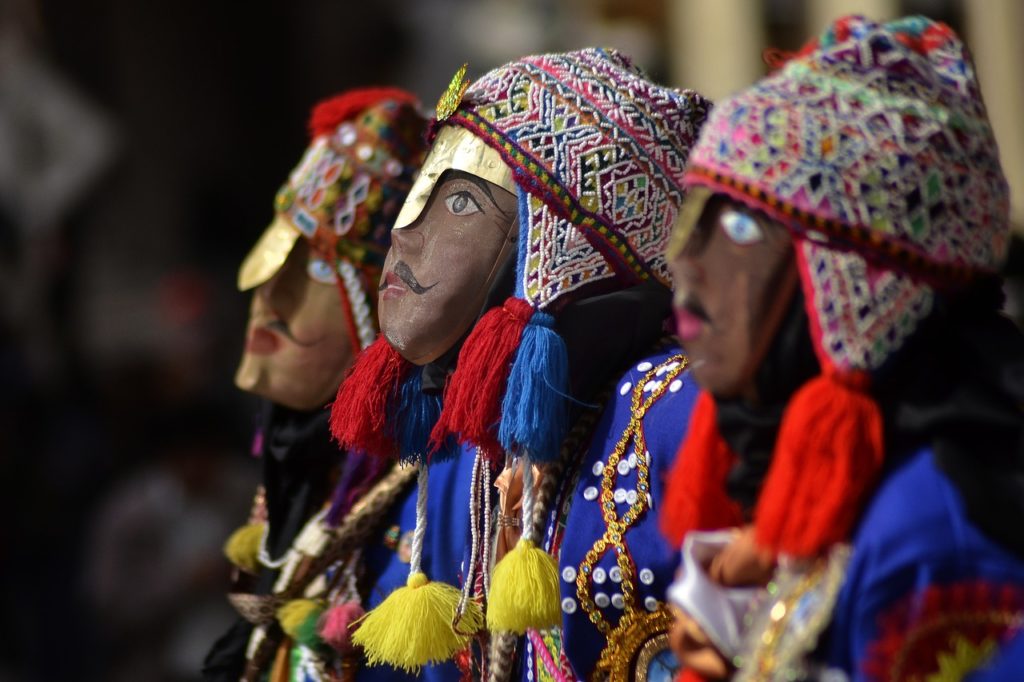 Hikes from Cusco to Machu Picchu
Machu Picchu is a top destination in the world. It certainly lives up to its reputation as a member of the New 7 Wonders of the World. When it was built in the 1400s, the Incas would walk for days from their capital, Cusco, to Machu Picchu through the Andes Mountains. Modern travelers have the luxury of trains and buses to make the trip. But for outdoor lovers and those inclined to physical vacations there's another option; multi day treks to Machu Picchu.
There are different routes that can be taken from Cusco to Machu Picchu. The two most common being the Inca trail and Salkantay trail. The Inca trek is the most historical and popular, thus more crowded too. On the other hand, the Salkantay trail, though not so popular, it goes through some of the most scenic Peruvian landscapes. In addition, it has the advantage of being more secluded as well. Therefore, a great option for travellers looking for a more in-depth experience with nature.
During a recent two week visit to Peru we trekked the Salkantay to Machu Picchu for what turned out to be one of the best trips we've ever taken.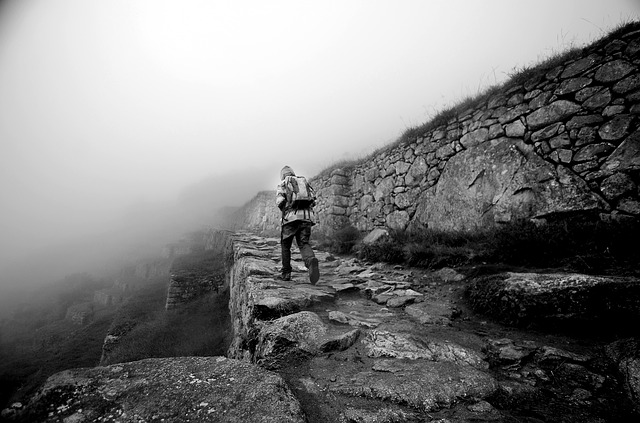 The Salkantay trek difficulty
The difficulty of Salkantay trek is "medium".
The Salkantay trek is around 70 km (43 mi) long. For travellers interested, you must be physically capable for a trek like this.
Altitude effects aside, it is multiple days of 6+ hours of hiking through rough terrain and often up or down hill. But anyone who exercises regularly will manage just fine! It is exhausting but it's certainly not unbearable.
All guides carry oxygen canisters, so if you start to feel altitude sickness you can rest and get some much needed O2. If you're an avid hiker or used to the altitude you won't have a problem.
For everyone else, make sure you feel confident in your hiking abilities and you'll do great.
Don't travel without a travel insurance, especially if you are planning on doing a trekking and other adventurous activities. We recommend using SafetyWing. They are one of the most reliable – and often the cheapest too – travel insurances in the market, and you can also buy it whilst travelling.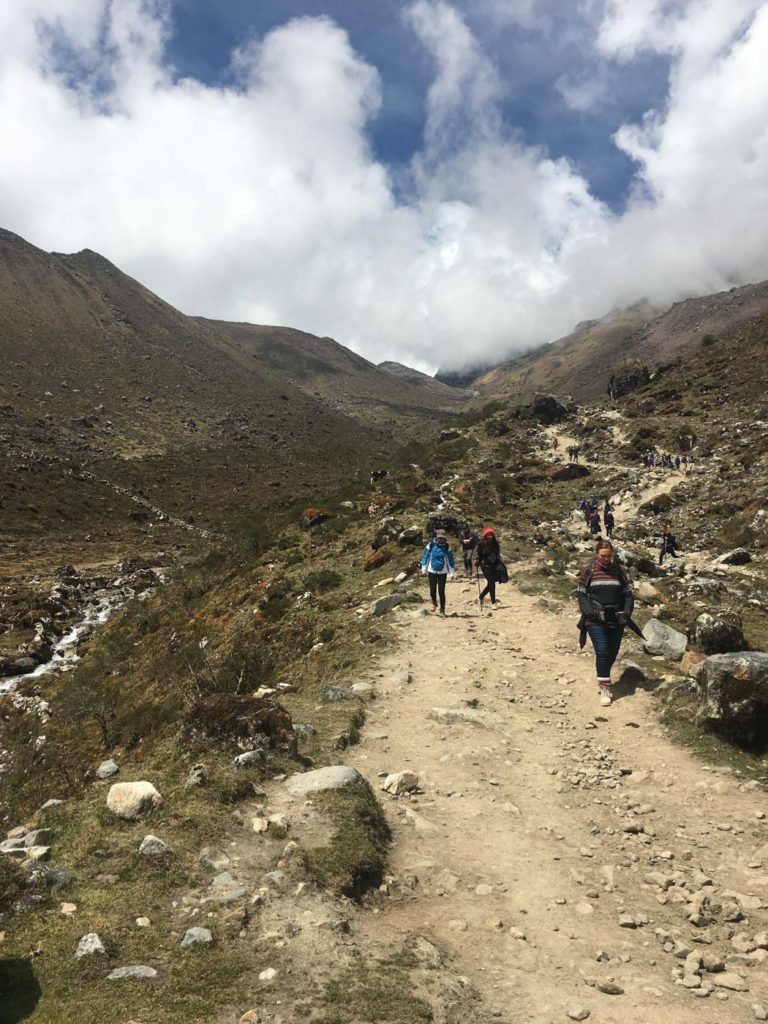 But first things first: how to get to Peru and Cusco for your Machu Picchu hike
Lima is Peru's capital and your arrival point when coming in by air. There are direct flights from US hubs including LA, NYC, Atlanta, Houston, Miami, and Dallas. Unless you depart from one of those cities, you'll have a connection. We landed in Peru after a first class flight through Houston paid for entirely by points. Eager to get to Cusco to adjust to the altitude, we only spent one night in Lima.
From Lima there are options to get to Cusco, the starting point for all Machu Picchu visits. There is a bus/ train combination that takes at least 8 hours over windy, bumpy roads – but this isn't a very common choice. There are plenty of regional airlines making multiple trips a day. It's a short, inexpensive flight and you can pick any time of day you want. Cusco is located in a valley. So, the planes have to make a semi circle as they descend between the mountains. The views out of the plane were an incredible welcome to the Andes.
It's a quick taxi ride from the airport into town, and then you can easily walk everywhere. We definitely recommend getting in some walking time to help your body adjust to the altitude as you'll immediately feel the 11,000 ft change when you step off the plane.
How long do you need in Peru for a hiking trip
Ten days is our recommended minimum amount of time for a hiking trip in Peru. That would give you a full day of travel on either end, 5 days hiking, and 3 days to adjust to the altitude. Lima is at sea level, so spending time there won't help you get acclimated. You can judge based on how your body handles altitude. But you'll want at least a couple days in Cusco before setting off on your trek.
If you can stretch the trip to 14 days it will give you time at the end to explore Lima. Longer still and you can explore the other beautiful parts of Peru.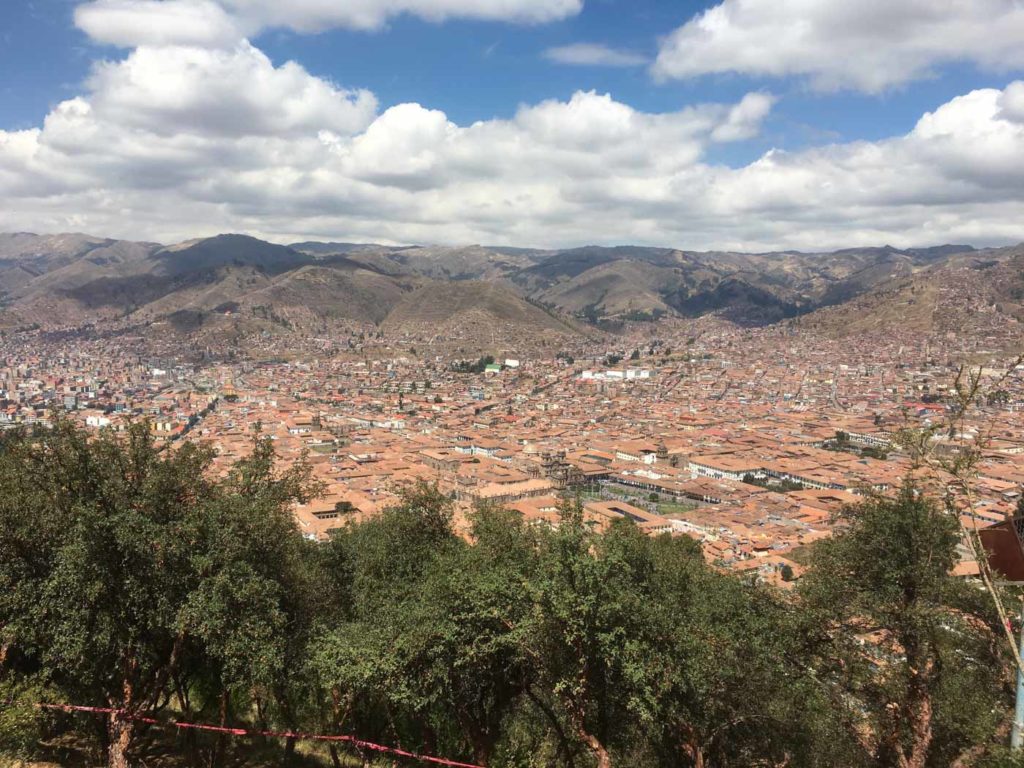 The Salkantay trek tour
You can choose to make the Salkantay trek tour in different time frames. There is the short 3 days one, for instance, the 8 days Salkantay combined with the Inca trail, or, the classical 5 days, which is the one we did.
The Salkantay trek cost varies from U$ 400 to U$ 600 for 5 days. We paid U$ 500 total per person, so U$ 100 per day. Nearly everything was included: all gear, transportation, meals, entrance to Machu Picchu etc. The only extra expenses were tips for our guide and assistants, the fee for the hot springs, and breakfast the first day. So not much more than an extra $30 per person.
There are many companies offering the Salkantay trek. You can book your tour prior to your arrival in Peru through platforms such as GetYourGuide (this is the one we recommend and use during our travels), or leave it to choose it once you get to Lima or Cusco.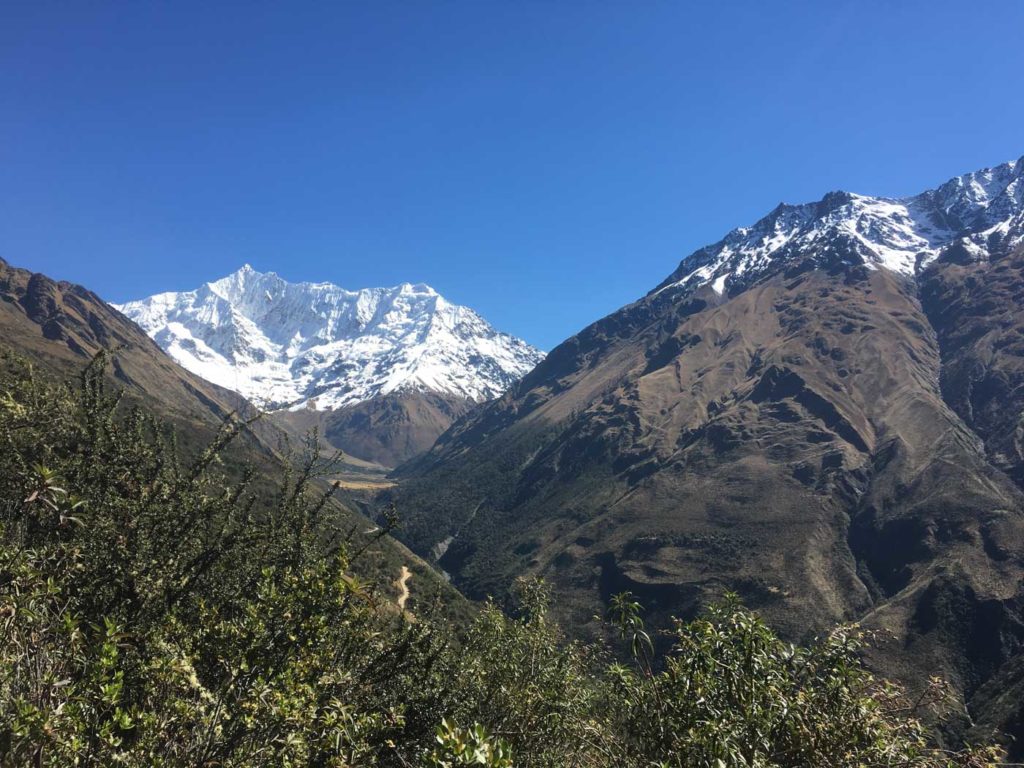 Salkantay trek detailed itinerary (day by day)
The Night Before
Our guide met us at our hostel the night before to prepare us for the Salkantay trek. We were given dry bags to fill with 10 lbs of clothing and gear that would be carried by donkeys for us between camps. We put in extra clothes for cold weather and sleeping. He outlined our itinerary, where we'd be stopping, and gave us a chance to ask any questions.
With a 4 am wake up call and a mind full of uncertainty, we caught what little sleep we could before the big day.
Day 1 of the Salkantay trek to Machu Picchu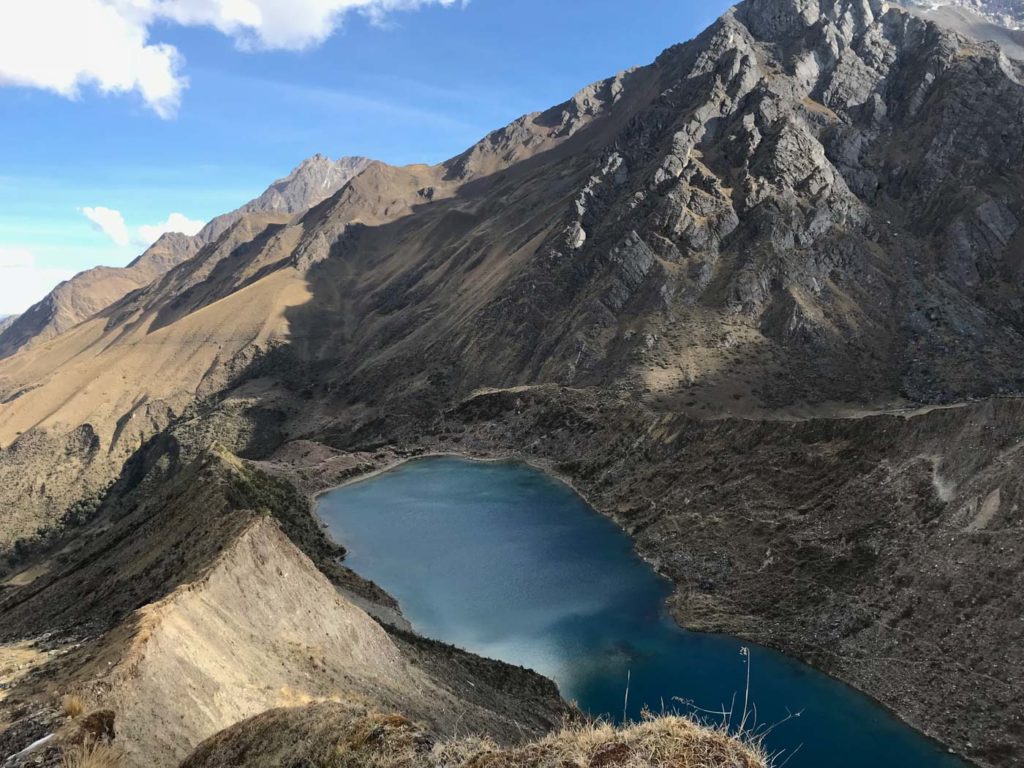 We woke well before sunrise (something we would become very familiar with over the week) to stow our gear and jump in a van to head out. A couple hours on the windiest roads central Peru has to offer and we eventually arrived at our starting point. The sun was out, the air was fresh, and we were all excited to get started! We were introduced to our group, totalling 5 travellers. They were our guide, a cook, 2 assistants, and donkeys to carry all the gear. Being day 1, today was designed as a lighter day, to get us used to hiking at altitude. That meant we only had a required 3 hours to hike that day with a max altitude of 12,500 ft.
We took off through beautiful rolling hills under the warm South American sun. It was a relatively gradual incline up well worn paths, easy hiking for a weekend warrior, but for non-hikers unfamiliar with the altitude it didn't take long to start feeling the effects. Your breath gets a bit labored, your legs feel heavier, and we had to keep reminding ourselves to slow the pace.
Within an hour the massive, snow covered Salkantay mountain rose out of the landscape and it was a surreal feeling knowing that within a day we would be on it. It gave us a target to push towards and we loved being out in the fresh air getting some exercise and soaking up the Peruvian countryside.
Afternoon
We hit our camp by mid afternoon and refuelled with a well needed lunch. For the afternoon there was an optional hike up a small hill to see a lake. From the base of the hill it didn't look challenging at all, but it was entirely up hill and at least 30 degree incline. Already the fatigue was starting to hit and we developed our hiking strategy that would serve us the next few days; head down and focus on one foot at a time, and every 5 minutes rest to catch our breath.
The view of the lake was well worth it, a vibrant blue erupting from the mountainous landscape. After resting and snapping some pics, we returned back to camp. One thing that surprised us is that going downhill is often just as difficult as going up hill. We really had to be conscious of our footing, especially in rough and rocky areas. The hours of pressure on the knees also necessitate frequent rests. By dusk we were returning to camp, eager for dinner and rest.
We were blown away by how good the meals were on our trek. Our cook was incredible! Half of the stuff was carried on horses, the rest he picked up fresh along the way. The meals we had on our trek were some of the best we had in Peru.
Night
That night, as we finished dinner and made our way to our tent in the dark, we were greeted by the most incredible night sky we've ever seen. It was our first time in the southern hemisphere so we had never seen the stars from this view before. With zero light pollution and a cloudless sky, we had an unobstructed view of the entire Milky Way. It was bigger, brighter, and filled with more stars that we could have imagined. We stared as long as we could bear in the cold.
Temperatures dropped at night so we managed an hour or two of restless sleep. We were provided down sleeping bags, but despite those and sleeping in layers, it still got cold, so we recommend bringing warm clothes for the night.
Day 2 of the Salkantay trek to Machu Picchu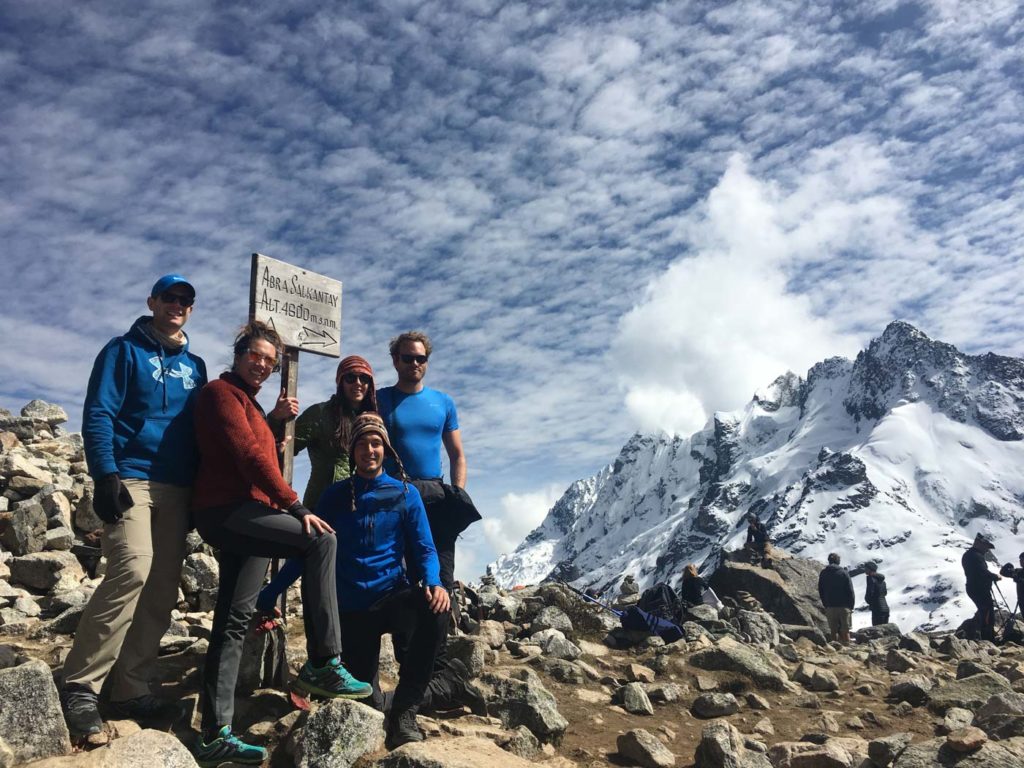 Around 5AM your tent is unzipped and you get handed a hot cup of coca tea to start the day. This tea would become our best friend this week. We would start each morning this way, and have more with each meal. It's said to help with the altitude and provide energy, and whether that's true or not we downed it constantly.
We downed some breakfast and were off hiking well before the sun rose. Today was to be the longest hiking day of them all; we were promised a minimum of 8 hours. The first half of the day was getting up the Salkantay. That meant hours of uphill through rocky terrain. We very quickly moved from rolling meadows to dry, rock covered mountains.
By this point our group was getting divided based on abilities, with many requiring more rest and moving at a slower pace. Our guides and assistants were split up amongst us as we powered on. That day we saw first hand the powerful effects of altitude when one of our fellow trekkers was overcome by altitude sickness. He became dizzy and delusional so our guide had to rest with him and provide oxygen until he was able to continue.
Afternoon
By mid day we hit our high point on the mountain, 15,000 ft. We were in the snow capped mountains that only 24 hours ago had seemed impossibly far away. We felt proud and accomplished. But our stay was short as we were not even at our halfway point of hiking that day. The rest of the day was all down hill, first down the other side of the mountain we had just climbed. It opened up into a damp sprawling valley, scattered with boulders the size of houses. By lunch, we were so exhausted it was difficult to eat and we promptly fell asleep on the ground afterwards.
That afternoon we continued our downwards hike through winding jungle trails, often on the edge of a large mountain looking down at the valley below. We were blown away by the diversity of climates here. Peru has close to all of the world's 32 climates and we felt like we had covered half of them just today. What started with dry rolling hills quickly turned to rocky mountains and a snow capped peak. The other side of the mountain was damp green valleys, and by afternoon we felt like we were in the heart of the rainforest.
When we set off that morning we were layered up with coats, hats, & gloves. Now t-shirts and shorts were plenty. We loved experiencing this rapidly changing environment throughout our trek.
After a long day of hiking we were grateful to arrive at our camp early in the evening for some rest. Another amazing meal and some well deserved sleep.
Day 3 of the Salkantay trek to Machu Picchu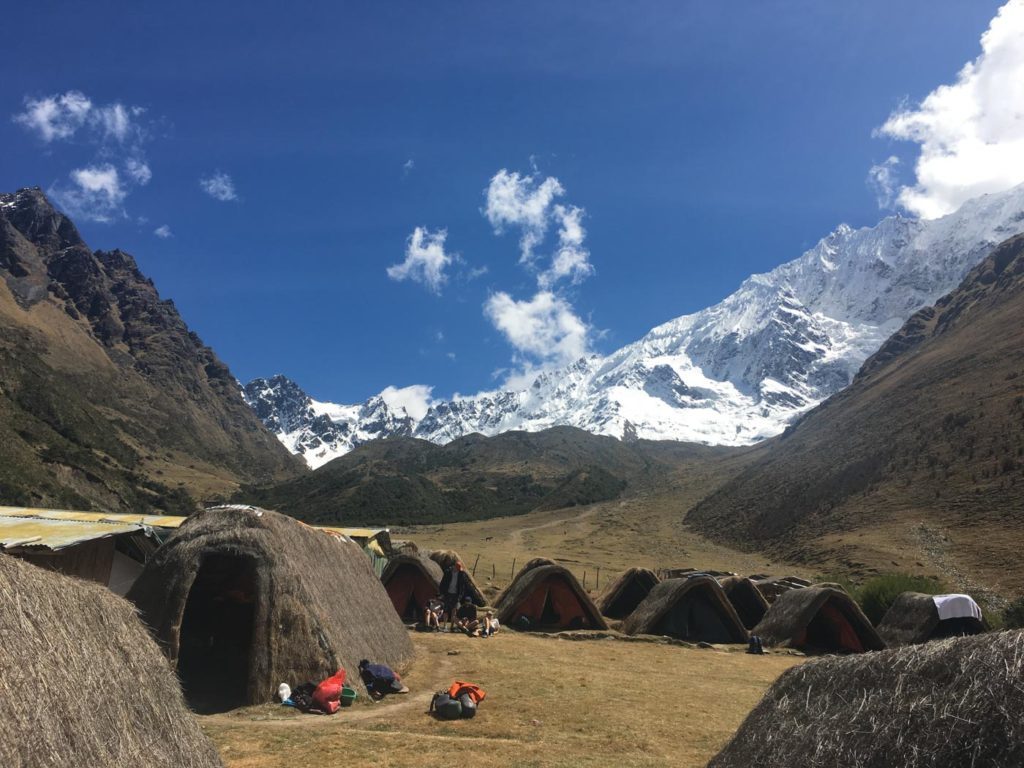 A lighter day, but all downhill, we continued through the jungle paths that grew more dense and vibrant as the day went on. Lunch by early afternoon ended our hiking for day 3 and we arrived in the first town since we left Cusco, Santa Teresa.
We set up camp, still in tents, but in an area specifically set up for trekkers, and had some time to relax. Santa Teresa is well known for the local hot springs – and we did not pass up the opportunity to get in a visit. The first time we got to clean off since starting our trek, our aching muscles were soothed in the hot springs.
Exhausted, and by this point feeling like we had hiked enough, we were grateful for the first night of real sleep.
Day 4 of the Salkantay trek to Machu Picchu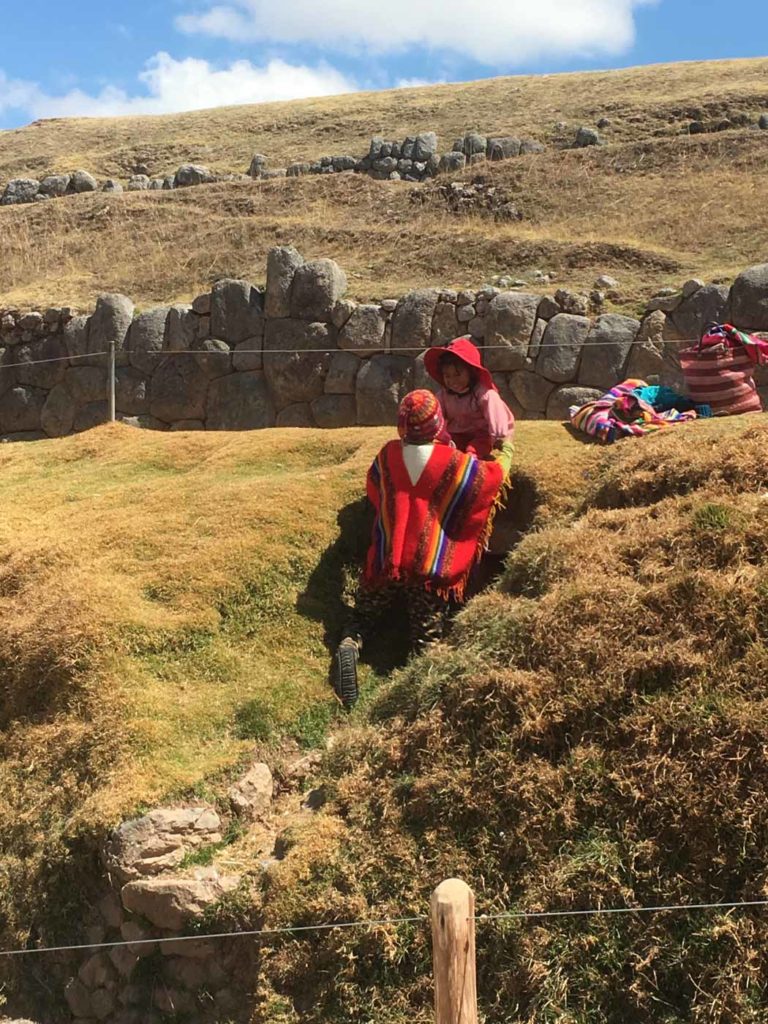 Day 4 would take us into the town of Aguas Calientes, the base of all departures to Machu Picchu. We hiked along snaking dirt roads that were carved into the sides of valleys, sometimes having to hug the shoulder when cars went by. But it was a pleasant change being on mostly flat ground and the views into the valleys were incredible. The latter half of the day we followed an old railway line.
The railway line was shaded by jungle trees, quiet, and peaceful. We took an easier pace, appreciating that we were nearing our final destination.
That evening we arrived in Aguas Calientes, had dinner with the group at a restaurant, and checked into our hostel for the night. A warm shower never felt so good, but it was quickly topped by the joy of sleeping in a bed.
Day 5 of the Salkantay trek to Machu Picchu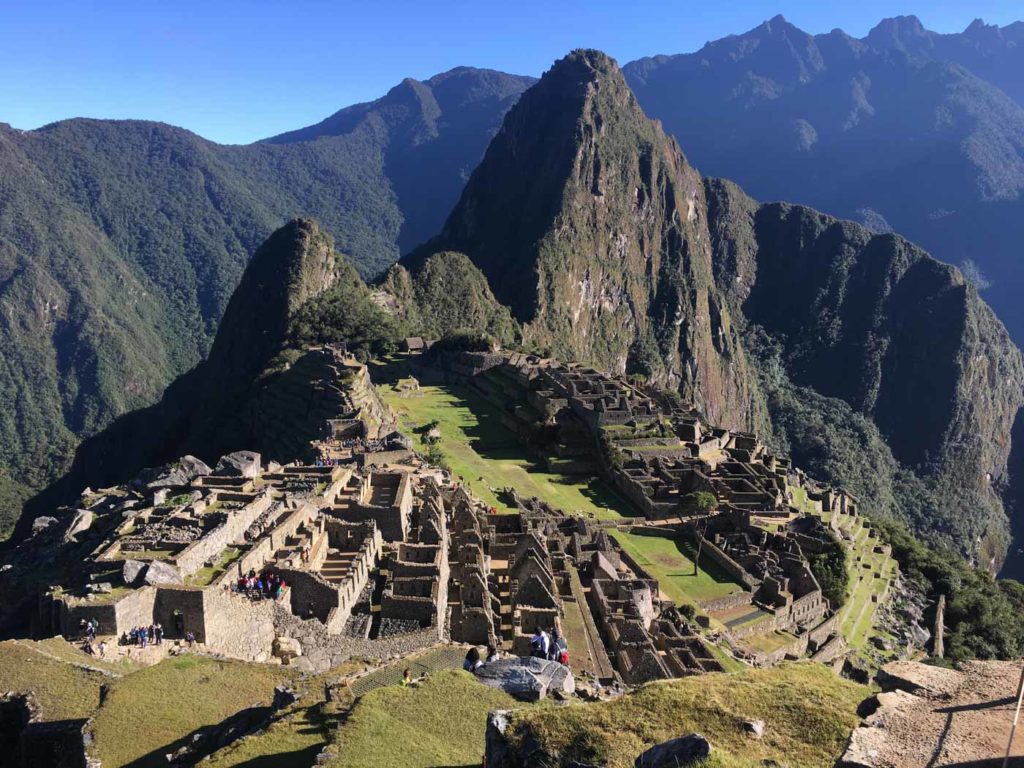 On the final day there are two options to get to Machu Picchu to see the sunrise. You can wake up early (5AM) and catch the buses that continually go back and forth between the city and Machu Picchu, or you can wake up earlier (230AM) and hike up. We had hiked this far so we weren't going to cut off the last few hours by taking a bus. The earliest morning of them all, we set off with a swarm of other trekkers to our final destination.
Straight up along endless steps, we felt like ants in a long line making their way up a hill. A few hours after waking up we were at the entrance to Machu Picchu. We met our guide and went in to watch the sunrise over the ancient city.
We spent the next few hours exploring Machu Picchu, continually blown away by the size, scale, and significance of the site. Our guide spent some time telling us about the history and how it was built.
Although we were completely exhausted, it felt amazing to have worked so hard, and made our way here under our own power. We were able to appreciate where we were that much more.
Afternoon
That afternoon was spent relaxing around Aqua Caliente before catching the evening train back to Cusco. We arrived in Cusco that night, checked into a new hostel, and immediately fell asleep.
We spent the next few days in Cusco recovering. Massages were top of our list the next day and fortunately there are plenty of places offering amazing and cheap massages in the city. There are also great restaurants in Cusco and we spent our last moments in Peru enjoying some local delicacies as well as some great Peruvian drinks.
Machu Picchu is one of the top destinations in the world and common on most travelers' bucket list. We loved exploring and learning about this ancient city, but despite the wonder you feel there, the highlight of our time in Peru was certainly the journey and not the destination.
It was tiring; long days hiking, little sleep, and a constant headache from the altitude. But it was also rewarding, felt amazing to move, offered some of the most breathtaking landscapes we've seen, and was absolutely the best way to get to Machu Picchu.
Where to Stay in Cusco before or after your hike to Machu Picchu (Monday Feelings's top picks)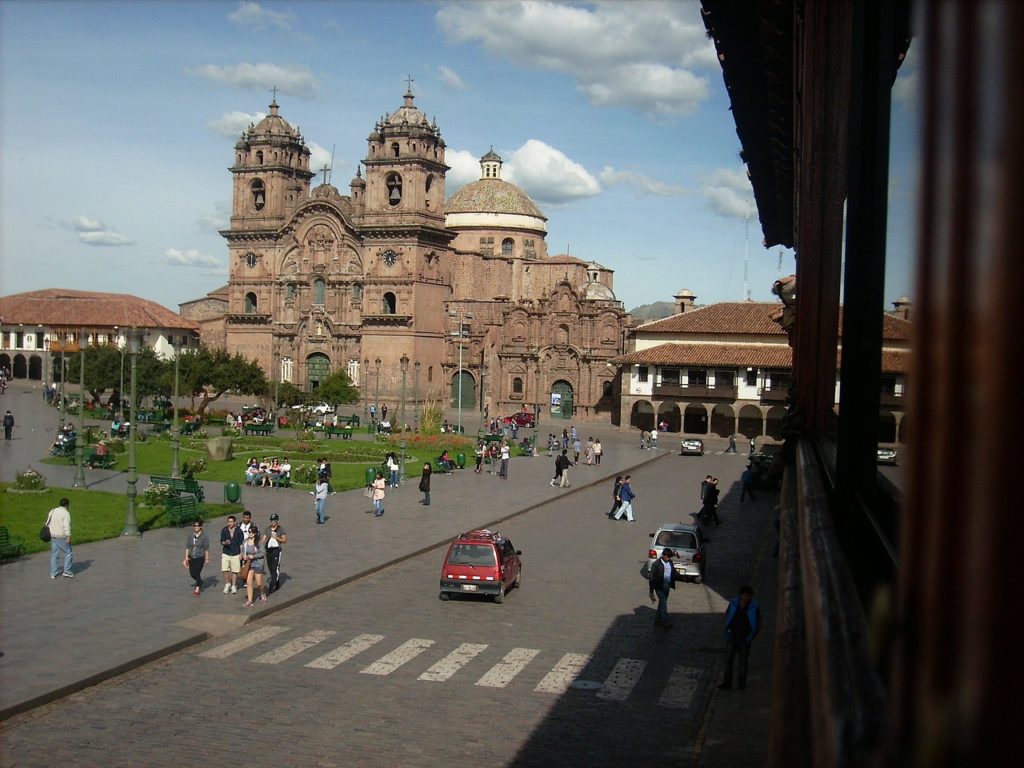 Cusco is one of the coolest and most vibrant cities in Peru and you surely should spend a few days over there before heading to your next destination in the country.
As an important Peruvian tourist hub, you find all sorts of accommodation in Cusco. If you are looking for a more sophisticated yet cosy experience, we recommend staying at the Novotel Cusco. It is housed inside a historical 16th century building, offering an authentic traditional Peruvian atmosphere, as well as gorgeous rooms and an amazing breakfast.
We often create bespoke itineraries to Peru to other travellers and to those wanting to stay at a more luxurious yet affordable accommodation, we recommend the Novotel Cusco. Everybody loves it.
For those wanting something a bit more on a budget, can either go for the Hosteria de Anita or Casona Boutique Hotel.
There are also excellent hostels in Cusco!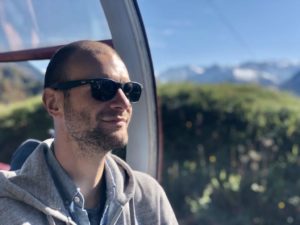 Do you also have a travel story? Is it funny, interesting or just feel like sharing it? Do not hesitate to send it to us! You can either email it on getintouch@mondayfeelings.com or send us a message here!