This post is also available in:

Português
Looking for the best beaches in Puglia? You have came to the right place then! Here, you'll find a complete list of the most beautiful beaches in the region, from the hidden gems to the most popular ones. They are all so charming that even those who hate the crowds will give it a go (guilty!).
To make this Best Beaches in Puglia article as complete as possible, we have asked for help from other travel bloggers and Italy experts. They have also shared their insights and opinion too.
Are you ready? So, let's go!
Best Beaches in Puglia
Punta Prosciuto (literally, the "Ham Point")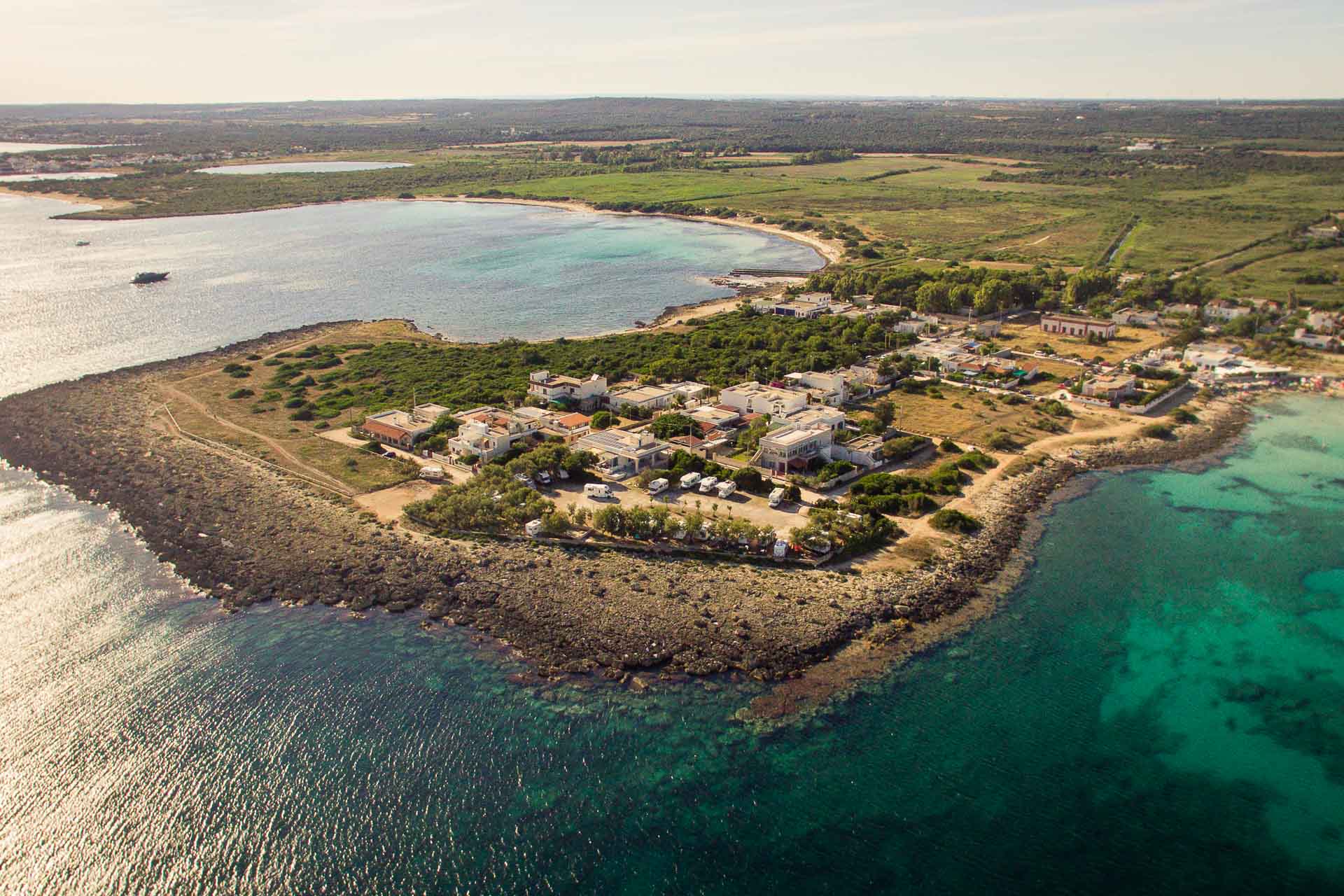 Located in the Southern part of Puglia, in an area known as Salento, which for us, has by far the most beautiful beaches in Puglia, Punta Prosciutto is the definition of an Italian paradise. On your arrival, you will be welcomed by a crystal-clear water, sand beaches and a chilled-out vibe. Have a better idea of the place on the aerial video below.
There is only one bar that gives music to the whole beach, as well as drinks and snacks. Note that not all of Punta Prosciutto beach is sandy. However, even the rocky bits are cool as they serve almost like a deck for you to chill in and sunbath.
Not more than 5km away from there, there is another must-see beach, the Torre Colimena. Don't miss it!
Torre Lapilo, in the city of Porto Cesareo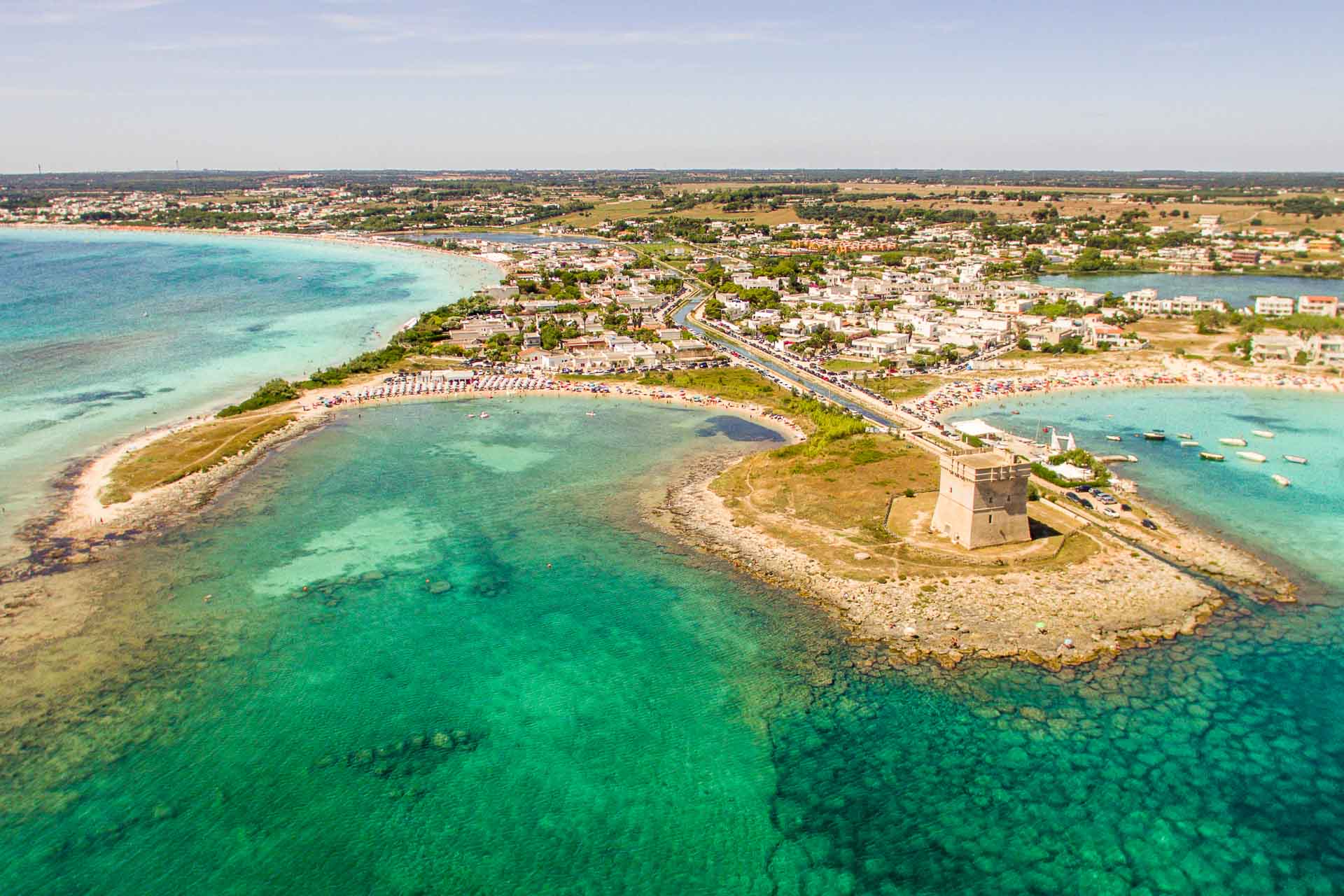 If you want to enjoy the best sandy beaches in Puglia, the city of Porto Cesareo is the way to go. It's surrounded by some of the most beautiful beaches in Puglia, including the Torre Lapilo, which is this Italian city plenty of options for accommodation, restaurants, shops and so on.
As for its good infrastructure and sandy shore, this town is great for travelling with children in Puglia. In fact, Porto Cesario is the perfect place to serve as a base for anyone while exploring this region. Check here the latest hotel deals in Porto Cesareo.
Avoid travelling around Puglia in August. In fact, avoid the whole south of Italy. Honestly. Italians go on collective vacation from the 15th of August, a national holiday called Ferragosto, and guess where half of the country goes to? The south, yes. Travelling in Italy in August means overcrowded places, more garbage than one can expect (trust us, many Italians have a tendency to littering) and extremely hot weather. Let alone that things will be more expensive and you will find it harder to find accommodation.
Porto Selvaggio ("Wild Harbour")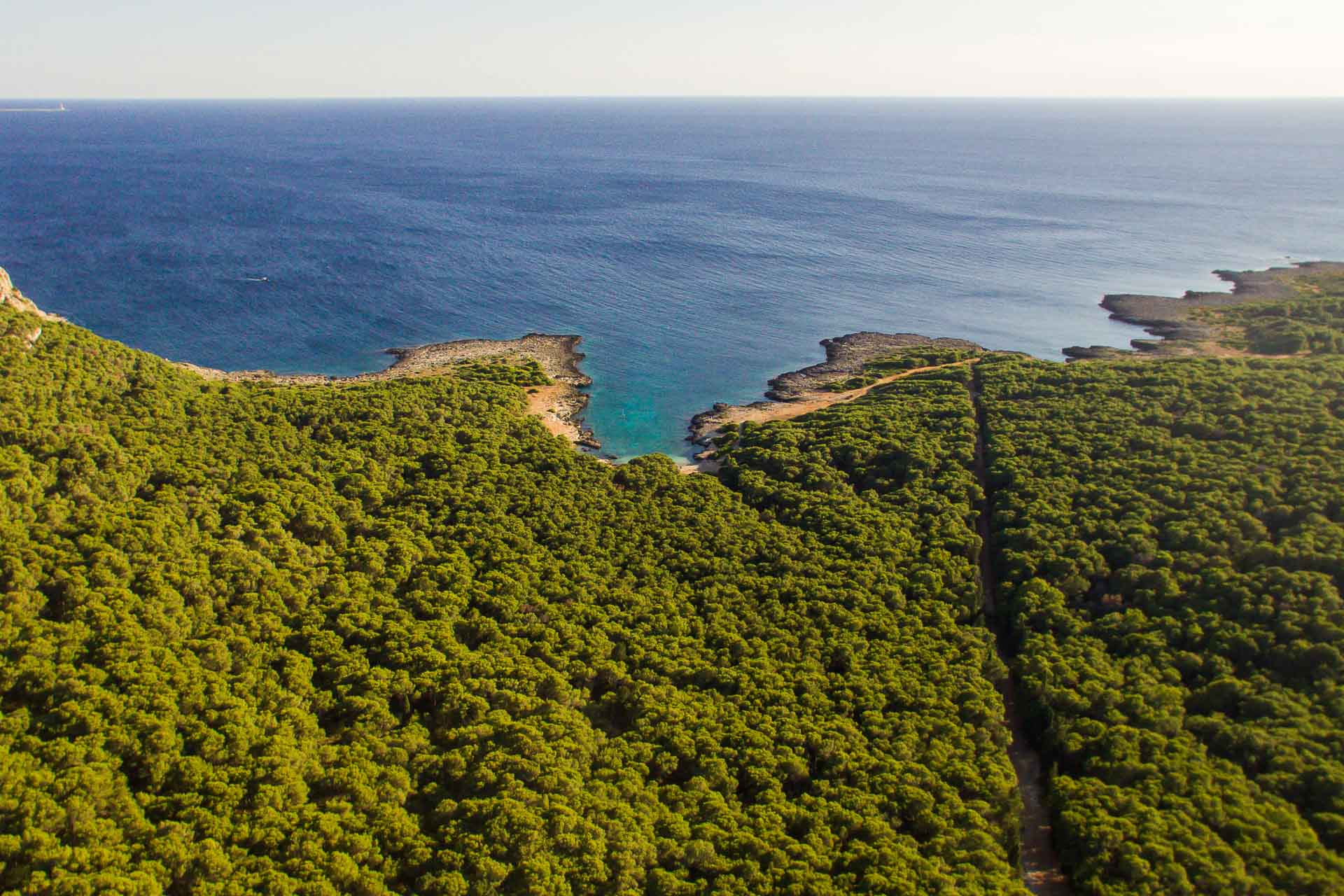 "Selvaggio" literally means "wild", and although this could have been the case a few years back, as Porto Selvaggio has now been discovered by tourists, it's not as wild as it once was. We can call it Porto Non Così Tanto Selvaggio ("Not-so-much Wild Harbour") now. Anyway, Porto Selvaggio is surely a very popular beach destination in Puglia. But that does not mean that its pristine crystal clear water and super green environment are not worth the visit anymore. It's quite the opposite!
Located in the Natural Reserve of Porto Selvaggio, the visitors of this beach are welcomed by a clear green sea surrounded by the shade of pine forests. All in one place.
Note: because of its rock formations, this is probably not the best place to enjoy in Puglia with children.
Spiaggia della Puritate (Beach of Purity) in the city of Gallipoli
by Michele Peterson from A Taste for Travel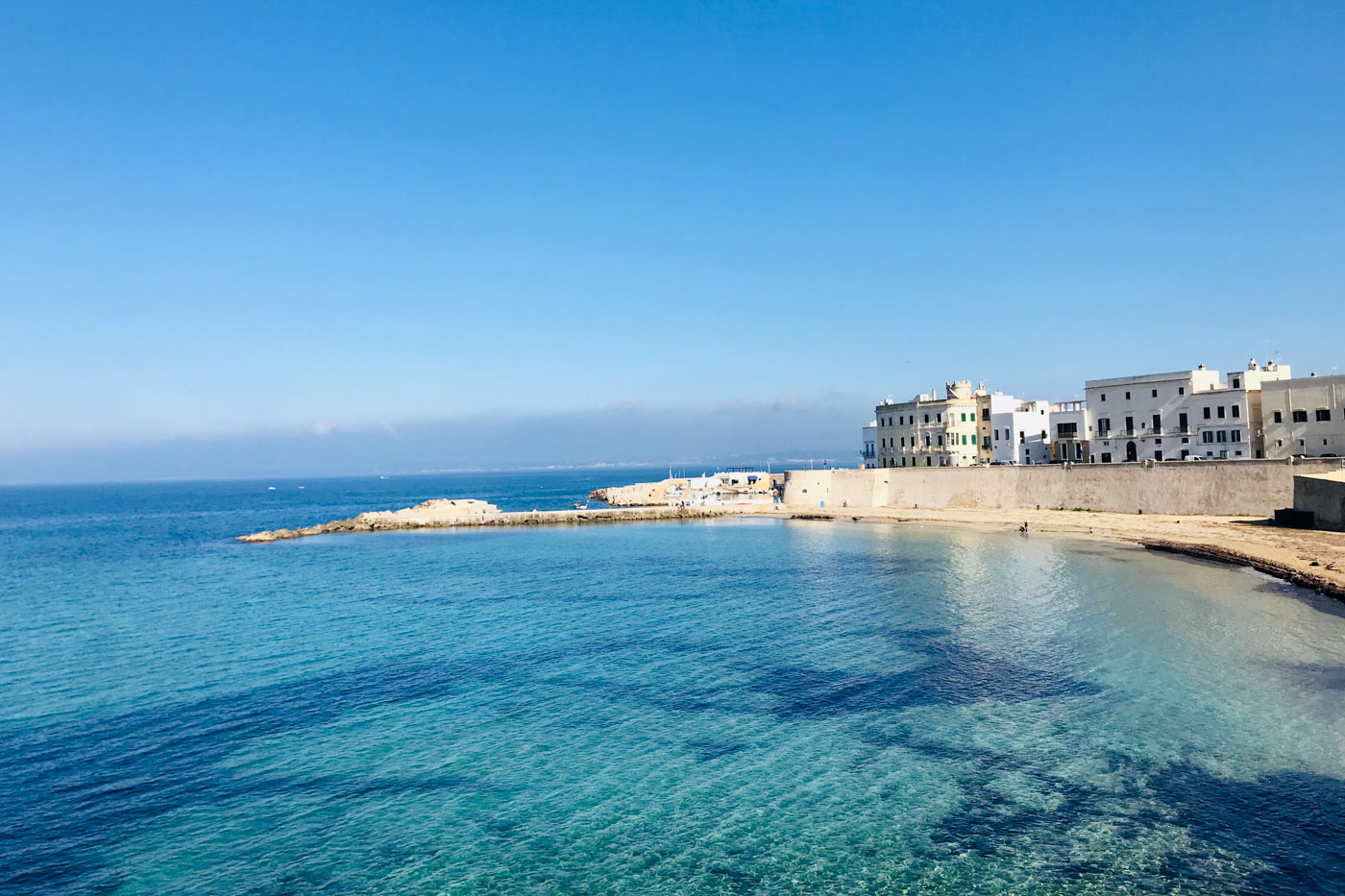 On the west coast, facing the Ionian sea is Gallipoli, one of the best places to visit in Puglia without a car. Not only is this historic city set on an island connected by a 16th century bridge to the mainland, but it's also home to its very own beach. While not the largest beach in Puglia, Spiaggia della Puritate ("Beach of Purity") boasts a prized location in the heart of Gallipoli's Old Town, offers free public access and is ideal for watching spectacular sunsets. If you are looking for the best beaches near Gallipolli, the Spiaggia della Puritate is the way to go.
Although there's a water fountain available for washing the sand off your feet when you're ready to leave, facilities at the Beach of Purity are few, but you're steps to several fine outdoor restaurants and bars. The best of the nearby eateries is family-owned Trattoria La Puritate where seafood plucked fresh from the sea is the shining star of the menu. Here, the dishes of choice include linguine alle vongole (linguine with clams), and the house specialty gamberoni al sale ( prawns baked in sea salt).
EXTRA: In order to explore the beaches we have listed so far – Punta Prosciutto, Porto Cesareo, Porto Selvaggio and Gallipoli -, you can base yourself in a single location. Porto Cesareo, as we mentioned, is very convenient. However, another option is to stay in a masseria, which are Puglia's traditional farmhouses.
We stayed in the Tenuta La Baronesa Resort, a masseria located some 6 km away from Gallipoli. We can't recommend it more.
They offer self-catering apartments, as well as standard hotel rooms or more luxurious en-suites. A delicious buffet breakfast is served daily with many fresh ingredients from the farm and there is a large swimming pool which is the perfect place to chill-out at the end of a beach day. You can check their prices and availability in here.
Lama Monachile, in the city of Polignano a Mare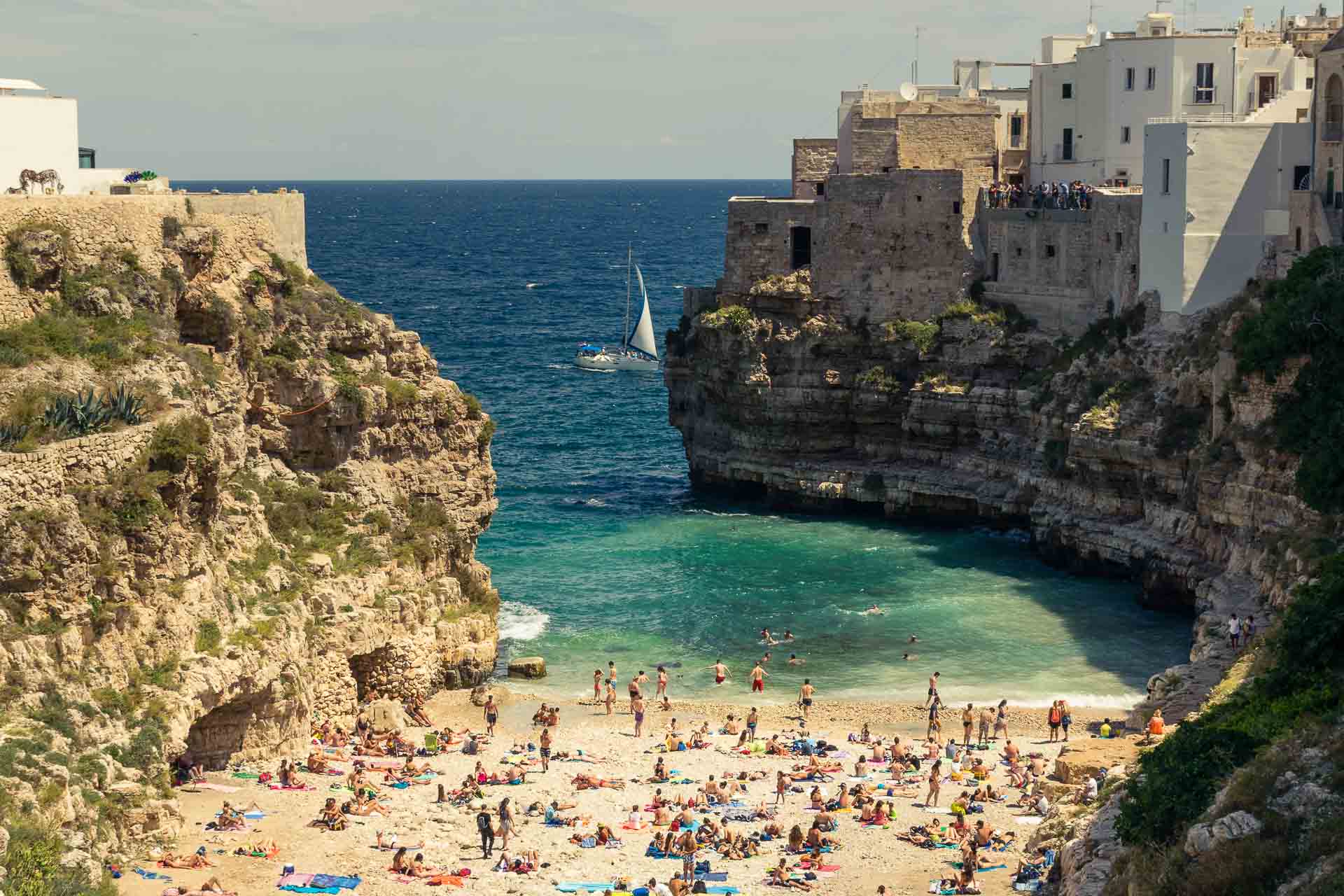 You have probably seen many photos of this picturesque beach before. Lama Monachile is the main beach of Polignano a Mare, one of Puglia's most popular destinations. A small stretch of sand surrounded by cliffs and white-washed buildings composes the perfect summer scenery. Lama Monachile can get crowded, really crowded, so again, it is best to avoid it during weekends and holidays. Regardless of the season, a dive into this crystal clear water is a must for anyone visiting the famous Italian singer Domenico Modugno's birth town.
You might not recognise his name, but surely have heard his song "Volare, ooooo, Cantare, ooooo", sang by many, including The Gipsy Kings.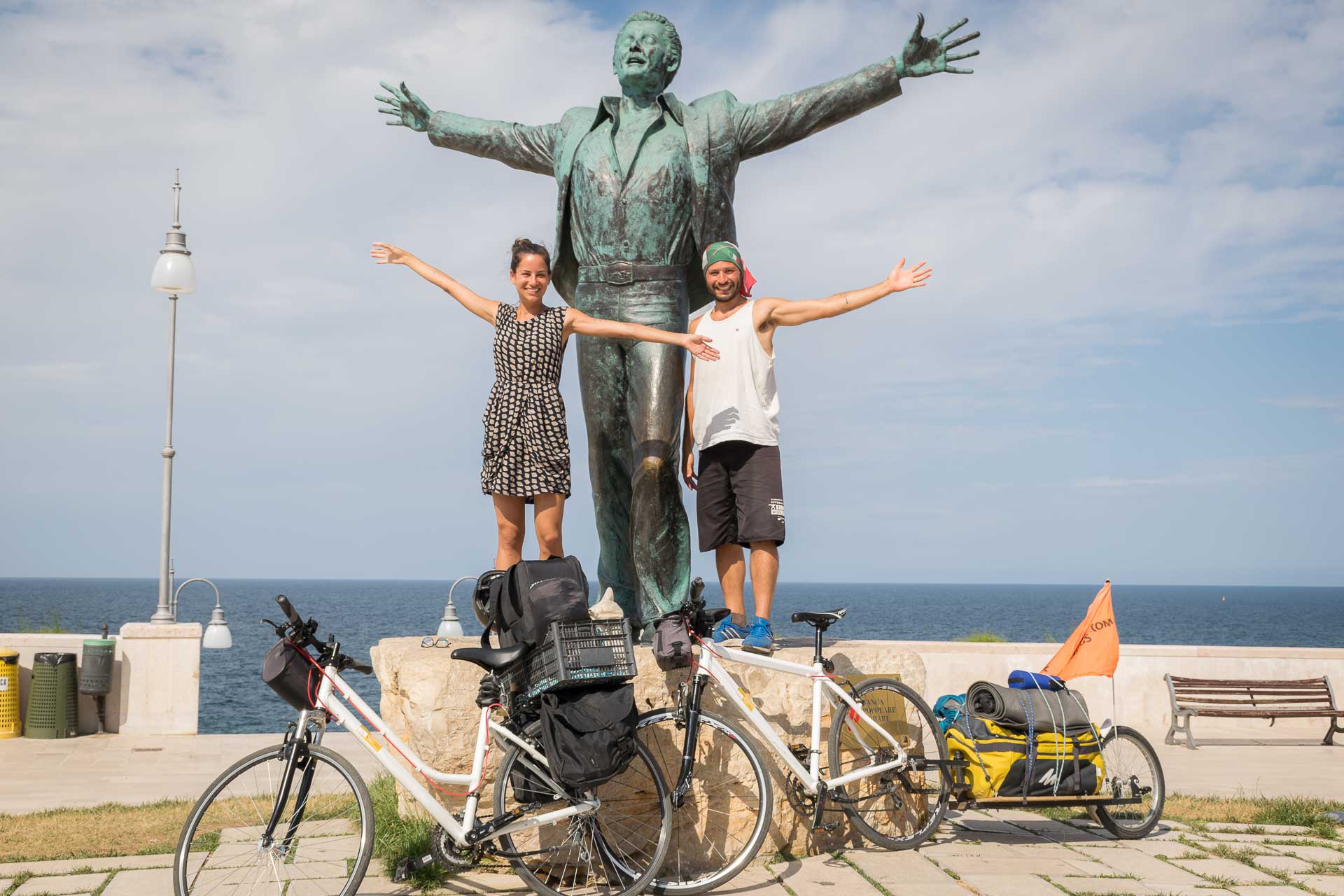 Anyway, Polignano a Mare is the true definition of the Italian dream. It is one of the best beach towns in Puglia. Although often too crowded, Polignano a Mare offers very good tourist infrastructure with plenty of cosy accommodations, traditional restaurants, shops and more. In fact, this city is a good place to serve as base for a few days to explore the nearby beaches and sights. Check for Polignano a Mare latest hotels and Bed and Breakfast deals here.
Grotta della Poesia (Poem's Cave)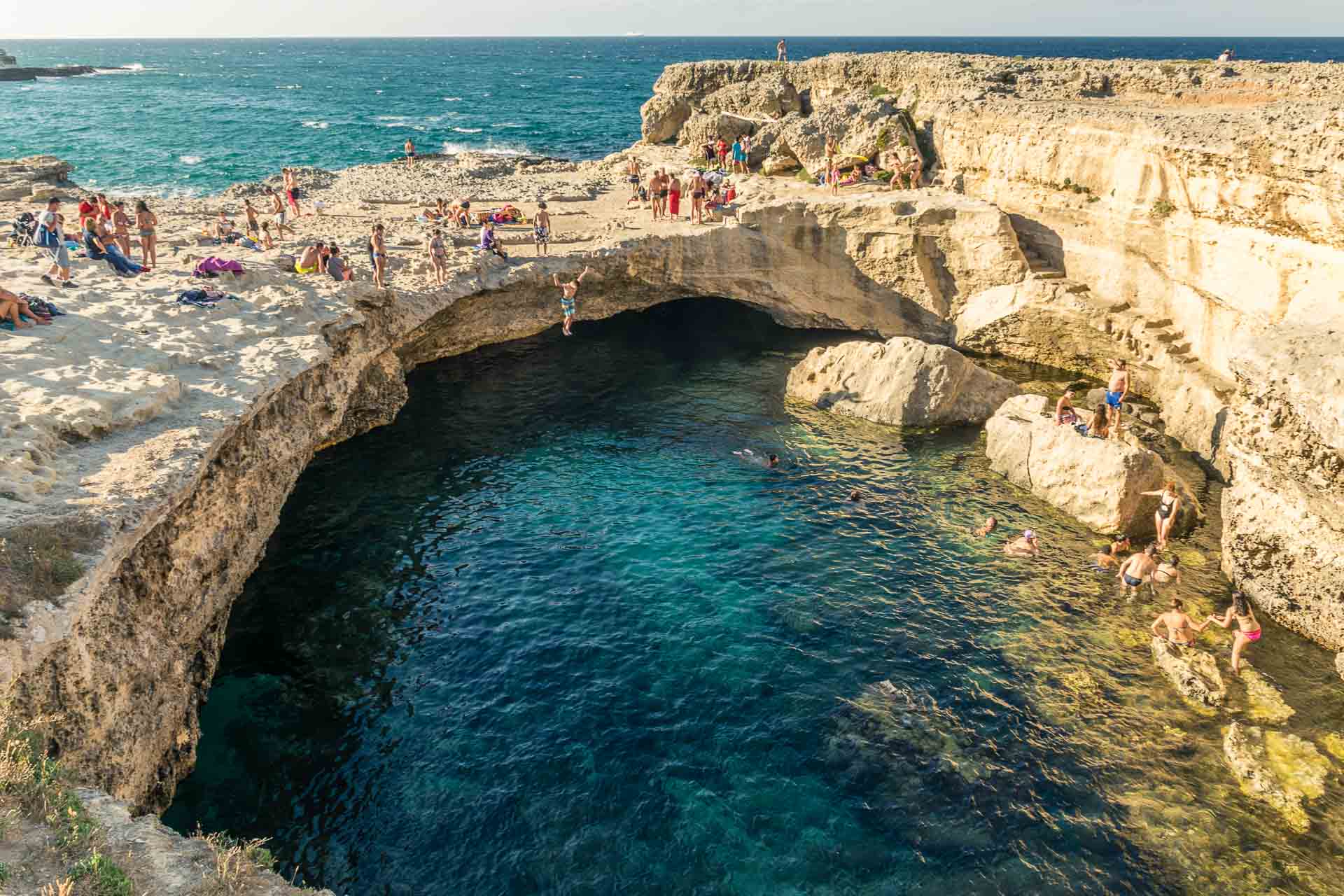 This is not your standard beach. In fact, we are talking about a natural swimming pool formed after a piece of the cliff that fell off. The Grotta della Poesia is of extraordinary beauty. It cannot stay out of your itinerary through the best beaches in Puglia.
Spiaggia di Vignanotica (Vignanotica Beach)
by Roger and Anna, from Expert World Travel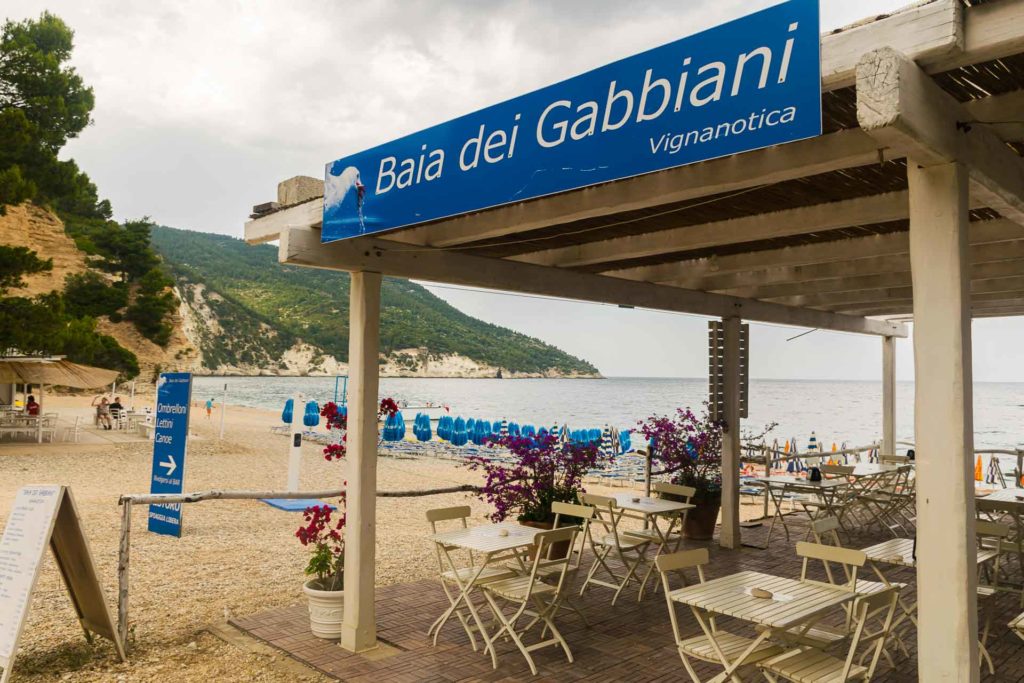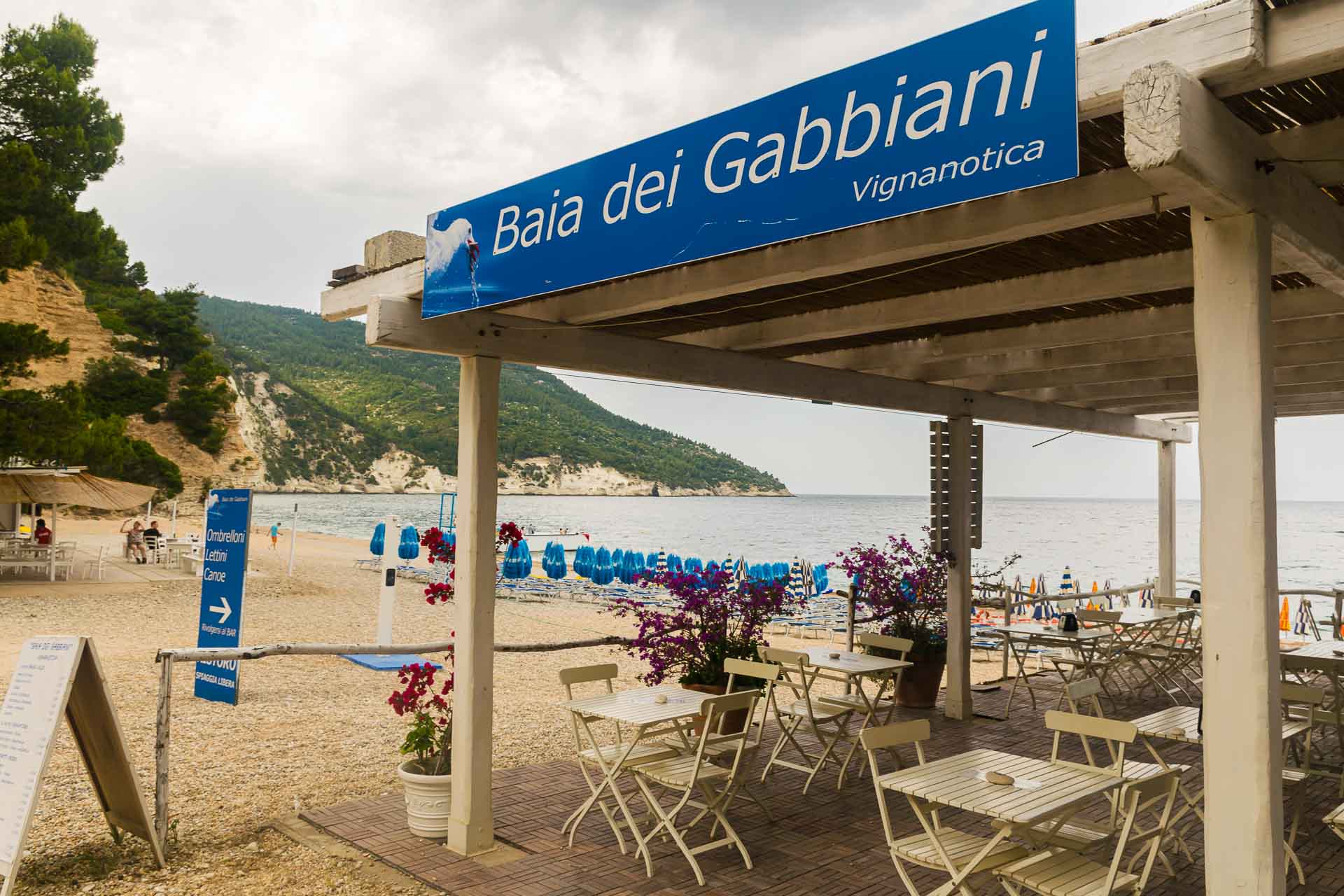 When most people head to Puglia, they head south. We actually spent most of our time in Gargano in the north of the province. It is mostly a National Park, which is a great start, and is also a stunning peninsula that juts out into the sea. So, of course, that also means it is blessed with some amazing beaches.
My favorite beach on the peninsula was Vignanotica Beach. Why did I love it so much? Two main reasons. First, it is a farily isolated beach with a jaw-dropping white cliff backdrop. It lies in a quite unspoiled part of Gargano. Second, it is a cross between a sandy and a rocky beach. That is to say, there are very small pebbles which are almost like giant grains of sand. So, there is far less of "that sand problem" many of us dislike when we go to the beach. Win-win if you ask me.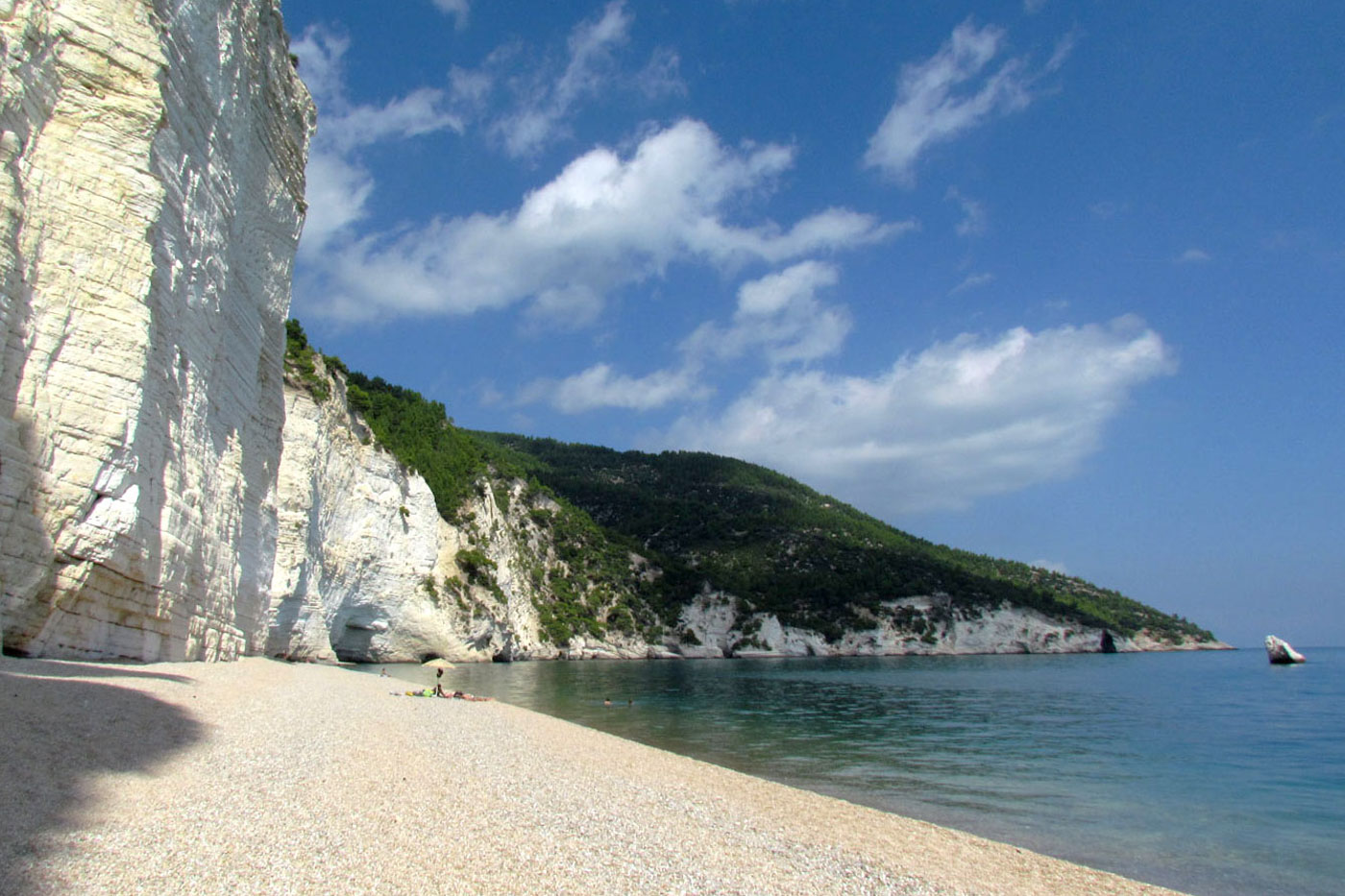 The beach is actually well equipped with life guards. It also has the usual Italian lounge chairs and umbrellas you see on most beaches in summer. Find too a cafe and facilities are also there. However, you can leave this part of the beach behind and head to the cliff-backed part, which is far more secluded and stunning.
EXTRA: Those wanting to explore the Gargano region further, we really recommend staying in Peschichi or in Vieste. The later is way bigger and more developed. It's a good call for those who like to have good options of hotels and restaurants to choose from. We stayed in both.
In Vieste we stayed at Il Giardino Stellato di Michela B&B, a super homely accommodation at the highest part of the city, overlooking the sea of Vieste. Michella is the definition of a hospitable host and a great cook. She would serve us an incredible breakfast every morning at the terrace, all made with local organic ingredients. Simply delicious! Check for price and availability for the B&B here.
Spiaggia Cala Porta Vecchia, in the city of Monopoli
by Corina from Another Milestone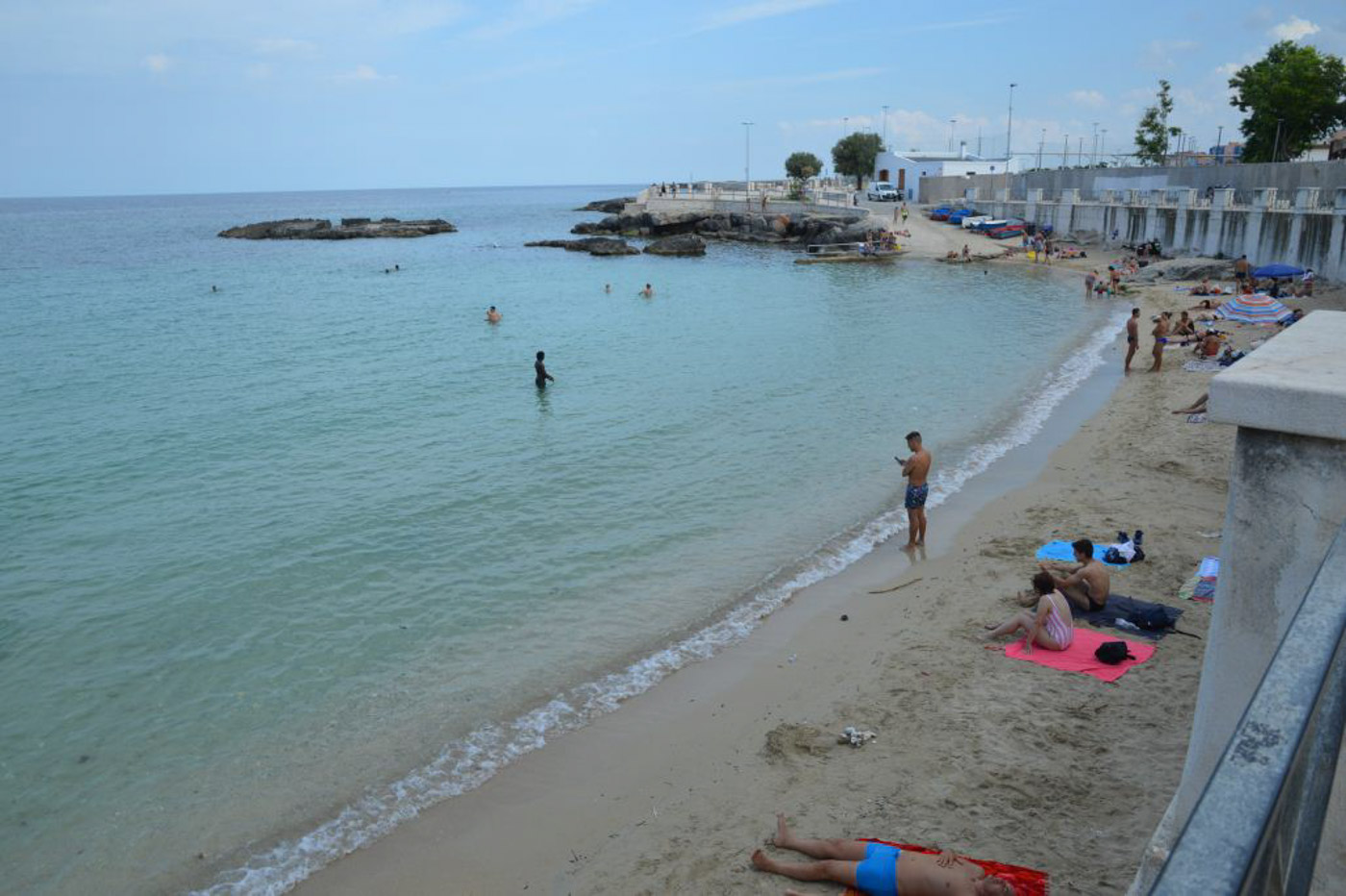 Not very popular compared to other beaches in Puglia, the Spiaggia Cala Porta Vecchia beach has a feature that the others don't. Here, you can lay down on the golden sand, enter the blue waters of Adriatic Sea and admire the amazing fortified city of Monopoli. The view is the most important reason to stop here, even though Monopoli has other beaches along the shore. A walking distance from the beach, you will find several restaurants for lunch.
Spiaggia Cala Porta Vecchia is a sandy beach, with big rocks from place to place and a smooth water entrance, also with rocks. It is not suitable for children because of the rocks.
You can park the car on the streets outside the fortified walls of the citadel and walk until you reach the Spiaggia Cala Porta Vechia. It is narrow and doesn't have sunbeds or umbrellas, but in the afternoon, you have shadow from the citadel's walls.
Spiaggia Cala Porta Vechia is definitely one of the best beaches near Monopoli.
Monday Feelings' Special Tip:
With over 800km of pristine coast, it is no surprise Puglia has uncountable beautiful beaches. Our suggestion, then, is to rent a car to drive all around it, exploring the places we listed as well as discovering your own secret spots. We recommend you to choose two or three cities in Puglia as your base. From there, you can make day trips to the rest of the region.
Cycling in Puglia
Although Puglia is not a very popular bike destination, that's exactly how we particular chose to go around in Puglia. In fact, we left Parma, in the northern Italy, and cycled all the way down to Puglia, from Peschichi, in the Gargano all the way down to Santa Maria di Leuca and back to Taranto. It took us almost two months!If you are also looking for some adventure, we can't recommend a bike trip in Puglia any better!
Check below our youtube video from this bicycle trip:
Thank you for reading this article. We truly hope it can help you on your planning. Feel free to always get in touch with for any help. In fact, if you want us to plan your route for you and enjoy a completely stress-free travel, get in touch for a quote!
And a massive thanks for the other travel writes who collaborated in this post!