This post is also available in:

Português
Puglia itinerary: read all the things to do in Puglia; the best way of travelling, either renting a car, public transport or cycling; which cities you cannot miss; the most beautiful beaches and all the details to organise your trip. If you have never thought of visiting this region, after reading this itinerary, we hope you will visit Puglia!
Let's start with the question where is Puglia? Puglia is in Italy and is the "heel of the boot". Although it might appear as the most southern part of the country, it is almost on the same line as Rome, as the country is crooked on the map! It starts in the Gargano and goes down all the way to Santa Maria di Leuca, where both seas, the Adriatic and Ionian meet.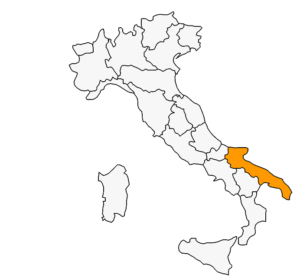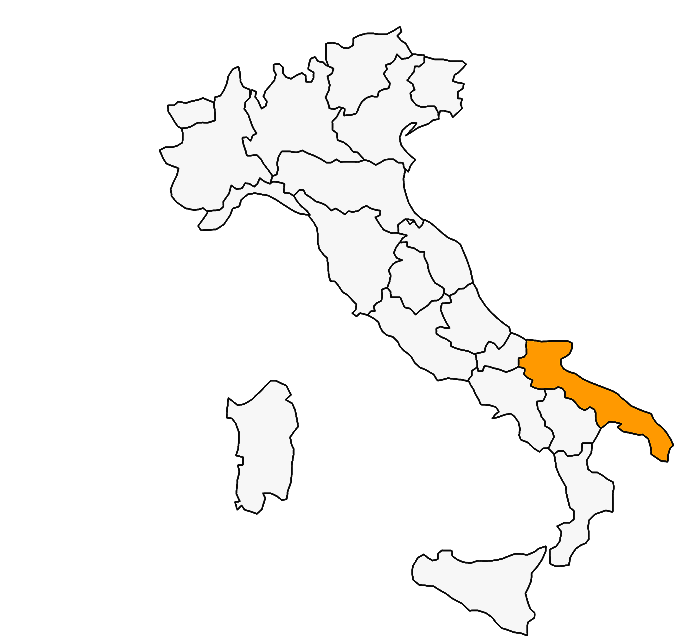 Puglia is one of the most diverse, beautiful and interesting regions of Italy. Both the Adriatic and the Ionian Sea give its beaches a crystal clear water, besides its charming towns. However, don't mislead yourself into thinking tourism in Puglia is just about gorgeous landscapes. This is a destination full of history and tradition too.
As for its strategic position, pilgrims, travellers and even invaders considered Puglia the gateway to and from Europe for many centuries. This convergence of so different cultures and people was vital in the development of their culture, which stands out for its plurality and hospitality.
How to get to Puglia and around: Renting a car, public transport, motorbike or cycling?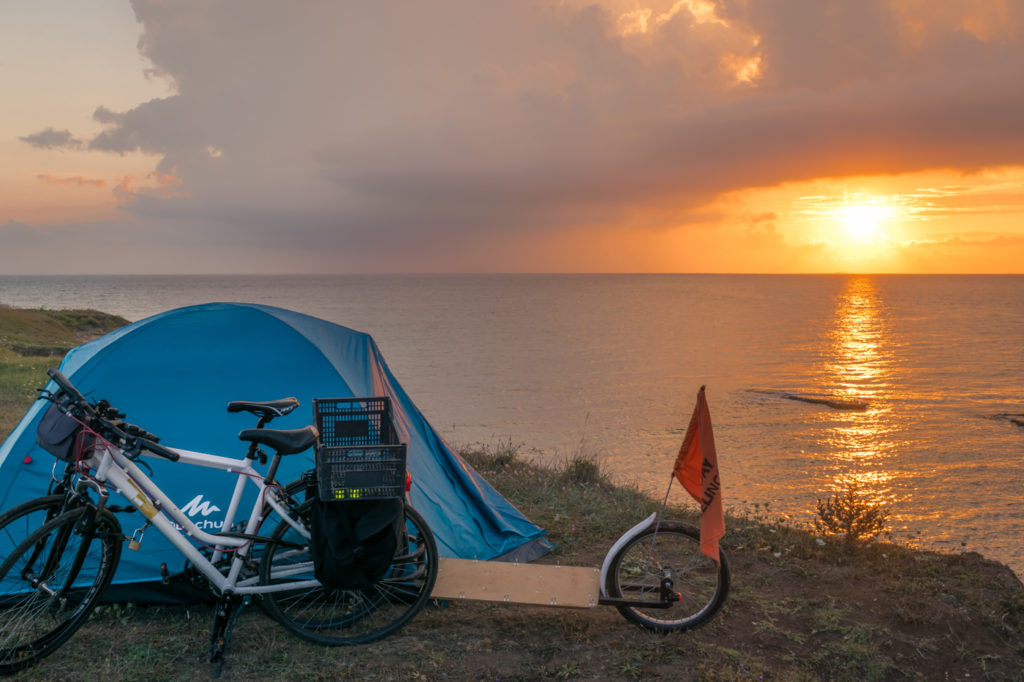 As opposed to North Italy, which counts on a good network of public transportation, the south of the country is more lacking. There are not so many railways in Puglia and buses won't take you everywhere. Therefore, we suggest renting a car so to travel more comfortably and manage to visit the most remote villages and beaches. 
Another option not so much exploited by the majority of tourists in Puglia – and extremely pleased by the way – is to cycle through it. If just reading this statement made you breathless, a ride on a motorbike will do the job too 🙂 Cycling also demand time. If you don't have much time for your holidays in Puglia, then surely rent a motorbike or a car.
Nevertheless, we spent a month cycling around the whole region and we cannot recommend a better way to go about Puglia.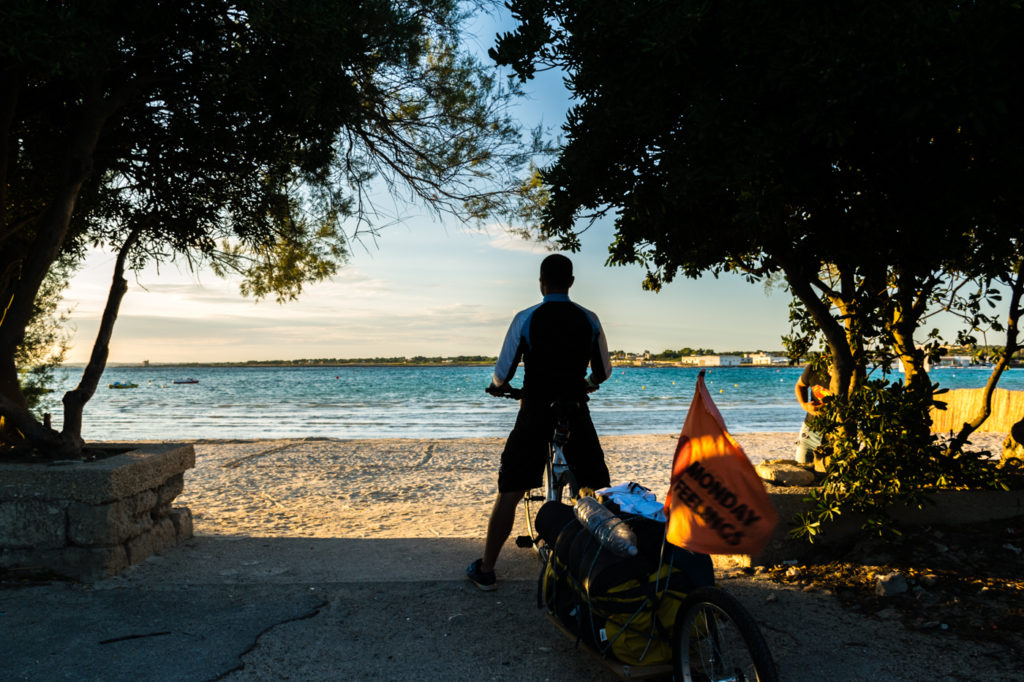 Most of the time, you cycle on a flat land and the scenery is stunning. Travelling by bike is extremely immersive and allows you to absorb everything you see and experience as no other mean of transportation can.
But let us continue on where to go in Puglia.
Puglia itinerary: Best of Puglia
So, what to do in Puglia? Well, we shall begin this Puglia guide with Bari, the capital city of Puglia. The nearest airport to Puglia is probably here and is also commonly used as the starting point for most travellers.
It is worth emphasising that this is a rather flexible travel guide. There is no problem of changing the order of the cities and tailor it towards your taste and needs. If you have any comment, advice, or doubt, be sure to leave it in the comment section below or get in touch with us directly.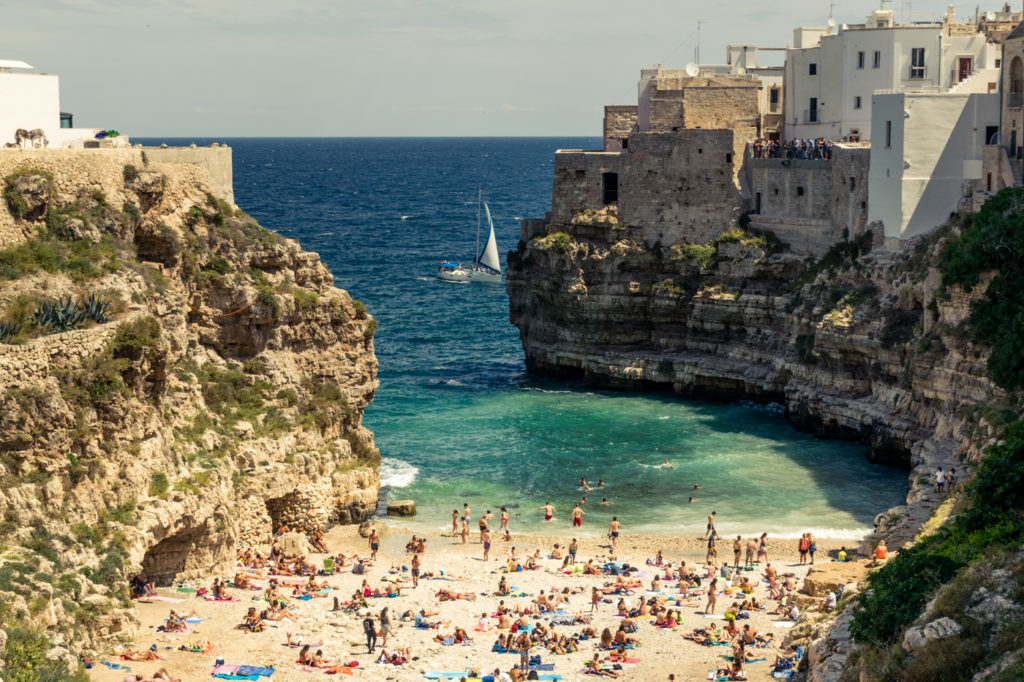 Tip: A good way to visit Puglia, considering that cities are very close from one another, is to choose two or three cities as base and, from there, explore the rest of the peninsula. Otherwise, you would spend one night in each city and that can be exhausting. To have as a base, we recommend:
Bari or Polignano A Mare to explore the north east;
Ostuni to visit the Vale D'Itria
Lecce for the south east and west;
A masseria in the countryside of Salento to better know the beautiful Puglia beaches of the west coast
Bari – few hours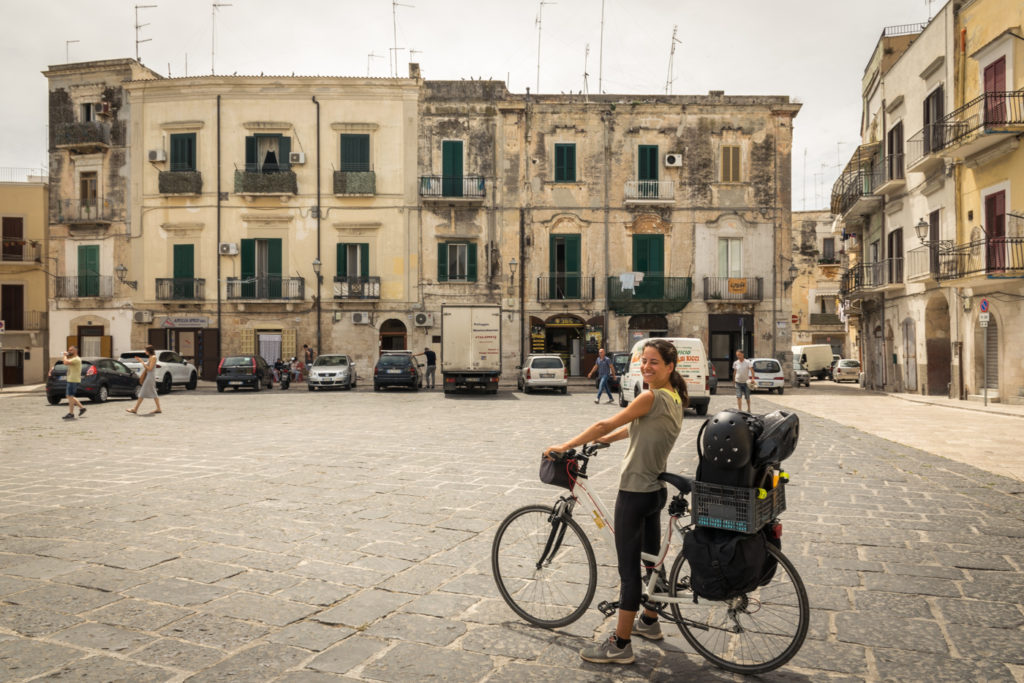 Bari has one of the oldest historical city centres of the region. It's walled and with many alleyways, which remind some Middle Eastern countries. Even though the old town of Bari looks like slightly abandoned, don't miss out on the opportunity to wander about it, at least for a few hours. You will probably feel the bohemian vibe and see nice old ladies chatting on their doors and windows, making fresh pasta or just standing still. It's quite the stereotype of Southern Italy! Ah, before we forget, obviously pop in the spectacular Bari's main cathedral.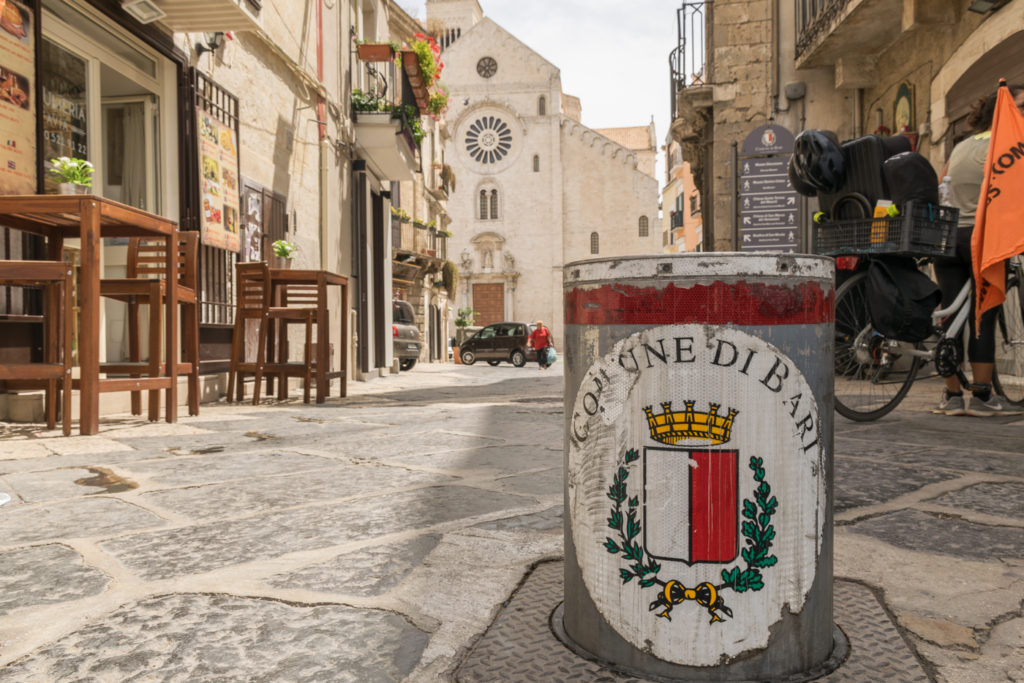 Check in here some good deals in Puglia with our partners from Guide Your Guide:
You can easily explore the city of Bari in just a few hours. Unless you feel a strong connection with it, we advise you to cross Bari out of the itinerary and enjoy more time on other wonders of Puglia.
Andria and the mysterious Castel del Monte – just a tour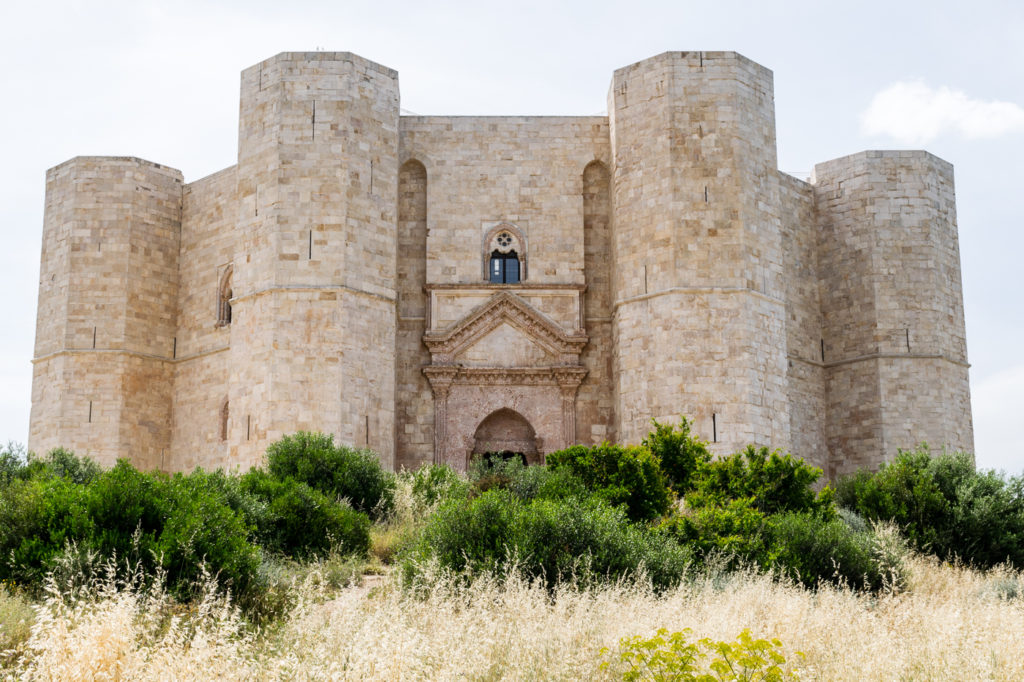 Andria is a charming little town with public parks, squares, churches and palaces. It's on the way to the Castel del Monte, the mysterious fort built by Frederick II and on the UNESCO Heritage Site list too.
The architecture of the castle aims perfect symmetry, with a pinch of spooky fascination for the number 8. The octagonal castle has eight sides – obviously! – eight towers and eight rooms in each of its two floors. The center has an eight-sided courtyard and used to have an octagonal fountain too. From there, you can see the sky, through an octagonal shape, of course.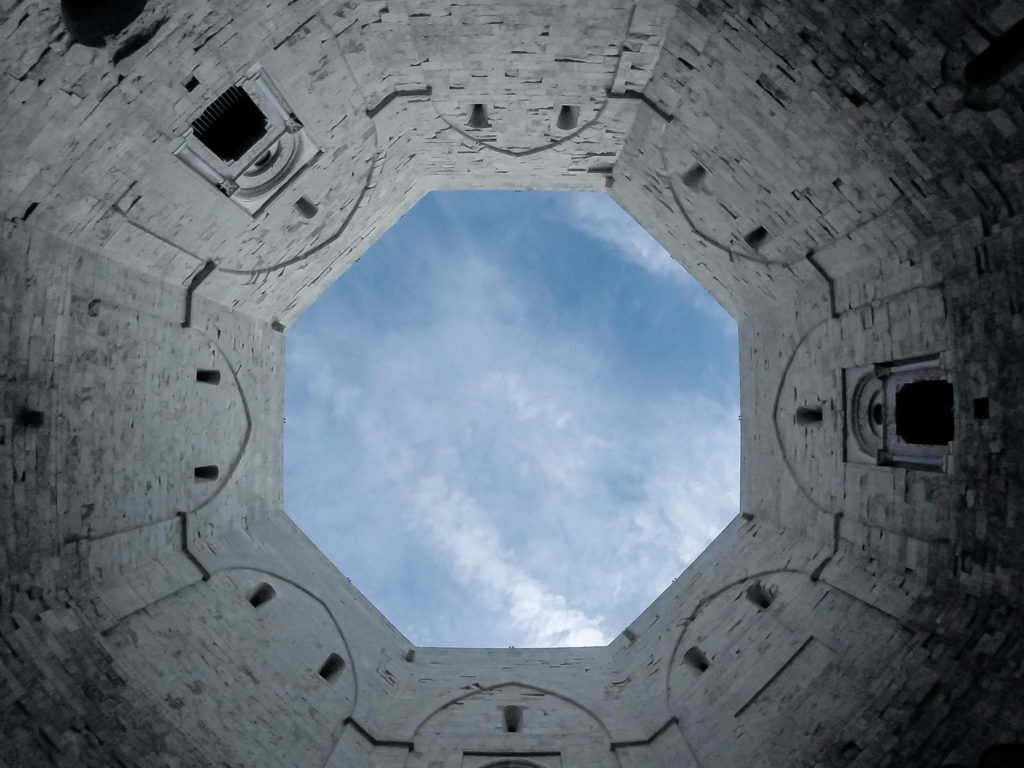 Other sinister facts about this castle is that it has no kitchen, moat or bridge, which makes everyone think about the purpose of it. Surely, not for a comfortable living neither for a military purpose.
Anyway, the castle lies gloriously on top of the mount near Andria, overlooking the sea of Puglia.
Grotte di Castellana – just a tour
It's a complex of incredible caves and grottos with formations dating back more than 90 million years. There are two types of guided tours:
Complete: It has 3km of distance, takes 2 hours and passes through the famous Grotta Bianca (White Grotto). It costs €16.
Short: The short tour takes about 50 minutes and walks around 1km. It costs €12.
Polignano A Mare – 1 night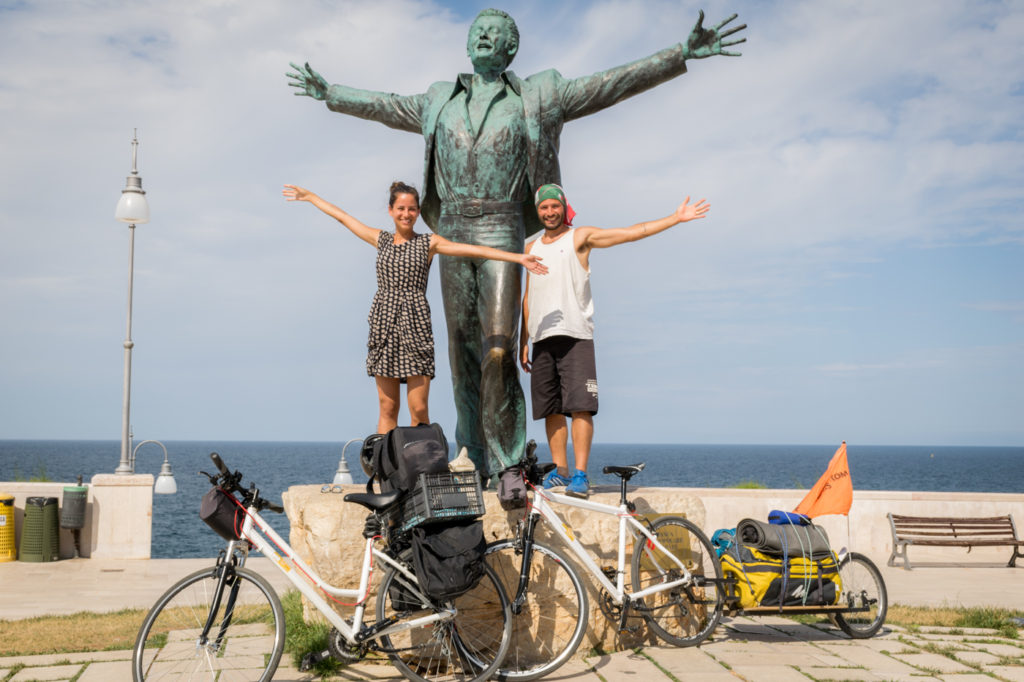 The illustrious city perpetuated in the song of Domenico Modugno "Volare" is one of the best places in Puglia. Even if you are not fond of well-worn paths – just like us – it is yet impossible to not fall in love with this town. Its white houses, stone paved alleyways, cliffs meeting a stunning blue sea, amazing restaurants and a rather hospitable people, will definitely win your heart.
Polignano A Mare is one example of a city that makes you lose the notion of time. You surely should sunbathe in the beach, try one of the homemade ice creams and visit the Domenico Modugno statue.
*Find the best hotel deals in Polignano a Mare here.  
Alberobello – a few hours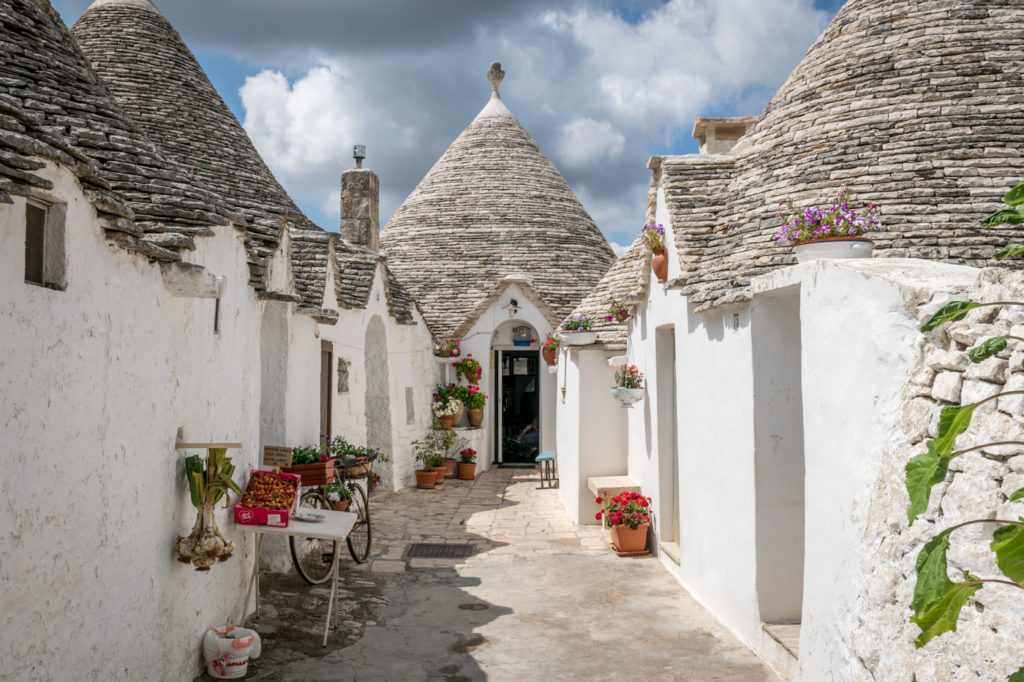 The city, famous for the trulli, has long taken the fancy of tourist and, just like Polignano, has lost some – or more – of its originality. Currently, there are not many people living in trulli as most of them were turned into shops, restaurants and hotels. Yet, visiting Alberobello is more than fascinating and also one of the best towns in Puglia.
You can read more about the history and legends of Alberobello in this more dedicated post.
Ever wanted to spend the night in a trulli or to stay in a typical masseria in this region? So have a look on the options below:  
Cisternino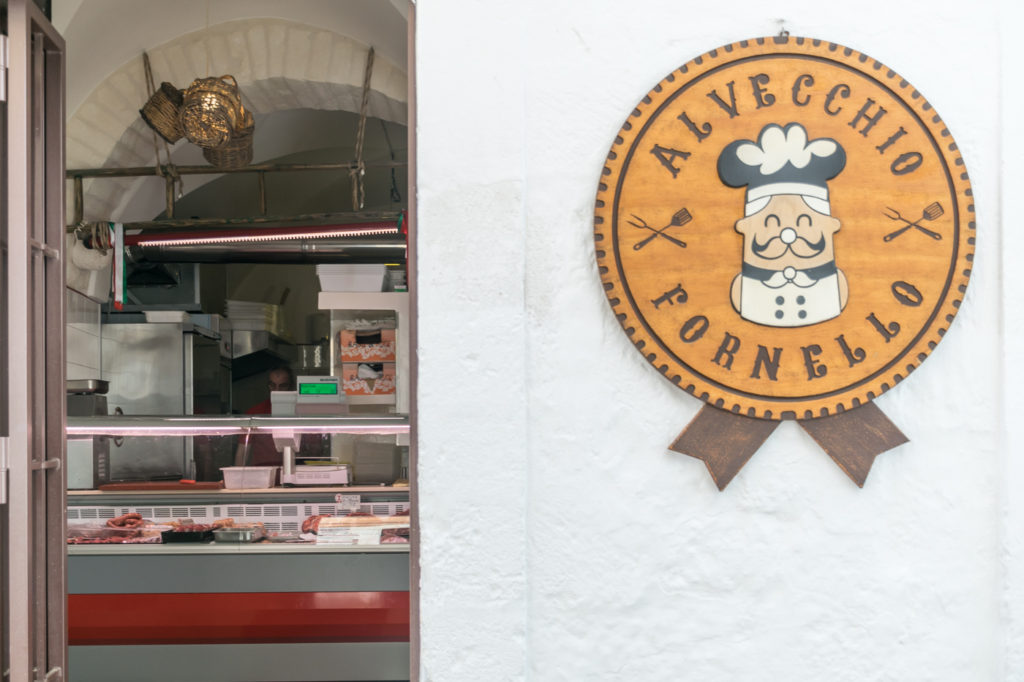 It's a beautiful city and represents very much the region of the Valle D'Itria. However, the purpose here is not to wander about its alleyways. In Cisternino, you have a clear goal: Eat at the Al Vecchio Fornello Restaurant and try their famous bombetas. Seriously, it's a must!
Ostuni – 1 day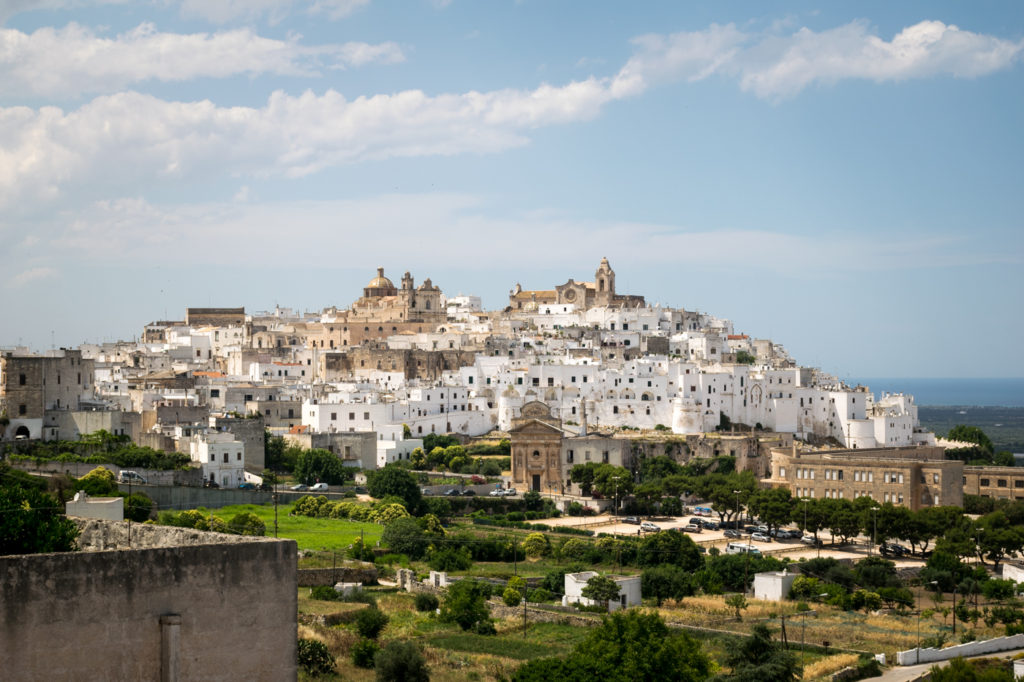 Ostuni is known as the Città Bianca D'Italia – The White City of Italy. Well, it's just a charming town with an old city centre and alleyways, but white. But let's not undermine its charm too. The relaxing atmosphere is greatly appreciated over here.
Our greatest surprise, however, was to experience Ostuni at dusk. Just when the sun goes down, the Città Bianca turns into a bohemian scenario, with many restaurants illuminated by candles, bars with cushions on the stairs of the old city, live concerts and many more attractions.
Tip: Locals do not see Ostuni as a gastronomical sight. So, avoid their expensive touristy restaurants and swing by the neighbour town Ceglie Messapica, just 12km – or 7 miles – away. Ceglie is the gastronomic hub of the region. Our advice is the L'Antico Arco Osteria, where local friends took us. Their food and hospitality is out of this word.
*Have a look at the best hotel deals in the Città Bianca here!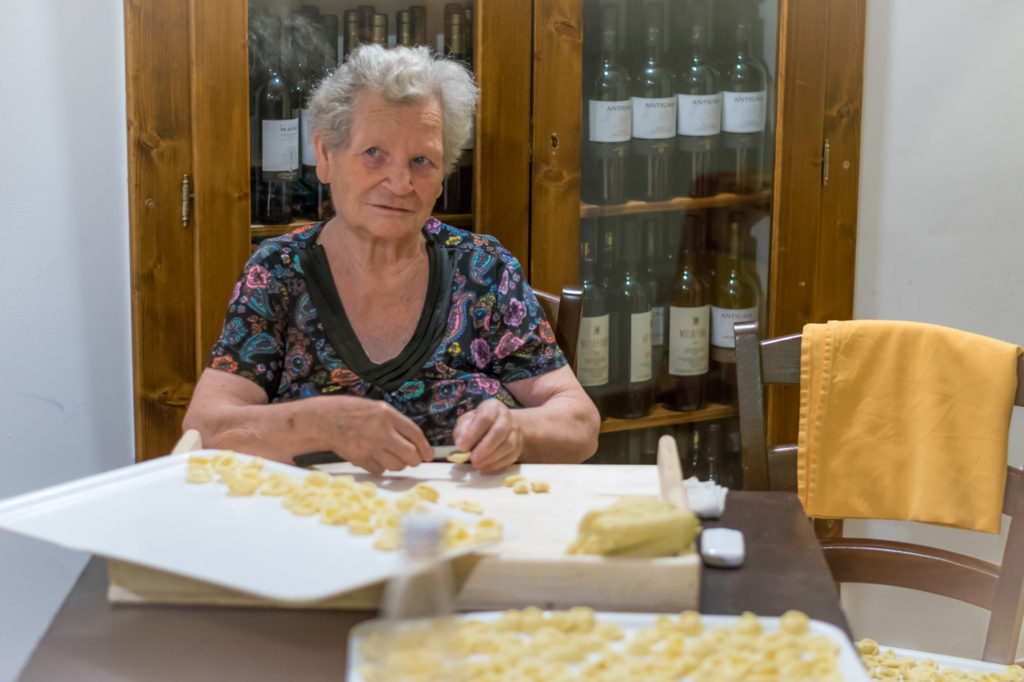 Lecce – 1 day
Lecce is also called the Capital City of the Baroque in Italy. The town has a gracious city centre, is full of churches, mansions, Roman amphitheatre and many more interesting sights.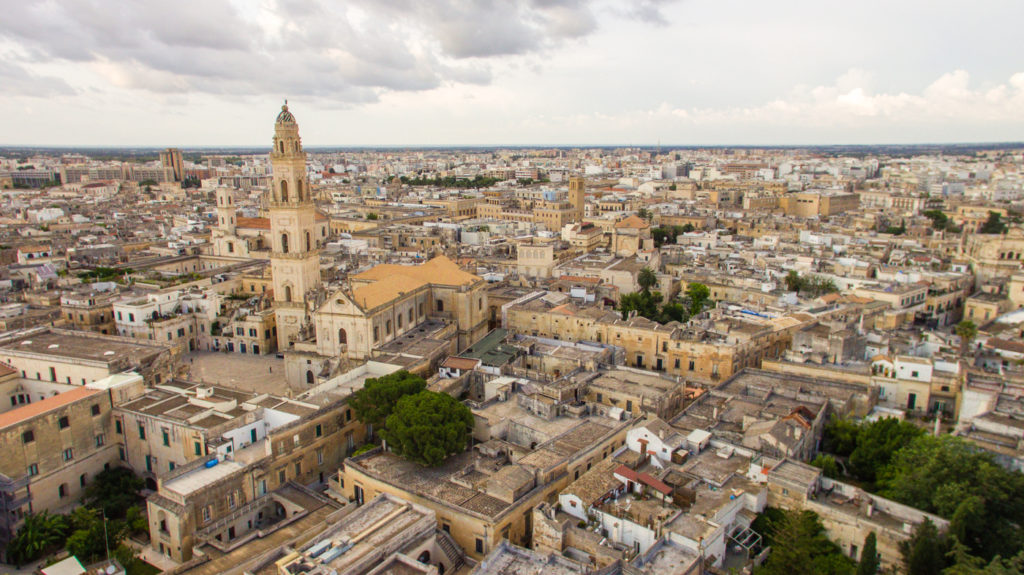 Tip of where to stay in Puglia: We stayed in an awesome B&B, the Le Giravolte, one of the best hotels in Puglia. Check it out our thoughts about it. But, as it only has three rooms available, you might want to book in advance.
Otranto – 1 day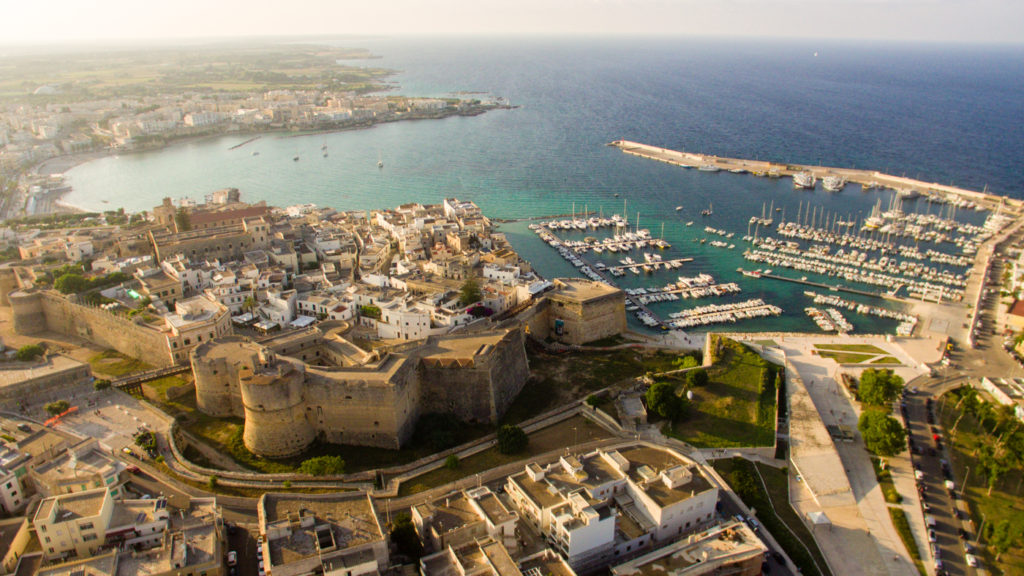 Otranto was one of our favourite cities in our itinerary through Puglia! Otranto is not just gorgeous, it's very – really, very! – historical and has plenty of nice places to see.
The castle holds art expositions, including photo exhibitions, pictures and so on. There is a church with the largest medieval intact mosaic in the western world. You can see a sanctuary with the mortal remains of more than 800 men killed during the Turkish invasion in the XV century.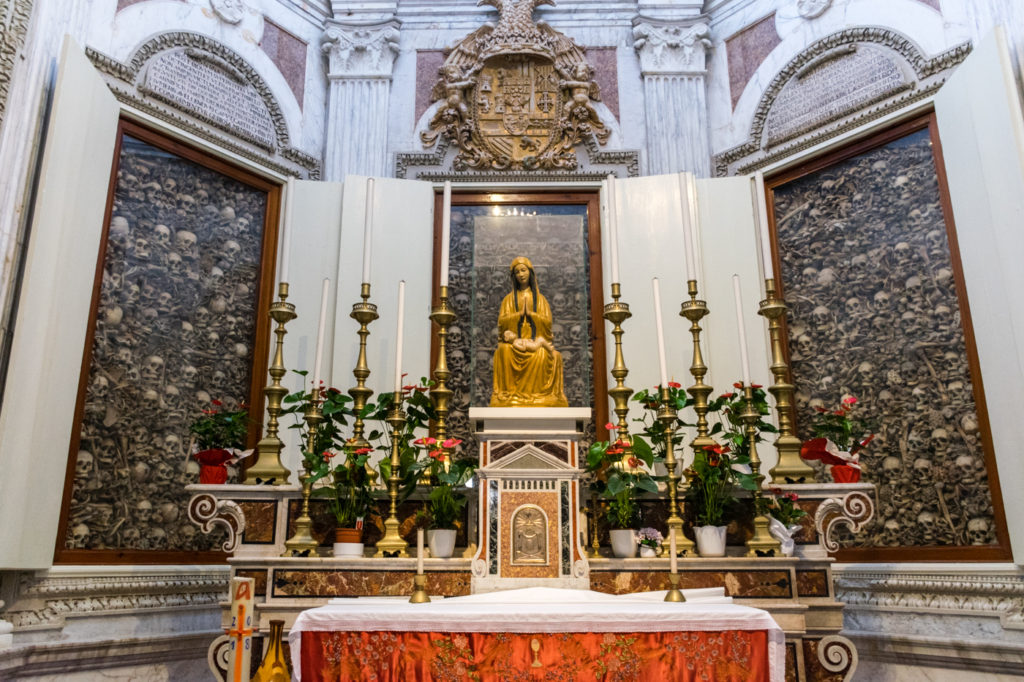 Also, a Bauxite Lake that makes you feel you are inside a portrait. Let alone the charming alleyways, the turquoise sea and the gastronomy, as usual delicious and, obviously, the hospitality of the people.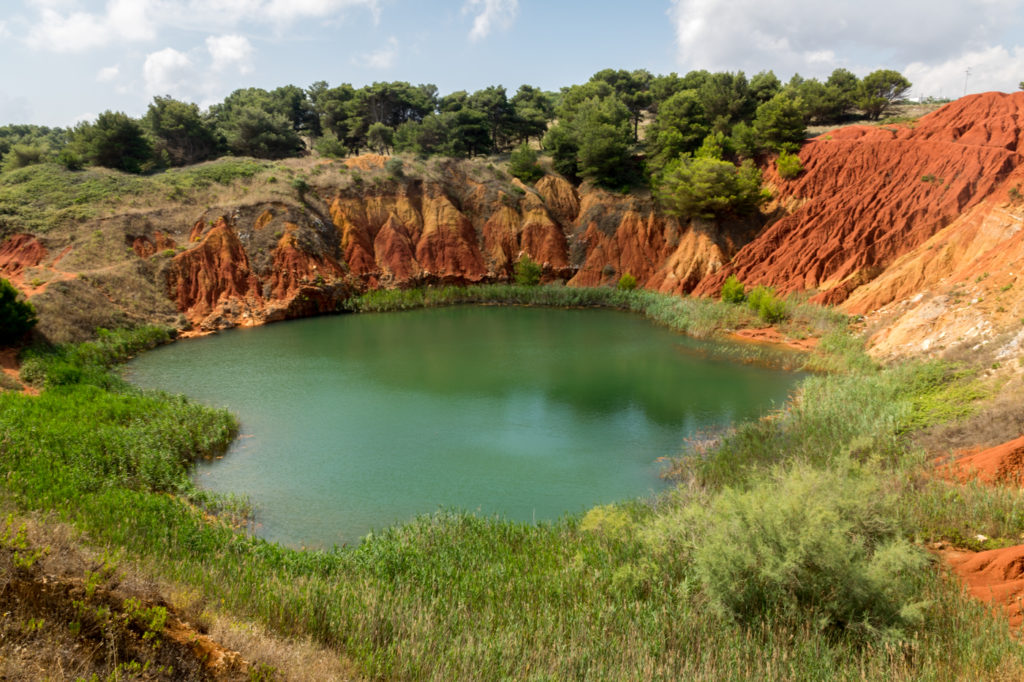 Grotta della Poesia – few hours
A piece of the cliff, not at its edge, fell off, forming a wonderful natural swimming pool of seawater. The Grotta della Poesia is of extraordinary beauty and it cannot stay out of your itinerary through Puglia. Have a look on the aerial video we did from there!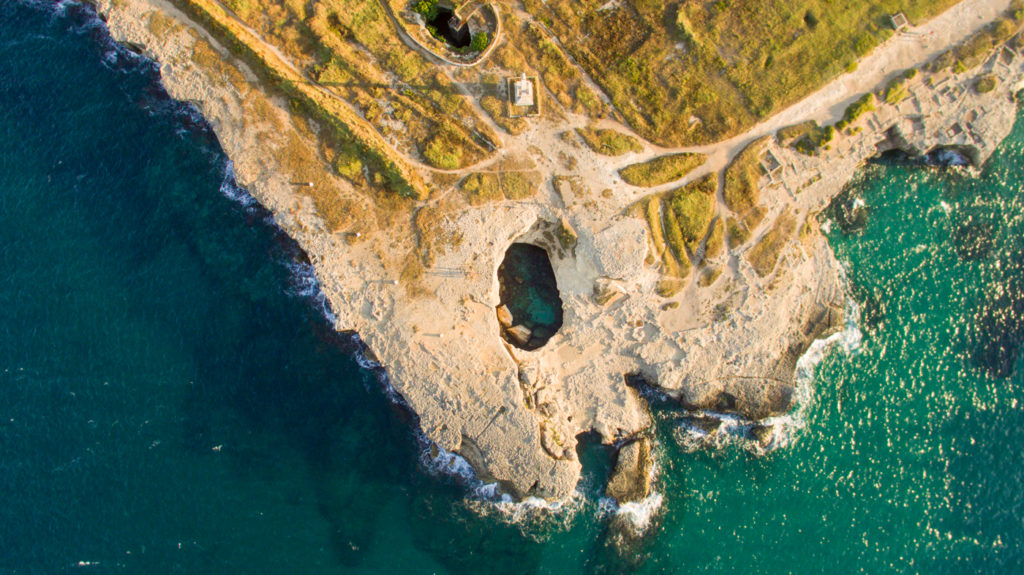 PS – This is the example of an incredible remote place which you would hardly be able to visit via public transport.
ATTENTION: AVOID TRAVELLING TO THIS REGION – TO THE WHOLE COUNTRY AS A MATTER OF FACT – DURING THE MONTH OF AUGUST. PRACTICALLY EVERY ITALIAN CITIZEN TAKE HOLIDAYS OVER THIS PERIOD – KNOWN AS FERRAGOSTO – AND EVERYWHERE GETS INCREDIBLY BUSY AND EXPENSIVE.
Gallipoli
Gallipoli is probably the most famous city of Puglia, mainly amongst youths. Therefore, if you are not much of a party-lover, this won't be your cup of tea.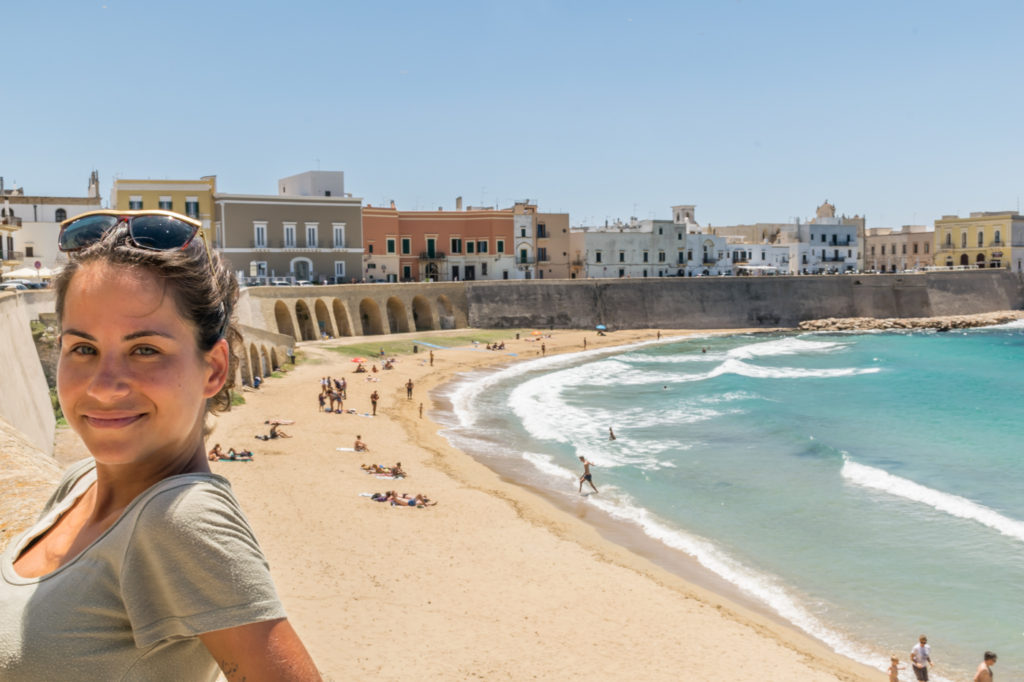 Nevertheless, it's worth visiting its historical city centre and the beach. Moreover, you cannot miss the Frantoio Ipogeo and its history. It was down in these cellars that local workers lived in sub-human conditions, pressing olives to produce oil that would keep the lights of most European capitals on over the XV to XIX centuries. The oil of Gallipoli was exported all over Europe and that gave them international recognition and wealth.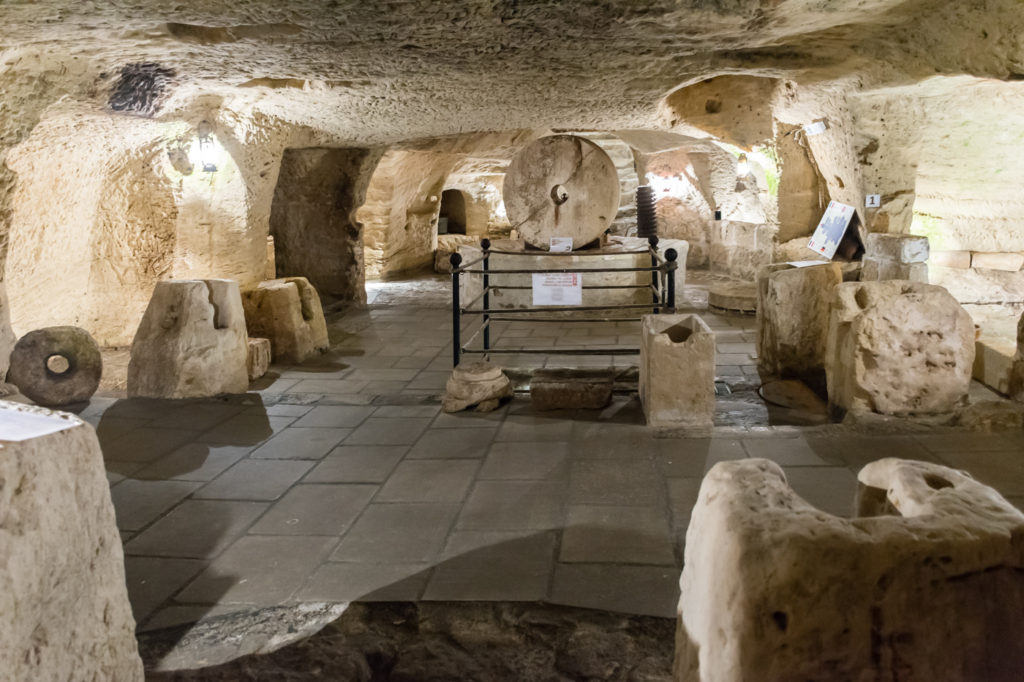 TIP: Just 7km away you will find the Tenuta La Baronessa, a very traditional masseria which can serve as a base for you to explore the region of Salento. It is one of the best places to stay in Puglia. You can read more about this masseria over here.
The west coast beaches of Salento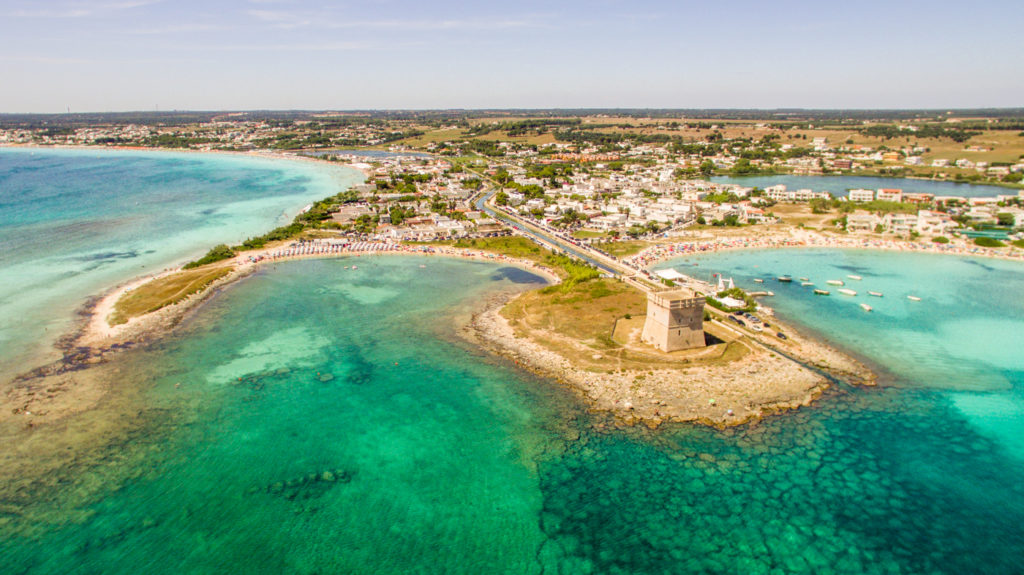 The west coast beaches can very well be the most beautiful beaches in Puglia. But they can very well be the most wild too. For this reason, if you are travelling with children, perhaps, is wiser to check if the local you are planning to visit has infrastructure to welcome the little ones.
Santa Maria Al Bagno, Porto Selvaggio, Porto Cesario, Torre Colimena, Torre Chianca, Punta Prosciutto are just to name a few of the best beaches in Puglia you should make an effort to visit.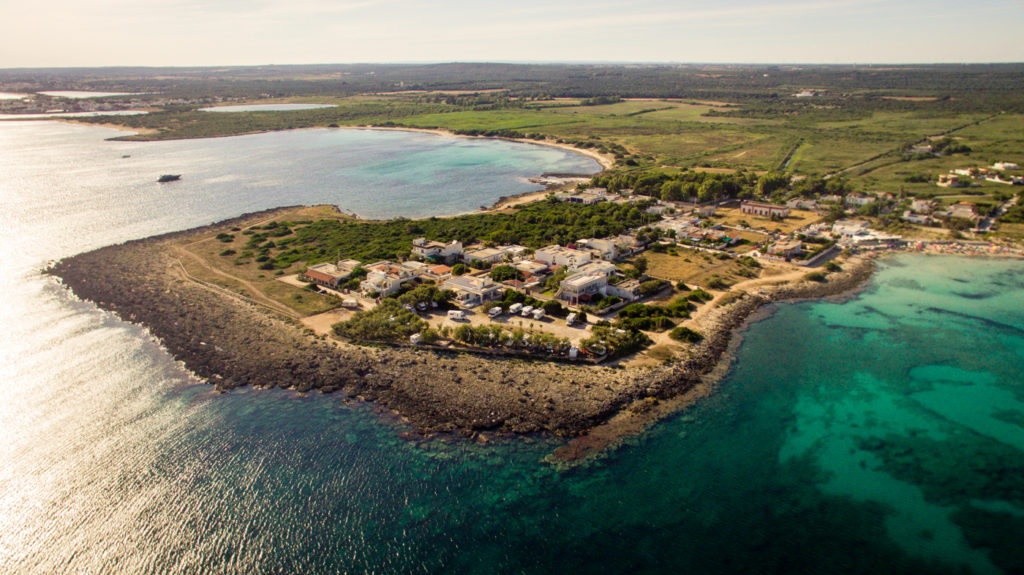 Taranto – 1 day
Taranto is more of an anthropological visit than a tourist one. The city suffered greatly from the construction of a factory, which let the place practically impossible to live. Taranto is ugly, dirty and with a historical city centre that many judges as dangerous. Yet, it is interesting and quite historical too.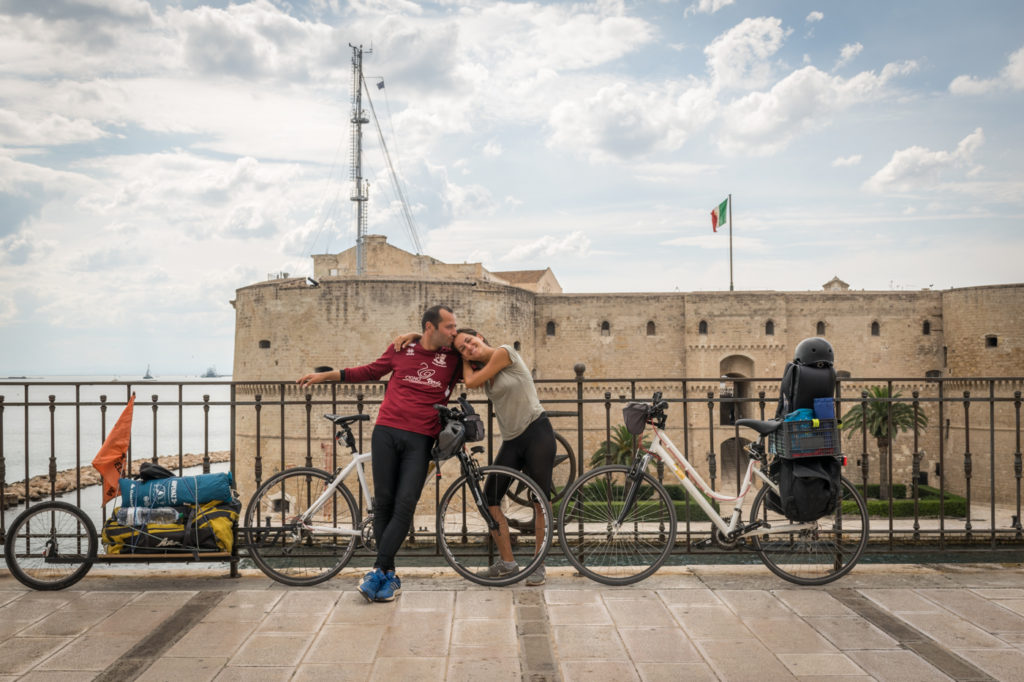 If you have some spare time, make sure to spend a day in Taranto. It is worth going even if it is to understand the question about emptying historical city centres of Puglia during the economic boom of post II World War.
Some EXTRA things for your Puglia Itinerary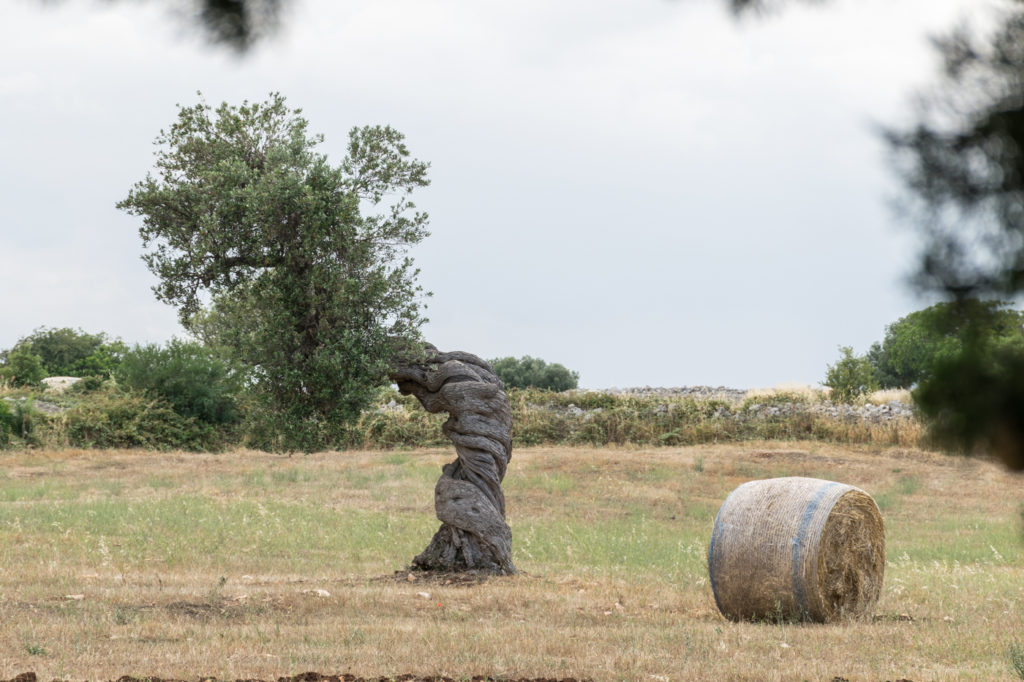 Watch a Pizzica Concert. It's the traditional music/dance of Salento and has its origins from an exorcism ritual that used to be carried out mainly on women a long time ago.
The city of Matera, the Europe's Capital of Culture 2020. Matera is not in Puglia but in Basilicata. It was the place where the film The Passion of the Christ, with Mel Gibson was filmed. It's different than anywhere else and everything else you have seen. It most definitely should be on anyone's itinerary of Italy.
If you have some spare time, don't miss the more wild region of Gargano, in the north of Puglia. We talk about this beautiful place in this post here.