This post is also available in:

Português
After a few day travelling around São Paulo capital, nothing better than wash the soul on a beautiful a wild waterfall. The region near Ribeirão Preto, on the north of São Paulo City, offers a great variety of options for you and an amazing countryside atmosphere to see some of the best waterfalls in Brazil.
It's funny that after travelling through many countries in Europa, Africa and Asia, it's just now we have thought about exploring the country we were born. We keep thinking the reasons of that, but don't really know why. What do you think?
Anyway, we spent Fernanda's last birthday exploring some of the cities and waterfalls near Ribeirão Preto, São Paulo countryside to see some of the most beautiful waterfalls in Brazil. The thing is, we expected to find beautiful places, but nothing really prepared us fo the knockout view, natural preservation e, above all, the hospitality of the local people who welcomed us. The remarkableness of some of these waterfalls is easily compared to others around Brazil, such as the ones in Chapada dos Veadeiros. However, from lack of investment, they get a lot less attention.
But let's get into it….
Waterfalls in Brazil near Ribeirão Preto (São Paulo countryside)
Itambé Waterfall, in Cássia dos Coqueiros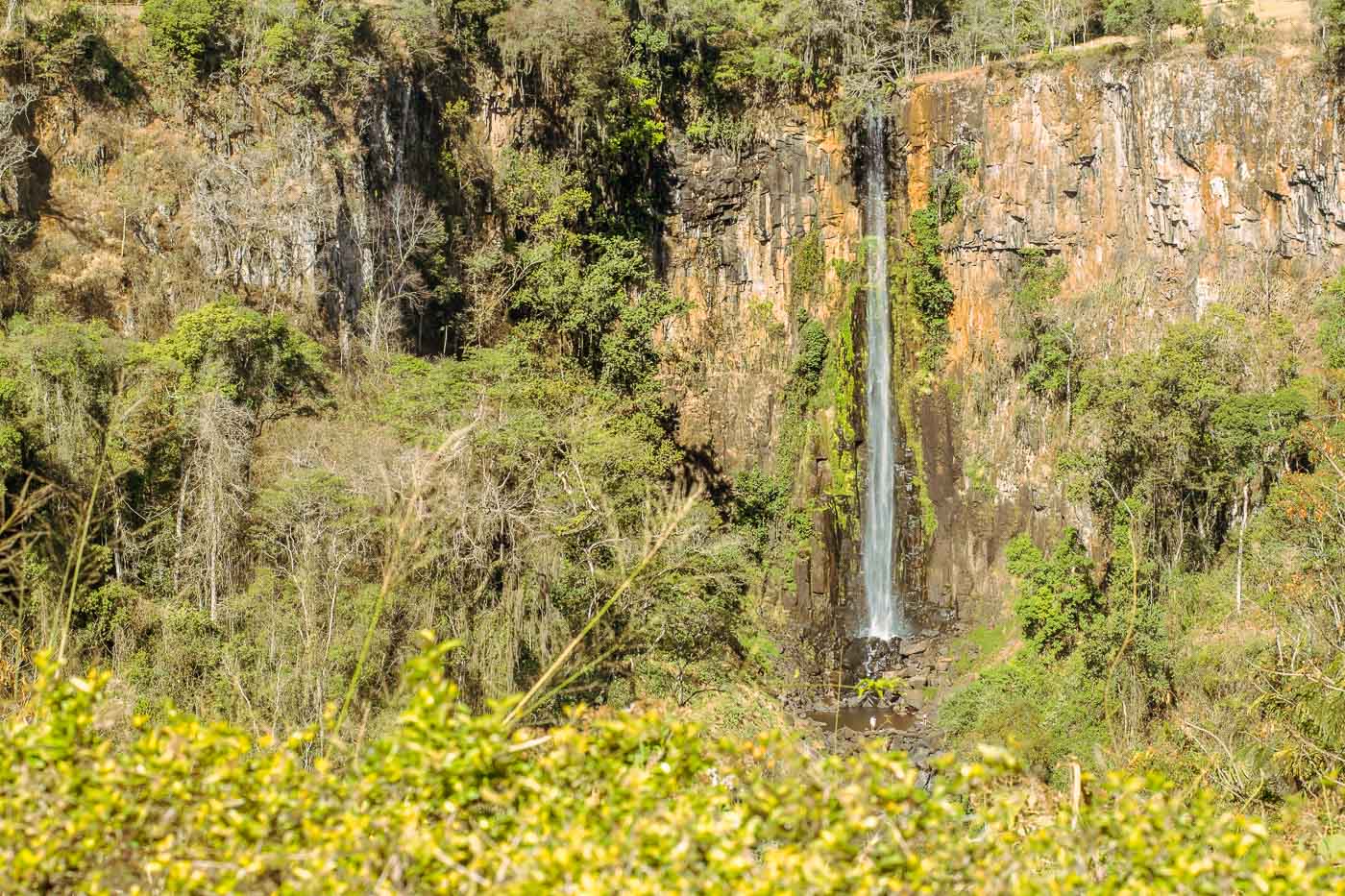 The Cachoeira do Itambé (Itambé Waterfall) is at Cássia dos Coqueiros town, about 80km away from Ribeirao Preto. It's a 80m fall at a private property. For this reason, there is an entrancee fee of R$10 (US$2).
Even though it says on the entrance you can only visit on Saturdays, Sundays and Bank Holidays from 9 to 17h, we went there on a Friday morning and it was fine. The gate was closed, so we just opened and drove in until we met the owners.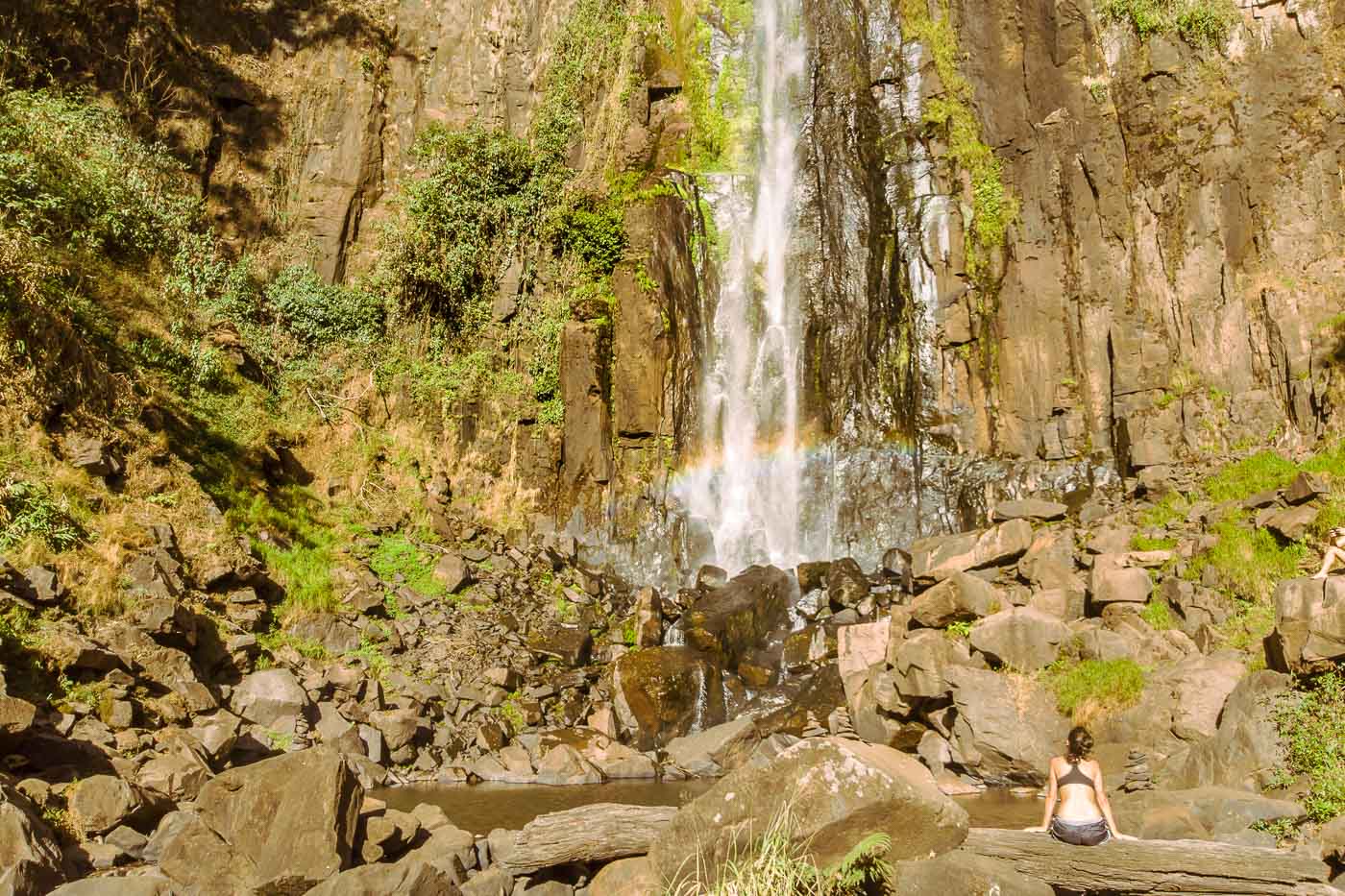 You have to trek down the mountain for the waterfall. You will see some little monkeys trying to steal food from visitors as well. We don't really like feeding animals to avoid changing their natural behaviour, but they are there anyway and that's an attraction on itself.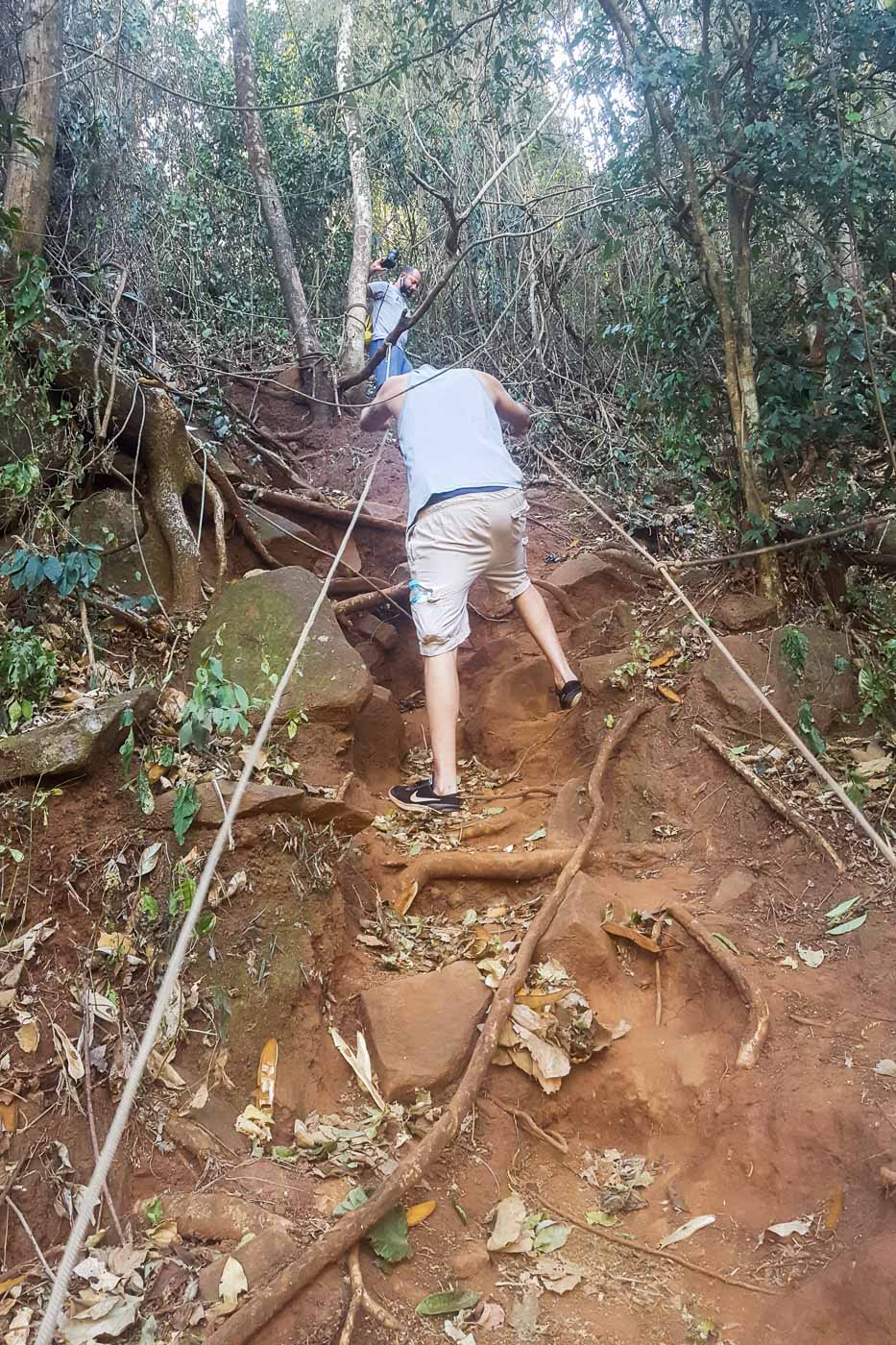 Watch out: the trekking down to the Itambé Waterfall in Brazil has a moderate level. The way has large rocks and quite slippery. You will have to use the help of ropes put there for you and it's not recommended for children with less than 10 years, people with reduced mobility, elderly and hypertensive people. If you do like a challenge though, that's the place to be, because the waterfall is beautiful.
Itambé Cave and Waterfall in Altinópolis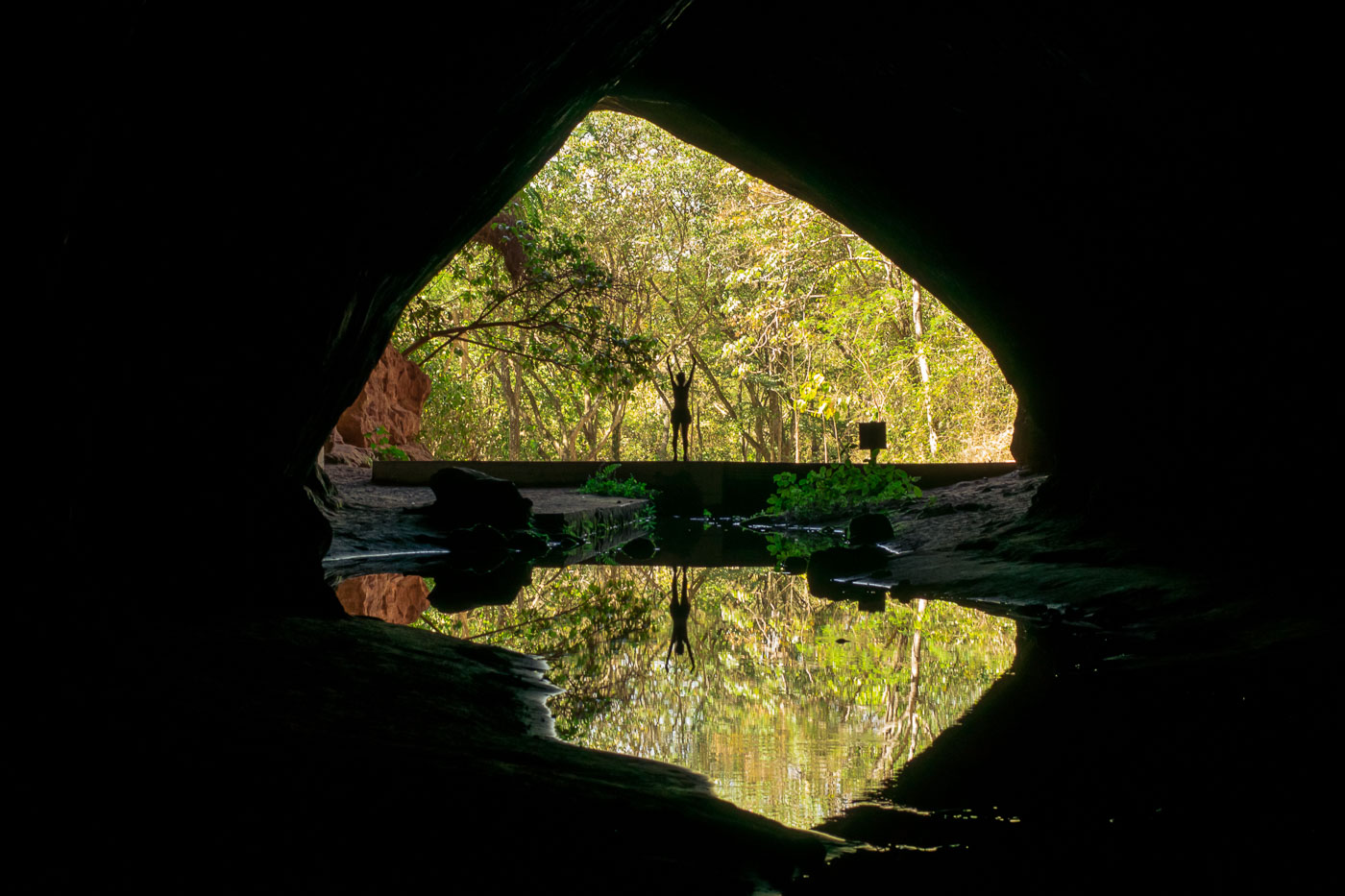 At Altinópolis town, about 55km away from Ribeirao Preto, the Itambé Cave and Waterfall – please, don't confuse with Itambé Waterfall (of the same name) in Cássia dos Coqueiros above – are withing an ecological park.
As we were there in the end of August, when is the dry season in the region, the waterfall was dry. But it was interesting to see the cave. The best time to visit is the end of January, the wet season.
There is no hard trekking here too, just a 10 min walk within the jungle for both the cave and the waterfall
Entrance: Free
Macacos Waterfall in Altinópolis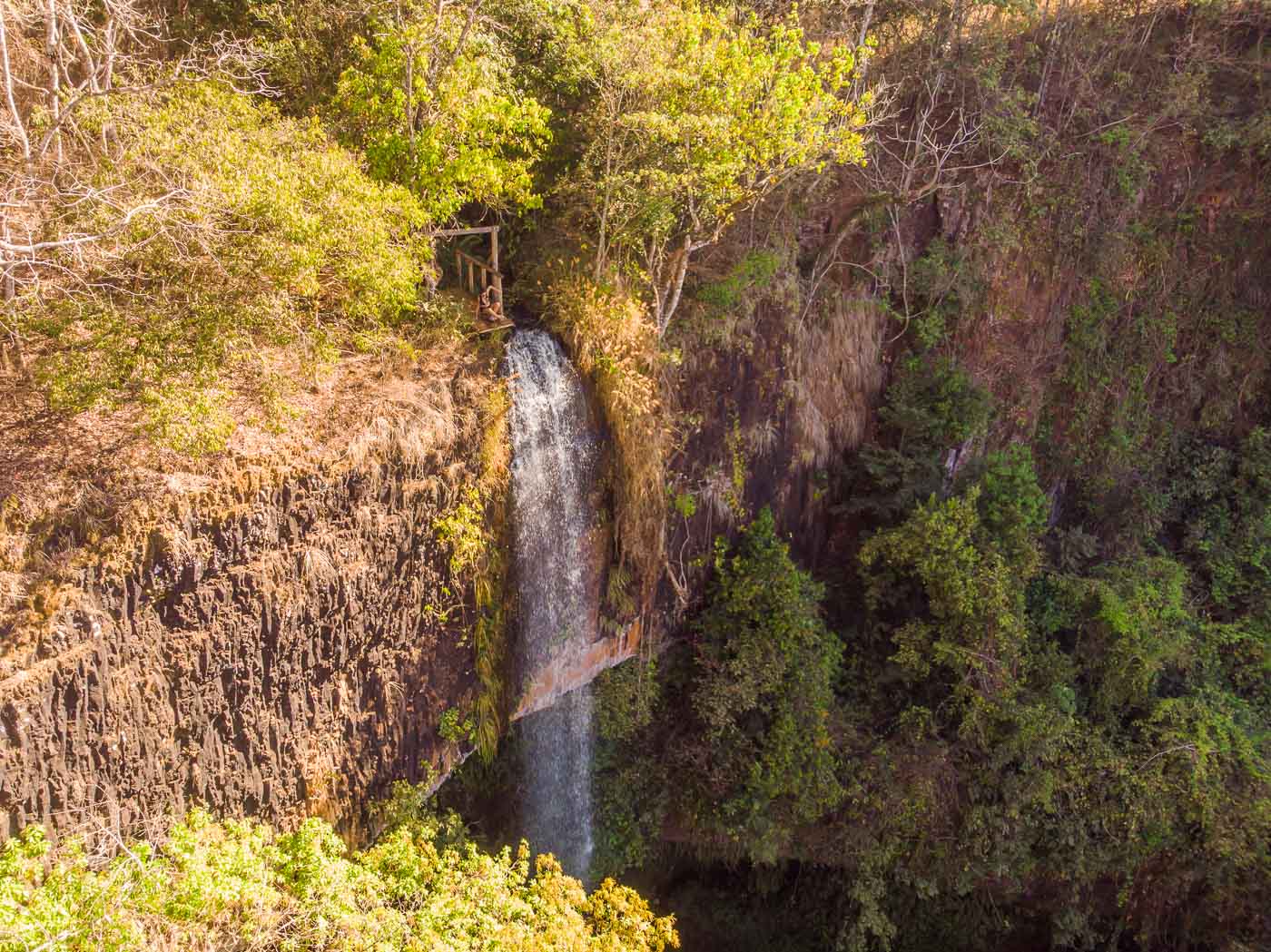 Also near Altinópolis, the Macacos Waterfall – which literally means waterfall of the monkeys – is quite hidden among private ranches and difficult to find. There is no signs directing you there too. For us to find it, we had to ask a few times whenever we found someone on the dirty road that leads it there. Though, it made it all worth when we finally made it. The waterfall is quite wild and surrounded by forest.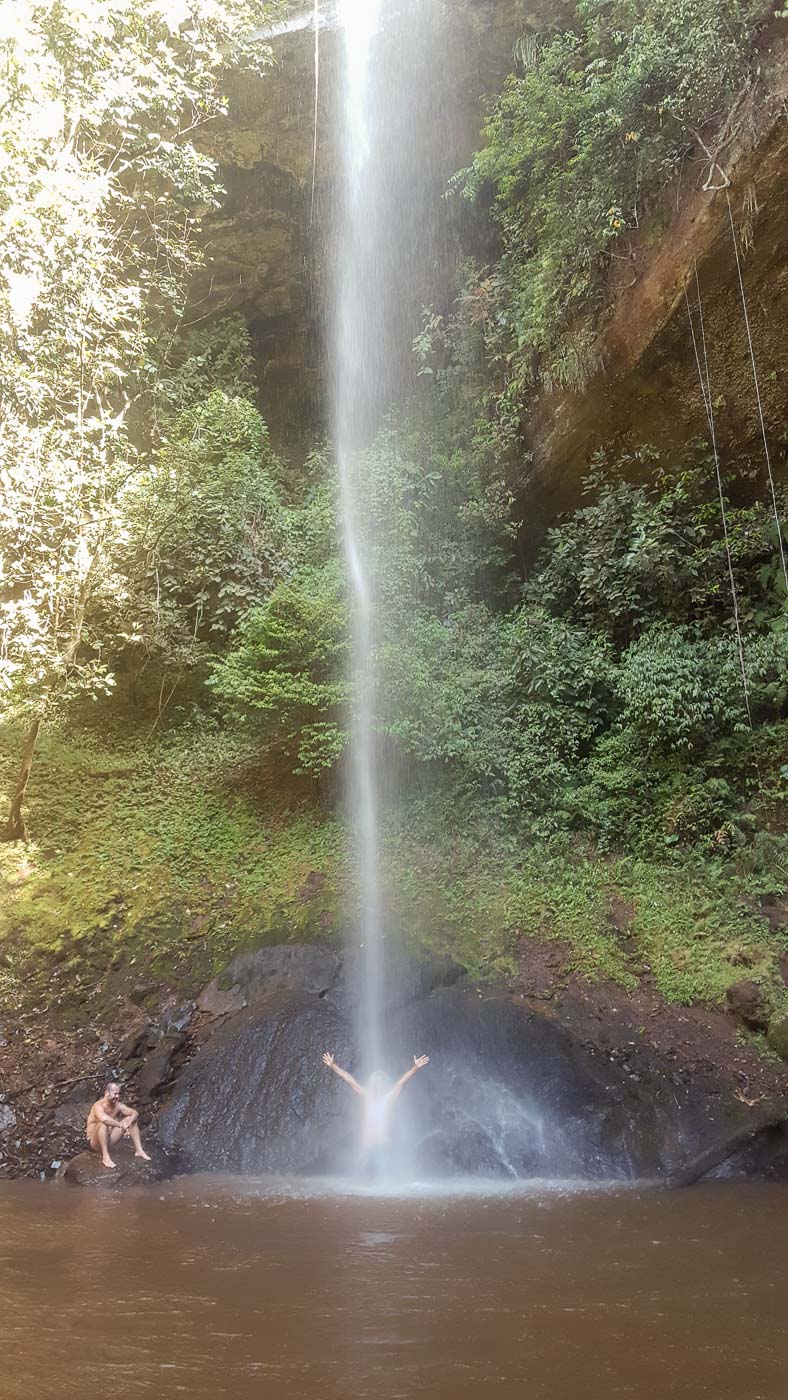 Watch out: the Macacos Waterfall trekking is of moderate level. It is still easier than Itambé Waterfall in Cássia dos Coqueiros, though it's still complicated. The way has some dodgy wooden steps and aren't the best artcraft work in the world. We don't recommend it for elderly, children and people with disabilities.
GPS coordinate so you don't get as lost as we did:-20.92279 ; -47.37928
We used the Maps.me, an offline app excellent for travellers. Get here the link for the exact location of the Macacos Waterfall on the app.
Entrance: Free
Esmeril Waterfall in Altinópolis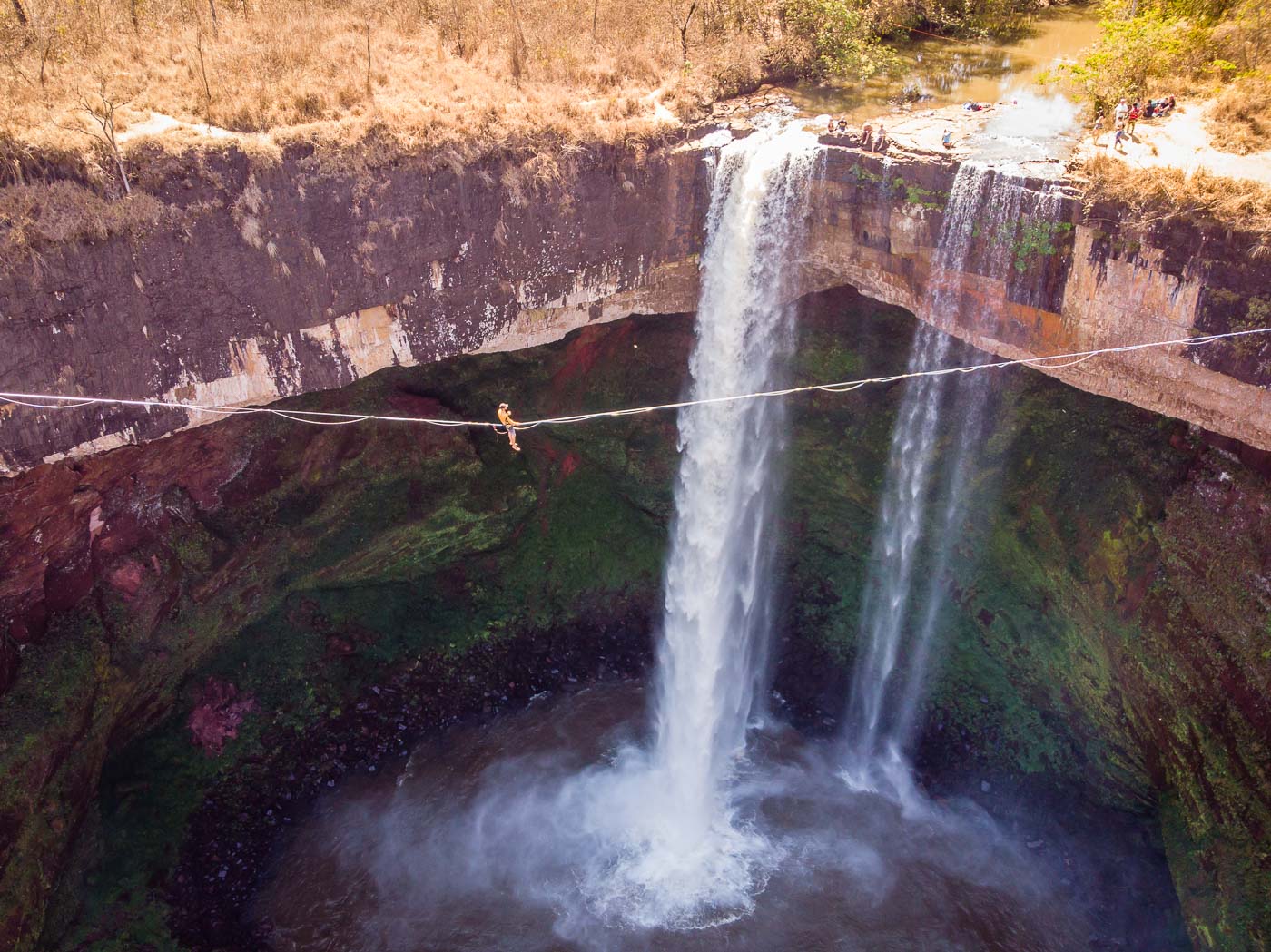 The Ezmeril Waterfall is about 80km away from Ribeirao Preto and it was the waterfall that impressed us the most.
Esmeril Waterfall in an awesome waterfall in Brazil, located inside a hydroelectric plant and, in theory, not open for visitation. You can freely walk through the top of the waterfall, which is very beautiful. But the bottom part, where the natural pool is, is restricted for plant employees. In reality, however, everyone circumvents the fences to access the bottom of the plant and swim in the waterfall.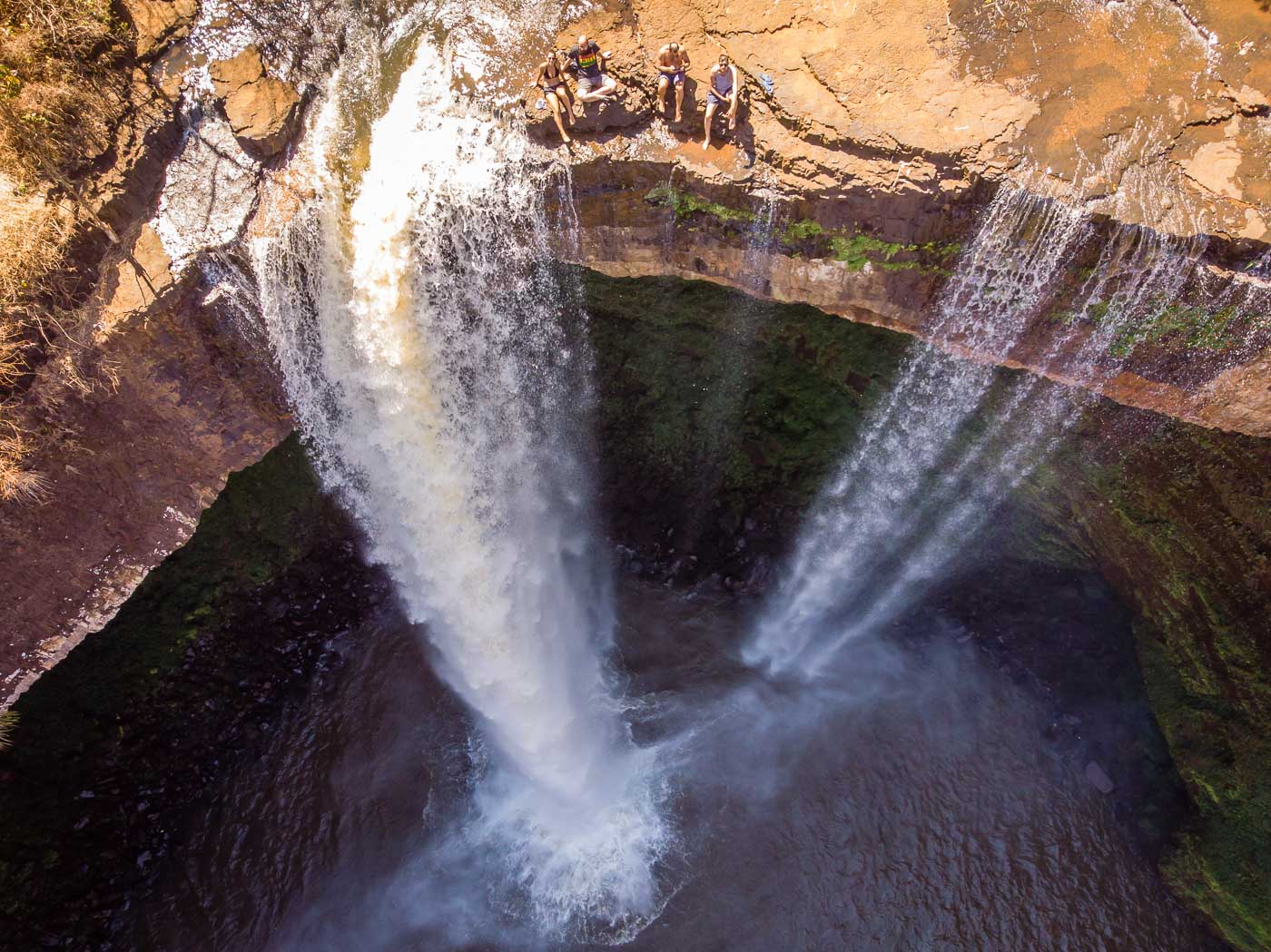 The Esmeril waterfall was where we found the most tourists. It was very full and, consequently, dirtier as well. It is sad to realize that even people who are after contact with nature, are able to leave garbage behind.
PLEASE, be conscious and take a bag to collect your garbage. Don't leave anything behind. These waterfalls are quite wild and have no tourist infrastructure, such as garbage cans, for example. Go prepared and collect everything you take.
The trail to Cachoeira do Esmeril is easily accessible and anyone can walk it.
Entrance: Free
Suggested itinerary for the weekend leaving from Ribeirao Preto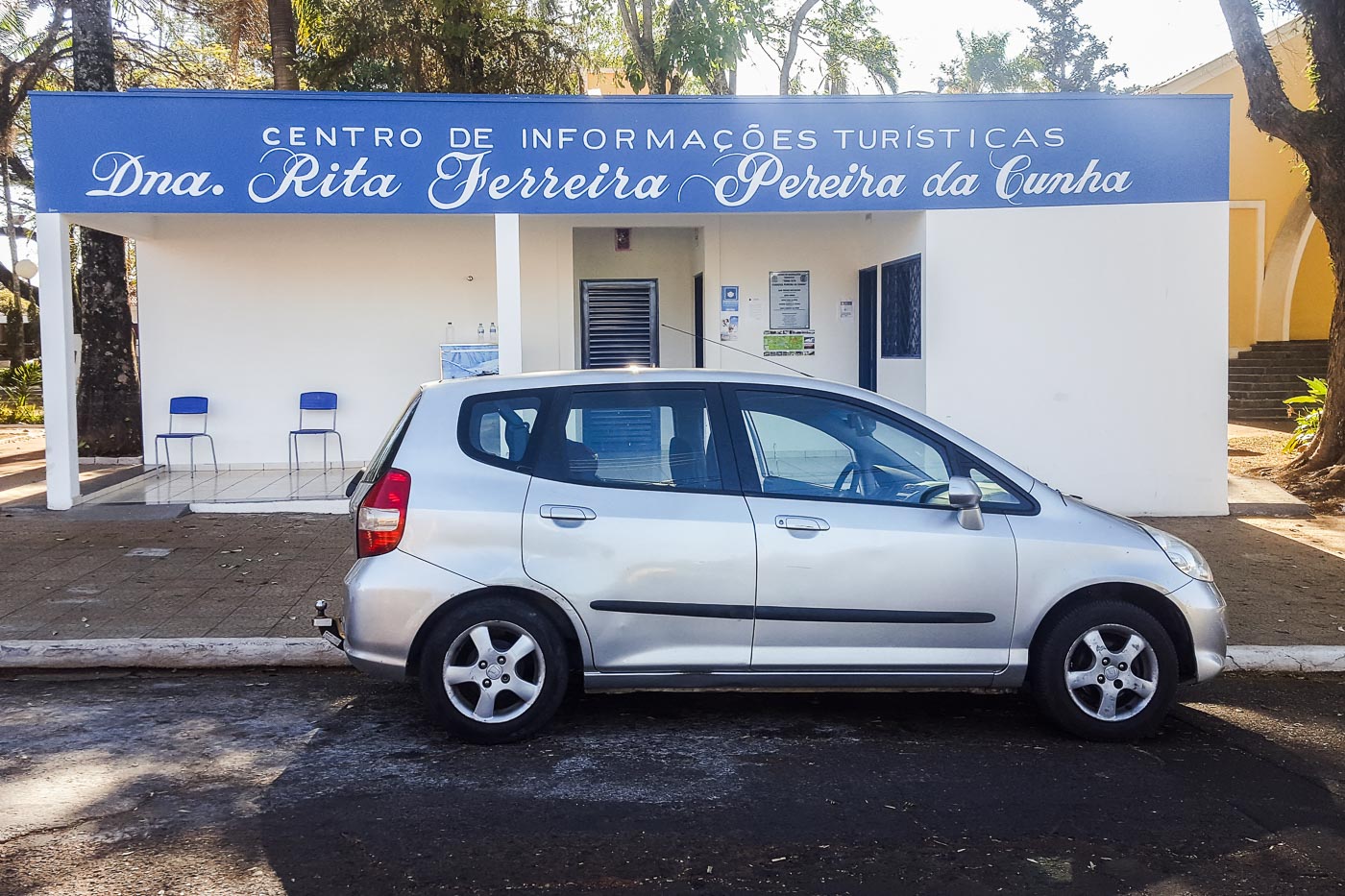 FRIDAY: Leave Ribeirão Preto late afternoon and go directly to your hotel in the Altinópolis region – below we will give you some cool options of inns / farm hotel to stay! As you will arrive at night, the idea is to have dinner at the hotel or at some nice restaurant in the city and go to sleep early.
SATURDAY: start the day early to visit Itambé Waterfall, in Cássia dos Coqueiros (let's take advantage that you woke up in the best mood and head to the most difficult trail). After bathing in the waterfall, you can get to know Cássia dos Coqueiros, a very cute town. In the main square of the city, you will find a tourist information center with good infrastructure, in case you need to go to the bathroom or fill the water bottle. If you're hungry, we recommend Dona Maria's pastry, which is also right there in the square! In the city of Cássia dos Coqueiros, there is a small waterfall that is also worth visiting, Salto Waterfall. It is in the middle of the city, behind a school. Just ask people how to get there and you will be fine
Leaving Cássia dos Coqueiros, we will now go to the Esmeril Waterfall to spend the afternoon swimming and enjoying that wonderful fall (hope that no plant employees will bar the entrance to the bottom). At the end of the day, you can dine at Restaurante Figueira (also known as Restaurante do Bis), which serves good and cheap homemade food in Altinópolis.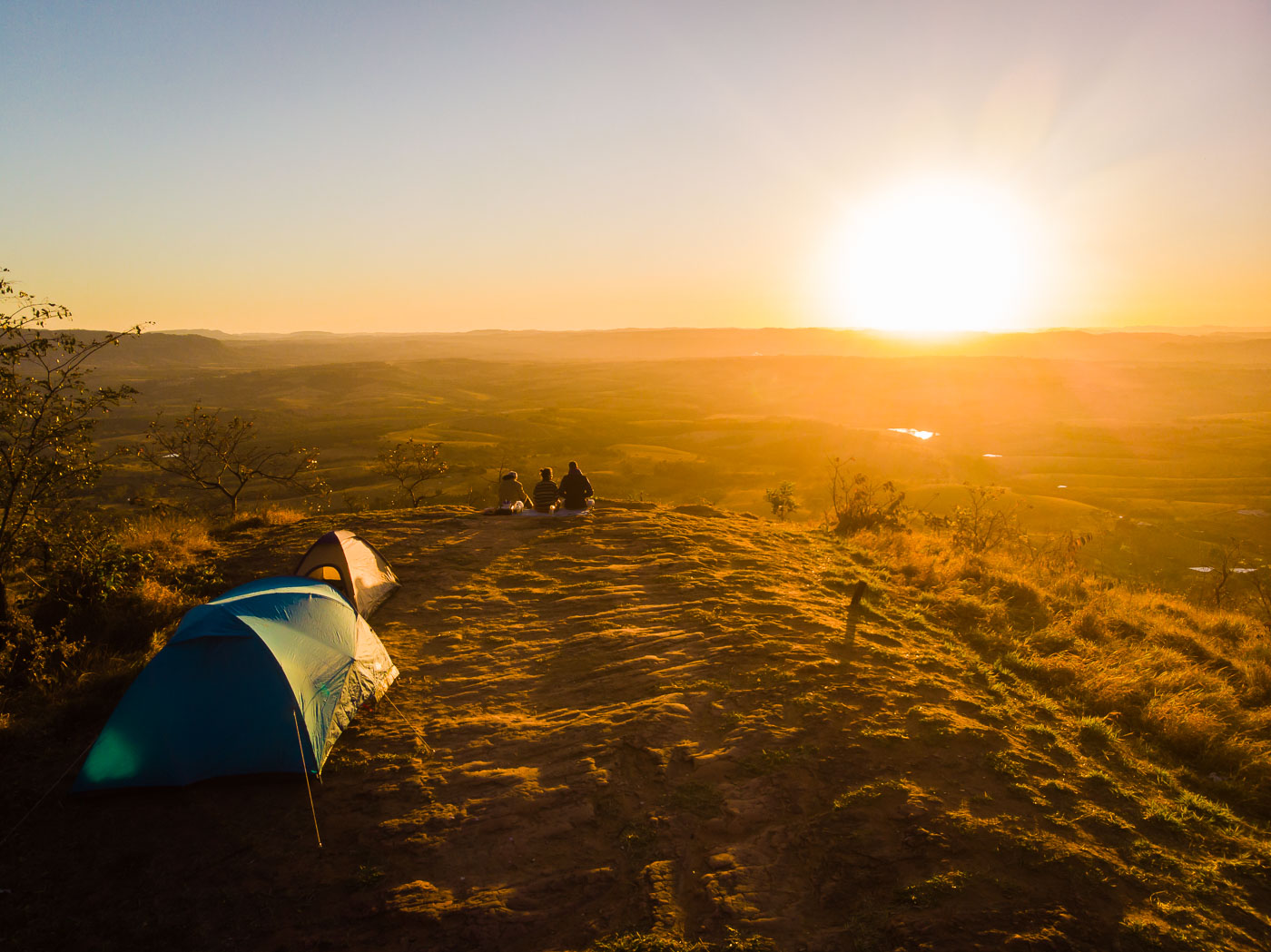 If you enjoy to watch the sunrise: in case you don't mind waking up early – very early -, be sure to watch the sunrise from Cássia dos Coqueiros Belvedere. We camped there one day to see the sun rising at 5:30 am and it was a real spectacle!
SUNDAY: before leaving for the waterfalls, you can start the day visiting the Praça das Esculturas (sculpture square), in the center of Altinópolis, full of works by the artist Bassano Vaccarini. The square is very beautiful and worth a visit. Then, it's time to get lost trying to find the Cachoeira dos Macacos (kidding, put it on maps.me to make no mistake). After spending the morning in Macacos Waterfall, there is still time to visit the Cachoeira and Gruta do Itambé, also in Altinópolis, before returning home.
Where to stay when visiting the waterfalls in Brazil
Vila das Palmeiras (8,6 on Booking)Hotel (Inn in Altinópolis): This hotel was very well recommended by a resident of Altinópolis who gave us several tips on places to visit in the region. Before we suggest it here, we did a lot of research and the hotel looks really good. They have a restaurant, pool, bar, and single and double rooms.
Other Waterfalls in Brazil to visit near Ribeirao Preto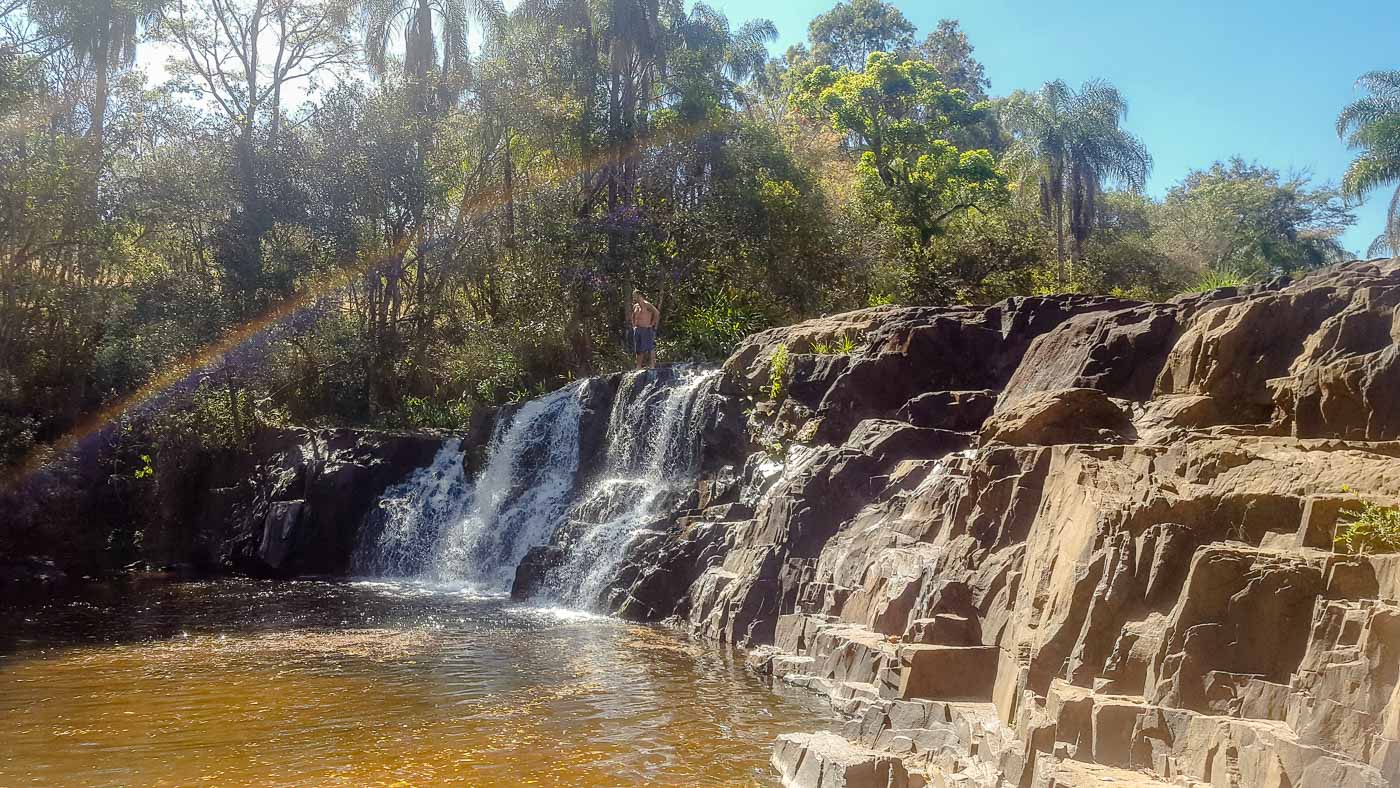 When we were at Macacos Waterfall, we met a very nice couple. Aline and Carlos were also exploring waterfalls in the Ribeirao Preto region. They are also from Ribeirao Preto and were travelling by car, but they took their bikes along to do some trips on two wheels (in fact, we were dying to take bikes next time!). Aline gave us a super complete list with several waterfalls in the region. Some closer to Ribeirao, others not so much. She let us publish the list. So here are these tour options for you to organize yourself for the next trips!
> Baggio Waterfall (also known as Canaã Waterfall) in Batatais – 68 km from Ribeirão Preto;
> Mangue Waterfall in Cajuru (we visited the Mangue Waterfall briefly, but we didn't like at all. The place was packed, many cars with loud music and lots of dirt around – 70 km from Ribeirão Preto;
> Procópio Waterfall (São João da Mata Ranch) in Cássia dos Coqueiros – 80 km from Ribeirão Preto;
> Bau Waterfall in Santo Antônio da Alegria – 90 km fromRibeirão Preto
> Morro da Mesa, in the border between Minas Gerais and São Paulo (perfect for the sunset) – 110 km from Ribeirão Preto;
> Babilônia Waterfall in São Carlos – 110 km from Ribeirão Preto;
> Alegria Waterfall in São Carlos – 110 km from Ribeirão Preto;
> Paz Waterfall in Complexo do Claro, Delfinópolis, MG – 190 km from Ribeirão Preto;
> Lagoa Azul Waterfall in Capitólio, MG – 200 km from Ribeirão Preto;
> Parque Ecológico do Paredão in Guapê, MG – 230 km from Ribeirão Preto;
> Casca D'Anta Waterfall in São Roque de Minas (Serra da Canastra, MG) – 250 km from Ribeirão Preto;
Do you know other waterfalls near Ribeirão Preto that are not listed here and that we should add to the list ?! Tell us in the comments!