This post is also available in:

Português
The Cinque Terre are five fishing villages on the Italian Riviera (Liguria region): Monterosso al Mare, Vernazza, Corniglia, Manarola and Riomaggiore. A UNESCO World Heritage site, the "Five Lands" are also a National Park protected and preserved by the government.
We have already seen hundreds of pictures of the colourful houses built on top of the rocks of the Mediterranean Sea, a very typical scenario of the Italian Coast, but still, to see the Cinque Terre personally was impressive. The area exceeded our expectations not just by its architecture, but also for its great atmosphere.
*Also check other cool cities for backpacking in Northern Italy. 
How to get to Cinque Terre
The starting point for the Cinque Terre is normally La Spezia Town, the largest and most developed one of the region. La Spezia is accessible by train and you can find direct trains from the many main Italian cities – check the availability of tickets on Trenitalia website.
Milan to La Spezia = 250 km / 155 mi
Genoa to La Spezia = 101 km / 62 mi
Pisa to La Spezia = 77 km / 47 mi
Florence to La Spezia = 151 km / 93 mi
Parma to La Spezia = 123 km / 76 mi
You can also have as a final destination, one of the five fishing villages, as all of them have its own train station. However, you will very likely have to change trains in La Spezia anyway.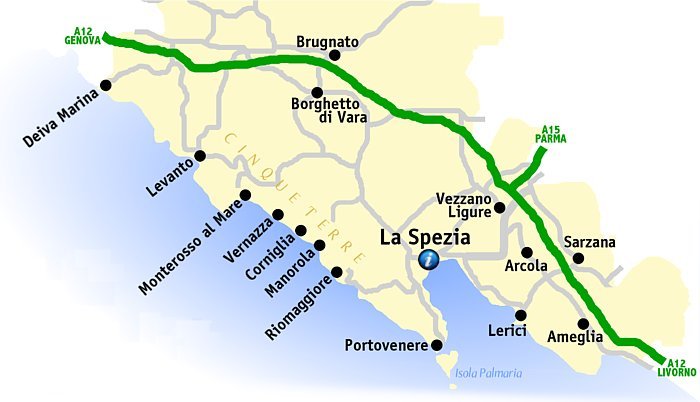 The advantage of going first to La Spezia is that you can stop at the Tourism Office on platform 1 and get all the information you need. There, you can also buy the Cinque Terre Pass and the Cinque Terre Express. Understand them:
The Cinque Terre Pass:
The Cinque Terre Pass is a day pass that costs € 16 (adults) and € 10 (children between 4 and 12) and includes:
Anytime trains from La Spezia to Levanto, which means to any of the Cinque Terre. The trains work from 4am to midnight;
Anytime town buses (work only within the town, not from one town to another). You will hardly need to use them. Unless you are in Corniglia, where the station is quite far and really down below;
WiFi of the National Park (not so great though, but helps for whatsapp conversation);
Free use of the toilets on the train stations (in good and clean conditions);
The trekking between the fishing villages. Just be aware that, from the 4 existing routes, only 2 are currently open to the public: From Monterosso to Vernazza (distance: 3,5 Km/3,1 mi; duration: 1h30) and from Vernazza to Corniglia (distance: 4 Km/2,4 mi; duration: 1h30). The trek between Corniglia, Manarola and Riomaggiore are closed due to a recent land-slip. They will open again in 2018 after undergoing a security pass. Even though the trekking is quite tiring, we really recommend it as the view is breathtaking!
*There are also a non-official trek that goes through the mountain and does not require a pass. We didn't do it, but we met some tourists who did it and said it was extremely tiring (lots of ups) and the view wasn't that exciting, as the way was through the mountain and not by the sea.
In low season (November to December), the cost of the Cinque Terre Pass falls to €13 (adults) and €7,30 (children)
Cinque Terre Express:
If you do not plan to go up and down among the villages, it is possible to buy a single journey instead. It costs €4 each single journey (€2 for children). Therefore, you will need to buy the ticket for each journey you make and it does not allow you to do the trekking. You will find the machine to buy them at each station.
Is it worth driving to Cinque Terre?
We thought about renting a car to make the Cinque Terre, though after reading a lot and talking to people who did that way, we realised we would get into a mess. The car parking is expensive, hard to find a spot and quite a walk from the towns.
On the other hand, however, Aline Cinelli, a Brazilian-Italian who's been living in Italy for the past year, visited Cinque Terre by car and told us about her experience:
"We decided at the last minute to go to Monterosso. As we have two children, we thought it would be more comfortable to drive over there, as we heard the way back from the beach by train, on some weekends, can be quite cramped. We agreed that the view from the way was beautiful. We stopped in a few places just to admire the landscape and also stopped in some small towns in the mountains that take you to Monterosso. I also felt sick, lol (that is important, though: if you don't like the car turning all the time, well, there will be many going up and down).
We managed to park the car at the nearest car park on the beach, which was not cheap: €17 to stay about 5 hours. But it was all worth it, though, mainly because when you are going back home tired from a whole afternoon at the beach and have quite a way back.
I think if you stay more days, to leave the car parked is not worth it, as you will pay for it through your nose and will not use the car. But it is possible to park the car in one of the Cinque Terre and make the others by train, so to see them quickly. I think, if you are going to spend a day only, it is worth driving over there, as it is more comfortable, particularly if you have children."
Here it goes Aline's advice! ????
Exploring Cinque Terre by boat:
Something we really recommend doing in Cinque Terreis the boat trip! There are stops on every village, including La Spezia and Portovenere, towards the Cinque Terre and Levanto (you just cannot stop in Corniglia as it is above the sea level). It is not the cheapest option, but surely the most scenic.
Prices:
-Daily ticket:
Adult: €35
Children (6 to 11 y.o.): €18
-Afternoon ticket: 
Adult: €25
Children (6 to 11 y.o.): €14
*Check this PDF for the boat timetable.
Where to stay in Cinque Terre
All of the "Five Lands" have great infrastructure for tourism, such as hotels, AirBnBs and hostels. As the towns are smalls, the places booked up quite quickly, mainly on high season (July to September).
It is possible to find a room for 2 at a simple hotel for €80
A cheaper option is to stay over in one of the neighbour cities of the Cinque Terre, such as La Spezia (where we stayed) or Levanto.
Why don't you book your hotel right here?! You will pay the same price (sometimes even cheaper) but most importantly, you will help us to keep Monday Feelings alive and bringing more travel news! We appreciate it – Ti and Fe!
Where to eat in Cinque Terre
All villages have many options of restaurants and to find one that fits your taste and pocket won't be a problem.
Something that caught our attention was the price of the restaurants and markets. Unlike we thought, it wasn't a rip off. It is possible to find meals for €8-12 in nice restaurants in any of the villages.
Tip for the savers ????????‍♂️: take some sandwiches and a bottle of water on a backpack for the afternoon snacks. You can fill up your bottle on public fountains almost everywhere. We saw many people doing it.
Each of the Cinque Terre and the best one?
It is hard to pick a preferred one as all of them are really interesting. But in any ways, that is our impression of each one of them:
Monterosso Al Mare: 
The furthest town from La Spezia, this village is more about resorts and less about charm. Monterosso has the largest beach, though most of it is private and you have to pay hotels and bars to use their space with chairs and sunshades. There is a small public area, but is always crowded. It is worth visiting, but it was the one which least caught our attention.
Vernazza: 
If we must have to pick one of the five, that will be Vernazza.
The narrow alleys, restaurants, the sea, the shower by the sea in a cave… all of it. You absolutely must visit Vernazza.
Corniglia:
That is the highest of the villages (about 200m). Therefore, if you take the train, get your legs ready to go up a massive stair. There is a van that can take you up the town (free for those with the Cinque Terre Pass), but they were not working when we were there.
Corniglia is really charming and offers awesome views of the blue sea.
Manarola:
This village is also really beautiful and extremely charming. It is worth exploring that region and the ways which surround it, as there are many spots that offer privileged views of the fishing village.
The only downside was the dirty sea. Even though it has many great spots for diving, the dirty on the sea (and on the rocks too) was such that we couldn't enjoy swimming in there.
Riomaggiore:
Unfortunately, we didn't have time to go over there. So, we invited our friend Camila Cesarino, from the blog Where is My Backpack (only in Portuguese, sorry) to tell us about Riomaggiore:
"Riomaggiore is such a charming village. It has stairs and hidden alleys amongst pastel shade's houses, a small but pleasant beach, let alone the most charming port of the region, from where you can take the boat which connects the 5 Italian lands".
Bonus: the Portovenere village!
Portovenere is not part of the Cinque Terre National Park, but is just as beautiful and charming as the others. It was one of the greatest surprises of the trip. The sunset seen from the top of the fortress is stunning. If you are staying more than one day, find the time to visit Portovenere! 
Can one visit Cinque Terre in one day?
It depends… yes and no. It is like asking "can we see London in one day?" Yes, but you will miss out on many things. And the same goes for Cinque Terre. Regardless though, one day is better than no day at all, and if it is that what you got, then do it!
We visited Cinque Terre twice and, at the first time, we did it in one day, leaving from Parma in the morning and back at night. It was great! But we visited three of the villages only, which just made us more excited to come back, as we did two weeks after. Then, we spent 4 days to better exploring the region.
If you don't have much time, we recommend to focus on three of the villages too and see them well, instead of jumping from town to town and not really enjoying any of them.
See our itinerary when we spent a day in there:
We bought the Cinque Terre Pass in La Spezia and took the train to the furthest village, Monterosso. From there, we did the trekking to Vernazza. When we arrived, we spent a few hours enjoying the sea and then did the trekking to Corniglia. Once in Corniglia, we walked around and took the train back to La Spezia, then back to Parma.
If you don't like long walks, a good tip is to take the boat to go from one village to another.
And you, have you been to Cinque Terre? Did you like it? What do you recommend?!