This post is also available in:

Português
Looking for things to do in Lucca in one day? You came to the right place then. Check this post for an ultimate travel guide with everything you should do during a day trip to this charming Tuscan walled city.

Even though we have lived in Italy for over a year and travelled around quite a bit, we have never really planned to visit Lucca. It's not that we were not curious to see it, but just because we have hardly heard about Lucca, thus being the least of our priorities in a country full of incredible places.
However, things changed when we were cycling the Via Francigena, in Italy, and had to stop over there. Lucca is one of the main stops on the pilgrim's route and although we were not doing the Via Francigena for religious purposes, a stop in Lucca is fundamental for anybody making the pilgrimage. And we couldn't have been happier about it.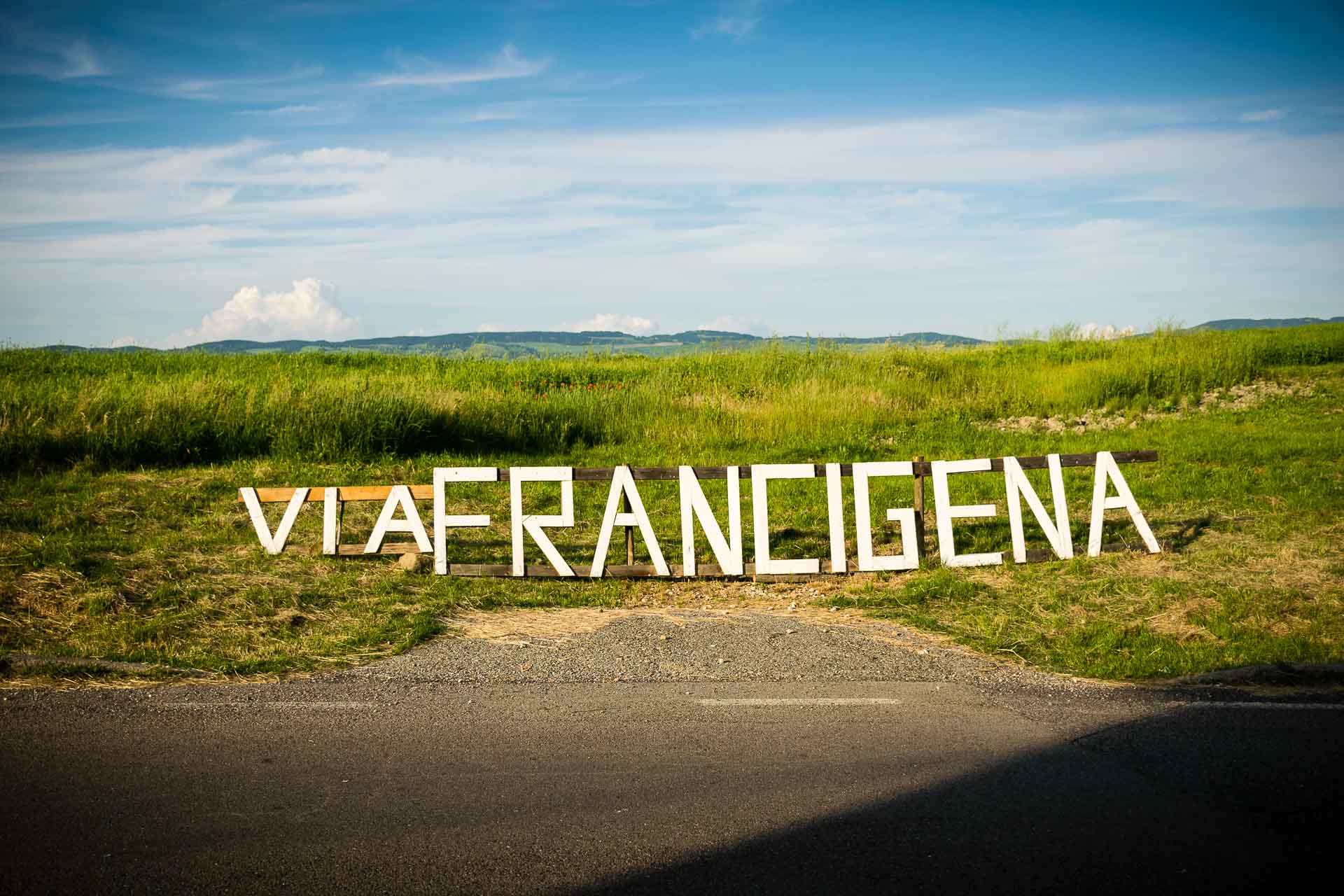 Lucca ended up being one of our favourite destinations in Tuscany. A beautiful, historical and lively place of which has not yet been completely discovered by tourists and still preserves a lot of its originality. If you, like us, don't have much time to spend there, don't you worry as it's completely possible to spend one day in Lucca. In fact, if you are in Florence, this is a perfect day trip to Lucca.
What to do in Lucca in one day
Cycle or walk on Lucca's wall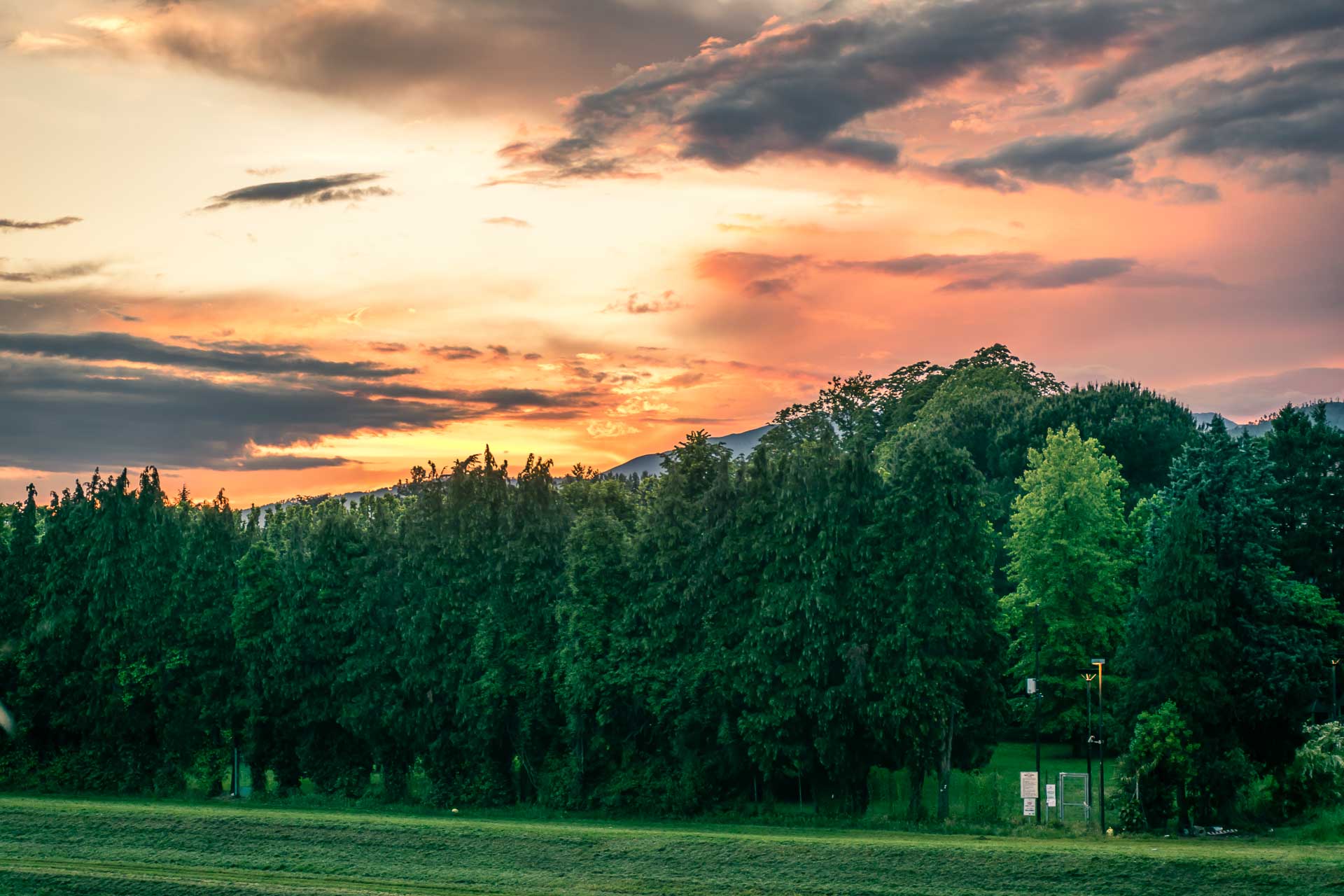 Lucca's wall is one of the city's landmarks. It was built for protection during different periods of history, but the current structure was finalised on the 17th century. Shortly after its completion, though, with the advent of advanced military defensive techniques, the fortification lost its main purpose and was open to the public.
The shift of the wall into an urban park was pivotal in shaping Lucca's culture as, back at that time, only the very wealthy families had access to the promenades and leisure areas. Making a public space like this, available to everyone, has influenced greatly the lifestyle of the people of Lucca. Up to date, the population use this area for taking a stroll, jogging, gathering and simply enjoy the space.
The perimeter of the wall is about 4 kilometres and, for anyone visiting the city, a walk or cycle around is mandatory. From above there, you will have some of the best views of the historic town and its surrounding. The park built on top is also very pretty and relaxing, with many trees.
If you choose to cycle, there are many rental companies around. Otherwise, just book a tour or rent your bike in advance with our partners from Get Your Guide (click on the link to see more options):
Duomo di Lucca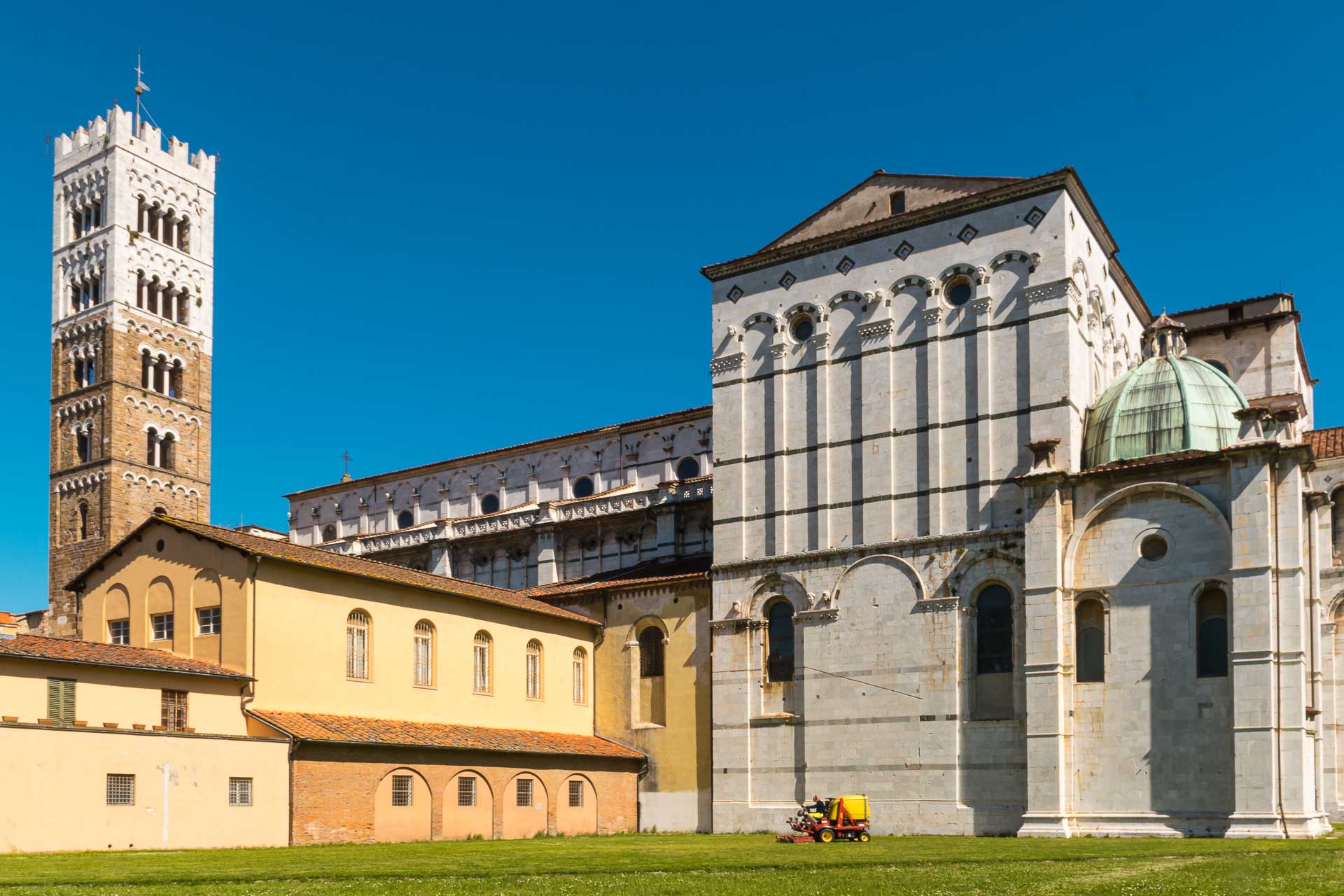 Lucca, like most Italian cities, has many – MANY – churches. But if there is one you should not skip is the Duomo di Lucca, a mesmerizing construction dedicated to Saint Martin.
Inside the church, there is the Volto Santo, a relic thought to have come from the Holy Land during the 8th century. And that's why the city is such an important stop at the Via Francigena.
The entrance to the Duomo di Lucca costs € 3.
Piazza dell'Anfiteatro di Lucca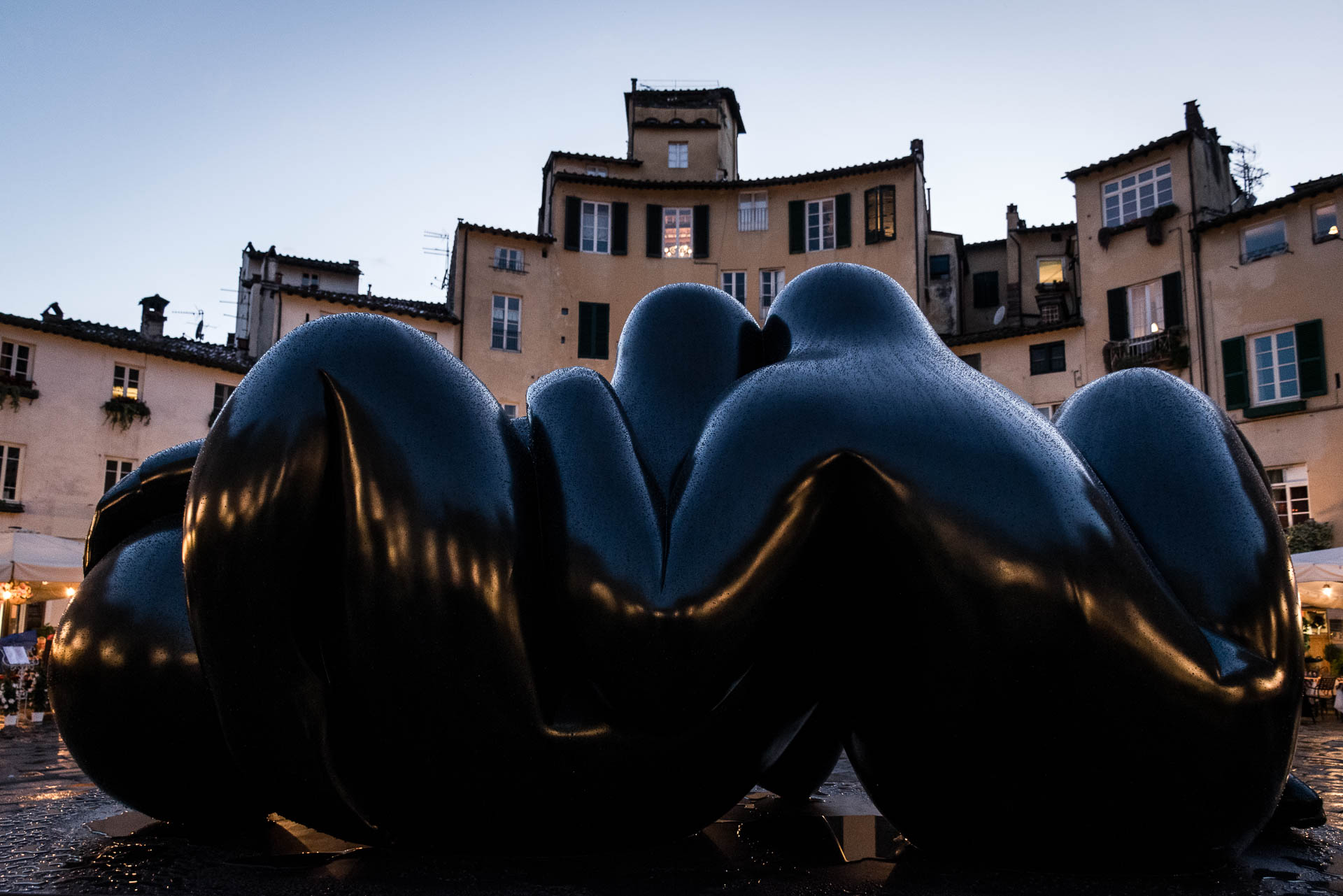 The Piazza dell'Anfiteatro di Lucca was built on the site of an ancient Roman amphitheatre of the 1st or 2nd century BC.
Currently, little remains of the arena – except the elliptical shape. But you can still get the shivers up your spine imagining the gladiators, lions and other beasts that once walked there.
Apart from its historical importance, the Piazza dell'Anfiteatro is worth seeing as it hosts charming restaurants, bars, shops as well as – often – artworks displayed. We recommend a stroll at dusk.
The Via Fillungo
The Via Fillungo is Lucca's main and perhaps the most characteristic street. It crosses practically the entire historical centre and has many medieval constructions as well as buildings which still preserves its historical facades. A walk in the Via Fillungo is incredible!
Visit the Guinigi Tower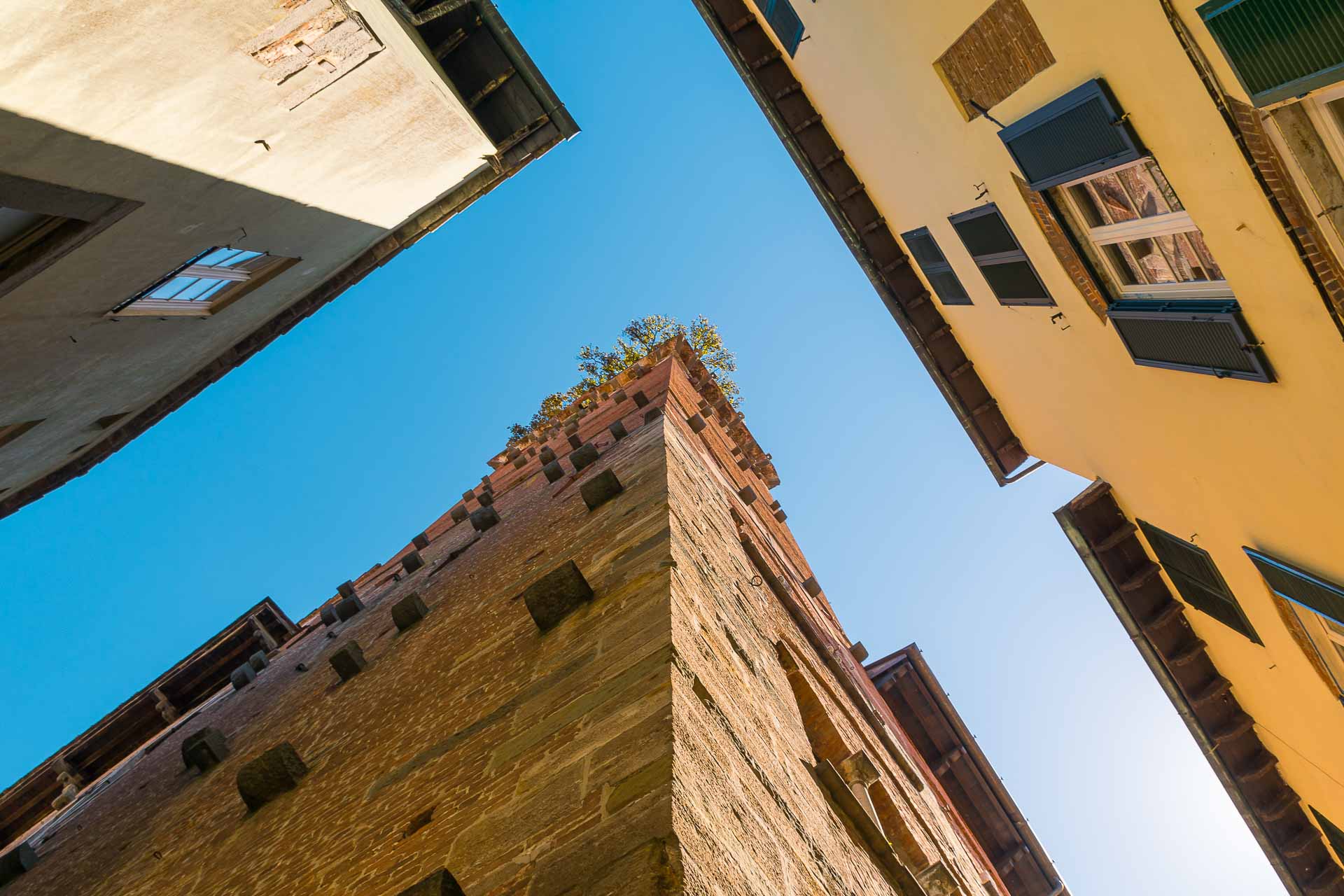 The Guinigui Tower is one of the few towers that still remains in Lucca. During the medieval time, there were over a hundred.
Having a garden with large trees on its upper terrace, which can be seen from various corners of the city, this is certainly one of the most iconic buildings in Lucca.
It has over 40 meters height and the top of the tower offers beautiful views. Just bear in mind there is no elevator and you will have to climb 230 steps.
Torre Guinigi's ticket price:
Palazzo Pfanner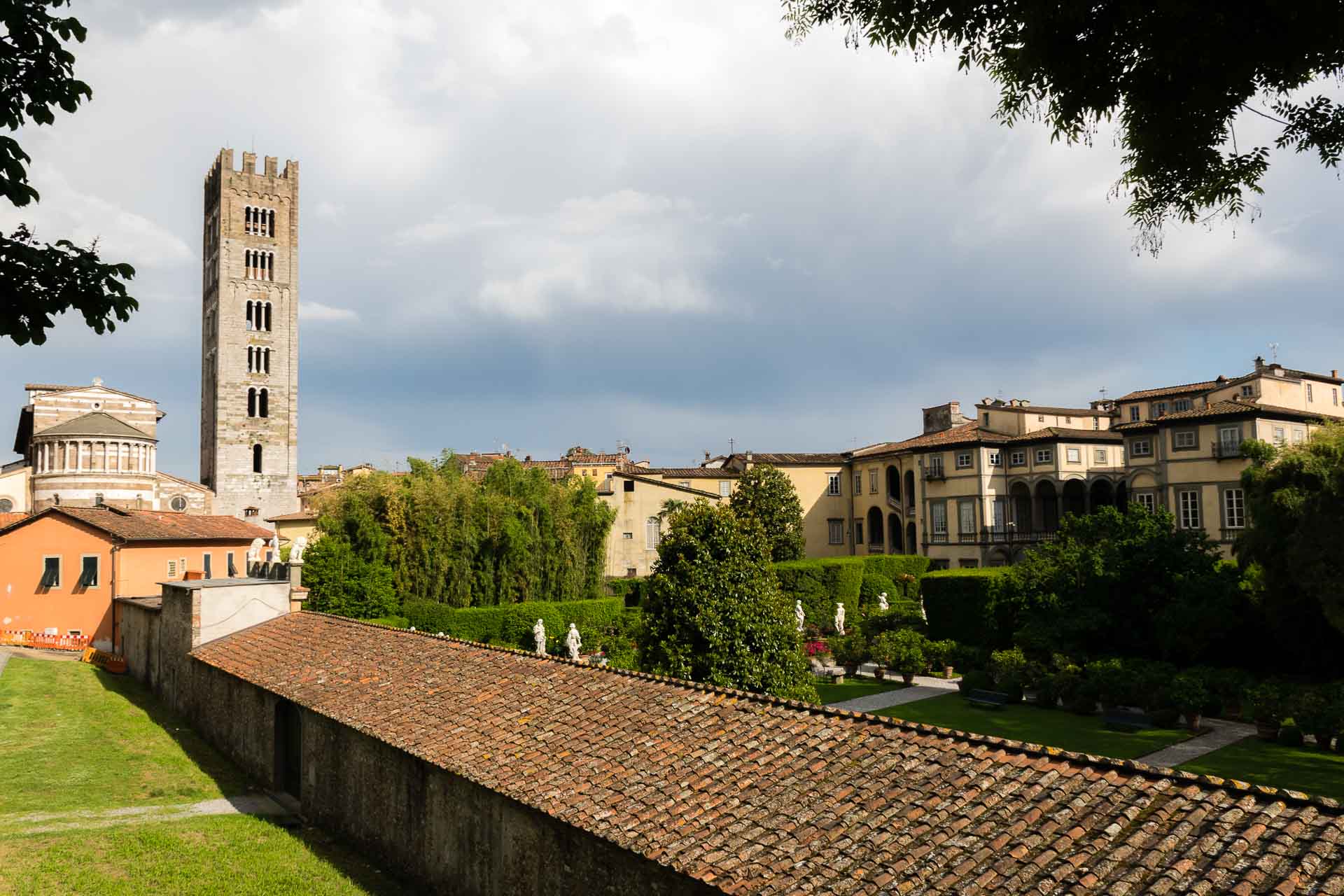 The Palazzo Pfanner was initially built by the Moriconi family, who were important merchants of the 17th century.
Shortly afterwards, they were forced to sell their property due to financial problems. Another local family, the Cotroni, who had just won a nobility title and wanted to show off, bought off them and expanded it. However, none of this explains the name of the palace, does it?
The Pfanner family came into the story only in the 19th century, when an Austrian brewer named Felix Pfanner bought the palace. He opened the Pfanner Brewery, the first of its kind in Lucca and one of the first in Italy. The old beer garden and the other facilities of the brewery were closed mid-1900s and currently hosts an exhibition of traditional 18th century costumes from noble families in the interior of the Palazzo Pfaner, though the greatest treasure is on the outside. The wonderful garden has many artworks, including a collection of baroque statues portraying gods of the Roman mythology.
Pallazzo Pfaner's ticket price:
Garden: €4,50; standard, €4
Palace: €4,50 standard; €4 reduced
Garden and palace:
Torre delle Ore
This medieval tower has its old clock still operating. The Torre delle Ore is the highest tower in Lucca and from its top you can enjoy beautiful views of the city, highlighting the Via Fillungio.
Torre delle Ore's ticket price:
Casa di Puccini
This is a great option for those who like classical music.
That's the house where Giacomo Puccini, the famous composer behind many popular operas, such as Turandot and La Boheme, was born.
Casa di Puccini's ticket price:
Piazza Napoleone
This is Lucca's main square and where is located the Ducale Palace, now a government building.
Find more activities in Lucca:
Lucca at night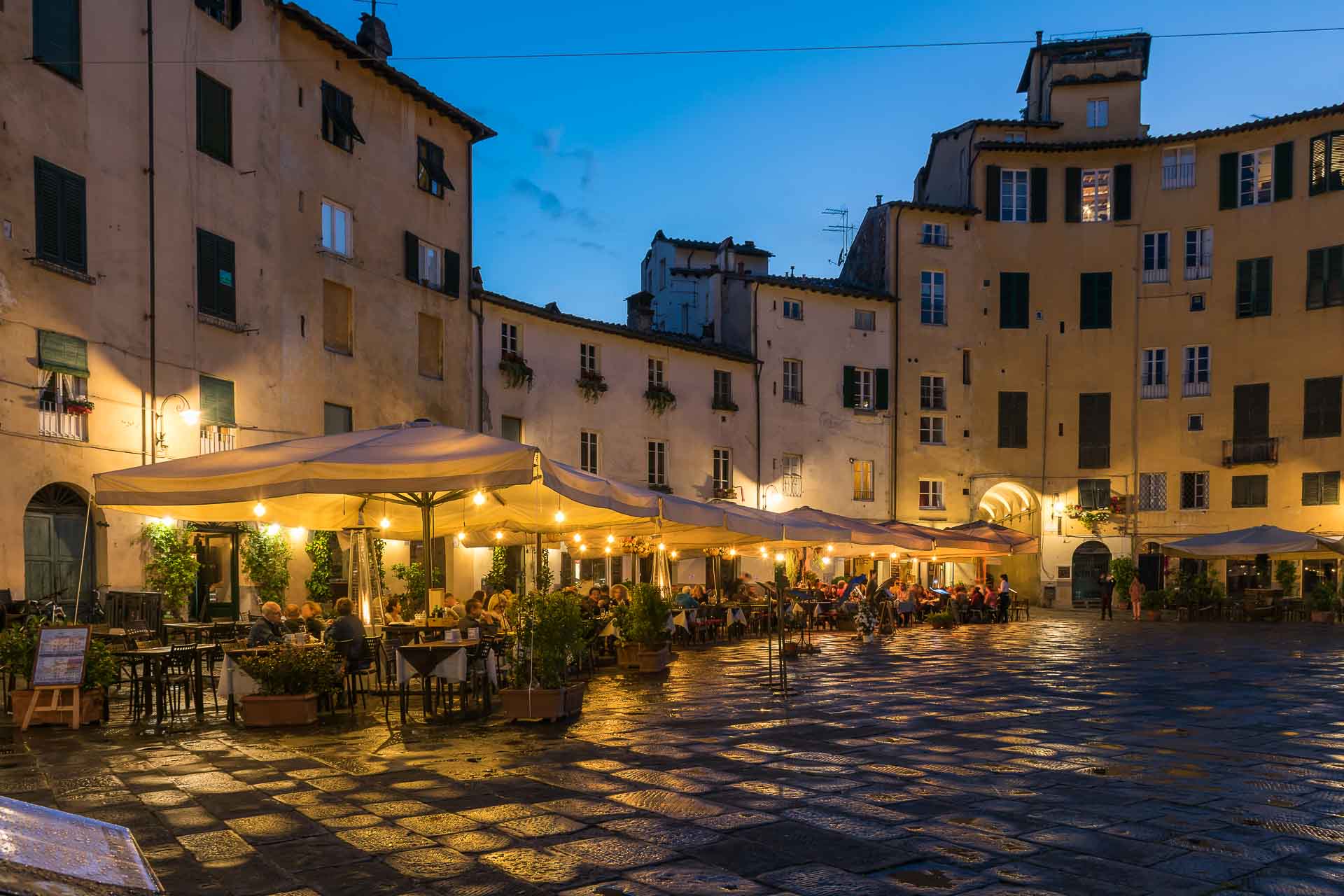 One thing that has really got our attention is how lively is Lucca. We did not see only tourists wandering about, but mainly locals having a good time too.
While you walk along some of the city's charming alleys, you find many restaurants and bars full of people celebrating and enjoying the company each other.
One of our greatest advise is: even if you are just going to Lucca in one day, make sure to spare an hour in the afternoon to have an apperitivo while observing the bohemian vibe of the city around you.
As they say, "when in Lucca, do like the Luccans do". Lol.
Summer in Lucca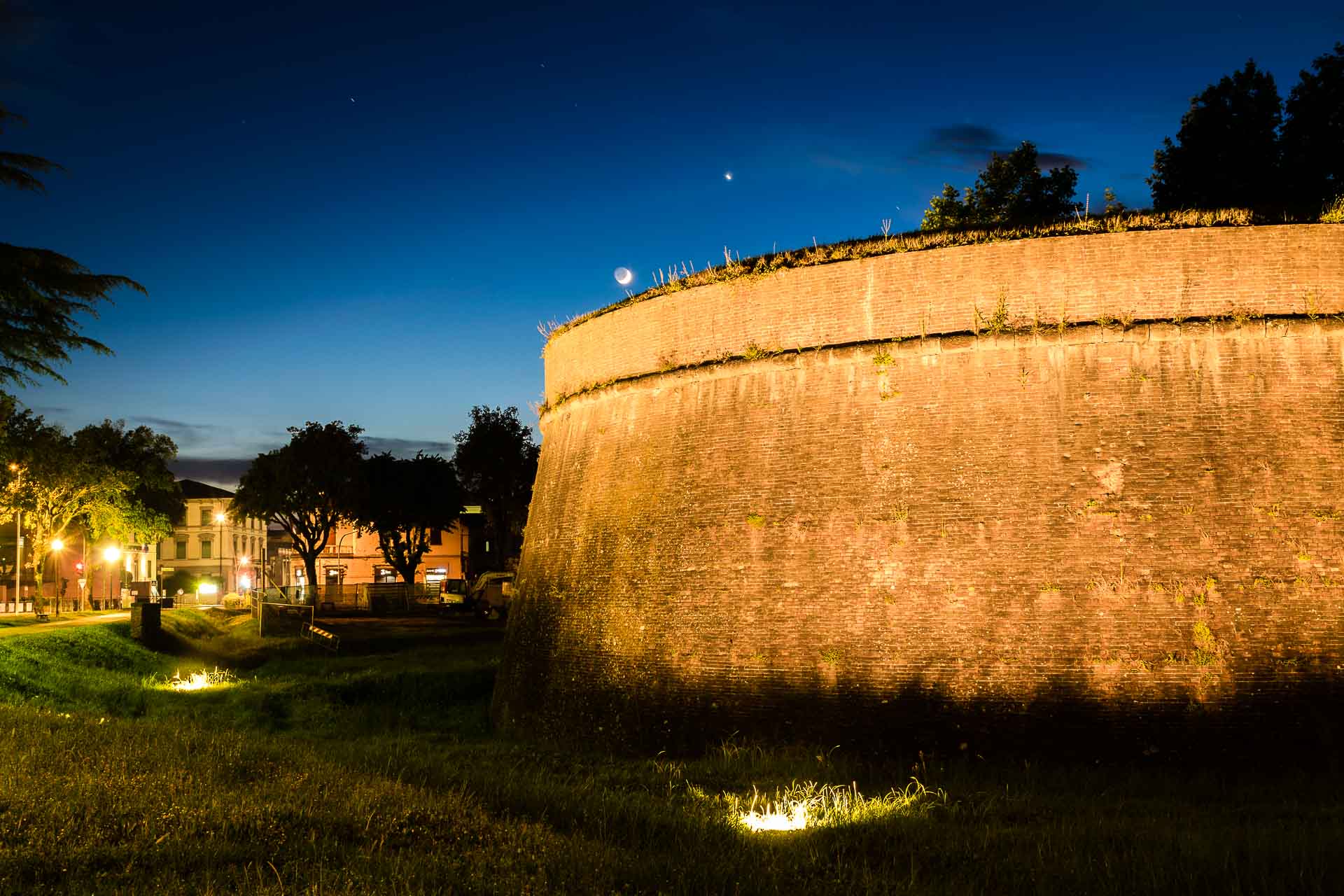 There are two annual music festivals in Lucca, which seem cool and is definitely worth checking if you are around during summer.
Lucca Summer Festival
This festival has been going on for the past 20 years and has already brought artists such Bob Dylan, Gilberto Gil, Milton Nascimento, Alanis Morisette, Elton John and The Rolling Stones.
The Lucca Summer Festival takes place between July and August inside the walls of the city, in the historical centre. Further information, including this year's line up can be found in here.
Puccini Festival
Dedicated to the compositor Giacomo Puccini. This is a great tip for classical music lovers. The festival also takes place in July/August and further information can be found in here.
We have not been to any of these, but they looked very interesting and worth mentioning here. If you've been to any, we would love to hear your thoughts 😉
How to get to Lucca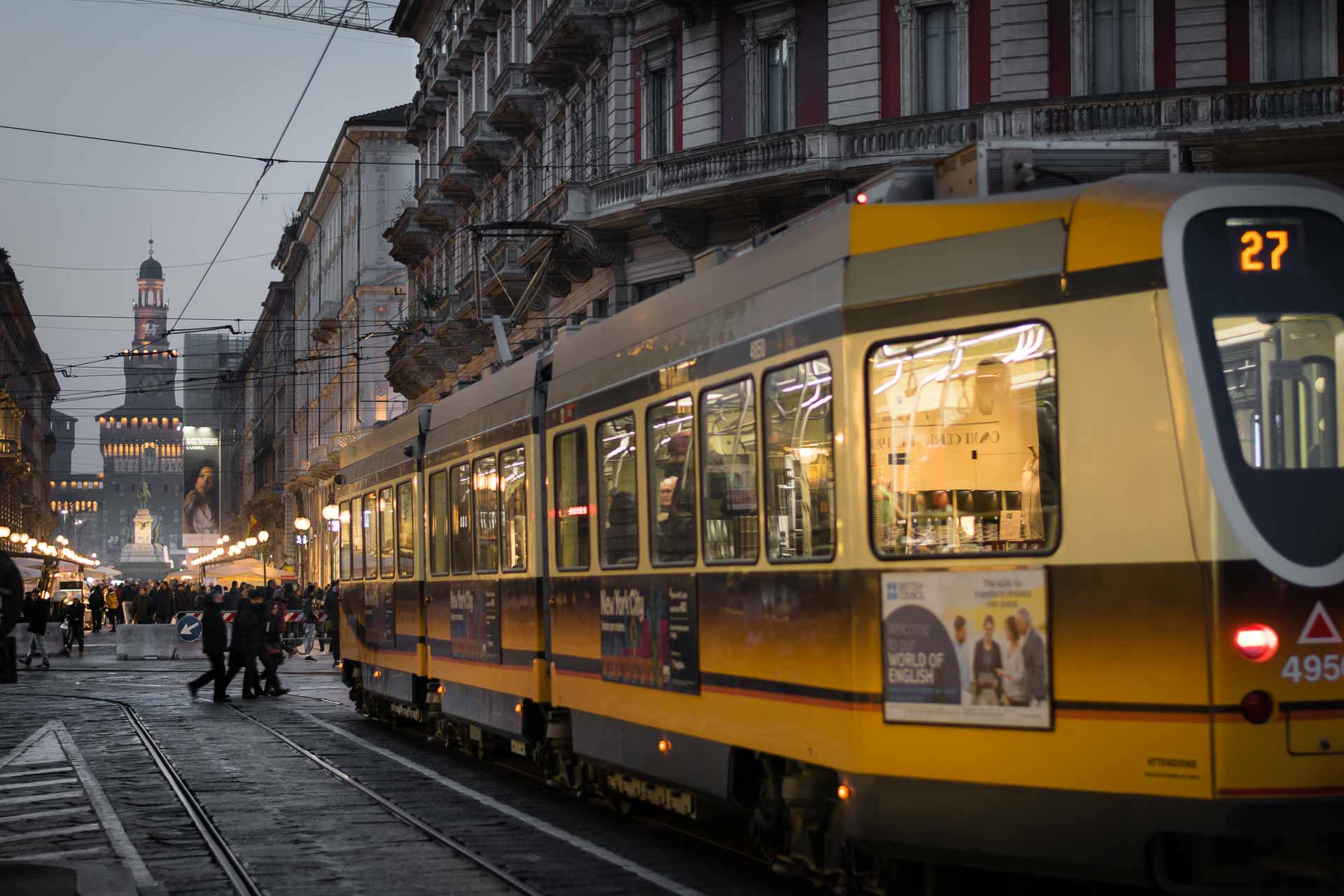 Lucca by train
Lucca has a train station located just next to the historic centre and the city can easily be accessed by virtually all of Tuscany's major cities. It's a great option for a day trip from Florence, Pisa or Siena, for example. Visit the Trenitalia website to see prices and the timetable of the trains.
Flights to Lucca
The nearest international airport from Lucca is in Pisa, which is 30 km away and can be accessed by train.
Bus to Lucca
It is possible to visit Lucca by bus from many Italian cities. There is even one that goes from Siena Airport to Lucca's city centre.
Cycle or walking in Lucca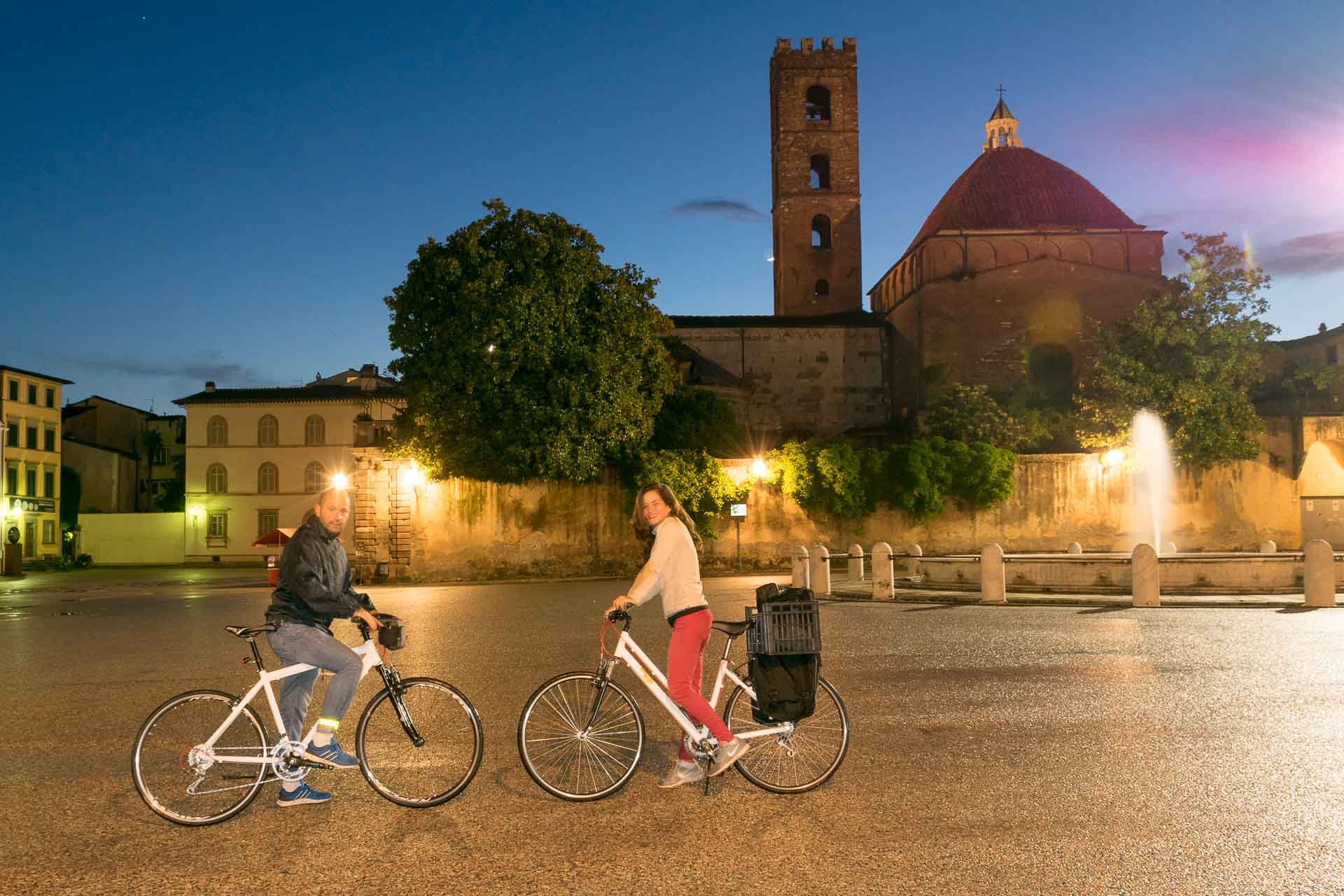 As we mentioned above, Lucca is part of the pilgrimage route of the Via Francigena, which makes possible to visit the city by bike or foot. We went there cycling and were surprised to see the region has very good infrastructure for this type of transportation, as well as being a very scenery route.
Car
Visiting Lucca by car is probably the best option because it gives you some flexibility to visit other cities in the region as well, such as Siena, San Gimignano, Colle di Val d'Elsa, Monteriggione, Bagni di San Fillipo and many others. Check the HOMEPAGE, sorrybest prices to rent a car with Rental Cars.
Just a quick reminder: Most Italian cities do not allow unauthorized cars to circulate in the historical centre. So, keep in mind that you will park outside historical city centers, therefore adding the costs of parking and walking distances.
Where to stay in Lucca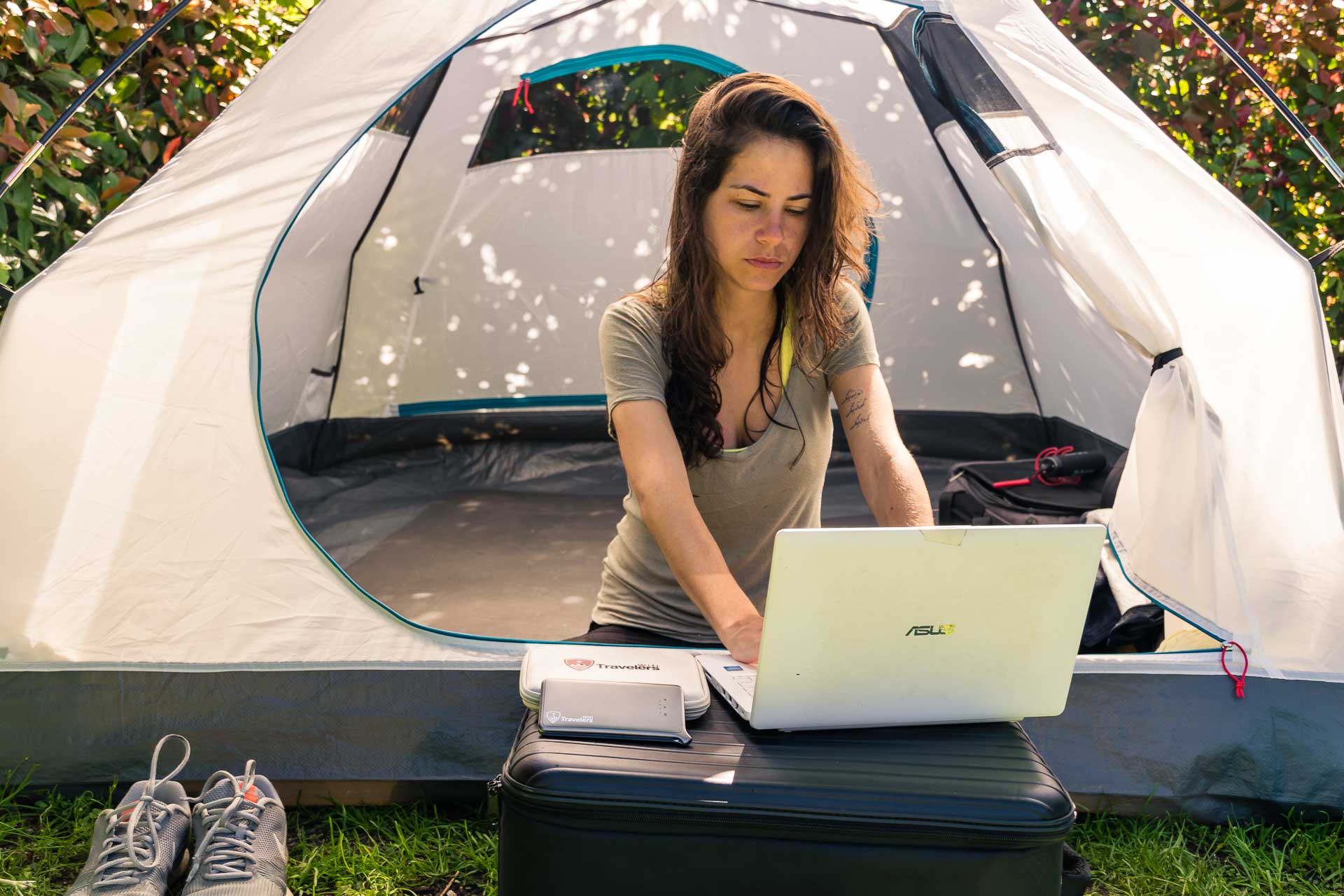 In the case you are doing a day trip to Lucca, after all there are quite a few things to see in Lucca, find the best hotels in Lucca here. We know also that there are many camping and hostels as well. Let us know if you would rather spend a night in Lucca or see Lucca in one day.
---
* Article originally written in August 2018 and updated on July 2022*