This post is also available in:

Português
Wondering how to get around in South Korea? Don't worries as this is an easy task. South Korea is one of the most developed and modern countries we have ever been to. The public transportation in South Korea is so great that they have one of the world's best underground system and run with high-speed trains for over a two decades now.
If you want to find the best way to travel around South Korea, you came to the right place. Here, you will find everything about the trains in Korea; metro in Seoul and other main cities; public and intercity buses; ferries and planes; what websites and mobile apps can help on your journey and much more.
Just a quick info before we carry on: very little people speak English in the country. However, tourist information points and signs are everywhere, so don't worries as you will see it's easy-peasy to get around South Korea.
Transportation in South Korea – in and around cities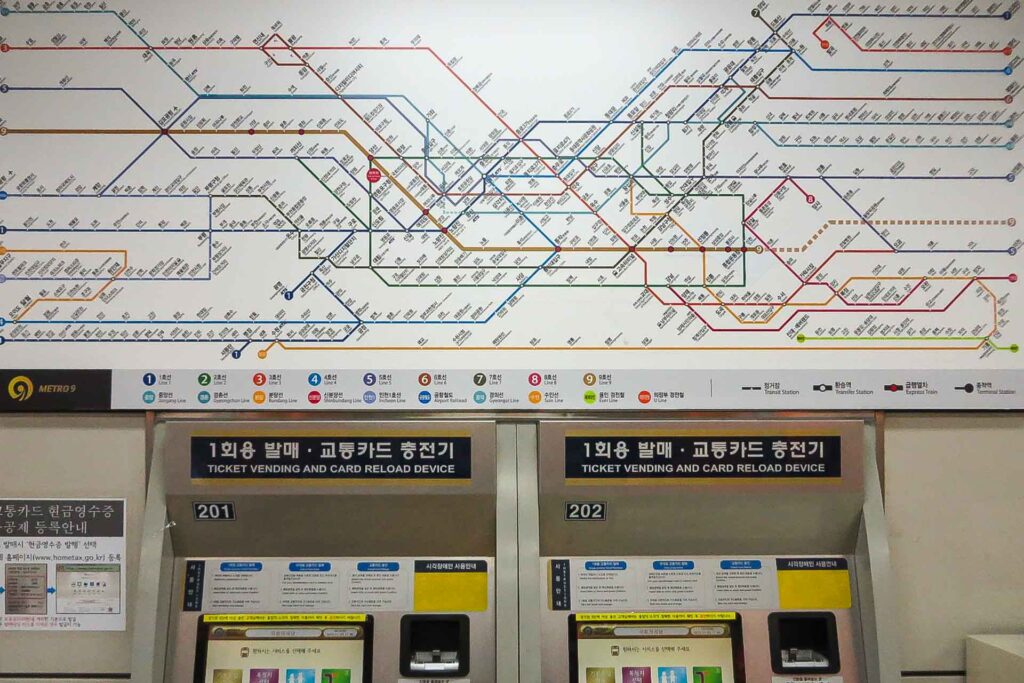 South Korea's underground/subway
Within the major cities, the best option to get around is surely to use the underground. Seoul's metro for instance is one of the most complete underground system we have ever seen – extremely modern and with English information all over. One of the best transportation not just in South Korea, but globally. In fact, exploring Seoul is listed in our 7 attractions you cannot miss in South Korea.
But watch out, only the five biggest Korean cities have this type of transportation: Seoul, Busan, Daegu, Gwangju and Daejeon. You find all the information about the Korean underground system (timetable, fares, etc) on their official website.
We also recommend you to get a free mobile app called Subway Korea that will surely help you out.
Public local buses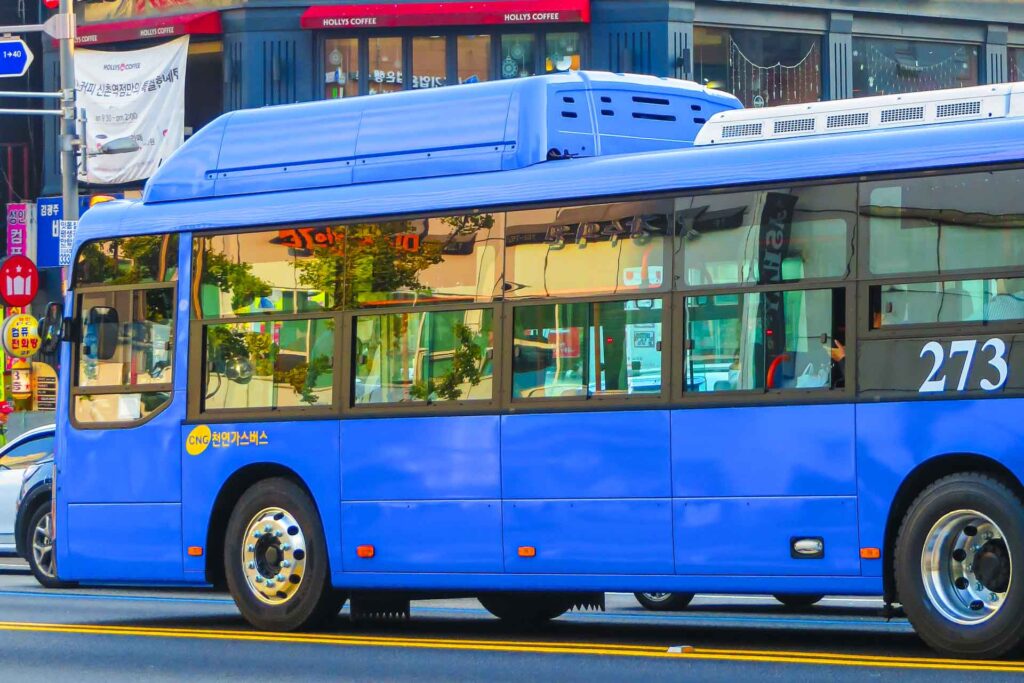 When visiting places with no underground system, buses are a great way to travel both within the city and to some outside tourist attractions (such as Buddhist temple or a parks, for example).
The bus fare costs about 1500 WON (approximately US$ 1) no matter what is the destination and you can purchase your ticket with cash or a transportation card when boarding the bus.
Find all the information about South Korean local buses here.
Transportation in South Korea – in between cities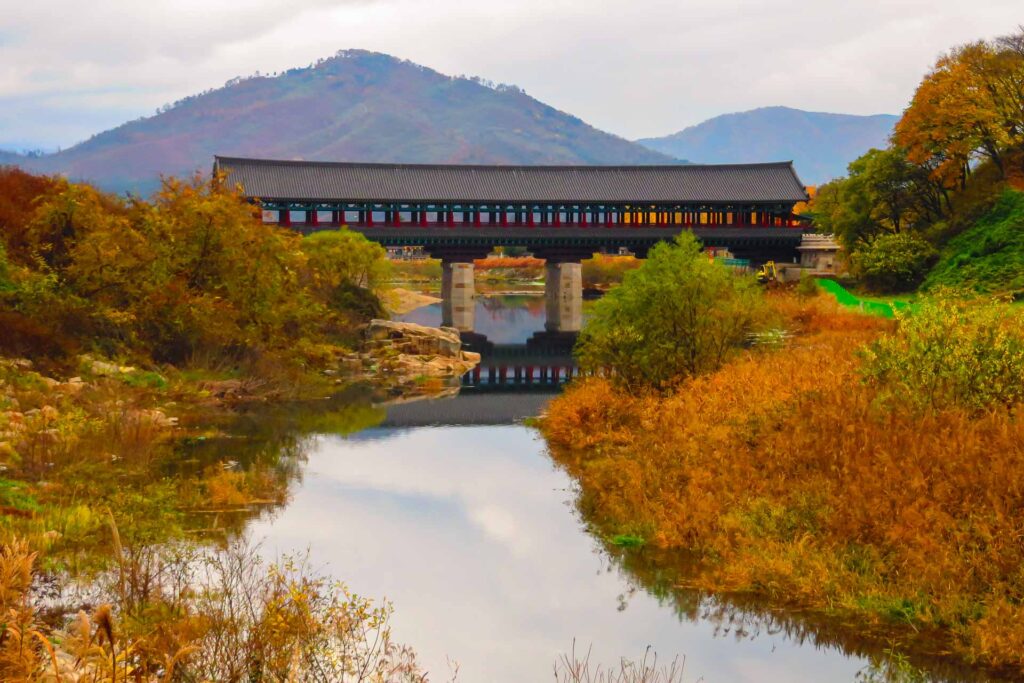 Trains in Korea – the high-speed rail
Surely one of the best ways to get around in South Korea is with the Korean Train Express.
As we said before, South Korea operates with high-speed rail for over two decades. The Korean Train Express (KTX) travels at 215mph and there is the possibility of travelling standing up in order to lower the ticket price a bit. Tickets can be purchased at www.letskorail.com .
Intercity buses in South Korea
The long distance buses in South Korea are great! They can take you anywhere around the country at pretty much any time. You can just show up at the bus station and buy the ticket. That's in fact what we did and had no problems finding tickets.
If you would like to book your ticket in advance, you need to make a quick registration and the help of a Korean friend will be handy. For that, try logging in at www.kobus.co.kr.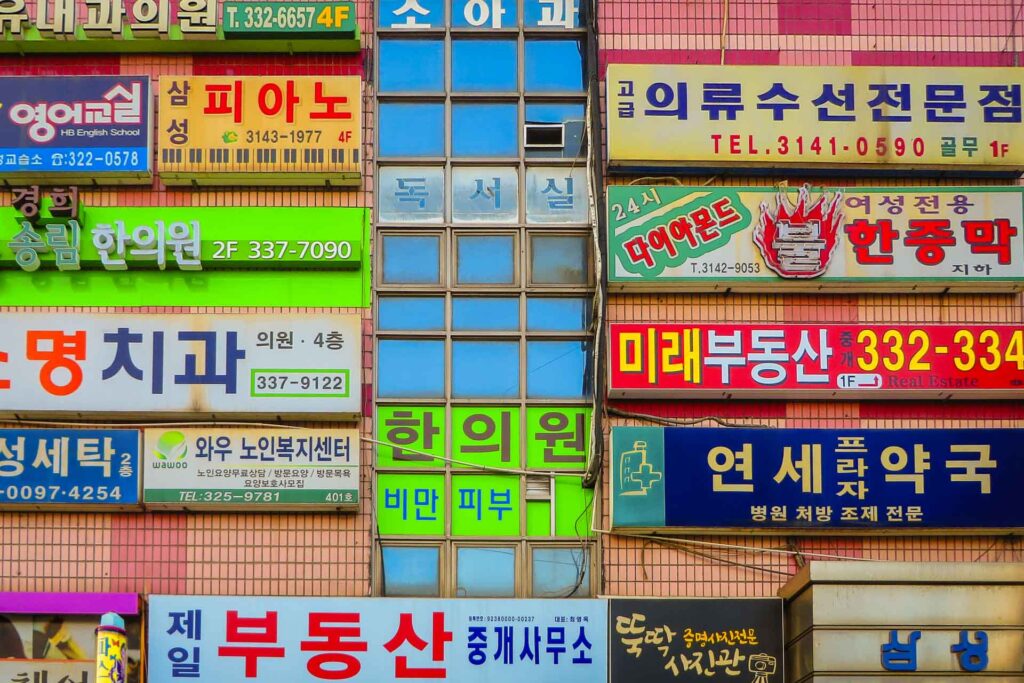 Buses are cheaper than trains, yet not that cheap – Korea isn't a cheap destination. But hey, we found out a way to lower our travel budget in Korea sleeping in a Korean spa, the Jjimjilbangs. Anyway, let us not digress. To go from Seoul to Busan by bus, about 200 miles distance, for instance, it costs about 24,000 WON (22 US$) the cheapest.
There are different bus companies, some deluxe and some standard. If you are after the cheapest option, make sure to buy the correct ticket. You can ask the attendant something like: "Ilban buspio wonheyo!" ("I would like a standard bus ticket, please").
Flights in South Korea
All major Korean city will have an airport and if you buy tickets in advance, they won't be really expensive. We always use Skyscanner for finding good deals. The main airports in South Korea are:
the Incheon International Airport in Seoul;
the Gimhae International Airport in Busan;
Jeju International Airport in Jeju Island;
Pohang Airport in Pohang and
Daegu Airport in Daegu.
Hitchhiking in South Korea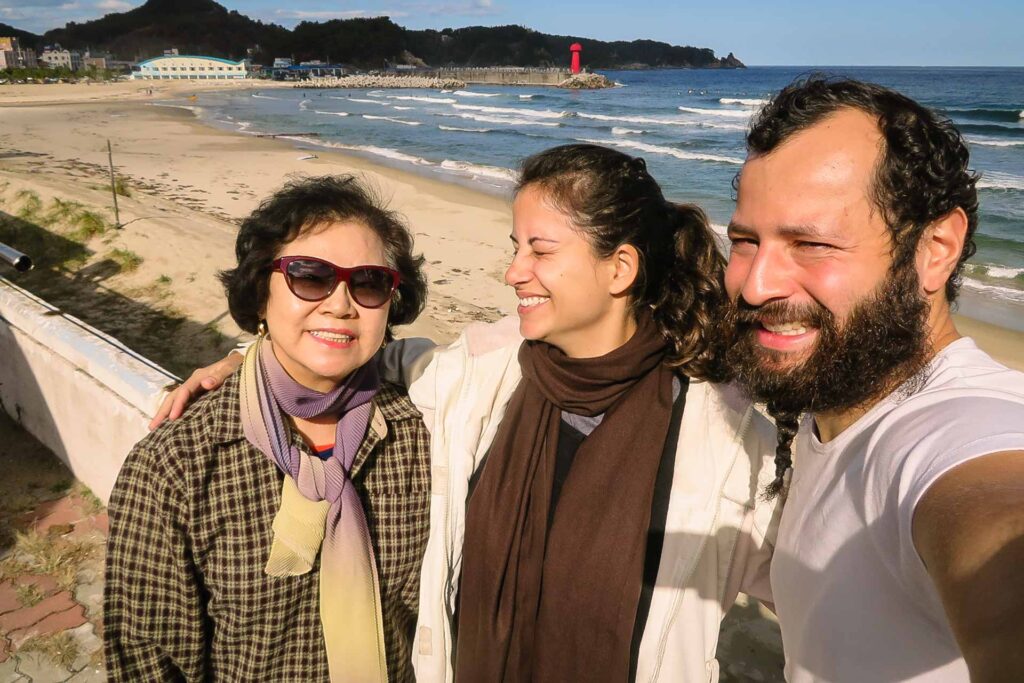 We heard from a few Korean friends that getting a lift was not so easy. In the other hand, we read the opposite on the internet and so we decided to give it a go. What we found out is that in fact is quite difficult to hitchhike over there. We tried a couple of times and both times we had to wait for over an hour until someone stopped for us.
The language barrier was also a big issue to get a lift as most people drove off just because they didn't understand where we wanted to go. But we are not quitters and we took a hike with a lovely lady from Donghae to the Seoraksan National Park.
Transportation in South Korea – traveling abroad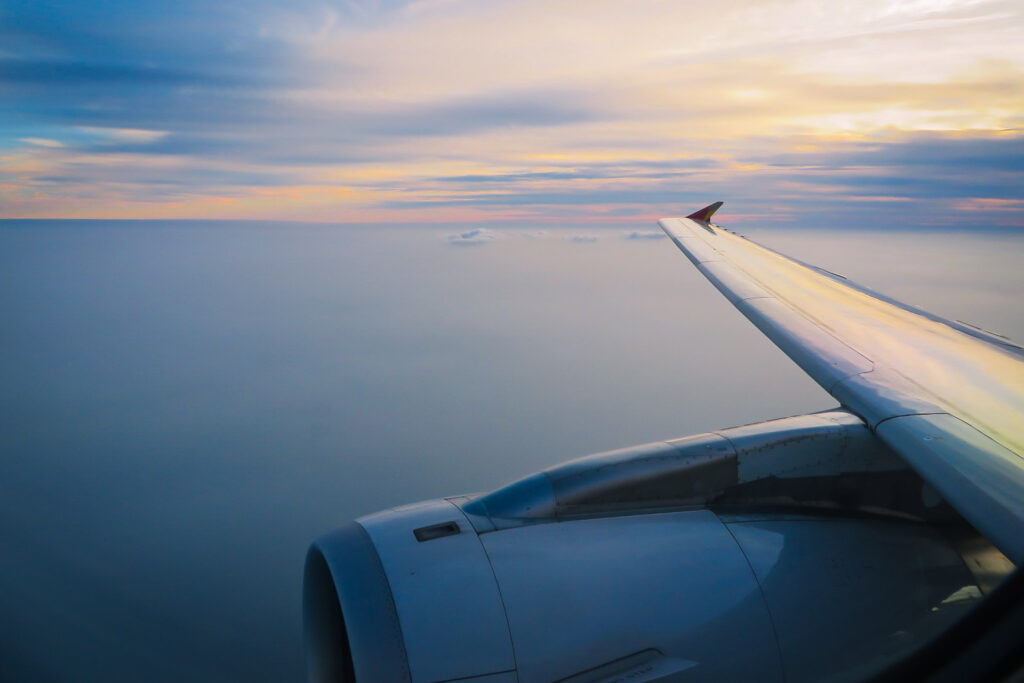 Ferries in South Korea
Did you know you can travel from South Korea to Russia, Japan and other neighboring countries by ferry? There are daily boats leaving the two South Korean ports of Busan and Donghae and you find details about the journey here.
International flights
That is the most common option to travel to and from the country. All the main cities have modern airports. The national company, Korean Air, offers comfortable and affordable flights.
Can you cross the border from South Korea to North Korea?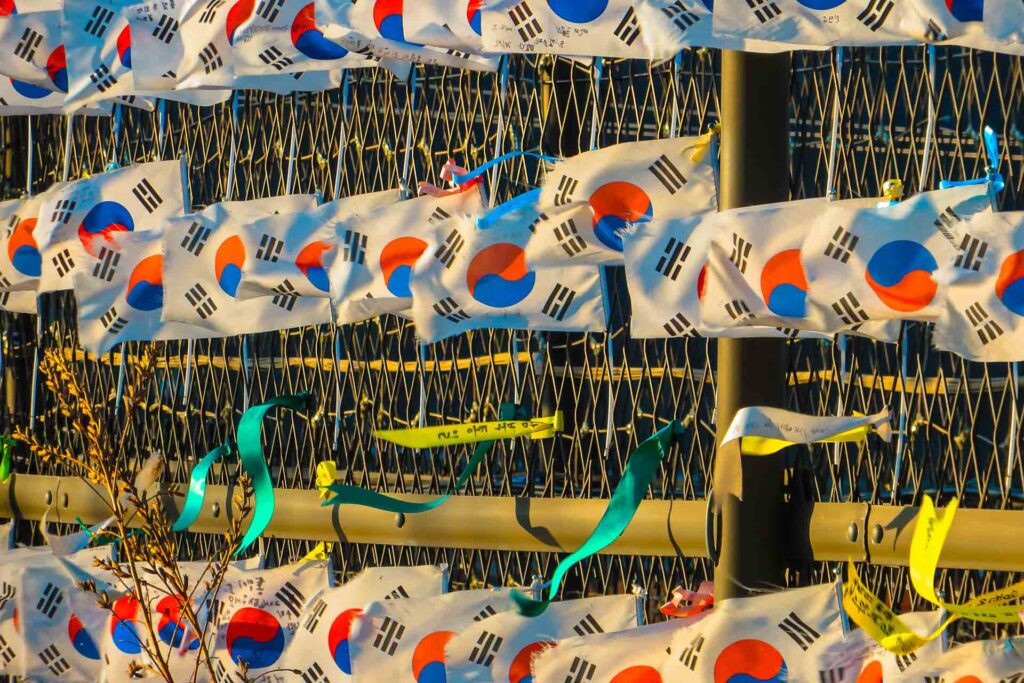 Definitely not. The border between South and North Korea is closed and it is NOT possible to travel between them in any way. To go to the northern neighbour, you have to choose either via Russia or China as your departure point.
What you can do, though, is to visit the border between the South and North Korea, an area known as the Demilitarized Zone (DMZ) – highly recommend it! To visit the DMZ you can either go on your own, or with a tour.
To be fair, we tried to visit the DMZ on our own and ended up getting lost on the way, thus arriving at the area too late for the activities. So, if you want to be safe, we really recommend you to book a tour to the DMZ.
---
*This article was originally written in February 2017 and updated in October 2023.