This post is also available in:

Português
A trip to South Korea is truly fantastic, especially if you're from a Western culture and have a deep appreciation for exploring different customs. However, traveling in Korea can be quite expensive. We managed to travel to South Korea on a budget by sleeping in Jjimjilbangs, the traditional Korean spa, and it was awesome.
Sleeping in a Jjimjilbang is actually a cultural experience. In fact, this is listed in our 7 attractions you cannot miss in South Korea.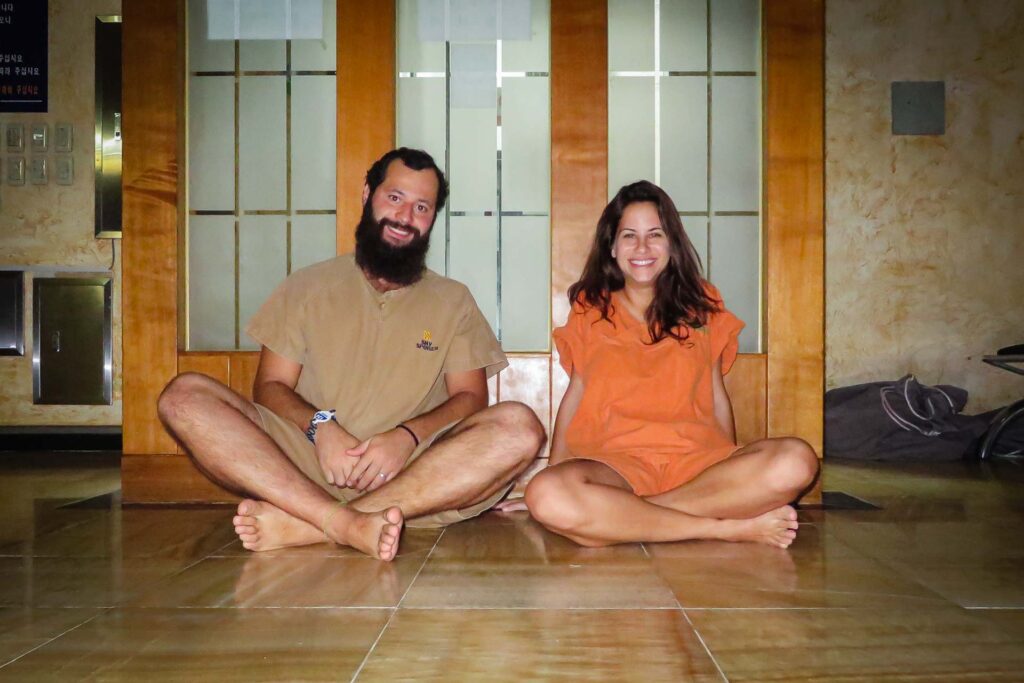 Korea trip cost
First, let's understand what the budget for traveling to South Korea demands. In terms of transportation, we used buses to travel to all the cities we visited during our stay in South Korea. Do have a look at our guide of transportation in South Korea to know how to get around the country.
In each city, we either used the metro or walked. The cost of transportation is comparable to what we typically spend in most European countries. Eating wasn't particularly cheap and we enjoyed a variety of street food. However, when it comes to accommodation, that's when we had concerns about our travel budget in South Korea.
For instance, a 10-bed shared room in a hostel will cost you no less than $18 to $20 per person per night. Yes, you read that correctly. We were worried about going bankrupt while traveling in South Korea. However, we discovered the Korean Jjimjilbang, a traditional Korean spa, where you can relax and spend the night for under $10.
What are Jjimjilbangs – the Korean spa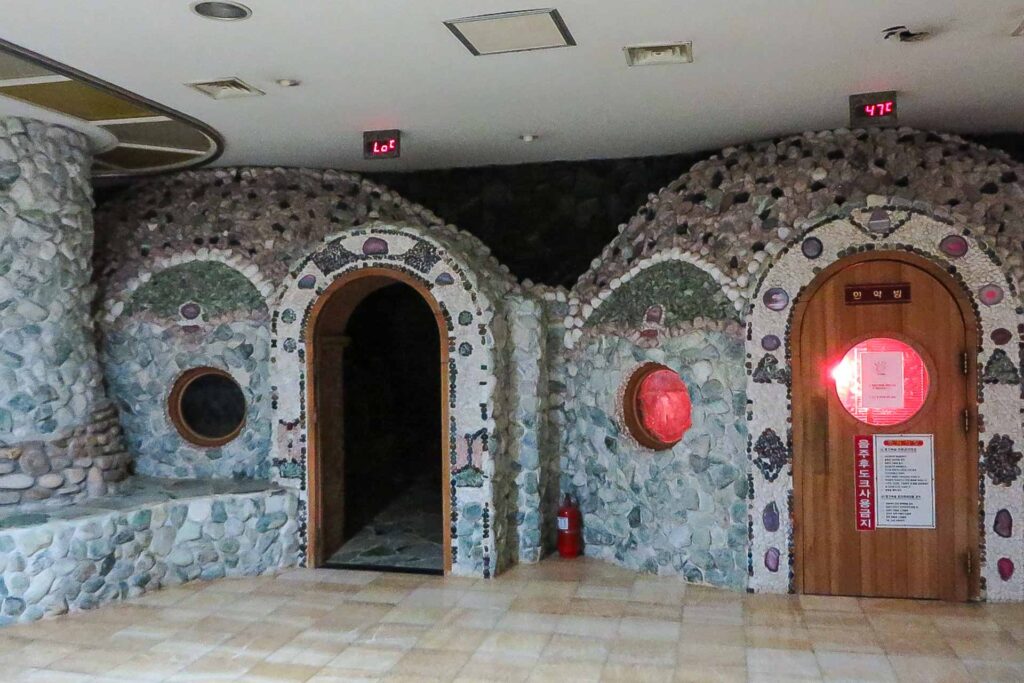 Jjimjilbang is a traditional Korean spa, very popular with the locals, by the way. You pay between 8,000 and 10,000 Won (7 to 9 US dollars) to use the facilities, such as a steam house, hot pools, exfoliation, Korean sauna, shower, restaurants, and more. Most Koreans go there after a night of enjoying soju or makgeolli. They use the Korean spas to eliminate alcohol and return home clean. Sometimes, they even spend a few hours sleeping there in the communal area.
And that's exactly what we did to maintain a low travel budget in South Korea. Sleeping in a Korean spa is a great alternative for accommodation and Koreans use it quite often.
Sleeping in a Jjimjilbang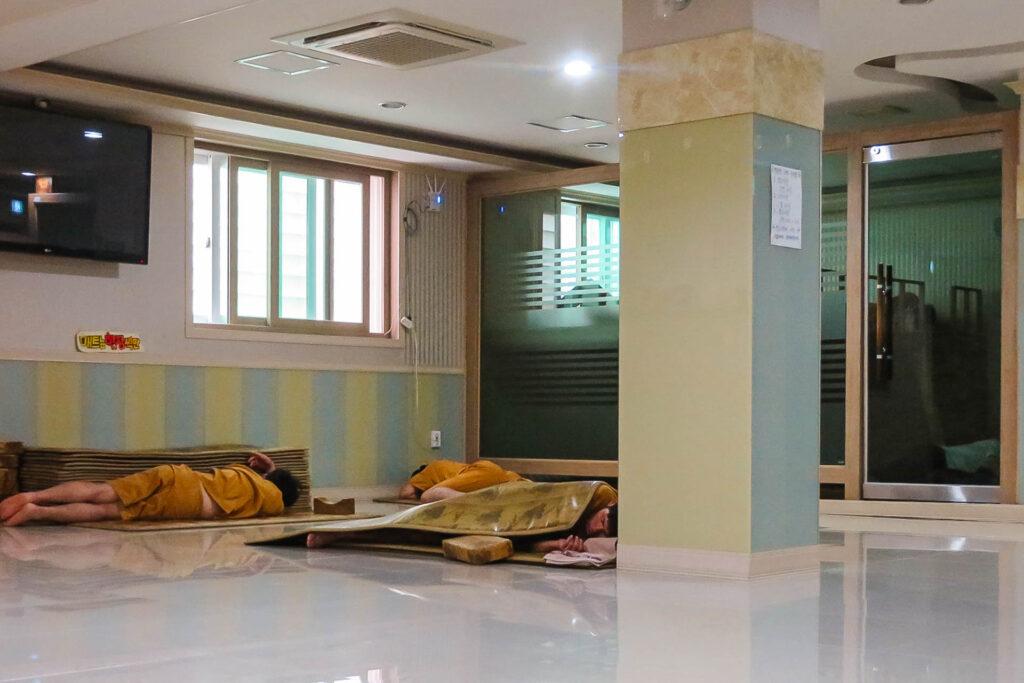 In there, you find baths with different temperatures, saunas, steam rooms, massage chairs, place for skin exfoliation and many showers. As you have to go fully naked, men and women are separated so everyone can feel at home.
As part of the complex, there is also a common area with a restaurant, television, game room, library and more saunas. It is in this big room where people sleep. Each person takes a small mat and a different (and quite weird) type of pillow and settles however and wherever.
Do not expect anything explained in English, or anyone speaking English as a matter of fact. The Jjimjilbangs are frequented by Koreans and there are almost no travelers in there. In fact, we had not seen any at all.
Our experience in the Korean spa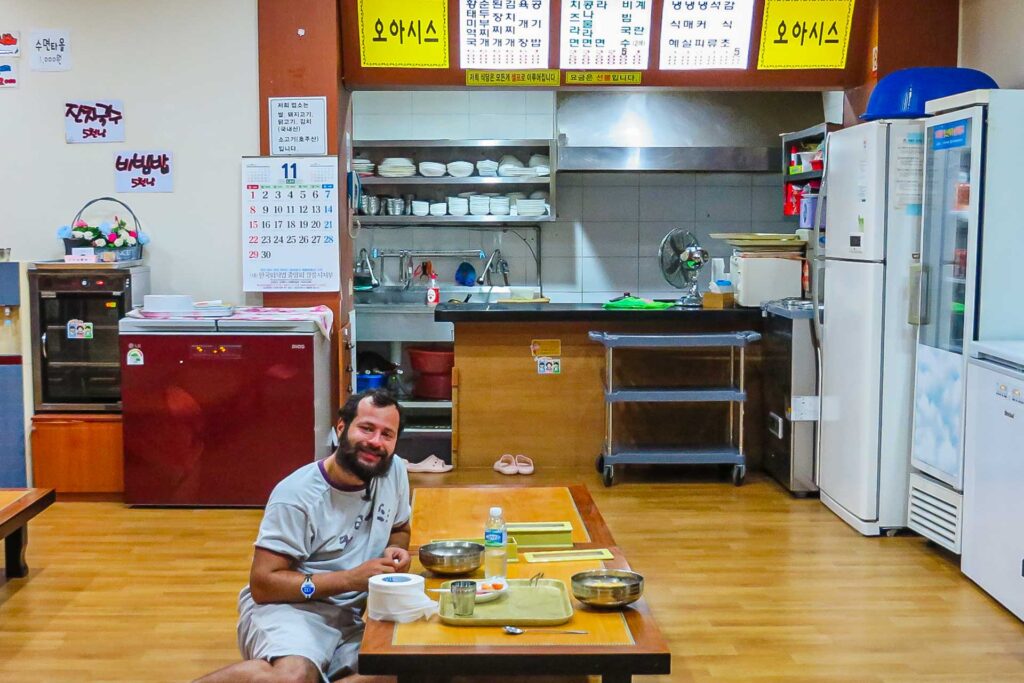 During our ten days of traveling in South Korea, we slept in four different Jjimjilbangs. Only in Seoul, we didn't, as we stayed at a friend's house. All of them were very nice and clean. People are friendly, and we did not feel any worry about leaving our backpacks either at the reception or just alone in the common area. We only had one uncomfortable situation in a Jjimjilbang, in the city of Pohang.
Fernanda was in one of the baths when a woman called her up. She went up to her, and the woman asked Fe to lay down on a massage bed and began exfoliating Fernanda's skin (which Fernanda did not contest; actually, it felt great, and she felt very grateful for the local hospitality). However, after finishing, the woman comes with the bill: almost 20 dollars! We refused to pay because we did not know that was a service. Then, that woman lied, saying that Fernanda was the one who had called her up. It was a big fuss. Even the police went down there, but it was all sorted out in the end. The police officer told the woman off and ended up paying out of his own pocket for the exfoliation. We tried to stop him from paying, but he insisted.
Even though the place is not touristy at all, there will always be people who see foreigners as a walking wallet and will try to take advantage. We find scammers anywhere, but that just showed us how respectful Koreans are in general.
By the way, look at this other activities to do in South Korea out of these range of tours you can enjoy in the country.
Korean spa etiquette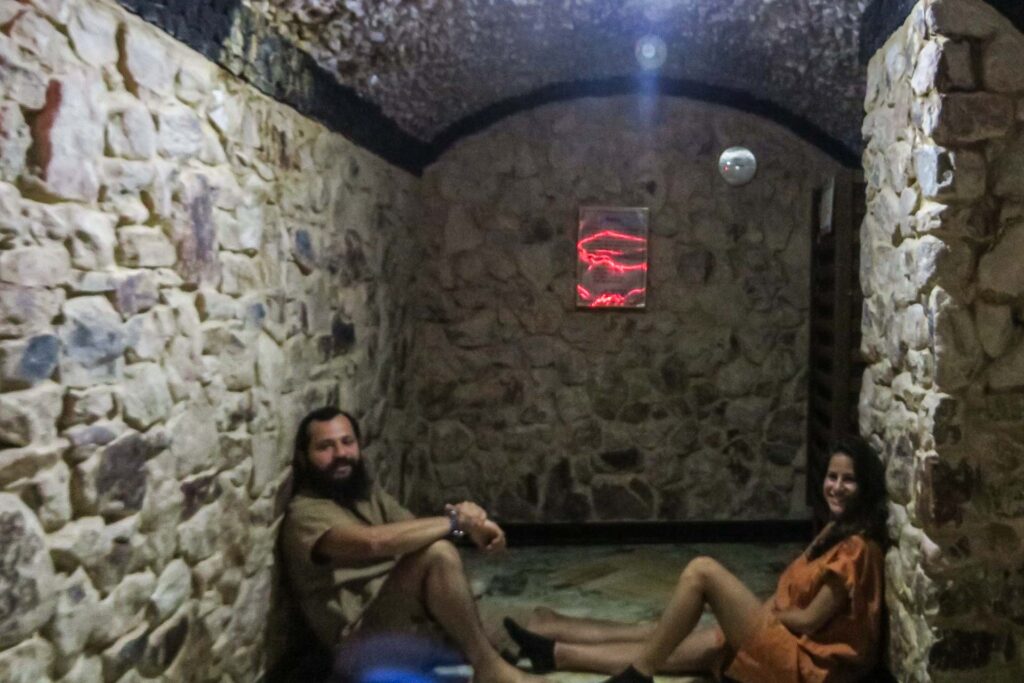 The Jjimjilbangs are relatively full every day, all day long. And to go to a Korean spa, it is all very simple. You arrive, you pay, you take your key, uniform, and towel; you take off your shoes and put them into a locker at the reception and head to your respective floor in the building – men and women separated.
At your floor, there are more lockers, and you are only allowed to enter the baths and steam rooms fully naked, obviously. People will look down on you if you try to walk in this area wearing something. According to tradition, as the bathhouses are public, it is important to show you are not hiding any kind of infection or sickness. And that now makes a lot more sense, right!
Before entering the water, take a good shower and scrub your whole body. At least for the women, as it seems that in the men's area, this routine is not rigorously followed. In addition, whoever has long hair will have to tidy up. They provide bar soap, toothpaste, and many other products, though you can take yours too, just in case.
How it is to sleep in a Korean spa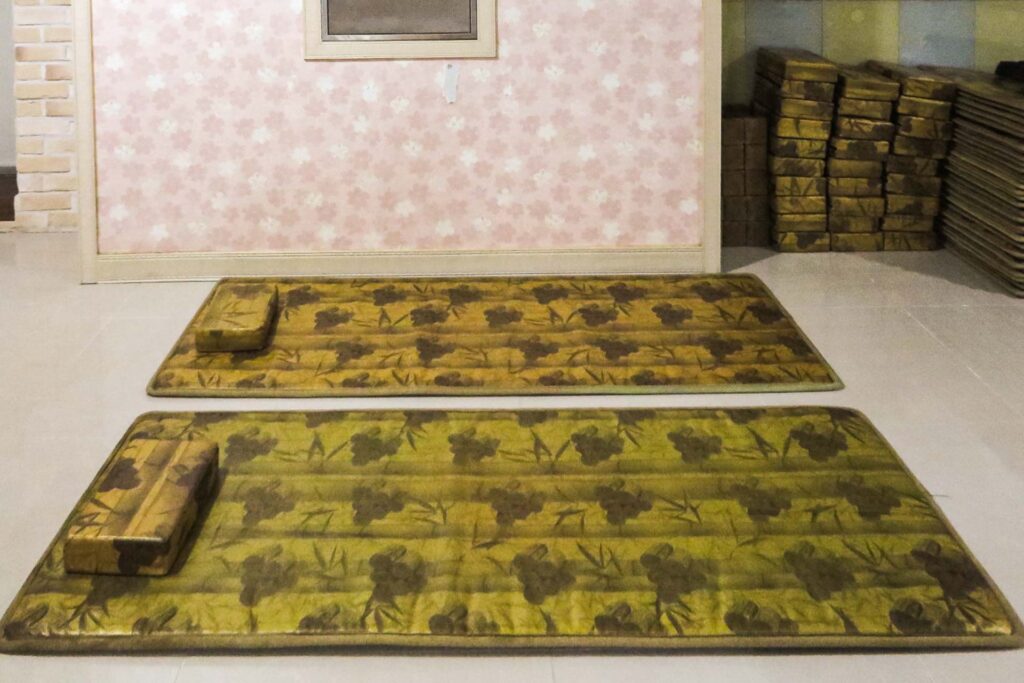 After enjoying yourself in the different baths and saunas, it's time to head to the common area, where people spend the night. That's usually a large room with a restaurant, a TV, and some massage chairs, and you just have to find a free spot. Then, just lay your mat on the floor and sleep.
The only drawback is the snoring. As there isn't a soft mattress, everyone sleeps on the floor with their belly up, so you can picture that. Also, as many go to the Jjimjilbangs at night after drinking, you can picture that too. Hopefully, you will not be awakened by other people's snoring.
We do understand that sleeping every night in a Korean Jjimjilbang might not be the ideal picture of restful experience in South Korea. Therefore, a mix of sleeping in between hotels and Jjimjilbangs might be the sweet spot for your neck and pocket. If that will be your way to go, we recommend getting a hotel in the major cities, such as Seoul, Busan, Jeju Island and Gyeongju.
How to find a Jjimjilbang in South Korea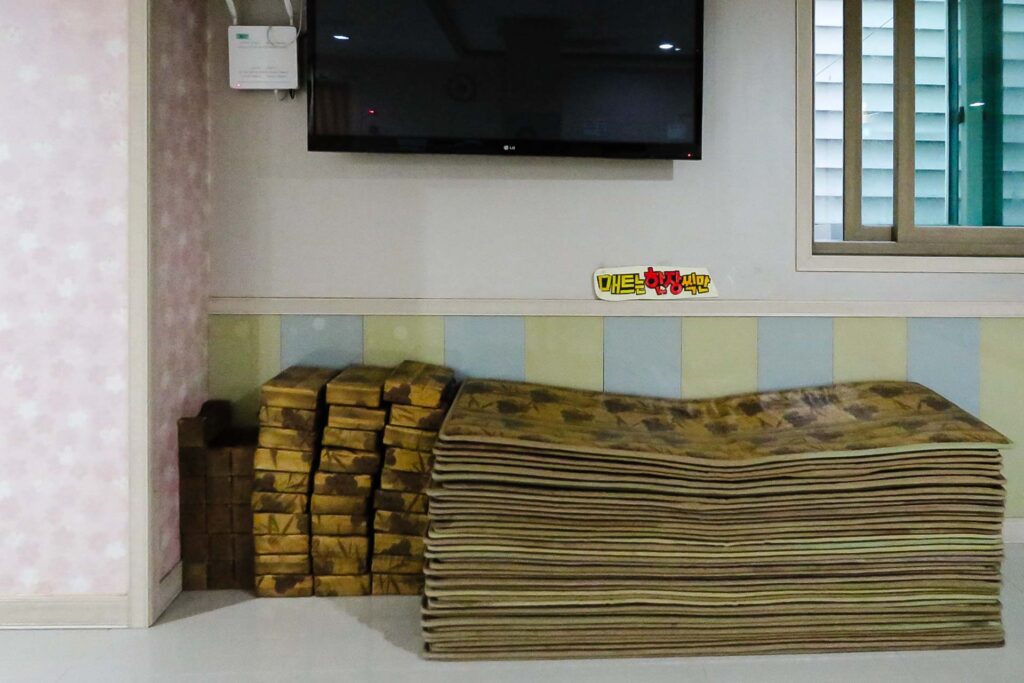 Jjimjilbangs are in pretty much every main Korean city. The problem is there isn't much information on the internet or anywhere else in English. So, finding them can be quite complicated.
If you get caught in this situation, ask where to find a Jjimjilbang at some of the Tourist Information Centers spread everywhere in the cities. Or ask any other people and/or taxi drivers. As we explained, the Korean spas are really traditional, and almost everybody knows where to find them. Just ask for a Jjimjilbang or the steam house, and surely someone will help you.
We hope you find it, and that you enjoy it as much as we did! After all, sleeping in a Jjimjilbang is not just about traveling to South Korea on a budget. But it is also about getting in touch with an interesting local tradition that will surely become one of the coolest memories from your trip.
---
* Post originally written in December 2015 and updated in October 2023