This post is also available in:

Português
Serra da Bodoquena in Brazil, is very near Pantanal and a place of rare beauty. It has a still pristine nature and is considered by many a place like Bonito , albeit unknown and unexplored. During our trip through the Pantanal and Bonito, we stopped by the Serra de Bodoquena. This Serra da Bodoquena tour guide gives all the information you need for a perfect sustainable and off-the-beaten path trip when visiting Pantanal.
Due to its proximity to Pantanal and Bonito, two iconic national destinations, Serra da Bodoquena ends up being a strategic stop for those taking a longer trip through the Pantanal or Bonito. I strongly recommend you to also look at our complete guide dedicated specific about Pantanal, in Brazil. In this article, we have a few suggested travel itineraries, a lot if info about the Brazilian wetlands and how was our experience over there.
SERRA DA BODOQUENA INDEX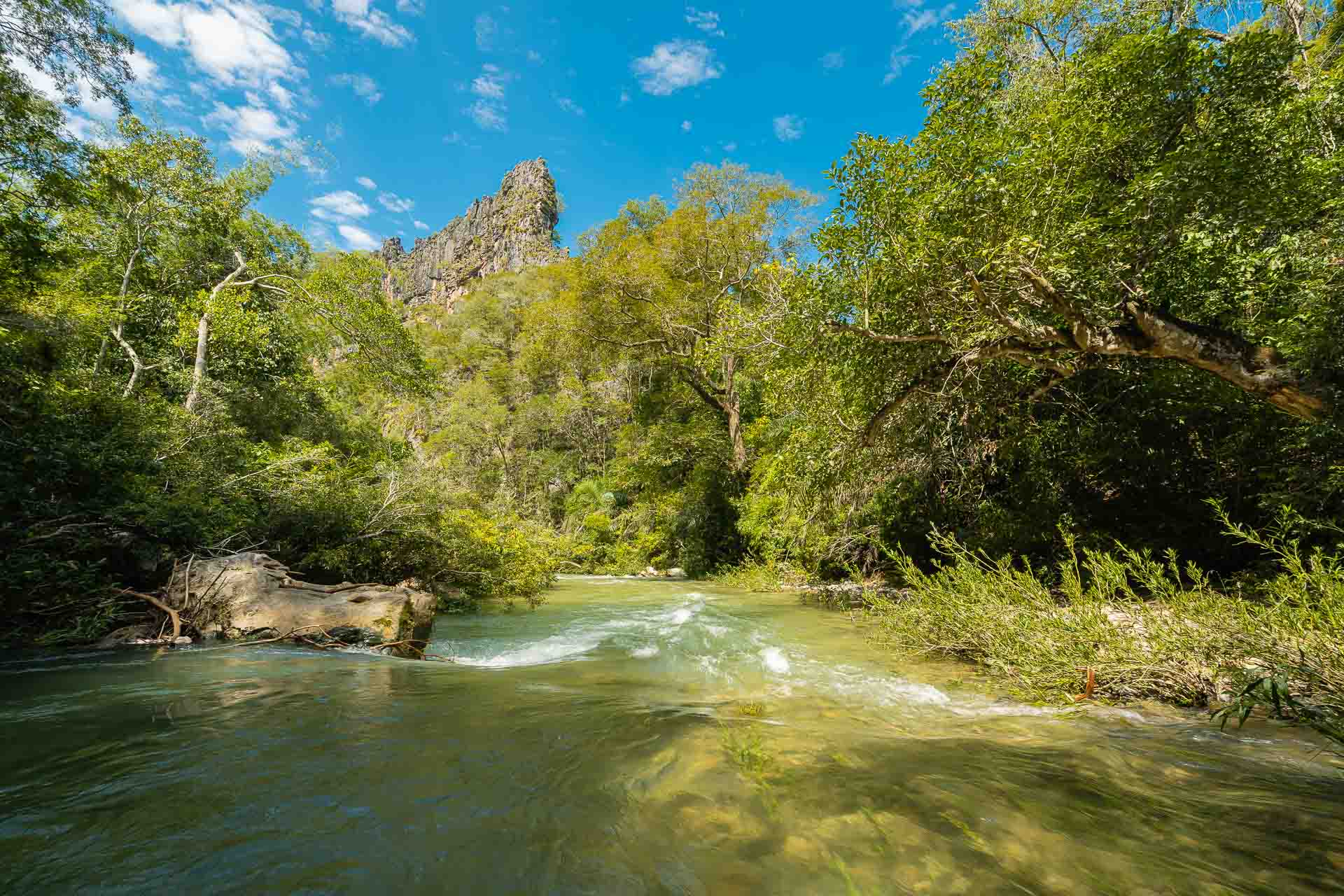 Where is the Serra da Bodoquena
The Serra da Bodoquena is located in Mato Grosso do Sul state, between the Pantanal and Bonito. Bodoquena, the main town of the region, is 265 km from Campo Grande; 57 km from the Pantanal city of Miranda; and 74 km from Bonito.
Despite being located just 70 km from Bonito, one of the most famous tourist destinations in Brazil, very few people know about Serra de Bodoquena. However, the region has so many attractions, such as waterfalls and trails, as well as an enormous potential for adventure tourism, that we are sure it will not remain anonymous for long.
Although many people say that Bonito is in the Pantanal, this is not true. The biomes and culture of the two places are very different. In fact, what separates these two regions is exactly the Serra da Bodoquena.
If you haven't read our article about Pantanal – we really recommend you do -, Pantanal is basically a low plain ground surrounded by mountains. These mountains dam the rainwater and make this plain ground flooded half of the year, forming the landscape we know as Pantanal. Serra da Bodoquena – or Bodoquena Hills – is the mountain range that is located in the southwest of the Pantanal. It is, actually, the source of many important rivers, both for the Pantanal and for Bonito.
How to get to the Serra da Bodoquena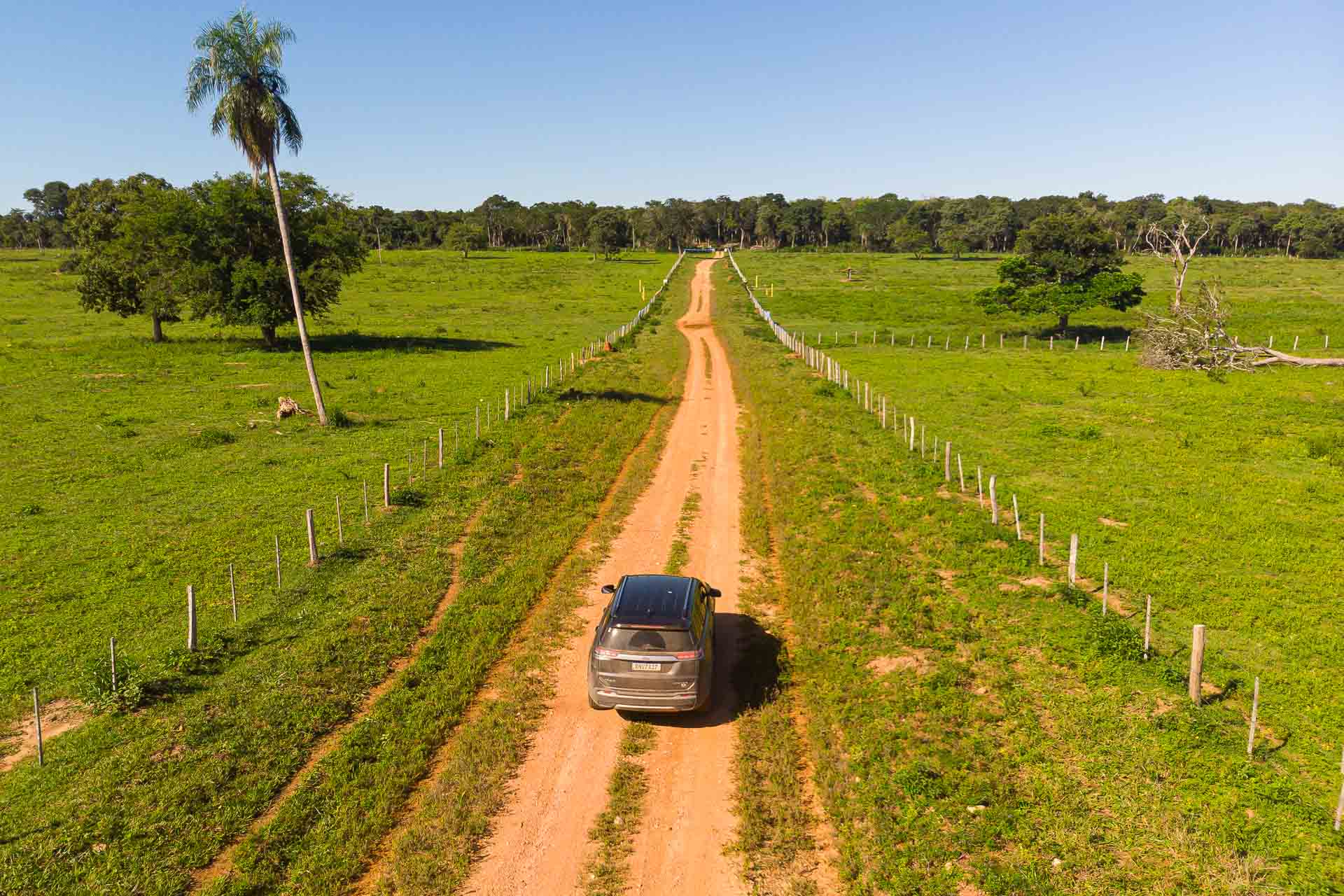 There are four cities part of the Serra da Bodoquena: Porto Murtinho, Jardim, Bonito and Bodoquena. As the main one is Bodoquena, we will use it as a reference.
Get to the Serra da Bodoquena by car
Bodoquena is 267 km from Campo Grande, the capital of Mato Grosso do Sul. From there, you take the BR 262 to Miranda (208 km) and then the MS 339 to Bodoquena (58 km). The entire trip takes approximately 3h30min.
If you leave from Bonito, the trip is made by MS 178 and takes about 1h.
Tip: Have on your phone the Maps.Me app for your trip. This map works offline and always saves us on our trips.
Get to the Serra da Bodoquena by bus
There are two companies to make the route between Campo Grande and Bodoquena; Miranda and Bodoquena; as well as Bonito and Bodoquena. The companies are Expresso Mato Grosso do Sul and Cruzeiro do Sul Transportes.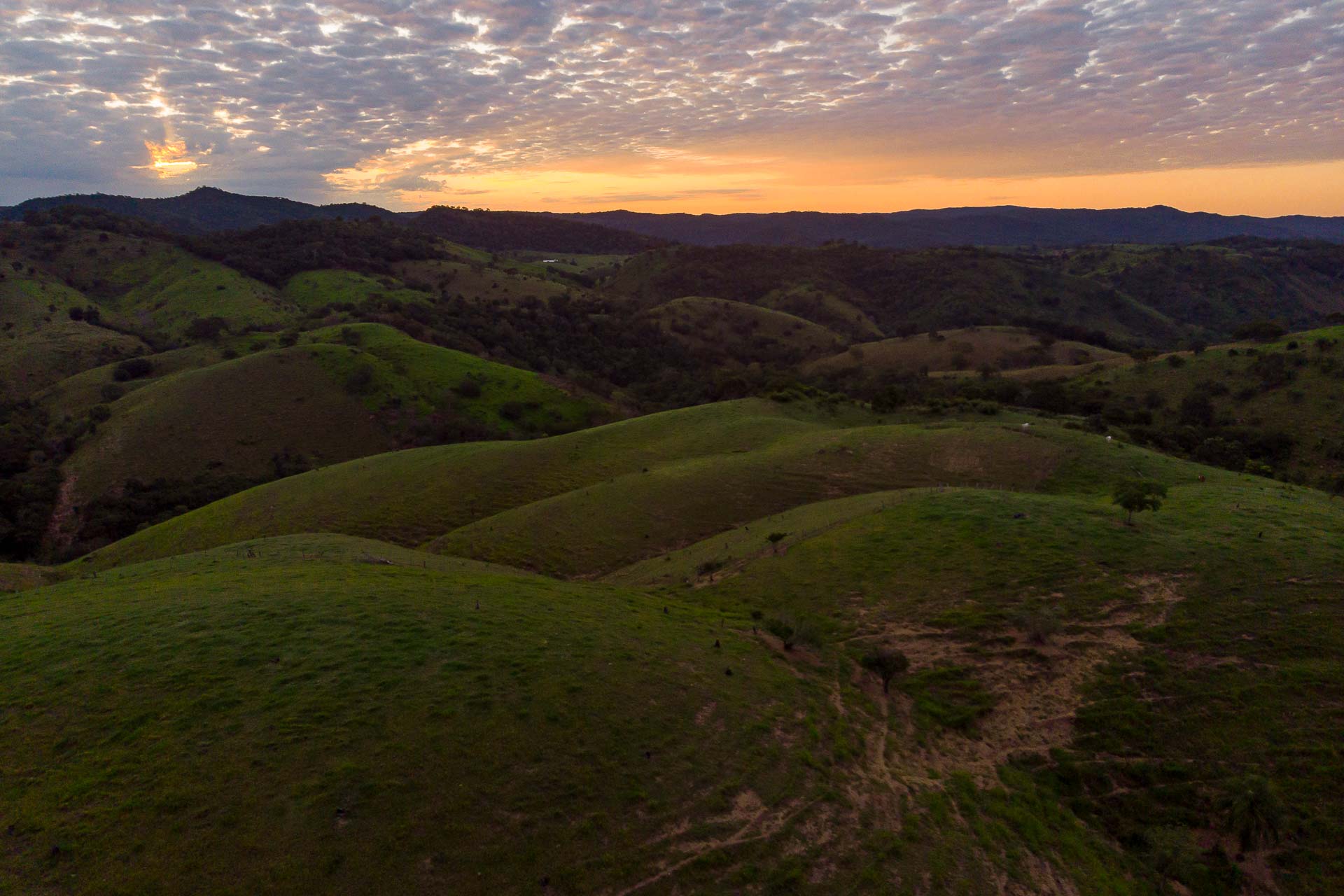 Get to the Serra da Bodoquena by plane
The easiest way to get to the Serra da Bodoquena by plane is to fly to Campo Grande or to Bonito and from there take a bus, transfer or rent a car. We highly recommend exploring this region by car. Public transport in the area is scarce and to depend on van or taxi is too expensive. For our car trips, we always use Rental Cars, a search engine that searches among the main rental companies in the country and offers the best deals and cars. Get a quote here!
Where to sleep in Bodoquena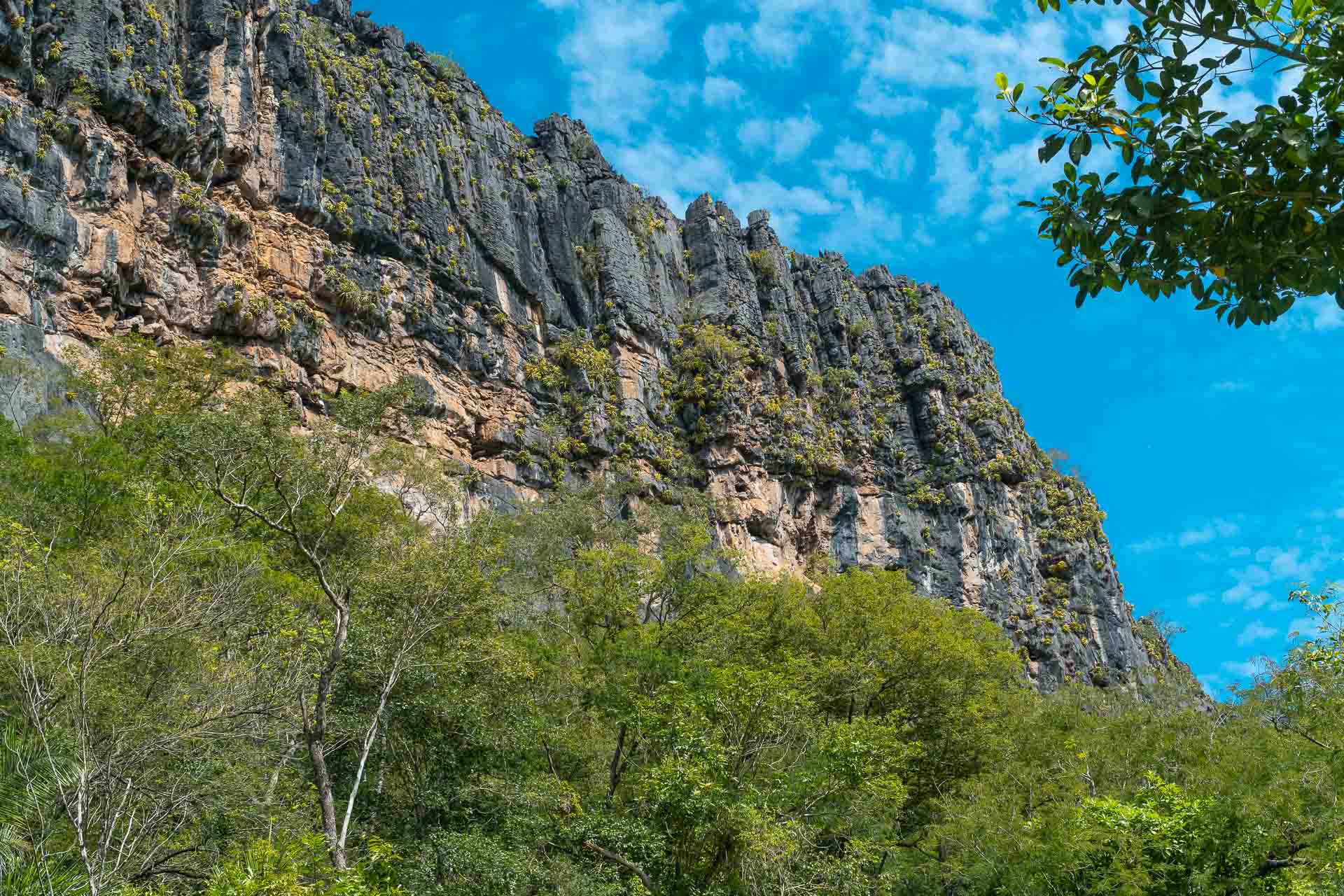 Hotel La Sierra: for those who want something more structured, the La Sierra hotel is a good option with very good service and a good breakfast. Rates from €24 (booking score: 8.7). Check availability for Hotel La Sierra here.
Recanto 3ELL: in a farmhouse style, the rooms are simple but cosy. On the property, guests enjoy a swimming pool and lots of nature. Rates from €36 (note on Booking 9.1). Check availability for Recanto 3ELL here.
Hotel Águas de Bodoquena: this hotel is right in the centre of Bodoquena. It offers great facilities, with swimming pools, tennis court and more. The rooms are traditional and the rate includes breakfast. Rates from €41 (note on Booking 9.0). Check availability for Hotel Águas de Bodoquena here.
Best time to visit the Serra da Bodoquena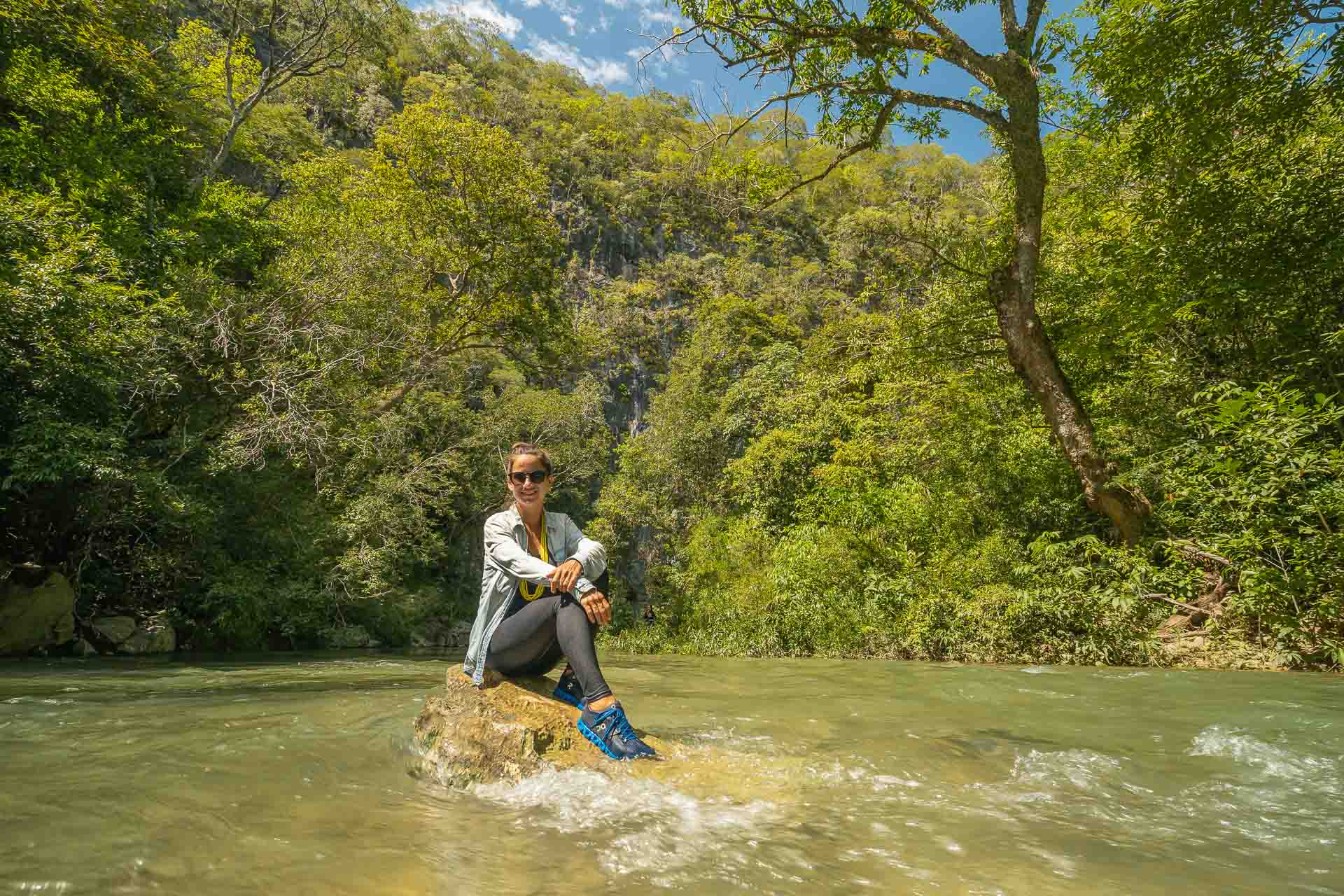 Over summer, the Serra da Bodoquena becomes more humid. Despite the chance of having more rain, the landscape is also more exuberant. In winter, which is the dry season, there is a risk that some attractions, such as waterfalls, have no or very little water.
Therefore, I believe that the best time to do tourism in Bodoquena is between these seasons. From March to May (Autumn) and from September to November (Spring). Just bear in mind that the tours in the Serra da Bodoquena can get quite chilled because of the dense vegetation.
Also, avoid high season periods, such as New Year, Easter or Bank holidays in general. The attractions can get very crowded – especially in Bonito. We know that off-season travel is not an option for everyone, but for those who can, this is a way to practice more sustainable tourism and minimize the impacts of mass tourism in natural destinations.
The Brazilian National Park of Serra da Bodoquena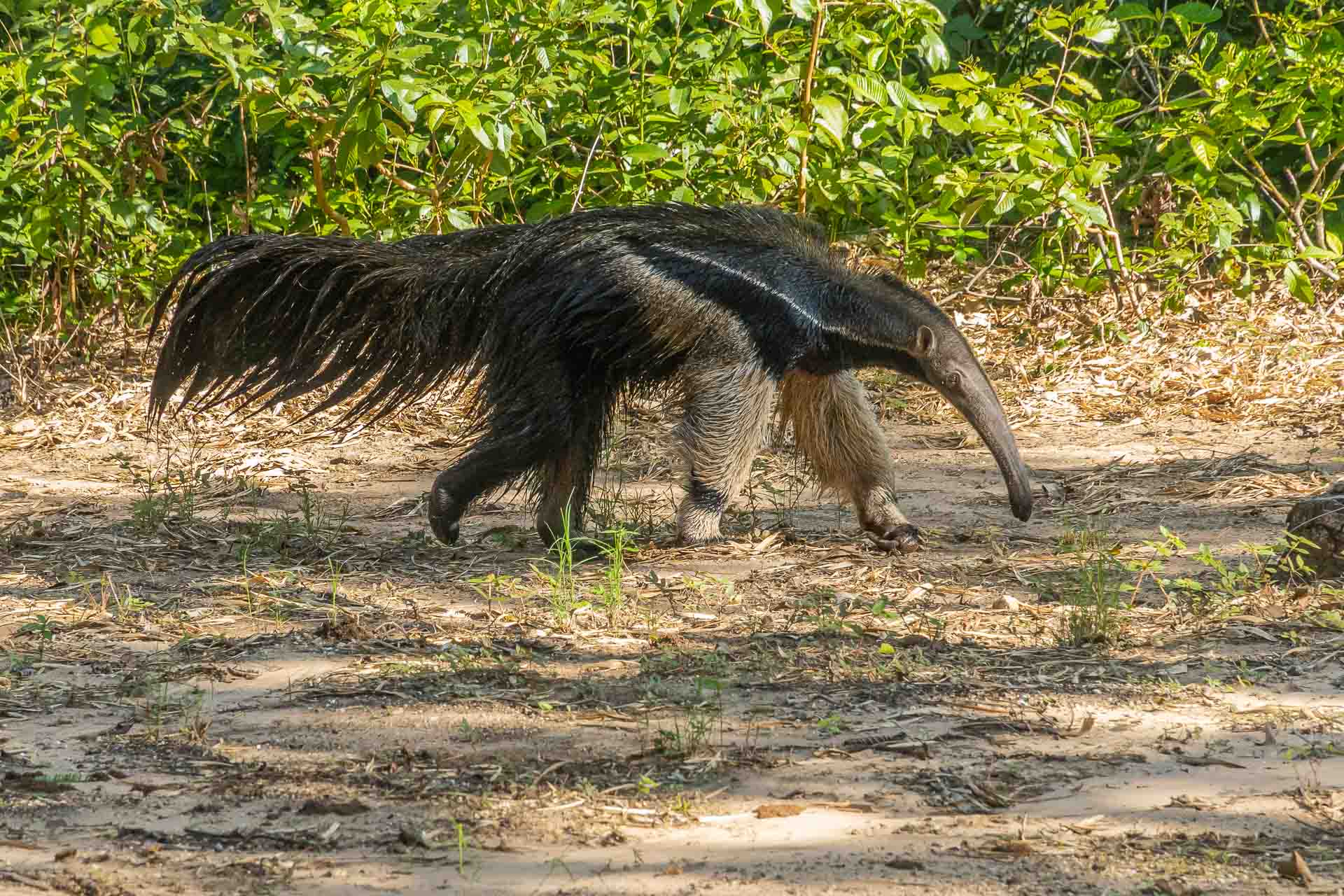 The Serra da Bodoquena National Park has existed since 2001, but it was only opened to the public in 2020. Most of the attractions of Serra da Bodoquena are inside the park, that's why it is necessary to be accompanied by an accredited guide for the trails and other activities.
The National Park is of enormous importance for the preservation of the region. It is the only federal conservation unit in the state of Mato Grosso do Sul. The existence of the park is essential for the conservation of the biodiversity of the Cerrado and the Pantanal, as it helps to contain the expansion of irresponsible agribusiness.
During our visit to the region, we heard many reports from locals about the advance of deforestation caused by the relaxation of environmental laws in recent years. That's why it's so important to value the Serra da Bodoquena National Park through our visit, helping to strengthen a local economy based on sustainable tourism. For this reason, have always in mind from whom are you buying the tours, your meal, your souvenirs and accommodation.
Tours in the Bodoquena – main attractions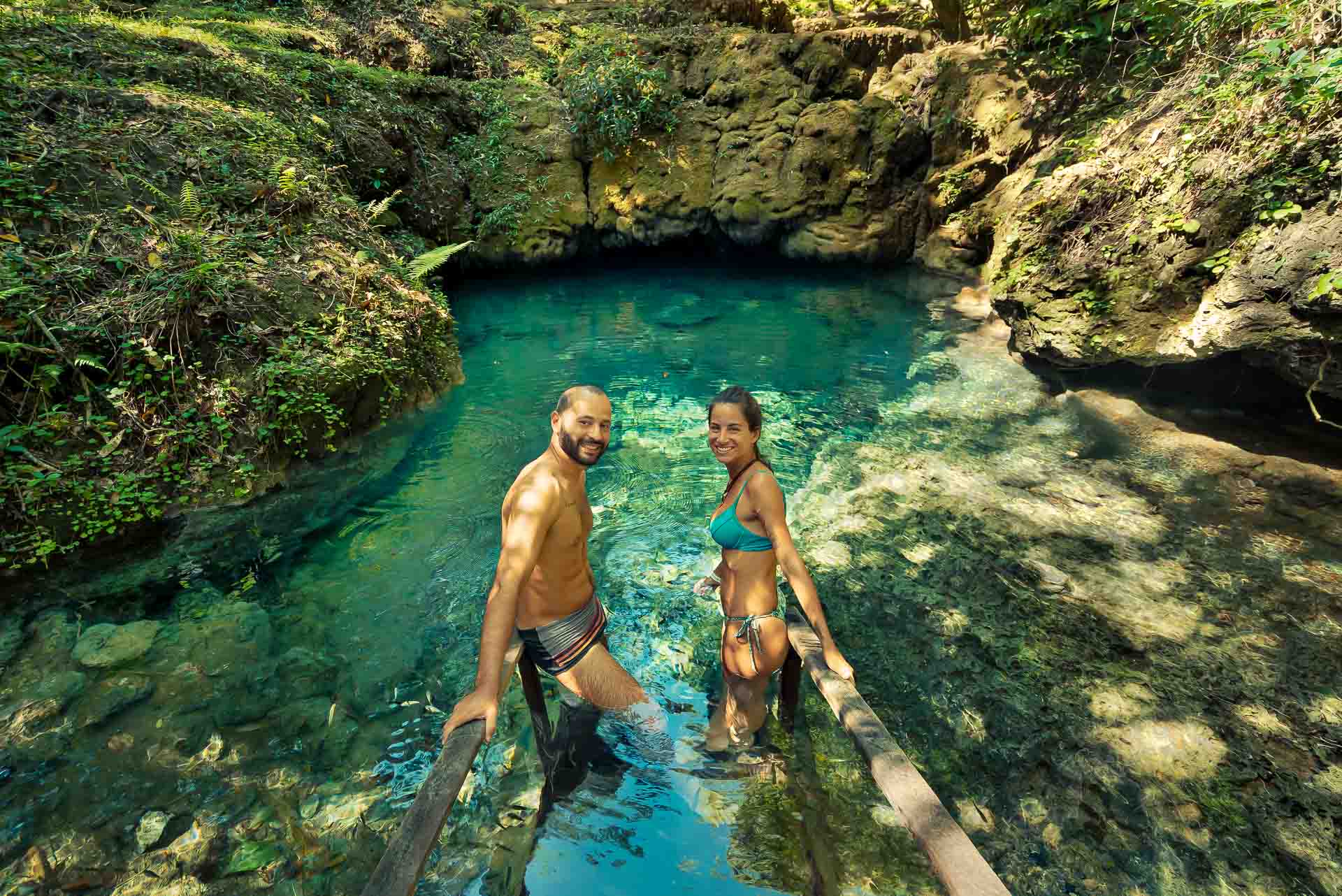 There are many activities and tours to do in Serra de Bodoquena, such as visiting the Buraco das Araras, the Boca da Onça Farm, the Eco Serrana Park Trails and the attractive Serra da Bodoquena Waterfalls. Here we explain better how each one of them is as well as our favourites!
By the way, if you need to stay online at all times but don't want to make chip contracts with companies, you should look at Travelers Wifi, a portable wifi router you can connect up to 8 devices and work in more than 100 countries!
Book them here
or see
our review in this article
!
Salobra River Canyons Trail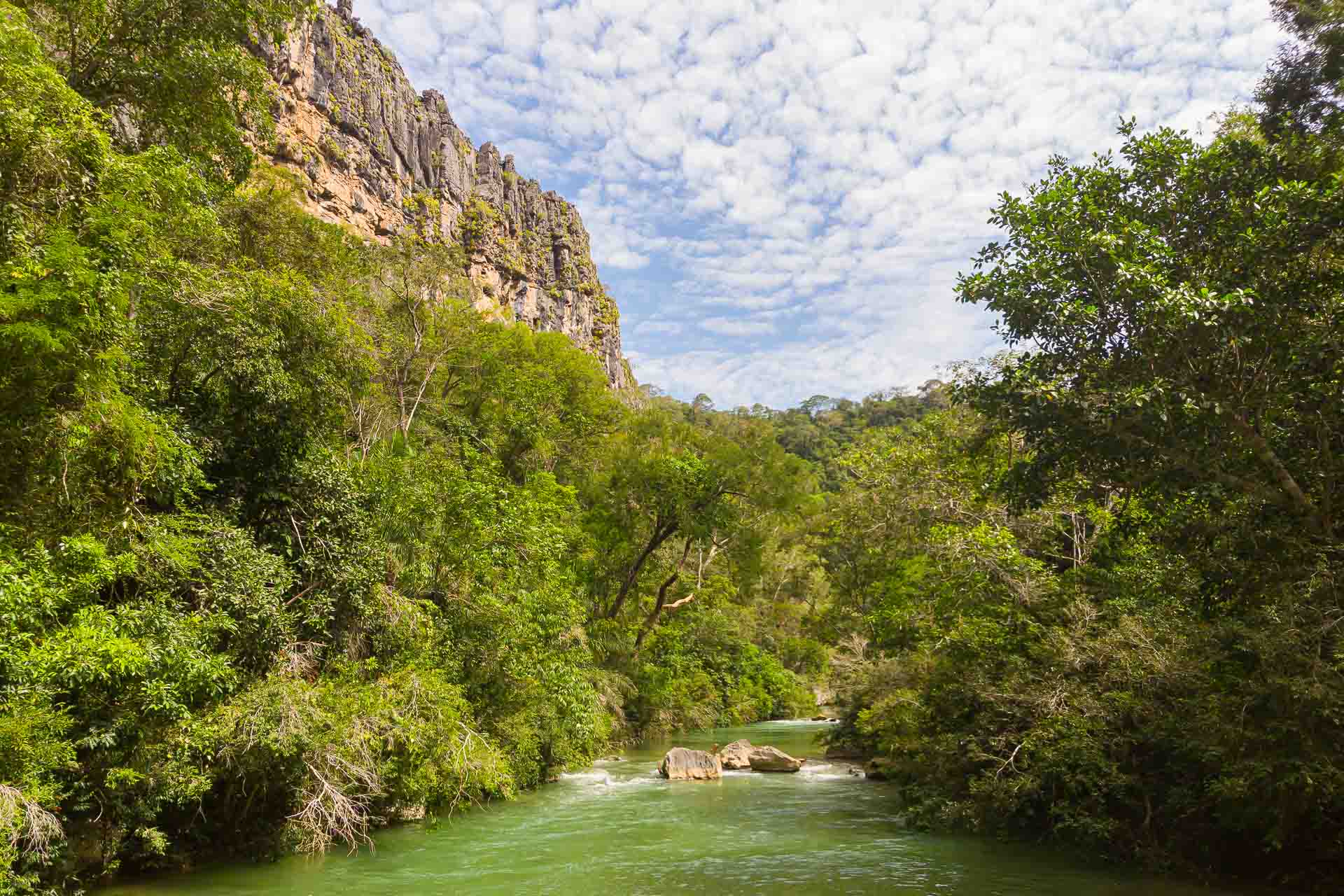 The Canyons Trail is simply not to be missed! There are 7.5 km between round trips in which you cross the crystalline waters of the Salobra River several times, coming across a landscape more beautiful than the last at each crossing. The end of the trail takes you to a beautiful and imposing wall.
The entrance to the trail is made by Eco Serrana Park, managed by Fádua and Ricardo. We had the opportunity to meet them in person and could not recommend more for the work and dedication they have with the place. Like all other trails in the park, the tour must be done with a guide, which you can book directly with them.
Price: Guided trail + delicious lunch on arrival: €45 p.p.
Boca da Onça Farm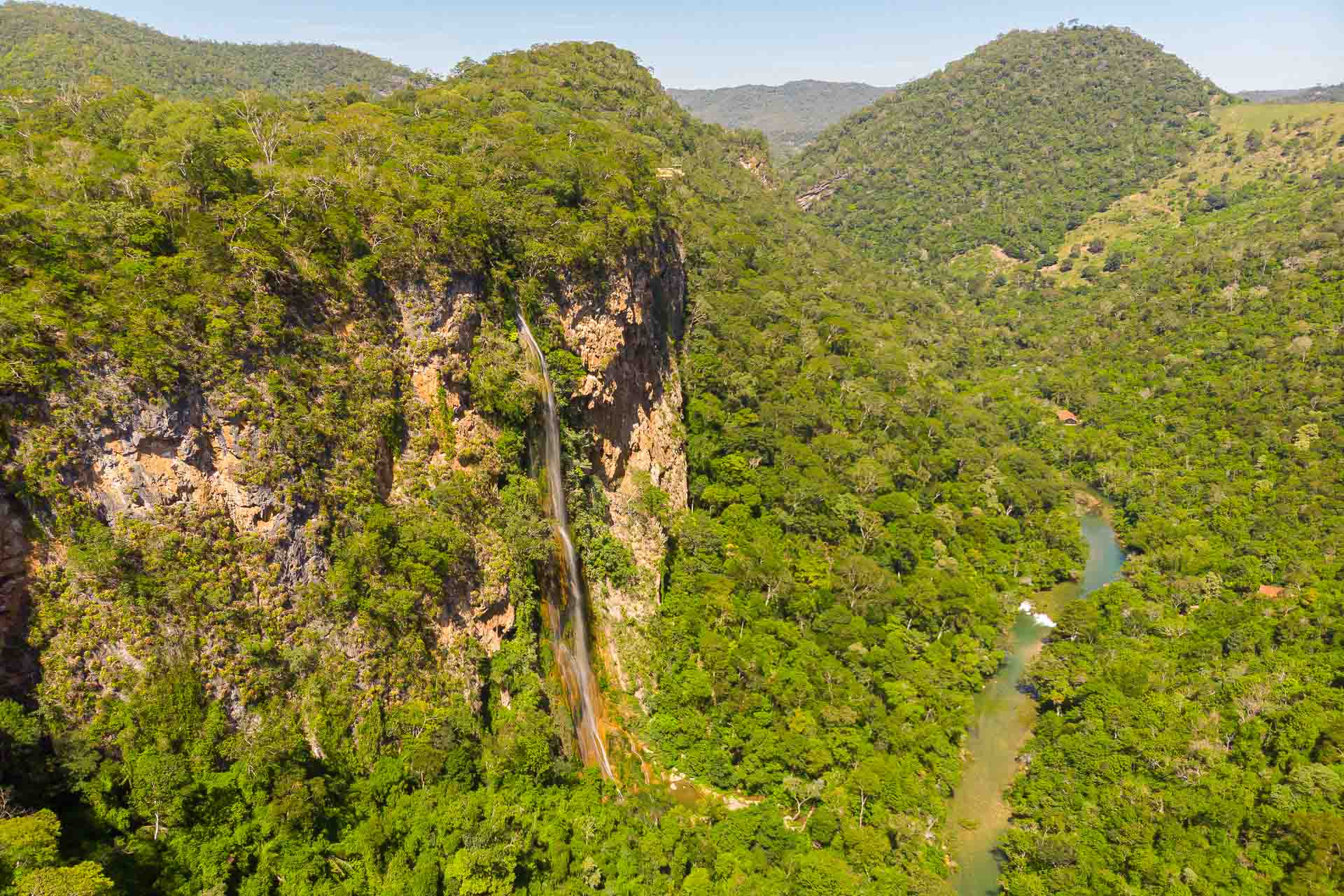 Many people think that the Boca da Onça farm is in Bonito, but it is actually part of Bodoquena.
Boca da Onça offers two trail options: Adventure and Discovery. We did the Adventure, which is the one recommended for us as it passes through the main points of the farm, such as the Boca da Onça waterfall, Janela do Céu and Buraco do Macaco. This was one of our favorite tours in Bodoquena and Bonito!
The entire trail is 2.2 km and is very quiet. Our only criticism is that the guided groups are very large, sometimes up to 14 people for a single guide. For us, it spoils the experience quite a bit.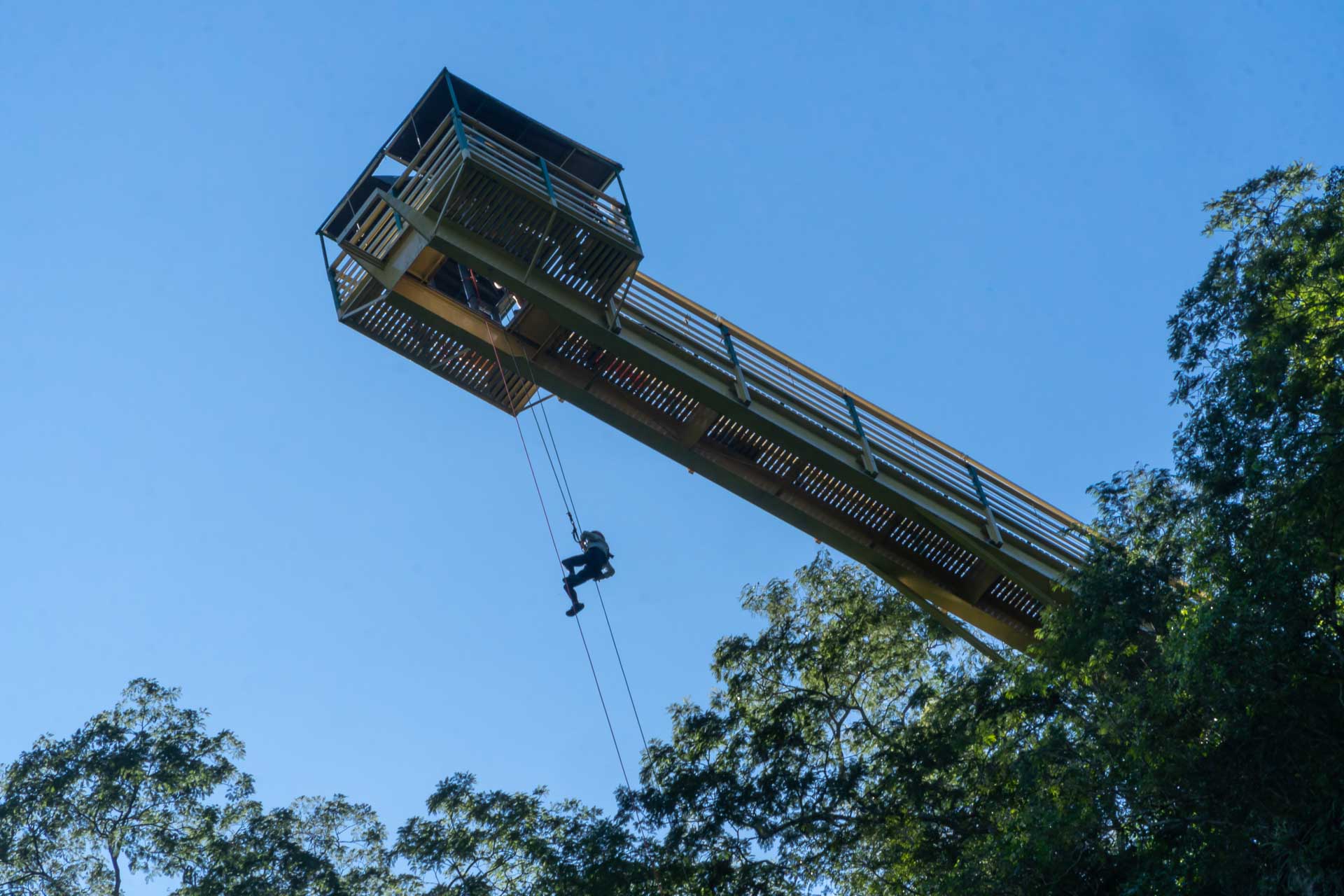 For those who like adventure, be sure to include the rappel descent with the Adventure Trail! The Boca da Onça Bodoquena farm has the largest platform abseiling in Brazil – 90 meters of pure adrenaline. Too beautiful!
Book your guide to the Boca da Onça Waterfalls here.
Other Serra da Bodoquena trails
The Serra de Bodoquena still has other trails. But, as we didn't do them, we can't give much of our opinion.
– Santa Maria River Trail (access through Fazenda Rancho in Bodoquena)
– Poço Encantado Trail (access through Eco Serrana Park in Bodoquena)
– Sumidouro and Resurgence Trail of Rio Perdido (access via Bonito).
Macaws Hole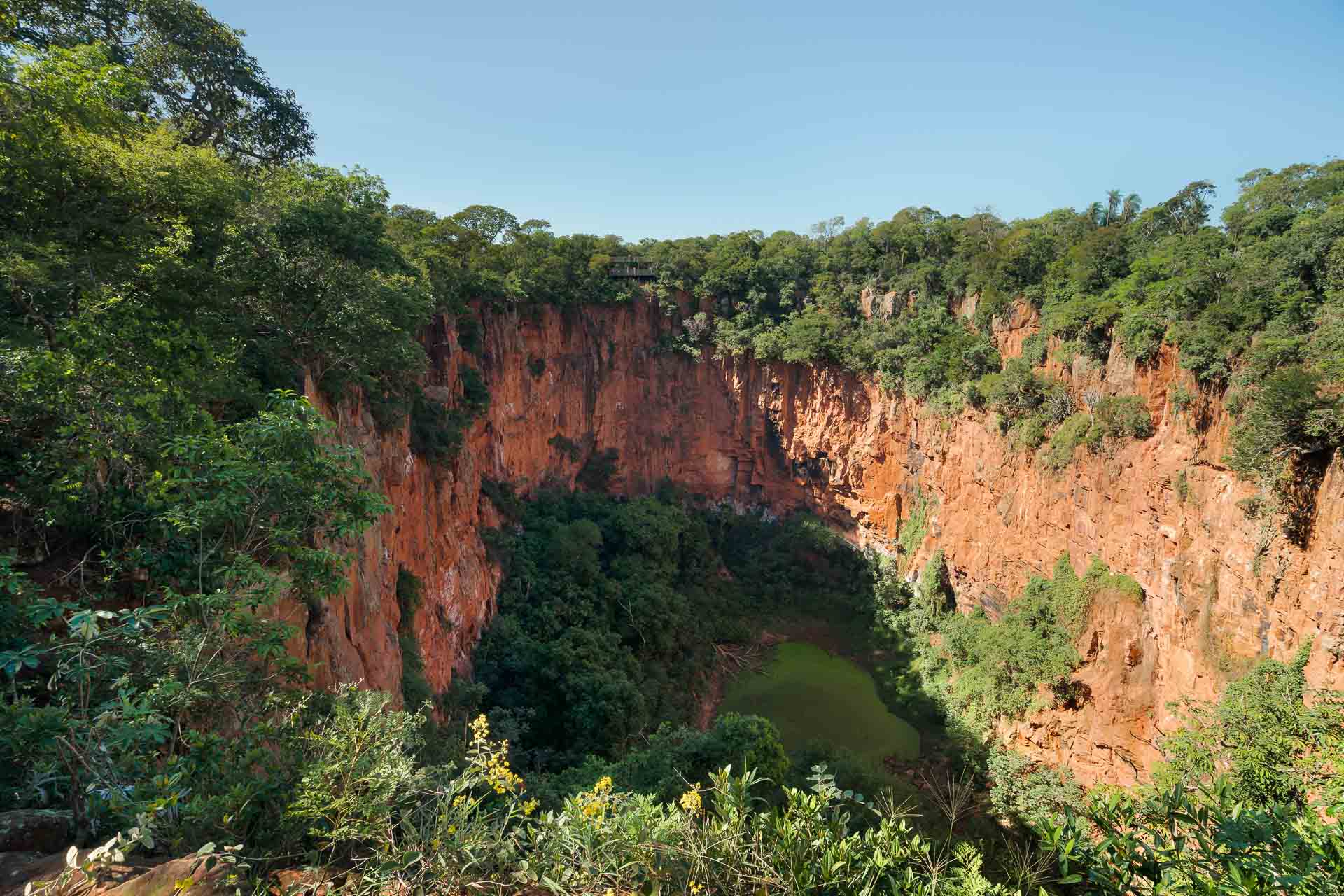 This is another attraction very visited by tourists from Bonito, but it is actually in the city of Jardim, in the Serra da Bodoquena. Buraco das Araras (or the Macaws Hole) is the largest sinkhole in Latin America – sinkholes are valleys that form when the earth gives way. It is 100m deep and 500m in circumference, a huge valley inhabited by hundreds of macaws, toucans and other animals.
The most interesting, however, is the story behind the place. When Mr Modesto bought the farm where the Macaws Hole is located, in 1986, he found a large dump full of black vultures. The place was so dirty that even human bodies and abandoned cars were found there.
Little by little, Mr Modesto did some revitalization work. He took out the garbage, reforested it, brought the first pair of macaws to live there and turned the area into a RPPN (Private Natural Heritage Reserve). Today, what we find is a valley taken over by nature and by the macaws, of course.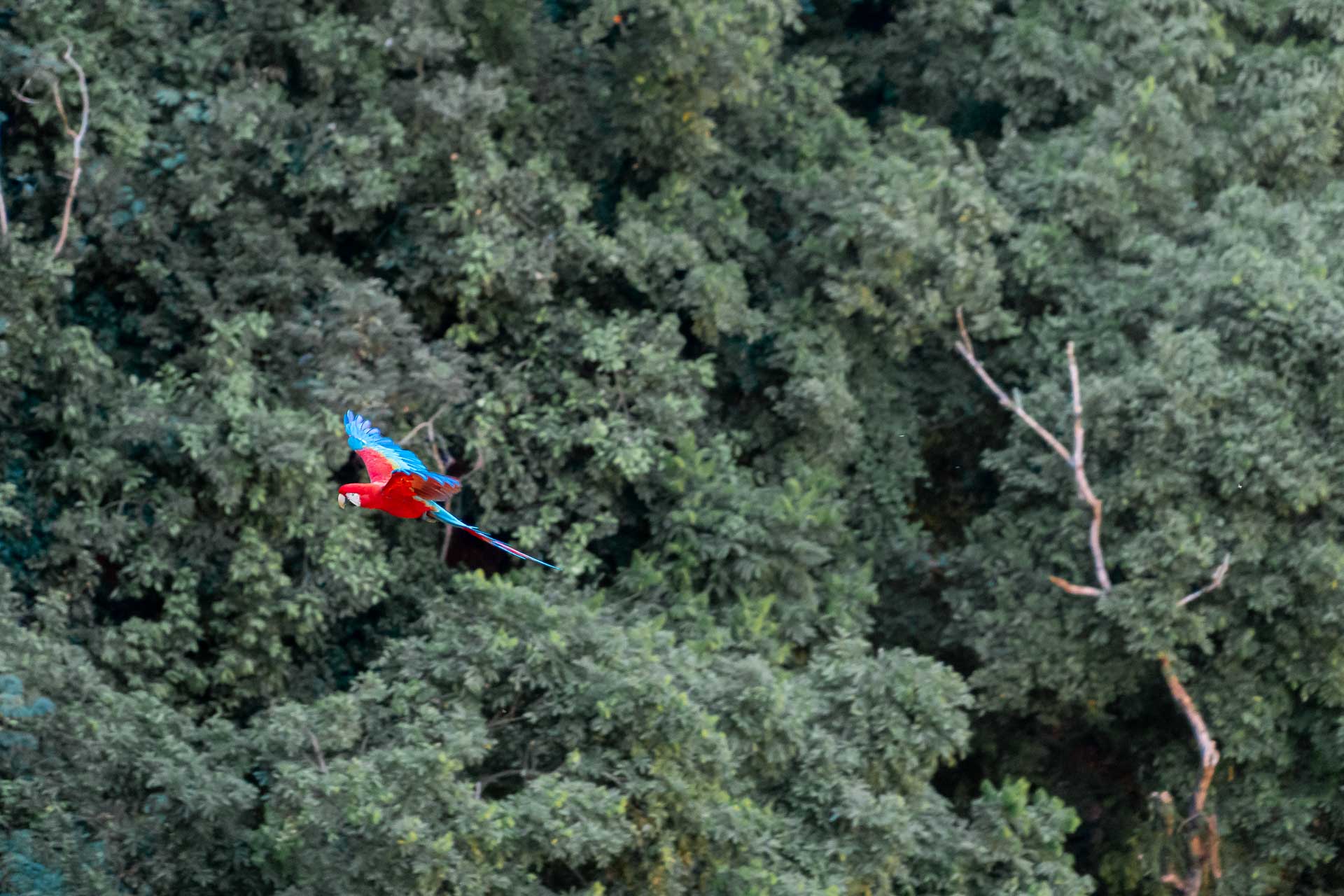 Honestly, Buraco das Araras was not the most exciting place we visited. The trail is small and the tour consists of just watching the animals from a platform, which is great anyway. But the history of this place makes it quite worth your time.
Price: €19. You can book your guided tour here. (PS. Guide in Portuguese only).
Serra da Bodoquena Waterfalls
The Serra da Bodoquena Waterfalls is a farm hotel where there is a waterfall, some trails, kayak and ATV tours. We didn't have the opportunity to get to know the place, but we leave here the suggestion for those who have a few more days in the region.
You can book your tour here, if interested.
How many days to stay in Bodoquena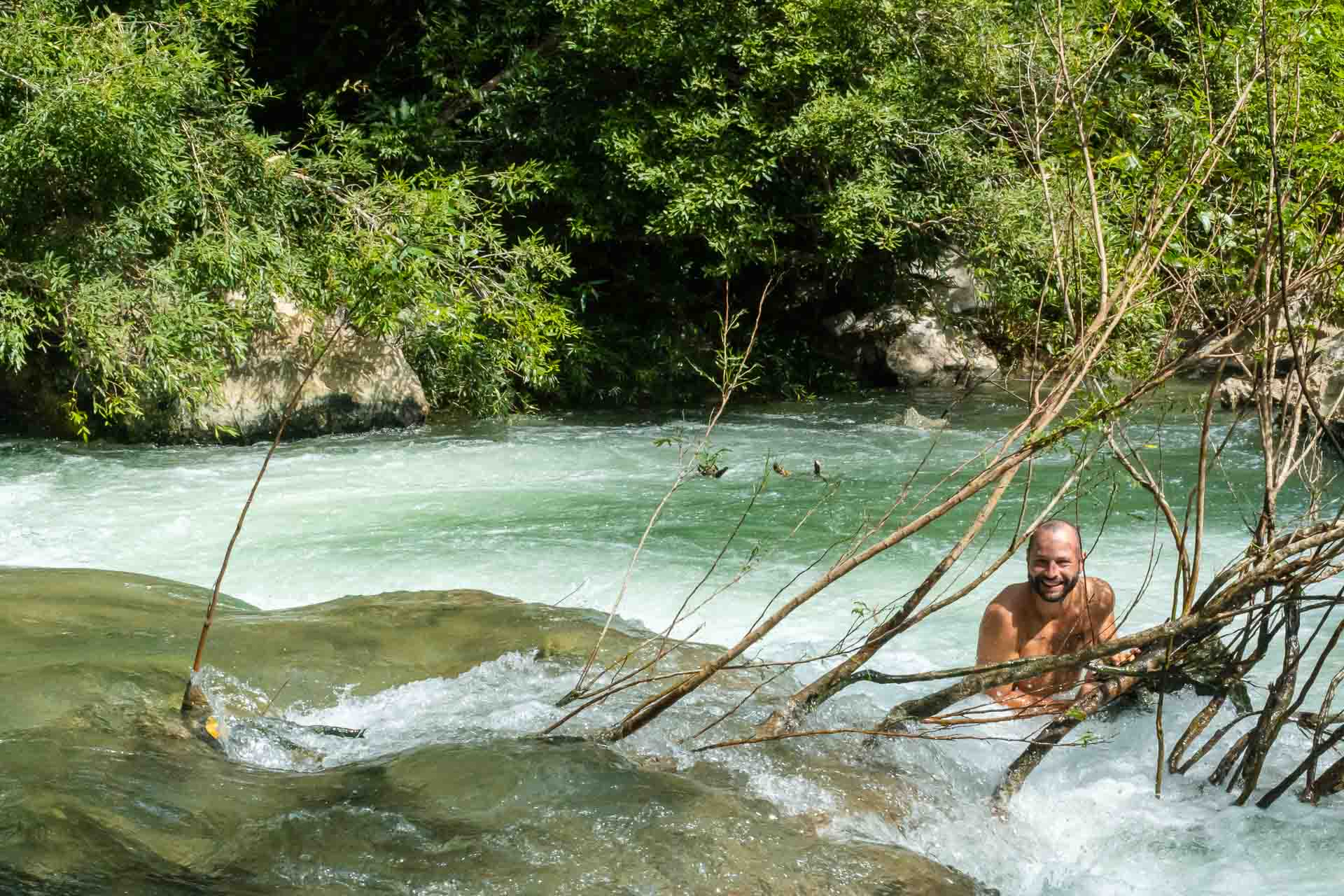 As we said at the beginning, Serra da Bodoquena is strategically located between the Pantanal and Bonito, being a great stopover option for those travelling through the region. Spare at least two full days to stay in Bodoquena and discover its main attractions. Make sure not to miss the Canyons Trail and the Boca da Onça Farm mentioned above. If you want and can stay longer, even better! There will be no lack of options for tours in Serra da Bodoquena.
Furthermore, using Serra do Bodoquena as a base for your trip, you can take the opportunity to do some tours in Bonito, such as Abismo Anhumas and the Floating at Rio da Prata, which were the best tours in Bonito, in our opinion. Also, try to spend a day at Fazenda Hi Fish for an authentic Pantanal mini-entourage experience.
Suggested travel itinerary
Day 01: Arrival in Campo Grande by car, or rent a car at the airport; drive to Corumbá (stay at Hotel Virginia or Hotel Nacional);
Day 02: Drive along Estrada Parque;
Day 03: Floating on the Paraguai Mirim River;
Day 04: Visit La Cueva in Montacusito – a cave in Bolivia;
Day 05-07: Drive to Miranda or Aquidauana. Enjoy the region for three days on a typical Pantanal farm – We recommend Refúgio da Ilha, Fazenda Caiman or Fazenda Aguapé.
Day 08: Make a mini-entourage at the HiFish Farm and sleep a hotel in Bodoquena;
Day 09: Go for the trail of the Canyons in the Serra da Bodoquena National Park with Eco Serrana Park;
Day 10: Visit Fazenda Boca da Onça for trekking and adventure in nature and drive to Bonito (stay at Hotel Marruá, Hotel Cabana or Hotel Selina)
Day 11-14: Activities in Bonito – check our article about Bonito (coming soon);
Day 15: Return to Campo Grande.
Photos of the Serra da Bodoquena