This post is also available in:

Português
A visit to Alberobello Italy is a must when travelling to Puglia. If you have ever seen a picture of the conned shaped houses – aka trulli houses – in Puglia, you are probably wondering why they have this weird and fascinating shape. We visited Alberobello in Puglia wondering about the history of the trulli houses and now we tell you not only the history of trulli houses, but also other legends of this great place in Puglia!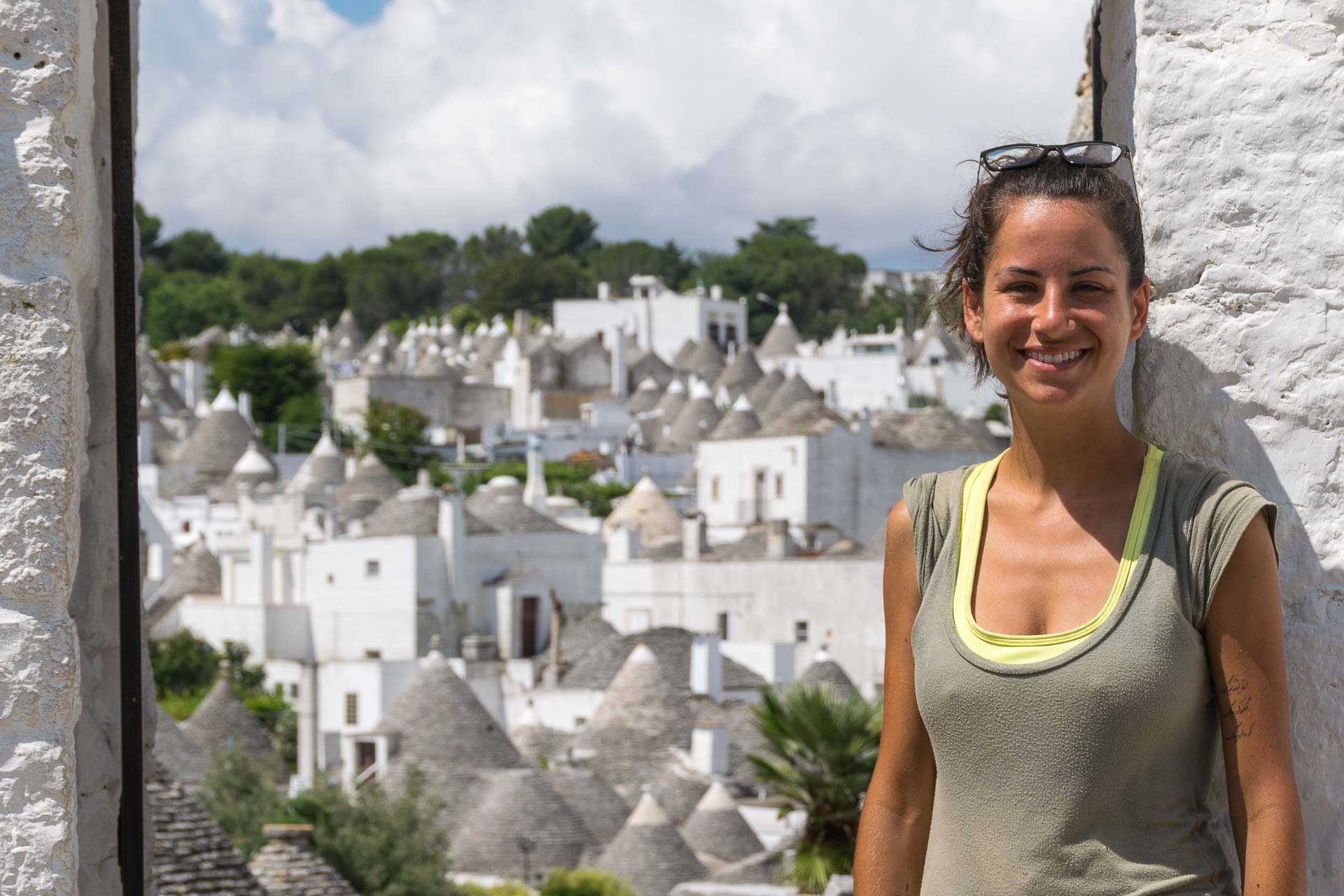 We visited Puglia on our bike trip from the north of Italy all the way to the most southern part of Puglia. You can see our videos on our YouTube Channel or read how to travel by bike in Europe in here.
After visiting the coast of Puglia, we completely fell in love with this region and it has soon became our most loved piece of land in Italy. One of the stories that we loved the most was about the trulli houses in Puglia. Although they are more famous in Alberobello, you can see trulli houses all over the Vale D'Itria.
The history of Trulli houses in Alberobello Italy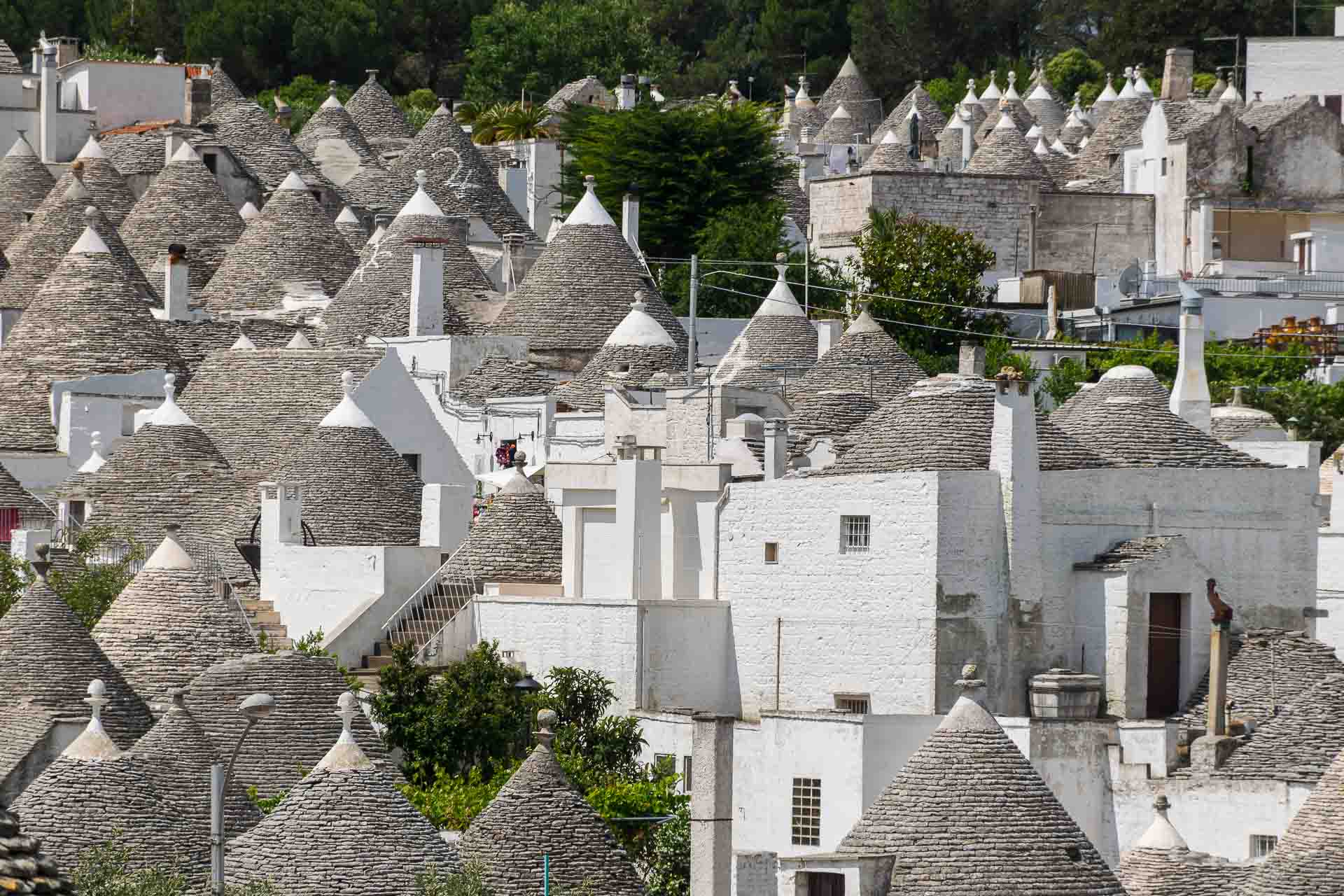 First of all, let's clarify the difference between trulli and trullo. One is just the plural form of the other in Italian language. So, you have many trulli, but just one trullo.
As for the history of trulli houses, the truth is that no one really knows the real reason for this singular coned shape of a trullo. So, that's it. Thanks for reading!
Nah, we actually dig further on that. Therefore, the most heard legend says that its inhabitants built their houses in that way to avoid high taxes charged by an old Spanish king, who ruled this region a long time ago. To have the roof made by assembling stones on top of each other made easier for the inhabitants to dismantle it whenever the tax collector came. A house without a roof isn't really a house and that would give them an excuse to not pay taxes because they claimed they have no house. After the tax man leaves town, they would put the stones back together to have their roof again.
The probable truth of the trulli houses
Even though the story above is the most spread out story about the history of the trulli in Puglia – and kinda cool too -, we heard from many local people as well as from the Alberobello tourist information that the truth is not quite like that.
According to them, this taking-off putting-back task would be almost impossible for the residents of the trulli – particularly for elderly people. To have their roof off and them back on again would be such a hard work that they would very likely rather pay taxes.
What we were told is that the region that is currently Alberobello, was once a gigantic forest. The "guardian" of this forest had forbidden permanent housing constructions in order to not change the forest into a town. The peasants of Alberobello could build temporary structures to live while farming, but not use any sort of mortar. Therefore, to make the roof with rocks, which by the way are plenty in the Vale D'Itria, were the most economic option for the house structures of the houses.
The legend of the name Alberobello in Italy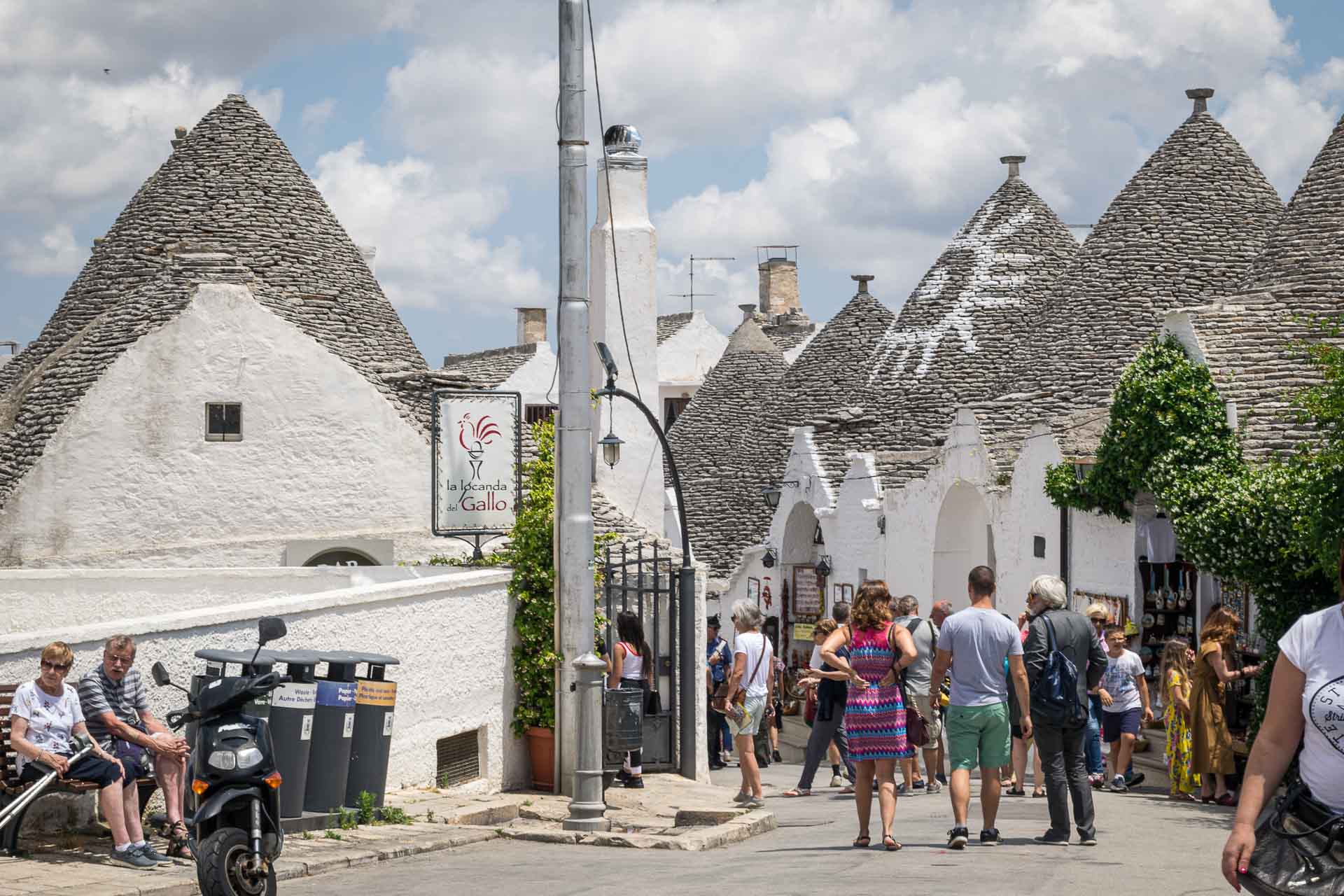 Taking the opportunity to demystify legends, there is another one we want to explain. That is with regards to the name of Alberobello.
In modern Italian language, Albero means tree and bello means beautiful. Therefore, people think the name refers to beautiful trees which they used to have in the region. There was, in fact, a massive forest – as said – where the city of Alberobello is today. However, that's not accurate.
In this forest, there was a secular tree named Arbor Belli – Tree of War in Italian. That is because its wood was commonly used to make guns. The name of this tree gave origin to the name of the town. But let's pretend we didn't hear any of that and stick with beautiful tree though. It sounds so much better than tree of war.
The truth is not always the most exciting story, isn't it? But regardless of the history of Trulli and the name of Alberobello in Italy, this town is unique and fascinating. It sure should be on your itinerary in Puglia.
Should you stay in Alberobello Italy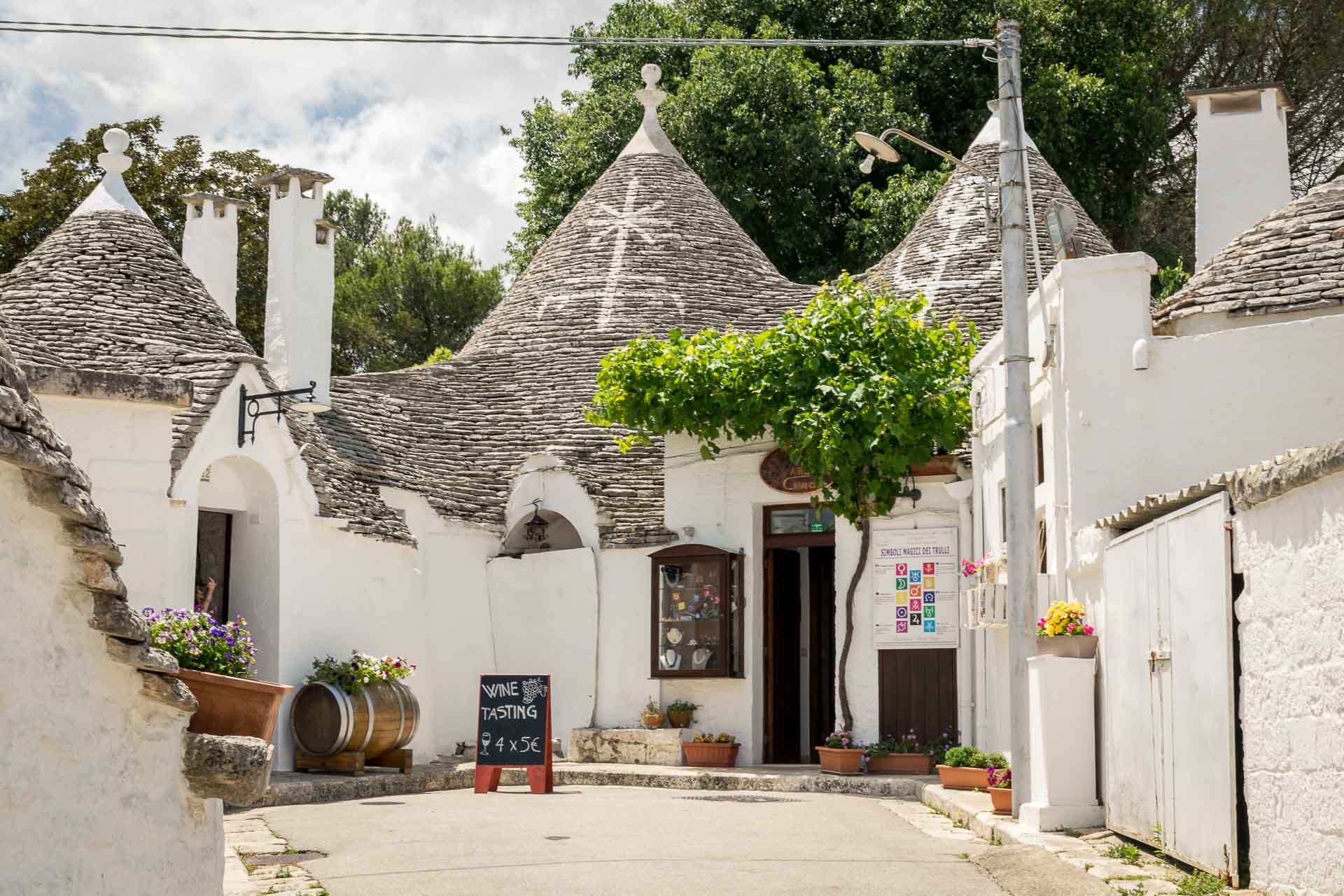 To be honest, it is not necessary. Alberobello is a perfect day-trip from cities such as Polignano A Mare, Ostuni, Bari or Taranto. Also, Alberobello isn't big enough and with many activities that you have to put a side a whole day for it. It is interesting to visit the town, shop around, speak with locals and avoid carrying your bags from hotel to hotel.
However, you might want to experience spending the night in a trullo, as many of them are now accommodation services. You might even find some interesting Alberobello Airbnb to spend the night. In that case, have a look in these options here.
Alberobello things to do
When visiting Alberobello, we recommend walk till you get lost around the city, really. Then find a nice trulli restaurant to enjoy some local food and buy something from a local shop that will make you remember this experience. Nevertheless, you might want to make a guided tour, that will give a lot more information, including these legends and stories about the trulli houses in Puglia. Check it out on the banner above about activities in Alberobello.
---
* *Article originally written December 2018 and updated July 2022* *