This post is also available in:

Português
Georgians love to gather together to eat and drink! They call this fraternisation amongst family and friends of SUPRA, the Georgian toasts!
Do you want to know more about the fascinating Georgia? Check it out these posts too:
The cha-cha,- which is a spirit made from grape -, and wine are the beverages mostly found on supras. Actually, there are evidences that the wine was invented in Georgia about 8000 years ago and the locals are extremely proud of that. However, more important than the drink, are the toasts, which are ever quite personalised and meaningful.
There are various topics of toasts (and shots!) throughout the meeting, which follow a specific order, hosted only by one man (called "tamada"), usually the elderly one. This person will guide the supra but it does not mean he will be the one making all the toasts, as everyone at the gathering is invited to say something. But attention, there aren't any glass half-full or half-empty. The glass must be fully full so the toast can begin!
The Georgian toasts order.
(Who knows it turns out to be an inspiration to improve the next happy hour!)
The reason of this gather together;
About life;
About God and family;
The next ones can be in different order but they are in the name of:
The women;
The ancestry who passed away (then, the next one has to be compulsory about children, as they represent the continuity of life, starting from the youngest child of the family to the all of the others);
Important happenings and Georgian history heroes;
Important happenings around the world;
Love;
Friendship;
The love of a mother;
Elderly people;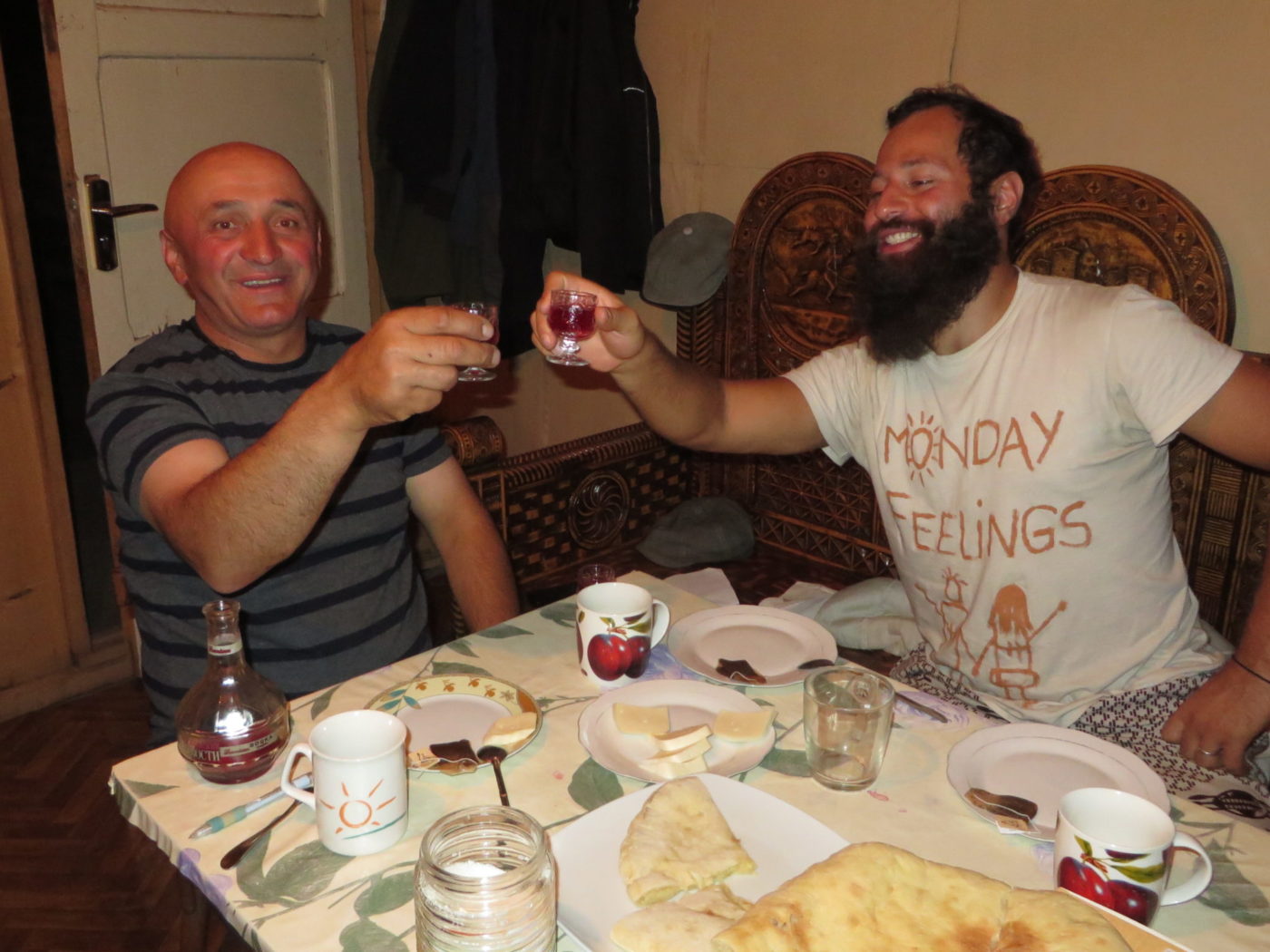 Somebody who perhaps is passing by the table can also be a reason to toast. In fact, they can possibly be invited to gather with all and drink during that round.
So, it is a lot of toasts! After being in some supras, we can say we love it and will try to adopt the tradition. The topics which comes up during these gatherings are normally very sensitive, inducing to an emotional connection amongst all. Most of the times, even not speaking the same language, we had the deepest and diverse topics with our newest friends, leading to many hugs and laughter.