This post is also available in:

Português
Traveling through Thailand is an unforgettable experience – vibrant markets, exotic cuisine, and breathtaking scenery. And when it comes to exploring this beautiful country, there's no better way to embrace adventure than rent a motorbike in Thailand. With two wheels at your disposal, you are the master of your fate, you are the captain of your soul!
In Koh Lanta, where we lived for almost two months, a motorbike allowed us to explore many hidden secrets of the place. The benefits of renting a motorbike in Thailand is undeniable: it's affordable (about U$5 per day), licenses often go unchecked and helmets can sometimes be left behind (that feelings of freedom!). The appeal is crystal clear, but here's a word of caution – amid these perks lies a potential pitfall that can quickly turn your dream trip into a nightmare.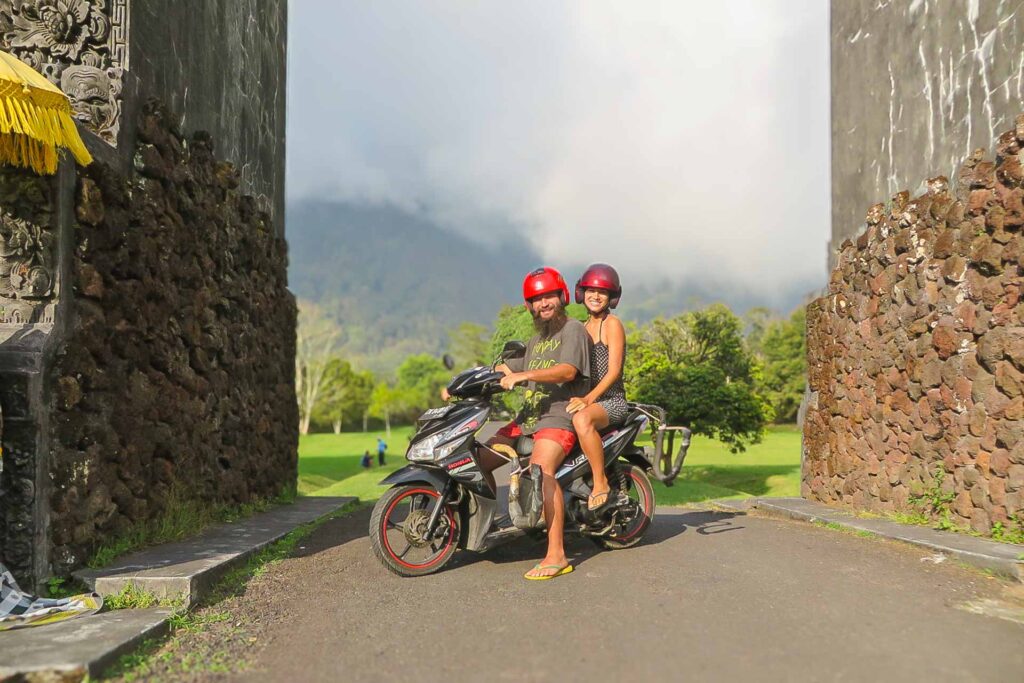 The common practice is straightforward: leave your passport as a deposit, and you're off on your two-wheeled journey. However, this simple transaction can go awry and lead to disastrous outcomes for many unsuspecting travelers. During our travels through Asia, we've witnessed far too many tourists suffering physical and financial harm due to unscrupulous motorbike rental schemes. If you don't take our word, you can see for the US government alert, saying:
"Rental scams do occur in Thailand. Many rental motorbike, jet ski, and car companies will hold your passport until you pay for real or fictitious damages. We advise against using your passport as collateral."
This article is not meant to deter you to rent a motorbike in Thailand, but rather to empower you with knowledge based on our experience. We want you to embrace this adventure safely and avoid the scams and pitfalls that have caught others off guard.
In this article, we will share seven indispensable tips to ensure that renting a motorbike in Thailand will be a good experience, worry-free and no setbacks. But before we carry on, have you read our guide to backpack in Thailand on a budget? Check it out!
1- Choose carefully the shop you are going to rent your motorbike in Thailand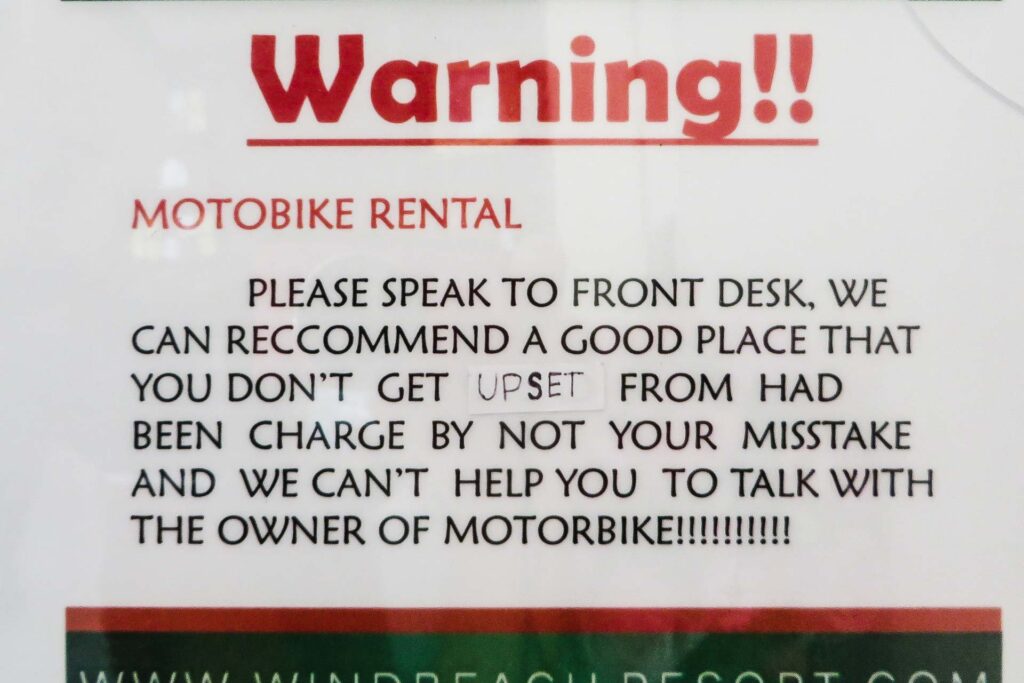 Your first and most crucial decision is selecting where to rent your motorbike. In an industry where not all players have your best interests at heart, it's vital to choose a shop with a reputation for honesty and trustworthiness.
Here's a trusted approach: seek recommendations from fellow travelers or the place you're staying. But be careful as not all hotels/hostels seem untrustworthy. Particularly because some lodging owners are also the ones renting motorbikes in Thailand. From our experience, established hostels or hotels used to dealing with travelers can often offer reliable advice.
2- Document all before leaving
Before you hit the road, be your own detective. Take detailed pictures and videos of your rented motorbike from every angle, capturing any existing scratches or damages, no matter how minor. Then, ensure the rental owner is present when you show them to avoid disputes later.
Too often, tourists find themselves charged for damages they didn't cause, all because they lacked photographic evidence. Keep in mind that damages, regardless of their size, can lead to hefty charges for replacing entire parts. This deceptive practice occurs more frequently than you might expect, with prices for replacement parts inflated to exorbitant levels. Protect yourself from this threat through meticulous documentation.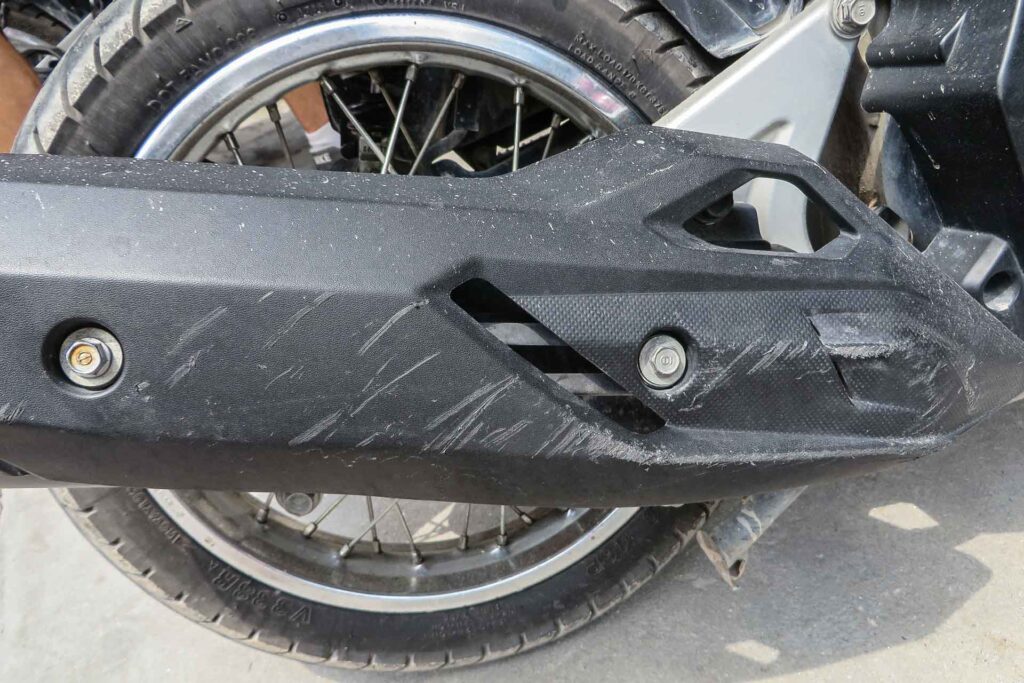 3- Check the condition of the rented motorbike in Thailand
Your safety depends on the motorbike's condition. We've encountered stories of tourists injured due to accidents resulting from poorly maintained scooters in Thailand. In one instance, a traveler in Bali suffered severe injuries when a tire exploded without warning. The result? A broken collarbone and a month-long hospital stay for an operation.
Thank God the guy was insured. And ff you don't have yours, we recommend checking SafetyWing, particularly for a long time travellers! They are the best in the market and you can get one or renew yours on the go. Check prices here.
Prioritize your safety by thoroughly inspecting the motorbike's condition. Pay close attention to essential parts like the brakes, tires, lights and engine. Don't ignore any signs of wear and tear. A scooter in disrepair could transform your journey into a nightmare.
4- Avoid last-minute returning
An essential rule to rent a motorbike in Thailand is never to return it just before you are due to depart. The closer your flight, bus or boat schedule is, the easier it becomes for the rental shop owner to take advantage of your haste. And they are well aware of the urgency in your travel plans, if you have one!
Difficulties usually arise when it's time to return the motorbike. Should they accuse you of damages, such as a scratch on the mirror, they might demand immediate payment to release your passport by saying: "you either pay me US$200 or I do not give your passport back". By the way, they typically check your visa to ensure you are giving the right passport too.
So, instead of succumbing to pressure, give yourself the time to negotiate or even involve the police. Rushing can lead to paying an exorbitant sum just to make your departure.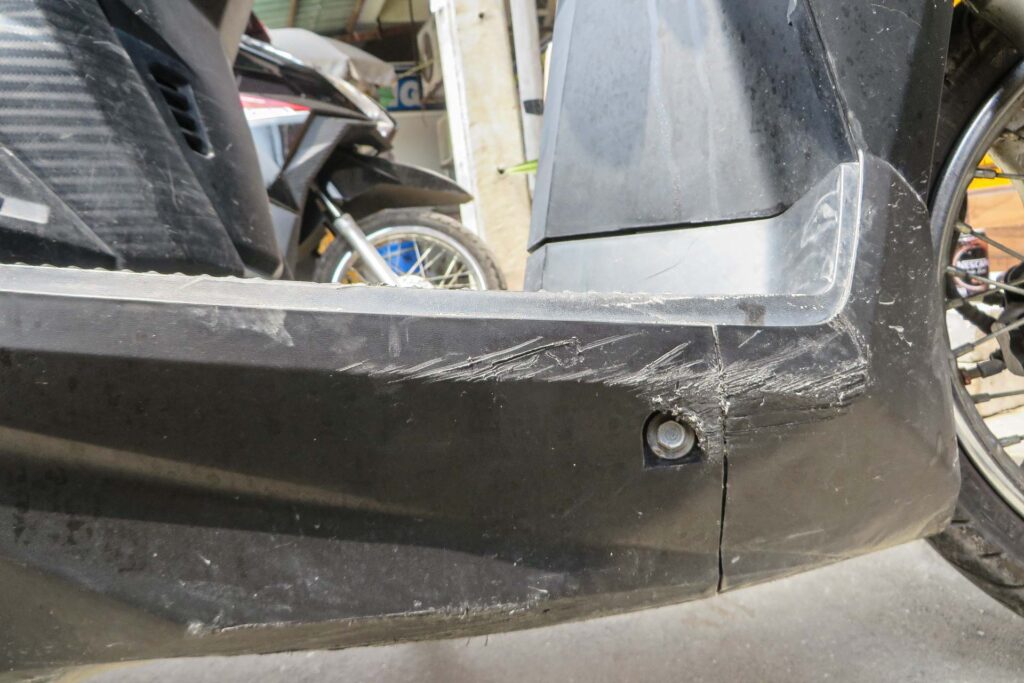 5- Protect yourself – wear helmet!
While the breeze against your face may feel liberating, we strongly advise you to wear a helmet. Even if it's not enforced in all areas and the allure of the wind in your hair is tempting, the risks are too high to ignore. With the number of accidents we see, it is quite irresponsible not to wear helmet.
Thailand's diverse driving conditions and road rules, combined with local drivers who often speed, demand a proactive approach to safety. Protect your head; it's your most valuable asset.
6- Never, ever, drive drunk
This tip applies universally, but in a foreign country, it's more crucial than ever. Never, under any circumstances, operate a motorbike under the influence of alcohol. That feeling of you can do whatever, with Thailand's road conditions, local driving habits and the state of some rental scooters make this a dangerous combination. Don't take the risk.
Particularly if you do get drunk often! And if you do, you probably want to enjoy the Full Moon Party. So see here dates, info, secrets and all you need to know about the Full Moon Party in Thailand.
7- Be honest
Let's agree that if you do not want to be cheated on, then don't cheat on nobody. Basic acquaintanceship rule.
Accidents can happen. So, if you cause damage or notice a problem with the motorbike during your rental period, be honest and report it to the owner. You can negotiate the cost and reach a fair agreement. Attempting to conceal damage is unfair to the next renter and it's not the right path. We believe in responsible tourism that benefits everyone.
Our own experience renting a motorbike in Thailand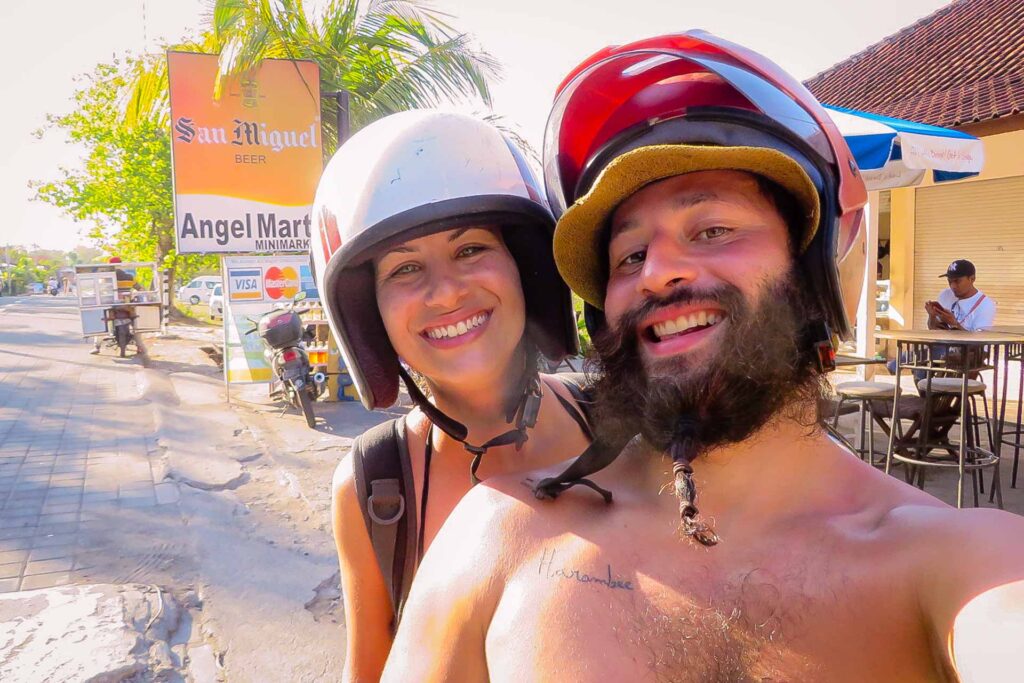 Though these tips might appear cautionary, it's essential to know as we've encountered numerous stories of travelers being taken advantage of. Including ourselves!
We have already been victim of a cheater and as a result we left our passport behind because the man was charging us US$700! Yeah, we caused damage to the bike, but he was charging us a whole new motorbike! And even said we would pay 200 dollars, which more than fair. He thought we wouldn't leave our passports behind. Well, we did. We went to the police, made a report. By the way, the police knew the guy and said he couldn't do anything. And the next day we went to Bangkok and made a new passport.
We hope this guide will help to safely rent your motorbike in Thailand and allow you embark on a remarkable adventure with a clear understanding of the potential pitfalls. The goal is not to discourage you from exploring Thailand on two wheels. It's to ensure you're well-prepared to protect yourself and make your journey memorable for all the right reasons.
Remember, your journey is as good as the care you take. Stay safe and enjoy the ride!
---
* This article was originally written in March 2016 and updated on November 2023