This post is also available in:

Português
Penang city, in South East Asia, is one of our favourite spots in the world. In this Penang city tour guide we will tell you why we love it so much and everything else you should know about this charming island in Malaysia.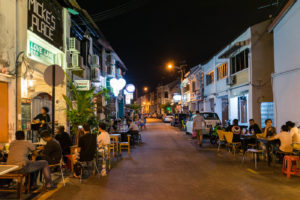 Penang is probably one of the most culturally diverse islands in the world. The whole island is lively and full of historical buildings, temples, art and graffiti, let alone one of the best gastronomy hubs ever as well – not overstating.
We came to Penang through recommendations of people we met during our trip around Thailand as we had never heard of it before. Arriving in Penang not knowing anything about it – so without any expectations – which made us love it even more. We liked it so much that the two nights we had planned to stay turned into a week.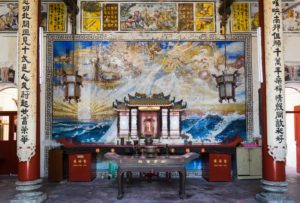 IN THIS PENANG CITY TOUR GUIDE YOU'LL FIND
The history of Penang Island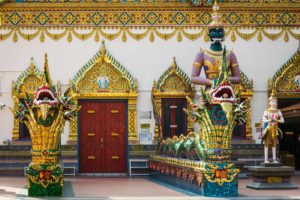 Penang is located on the West side of Malaysia (355 km from Kuala Lumpur), really near the border with Thailand. The island was a British colony for many years, keeping such status even after the independence of Malaysia – just as it was with the city of Malaca and the former city of Singapore.
The results of a long colonisation are present up to this day, such as on the buildings and on the local culture. Currently, Penang and Malaca are part of Malaysia. However, Singapore became an independent region, mostly for being geographically isolated and formed of Chinese descendants, thus having gradually grown apart from the culture, politics, habits and laws of Malaysia.
Presently, Penang is an important tourist destination in Malaysia for both domestic and international tourism. Every tourist we met had fallen in love with this charming little island, even the Malaysians are quite proud of the place.
The whole world lives in Penang
What really caught our attention the most in Penang was the cultural diversity. For some reason, the island became home for many Chineses, Pakistanis, Syrians, Indians, English, Germans and, of course, Malaysians. This mix of such diverse people had quite positive effects on the local culture, history and gastronomy.
George Town (GT), the capital of Penang, is where everything happens. Over there, you find churches; Buddhist temples; mosques; Chinese, Indian, Vegetarian or Syrian restaurants; street food; street art; mansions from the colonial time and a lot more you can imagine.
George Town is an UNESCO Heritage site and getting lost through its alleys is like going back to the past, but still having the frenetic pace of modern society.
Where to stay in Penang
George Town is the backpacker's stronghold. For this reason, it is where you will find many hotels, hostel and Inns in each corner – with quite accessible prices too. Some of the places you stay in Penang are inside historical buildings, which is an attraction in itself.
If you are interested in culture, art, history and good food, definitely look for a place to stay in George Town. The price range for dorms are between 22 to 35 MYR (6 to 9 USD) per person per bed.
For the party-goers, you will be happy to stay at the Tipsy Tiger, (check availability here!) very near the famous Love Lane, in GT. Over there, you find dorms at about 35 MYR (9USD), including breakfast and coffee and water at any time. All the rooms come with a/c and guests are entitled to two cocktails every night.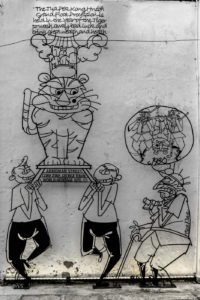 If you would rather be in a more peaceful environment in GT, you won't have problems finding it too. The capital of Penang is full of more sophisticated accommodations, including the famous Japanese Time Capsule hotel (check their availability here!).
But, if you are looking for something even more peaceful and remote, the hotels and bungalows in the northeast of the island are the way to go. The rooms will vary at about 80 MYR (20 USD) per day.
Book Penang hotel: check bellow the latest deals
What to do in Penang Malaysia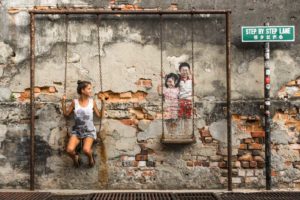 Do the street art trekking of Penang: One of our – and most people too – favourite things to do in Penang is the street art trekking. Mostly located in George Town, the island has more than 20 graffiti scattered around, some in 3D or more interactive. Moreover, there are over 50 artworks in metal telling the stories about a specific street, a store or a place. Most of the hotels will have a Penang travel guide map with the location of these graffiti and artworks for you to find on your own.
Climb to the Penang Hill at around 17.30h to enjoy some of the daylight and watch the sunset. The view is gorgeous and we loved to see the city lights turned on while the day lights go away.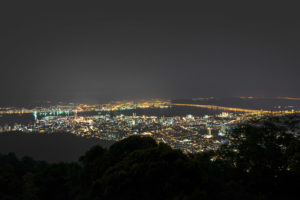 Visit the historical Cornwell Fort – built by the English – and the Victoria Clock, which celebrates the Queen Jubilee.
For nature lovers, visiting the Botanic Garden and the National Park are also good recommendations.
Go on a trekking to the waterfalls! Just bear in mind that during drought, the falls have no water.
Wander about the stilt houses over the water in the Chinese villages, also known as the clan jetties in Penang. They are part of the Heritage Trail of Penang, near the Penang ferry terminal.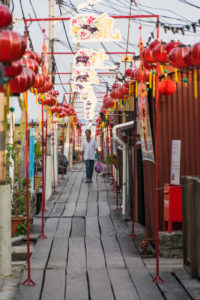 Visit all the beaches in Penang. We recommend renting a scooter and make to the Pantai Pasir Panjang, just by the army camp, in the southern part of the island. It is a less visited beach with very clean water.
Go on the oldest cable car.
Enjoy the nightlife of Georgetown, full of bars and lively charming restaurants.
See the many different religious sites of Penang, such as the floating mosque and Hindu and Buddhist temples.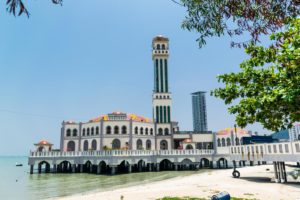 The gastronomy of Penang
Penang island is known for its incredible and diverse delicious food. To try out all the different culinary of the island is an interesting experience. In the Little India, you will find many restaurants – obviously Indians – but mostly vegetarians.
The George Town city centre has also some of the best Penang food and quite diverse too, such as Syrians, Pakistanis, Chinese, Malaysians, Thai, Arabic and many more. If you don't have much time, focus more on the Jalan Penang (Penang Street) where you will find the greatest variety of places to eat and drink in Penang.
We will not tell you about a specific restaurant as the best is to really get lost and try everything. For instance, the area near the cable car that will take you to the Penang Hill is full of street market at night, where you can find a variety of dishes, such as chicken, pizza, kebab, grilled fish and many more mouth-watering local and international food.
How to get around Penang
"As the island is not particularly small, you will be ok with public transport. The bus fare costs around 1.7 to 2.5 MYR (about 50 cents USD) per ride. There will be traffic at some point of the day, so plan ahead not to get buses during rush hour.
As we mentioned, we really recommend renting a scooter as you will have your freedom to move whenever you like. In Penang, particularly, you wouldn't even have to worry about traffic. Renting a scooter (check this tips for not ruin your trip when renting a scooter in South East Asia) in Penang goes for about 30 MYR (8 USD) and petrol is really cheap, about 1.6 MYR per litre (less the 50 cents USD per litre). And, if you prefer, you can also have a car rental at Penang airport or George Town. Get a quotation below:
Taxi is also a good option, particularly if you get to Penang by bus and want to go from the bus station to your hotel. Another way of transportation is the rickshaws, but pedal bikes instead of motorised ones and they can carry up to three people.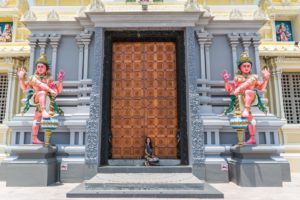 Well, we really enjoyed our staying in Penang – as you surely have realised by now. If you read this Penang travel guide up to here, you are probably really interested in visiting Penang. Please feel free to contact us at anytime. Leave your comments below, we would love to hear your experience in Penang too!
Safe travels!