For snorkeling and dive enthusiasts, there's no country quite like Mexico. With paradisaical beaches, check out the places for best snorkeling in Mexico. And if you want to be more adventurer, we also prepared for you the best places for diving in Mexico too!
From the warm waters of the Caribbean Sea to the crystal clear Pacific Ocean, Mexico offers an abundance of underwater experiences for both novice and experienced divers and snorkelers. Many of the popular dive sites are major tourist destinations, making it easy to combine a diving trip with a vacation.
You'll find an incredible variety of marine life across the country, from colorful tropical fish to sea turtles, rays, sharks, and whales. The Mesoamerican Barrier Reef is the second-largest barrier reef in the world, stretching along Mexico's Caribbean coast. And Mexico's Pacific coast offers the opportunity to encounter giant manta rays, dolphins, and humpback whales.
Cenotes are natural sinkholes found in the Yucatan Peninsula. They are a unique location for diving in Mexico – and snorkeling too. From colorful reefs to underwater caves, wrecks, and even shark dives, there's something for every water baby!
These are some of the best diving and snorkeling spots in Mexico.
Scuba diving in Cozumel
In the Caribbean Sea, Cozumel is home to some of the most beautiful coral reefs in the world, making it an ideal location for diving and snorkeling. The island's reefs are home to a diverse range of marine life, including colorful fish, sea turtles, and rays.
The main attraction here is the Mesoamerican Barrier Reef, the second-largest barrier reef in the world. You can easily spot turtles, dolphins, and colorful fish, and the crystal-clear waters around Cozumel offer excellent visibility, which is particularly good during the dry season, from November to May.
Cozumel has more than 40 dive sites, many of which are easily accessible from shore. The island's dive sites cater to all levels of divers, from beginners to experienced divers, and popular sites include Santa Rosa Wall, Palancar Reef, and Punta Sur.
Because of its popularity, it also has well established infrastructure – professional dive operators offer a range of services, including guided dives, equipment rental, and certification courses.
The waters here are warm year-round, with an average temperature of around 80°F (27°C). This makes it a comfortable location for diving and snorkeling, even during the winter months.
Diving and snorkeling in Holbox
Holbox is a small island located off the coast of Mexico's Yucatan Peninsula. It is becoming an increasingly popular destination for snorkeling and diving enthusiasts, mainly because of it's whale shark tours.
This is one of the few places in the world where you can swim with whale sharks, the largest fish in the ocean. From June to September, whale sharks migrate to the waters around Holbox. It provides a unique opportunity to see these majestic creatures up close.
There are ferries that connect over to the island once you've made your way from Cancun to Chiquila. Holbox has the added bonus of being located near the Yum Balam Nature Reserve, which is home to the largest barrier reef in the Gulf of Mexico.
Holbox also has several cenotes that are great for snorkeling and diving in Mexico. That means you can take the chance to explore an underground river system and see unique rock formations. It's a relatively undeveloped island, and eco-tourism is a priority for many of the local businesses.
Cenotes
Cenotes are natural sinkholes found in the Yucatan Peninsula and are a unique location for diving and snorkelling. The cenotes offer crystal clear waters and an opportunity to explore an underground river system.
The Yucatan Peninsula has over 6,000 cenotes, each with unique features and underwater life. One of the most well-known are the cenotes in Tulum, however, other popular cenotes for diving and snorkelling include Dos Ojos, Gran Cenote, and Chac Mool.
Cabo Pulmo National Marine Park
Cabo Pulmo National Marine Park is a protected area on the eastern coast of Mexico's Baja California Peninsula. The park is known for its pristine coral reefs, crystal-clear waters, and abundant marine life.
The coral reefs here are some of the healthiest in the world, thanks to the park's protected status. A community of dedicated conservationists have worked to protect the marine life in the area for decades. Their efforts have resulted in the recovery of the park's coral reefs and the return of species like sea turtles and sharks to the area.
There are a variety of dive sites here, including shallow reefs for beginners and deep walls for experienced divers. The park's dive sites are known for their crystal-clear waters and excellent visibility.
And this is a great spot to include in your itinerary because it's easily accessible from nearby towns like Cabo San Lucas and La Paz. That makes it a convenient destination for snorkeling and diving. Many dive operators offer tours to the park.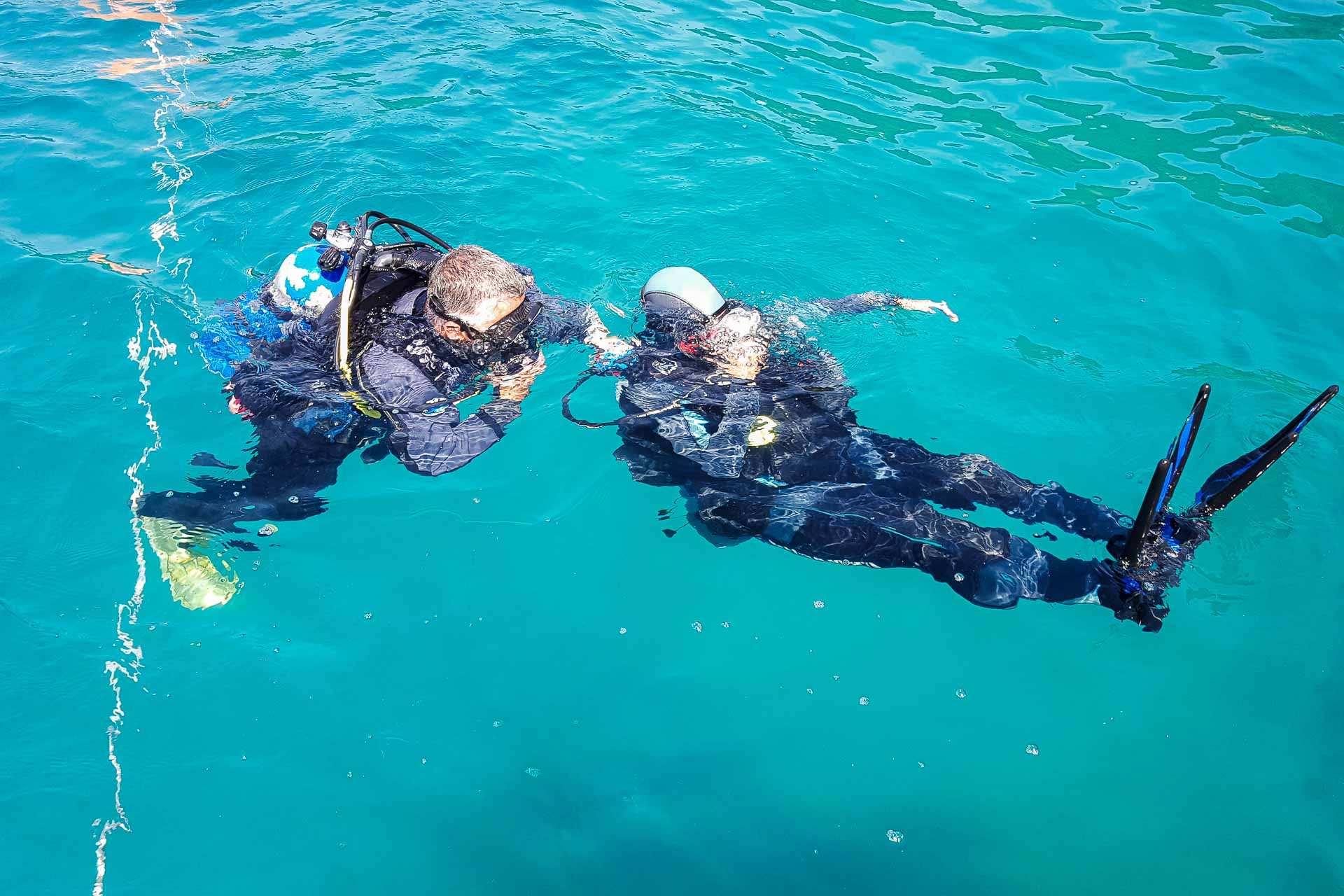 Incredible Socorro Islands
The Socorro Islands, also known as the Revillagigedo Islands, are a remote chain of four volcanic islands. It is located 250 miles off the coast of Baja California. The islands offer a unique diving experience, with the opportunity to encounter giant manta rays, humpback whales, dolphins, and even hammerhead sharks.
The Socorro Islands are not for the faint of heart. The diving conditions can be challenging, but for experienced divers, it is an unforgettable experience.
The Isla Mujeres
Isla Mujeres, located off the coast of Cancun, is a small island that offers excellent snorkeling opportunities. The island is home to the Underwater Museum of Art. Over there, visitors can snorkel around over 500 life-sized sculptures submerged in the ocean. The sculptures have become home to a variety of marine life, making it an interesting and unique snorkeling experience.
Cabo San Lucas
Cabo San Lucas, located on the southern tip of the Baja California peninsula, is known for its vibrant nightlife and beautiful beaches. However, it is also an excellent location for snorkeling and diving in Mexico.
The area is home to the Sea of Cortez, which is rich in marine life. Divers and snorkelers can expect to see sea lions, whales, dolphins, and a variety of fish species. Popular dive sites in Cabo San Lucas include Pelican Rock, Neptune's Finger, and The Point.