This post is also available in:

Português
The only city in Poland elected as "Best of the World 2022" by National Geographic Traveler, Lodz is an authentic destination still little explored by tourists. In this text, discover a bit about Lodz's culture and history, along with a comprehensive guide on things to do in Lodz.
By the way, let's first understand how to pronounce Lodz – and don't be surprised by the Polish spelling Łódź. You should pronounced Lodz as in "Woo-dgee" (I know, who would have thought?).
Also, don't forget to look Trip Checklist Page, to help you organising your travels.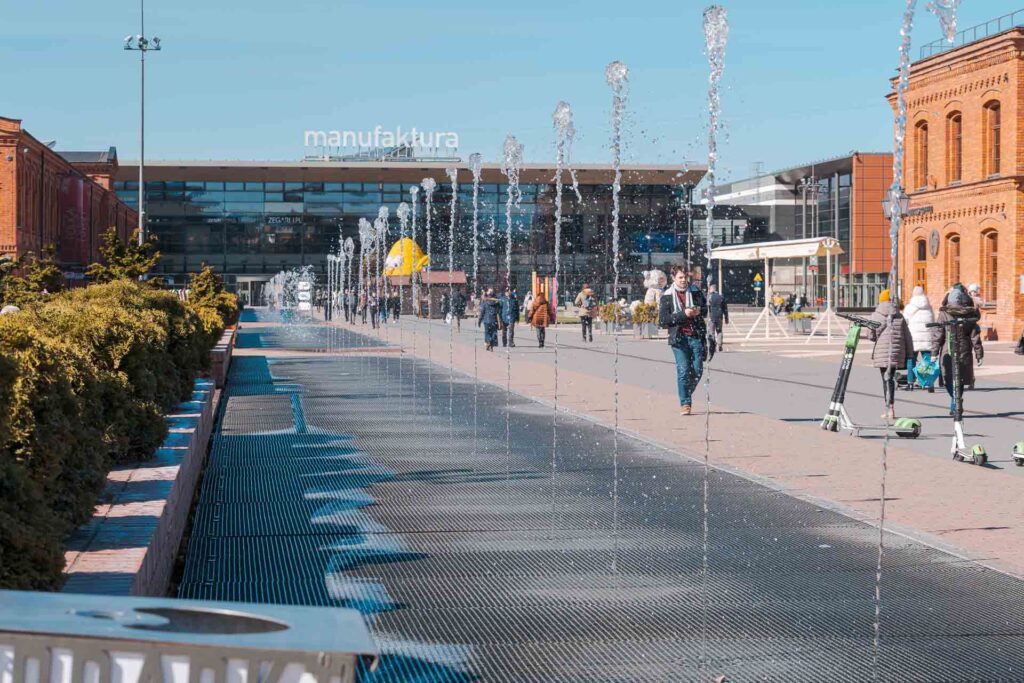 Every time we told a Polish acquaintance that we were going to visit Lodz, the expression was the same: surprise and disbelief. It was unbeatable. Just saying that we were going to be tourists in Lodz, and they looked at us with that questioning expression of: But why? What to do in Lodz?
The city was never part of our initial itinerary in Poland, but after getting to know the Tourist Organization of Łódź at ITB Berlin (International Travel Bureau) and seeing the passion with which they talked about the city, we decided to come. After all, if there's one thing this couple behind Monday Feelings likes, it's an authentic and little-explored destination.
And to answer you question is Lodz worth visiting, definitely yes. See below why.
History of Lodz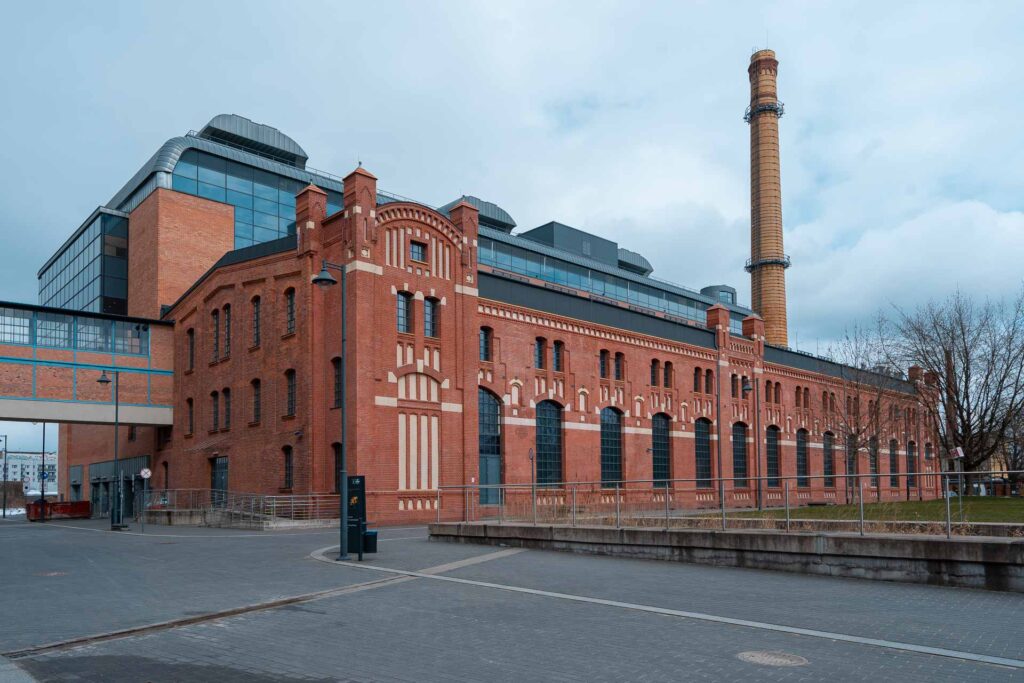 Lodz was a very wealthy city during the 19th and 20th centuries, all because of its textile industry. But from the 90s, it went bankrupt. Since then, it has gone through moments of crisis, unemployment, and marginalization… and that's why even the Poles themselves are not curious to visit Lodz, and they looked at us bewildered when we said we were going there.
But things started to change in the last 20 years. The municipality, private initiative, and civilians joined forces to launch projects for revitalization and promotion of the arts, and gradually, Lodz has become an important hub of creativity and culture in Poland.
There are so many urban revitalization initiatives, many of them award-winning, that the city was elected "Best of the World Sustainable Destination in 2022" by National Geographic Traveler. The only Polish city on the list!
Before visiting Lodz, a Polish acquaintance told us: "Lodz is the kind of city that you either love or hate!" I think it's clear which group we belong to, right?
Where to stay in Lodz city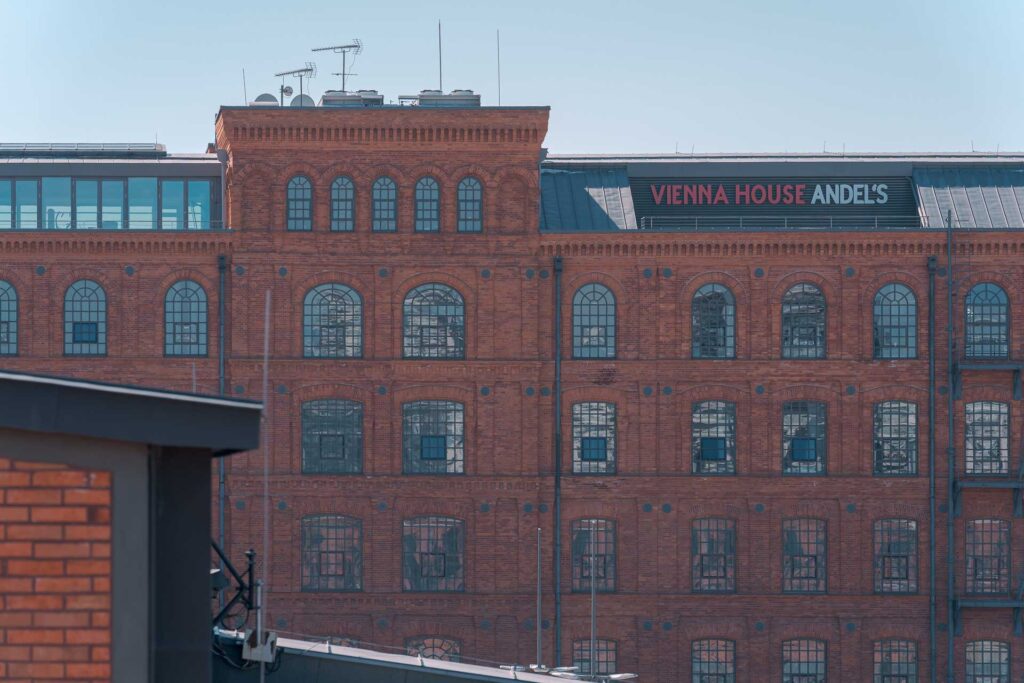 Lodz has great hotels, from traditional options like the Hilton Hotel to more boutique accommodations. Here's our suggestion for 4 very cool lodgings for your trip:
The Apartments Radwańska: This is where we stayed during our trip to Lodz. The place is not a hotel per se but a studio, which we liked a lot due to its convenience, cleanliness, and, especially, good value for money. The studio is a 30-minute walk from the center or 15 minutes by bus. Rating 9.3 on Booking.
Hotel Puro Lodz and Hotel the Loom: Two charming boutique hotels for you to stay in the heart of Lodz with a lot of style. Puro Hotel has a rating of 9.4, while Loom has a rating of 9.3, and both have a more minimalist touch.
Vienna House by Wyndham Andel's Lodz: This is one of the most famous hotels in Lodz. We had the opportunity to visit the lobby, and we loved it! Located inside an old factory in the city, the project maintained the original structure, implementing other more modern and minimalist elements. To top it off, Vienna House also has a rooftop pool with a view of the famous Manufaktura square. (Rating 9.1 on Booking).
For all other options of where to stay in Lodz, look in here.
Things to do in Lodz
Visit Manufaktura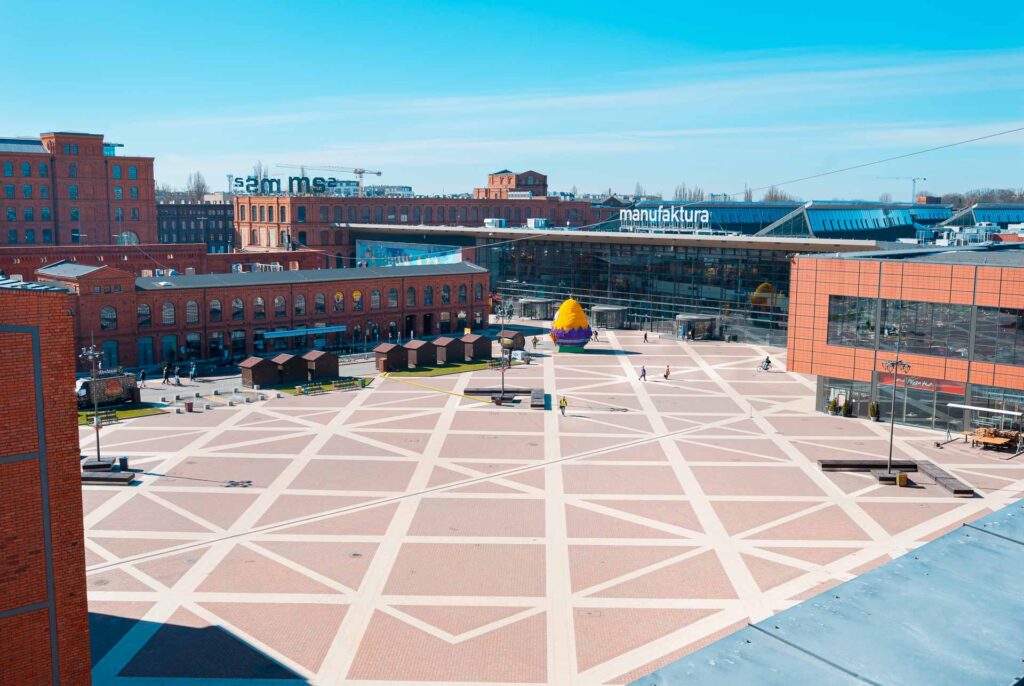 Inaugurated in 2006, Manufaktura is the most famous area in Lodz city. This huge square with commercial and cultural buildings was built on the site of one of the city's main factories.
The revitalization project of the old abandoned factory has won several awards for architecture and sustainability and is the main meeting point for locals, so much so that it is considered almost the new center of Lodz.
Inside the old factory buildings, there are now restaurants, museums, a shopping mall, seasonal fairs, and many other spaces for commerce and socializing. In winter, they set up an ice skating rink at Manufaktura, and in summer, an artificial beach.
Some points that deserve your attention when strolling through Manufaktura:
At the entrance of the factory is one of the city's most famous hotels, the Vienna House by Wyndham Andel's Lodz, which maintained the original structure of the factory, mixing elements of very sophisticated design. It's worth a visit to its lobby, or if you have the means, even stay there.
Notice the original grids of the buildings, in the shape of the cotton flower, the main raw material of the factory.
For those who want to know more about the history of the old factory, I suggest entering the Museum of the Factory.
Learn about the history of the Jews of Lodz
Until World War II, Lodz had a large Jewish population. The Nazi invasion, however, completely changes the scenario, bringing misery and destruction to the community.
Lodz had the second-largest Jewish ghetto in Poland, and many of its residents ended up being sent to extermination camps near the city or to Auschwitz.
The marks of this tragic past can still be seen in the city, such as the Radegast Station museum and memorial, the largest Jewish cemetery in Europe, among other places worth visiting. After all, as the American philosopher George Santayana said, "Those who cannot remember the past are condemned to repeat it."
For those who want to delve even deeper into the history of Lodz's Jewish community, we recommend a guided tour. In Lodz, there are guides specialized in this area, who even take individuals and groups of Jews who want to reclaim the history of their ancestors in the city. Contact the Tourist Organization of Lodz to request the services of a guide or book a private tour to understand the Jewish history in Lodz.
Another tip is to eat at the Imber restaurant, which offers a menu based on the history of Jewish-Polish cuisine.
By the way, if you are a food-lover, you might want to join this traditional Polish food tour.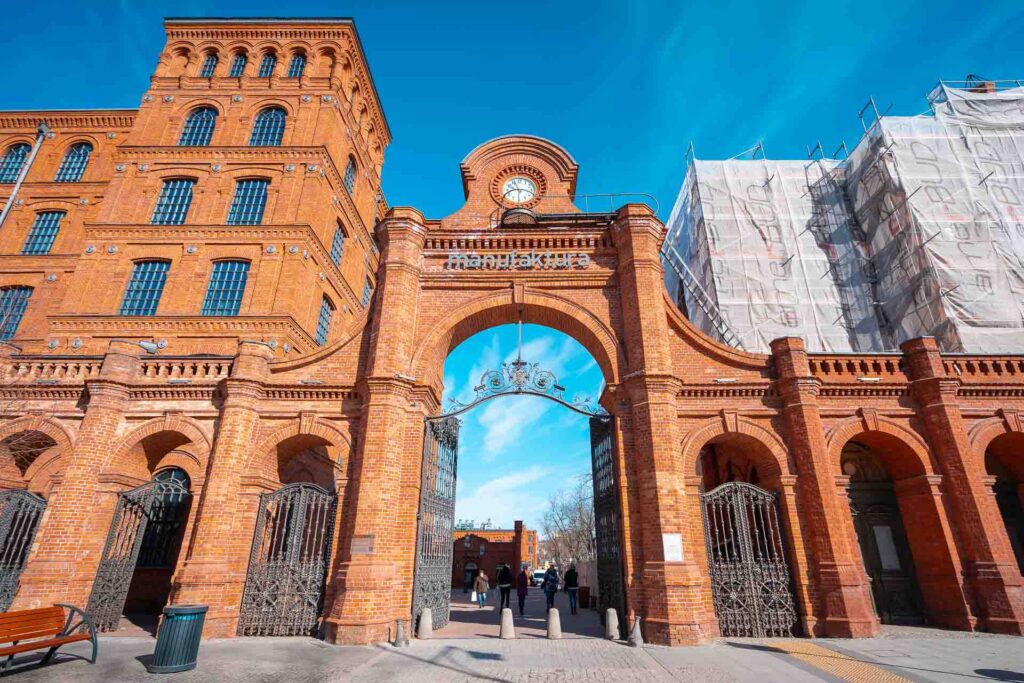 Visit the City Museum (Izrael Poznański's Palace)
Poznanski was the second-largest businessman in the city and consequently one of the richest men in Lodz. He owned the factory where the famous Manufaktura is today, as mentioned in the first item.
A visit to his palace allows you to explore not only the interior of the place, adorned with sumptuous decoration but also exhibitions of famous personalities from the city, such as the pianist Arthur Rubinstein (including his Oscar, which is on display in the museum).
Open from Tuesday to Sunday.
Ticket price: 22 zloty (free on Wednesdays).
Walk along Piotrkowska Street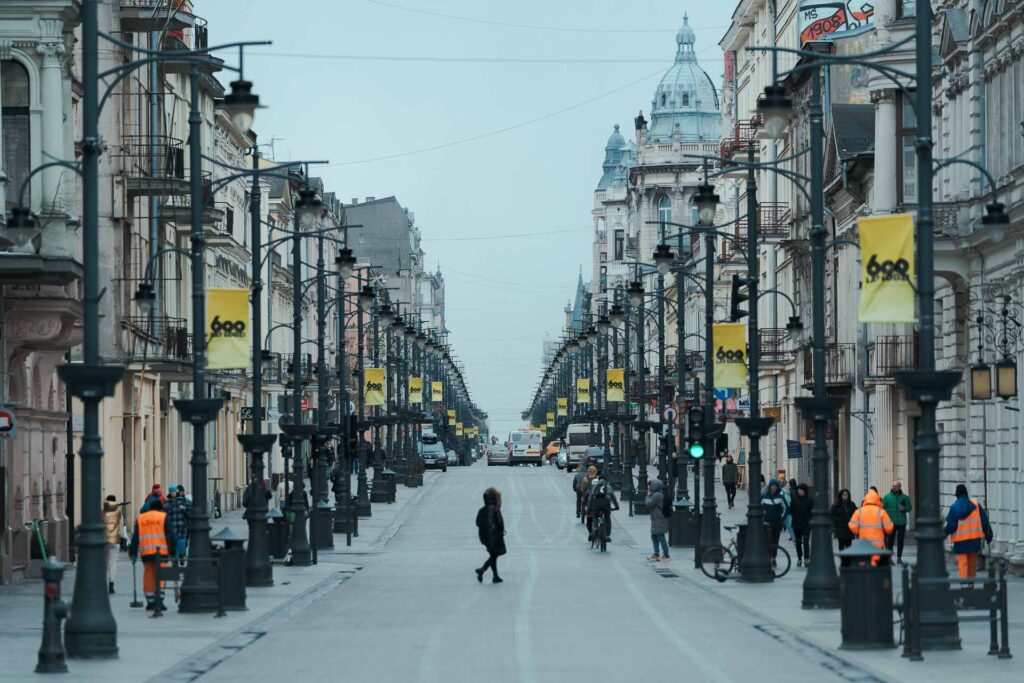 Piotrkowska Street is not only the largest street in the city but also the most historic. A walk along Piotrkowska allows you to explore the past and present of the city.
Our recommendation is to start from Liberty Square (Plac Wolności) and walk to number 120 on Piotrkowska Street. Allow yourself to explore as many courtyards as you can and observe the buildings there.
Some mandatory stops on Piotrkowska are numbers 3 (Rose Passage), 36 and 38, 120, and Off Piotrkowska.
Visit the Central Museum of Textiles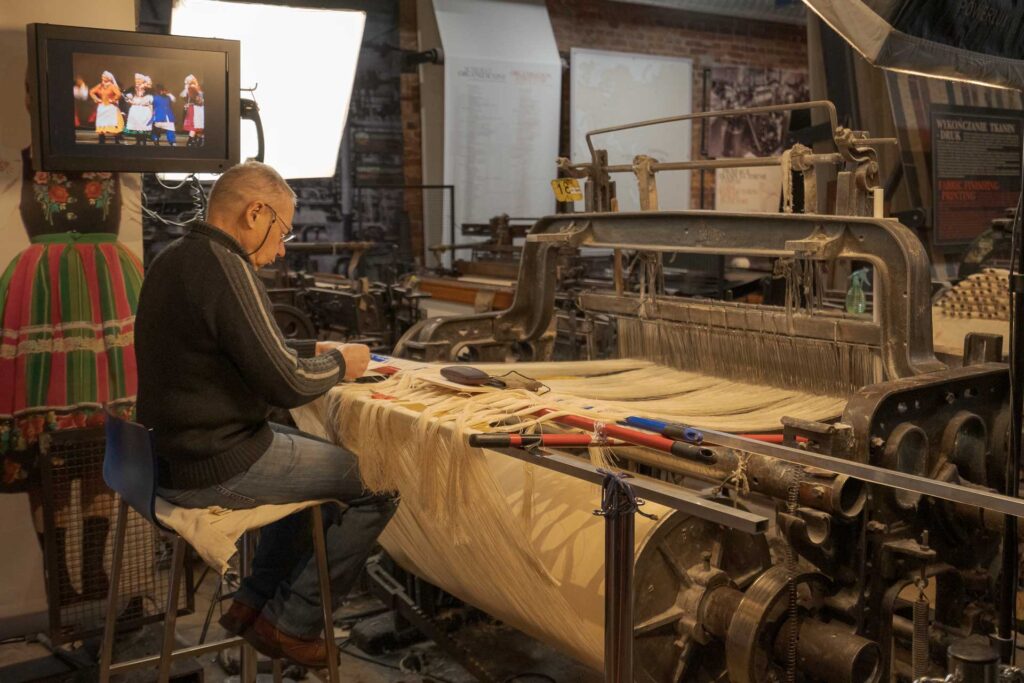 Despite the name, the Textile Museum has much more to offer than just exhibitions about the textile industry. Not that the subject is not interesting, but it's just not quite our thing, and we almost didn't visit, thinking it would only be about that.
At the Central Museum of Textiles, you find a very detailed exhibition about life in Lodz from the pre-First World War periods to the end of communism. A very important theme to understand more about today's Poland.
In addition, the area we liked the most in the museum is an outdoor installation, which features several typical houses from the last century and earlier for you to learn more about the locals' way of life.
The houses were divided into smaller apartments, each room transporting you to a story of a character at a different historical moment: a teacher from the communist era; a family during the post-war period; a young Jew in the interwar period, and so on. Very interesting indeed.
Open from Wednesday to Sunday.
The ticket costs 28 zloty.
Take a tour of the graffiti in Lodz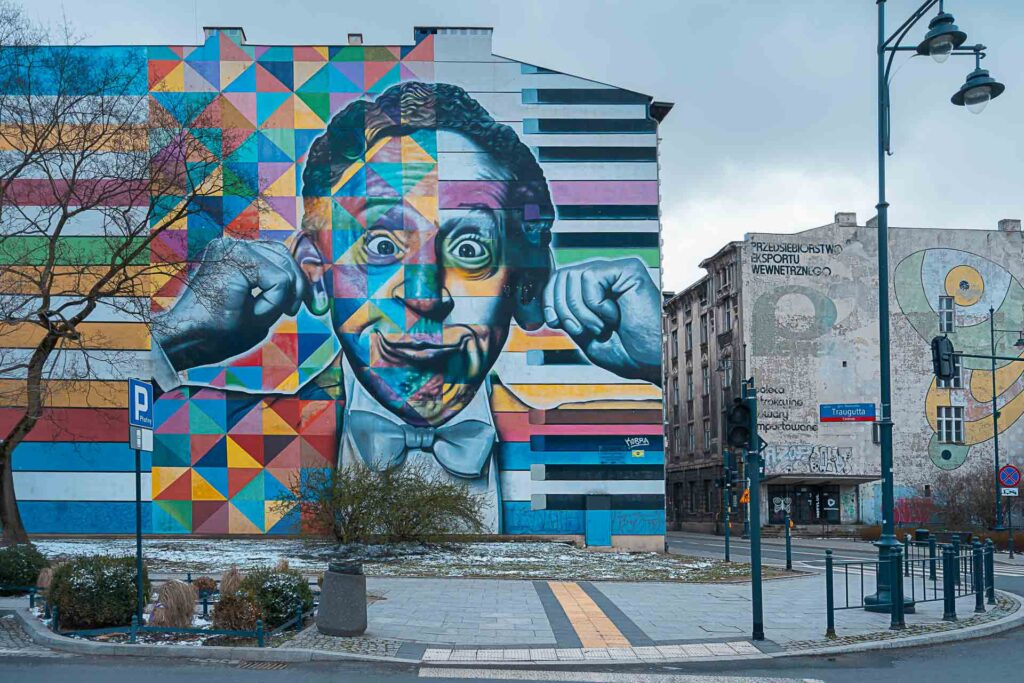 One of the points that caught our attention in Lodz city was the graffiti. We are from São Paulo, and we are very proud of the city's graffiti culture, so we were proud to see that in Lodz, there are two large murals by Brazilian artists: one by Kobra and another by the Twins. But there are many other graffiti by national and international artists to be explored in Lodz.
Visit the Cinema Museum of Lodz
As we mentioned, Łódź is pronounced "Woodgy," and its affectionate nickname is "HollyWOODGY," because of the well-developed film industry in the city.
Renowned names like Roman Polanski, Andrzej Wajda, and Zbigniew Rybczyński, all Oscar winners, have passed through the Lodz Film School. For those interested in audiovisuals and want to know more about the Polish industry, we recommend a visit to the Lodz Film Museum, which is inside a palace (which ends up being an opportunity to get to know the residence itself!).
Take a guided tour of Lodz
If you're the type of person who doesn't give up a guided tour to thoroughly understand the history of a place, contact the Tourist Organization of Lodz to request the hiring of a guide. We did a 4-hour guided tour there, and it was a wonderful experience that certainly contributed a lot to our understanding and admiration for the city.
You can find private walking tours in Lodz in here as well.
How to get to Lodz city in Poland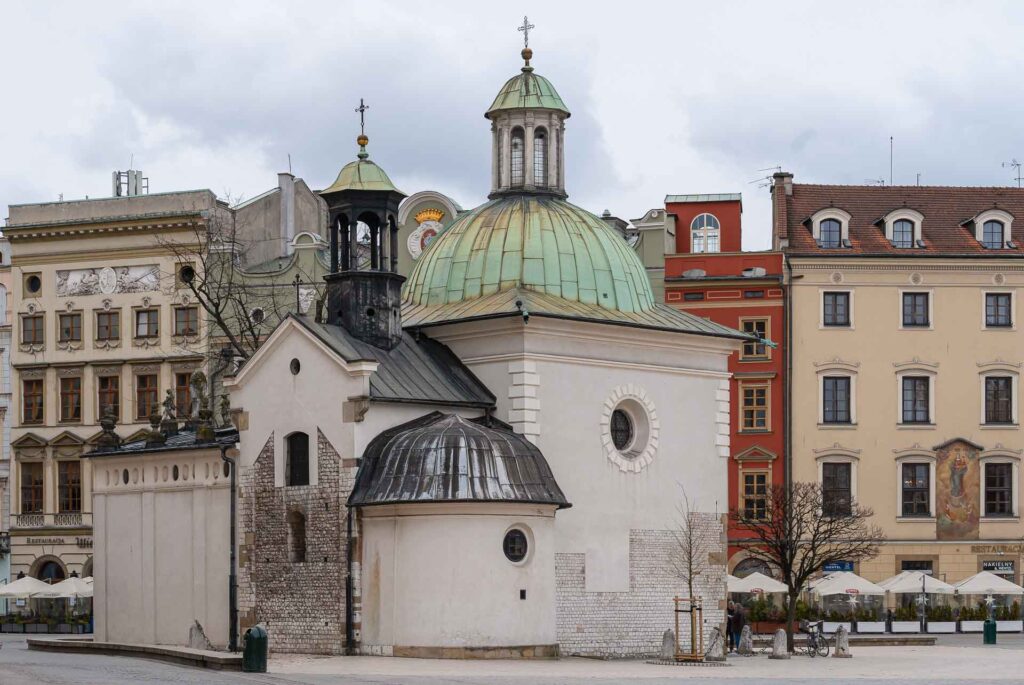 Krakow to Lodz
You can go from Krakow to Lodz by either train, bus or hitchhike via bla-bla-car. We took a bus with Flixbus and had no problem. But if you prefer to go by train, go to PolishTrains. Eu. Alternatively, have a look on Bla-bla-car to get a hike.
Warsaw to Lodz
You can go from Warsow to Lodz also by either train, bus or hitchhike via bla-bla-car. By bus, you can use Flixbus. To go by train, go to PolishTrains. Eu. Or look on Bla-bla-car to get a hike.
Also, you can book a day tour from Warsaw here leaving by train, or with a private car.
Map of Lodz
Other cities to visit in Poland
We spent 20 days traveling through Poland, and we can say that the country has numerous beautiful and historic cities, as well as villages in the midst of nature that are stunning and deserve your attention.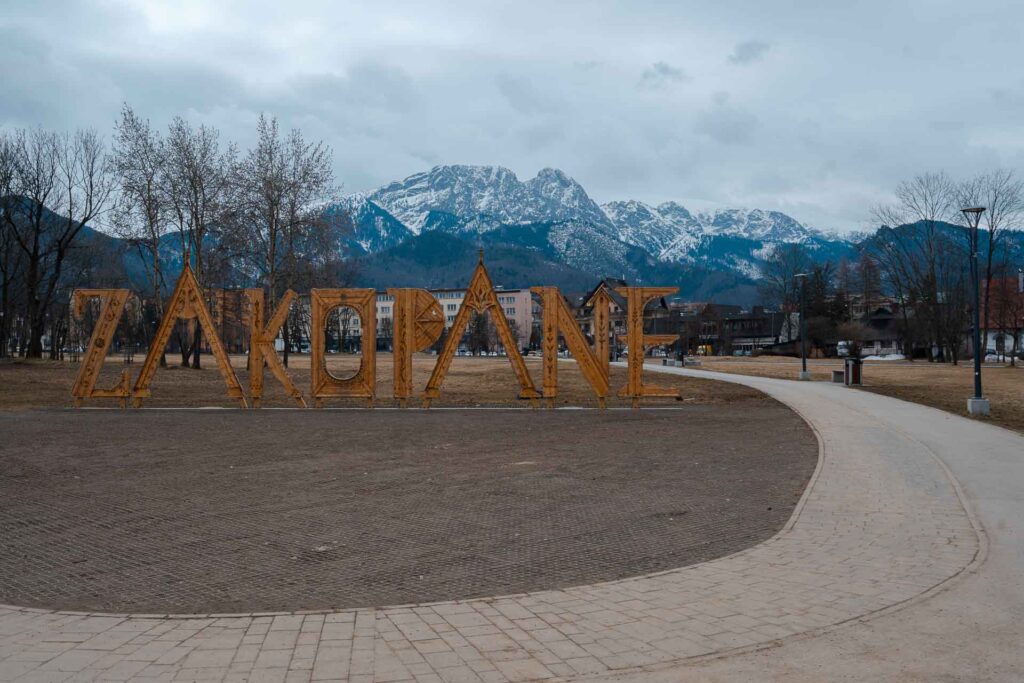 Here we leave a list of other cities that you should visit during your trip to Poland:
Cracow
Warsaw
Gdansk
Zakopane
Poznan
Wrocław
Is it safe to travel to Poland now because of the war in Ukraine?
Many people asked us on Instagram if it wasn't dangerous to visit Poland now because of the war in the neighboring country. We didn't feel threatened at any time, and honestly, apart from some demonstrations and many Ukrainian flags displayed on buildings, you don't feel that you are next to a country at war.
Polish acquaintances told us that at the beginning of the invasion, there was a lot of commotion. People left their homes and jobs to go to the border to protest and help the victims. A year of conflict later, however, psychologically, financially, and physically exhausted, people returned to their normal lives, and that's what we felt in Poland: normalcy.
It's sad, of course, but that's the reality of what we felt. So don't worry, there is no risk in visiting Poland. The recommendation from many countries is not to travel to the border areas with Ukraine.