This post is also available in:

Português
If Cambodia's busy streets bored you and you fancy some relaxing time on a tropical island paradise, look no further than Koh Rong Samloem. It is just a few hours' drive from Phomn Penh.
Koh Rong Samloem
Once you have left the busy, dirty port of Sihanokville behind, expect to see a long, white sandy beach with jungle stretching beyond it, lapped by a turquoise blue sea.
Having only been open to tourists since 2012, this is a recently discovered jewel. Saracen Bay, the main hub of the island, is scattered with beach huts, as Cambodian law has prevented any long-term infrastructure. There is plenty to enjoy during the day, whether it's relaxing in a hammock strung up in the water, diving, kayaking or trekking across the island. But it is after the sun goes down, and the day visitors from Sihanoukville return to the mainland, that Koh Rong Samloem unveils its biggest treasure.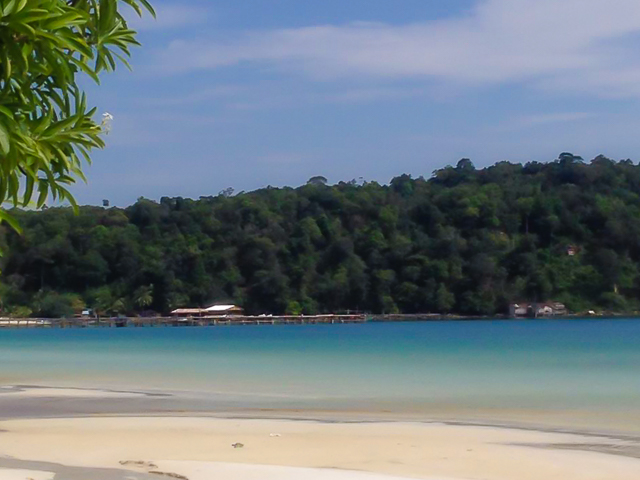 The island's waters are crystal clear and are home to a wide variety of sea creatures. This includes the deceivingly average plankton. At night, the plankton glow and sparkle when disturbed in the water, and lights up around your swimming body. It is like floating in a sky full of stars. The glitter lighting up around you in a pitch-black sea will be an amazing, unforgettable experience.
How to get there
From Kampot, it is a cramped 2 hour minibus ride to Sihanoukville ($23 including boat). It is 6 hour public bus from Phnom Penh ($7). From Sihanoukville port it is about $20 for a return boat ticket. The boat takes 45 minutes approx. Boat tickets can be bought from any tourist office in Sihanoukville.
What to eat
Beef Lok Lak – a thick beef stew with rice and a delicious sauce of Kampot black pepper, lime juice and salt.
Chicken Amok – a Thai style chicken and coconut curry with rice. Fish Amok is equally delicious.
Cha houy tuk – a sweet dessert of shaved ice, jelly and a palm sugar syrup. Diabetics be warned!
The Beach Island Resort on Saracen Bay have by far the most generous servings considering you are paying island prices; Sunnys has the cheapest beer and water.
What to do
Swim in the calm, turquoise waters of Saracen Bay.
Walk through the monkey and toucan filled jungle to Sunset beach, where you can swim in the waves or relax on the swing. Bring a torch if you plan to stay for sunset as the jungle is too dark and dense to find your way back once the sun goes down!
Walk to the North of Saracen Bay to the waterfall (be careful when climbing up as it can be very slippery).
Hire a kayak for $5 an hour and paddle round the North headland to the coral reef for some snorkelling and lunch at the Mad Monkey hostel.
Trek to the Lighthouse on the South of the island. Walking shoes not sandals highly recommended.
Where to stay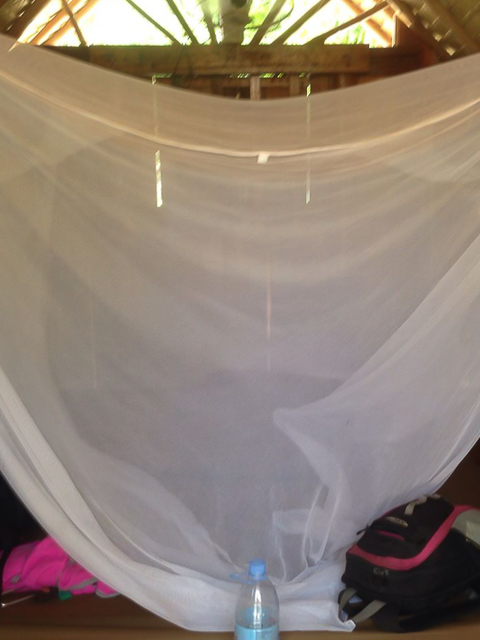 The South of Saracen Bay houses the more luxurious resorts; the North has more backpacker digs but also tends to accommodate the visiting day tourists.
Accommodation
Flashpacker
Sunny' s hostel is a tiny set-up right on the beach. Behind are a few beach huts for $15 a night. (Double ensuite).
The Island Beach Resort has small beach huts with mosquito nets for $21 and communal bathrooms. You can ask them to turn off the pier lights at night so you can make the most of the glowing plankton.
Backpacker
Rainbow Lodge offers a dorm bed for $7.50 a night including breakfast. They also offer various tours of the island. This is a good social hub for travellers and are very welcoming even if you aren't staying there.
Koh Rong Samloem is unlike its sister party island of Koh Rong: it is purely pedestrian and undeveloped. Experience this island's innocence while it still lasts.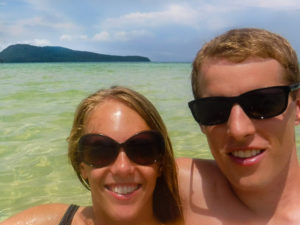 Do you also have a travel story? Is it funny, interesting or just feel like sharing it? Do not hesitate to send it to us! You can either email it on getintouch@mondayfeelings.com or send us a message here!