This post is also available in:

Português
Wondering how to use internet when travelling? See below our full review of the Travelers WiFi, a portable wifi rental device that can serve as a router and works in over 100 countries.


Do you want to know how to use internet when travelling? Let us tell you how we did, not long ago, during our bike trip crossing Italy from north to south. On this trip, we used the Travelers WiFi, a portable portable wifi rental router that works in over 100 countries. We used it for six weeks and now we tell you exactly how it works, if it is worth having it, its signal reach and all the small details you need to know to have internet when travelling abroad.
You can also watch the video review we made:
Internet when travelling abroad
Currently, it is becoming harder to travel abroad and not having internet constantly on your devices, whether your travel purposes are business related, necessity or simply convenience. For instance, we from Monday Feelings, as much as we love to stay away from social media sometimes, we need access to our emails and WhatsApp every now and again. We cannot afford to just let it go and stay offline for more than a day.
For this reason, one of our recurrent questions whenever we organise our next trip is "How are we going to have internet when travelling abroad in order to keep creating content for both Monday Feelings and our freelancing jobs?"
In the past, we were left with the option of relying on coffee shops and restaurants to "steal" their WiFi. However, if you have done that too – you probably have – you know that it's not the ideal solution. The time when the waiter/waitress/owner starts to look at you differently always comes. Moreover, the internet speed is not always how we expect it to be. To conclude, to rely on someone's WiFi to work is not working effectively at all.
On this bike trip through Italy, we knew we were going to pass through rather isolated areas as well as wild camp quite often. We knew this would reduce even less the probability to work relying on other's WiFi. In order to go around this problem, we travelled with the Travelers WiFi, a mini portable wifi rental router that allowed us to have 24h access to the internet even in the most remote places we visited.
The Travelers WiFi – a portable wifi rental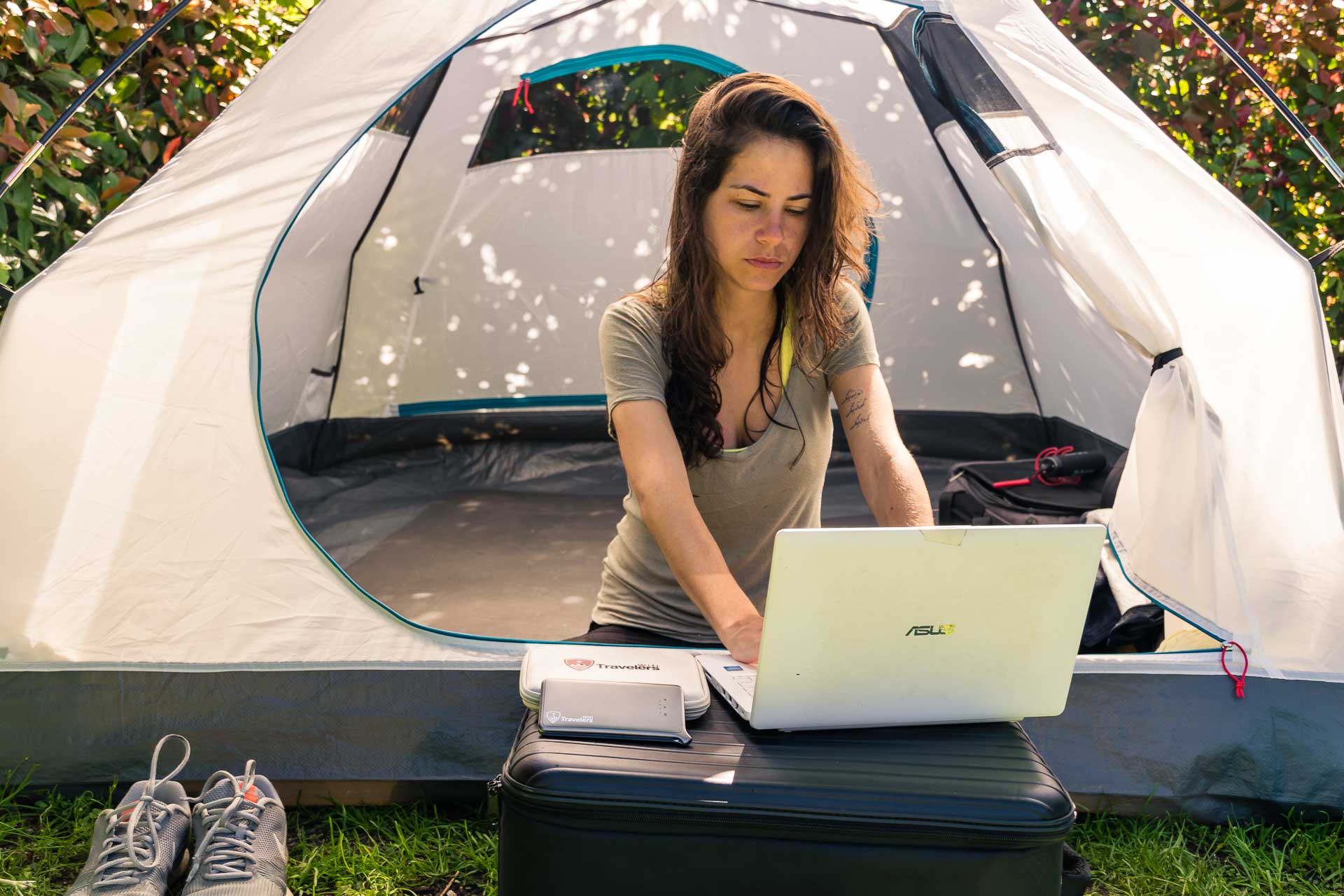 The Travelers WiFi is a portable wifi rental router of a size of a mobile phone that works in over 100 countries. It works by making partnerships with different local operators, in every country it operates. Hence, when crossing borders, the Travelers WiFi re-connects automatically with a new signal of that country, having always the best possible internet reception. That makes Traveles wifi a very fast and reliable wifi when travelling.
The device allows you to have 2GB of high speed data per day within European Union, 500MB in any other country or unlimited high speed data if you are in Switzerland and Liechtenstein. If you go over the limit, you will still have internet connection, although not as fast. In this case, your 2GB of fast internet will come back the day after.
How much internet is enough when travelling
We used the Travelers WiFi constantly, connecting both of our mobiles as well as both of our laptops. For us, that was more than enough. In 45 days of usage, we went over the limit only once. We uploaded an HD video on our YouTube Channel and that consumed all of our data for the day. But, as said, the day after we had already had our fast internet back.
Where the portable wifi rental router work
As the device works making partnerships with local mobile networks, it will depend on them for the coverage. For instance, in Italy, the network operator was Three and we didn't have any problems at all connecting to the internet.
View this post on Instagram
As we wild camped quite often during this trip, it was extremely useful to have the Travelers WiFi with us, particularly in the most difficult moments. At some point, one of our bikes broke in the middle of nowhere and it was great to count on them to make a video call with our mechanic in Parma and have it fixed.
Fair to say it was also great to count on them during moments of not so much emergency, such as watching Netflix in our tent facing the sea on a deserted beach or on top of a cliff before falling asleep.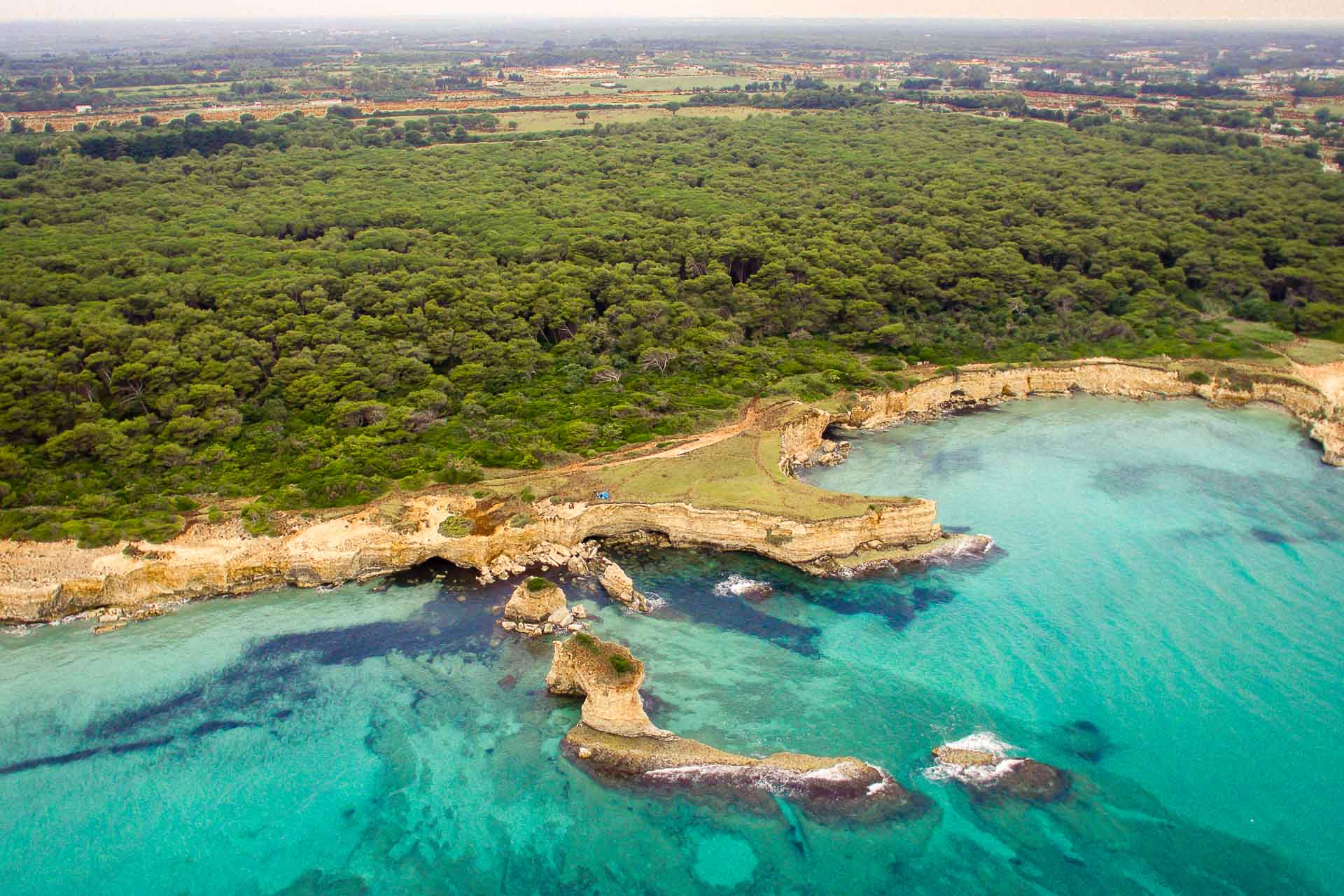 Furthermore, the Travelers WiFi was also very useful even when we were at hotels. The internet connection of some hotels is very poor, particularly around South Italy. We, more than often, opted to use our connection rather than the hotel one.
One of the hotels we stayed in, for example, had no internet for the past three days after a storm crossed the area and damaged a few cables. Meanwhile, our Travelers WiFi was still operating and giving us internet.
How to rent the portable wifi Travelers Wifi
To rent the Travelers WiFi device is quite simple. You can just go into their website, choose between the tab "Switzerland" or "Global", according to your travel plan, complete the time slot of your rent, the destinations and the address for them to send you the router.
Book your device by clicking over here and get 25% discount with the code "MFWIFI360"!
The company will send it to you via mail in a little box with the charger, the router, a guide as well as the pre-paid bag to send the device back. To send it back is just as easy: simply put everything into the pre-paid bag and take it to the nearest post office.
Use the Travelers WiFi internet portable device
The device has no secret as it only has one button, the turn-on turn-off button. It has a panel showing three things:
If it's on;
The battery level;
The internet reception.
There is also a sticker behind the router containing the name of your network and its password. As soon as you receive the portable wifi rental device via mail, simply turn it on and connect all the devices you want. Very simple and practical.
Important note, the battery lasts for up to 6 hours continuously use.
How much to have internet when travelling with Travelers WiFi
The price to rent the portable wifi rental router is the only aspect of it that we don't grade 10. The daily fee is £5,10, although the longer you rent the cheaper it gets. Albeit not the cheapest deal, we still really recommend it. You can look at it this way. You can connect multiple devices at the same time, which makes it cheaper if you need internet and are travelling with friends, as the bill can be shared. Also, if you are travelling with family and to different countries, you will save the hassle of making contracts with different operators in every country you go. As soon as you cross the border, you have a local and fast internet connection.
Our opinion using the portable wifi rental Travelers Wifi
Our experience with Travelers WiFi was excellent and we cannot recommend their service more. We were never before able to keep the level of productivity as we did during this bike trip in Italy, which included many live videos on our Facebook Page and Instagram account. It also included continuous updates of the trip, adding photos and videos on our social media as well as delivering our freelancing projects on time.
Therefore, if you are planning your next trip and are also asking yourself how you are going to have internet when travelling, don't think twice! Check this portable wifi rental device and guarantee quality internet connection wherever you are, whenever you want.
---
* Article originally written in November 2018 and Updated on July 2022 *