Road tripping is probably the best way to see Australia. The country, which by the way, is the world's sixth largest, has amazing and well-maintained roads to drive through all around. Whether you fancy visiting some buzzing capitals, untouched nature, or some of the most scenic coastlines, Australia has it all. So, if your feet are already itching and your heart pondering just to imagine all these scenarios, keep on reading this post as we will explain you now everything you need to know to organise an Australian road trip.
Why is Australia perfect for a road trip?
Australians have a culture of road tripping themselves, which means their infrastructure is pretty good for this sort of travel. Their roads are usually well-maintained and signs are everywhere to make sure you are heading the right direction – and doing the right thing.
Also, Australia can be an expensive destination. However, there are barely tolls on the road and petrol is pretty cheap. That means a road trip can be a great option to see the country without going bankrupt.
Buying VS renting a car in Australia
Rental cars are everywhere and this is definitely a good option for those looking for travelling for shorter periods. However, if you are planning a longer journey, buying a car can be a much better option.
Vehicles in Australia are commonly cheap and you can find great options of used cars on sites such as Gumtree. To buy one will not just give you a lot more flexibility to change routes and dates, but it can be a lot cheaper than renting too.
If you go for the latter, make sure to get your car insured and to add all the amenities you may need for your Australian road trip, such as a tent and a water supply system for taking a shower and so on.
What type of car
The roads in Australia are quite easy to drive on, so any regular car would do. But, if you are planning to visit the inhospitable Outback and other pieces of the country that will surely lead you to dirty roads, then you should definitely look for a 4×4.
What you need to know about driving in Australia
They drive on the left side
If you, like us, are not used to driving on the left side of the road, driving an Australian car can be a bit confusing at the beginning. You might punch your door while trying to change the gear, or turn on the wiper blades instead of the lights on the first days, but you will soon get used to it.
Petrol stations
They can be found pretty much everywhere, even on the not-so-much navigated roads. Still, it is worth having an extra gallon of petrol with you at all times. You may also like to know that some petrol stations in Australia offer free resting areas for you to take a nap or even to spend the night in your car.
Animals on the roads
The biggest concern you may face while driving in Australia are the animals on the road. In fact, kangaroos are the number one cause of road accidents in the country. That being said, we strongly recommend you to avoid driving during the night, so you have a clear vision of the road. Another advice is to buy a Car Whistle Device, a small device you can attach to your car that produces an imperceptive-to-humans-sound that keeps animals away.
Where to sleep during an Australian road trip?
Having the possibility of sleeping in your own car is one of the best things about road tripping in Australia. There are lots of free or cheap camping sites scattered around the country and you can find them on the WikiCamps app or at Free Camping Australia website. Of course, there are also plenty of hotels or rental properties available as well. It is up to you.
What is the best time for an Australian road trip?
As mentioned above, Australia is one of the world's biggest countries. Therefore, the best time to visit it depends entirely on where exactly you're going to. Bare in mind that winter goes from June to August and summer from December to February. In this article you can find a step-by-step guide with the best time to travel each of the Australian regions.
Where to go for an Australian road trip
The main Australian cities were developed by the coast, so there are plenty of routes in these areas. In fact, one of the coolest road trips in Australia is the Highway 1, a whopping 14,935 kilometres long road that goes through every mainland state capital. Spare at least a month for this.
Some other scenic and adventurous road trips in Australia include:
The Great Ocean Road, a 250km long road from Torquay to Warrnambool;
The Pacific Coast, from Sidney to Brisbaine for around 950 km;
The Tasmania's East Coast, which goes from Hobart to the Bay of Fires for around 260 km.
Not to forget when packing it up!
Last, but not least, here you are a few things you can't forget to buy or bring for your Australian road trip:
camping gear: a tent and a sleeping bag;
cooking gear: stove, gas, pots and pans;
a torch;
spare fuel tank of the car;
a good offline GPS: we recommend the Maps.me app, which has saved us countless times, whether we were on a bike journey, on a road trip or on a walking hike;
basic tools: a spare tyre; a carjack; some wrenches, screwdrivers and a hammer.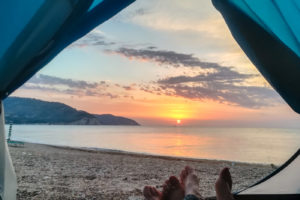 We hope this guide on how to organise an Australian road trip has been helpful! If you can't find an answer to something you were looking for, leave us a comment below and we'll get back to you asap.
Safe travels!