This post is also available in:

Português
Bali is one of the most touristic places in the world, but mind you that it is still possible to explore unknown places of this special island. We spent a month in there during our world trip and only left because our visa expired, otherwise, I think we would still be enjoying some Balinese feelings. Here are some of the things that enchanted us most during this travel and that will, for sure, make you fall madly in love with Bali.
1 – The hidden waterfalls
Yes, that's right. Many people know Bali for its stunning beaches but one of the things that most surprised us were the hidden waterfalls at the island's countryside. It is one more wild and beautiful than the other! We visited four of them, the majority was completely empty of people and we were lucky enough to enjoy this piece of paradise by ourselves without the thousand tourists presence who are everywhere!
2 – The sunset at Uluwatu Temple
The sunset at the island's south peninsula is something special. It does not matter the point you choose to see it but for us, watching the end of the day by the Hindu temple of Uluwatu, is something we will never forget. The temple stands at the top of a cliff facing the ocean and the sun sets in the horizon, behind the agitated water of the Indian Ocean. It creates a spectacle hard not to fall in love with.
TIP: Do not visit the place wearing glasses or other things that can be interesting for the monkeys: They will steal everything!
3 – The Uluwatu region
One of the best surf points in the island. Wild paradisiacal beaches, beautiful nature and a lot of surf! What else do you want?
Hey, have you heard of the incredible Gili Islands? You don't want to miss these tiny and paradisiacal islands (they are only a few hours away from Bali!)
4 – Canggu Beach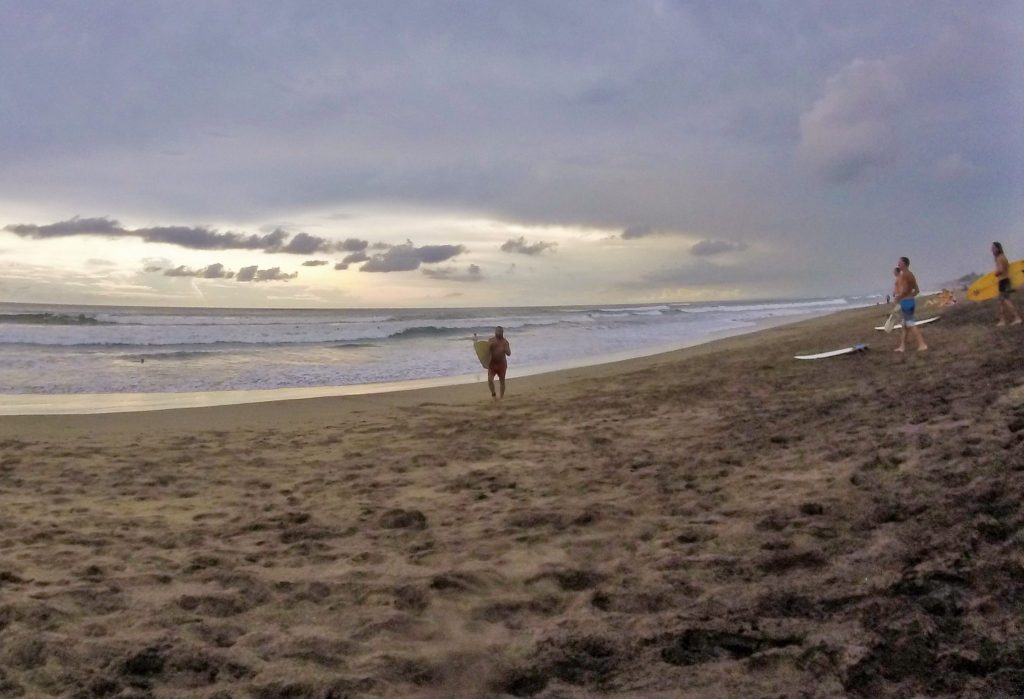 Unfortunately, we visited this one on the last days of our trip because otherwise we would have stayed there longer. Canggu has a nice atmosphere, people seem to be always smiling and differently than other places, locals and tourists interact more, which is great. Canggu also has a beach which reminds us the Brazilian ones a lot, with wide sand space, perfect for playing football, volleyball or for a casual jogging. The sea has less rocks too and is calmer, perfect for the ones trying to learn how to surf.
*Going to Indonesia on a family holiday? So check this guide to Bali with kids. 
5 – Bali's countryside
The island's countryside is beautiful and much less touristy! There are lots of green and unexplored areas. There are some mountains concentrated at the countryside and there are even volcanos to trek (Mount Batur and Mount Agung). The people living there are always smiling and ready to help you. The flooded rice fields shine at the horizon and the many lakes and temples will fascinate you!
6 – The facility in getting a motorbike to drive with no destiny
To drive your own motorbike is a mix of freedom and adventure! The motorbikes can reach almost all the hidden gems of Bali and is a great way of exploring the areas which cars (and tours) cannot get to. Many bikes come with a rack for you to carry your surf board with you wherever you go!
To rent a motorbike costs around US$5/day (negotiable price, especially if you rent it for longer time) and petrol costs US$0,50/L.
7 – The spirituality
Bali is a special place and you can feel it right at the airport. Differently than the rest of Indonesia, the main religion here is Hinduism. Many flowers, incense, offers to Gods, temples, music, colours, tinkling of bells… It's hard not to let yourself get into this environment. The Balinese are very delicate and attentive to details and everything in the island has a special touch.
Time in Bali has its own rhythm. Go prepared to get stuck in traffic jam for half hour if you decide to get to the streets at the same time a religious ceremony takes place. Don't waste your time getting stressed, just let yourself go with the flow.
Do you want to see more pictures of this incredible island?! Don't forget to follow our Instagram!